CELEBRATING 50 YEARS OF MAGICAL MEMORIES EVENT
JULY 15-17, 2005
(also includes pre- and post-event activities from July 14 and July 18)
SECTION LINKS
Go to Introduction.
Go to list of offered seminars.
Go to Event Registration.
Go to July 15 - first day of event.
Go to Music To Your Ears seminar.
Go to Cooking for Mickey and Friends seminar.
Go to Walt's Brown Bag Lunch.
Go to artist signing.
Go to silent auction.
Go to A Taste of the Disneyland Resort.
Go to live auction.
Go to July 16 - second day of event.
Go to My Favorite Magical Memories panel discussion.
Go to How Does Your Garden Grow seminar.
Go to Creating the Magic seminar.
Go to Lillian's Lunch in the Garden.
Go to Finding Nemo Submarine Voyage.
Go to Orange Grove Party.
Go to Magical Memories show.
Go to July 17 - last day of event.
Go to Breakfast at Dawn.
Go to 50th Birthday Ceremony.
Go to July 17 after-birthday trip report.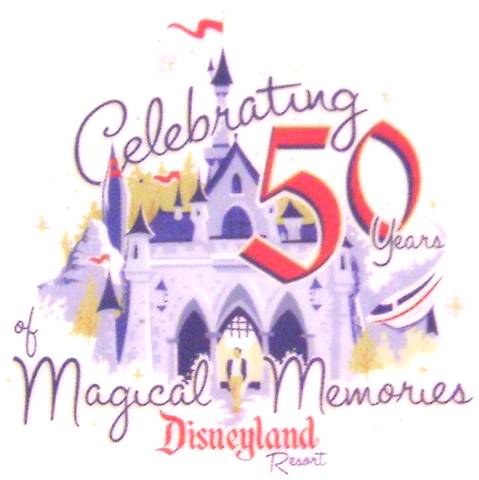 INTRODUCTION
2005 marks the 50th anniversary of the opening of Disneyland in Anaheim, and in conjunction with this historic event, Disneyland offered an event called "Celebrating 50 Years of Magical Memories", an event spanning three days, culminating with the actual day of Disneyland's 50th birthday, July 17. The event included four levels of participation - Imagineer's Quest, Lillian's Inspiration, Roy's Plan and Walt's Dream. All plans included many of the same activities, with each higher level plan including a few more extra tidbits. Attendees could also opt to add on a Thursday afternoon package to attend the ceremony on the occasion of Disneyland receiving a star on the Hollywood Walk of Fame which included lunch at Tam O'Shanter, one of Walt Disney's favorite restaurants. Plans were also offered so that people could sign up only for the Friday night auction or the Friday night auction with the "Taste of the Disneyland Resort" dinner right before the auction without having to sign up for the entire event.
My husband and I had attended a number of events in the past several years celebrating various attractions and themes, but since this was to celebrate Disneyland's 50th, we knew this one would be the one to beat them all. With that in mind, we decided to try for the top package, something we hadn't done before as the upper level event packages generally included a hotel stay, and since we live within a 30 minute drive of Disneyland, a hotel stay isn't something we normally need. However, given that this event was taking place over several days, staying on property definitely held an appeal. We were fortunate enough to be able to sign up for the Walt's Dream package. Shortly after event sign-up, we discovered that there were apparently glitches in the registration system, and that some of the packages ended up being overbooked. To address the errors, the package attendance numbers were adjusted. Walt's Dream was originally open to 50 guests and was expanded to allow for 78 guests. Roy's Plan was originally open to 50 guests and ended up with 46 guests. Lillian's Inspiration was originally open to 140 guests and was adjusted to 187 guests. Imagineer's Quest was originally open to 750 guests and was adjusted to 500 guests. The top three packages were all sold out. I wasn't pleased about the adjustment in the numbers of package participants, but understanding that they had to address the problems in registration in the best way possible, I was willing to see how the event would turn out, so we did not take advantage of the refund that was offered after the package attendance changes were disclosed.
All of the packages included park admission on Saturday and Sunday, and a discount was offered for those event attendees who already had premium annual passports. Roy's Plan included two nights accommodation (Friday and Saturday) at the Disneyland Hotel, and Walt's Dream included two nights accommodation (Friday and Saturday) at Disney's Grand Californian Hotel. Couples who purchased either package would be offered a third and fourth night stay in lieu of two rooms for two nights, with the extra two nights to be taken prior to the event. We were contacted sometime after event signup and were told that there were rooms available and to let them know when we'd like our extra two nights. We decided that adding on one night to either side of the event would make the most sense, especially since it meant we could stay on property the night of the 17th. We had been concerned about having to check out of the hotel the morning of the 17th, before our activities that day. Having a room the night before the event started also meant we would have time to settle in beforehand. We were pleased when our request for Thursday and Sunday as our extra nights was approved.
Included with the event were a selection of seminars being offered, so in the weeks before the event, we also submitted our preferences of seminars and merchandise, and we were lucky enough to get everything we asked for with regard to both. While it had been previously indicated that some seminars would require an additional materials fee, all fees were eventually waived. Each of the upper level package participants were able to choose two seminars on each of two days. Even though the Imagineer's package did not initially include seminars, we later learned that they were able to attend one seminar, randomly assigned.
Here are the seminars that were being offered:
July 15 - offered twice daily
Art by Design - On the Road with a Disney Artist: Step into the world of animation, and see how your Disney favorites are created with Disney Artist Stacia Martin. Stacia will present a fascinating program detailing her 27 year history with Disney - and other surprises await those who attend these fun-filled Art by Design sessions.
Music to Your Ears - The Magic of Atmosphere Talent: Ever wonder where the music that you hear wafting through each land originates? Then immerse yourself in the magic as you gain a new appreciation for the sounds and musical talents of Disneyland park with the help of our Talent Booking Director and former Disneyland Band Leader Stan Freese.
Cooking for Mickey and Friends - Culinary Magic: Napa Rose, rated #1 in the Zagat Survey since its opening in 2001, celebrates the natural bounty of California from its seacoast to its rich farmland, ranches and vineyards - and showcases the wine country cuisine of Executive Chef Andrew Sutton in a theatre kitchen that becomes a show in itself. Andrew Sutton will be on hand to provide a detailed step by step instruction while he prepares some of the delicious items from his repertoire. A sampling will be given out to the lucky attendees of this seminar. What a treat!
Creating the Magic - Back Stories of the Disney Attractions: Join 27 year Imagineering veteran and Senior Concept Writer and Director Kevin Rafferty as he shares back stories from Disney attractions around the world. Kevin will take you from start to finish, from concept to reality, as he unveils how the magic of Walt Disney Imagineering takes shape.
Your Home is Your Castle - Disney Fantasy Table Decor and Setting: Live in a fairytale world, as you learn how to prepare a fantasy table display for your friends and family with the help of our Disneyland Entertainment team. Then be our guest, as you join Disney's Grand Californian Hotel Banquet Manager Enache Popp, who will share what it takes to set a table fit for a king.
July 16 - offered twice daily
Art by Design - On the Road with a Disney Artist: Step into the world of animation, and see how your Disney favorites are created with Disney Artist Stacia Martin. Stacia will present a fascinating program detailing her 27 year history with Disney - and other surprises await those who attend these fun-filled Art by Design sessions.
Creating the Magic - Back Stories of the Disney Attractions: Join 27 year Imagineering veteran and Senior Concept Writer and Director Kevin Rafferty as he shares back stories from Disney attractions around the world. Kevin will take you from start to finish, from concept to reality, as he unveils how the magic of Walt Disney Imagineering takes shape.
Molding the Magic Disney Style: Feel your creative juices flow, as you learn to mold and sculpt some of your favorite Disney characters. Once your mouse-terpiece is complete, take it home, where you can show your friends and family your artistic prowess.
The "Hidden" Tributes of Disneyland - Windows on Main Street and Other Hidden Tributes: See through the windows on Main Street, U.S.A. to the backstories of the honorees who have been awarded this high Disney honor, with the help of Walt Disney Imagineer Show Writer Christine Goosman. Then discover some of the other tributes throughout the park, including the Frank Wells expedition in the Matterhorn, the Fess Parker window in Frontierland, employee birthdays listed at Star Tours, and even the fictional Sheriff in Frontierland when Disneyland opened in 1955 who was named after Lillian Disney's father.
How Does Your Garden Grow? - Disneyland Style Gardening: Learn how to nurture and prune tiny trees and shrubs to create a fairy tale-like setting in your garden at home. Disneyland Horticulturist Rhonda Wood will share secrets and tips on techniques used to create the miniatures growing in the Storybook Land attraction.
With all the "paperwork" for the event completed, we were looking forward to the event itself.
JULY 14, 2005 - EVENT REGISTRATION
An event itinerary that was sent out a few days beforehand indicated that early event registration would be offered on Thursday afternoon, so we made plans to take advantage of that, figuring it would be better to get registration and merchandise pickup taken care of early as according to the itinerary, our schedules would be fairly full on Friday and Saturday. We arrived at the Grand Californian shortly after 3:30pm and checked into our room. The room had two queen beds and was nicely decorated with a woodland theme, including a picture of the seven dwarfs' cottage from "Snow White and the Seven Dwarfs". On either side of each bed hung lights that looked like lanterns, further adding to the woodland theme, especially since they were controlled by dimmer switches. Our room was on the third floor of the hotel, with a balcony that looked out into the courtyard which the monorail passes through. In the closet was an ironing board and iron and two hotel robes for our use. There was also what we figured must be something like a playpen or bassinet because the cover said "Graco", but we never opened it up to find out what exactly is was. My husband had wanted to request a refrigerator for the room, so he put the call in to make the request, and by the time we returned to the room later in the day, the refrigerator had already been delivered and plugged in. For most of the mornings during our stay, we left a request for a wakeup call. At the requested time, the phone would ring, and when you answered it, Mickey would let you know that it was time to get up. However, since it was a two-line phone, you had to make sure that you were answering the correct line, or the phone would just keep on ringing. I discovered this the first morning.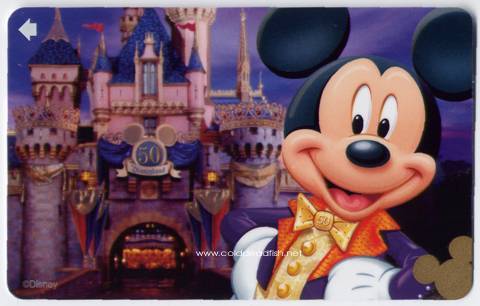 The hotel room key, which you can keep as a souvenir after your stay.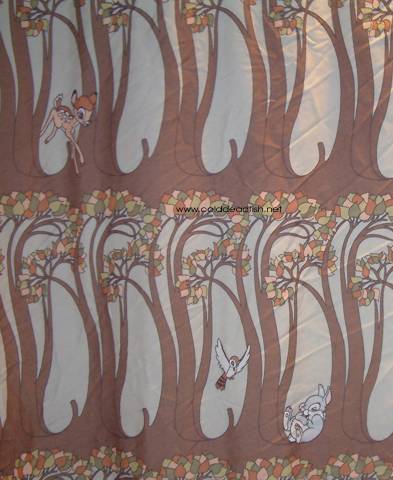 Even the shower curtain includes some familiar woodland creatures.
After unpacking and settling in a bit, we then headed over to the Disneyland Hotel for early event registration, which was being held from 1 - 7pm. Over the next several days, we found ourselves wishing that registration and event activities could have been held at the Grand Californian rather than the Disneyland Hotel as we found ourselves spending quite a bit of time walking from our room to the Disneyland Hotel and then from the Disneyland Hotel to Disneyland with a stop back at the Grand Californian at our room, but given how many rooms ended up being needed for the various event activities, it didn't seem like the Grand Californian Hotel had the facilities to accommodate that need. As has come to be the norm, there were event signs once you got closer to the Disneyland Hotel, indicating where event registration was located, which was in the Exhibit Hall, which is also where many of the event-related activities took place.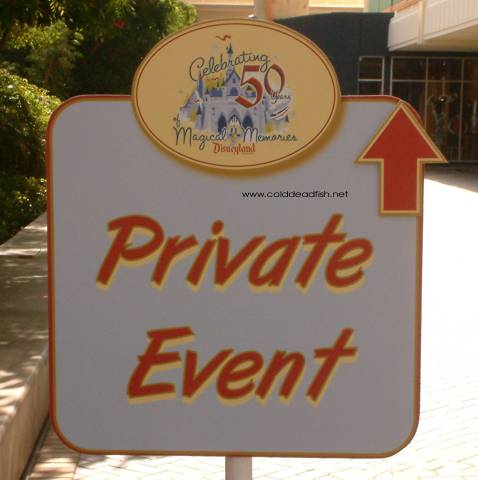 This way.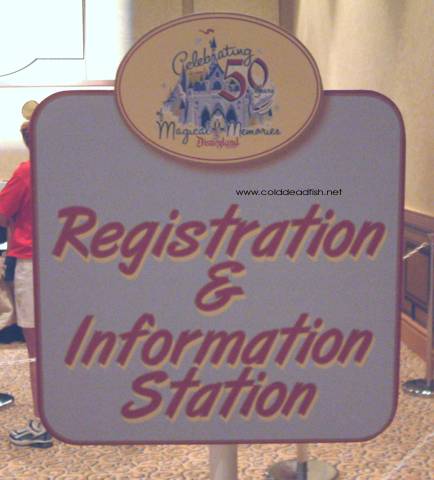 Here's where to begin.
There were more people in line for registration than we had expected - apparently, lots of other people also thought registering early would be a good idea. We got in the registration line at about 4:45pm and got to the front of the line at about 5:20pm.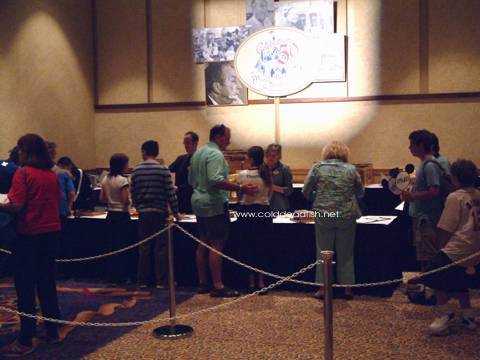 Waiting to pick up registration packets.
The check-in process took longer than usual, but there were many things for the cast members to explain to everyone and to check to make sure that everyone had all the documents and tickets that they needed. We received our registration packets and a bag with the gifts for our package level. Each of us received an envelope with our name on the outside, and inside was a welcome letter, a summary of the seminars that we were attending (a copy of which had already been sent to us previously), a duplicate copy of our RSP merchandise forms, a duplicate copy of the event itinerary, a form for a 4th RSP for selected merchandise still available, and an agreement with regard to the auction. The welcome letter was particularly interesting because of the letterhead that was used.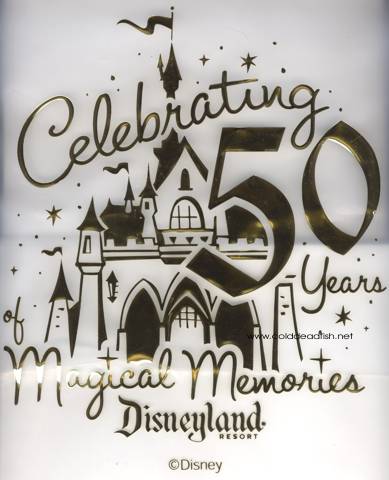 As has become standard, the merchandise event bag is imprinted with the event logo.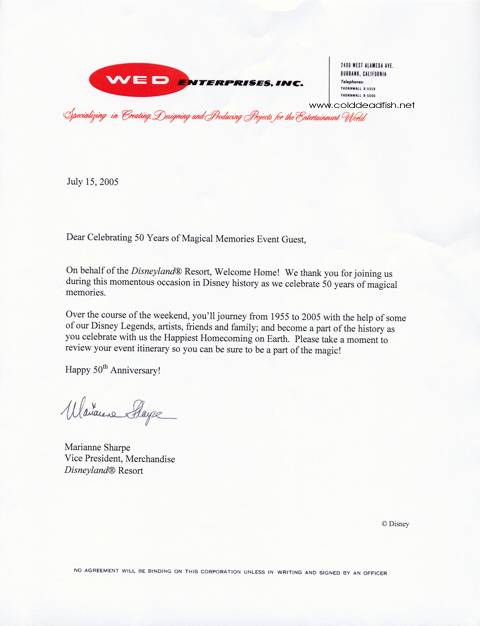 Note the format of the phone number on the letterhead
Also included was an event credential badge on a black lanyard. Each package level got a different colored badge, with the package name printed at the top, and each level badge had a different quote from Walt Disney on the back.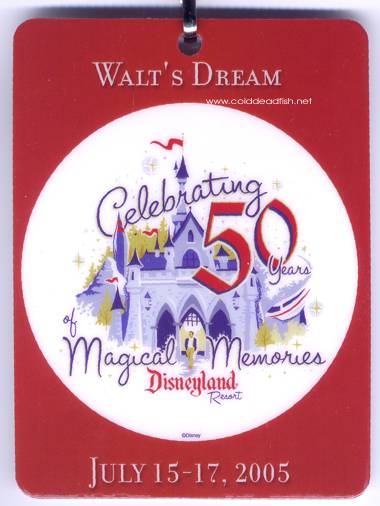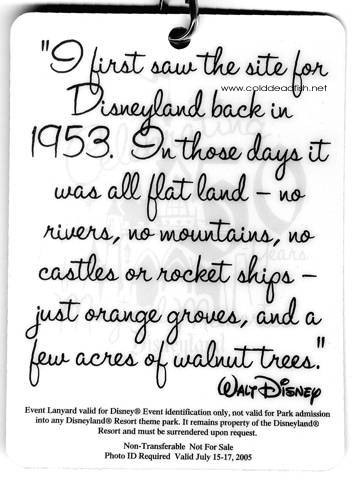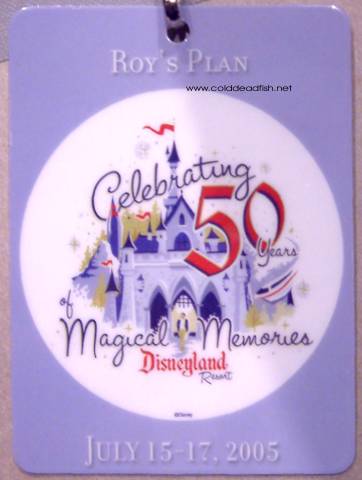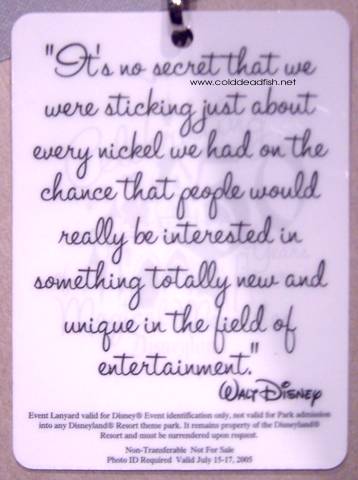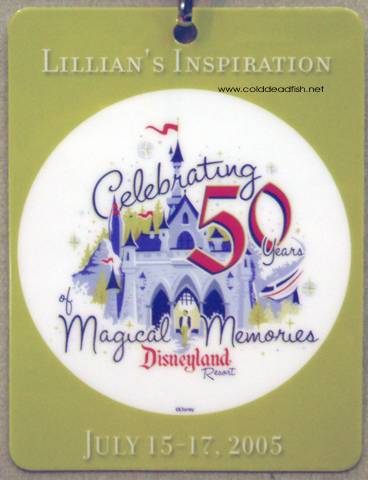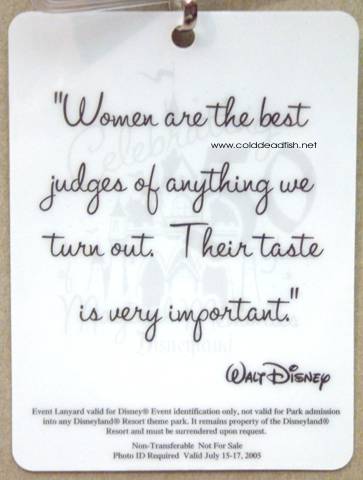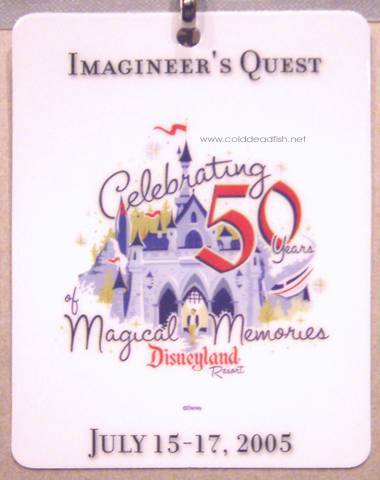 Also included were admission tickets to the various seminars, lunch on Friday and Saturday, dinner on Saturday (including seating card), the photo opportunity card, and the card to redeem the commemorative gift. All of these were in a plastic holder that could conveniently be clipped onto the credential badge. We also each received an additional information packet simulating an attache case which contained a folder with bios of seminar leaders and Disney artists and authors, a Disneyland Hotel site map, a duplicate copy of the RSP merchandise brochure, an auction catalog, a pin of the auction paddle, "A Taste of Disneyland" spiral notebook, and a WED pen with holder. We were also each given an auction paddle, the front of which looked just like the pin and the back of which had a designated number with a black-and-white version of the event logo as background.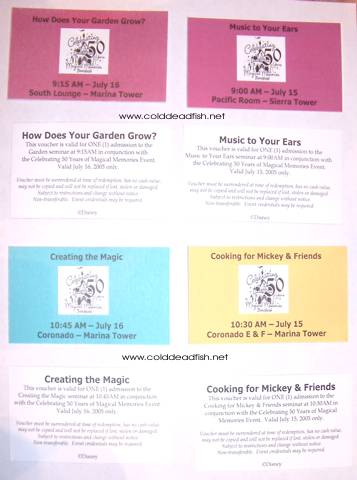 Admission tickets to seminars.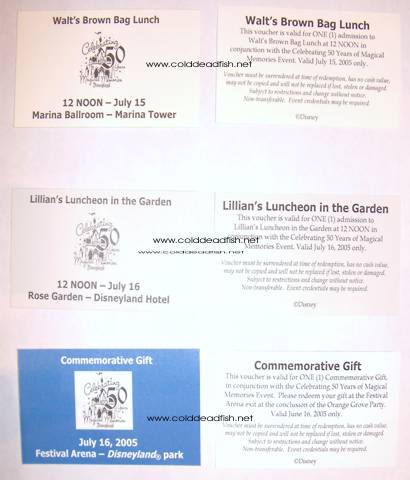 Admission tickets for other activities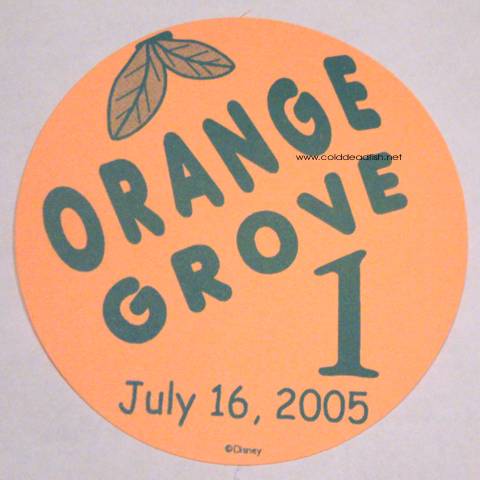 Seating card for Orange Grove Party.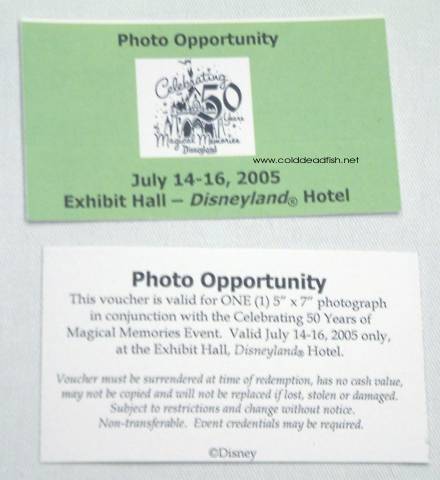 Card to redeem commemorative photo.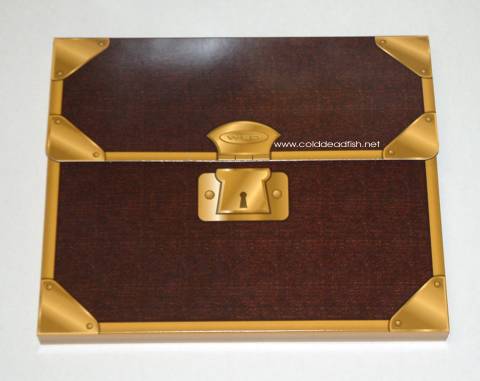 Front of attache case.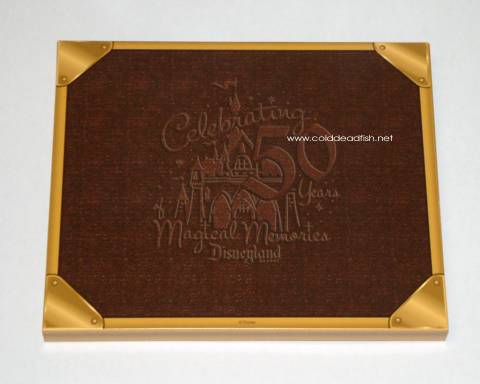 Back of attache case.
Front cover of the auction catalog.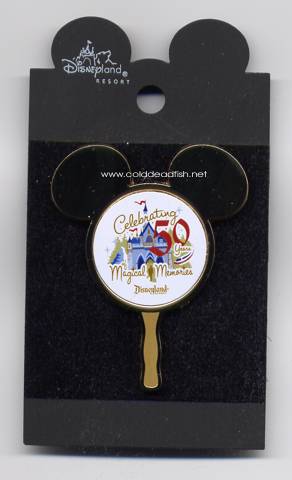 Pin which resembles the auction bidding paddle.

WED pen.
After receiving all of our materials, we sat down to look through our packets and the gifts. First was the gift given to event attendees at all four levels. It was a gold lanyard, with a medallion that could be spun, showing Walt walking through the orange grove on one side and Walt walking through the castle on the other side. It was a beautiful lanyard, and I thought it was a terrific idea to have the two complementary pictures because it perfectly illustrated what Disneyland had been and had become because of Walt Disney.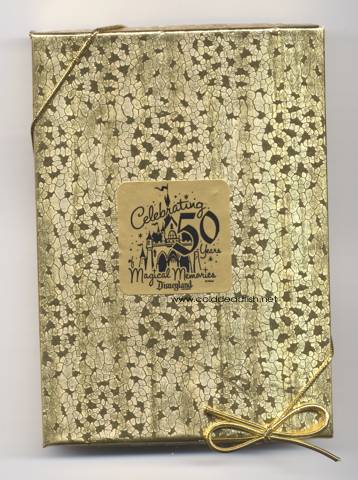 The first gift came in a gold box.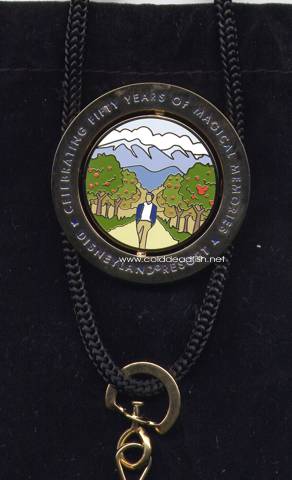 Walt walking through the orange grove.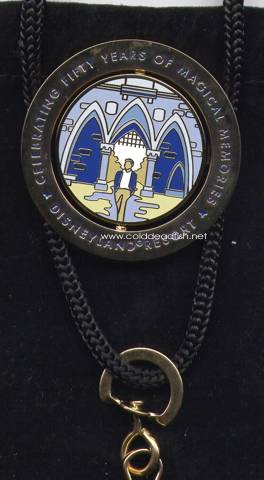 Walt walking through the castle.
The second gift was given to attendees at the Roy's and Walt's levels, and it was a nightlight with a picture of the 50th birthday version of Sleeping Beauty Castle.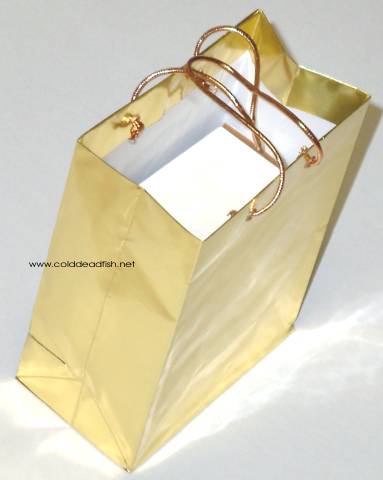 The second gift came in a gold bag.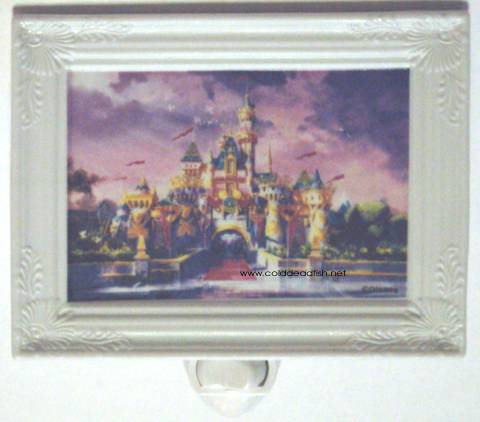 The nightlight turned off.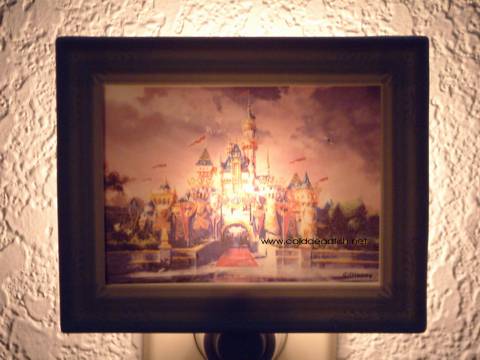 The nightlight turned on.
The third gift was given to Walt's Dream attendees only, and it was a beautiful glass mantel clock, with Tinkerbell in front and the event logo and dates engraved below the clock itself. The clock very much resembles something you'd find done by the Arribas Brothers.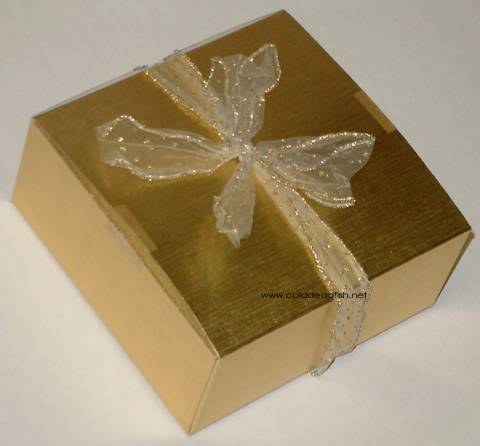 The third gift came in a gold box - I see a theme going on here.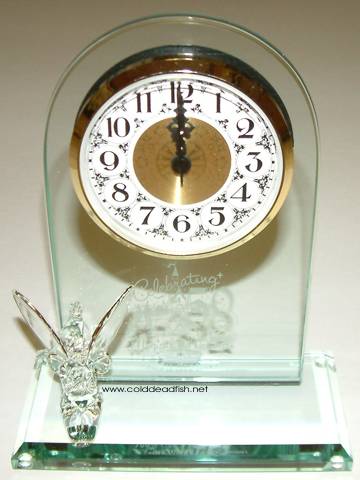 The beautiful clock.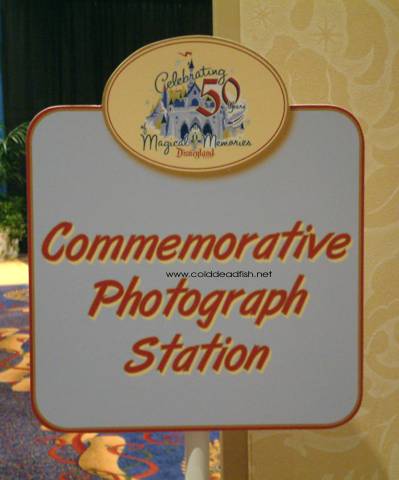 After going through our materials, we decided to get our commemorative picture taken. The backdrop was a replica of a white horseless carriage that one might have seen being driven down Main Street. Behind the car was a photo montage of black-and-white pictures from various places in Disneyland. Guests stood in front of the car to have their picture taken. The picture was then printed out (with the 50th logo in the upper left corner) and given to the guest inside a paper photo frame envelope with the 50th castle logo on the front.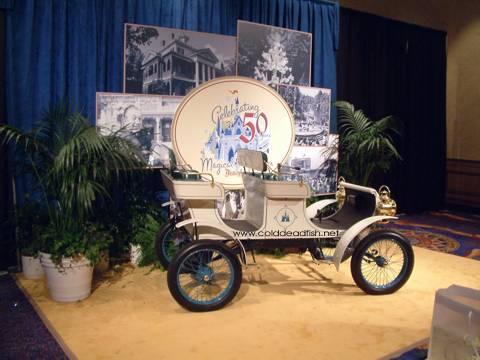 The photo op backdrop.
Notice the front and side of the car, which wouldn't be visible in the commemorative photo.
The walls of the Exhibit Hall were decorated with other black-and-white photo montages, representing each of the lands. There was also one photo montage with pictures of Walt Disney that hung over the registration area.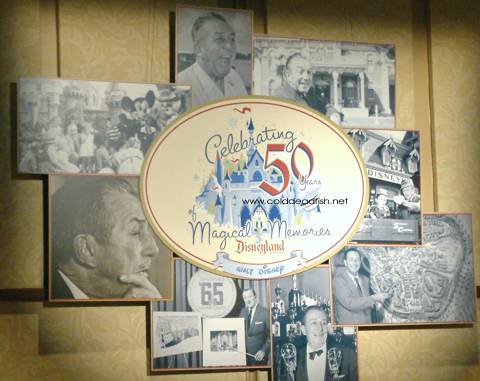 Walt looks out on people in the registration line.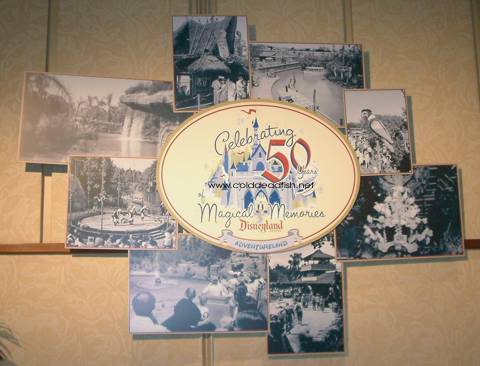 Pictures from Adventureland.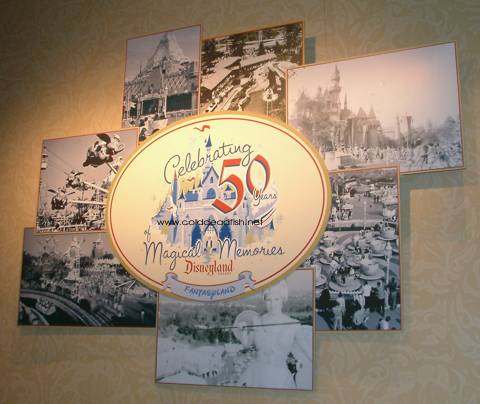 Pictures from Fantasyland.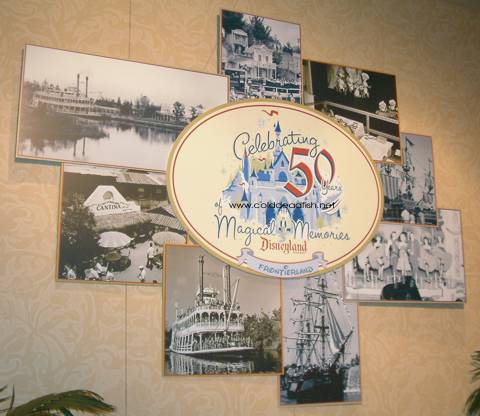 Pictures from Frontierland.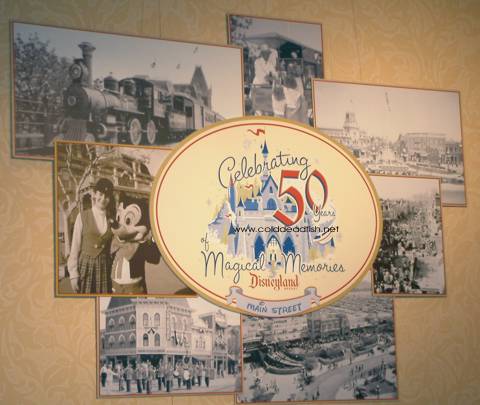 Pictures from Main Street.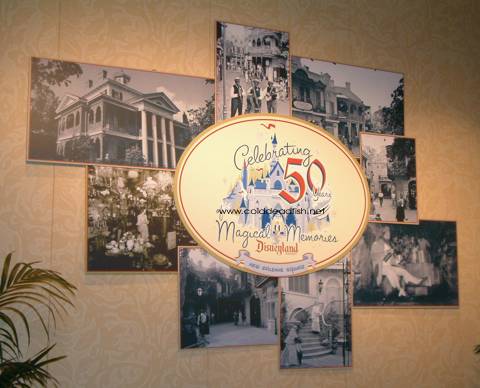 Pictures from New Orleans Square.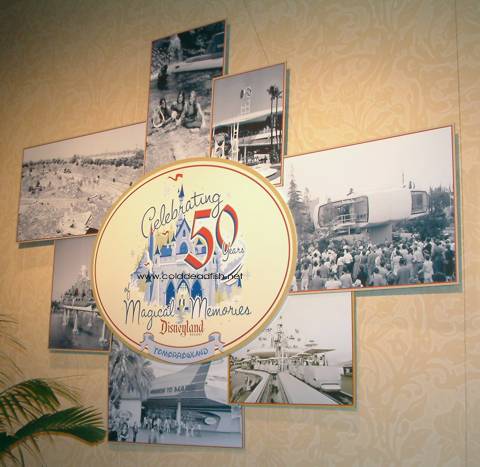 Pictures from Tomorrowland.
There were displays in the main corridor with the merchandise that had been available for purchase as part of the event.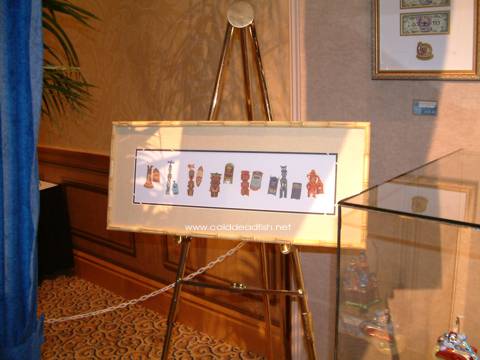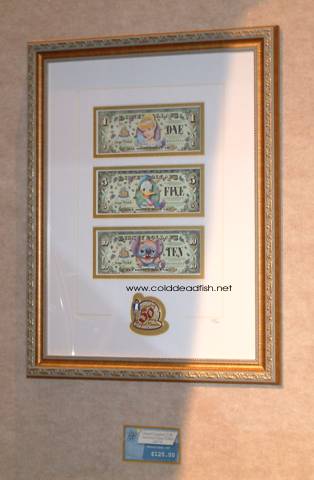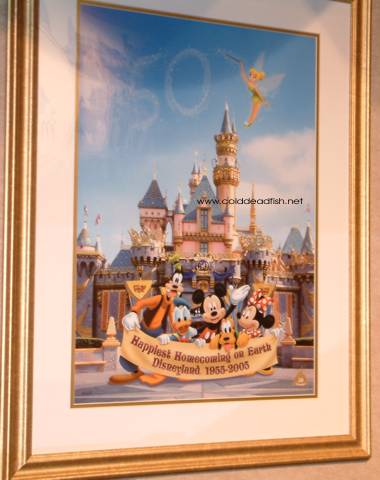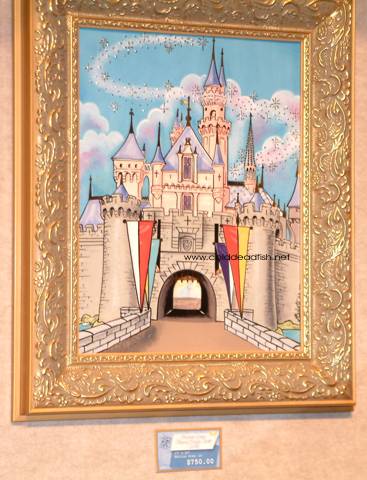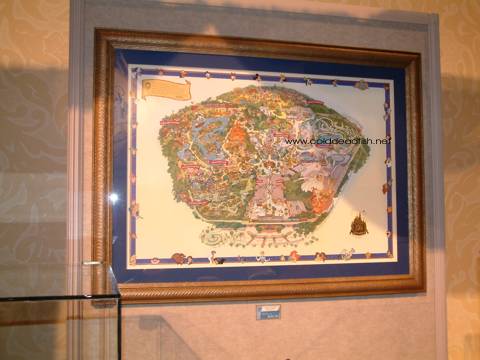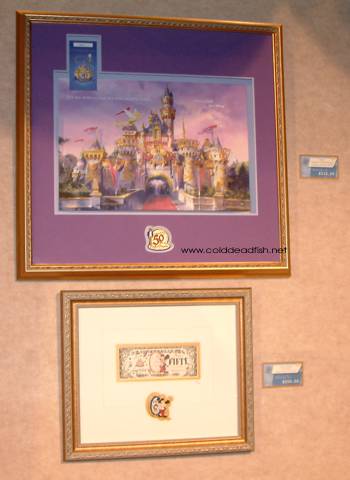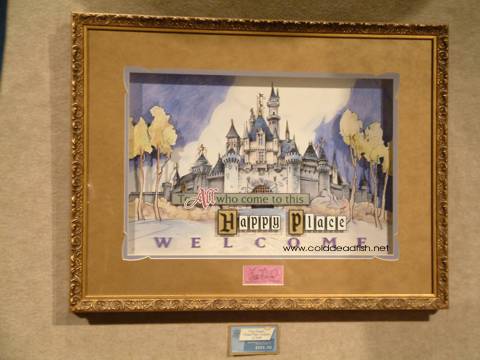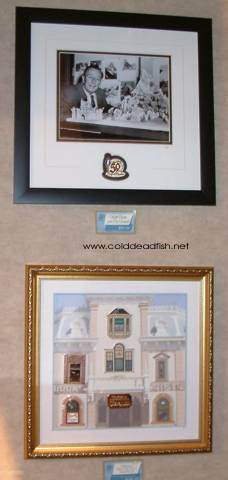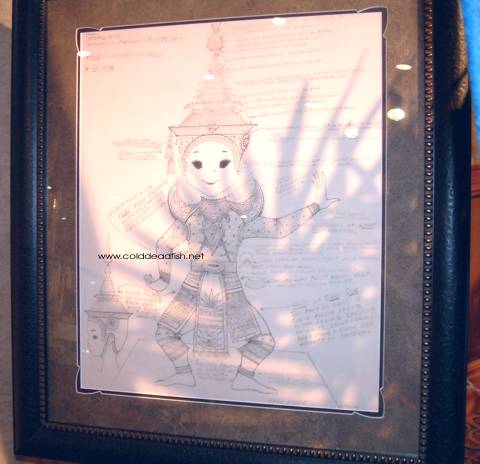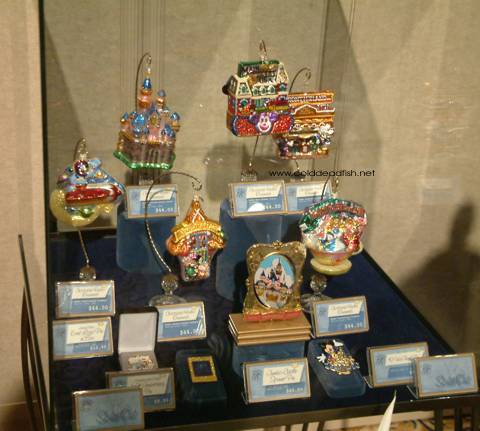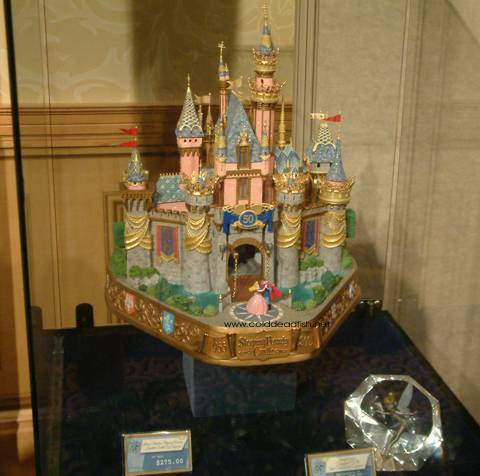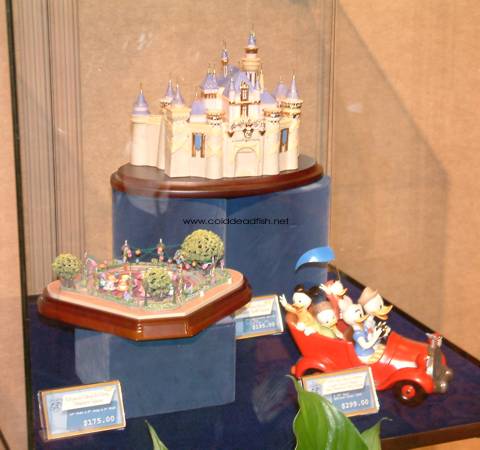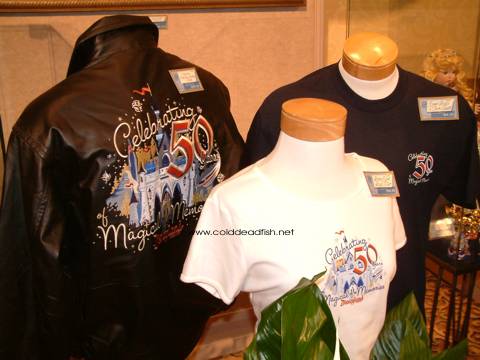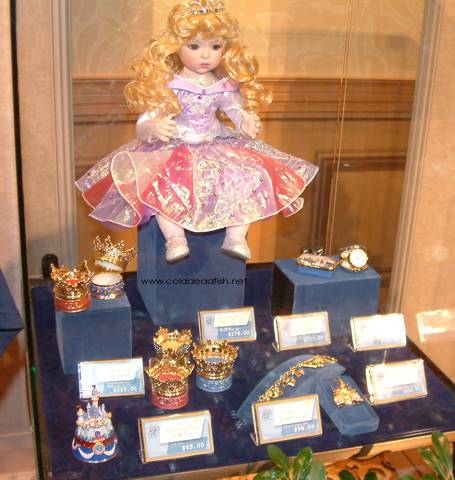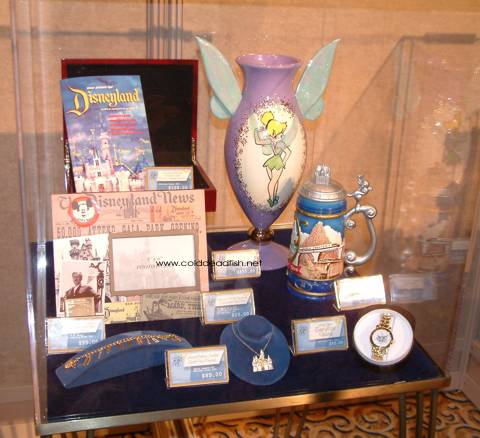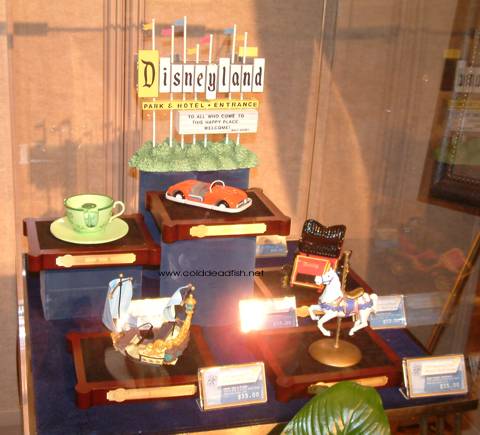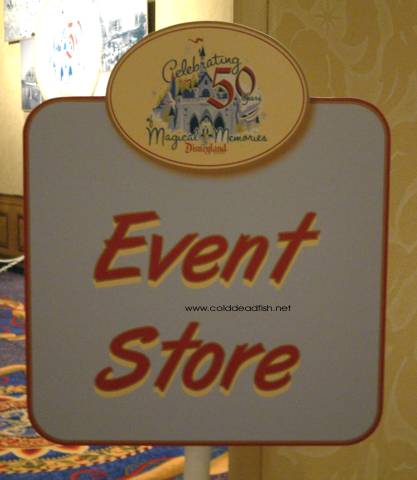 We then headed over to the event store, where remaining event merchandise (excluding those that were on the fourth RSP) and other selected merchandise were available for purchase. We picked up an extra of the Olszewski Mad Tea Party piece for a friend, but we had to specifically ask for the usual "first day of release" plaque as the cast member who was helping us didn't know anything about it. We didn't have that same problem when we picked up our own pre-ordered pieces later.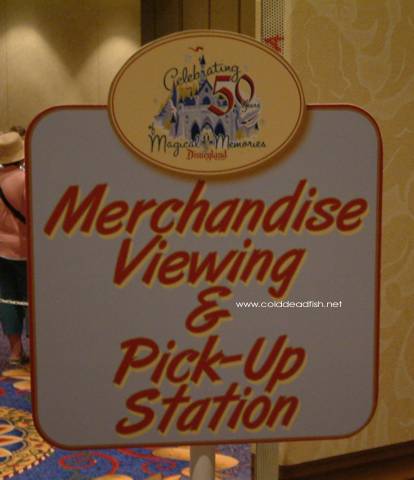 Since merchandise pickup ended at 7pm, we hurried to get in that line and joined it at about 6:15. The process took much longer than it had in the past, even though there were many stations open. We figured it was due to how much merchandise had been available for sale, so it would take longer for each person to receive and examine their purchases. It ended up taking two hours for us to get through the line, though everyone in line waited patiently and seemed to be understanding about the process taking as long as it did.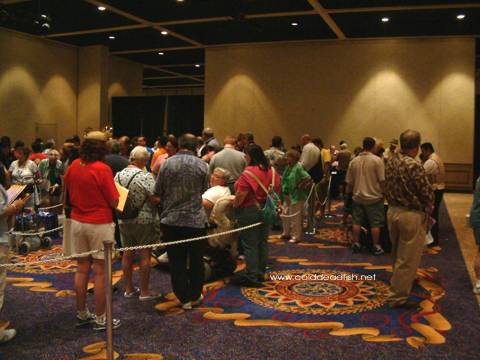 Time to pick up purchases.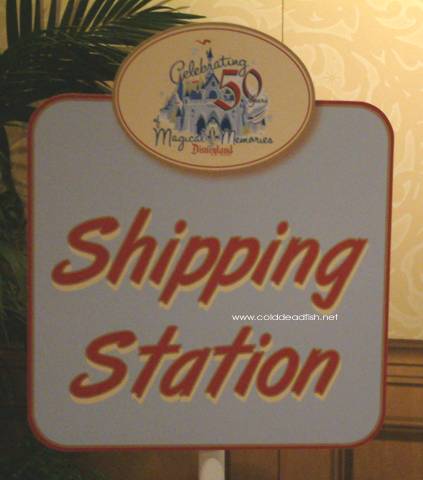 Purchases could be shipped home.
They had stopped letting people into the line at 7pm, but anyone who was in line at that point was able to get their merchandise, which was nice. When we finished up at about 8:45, there were still a few people in line waiting to pick up their merchandise. We were glad that we had decided to utilize the early registration because even though it ended up being a long wait, it was at least at a time when we didn't have anything else scheduled for afterward. We couldn't imagine trying to get through all of that in the morning, when registration opened at 7am and the first seminar started at 9am.
After dropping our merchandise off at our room, we went back to Downtown Disney and enjoyed a nice dinner at Tortilla Jo's. We then headed into Disneyland at about 10:30, rode the Alice in Wonderland ride and then stopped to answer a survey before heading back to our room for the night. We knew that the Grand Californian lounge offered wireless internet, but we were happy to confirm that they also provided an in-room high-speed broadband connection.
JULY 15, 2005 - FIRST DAY OF EVENT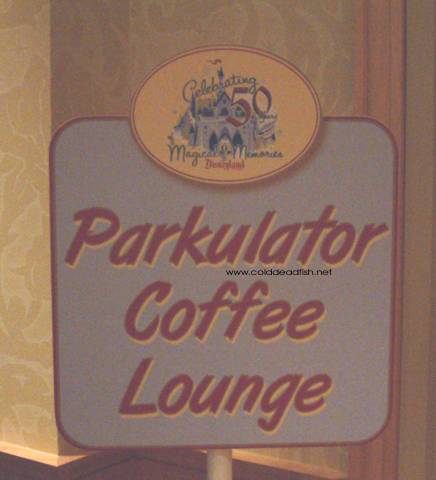 We arrived at the Disneyland Hotel Exhibit Hall at about 8am. The event itinerary had listed a "Park-ulator Coffee Lounge", so we decided to see what that was. In one of the small lounges in the Exhibit Hall had been placed a Skyway attraction vehicle and a Peoplemover attraction vehicle.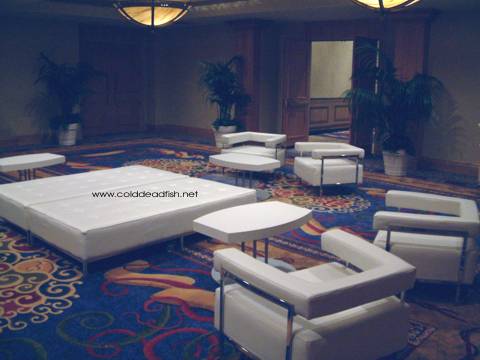 A resting spot comes in handy during the busy schedule.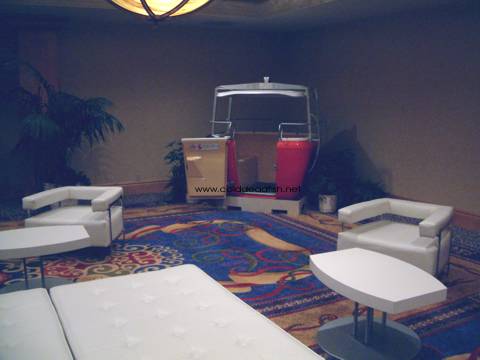 Skyway attraction vehicle.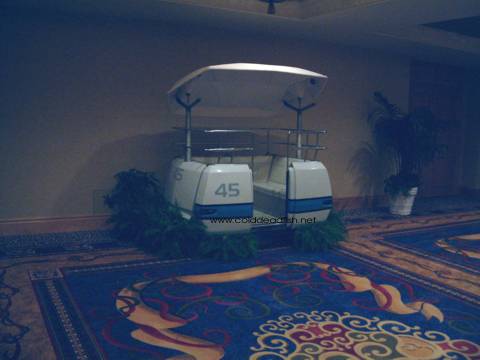 Peoplemover attraction vehicle.
Next to the lounge was a cleverly named coffee cart where beverages and other goodies could be purchased.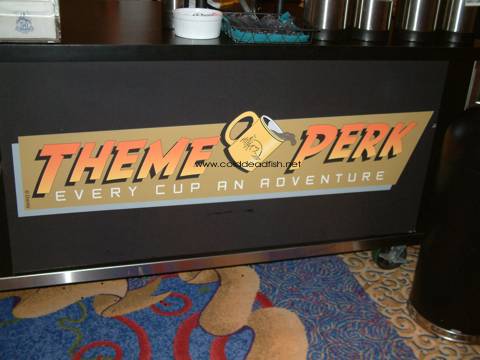 Coffee anyone?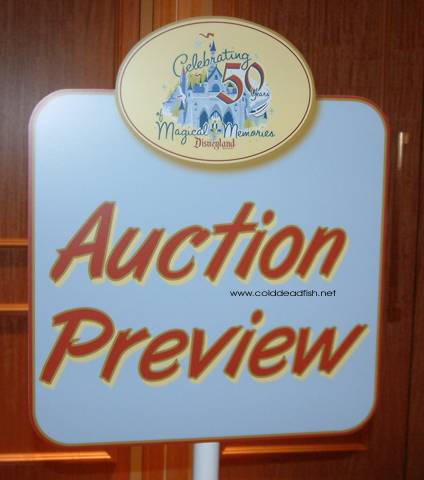 There was a room that had the items which would be available during the auction that night, so we went in there to look at the various items. We hadn't planned on bidding on anything, but it was fun to see the different pieces in person rather than just looking at the pictures in the auction catalog.
We then headed over to where our first seminar was, running into a friend along the way who was staying at the hotel. After talking to her for a few minutes, we found our seminar room. After the first seminar, we headed straight for the second seminar, which started about half an hour after the first seminar ended.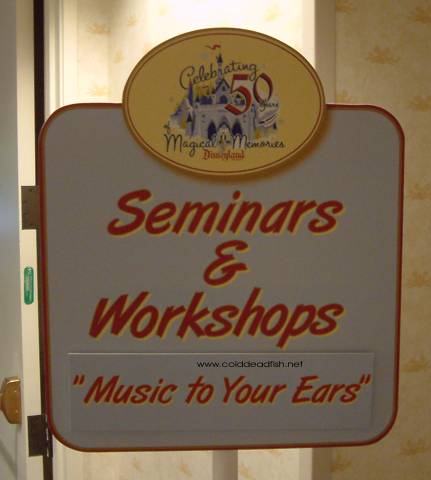 The seminar was conducted by Stan Freese, Disneyland Resort's Talent Booking Director and former Disneyland Band Leader. He started in 1971 as the first leader of the Walt Disney World Band (being involved in the development of the band and facing such challenges as finding musicians who could and would march in the Orlando heat and humidity) and then became the leader of the Disneyland Band in 1974. He was very much involved when Tokyo Disneyland was developed, including training the Japanese musicians in playing top 40 and bluegrass, which was a bit of a challenge. Stan's musical interest and abilities have been passed along to his children, with a son in a current prominent band and another son who regularly plays with name artists. He talked about the different perceptions of and attitudes towards musicians between the United States and abroad, and he also talked about Ken Whitcomb, who worked for Disney for a long time as a composer and arranger.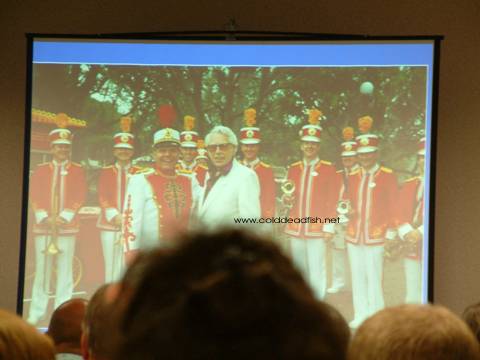 Ken Whitcomb with the Disneyland Band.
Stan talked about how Walt Disney hired the first Disneyland Band, first for a period of a day, and then extending that time to two weeks, a month, and so forth, continuing to this day. The Disneyland Band (which has 15 - 20 regular members as well as some substitutes) plays 5 days a week, and Stan spoke of the need to be careful to make sure that the music being played on Main Street is either themed to the turn-of-the-century or is some kind of Disney music - modern music would not fit into the theme of Main Street. Many of the members of the Disneyland Band also break up into smaller groups that play as other bands on Main Street and elsewhere in the park, including as the Main Street Merchant Band, the Fire House Band and the Side Street Strutters. Stan also spoke about the All American College Band, explaining that early in its existence, college kids would play in the band for the summer, and then some would fly back in on weekends to play before returning to their schools to attend classes for the week. Stan also mentioned the Plaza Gardens Stage, which has hosted numerous big bands for many years, and Rod Miller, longtime Main Street ragtime piano player.
Rod Miller at his piano.
Stan then brought in the all-female mariachi band that plays at both Rancho del Zocalo in Disneyland and in the Pacific Wharf area in Disney's California Adventure, and everyone enjoyed listening to them play.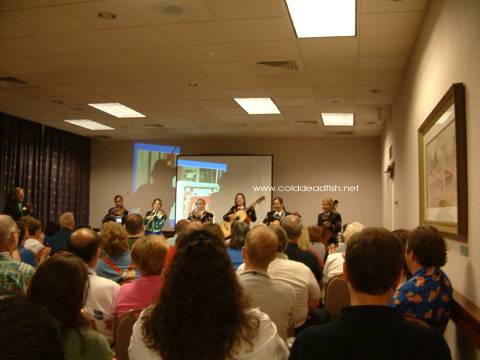 Nothing like some good music to entertain a crowd.
Stan also discussed the piano/bicycle combination (which proved to be difficult when the piano player had to pedal on any kind of incline), the Dapper Dans (who can dress in various different costumes), the Dickens Carolers (who can be found on Main Street during the holidays), the Magic Kingdom Korps, the Trash Can Trio, the Bayou Brass, the Steel Drum Band and Billy Hill & The Hillbillies. Stan expressed the opinion that it was great for Disneyland to continue to have so much musical talent in the park because while they might not be the reason that people are coming through the turnstiles, they definitely add to the enjoyment that a guest has during the day. Stan went on to mention some of the many well-known talents that got their start at Disneyland or have performed at Disneyland and also discussed the musical venues of the Tahitian Terrace and the Golden Horseshoe.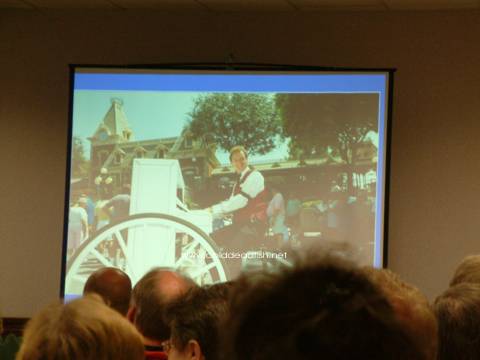 Play a song and get a workout.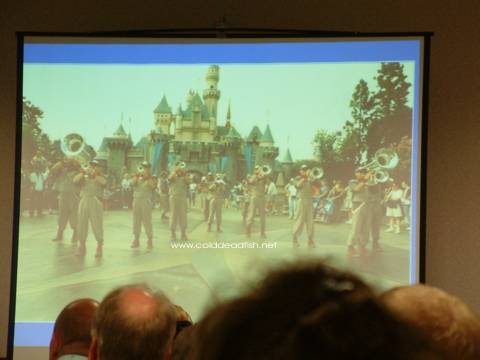 Magic Kingdom Korps.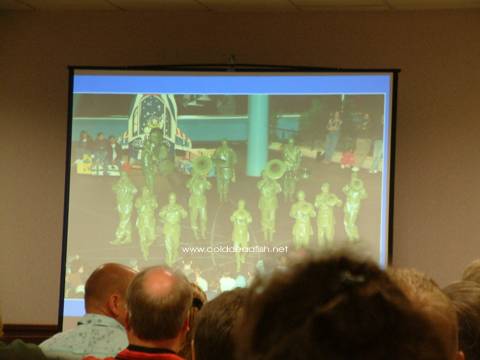 The MKK as the green army men from "Toy Story".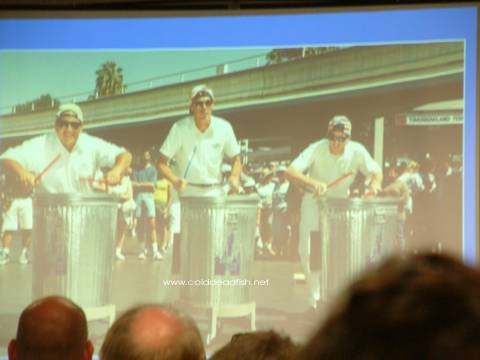 The popular Trash Can Trio.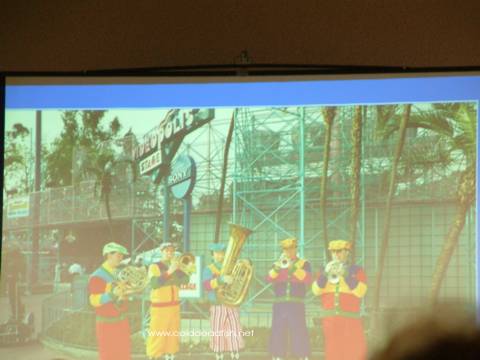 A band at Videopolis. You can tell from the costume colors that this was in the 80s.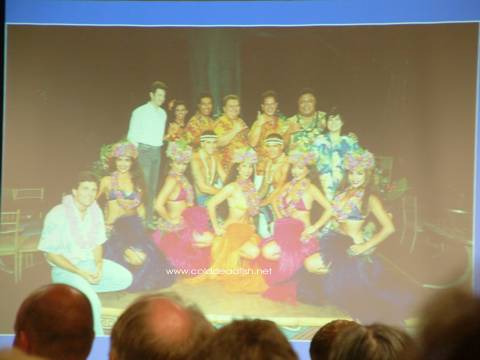 Performers at the Tahitian Terrace.
Stan was a great storyteller and was very personable and engaging. It was very interesting to hear about the development of the musical talent at Disneyland, and all the thought and work that goes into keeping the music alive at the Disneyland Resort.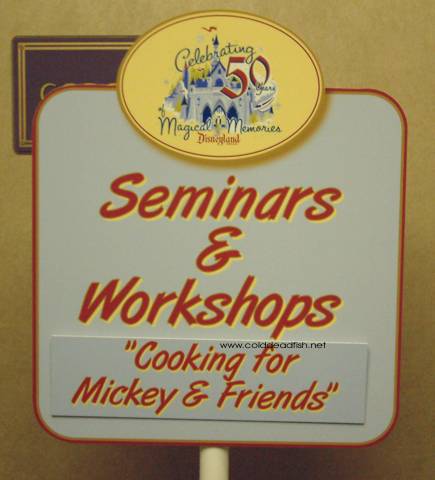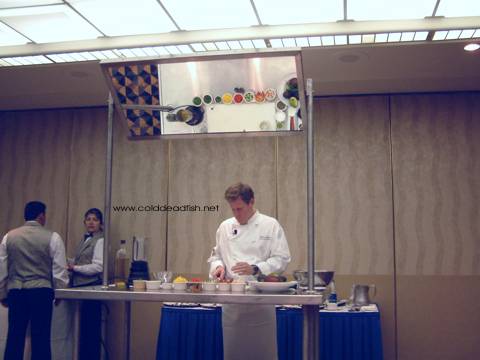 Napa Rose Executive Chef Andrew Sutton preparing for the seminar.
The seminar was conducted by Andrew Sutton, Executive Chef of Napa Rose, who has been with the restaurant since its opening in early 2001. On each seat was a recipe for Lobster and Avocado Martini "Shaken not Stirred" with creamy mango-lime vinaigrette, one of the signature appetizers at Napa Rose and what Andrew would be making this day. I was thrilled at the choice since I'd seen the appetizer at Napa Rose and had meant to try it but had never gotten around to it. Andrew went through all of the ingredients used in the recipe and gave some tips as well (mangos are ripe when they are multicolored [red, green and yellow] and it's harder to tell when avocados are ripe, but cup them with your hands to feel them instead of poking them because they can bruise). He demonstrated how to cut an avocado in half to then take out the pit, and he also showed how you can even dice the avocado in its shell. He explained that the ingredients for this dish should be diced so that everything is about the same size as that makes for more even flavors. The recipe called for a bit of lime zest, and when a question arose from the audience asking what zest was, Andrew explained that it was the outside of a citrus fruit and went on to discuss his favorite zesting tool. After he finished the process of making the appetizer, everyone was able to try the dish for themselves, with portions that had been prepared earlier by his assistants. I love lobster and avocado, so I thought the dish was delicious. We thought it was funny that we were having a Napa Rose appetizer right before our brown bag lunch, which was the next activity on the itinerary.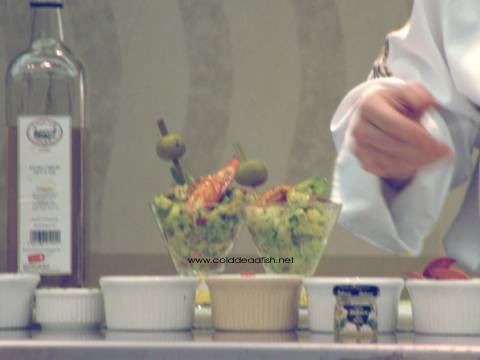 The finished product.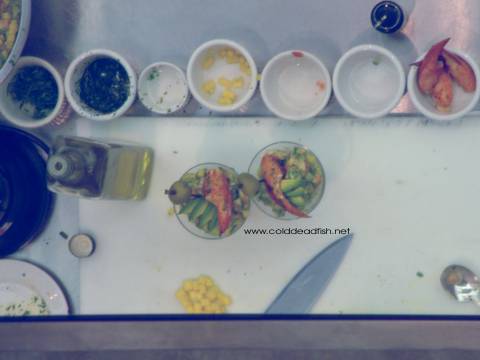 A top view of the finished product.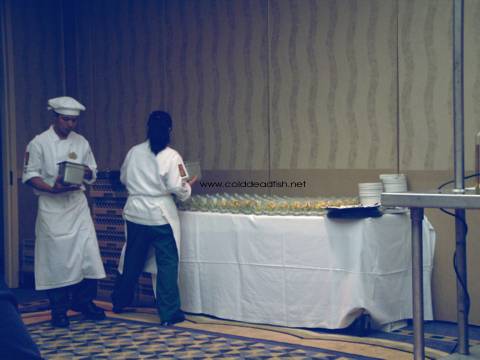 The assistants prepare the appetizers for sampling.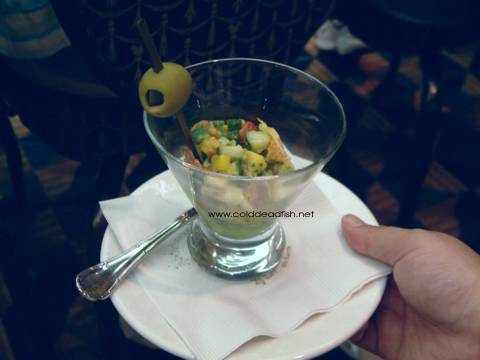 Yum.
We are big fans of Napa Rose, so when we read about this seminar, we knew this was one we definitely wanted to go to. Andrew was very good in talking with the audience, and you could really see his love for his craft. He also seemed to have a very good rapport with the two cooks who were assisting him.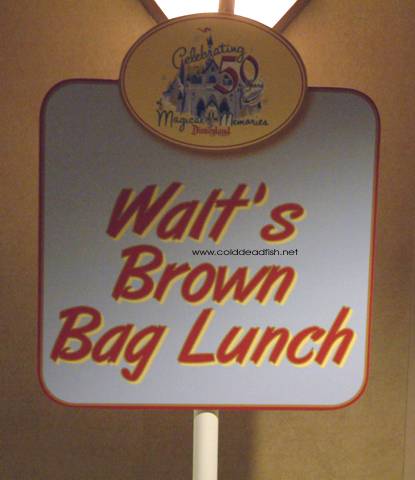 The brown bag lunch was made available to participants in the top three packages. The Marina Ballroom was set up with tables and chairs. After you turned over your ticket and walked into the ballroom, there were long tables set up with the brown bags. After we each took one, we found a table to sit at and were later joined by a couple that we had met several months earlier at Disneyland. The bag had the event logo on it, and lunch consisted of a turkey and cheese sandwich, pasta salad, a peach, a brownie and a drink. It was a fairly simple lunch, but we enjoyed it, especially having time to chat with the other couple.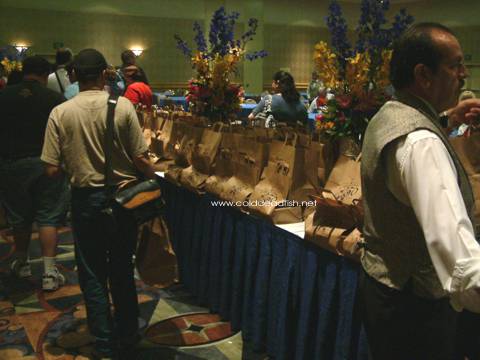 Lunch is served.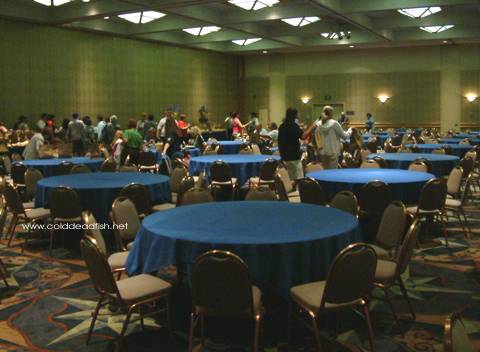 The ballroom is set up for lunch.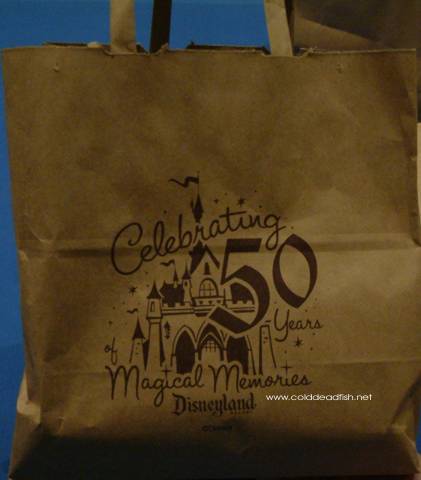 The brown bag which contains lunch.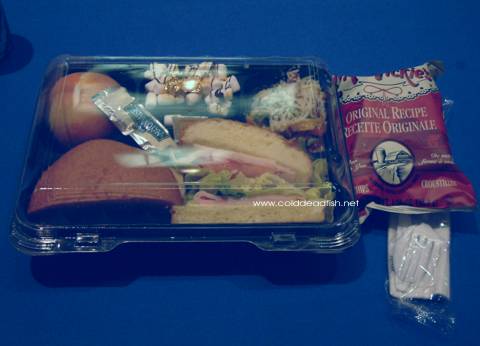 Lunch itself.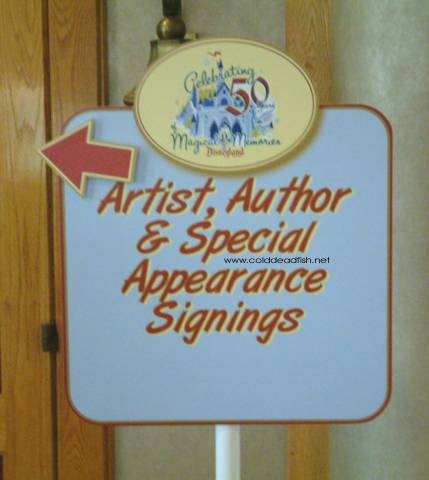 After lunch, we headed over to the artist "meet and greet" and signing which was being held in a nearby room and waited for that to start. For past events, we hadn't gone to these types of activities because it's not something we're particularly interested in, but since we knew that Bob Olszewski was going to be there, and we'd been purchasing pieces in his miniature Disneyland collection, we thought there might be some upcoming pieces on preview display, so we wanted to drop by. Even though we weren't getting anything signed, we ended up in the line anyway just to get into the room, but that turned out to be a pleasant experience because we ended up in line behind our lunch companions, so we were able to continue our conversation with them. When we got into the room, we noticed that the train that is scheduled to be released in September in the miniature Disneyland collection was available in its packaging.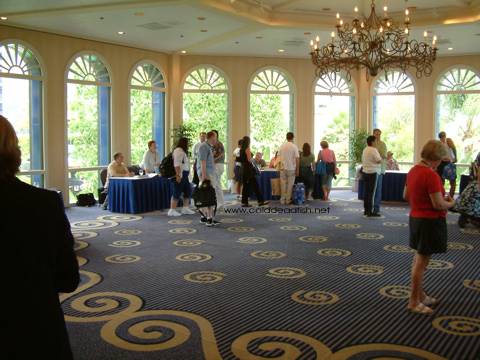 Guests visiting with artists and authors.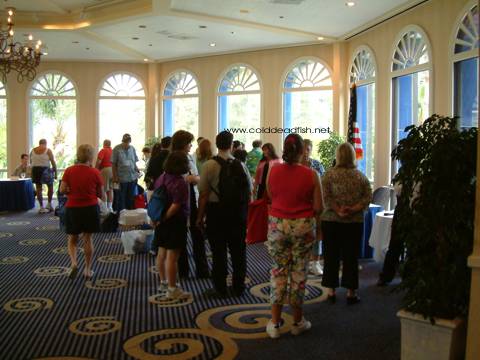 More guests with more artists and authors.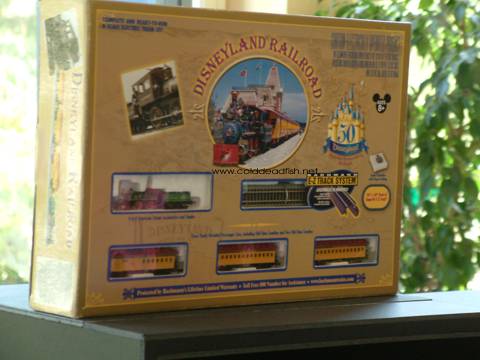 The train in the miniature Disneyland collection.
We had noticed that the signing guests had event credentials as well, in yet another color than event attendees. Olszewski's normal representative was there, so we asked him about his event credential, but he didn't have one so referred us to the artist at the next table, who was David Bird. For this event, David had created a beautiful stained glass piece of Walt walking through Sleeping Beauty Castle which had been sold as part of the RSP merchandise, and he had also created a beautiful stained glass piece of the Disneyland marquee to be sold at the live auction on Friday night. More information about David and his work can be found at his website. David was gracious enough to let us take a picture of his badge, and we had a fun conversation with him to boot.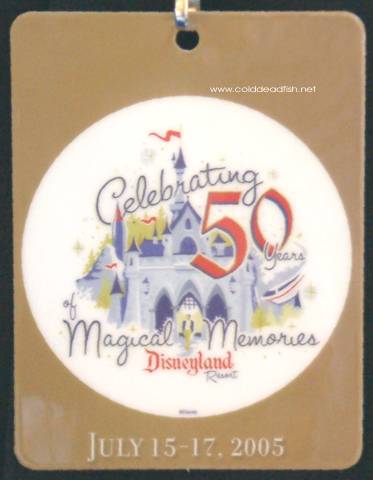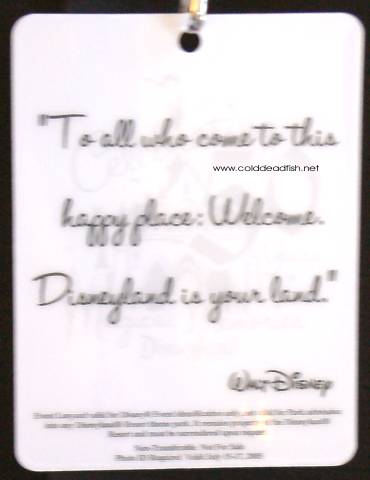 Thanks, David!
Marie Osmond was also at this event, and I had the opportunity to watch her as people came up to meet her, and she seemed to be very gracious with all of them, engaging each person in conversation in addition to having her picture taken with them. She genuinely seemed interested in each person that she met and to enjoy herself in the process.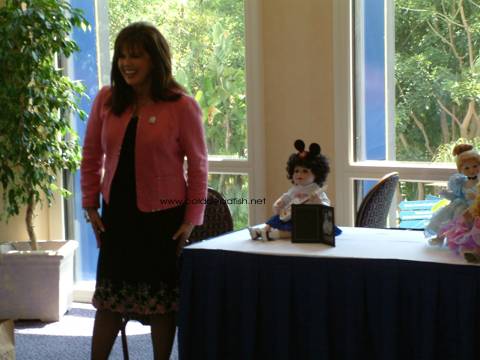 Marie Osmond at her meet-and-greet table.
After we were finished, we headed over to Disneyland for a short time to meet up with some friends before heading back over to the hotel at about 4:30. In addition to the live auction that evening, there was also going to be a silent auction for a number of different items. The silent auction lots had been set up so that people could view them. During the course of dinner, people would be able to write down their bids on the list next to their desired item and be able to check the lists for other bids and to re-bid if they wished. Winning bidders would be announced later. A sample of the items available are included below.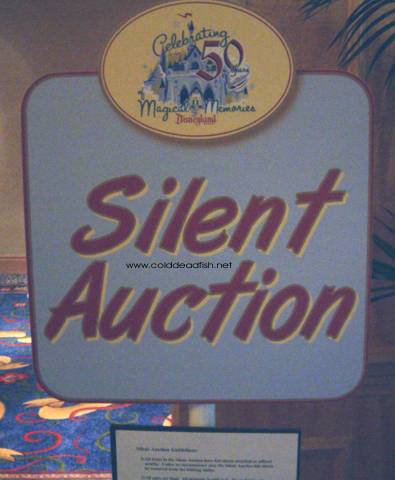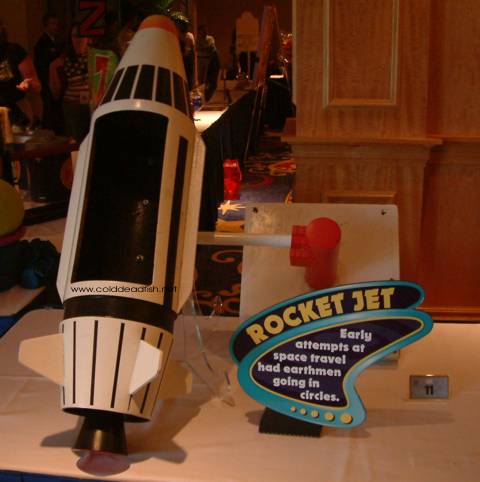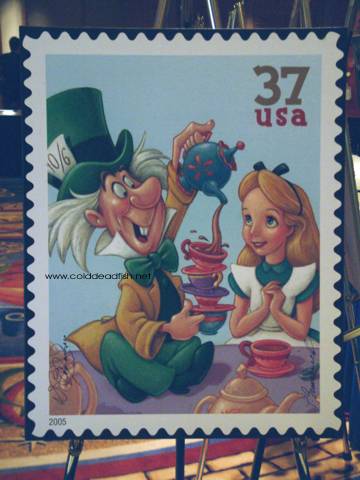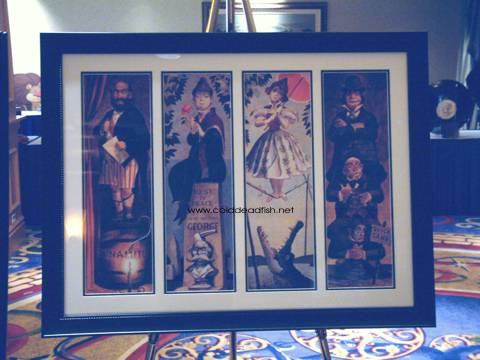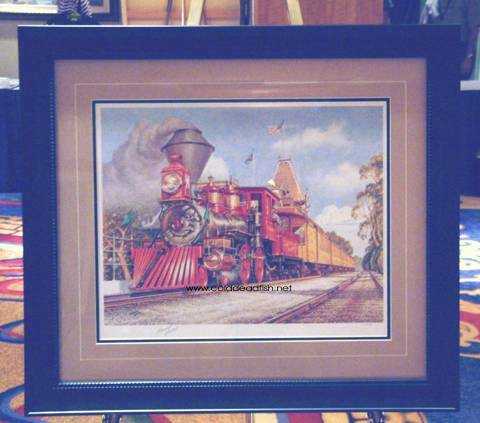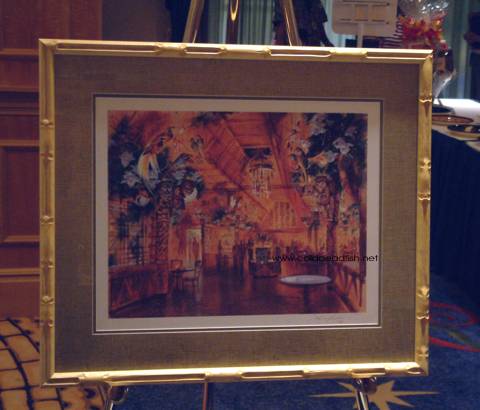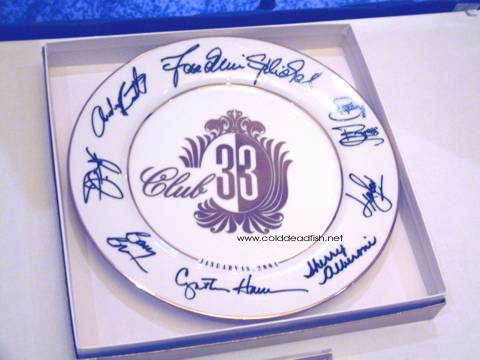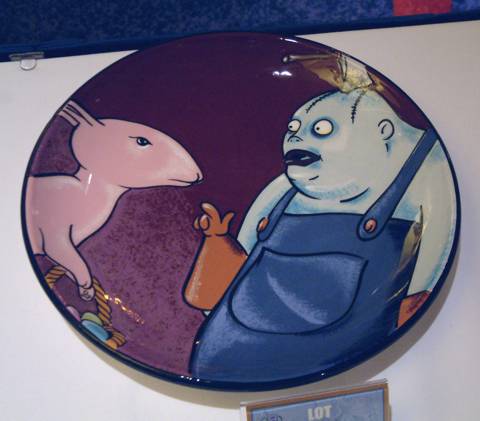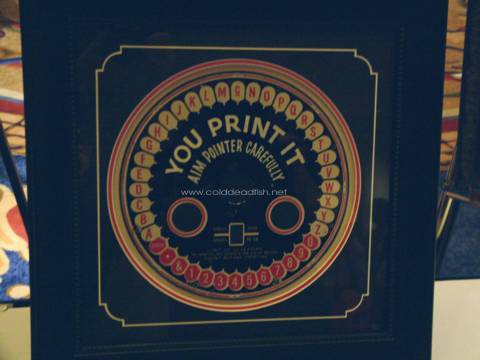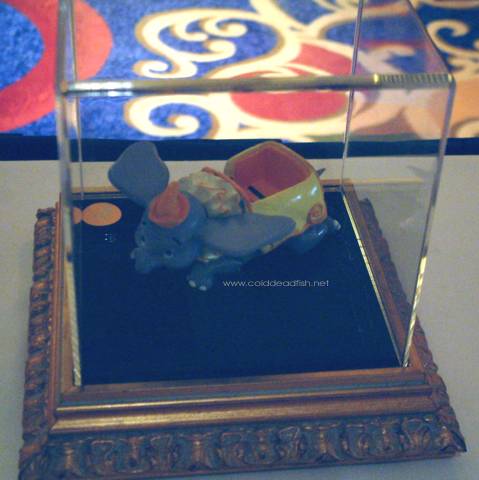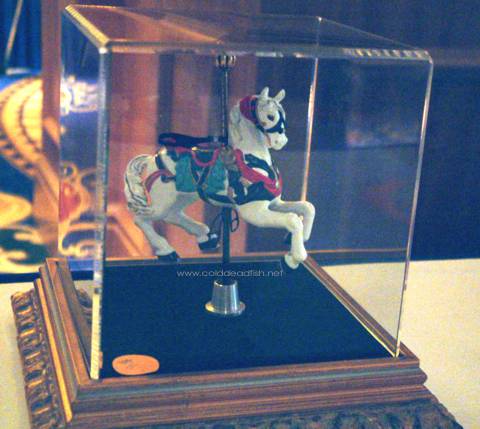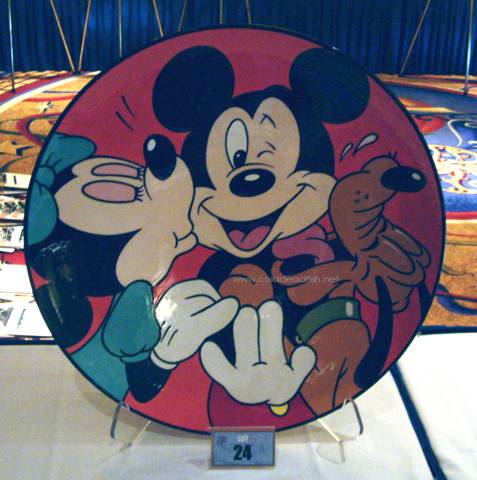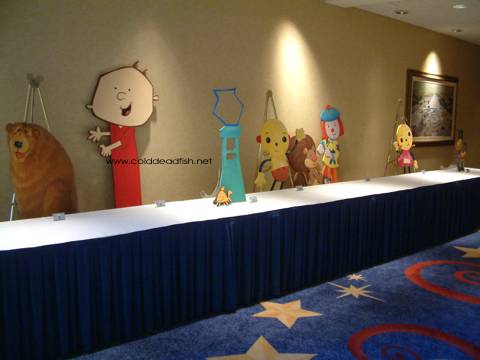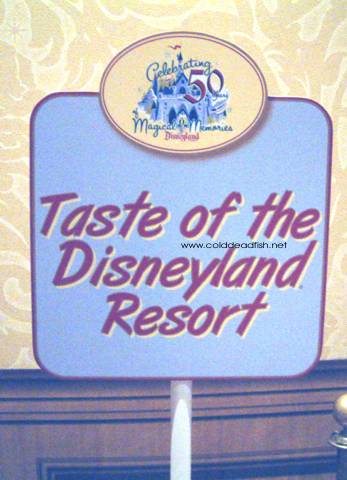 At about 5pm, the doors to the Exhibit Hall were opened for the "Taste of Disneyland Resort" dinner. A booklet had been included in our registration packet with tear-off pages that we would need to turn in for each dish, but the booklet was done so well that many of us had expressed our desire to keep the booklet intact as a keepsake. Each page had a brief description of the respective restaurant as well as the sample to be offered. During the course of the day, there were apparently enough people expressing this desire that they decided they would put an "X" at the bottom right of each page rather than us having to tear the page out, and we were very happy that decision was made. The room was set up with both regular small tables with chairs and small cocktail tables with no chairs. We were able to get one of the tables with chairs, and we were later joined by another couple that we knew.
Seven restaurants of the resort were represented at this dinner: Blue Bayou, Golden Vine Winery Vineyard Room, PCH Grille, Yamabuki's, Hook's Pointe, Granville's Steak House and Napa Rose. Each of the restaurants is a high end restaurant at the resort except for PCH Grille, so the inclusion of that restaurant seemed odd. Each restaurant had a station set up in the room, and in addition to the item listed on the ticket, each station also offered a vegetarian sample as well. When you got to each station, someone marked off the appropriate page and you then were able to take your selections back to your table. Sometime during dinner, Mary Niven, Vice President of Foods at the resort, introduced the executive chef of each of the participating restaurants.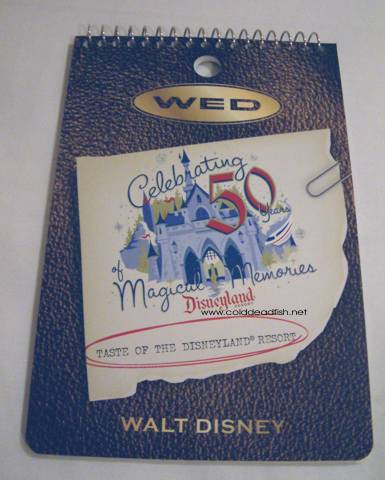 Front cover of the booklet.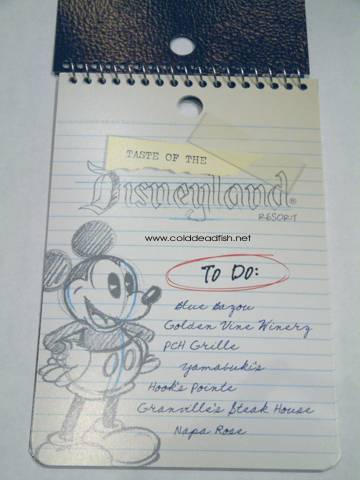 The dinner admission ticket.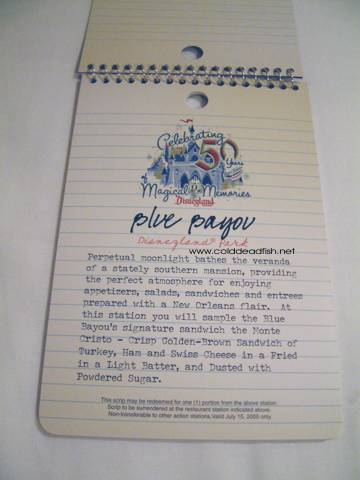 Blue Bayou ticket.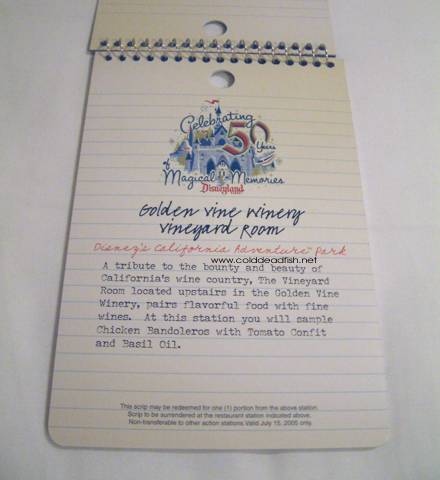 Vineyard Room ticket.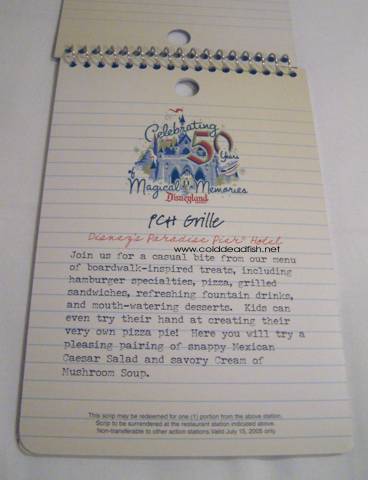 PCH Grille ticket.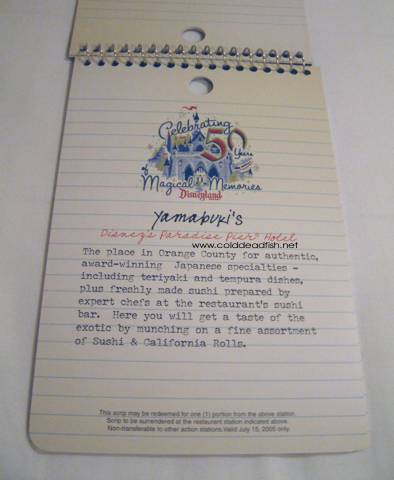 Yamabuki's ticket.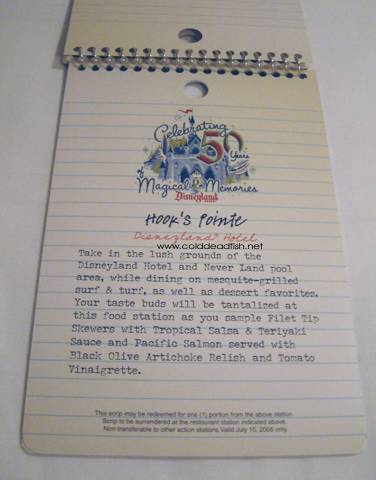 Hook's Pointe ticket.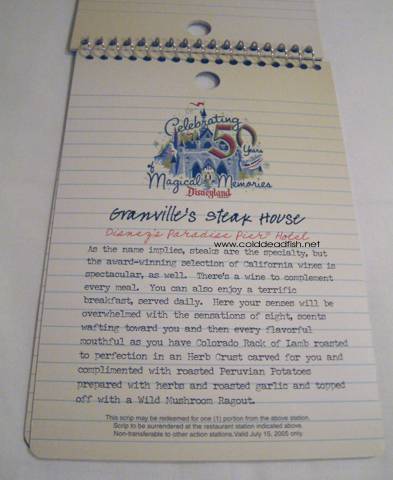 Granville's ticket.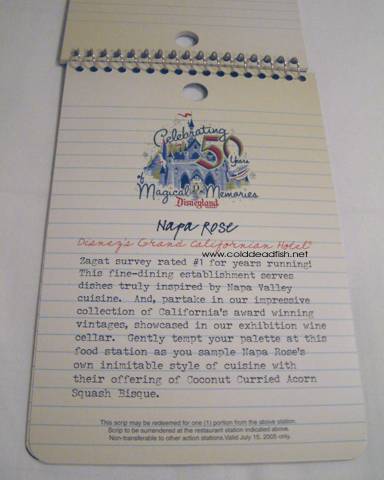 Napa Rose ticket.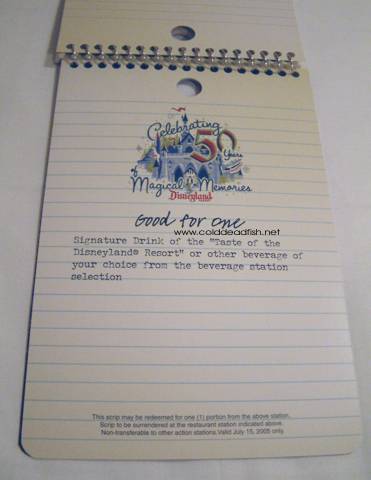 A ticket to exchange for a drink.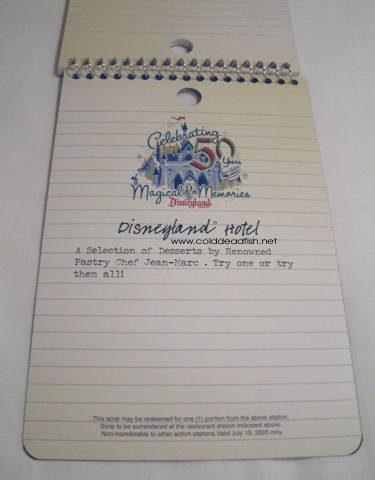 A dessert ticket.
Rather than try each dish in the order of restaurants listed in the booklet, we decided to try the dishes in the order of courses you would have for dinner.
First up was PCH Grille, which offered a Mexican Caesar Salad and a Cream of Mushroom Soup. Both were very good, with the Caesar salad having a nice flavor from the dressing and the mushroom soup being particularly tasty and creamy, with lots of mushrooms in the soup.
Salad and soup from PCH Grille.
Second was Napa Rose, which offered a Coconut Curried Acorn Squash Bisque and Heirloom Tomatoes with Blue Cheese and Cider Vinaigrette. Though I had been hesitant about the soup because of its ingredients, it actually had a very nice flavor, especially since it also included mushrooms and forbidden rice, which I happen to love. The tomatoes were very good, but I'm not particularly fond of blue cheese, so I left most of that on my plate.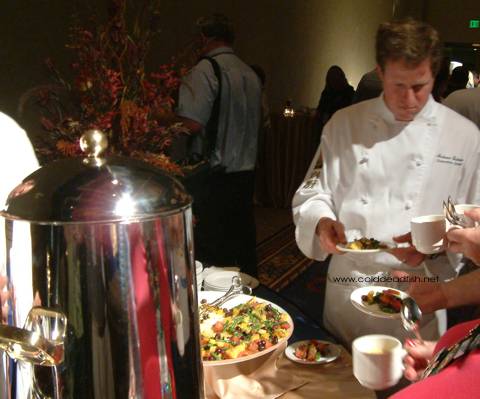 Napa Rose Executive Chef Andrew Sutton helps serve.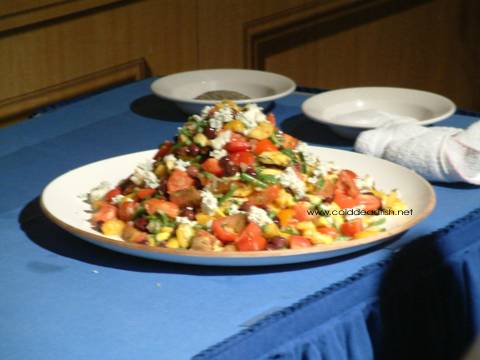 Salad from Napa Rose.
Third was Yamabuki's, which offered assorted sushi consisting of shrimp, tuna and one piece of California roll. The sushi was good but not great, which is what I remember thinking about the sushi at Yamabuki's the two times that I've been there. I like tuna, but I tend to find California roll and shrimp to be fairly pedestrian.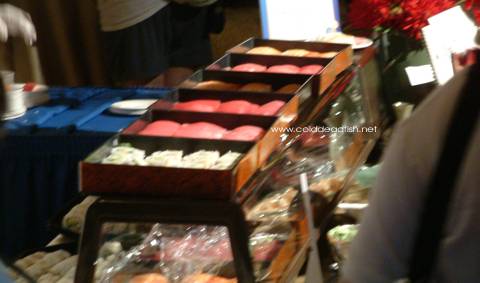 Assorted sushi available from Yamabuki's.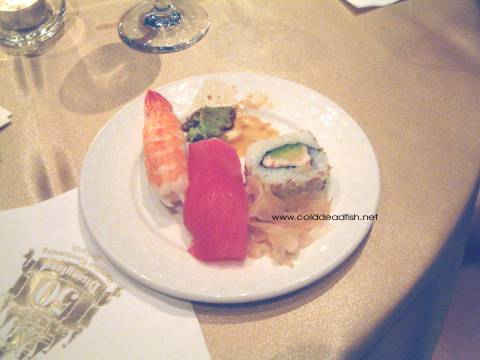 One of each of the available items.
Fourth was the Vineyard Room, which offered Chicken Bandoleros with Tomato Confit and Basil Oil and Crostini with Sun-Dried Tomatoes and Marinated Kalamata Olives. The chicken had a slight hint of spiciness, which I really enjoyed, but by the time I got to the station, they were out of the crostini, but my husband said he really enjoyed it and that the sun-dried tomato spread reminded him of the similar spread that used to be at Stromboli's Italian restaurant, which is no longer open.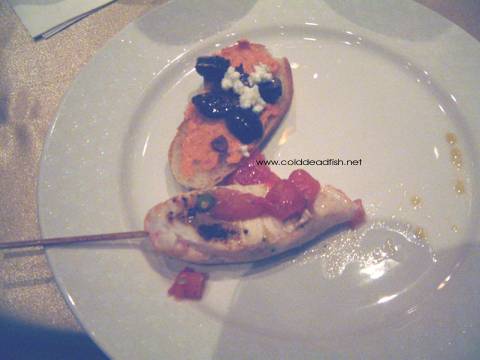 Items from the Vineyard Room.
Fifth was Hook's Pointe, which offered Filet Tip Skewers with Tropical Salsa and Teriyaki Sauce and Pacific Salmon with Black Olive Artichoke Relish and Tomato Vinaigrette as well as Mesquite Grilled Vegetables with Pesto Sauce. They were already out of the skewers when I got there. My husband said they were ok, but that nothing really jumped out at him about them. I did really enjoy the salmon, which had wonderful flavor, and I especially liked the flavor of the artichoke and black olive relish. The vegetables were very tasty as well.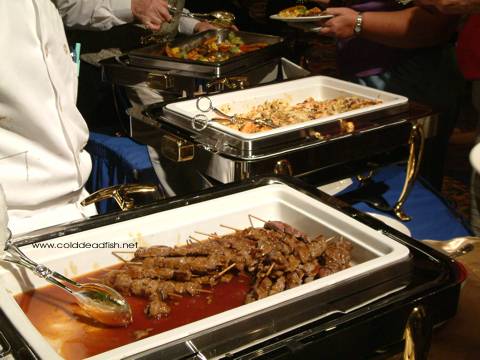 The Hook's Pointe station.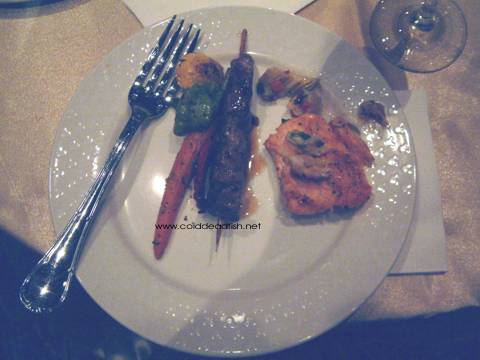 Offerings from Hook's Pointe.
Sixth was Granville's Steak House, which offered roasted Colorado Rack of Lamb in an Herb Crust with roasted Peruvian Potatoes with herbs and roasted garlic and wild mushroom ragout. The lamb looked and smelled really good, but it surprisingly wasn't very flavorful. I instead enjoyed the sauteed mushrooms more. We had dined at Granville's several months ago, and I remembered enjoying the rack of lamb entree, so the difference in the flavor of this evening's offering was puzzling.
The last of the participating restaurants was Blue Bayou, which offered their signature Monte Cristo sandwich, both as the regular turkey and ham version and as a vegetarian version. I saw other people with it, and it looked like it was the equivalent of half a regular sandwich cut in half so it was a triangle. I've never had a Monte Cristo before, so I don't know what it's normally supposed to look like. As we'd gotten about half-way through dinner, I was realizing that I probably wouldn't be able to try everything, since so much was being offered. I've never been interested in having a Monte Cristo, so I decided early on to forego this tasting.
Even though I'd already eaten at all of the restaurants participating in the "Taste of Disneyland Resort" (except for PCH Grille), I had been really looking forward to this dinner because I liked the idea of being able to try a little something from each restaurant, and the offerings certainly did not disappoint. The stations set up around the room meant that people could pick and choose what they wanted and when, and it was a fairly relaxed atmosphere. I was a bit disappointed that they'd already run out of two of the items by the time I'd gotten to those particular stations, but in retrospect, I was already quite full so I'm not sure I would have been able to taste them anyway. You didn't know which restaurant was where until you got close enough to read the table-top signs, so it might have been more convenient if each station had been equipped with a bigger sign identifying the restaurant being represented. All of the staff at each station was very friendly, and the staff in the room was very attentive, coming around often to collect unwanted plates.
The drink coupon could be exchanged for one signature drink (Chandon Royale - Domaine Chandon Champagne with a raspberry and a splash of Chambord) or another beverage from the beverage stations. I tried the signature drink and found it to be quite tasty while my husband opted just to have champagne since he doesn't care for raspberry. Bottled water could be obtained from the drink stations as well without needing to use a coupon.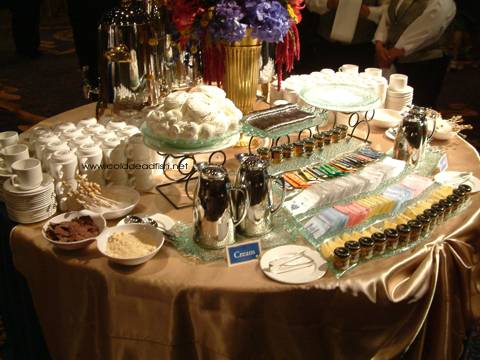 Coffee and tea was also available.
A selection of desserts was also available, including a chocolate fountain.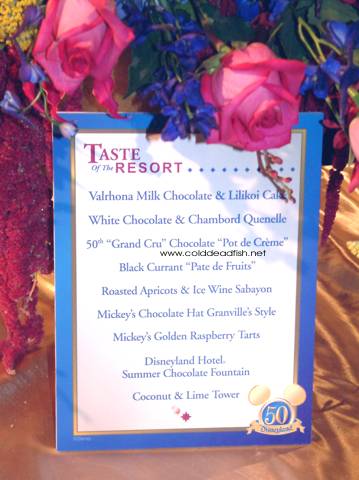 What's for dessert?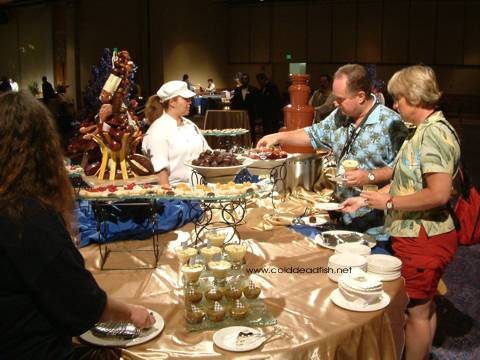 Mmmmm....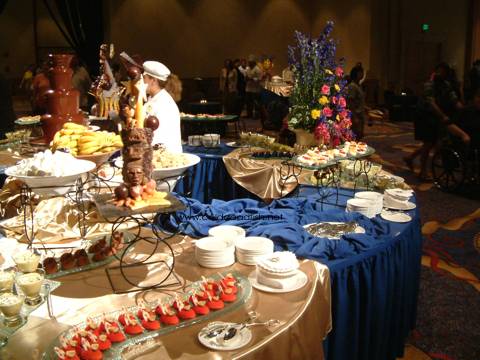 >
More things to choose from.
The dessert tables were also decorated with little cute vignettes made out of chocolate.
>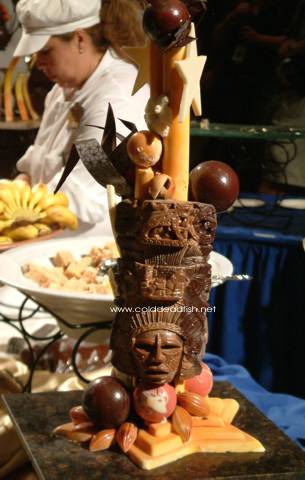 >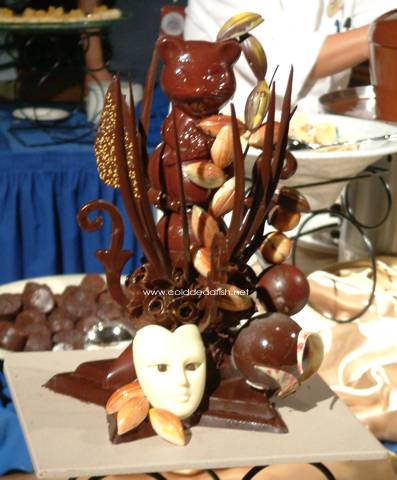 >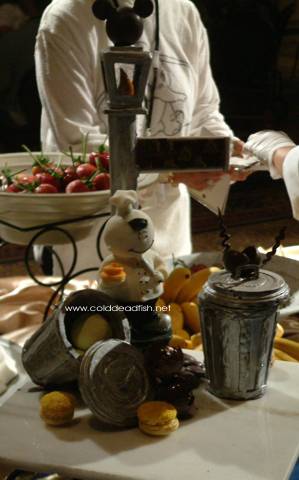 >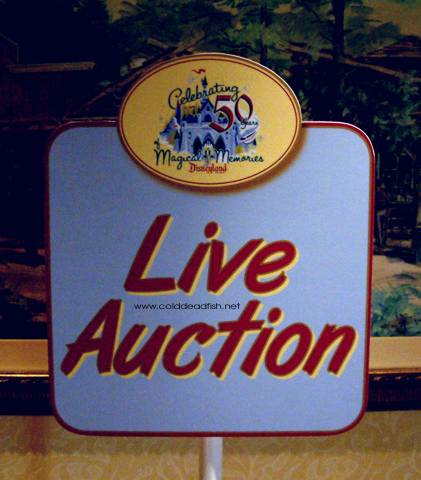 >
Lot 33 in the live auction to be held in the evening had been listed as a surprise, and at dinner, we discovered what that surprise was. There was a stage set up with a canvas and some paints. During the course of dinner, the artist - Trevor Carlton - created the painting right there, and the finished painting was later sold during the auction. It was interesting to watch the development of the painting.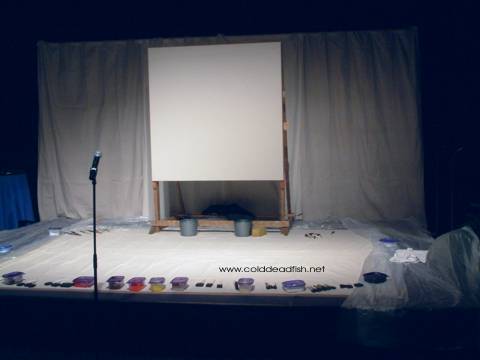 >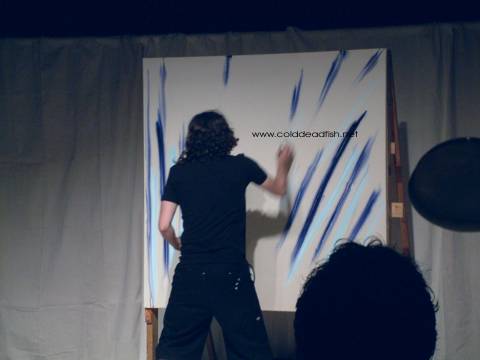 >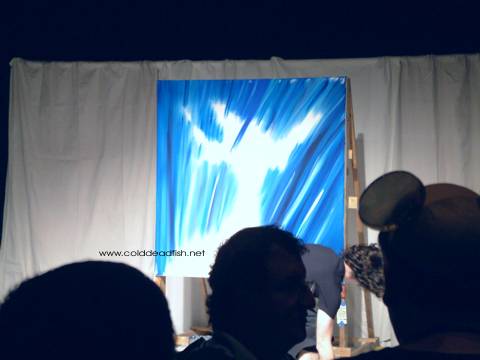 >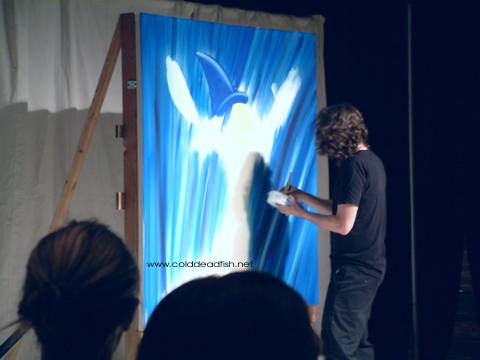 >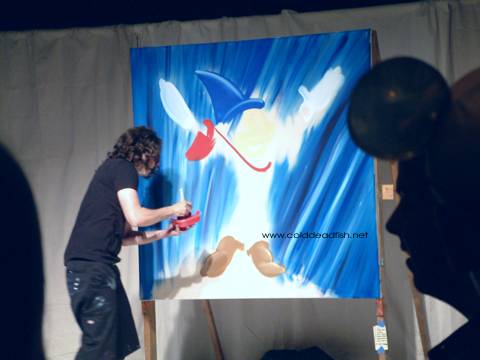 >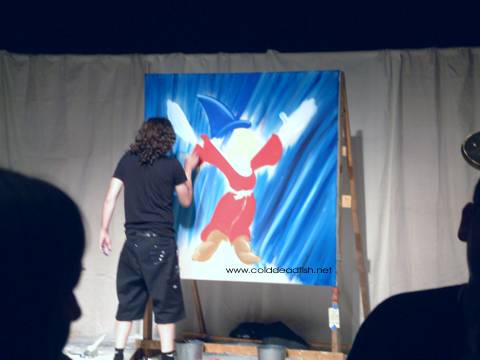 >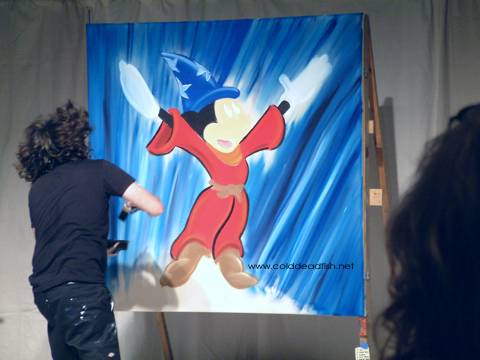 >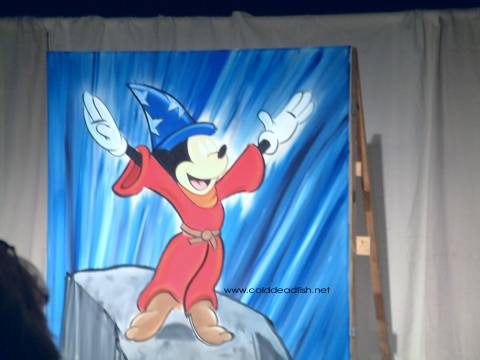 >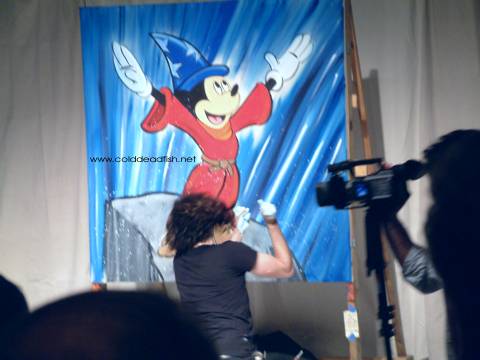 >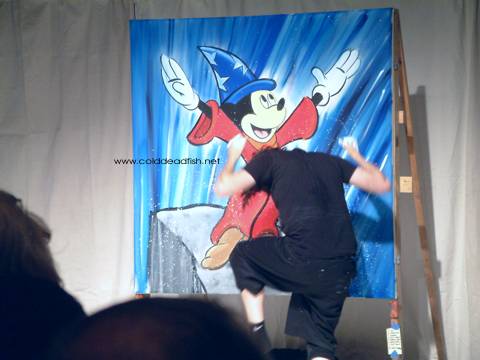 >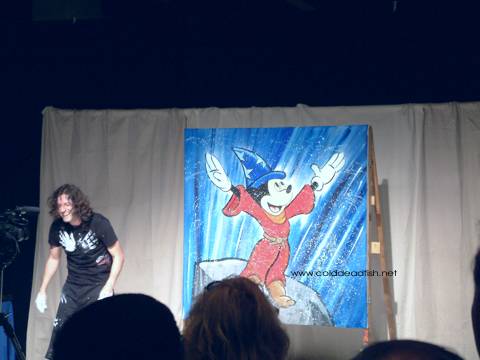 >
As dinner ended, the grand ballroom opened to seating for the live auction. As you walked in, you were given a sheet of paper with the auction lots listed as well as information about shipping costs, should winning bidders decide to have their items shipped home. There were rows reserved for each package level and then the rest was general seating. Soon after we took our seats, we noticed Alice Davis taking a seat in the row in front of us. One of the lots being offered in the auction was a "Small World" experience where the bidder and 8 guests would be able to ride the attraction with her as she talks about different sections and would also include lunch with her where she recalls memories of working on this and other attractions.
When the auction started around 7:30pm, the auctioneer - Charles Dreyer - took the stage and introduced Mickey Mouse, who appeared briefly. Afterward, the bidding started, as each lot was put up for sale in turn. In addition to the people present in the room, there were also phone bidders with their bids being relayed by cast members. During the course of the live auction, winning bidders of the silent auction were announced as well.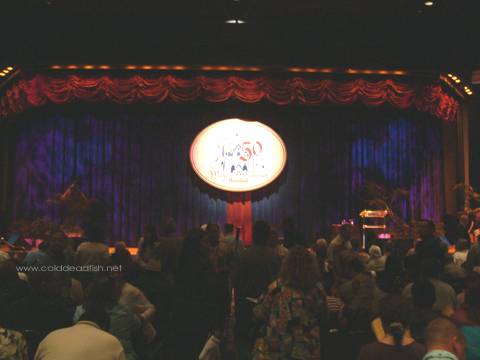 The stage is set.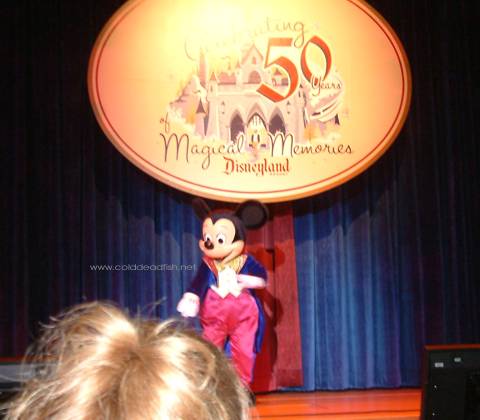 Mickey makes an appearance.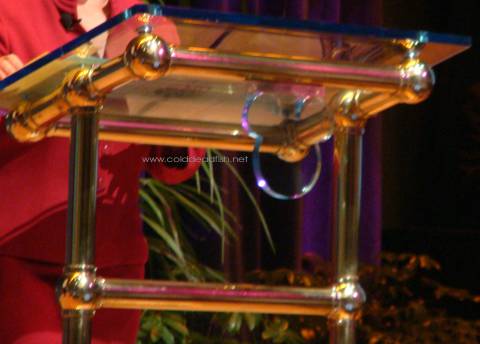 Even the podium has a Mickey touch.
The items offered during the auction, along with each winning bid, were as follows:
1. Swarovski crystal Golden Mickey Mouse ears - $9,000
2. original Disneyland VIP parking pass - $2,000
3. Disneyland "Celebration U.S.A." parade miniature model - $7,000
4. Jungle Cruise and Big Thunder Mountain Railroad Expedition with Tony Baxter - $2,750
5. surprise lot which turned out to be a Marie Osmond Cinderella doll - $14,000
6. Tarzan's Treehouse desk - $1,500
7. Disneyland marquee stained glass art piece - $5,000
8.a. Disneyland Christmas tree ornament signed by Marie Osmond - $1,000
8.b. Disneyland Christmas tree ornament signed by Diane Disney Miller - $1,000
8.c. Disneyland Christmas tree ornament signed by several original Mouseketeers - $1,150
8.d. Disneyland Christmas tree ornament signed by Fess Parker - $1,100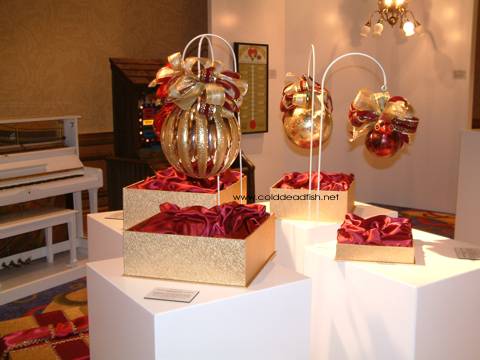 For those of you who don't already have a Disneyland ornament.
9. Rocket Jet - $7,000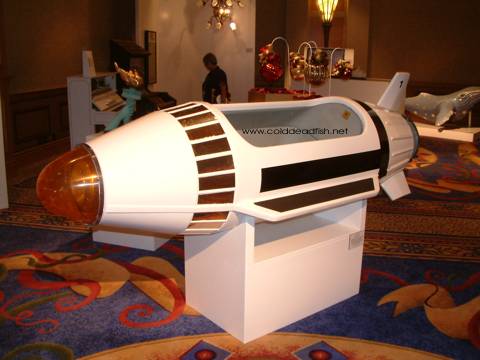 10. "Opening Day of the Disney Gallery" original watercolor by John Hench - $7,000
11. "It's a Small World" Russian-themed figure - $7,000
12. rustic trunk from New Orleans Square train station - $800
13. Wacky Gator Arcade Game from Teddi Barra Swingin' Arcade - $600
14. Matterhorn Bobsleds Tour Experience - $4,500
15. Walt's Apartment Experience - $9,000
16.a. Eric Robison Disneyland Decades painting (1955 - 1965) - $9,000/P>
16.b. Eric Robison Disneyland Decades painting (1965 - 1975) - $5,000
16.c. Eric Robison Disneyland Decades painting (1975 - 1985) - $5,000
16.d. Eric Robison Disneyland Decades painting (1985 - 1995) - not sold
16.e. Eric Robison Disneyland Decades painting (1995 - 2005) - $7,000
16.f. Eric Robison Disneyland Decades original concept sketch (1955 - 1965) - not sold
16.g. Eric Robison Disneyland Decades original concept sketch (1965 - 1975) - not sold
16.h. Eric Robison Disneyland Decades original concept sketch (1975 - 1985) - not sold
16.i. Eric Robison Disneyland Decades original concept sketch (1985 - 195) - not sold
16.j. Eric Robison Disneyland Decades original concept sketch (1995 - 2005) - not sold
17. Refreshment Corner Piano - $3,500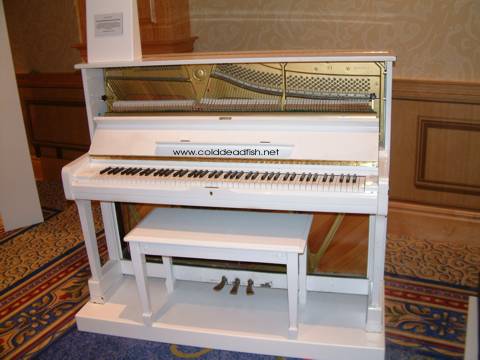 18. Mara Head - $2,750
19. Ten Gallon Hat from the "America Sings" Attraction - $850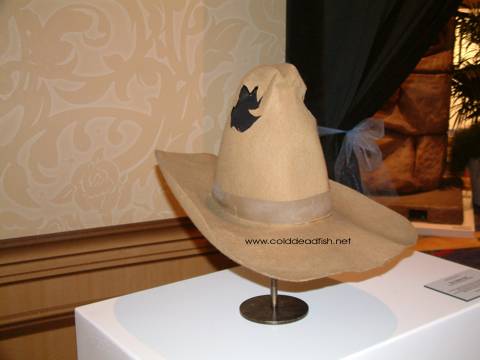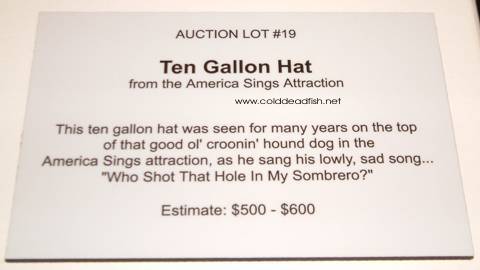 The descriptor plaque from the auction preview room.
20.a. Two-dimensional Alice in Wonderland playing card figure used to decorate the shroud covering Sleeping Beauty Castle during its refurbishment (kneeling card) - $400
20.b. Two-dimensional Alice in Wonderland playing card figure used to decorate the shroud covering Sleeping Beauty Castle during its refurbishment (over the fence card) - $700
20.c. Two-dimensional Alice in Wonderland playing card figure used to decorate the shroud covering Sleeping Beauty Castle during its refurbishment (3 of Clubs with flag) - $550
20.d. Two-dimensional Alice in Wonderland playing card figure used to decorate the shroud covering Sleeping Beauty Castle during its refurbishment (4 of Clubs in basket) - $525
20.e. Two-dimensional Alice in Wonderland playing card figure used to decorate the shroud covering Sleeping Beauty Castle during its refurbishment (5 of Clubs) - $550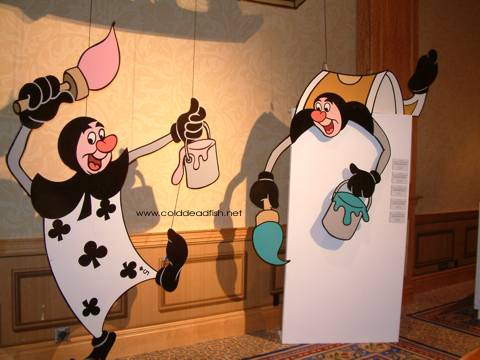 21. Horticulture Tour with members of Horticulture Department - $2,500
22. Penny Arcade Chandelier - $2,750
23. SHAG retro-style cocktail table and barstools - $4,000
24. "Disneyland Event Retrospective" shadowbox collage - $7,000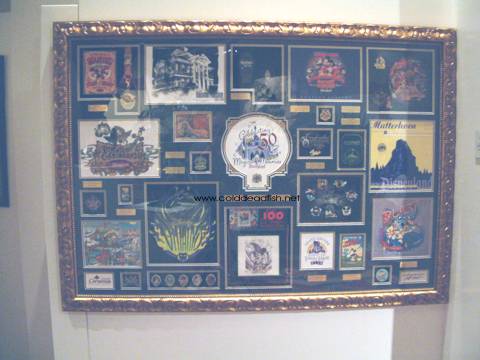 This was a beautiful piece. How many items in the collection do you already own?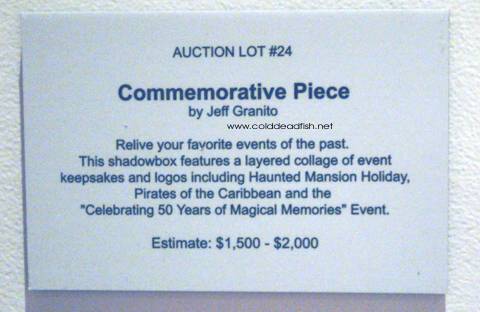 The descriptor plaque from the auction preview room.
25. Walt Disney with Mickey Mouse progression - $8,000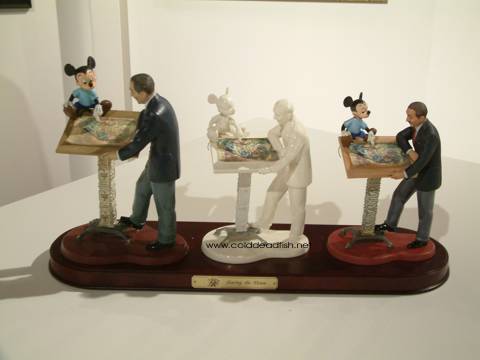 26. Disneyland Railroad and Monorail Roundhouse Tour - $4,000
27. "Realization of a Dream" ceramic mural (Sleeping Beauty Castle and icons) - $9,500
28. Sleeping Beauty Castle Finial - $1,800
29. Carved Tiki Totem - $3,500
30. Mickey Mouse Castle Crown Acrylic Painting - $2,500
31. Snow White An Enchanting Musical Dress Rehearsal - $700
32. Walt Disney's Parade of Dreams Behind the Scenes Experience - $750
33. surprise lot which turned out to be a Sorcerer Mickey painting created live during dinner - $6,500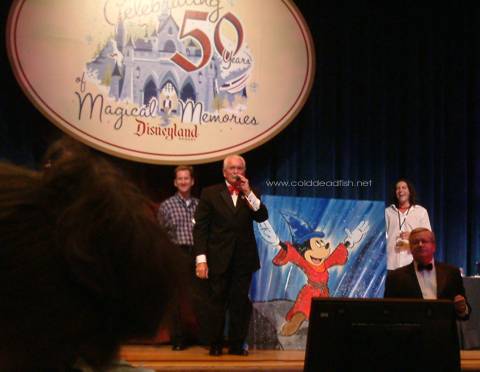 34. "It's a Small World" Experience with Alice Davis - $6,000
35. Swarovski Mickey - $35,000
36. Sherman Bros. Baby Grand Piano - $5,500
37. "Parade of Stars" Baby Whale - $500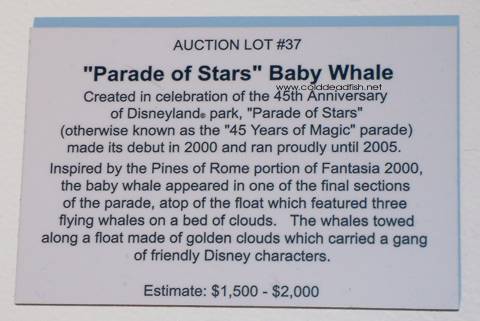 The descriptor plaque from the auction preview room.
38. Penny Arcade Glass Scoreboard from Kiss-O-Meter game - $900
39. "Tink at Twilight" painting - $8,000
40. "Disney's Aladdin" Backstage Experience - $1,500
41.a. surprise lot which turned out to be the Sea Serpent from the Submarine Voyage - $3,000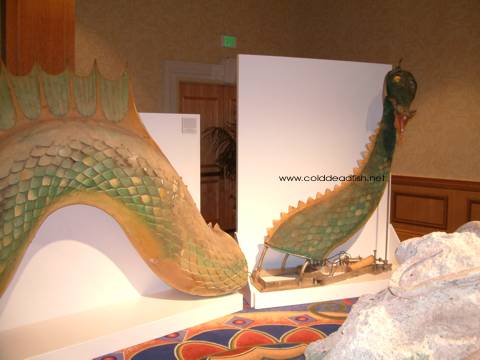 41.b. surprise lot which turned out to be the shark and octopus from the Submarine Voyage - $2,000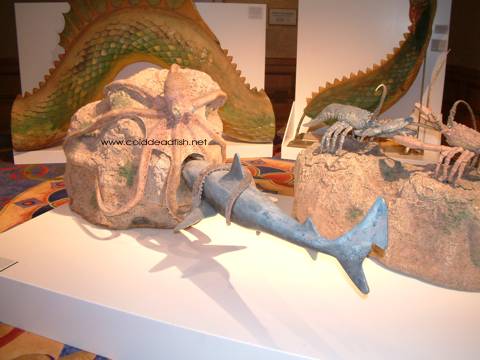 42. "Can You Just Imagine It?" colored pencil art piece - $1,800
43. Walt Disney Studio and Disney Archives Tour - $3,000
44. Sleeping Beauty Castle Lenox Progression Figurine Set - $3,750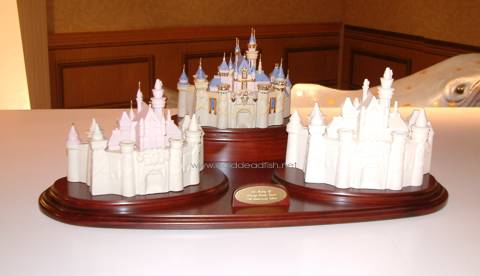 This was a gorgeous set.
45. "Fantasmic!" Backstage Experience - $4,000
46. Tom Sawyer Island Confederate Musket - $4,500
47.a. surprise lot which turned out to be a shark from the Submarine Voyage - $500
47.b. surprise lot which turned out to be a fish with teeth from the Submarine Voyage - $650
47.c. surprise lot which turned out to be 2 divers with a treasure chest from the Submarine Voyage - $4,000
48. Tencennial Certificate signed by Walt Disney - $14,000
49. Sleeping Beauty Castle Happiest Homecoming on Earth paper sculpture - $9,000
50. Walt Disney Imagineering Tour - $8,000
Of particular note during the auction:
Even if you weren't bidding much or at all during the auction, it was a lot of fun to be there. There were many Disney enthusiasts present, and some of the lots had particularly involved bidding wars. The crowd would cheer and applaud during some of the more spirited bidding exchanges.
The bidding for lot 5, Marie Osmond's Cinderella doll, was very spirited indeed. Marie was present and brought the doll onstage herself for all to see. It was announced that the proceeds of the sale of the doll would benefit the Children's Miracle Network. Marie was very funny and made a lot of jokes during the course of the bidding. When it came down to two people trading bids back and forth, Charles Dreyer actually took Marie into the audience to see each of the two bidders.
Charles Dreyer, Marie Osmond and a very pretty Cinderella.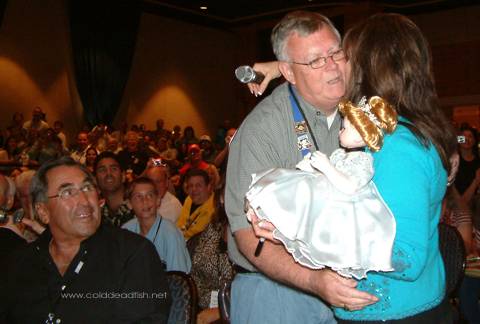 Marie Osmond hugs the winning bidder as Ron Dominguez looks on.
For lot 35, the Swarovski Mickey, it had been announced that the proceeds of the sale would benefit Children's Hospital of Orange County. Bidding went very well on this piece, and it came down to a tennis-match trading of bids between a phone bidder and someone in the room. The phone bidder finally won, making the $35,000 bid on this piece the highest winning bid of the night.
At the end of the auction, Mickey came back out to say good night to everyone at about 10:15, and we headed back into Disneyland to meet up with friends for a little while before retiring for the evening.
JULY 16, 2005 - SECOND DAY OF EVENT
We arrived at the Exhibit Hall area at about 6:45am. The itinerary had indicated that a continental breakfast would be available that morning, and we figured on getting a bite before the early panel discussion. Available at the continental breakfast were pastries, juices, coffee and tea. We took our selections to the Park-ulator Lounge and since the Peoplemover vehicle was empty, we decided to enjoy our breakfast in there. With the early panel starting at 7:30am, it was nice that they made a continental breakfast available.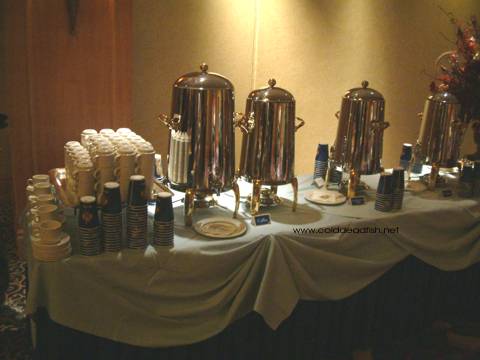 Coffee is welcome at that early hour.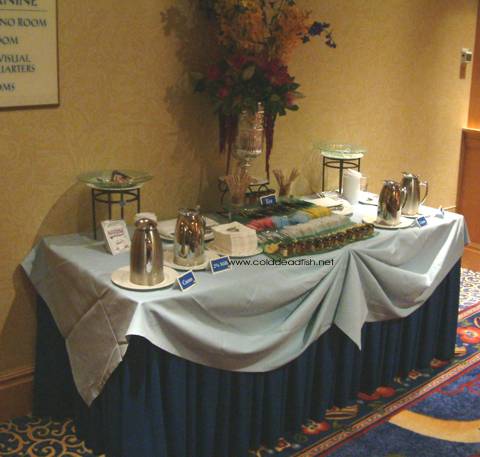 Something for the tea-totalers as well.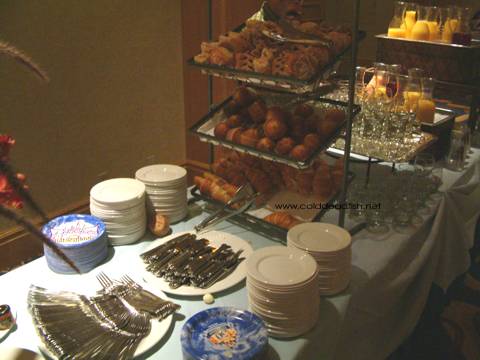 Breakfast goodies.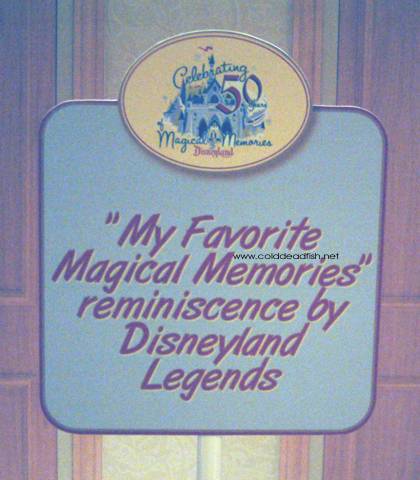 The "My Favorite Magical Memories" panel discussion had been scheduled to start at 7:30am but didn't actually start until 8am. On hand for the panel discussion were Marty Sklar (who worked in Disneyland's publicity and marketing department and then joined WED [now Walt Disney Imagineering] and was part of the team assigned by Walt Disney to develop shows and pavilions for the 1964 New York World's Fair and is currently Vice Chairman and Principal Creative Executive of Walt Disney Imagineering), Dick Nunis (who assisted with first cast member orientation training and went on to become EVP of Disneyland and Walt Disney World and then President and then member of the Disney Board of Directors and Chairman of Walt Disney Attractions), Harriet Burns (the first woman to work at WED in a creative rather than office capacity), Jim Cora (who was involved in cast member training programs), Blaine Gibson (who worked in animation and then as sculptor, including creating the "Partners" statue), Mary Anne Mang (who was Public Relations Manager for many years and coordinated getting Disneyland involved in the community and to give back to the surrounding community as Walt Disney had wished), Jack Lindquist (the first advertising manager for Disneyland and who helped to create Magic Kingdom Club, Disney Dollars, Grad Nites and the Ambassador program), Ron Dominguez (whose family was one of the 17 who sold their property so Walt Disney could build Disneyland, and Ron went on to work for Disneyland for 39 years) and Cicely Rigdon (who is credited with the growth and development of the Tour Guide Department and was later put in charge of the Disneyland Ambassador program), with Tim O'Day moderating.
During the course of the panel discussion, Tim asked each of the panelists various questions about Disneyland and Walt Disney. Following were a few of the discussion points:
Ron Dominguez was part of one of the 17 families who sold their house to Walt Disney. His house was turned into an administration building and was located in the space which Pirates of the Caribbean currently occupies. One of the jobs that Ron had while working at Disneyland was that of portraying Davy Crockett, and he engaged in many keel boat jousting matches. Ron was able to experience the premiere of "Mary Poppins" when it was held at Disneyland.
Jack Lindquist told a story about how Walt Disney always referred to him as "Bob".
Cicely Rigdon talked about tour guides and ambassadors and that during Disneyland's 30th anniversary, she was part of the "around the world in 30 days" tour.
Jim Cora talked about how he was a Matterhorn operator and then became involved in cast member training.
Dick Nunis talked about how he worked with Van France to help train the executives at Tokyo Disneyland.
Harriet Burns talked about the Mickey Mouse Club, and that Walt Disney liked to play with the robin audio animatronic from "Mary Poppins" as well as the difficulty of getting real robin feathers.
Blaine Gibson talked about being an animator before joining Disneyland and told a story about the Jungle Cruise elephant pool and how Walt Disney acted out the part of the elephant to help illustrate his point.
Mary Anne Mang talked about how she wrote a letter to Walt Disney telling him what a great idea she thought Disneyland was, and he actually responded to her with a job offer. She remembered the opening of the Tiki Room when Jose wouldn't work, as well as a very displeased Walt Disney's response.
It was a lot of fun to listen to everyone talk about their involvement in the development of Disneyland as well as their personal interactions with Walt Disney.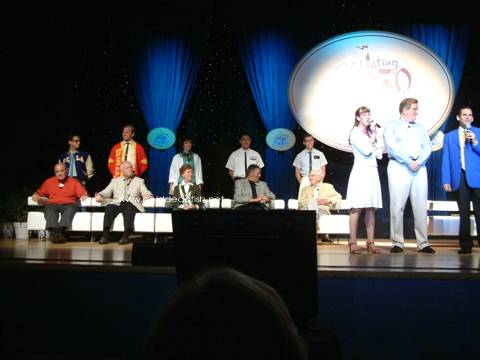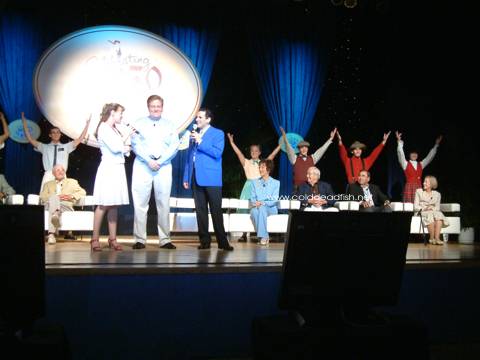 After the panel discussion ended at about 9am, we headed over to the first of our seminars for the day and then directly after that to our second seminar.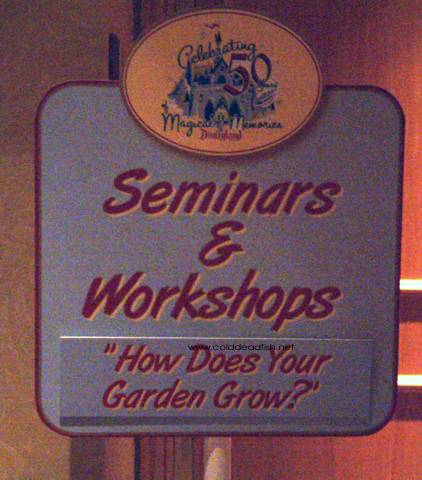 The seminar was conducted by Disneyland Horticulturist Rhonda Wood, and she talked about the plants and trees that are used in various parts of the Disneyland Resort and also talked specifically about the Storybook Land attraction. Storybook takes the most work to keep up, given the nature of the attraction. The foliage is on a 1 inch = 1 foot scale. There is still one tree (a stone pine) in the attraction that Walt Disney picked out in 1956 when the attraction opened. The plants get pruned a lot, some weekly or monthly or in other intervals, depending on the greenery and the season. She talked about the various plants and trees that are used in different parts of the attraction. The Horticulture Department (which has about 75 employees) starts working on the attraction at 2am and work all night. The Casey, Jr. sign takes about 2 hours to complete, and the Storybook sign takes about 6 hours to complete. Rhonda talked about the challenge of working at night as well as of getting to places in the attraction to trim greenery without destroying the surrounding plants.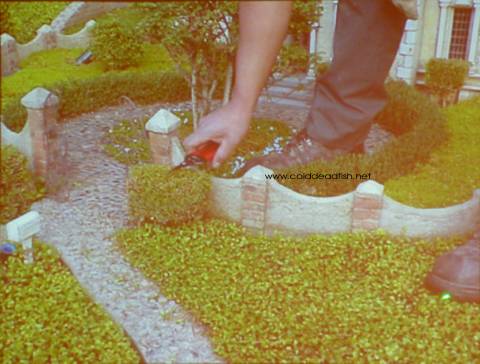 Be very, very careful.
Footing is not very easy to come by on this attraction, and she said that one of the initiation rites of the department is the first time someone falls into the water doing their job. She also mentioned that the plants are left in their containers to help control and slow their growth. The information Rhonda had was very interesting, but she was very nervous and halting in her presentation, so it was a bit mundane at times. After her talk, Rhonda and two other members of the Horticulture Department did separate demonstrations of tree pruning.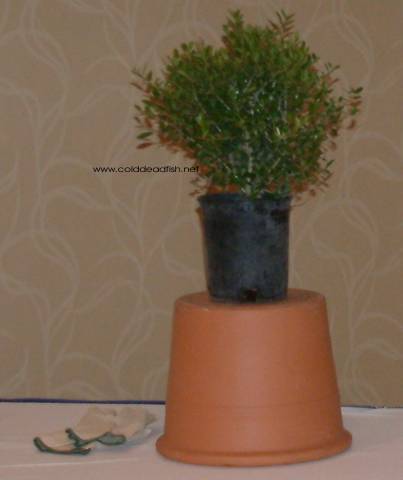 A plant before pruning.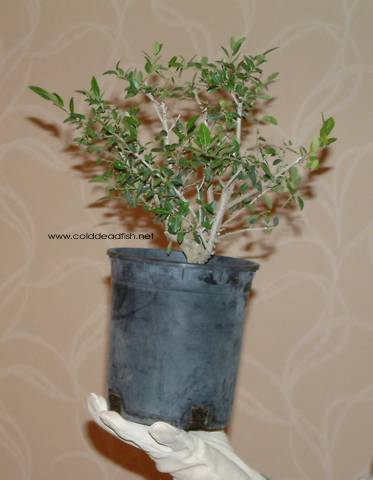 The plant after pruning.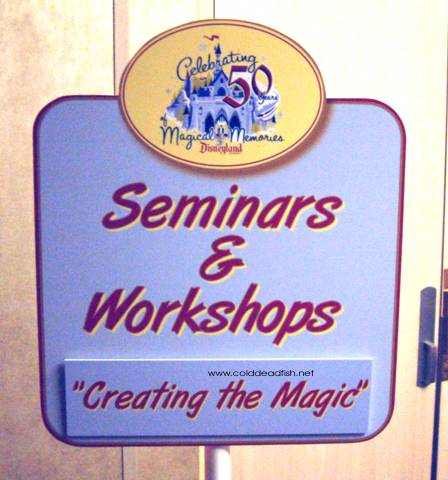 The seminar was conducted by 27 year veteran Imagineer Kevin Rafferty. He started by talking about the various incarnations of the original backstory for the Haunted Mansion. He also talked about the backstory that was developed for the Tower of Terror when it first opened in Orlando, and he talked about the changes that have been made for the Tokyo version that is scheduled to open in 2006. The attraction will be in the America Waterfront area and set in 1912, and because The Twilight Zone doesn't have the same draw in Tokyo, the hotel name has been changed to the Hightower Hotel, owned by a multibillionaire named Hightower who used the hotel really as a way to display the numerous artifacts that he acquired from around the world. Hightower held a press conference to show some of the artifacts from his recent African expedition, including one artifact - a monkey sculpture - that was believed to be cursed. Shortly after the press conference, Hightower disappeared, never to be seen again. As the guests take the elevator to Hightower's penthouse suite, Hightower's voice will warn them, and when they reach the top, they will see that Hightower was indeed zapped by the cursed artifact, with the same fate awaiting the guests and their falling elevator.
Kevin also talked about the Jungle Cruise in Hong Kong Disneyland, which is set to open in September of this year. The puns that are customarily used in the attraction wouldn't really work there, so they rely much more on sight gags or devices like simulated poison blow darts. There are also geysers that pop out of the river, and there is a Forbidden Canyon of the Gods in which the fire god and the water god engage in a spectacular battle.
Kevin also talked about how the Blizzard Beach water park in Orlando came to be. The idea was that someone decided to build a ski resort in Florida, but all the snow melted in Florida's heat, so it became a water park instead. Everything revolves around this theme, so there are things like Avalunch Snacks and where many references to cold have been changed to references to hot, and references to snow have been changed to references to water.
Kevin also talked about attractions that never came to be, like Dick Tracy's Crimestoppers, which was proposed at the time of Warren Beatty's "Dick Tracy" movie. The attraction would have had guests in a police car, chasing after the bad guys and shooting things rather than people. He also talked about the development of attractions like The Many Adventures of Winnie the Pooh, Test Track (which really resembles a General Motors test track plant), Tough to be a Bug (which was originally themed to "The Lion King" but then the idea came about to have it be about the weird things that bugs do in real life) and Philharmagic. Kevin also talked about the attraction currently being built in Disney's California Adventure themed to the film "Monsters, Inc." which is a ride through Monstropolis during a time of crisis with a human child loose in the city, and Mike and Sulley are trying to get Boo back home while Randall tries to get to her first. He mentioned that there are 40 animatronic figures on that ride. Kevin also talked about the return of the Submarine Voyage in 2007 themed to the film "Finding Nemo" which was recently officially announced. The attraction will mirror the events of the film, and he mentioned that with the advent of some great new technology, the attraction is definitely going to be spectacular, including at least one tribute to the old version of the attraction.
I really enjoyed this seminar and listening to the changes being made to familiar attractions as they're being put into different international parks. Kevin was a great storyteller who apologized that he had a tendency to wander off topic with various musings, but those off topic stories were what made the seminar even more interesting. I was very much looking forward to both the Monsters ride and the new sub ride, so hearing some information about what to expect made me even more eager to see the finished attractions.
I very much enjoyed the seminars that we were able to attend, and I thought they offered a good range of different seminars from which to choose. We saw people coming out of other seminars, and they all seemed to have had a good time.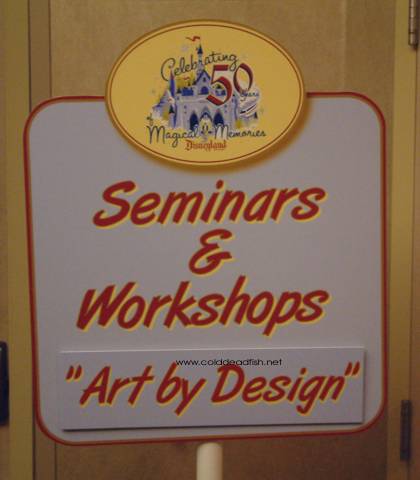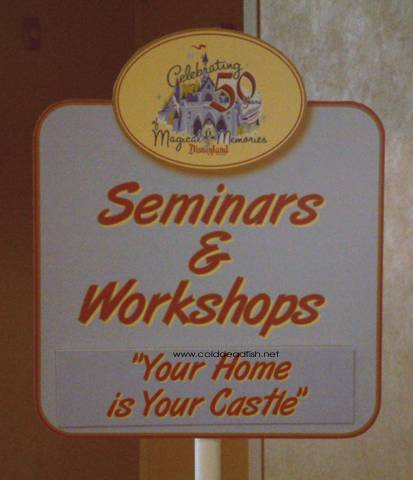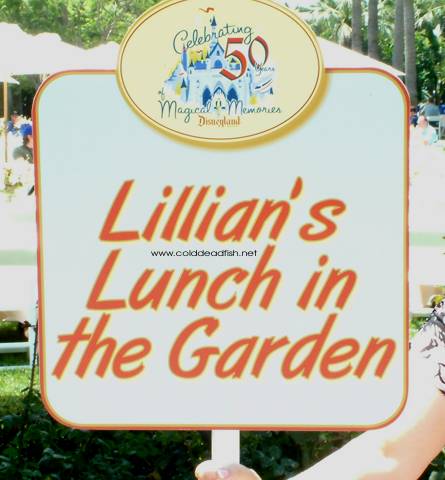 Lunch was held at noon next to the Wedding Gazebo at the Disneyland Hotel. Tables and chairs were set up in the area, with each table decorated with a beautiful pink and white flower centerpiece. Upon entering, you picked up a blue cooler with the event logo on the front and lunch was included inside, which consisted of a chicken sandwich, vegetable medley, a peach, chips, a chocolate chip cookie and drink. The sandwich had very good flavor, and with the day not nearly as warm as the day before, we enjoyed a nice outdoor lunch.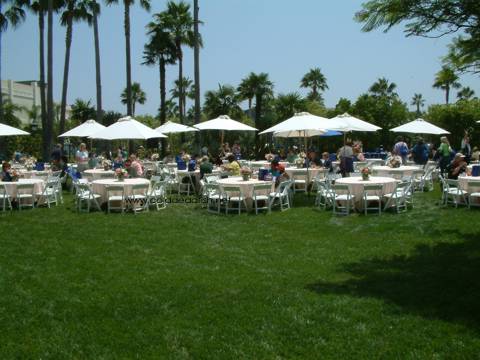 The lawn set up for lunch.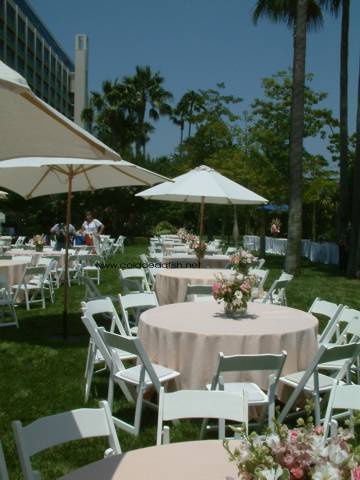 The tables are nicely decorated.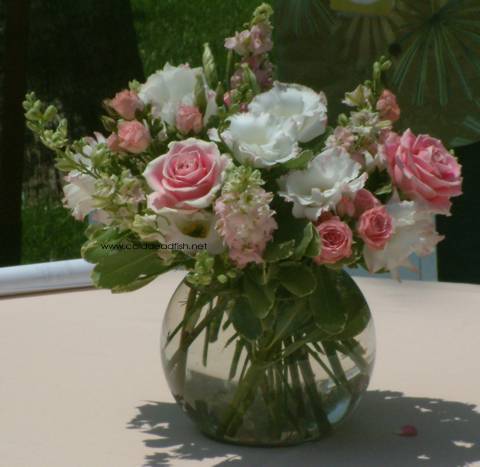 One of the pretty centerpieces.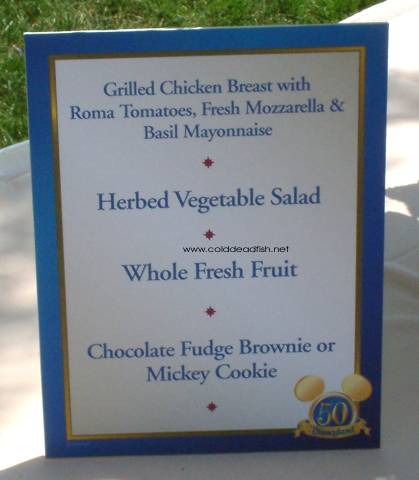 What's for lunch today?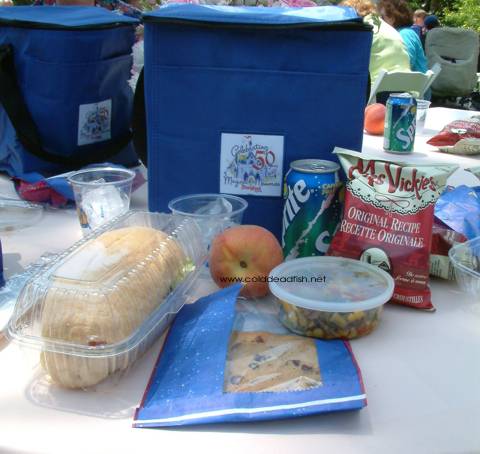 Lunch with the event logo cooler in the back.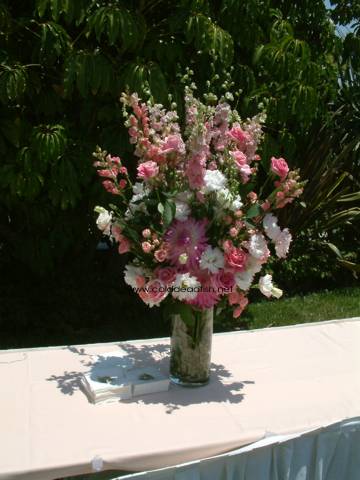 One of the flower displays on the serving tables.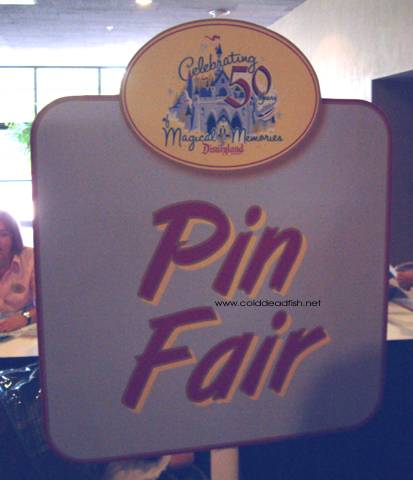 After lunch, we headed over to the pin fair to see what was happening there. They had trading boards set up in the corners of the room, and you could also play bingo to win pin prizes. We played a few rounds for fun and for a break inside the air conditioned room. We decided to skip the artist signing activity this day but had thought about dropping by to see the signing room where Diane Disney Miller would be, as she was sharing a signing room with Christopher Radko and Marie Osmond but in a different location than the other authors and artists. When we got to the room, the doors hadn't been opened yet, but the line was already quite long, so we decided to forego it altogether.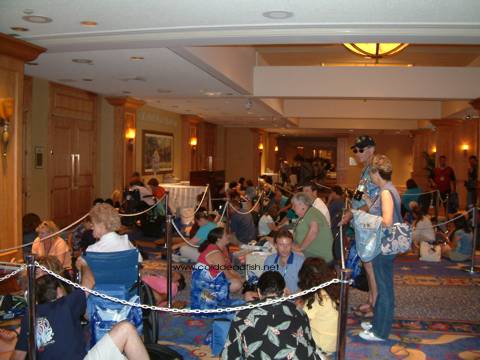 Waiting for Diane Disney Miller, Christopher Radko and Marie Osmond.
Mickey's Toontown House plush and "Finding Nemo" Submarine Voyage
Since we hadn't gotten much sleep the night before, we decided to head back to our room for a nap and then went into Disneyland in the late afternoon. My husband had purchased the event watch, but the band was much too big for him, so we stopped by the Main Street watch shop to get the band resized. We then made our way up Main Street and were surprised but pleased to learn that the outside windows of the photo store have pictures from the Lion King Celebration as well as the Mulan parade. We also discovered that there was a new plush available depicting Mickey's Toontown house and includes the Fab Five inside, so I had to buy that because it was so cute. It's apparently available in the Emporium and the Five and Dime store in Toontown. We also went to see the signage up around the lagoon advertising the new "Finding Nemo" Submarine Voyage.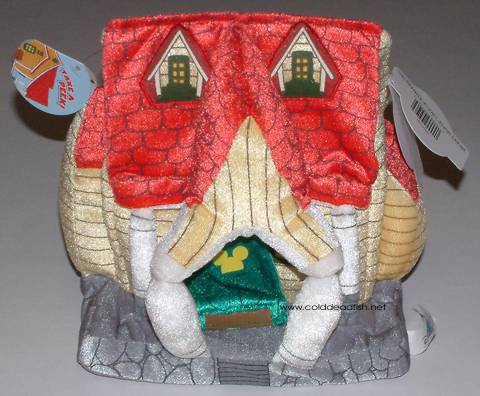 Mickey's Toontown house plush with a front door that velcros shut.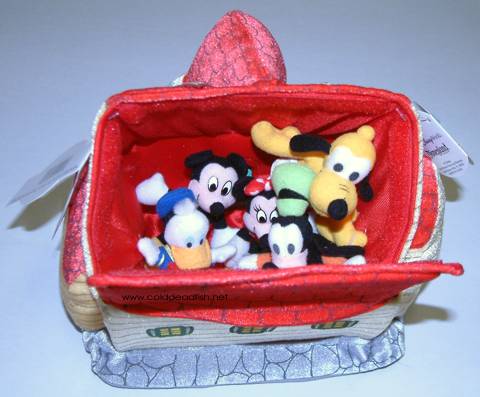 Open the roof, and there's the people.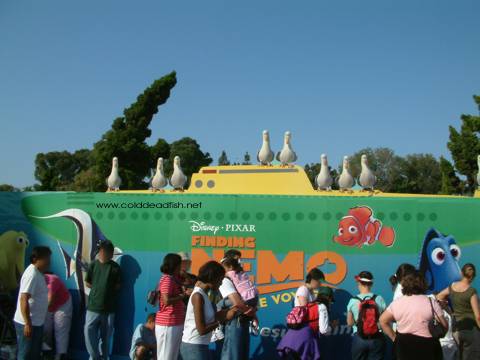 The new attraction will be mine, mine, mine.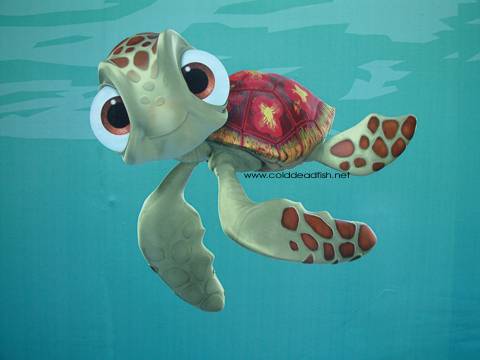 Squirt.
Sheldon.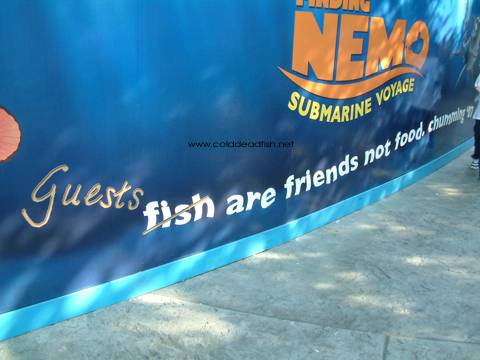 The modified slogan.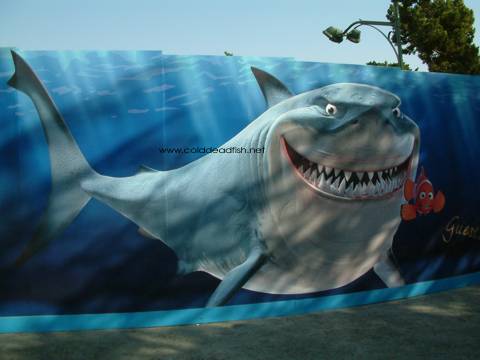 Bruce and Marlin are a popular picture spot.
Orange Grove Party
As it got closer to 7pm, we made our way to the Festival Arena, where the Orange Grove dinner party was being held. There were two lines to get into the arena, one for the Roy and Walt packages and one for the Lillian and Imagineer packages. We had also been given instructions with regard to which of the four sections each person would be seated. There were multiple food, drink and dessert stations set up around the arena, and each table had been decorated with a beautiful fall-colors flower arrangement in a bowl filled with oranges. In the Roy and Walt section, individual tables had cards indicating which package the table was for, with tables for each package scattered. The main stage was set up for a band, and the center stage had many orange trees.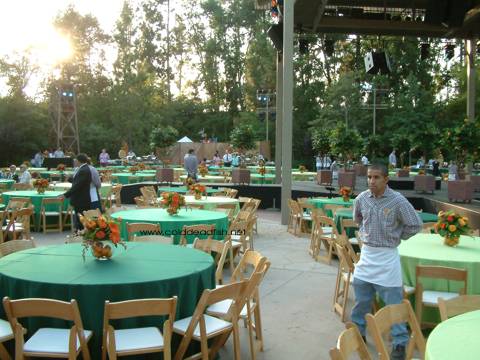 The Festival Arena set up for the evening's festivities.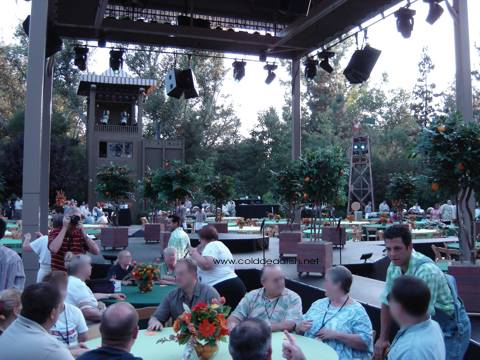 The center stage has become an orange grove.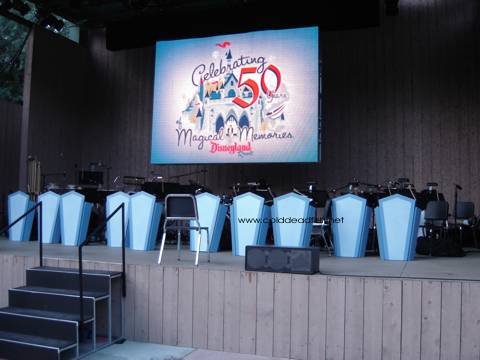 The main stage with the band setup.

The sign above the main stage.
One of the beautiful centerpieces.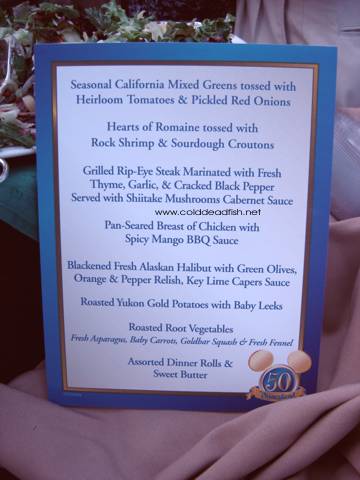 What's for dinner?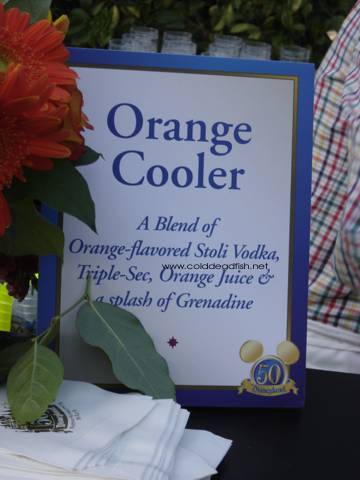 A tasty cocktail to enjoy with dinner.
After everyone had been let into the arena, tables were individually released to get their food. We happened to be the last table in our section to get called up. There was a pretty good selection of items, and I particularly liked the chicken and fish dishes. Unfortunately, all of the rock shrimp had been picked out of the romaine lettuce salad, so I just had some of the lettuce. The lines at the drink stations got to be quite long at times, so the wait staff and even managers came out with wicker trays of various beverages and walked around the tables offering the drinks to guests. It was nice that they recognized the drink problem and came up with a way to alleviate it. The desserts looked quite good, but I found that I wasn't very interested in dessert so only ended up having a tiny taste at most.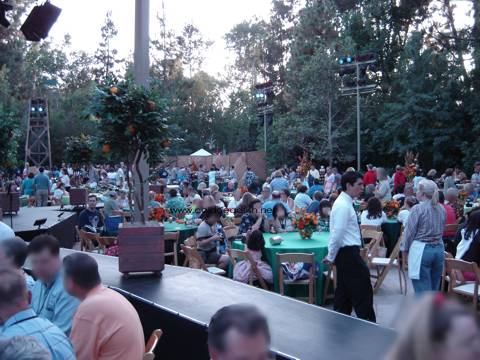 Attendees lining up to get their food.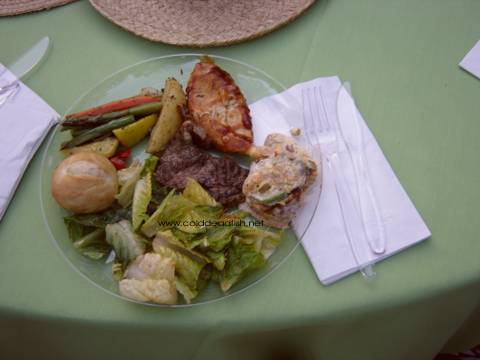 Dinner is served.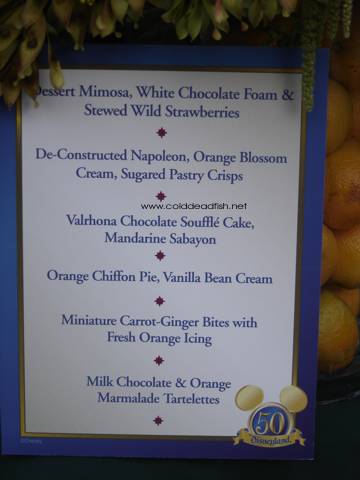 Dessert to cap off a good dinner.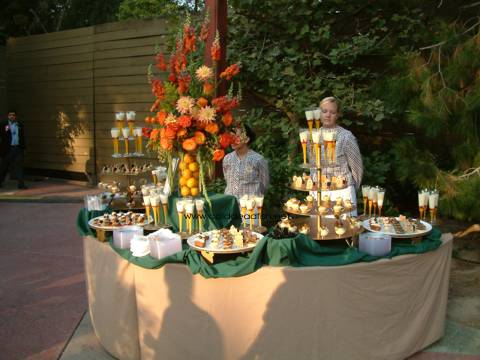 What's your pleasure?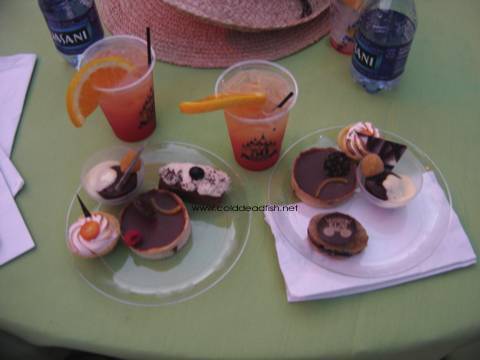 Desserts looked good. I'm told they tasted good too.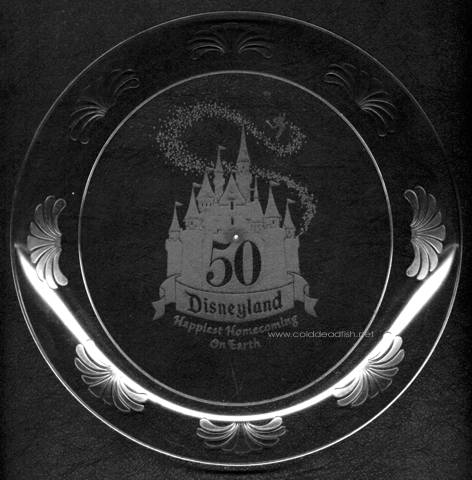 Both the dinner and dessert plates bore the 50th logo.
"Magical Memories" show
At about 8:20pm, the "Magical Moments" show started, with most of the action on the center stage. The show started with Tinkerbell as a pinpoint of light flying from the center stage to the main stage. On the stage above the band was a screen on which various things were shown during the course of the evening. The format of the show for the evening was a look at each of the lands in Disneyland and some of their signature attractions and features. Each section of the show also included a singalong song, with the lyrics put up on the main stage screen, and the audience invited to sing along. The show reminded me a lot of the current fireworks show "Remember...Dreams Come True", but instead of a history done in fireworks, this historical look was done via singing and dancing and performers. Walt Disney's original introduction on the Disneyland show of the soon-to-open park was used to introduce the evening, and clips of Walt Disney introducing each land were used throughout the show. I thought that was a wonderful way of incorporating Walt Disney into the evening's festivities.
The band is ready to go.
The first section was about Main Street and included performers like the Dapper Dans. The singalong song used for this section was "Zip-A-Dee-Doo-Dah".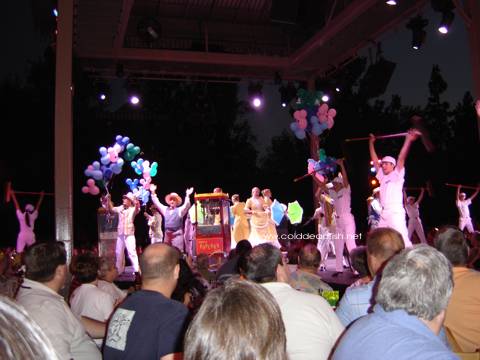 Familiar Main Street sights.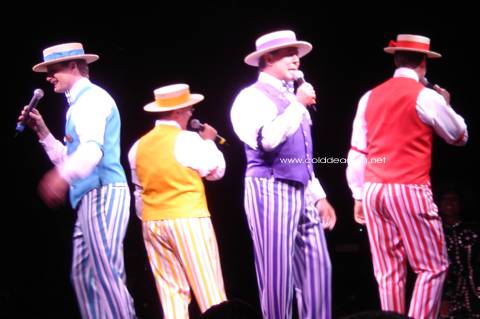 The night wouldn't be complete without the Dapper Dans.
The second section was about Frontierland, with a segment about the Golden Horseshoe and "The Ballad of Davy Crockett" used as the singalong song.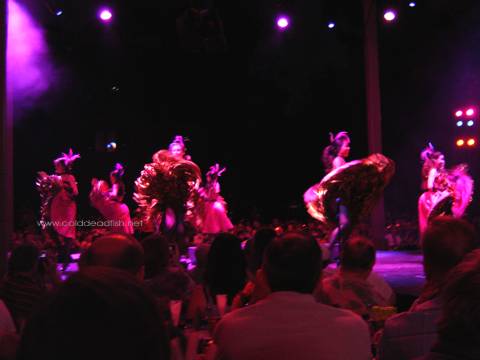 Yes you can can can.
The next section was about Tomorrowland, with footage from the Flight to the Moon attraction and a segment on the Carousel of Progress. The familiar family from the attraction was on the center stage explaining that everyone thought they were the best animatronics when in fact they were actors hired to pretend to be animatronics. They explained how they managed that effect, with the daughter complaining about having to have her arms up for 8 hours a day.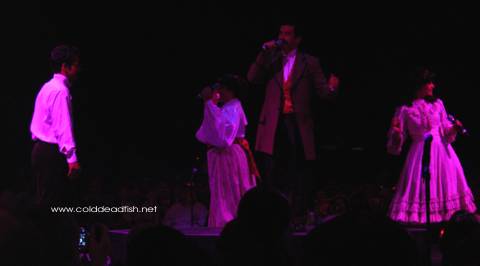 Carousel of Progress family.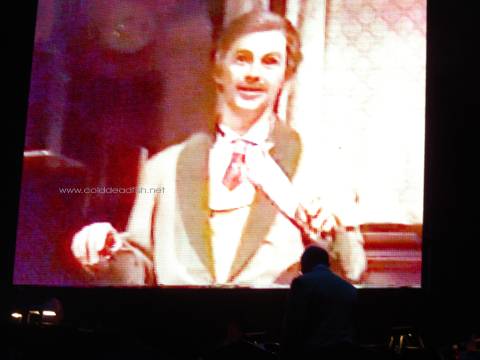 A clip from the attraction.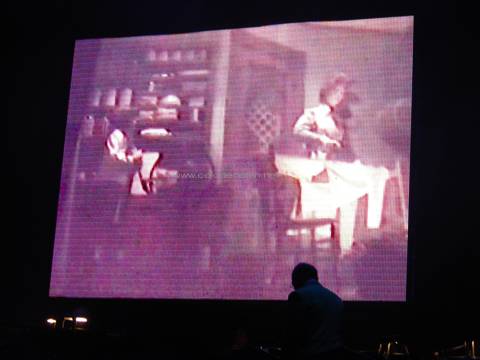 Another clip from the attraction.
Here is a video from the show with footage from the attraction being shown on the screen and the various family members commenting on what they had to do (9 MB).
The singalong song was "It's a Great Big Beautiful Tomorrow", and the father said that instead of the audience turning around them like it used to be, the family would be turning instead. They took very small stutter steps circling around the stage, making their signature gestures, with a strobe light effect simulating their jerky movements.
Here is a video of the "It's a Great Big Beautiful Tomorrow" segment of the show (13 MB).
The next section was about Adventureland, which included a segment on the Tahitian Terrace, including a fire eater.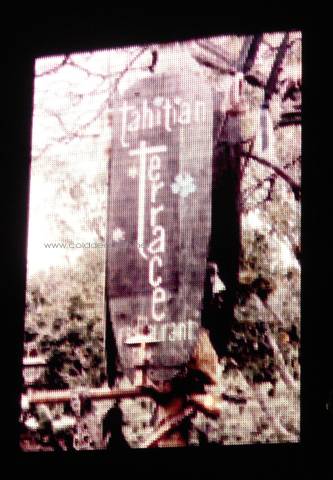 The entrance sign.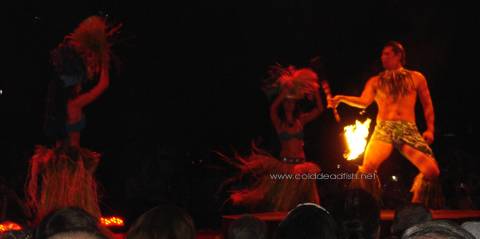 Two dancers and a fire eater.
Here is a video of the Tahitian Terrace segment of the show (7 MB).
There was also a Jungle Book segment with "Bare Necessities" used as the singalong song.
Lots of animals are out.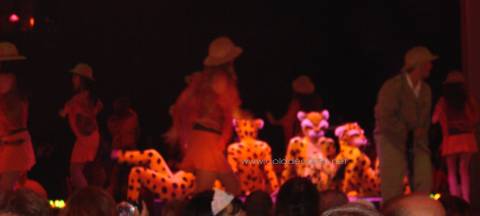 A pack of cheetahs.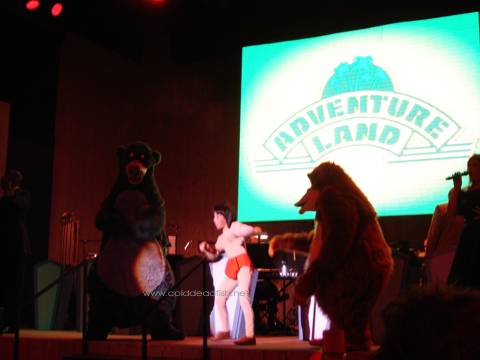 Mowgli, Baloo and Louie on the main stage with the band.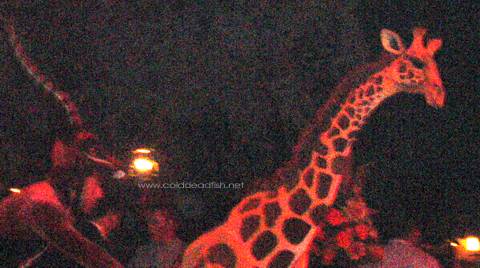 A gazelle and a giraffe.
The next section was about the Mickey Mouse Club, with four original Mouseketeers present - Bobby, Lonnie, Sharon and Sherry. Bobby and Sharon also did a dance number, and all the Mouseketeers led the audience in singing the Mickey Mouse Club theme song.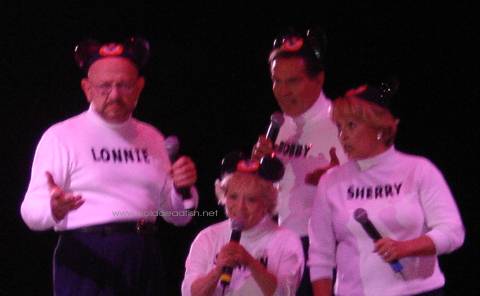 Original Mouseketeers.
Here is a video of Bobby and Sharon dancing (8.5 MB).
Here is a video of the Mouseketeers leading the Mickey Mouse Club theme song (8 MB).
The next section was about Fantasyland, with the characters from "Alice in Wonderland" (including the White Rabbit, Alice, the Mad Hatter, the Queen of Hearts and various cards) singing "I'm Late", and "The Unbirthday Song" was the singalong song.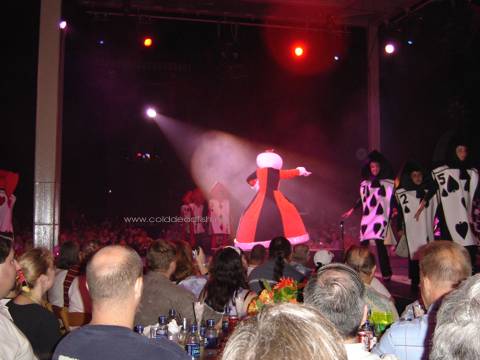 The Queen of Hearts and some of her subjects.
There was then a segment with the Disney princesses - Cinderella and her prince danced to "So This is Love", Snow White and her prince danced to "Someday My Prince Will Come" and Sleeping Beauty and her prince danced to "Once Upon a Dream" as the other two couples joined in.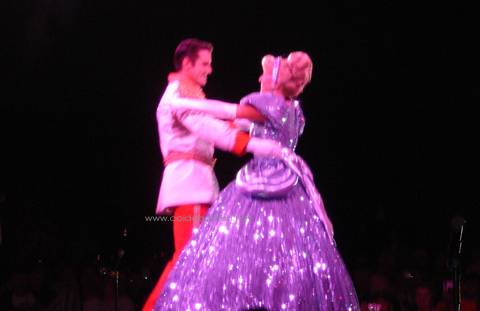 Cinderella in her very sparkly dress with her prince.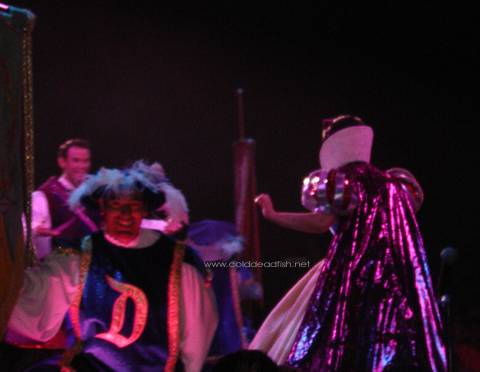 Snow White and her prince.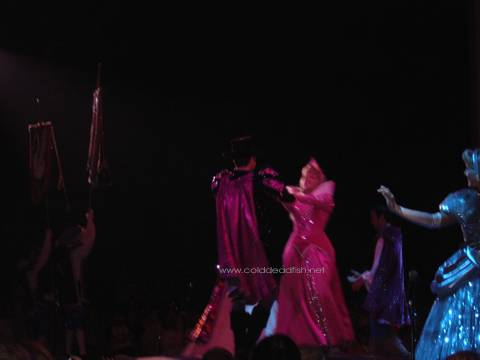 Sleeping Beauty and her prince.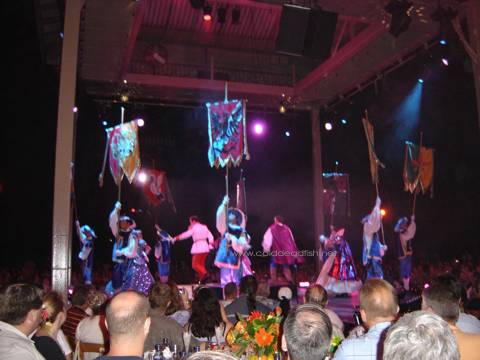 The princesses all together.
The show ended with closing words by Walt Disney about Disneyland, the return of Tink as a flitting light and a cast of characters finale that included Mickey Mouse himself and a song using the phrase "It All Started With a Mouse".
Here is a video of Tink in the finale (7 MB).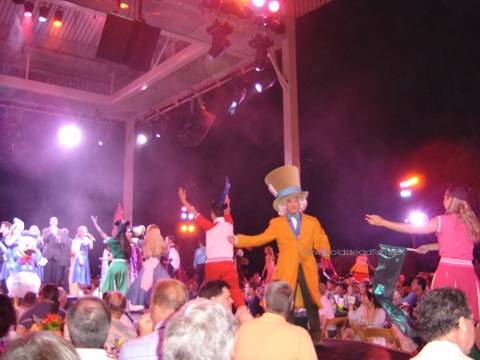 All the performers and characters make an encore appearance in the finale.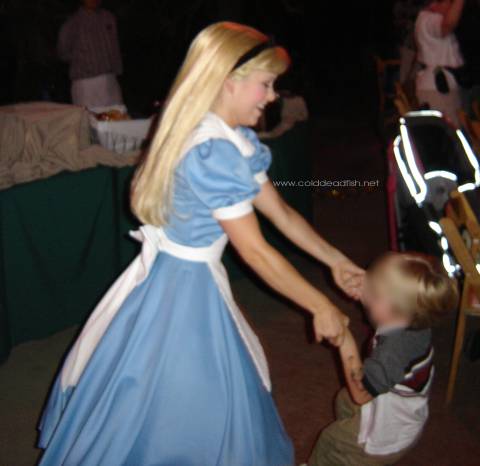 Alice dances with young attendee.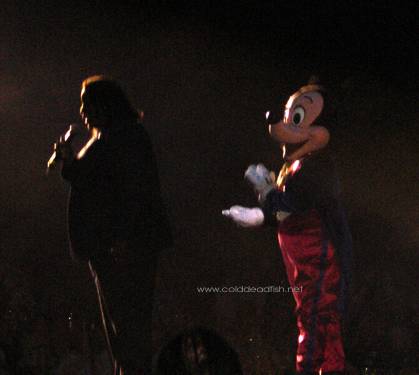 Martha and Mickey, saying goodnight.
The show ran over an hour long and was incredible. It hit absolutely the right note of reminiscence, and curiously for me, it made me nostalgic for things that I never even experienced, like the Tahitian Terrace and the Mickey Mouse Club. Everyone seemed to really enjoy the show, with cheers and applause peppered throughout the evening, and I was amazed at all the work that went into a show that was going to be performed only once for this event. We had spoken to a few of the performers beforehand because they were wandering around among the tables talking to people, and we discovered that many of them were regular performers in the Block Party Bash at Disney's California Adventure. I complimented them on that show as I really enjoy it, and after seeing the show this evening, it made perfect sense why they wanted those performers. As in Block Party Bash, this show was very high energy and required a lot of stamina from the performers. Seeing and hearing footage of Walt Disney talking about the park in an orange grove setting and a "greatest hits" in the history of Disneyland show was certainly a fitting tribute to Disneyland on its last "unbirthday" before its 50th.
At the conclusion of the show, we were told that we could stay in the arena to watch the fireworks, so we chose to do that. You don't get a full view of the fireworks of course, since so much happens on Main Street and off the castle, but the fireworks fired off from the back are quite close to the Festival Arena, so those fireworks were very big and very loud.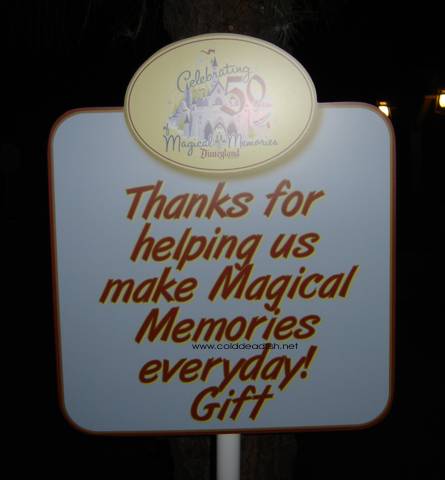 As we left, we thanked all the staff members that we passed by, and we also collected our commemorative gift. We opened it to discover that it was a very nice re-creation of the first admission ticket to Disneyland.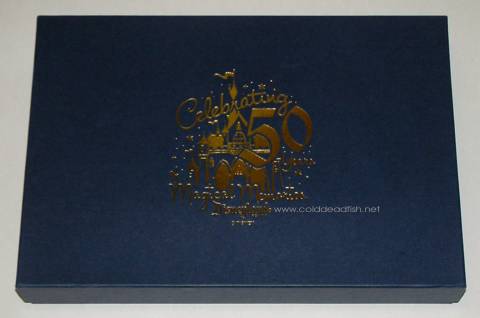 The very nice display box.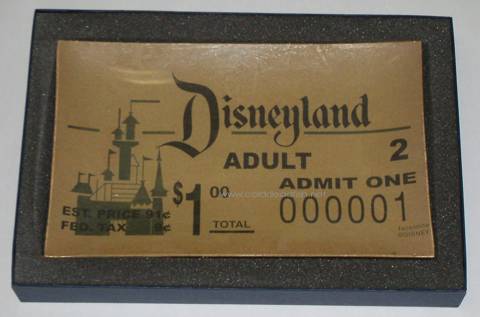 Isn't this Roy's ticket?
We headed over to Coke Corner to sit for a little while and were pleasantly surprised to find that Rod Miller, Coke Corner pianist, was there for a visit. He'd been out for a little while now, so it was nice to see and speak to him for a bit before we headed back to our room. When we got there, we received confirmation of something we'd been told by friends earlier in the day. We had received a letter as well as a voicemail message informing us that all Disneyland resort hotel guests would be guaranteed entrance into Disneyland on Sunday, July 17. That wasn't a concern for us since we'd be in Disneyland very early as part of the last scheduled event activity, but it was a nice gesture for resort guests.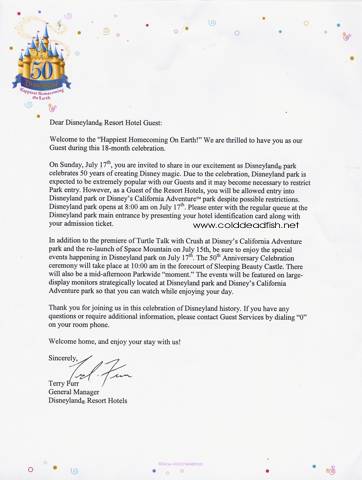 This was left in our room.
JULY 17, 2005 - FINAL DAY OF EVENT
We were up by 3:30am so that we could be in the lobby of the Grand Californian by 4:45. The night before, we had been told about designated meeting locations where we needed to be in order to be escorted into the park for our early morning breakfast. We then walked over to the Downtown Disney monorail station, where we joined the line behind other event attendees in the Walt's, Roy's and Lillian's packages. The last activity for Imagineer package attendees was the Orange Grove party the night before.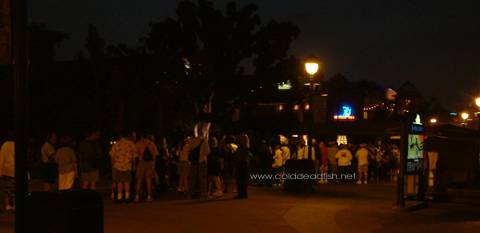 Lining up before the sun came up.
After waiting for a while, we were then allowed to board monorails to go into Disneyland, and as we entered through the turnstiles, we were given the free Mickey Mouse ears (which were different than the gold ears being sold at the resort) that were being given to everyone who went to Disneyland that day as well as a park map. We discovered that if you opened the map all the way, the original Disneyland map had been recreated on the other side.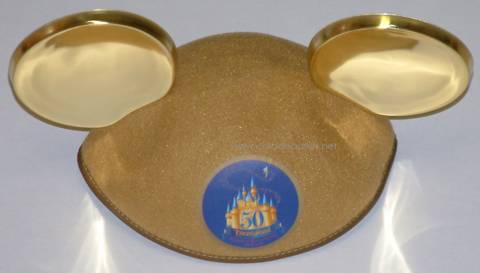 Front of special Mickey ears.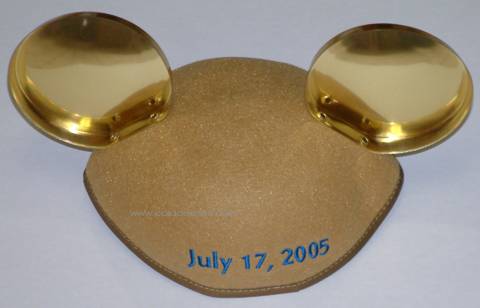 Back of special Mickey ears.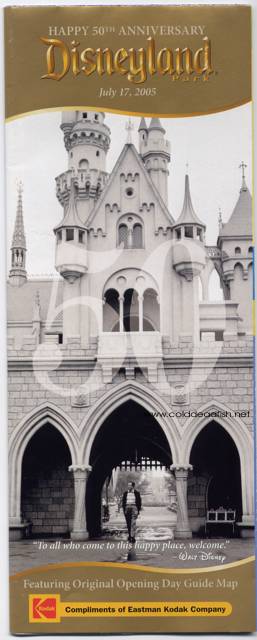 Front cover of July 17, 2005 Disneyland park map.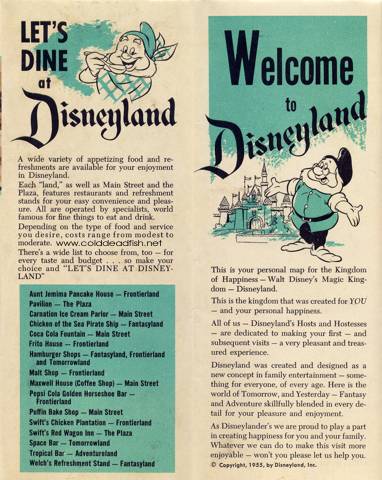 The inside of the map.
More of the inside.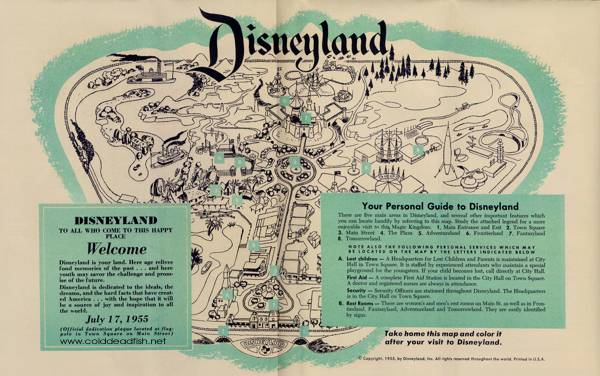 The original Disneyland map.
Because of concerns that Disneyland would draw capacity crowds on its 50th birthday, many people had decided to line up overnight to get into Disneyland on the 17th. One of the advantages of being an event attendee was that we were guaranteed entry into the park without having to line up overnight. As we rode the monorail in, we were eager to see what the esplanade would look like, as overnight lineup was taking place at Disney's California Adventure. When we passed the front gates, you couldn't really tell there were over 10,000 people waiting for Disneyland to open its gates for the day because the majority of them were inside DCA, with just a small group outside its gates.
Here is a video taken from the monorail as it goes past the esplanade and the entrance gates (7 MB).
We ended up on the second monorail to go into the park, but there was apparently a delay for those attendees who were in wheelchairs because only two wheelchair parties can be accommodated on each monorail. As we were disembarking our monorail in Tomorrowland, we saw another monorail coming into the park that was empty save for two wheelchair parties. Knowing the limitation that the monorail has of accommodating people in wheelchairs, perhaps it might have been a better idea to have given them an alternate means of getting into the park that didn't require waiting for additional monorails just to transport them in.
Breakfast at Dawn
Breakfast for the Roy's and Lillian's packages was held at the French Market, and the menu served was apparently traditional breakfast items like bacon and scrambled eggs. Participants in the Walt's package were able to have breakfast on the Mark Twain. The Twain was docked, and we entered the waiting area and walked through to the back part of the dock. There were tables and chairs set up in the normal waiting area, and on the front part of the dock were chafing dishes and other items set up for our breakfast.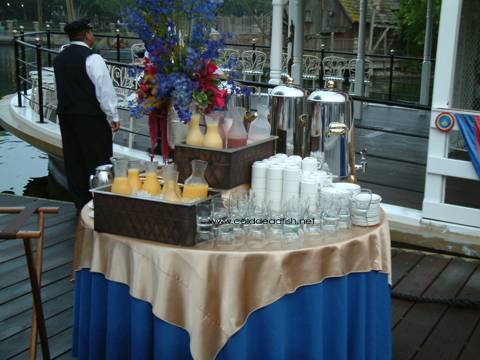 Juices, coffee and tea.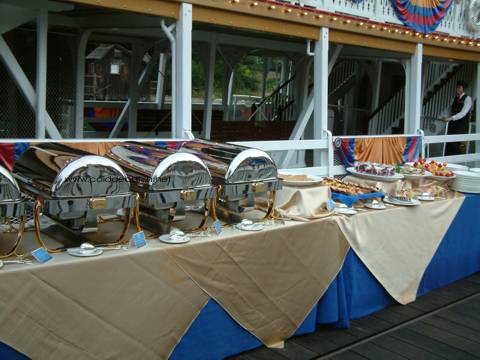 Breakfast is almost served.
We were soon invited to partake of breakfast, with the menu including fruit skewers (consisting of strawberries and pieces of pineapple, cantaloupe and honeydew), bagels with lox and cream cheese, parfait of berries and yogurt and granola, assorted muffins and even a Mickey-shaped bread roll, a brulee of steel cut oatmeal, teeter-totter rock french toast pudding, Georgie Russel's my-t-fine roasted vegetable and cheese quiche, the Gullywhumper's sweet potato hash turnovers and Aunt Polly's grilled filet mignon and country potatoes. Coffee, tea and juices were also available.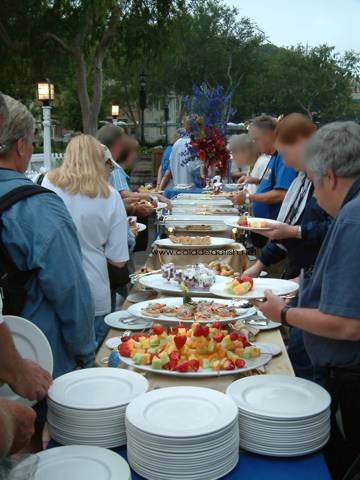 Ready for breakfast.
Some people opted to have their breakfast at the tables and chairs that had been set up, but after we got our food, we decided to join those who had chosen to enjoy their breakfast on the Mark Twain. We put our plates on the outside railing on the main deck and were able to stand there and eat our breakfast for a while.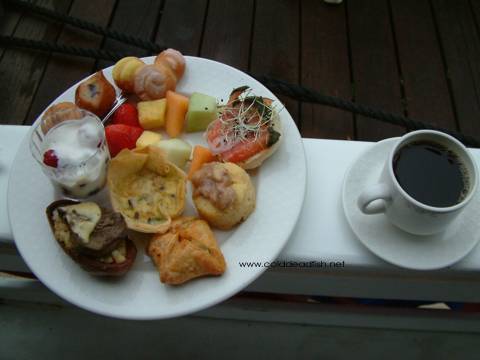 Breakfast and coffee on the Twain - what a way to start the day.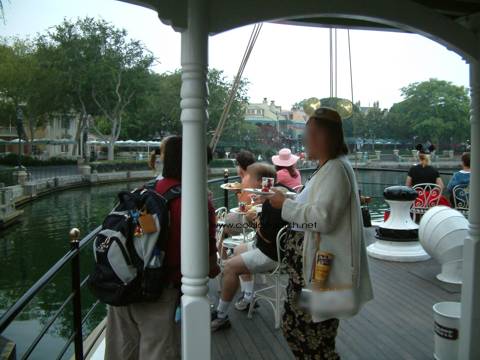 Others enjoying their breakfast on the Twain as well.
All of the items were delicious (I especially liked the quiche and turnover, even though I don't usually care for sweet potatoes), and the early morning wakeup had been worth it for this experience. We noticed that the food was being constantly replenished, usually even before a particular dish ran out.
Soon, there was an announcement asking that people not use the railing for their plates as the Twain would be leaving the dock soon, so we instead enjoyed the rest of our breakfast while sitting on the floor of the main deck. The Side Street Strutters had been playing on the second deck of the Twain, but they came down to the first deck shortly before the Twain left the dock, so we continued to enjoy our breakfast as the Twain made its way around the Rivers of America with the Side Street Strutters playing nearby.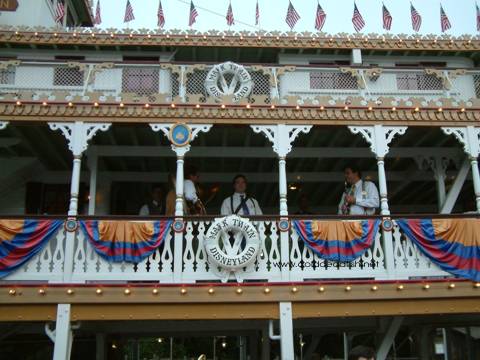 The Side Street Strutters entertained us as we got our food.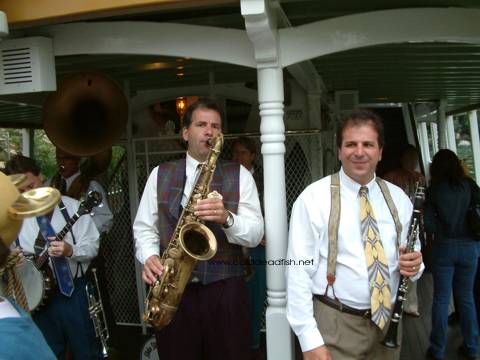 The band after it moved to the main deck.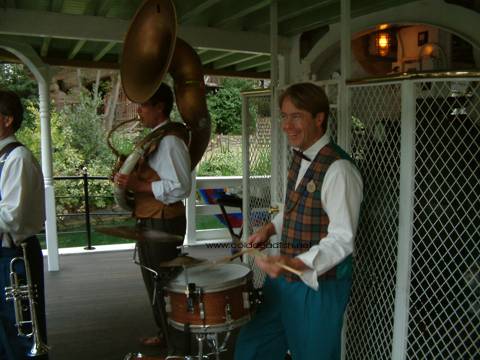 Nobody usually takes a picture of the drummer.
During the course of our journey, we were told that as a bonus, participants in the Walt's package would have a reserved spot from which to view the 10am ceremony in front of the castle, and we were told where and when to meet. When we came back to the dock and disembarked, we were given a Fastpass ticket for Space Mountain that was good anytime that day, and we were also given a proclamation scroll.
Any time access pass to Space Mountain.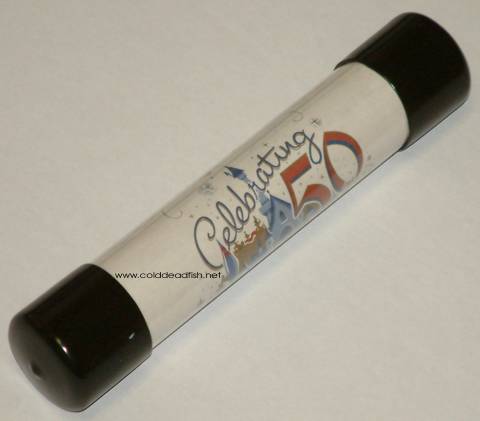 The scroll in its tube.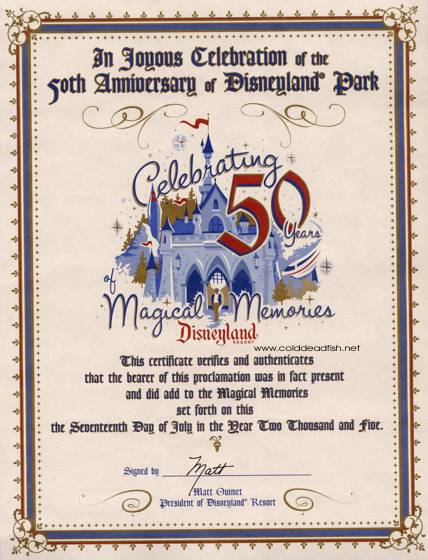 The proclamation.
Event attendees who had breakfast at French Market were already lined up outside our exit gates.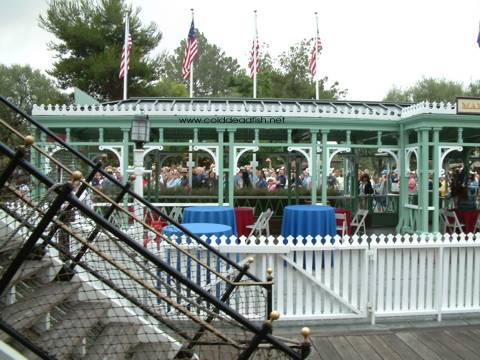 French Market breakfasters already done with their meal.
At 7am, when the park officially opened, we were all let go into the park. Special merchandise released for the day's birthday celebration was being offered at the Festival Arena, so many people made their way there, and we joined them as well. It was funny to see how the Arena had been transformed from the night before.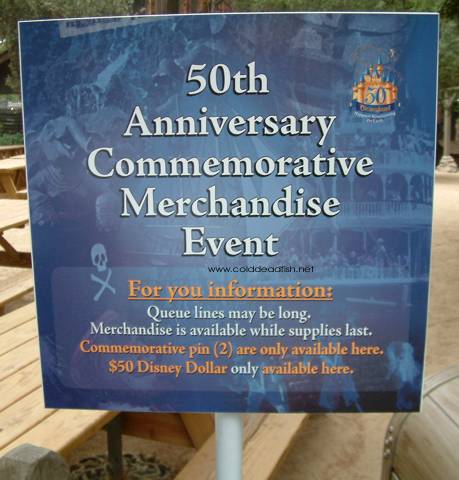 They still need a spelling and grammar checker for their signage.
We picked up the merchandise we wanted, and by the time we left, the line extended around the Rivers of America and into Critter Country.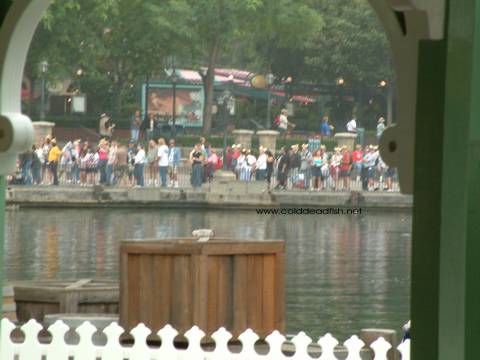 It's going to be a long wait to get to the Festival Arena.
We spoke to friends later in the day who reported having waited up to 4 hours total to get some of the merchandise. We headed to Main Street to meet up with various friends. There were cast members lined up along Main Street, cheering as guests came through. They had so much energy, and it was great to see.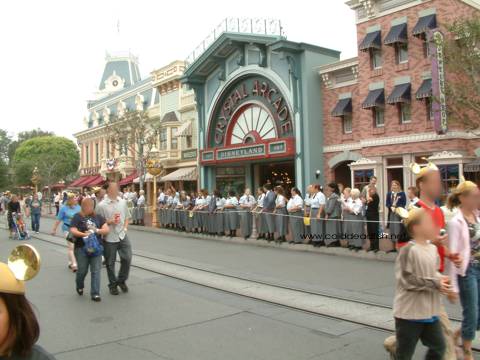 Cast members cheering on arriving guests.
At about 9am, we headed to our designated meeting spot of Rancho del Zocalo. Our group waited there until about 9:50am, when we were all escorted to a spot at the left side of the viewing area. It was fairly close, and my husband and I ended up at the side of the area, so since we were able to stand on benches, we could see the ceremony pretty well. There were two screens set up on either side of the castle front area, and there were several screens located throughout the park as well.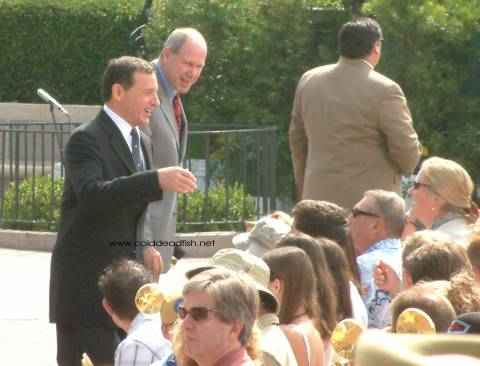 Bob Iger and Michael Eisner before the ceremony.
50th Birthday Ceremony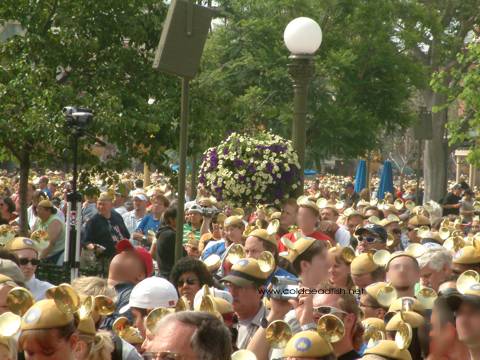 Gold ears, as far as the eye can see.
At about 10:10, the ceremony started, hosted by the same person who hosted the opening of the park 50 years ago - Art Linkletter.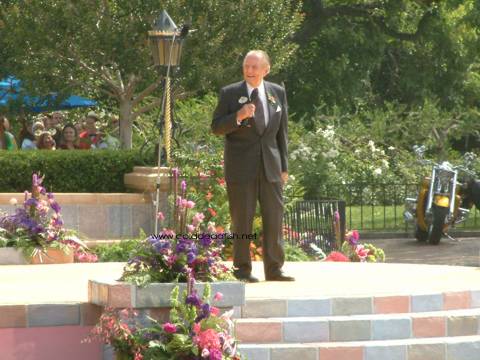 Art Linkletter at the ceremony.
He said that it also happened to be his 93rd birthday, which brought a cheer from the crowd. Art reminisced about 1953, when Walt Disney was telling him about this park he was going to build, and Art telling him that it wasn't going to work, only to see the culmination of Walt's vision open two years later. Walt wanted Art to host the opening of Disneyland because he knew that Art could ad lib and was able to deal with the unexpected. Art remembered that although 11,000 people were invited on opening day, 33,000 people showed up. There were no working drinking fountains that day, and a multitude of other problems arose, but the park has thrived and flourished over the years. On the 35th anniversary of Disneyland in 1990, former President Ronald Reagan was there for the rededication of the park, and footage from his appearance was shown. Then trumpeters on the balcony of the castle heralded the arrival of the Fab Five, who came through the castle with the Disneyland Band.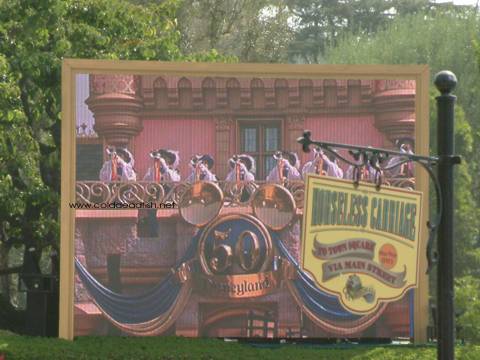 The trumpeters on the castle, as seen on the big video screen.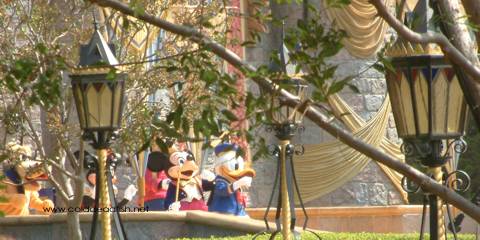 The characters coming through the castle.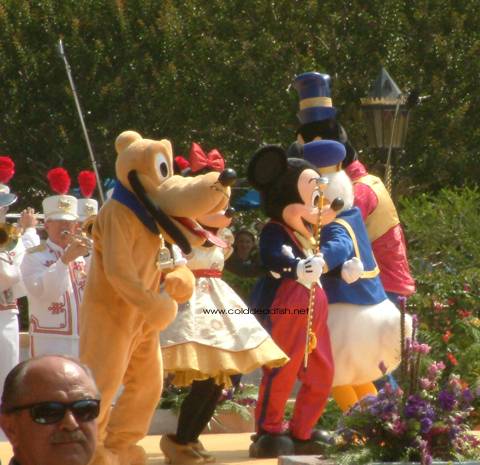 Very familiar faces.
During the course of the ceremony, remarks were made by Bob Iger, Michael Eisner and California Governor Arnold Schwarzenegger. Governor Schwarzenegger was also presented with a golden motorcycle, with the proceeds from the sale of which would be donated to after school youth programs.
Bob Iger.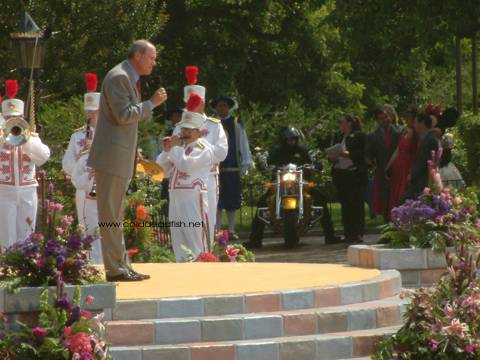 Michael Eisner.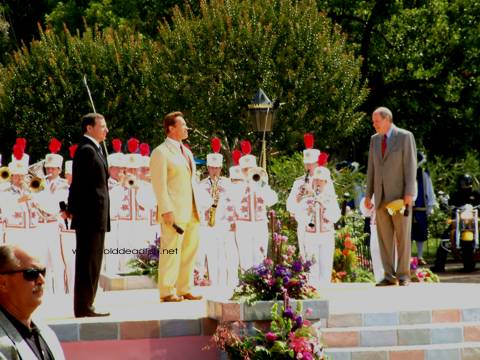 Bob Iger, Governor Arnold Schwarzenegger and Michael Eisner.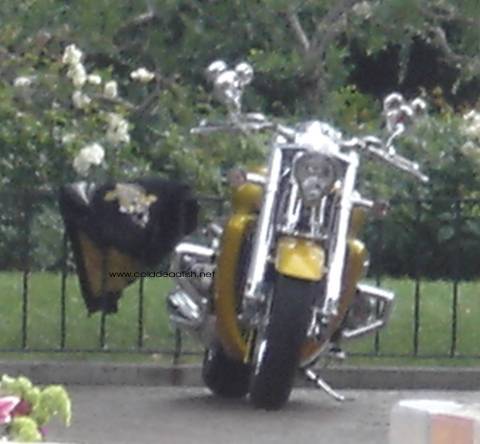 The motorcycle in its waiting spot before the ceremony.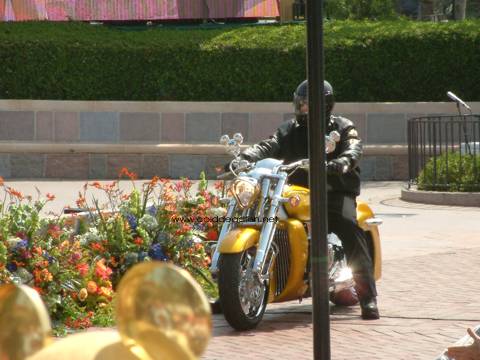 The motorcycle to be presented to the Governor. Notice the Mickey Mouse shaped rear view mirrors on either side.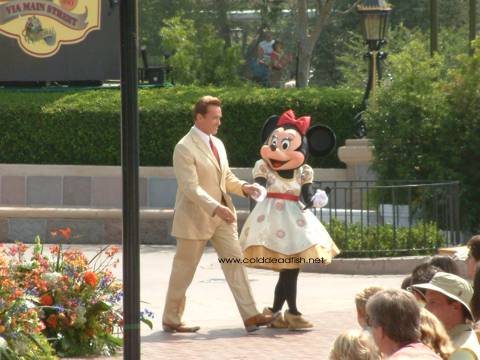 Minnie escorting the Governor.
Diane Disney Miller, daughter of Walt Disney, was also on hand for the ceremony, and she made some remarks as well, recalling that neither she, her sister Sharon nor their mother Lillian were there on opening day in 1955 because Walt didn't want them there since he had enough to worry about with the opening of the park without having to worry about all of them as well. Diane was presented with a framed picture of the famous picture of Walt walking through the castle.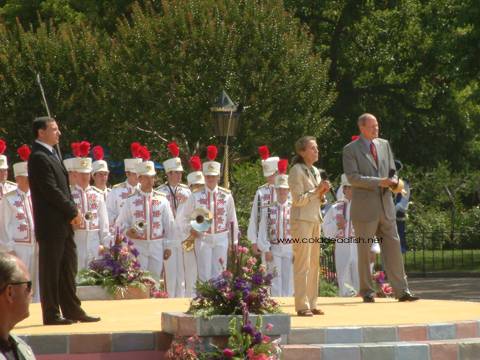 Bob Iger, Diane Disney Miller and Michael Eisner.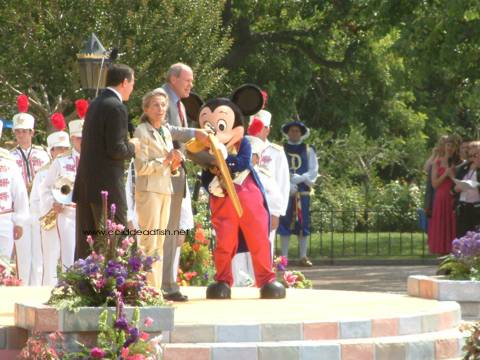 Mickey presenting the framed picture to Diane Disney Miller.
Diane read the beginning of the opening day dedication speech, which segued to Walt giving the rest of the speech as played on the screens.
Here is a video of Diane reading the speech, followed by footage of Walt's original speech (6 MB).
At the conclusion, white doves were released. Afterward, Mickey Mouse led characters, cast members and the audience in singing "Happy Birthday" to Disneyland. The ceremony lasted about half an hour, culminating with fireworks shot off the castle and confetti.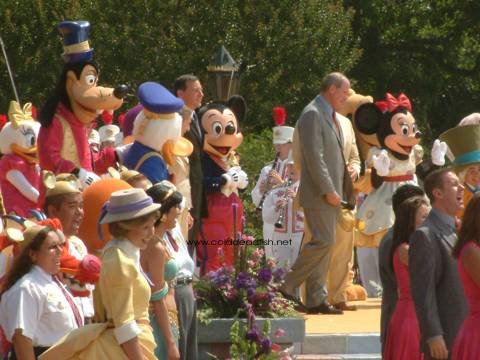 Singing "Happy Birthday" to Disneyland.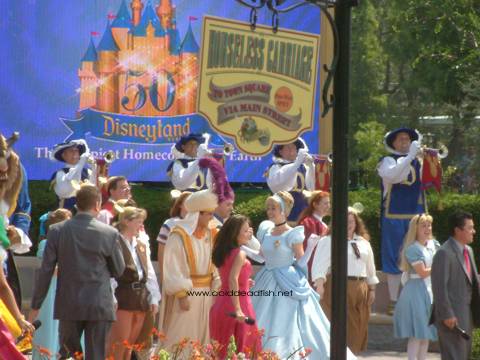 Cast members and characters sing along.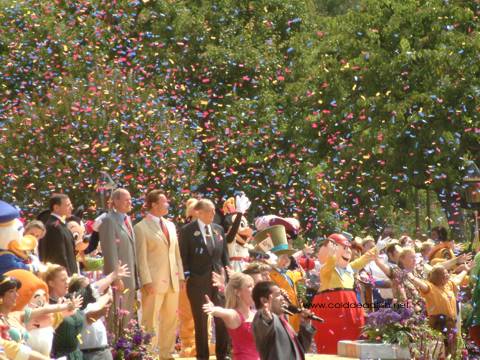 No ceremony at Disneyland is complete without confetti.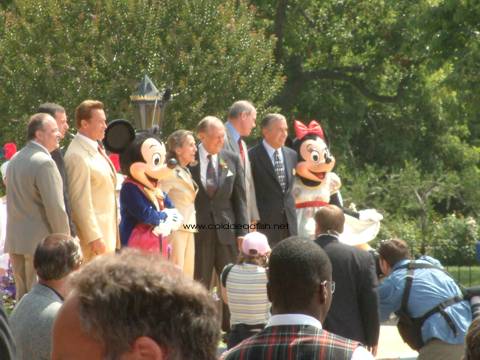 A group picture.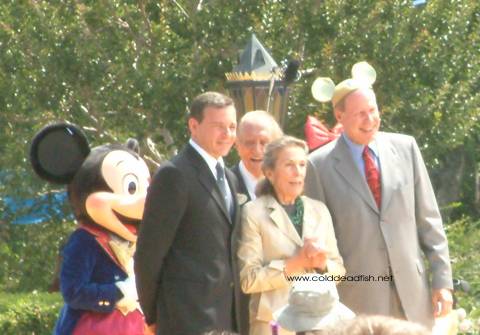 Michael Eisner with his Mickey ears on.
The end of the ceremony also marked the end of our event, and it had been everything we'd been hoping for. We had enjoyed all of the activities, from the bigger events like the Friday night auction and Saturday night dinner and show to the smaller events like the seminars and informal lunches. All of the event gifts that we had received were beautiful, and even the glitches that arose were either taken care of (like the "Taste of Disneyland Resort" booklet) or turned into opportunities to meet and socialize with other Disney enthusiasts (like the merchandise pickup and artist signing lines). What had impressed me most of all was the thought and care that had gone into the little things, like the event logo on the Friday lunch bag and the Saturday lunch cooler, all of the signage that had been created for each activity, and especially the photo montages that were used to decorate the Exhibit Hall. None of those things were necessary for the event activities to be conducted, but they certainly made the experience much more encompassing. For the Friday night dinner, they could have just used little innocuous cards, but they created a booklet that was so beautiful and clever that what they thought people would just tear out and throw away turned into something people were begging to be able to keep. This attention to the immersive quality of the little things is exactly the same philosophy used in Disneyland that makes it stand out among all other theme parks. Congratulations and thanks to everyone who worked on the event.
July 17 trip report
After the ceremony, we met up with friends and eventually stopped by the noon meet for a bit before heading to lunch at Rancho del Zocalo. It was more crowded than normal, but not even close to the crowds that had marked the May 5th kickoff celebration, where many people waited an hour or more for food. Part of the problem had been the large media presence and that two of the park's biggest restaurants - Plaza Inn and Rancho del Zocalo - were closed that day for media staging. We had expected to wait up to an hour in line before getting our food, but we only ended up waiting about 15 minutes. The main difficulty we had this day was in finding seating together for our group of 8. After finding a table for 4, the rest of us were going to split up to another table, but no other table was available at that time. After looking around for a while longer, the table next to our original group of 4 happened to open up, so we all ended up being able to sit together after all. In addition to whatever we each ordered for lunch, we had each also gotten one of the free cupcakes that were available that day. There was more frosting than I generally cared for, so I scraped most of it off before eating my cupcake.
One of the many free cupcakes. Photo courtesy of Robert.
After lunch, our group split up, and we went to the Tiki Room, and since it was very warm and humid out, we decided to spend a bit more time in air conditioned surroundings, so we headed for the Main Street Opera House. We spent some time in the back room of the exhibit, where the replica of Disneyland on opening day is located, and we noticed that the old model of the Space Mountain track that used to be located in the Disney Gallery had been put in that room now. After spending some time there, we then headed over to Big Thunder Ranch. I had booked the Plaza Inn birthday party at 4:30 so that we could celebrate Disneyland's birthday (and it so happened that one of the people coming to the party was actually celebrating her own July 17 birthday). The party had been moved to Big Thunder Ranch, presumably so that all the seating at Plaza Inn would be available for those dining at Plaza Inn, so I was fine with that. We had a mixture of old friends and new friends in attendance at the party, and we all had a good time. My only disappointment was that for the birthday party on previous July 17ths, attendees received a special birthday button commemorating Disneyland's birthday as well, but no such button was given out this time.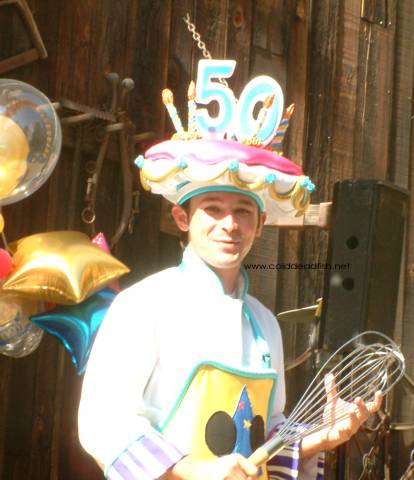 Host of the party Pat E. Cake with his 50th hat.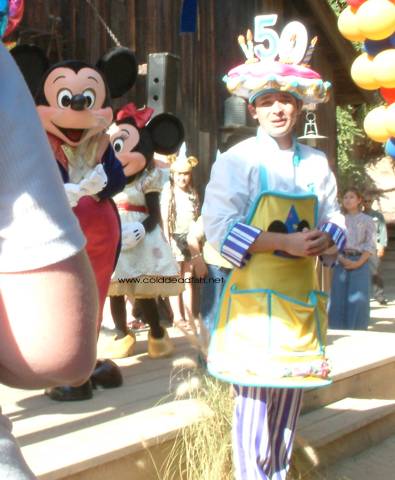 Mickey and Minnie join the party and are available for pictures.
After the party, our group split up again, and some of us rode the train around the park a few times. We then had dinner at Pizza Port, and by that time, with the cupcake I'd had with lunch and part of the cake that I'd had at the birthday party, I was caked out and could barely even stand to look at the cupcakes that were still available for free to everyone. After dinner, we headed over to watch the fireworks from in front of Small World, where we ran into other friends who had chosen to watch the fireworks from that spot as well. Even though it's a limited view of the fireworks, we had decided we didn't want to fight the Main Street crowds and preferred to be able to sit down and watch the fireworks, like we had done on the Fourth of July this year. We weren't sure whether to expect any special fireworks that night, and we'd not heard anything about special fireworks, but when the show ended, and the announcer came back on, we thought we would be getting an extra show after all. However, the announcer just talked a bit about Disneyland's birthday, and then the normal fireworks closing song came over the speakers. We sat around for a few minutes, waiting for the crowds to die down before heading out of the park and back to our rooms. Since we had gotten up at 3:30 that morning and it was now about 10pm, we were fairly exhausted.
It was definitely crowded in the park that day, but not nearly as crowded as some might have expected, given how many people lined up overnight to get into the park, for fear that they'd arrive after admission had been halted. We knew people who joined the line at 2:30, 4:00 and 6:00am, and we had one friend who arrived at about 9:30am and made it in fine. It had been announced that anyone who went into Disneyland and had a hand-stamp would be guaranteed re-entry into the park, so I don't know if they ever actually stopped new entrances into the park, and maybe having that guaranteed reentry policy was what partly accounted for it not being wall-to-wall people in the park that day. Whatever the reason, even though it was fairly warm out, we enjoyed our day in the park with minimum hassle.
JULY 18, 2005 - CONCLUSION
We decided to get up a bit early this morning and head into Disneyland for a little while. On Main Street, we looked at the window/door that had been dedicated the day before to cast members, and we thought the door was very cool. The door is located in between the Main Street Cinema and Disneyana.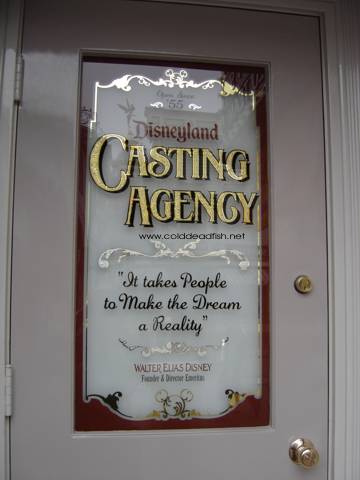 Note that Tink is not on the window but is rather an accidentally well-placed reflection of the top of one of the Main Street lights.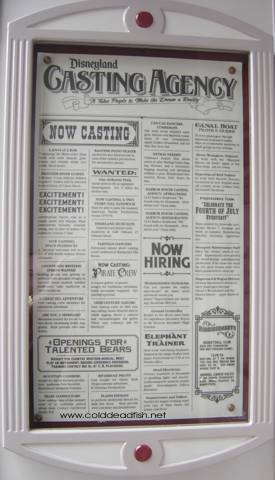 This is on the wall to the left of the window.
This is a larger version of the above picture so that all the text can be read..
We stopped to look at one of the horses pulling a Main Street streetcar and noticed that the horse had a name badge as well.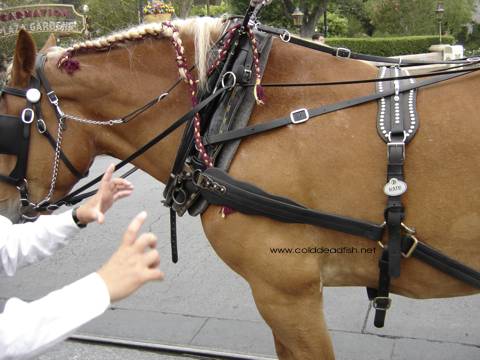 Nice horsey.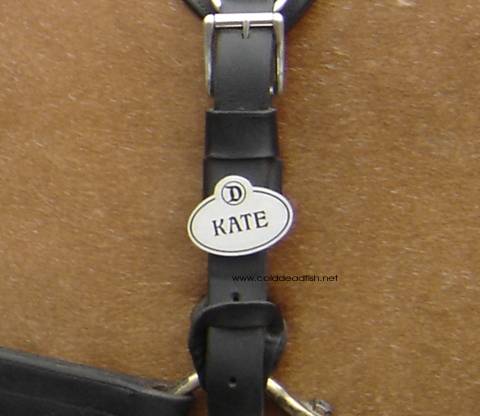 Each horse has a name badge as well.
When we commented to the cast member on the streetcar that the horse's name badge wasn't one of the 50th ones, she mentioned that they had made 50th badges for the horses, but the badges were too big to fit in the same place. She said that plans were in the works to have the badges modified so that they could be mounted on the inside front of the street car, and she said that should be done within the next couple of weeks.
As we headed toward the castle, I noticed a differently themed trashcan. I have no idea how long it has been there, but I just thought it was cool.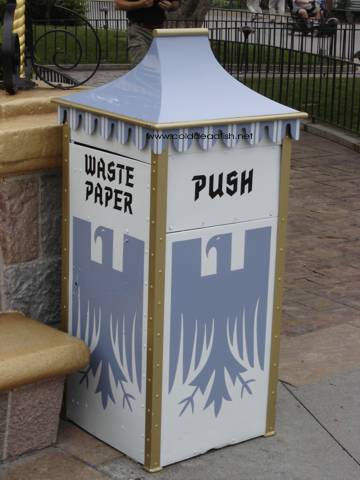 There's one on either side of the castle courtyard.
After quick rides on Dumbo and Big Thunder Mountain Railroad, we headed back to the hotel to pack and check out.
HAPPY BIRTHDAY, DISNEYLAND!
Back to Cindy's Disneyland Resort Page.
Back to home