Disneyland Resort in Anaheim - January 27, 2008 merchandise trip report
Some new merchandise has shown up at the Disneyland Resort, and here's a roundup.
Four new figures of black and white Mickey and Minnie by Disney artist Costa Alavezos are available in celebration of Mickey's 80th birthday. I love the look and design of these pieces. I can't find much information about the artist though. There's a book illustrator by that name, but I'm not sure if it's the same person. He has apparently designed quite a number of pins for Disney. This site has some information on him as well as some of the pins he has designed. He also designed three of the four Star Wars/Disney big figs that were released at Star Wars Weekends last year at Disney-MGM Studios (now Disney's Hollywood Studios). Here's a link to information and pictures of the big figs.
This piece from "Plane Crazy" is during the happier time,
before Mickey decides to torture Minnie while they're up in mid-air.
I want a piece like the poster for the short that's
outside the Main Street Cinema with Minnie's wonderful expression.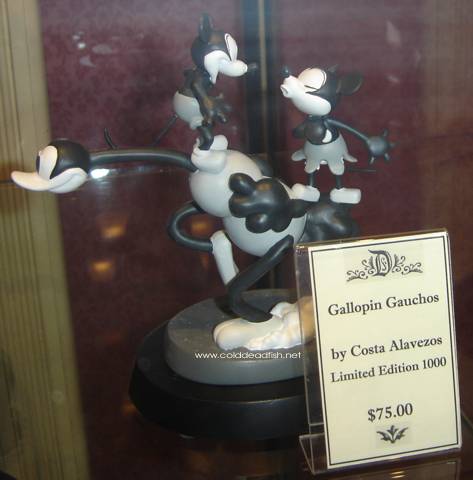 This piece is from "Gallopin Gauchos".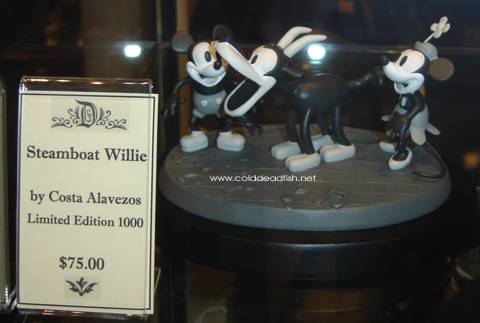 This is a great piece from "Steamboat Willie".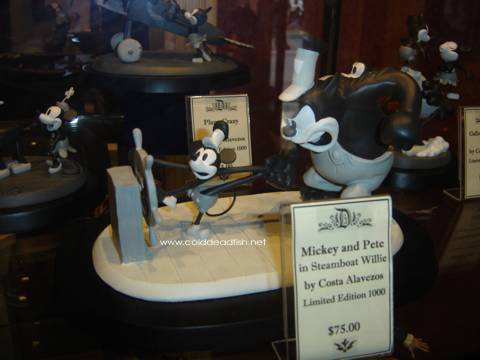 This is my favorite piece from "Steamboat Willie".
I love the sight gag of Mickey's elasticity.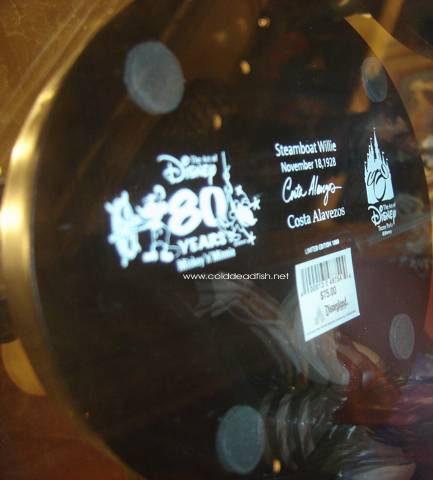 Here's a view of the bottom of one of the "Steamboat Willie" pieces.
Disney also carries lots of great Lennox pieces. A new piece is sure to please, though it's fairly expensive.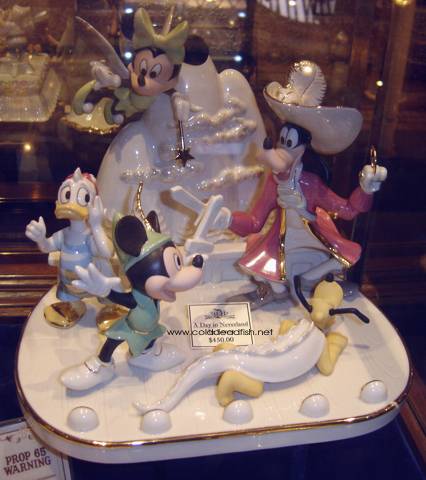 The Fab Five take on different personas.
I love the expression on Donald's face.
The Disney Gallery used to have stations where you could order various artwork. World of Disney has one of those stations, and now, so does Disneyana.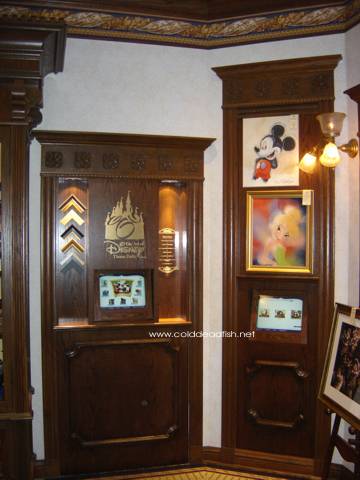 The Art of Disney ordering kiosk replaces former shelf and poster space.
I don't usually include pin information in merchandise reports, but this one was just too gorgeous. A couple of weeks ago, a jumbo pin for It's a Small World was released in what is presumed to be a new series called "E-ticket". My only complaint is that unlike other jumbo pins, this one is not surrounded by a paper/cardboard cover. The packaging is beautiful, but since it's unprotected, it can be easily damaged or soiled. The coloring of this packaging matches Small World very well, so I don't know if this will be the same color on any future releases or if the coloring will change to match the pin itself.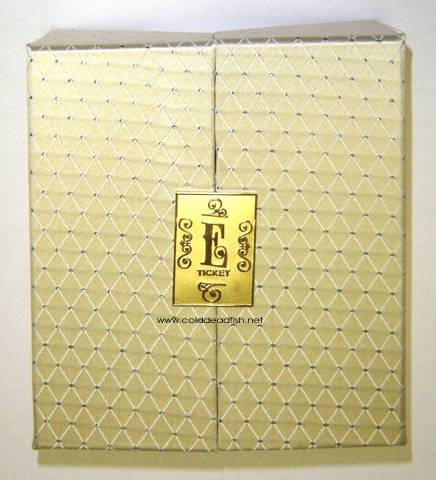 This is the pin packaging, closed by a magnet.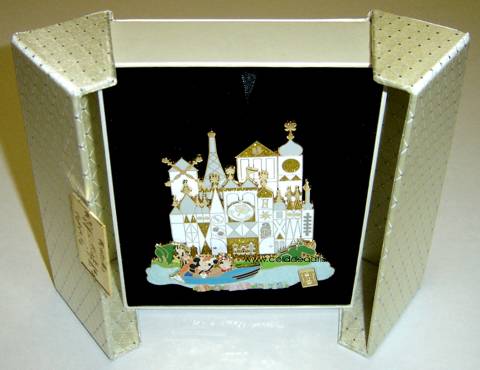 The Small World pin itself.
The boat rocks up and down, and the clockface spins.
Here's a close-up picture of the pin itself, as well as more information about the pin.
Disney has also released a new antenna topper for Valentine's Day 2008. I usually like the roundies line, but I find this one to be a bit odd.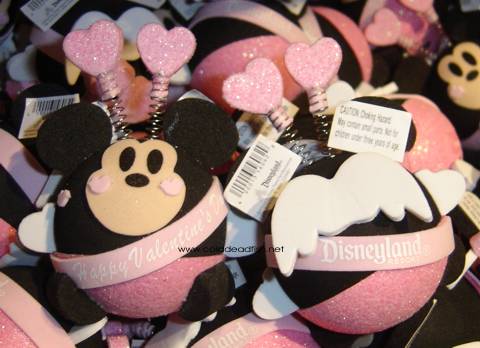 The front and back of the new antenna topper.
Mickey has kisses on his cheeks and wings on his back.
Quite some time ago, Disney released a line of plush of baby versions of well-known characters. Some of them are quite cute. Some of them, not so much.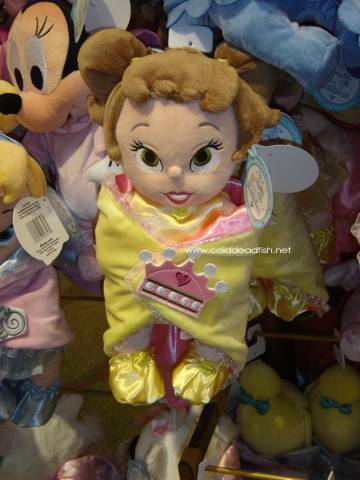 Is it just me, or does Belle look mad and/or mean and/or
"I'm going to kill you" in a Talky Tiny sort of way?
And, for a bit of non-merchandise, the famous floral Mickey at the entrance of Disneyland has a new element - Tinkerbell adds her pixie magic to Mickey. She kind of reminds me of a giant big fig, like the Mickey figure available for sale at Disneyana. I think her expression is a little creepy though. They don't make Tink like they used to.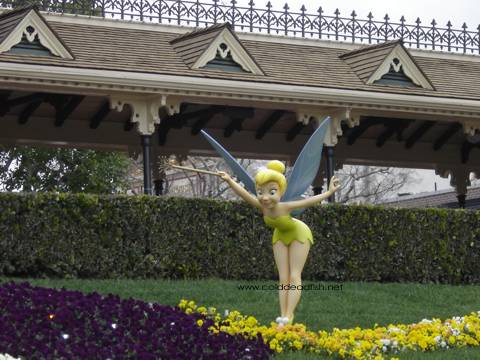 Tink overlooks floral Mickey.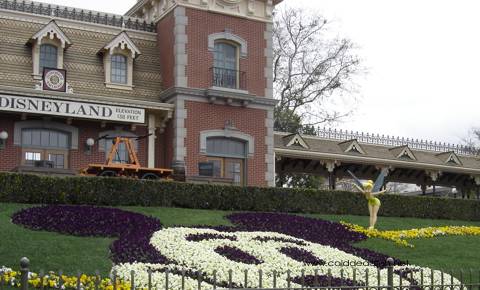 A better perspective of Tink's size.
Back to Cindy's Disneyland Resort Page.
Back to home.