Disneyland Resort in Anaheim - April 24, 2005 trip report
We arrived at Disneyland at about 8:15am, shortly after park opening. After doing some shopping, we wandered around Main Street for a bit and noticed the new signage in front of the opera house for the new 50th exhibit. The facade looks great, and I'm looking forward to seeing the exhibit itself. At the Emporium, we noticed that the windows in the front (which had recently featured a sort of "greatest hits" of past window displays, including ones for "Beauty and the Beast", "Tarzan" and "The Little Mermaid", among others) had been covered with black. Hopefully, that means they're preparing windows for the 50th celebration, so I can't wait to see those. In the Emporium, we noticed a Minnie small plush released for Mother's Day 2005.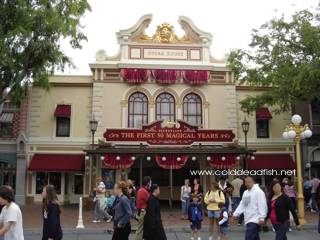 The opera house all dressed for its new exhibit.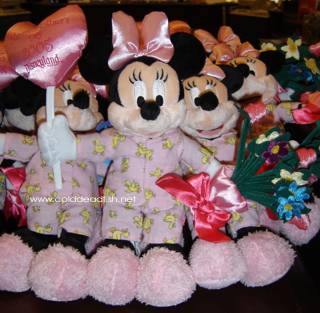 Minnie with her mother's day gifts all ready to present.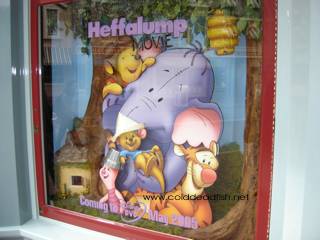 The recently released 100 Acre Woods movie now adorns one of the home video windows on Main Street.
After getting some coffee and baked goods at the bakery, we sat on the porch for a while, enjoying our breakfast and people watching. The porch is one of the best spots for it, thought it's been so long since the last time I did it that I'd forgotten how many strange looks you get from people as they walk past you, wondering why you're just sitting there so comfortably. At one point, a survey CM came up to us and asked if he could ask us a few questions. I said sure, but we're AP holders, so did he still want to talk to us? He asked us where we lived, and when we said about half an hour away, he said no, he had information on us already. As he walked away, I said that we weren't trying to be rude, just trying to save him from wasting his time with us if he wasn't going to need our info anyway. He took a step back to say thank you before proceeding on his way. During the time that we were on the porch, it had started raining a bit, so we saw more and more people either opening up their umbrellas or buying blue Disney ponchos or just trying to get as little wet as possible. After breakfast, we eventually made our way to Tomorrowland, and as we passed near the monorail platform, we heard the CM saying that a monorail was about to pull into the station and there was zero wait time, so since we hadn't been on the monorail in a while, we decided to take a ride. We took advantage of being on the monorail platform to look through the slits in the tarp to look at the drained sub lagoon. It was funny to see things in the open air that we recognized from the sub ride. It had started to rain harder at that point, and when the monorail pulled in, we noticed that many of the windows were down, which meant that monorail riders would be faced with wet seats and getting pelted with rain as the monorail moved. Luckily, when they opened the gates, the CM was saying that there was still room in the tail cone, so we ended up in there, which has no windows for the rain to come in, but there was a leak from one of the seals overhead, so we had to dodge those drops periodically. We ended up sharing the tail cone with a dad and his two young sons, so that was a lot of fun. We rode to the Downtown Disney station and back, chatting with the family and enjoying the boys excitedly pointing out various sites on the way.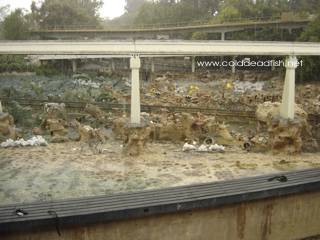 The sub lagoon mostly drained but filling again slightly from the rain. CMs in rain coats walked around in the areas.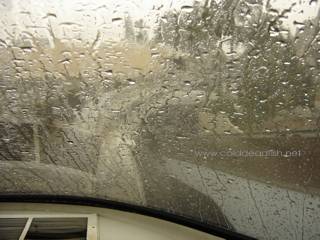 The back window of the monorail, with the rain pouring down.
After disembarking, we headed over to Toontown and noticed that the fountain was walled off but had been repainted, looking very pretty. We then passed by the Storybook Land Boats and noticed that the attraction was walled off for refurbishment but they had a very clever sign in front. I love when they make those extra touches, even in something as simple as a "not in operation" sign. After wandering around the park some more, we headed to City Hall. There are new "hidden Mickeys" - not so hidden really - that have been put up in celebration of Disney's 50th, and someone on a Disney discussion board had mentioned that City Hall had a list of them. I went in to ask about it, but the CM there said they had no such list, so I'm not sure where the rumour might have come from.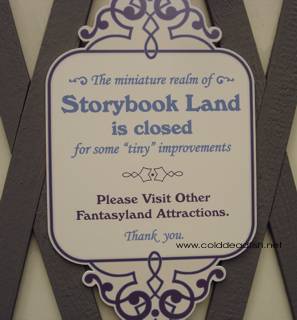 It's not as simple as just "it's closed".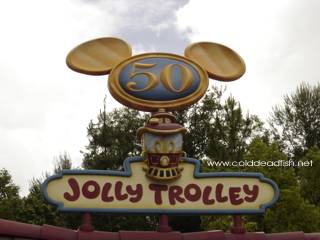 This new "hidden Mickey" in Toontown is just a little bit tweaked.
The 50th celebration has started to be visible in the paper products used at the resort. New napkins bearing the 50th logo are out, and some of the paper food containers have been changed over as well.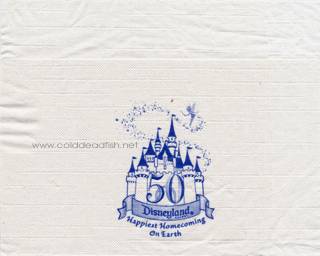 New white napkin at the resort bears the 50th logo.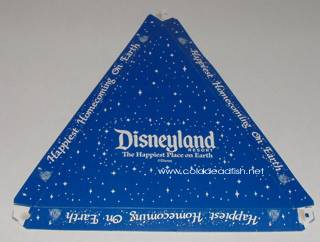 This pizza plate happens to come from Pizza Oom Mow Mow in DCA's Paradise Pier section.
The full pizza box is similarly decorated, with the 50th logo on top.
It was just about noon, and we were headed for DCA but at the esplanade noticed that the lines to get into DCA were extremely long, even longer than the fairly substantial lines to enter Disneyland at that time. We realized that this was the last Sunday for the "2 parks for the price of 1" offer (which expires April 28), so that probably explained the unusually large crowd going into DCA. We then decided to enter DCA through the Grand Californian entrance. On the way, we walked through the World of Disney. Someone on a Disney discussion board had asked about Disney graduation merchandise, so in the plush section of the store, we noticed two graduation caps with Mickey ears. One says "Disneyland 2005" on the front with a gold "2005" on the gold tassle. There is lacing in the back to adjust the cap for size. The price is $14.00. The second cap just says "2005" on the front, also with a gold "2005" on the gold tassle and lacing in the back to adjust for size. However, this cap also lights up, with a battery attachment on the cap itself. The price for this cap is $22.00. Disney also usually releases an antenna topper with Mickey wearing a graduation cap, but there weren't any in the park at the moment. The only other graduation merchandise currently available are plush of both Stitch and Mickey in graduation attire.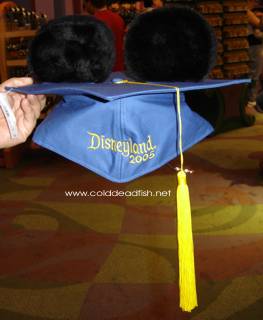 Graduation cap with Mickey ears.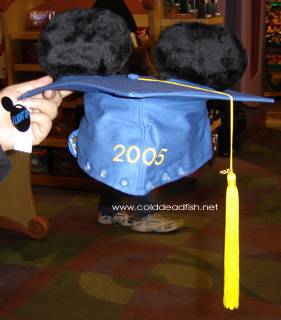 Light up graduation cap with Mickey ears.
World of Disney also has the new name badges with the 50th celebration logo that you can get personalized. The badges have attachments so that the badge can be made either into a badge you can wear, a magnet or a keychain. The back of the packing has instructions for making whichever you choose, and it also indicates that the badges are available at World of Disney, at Souvenir 66 at DCA and at three locations in Disneyland: Pioneer Mercantile, Le Petit Chalet (which is located along Small World Mall, right near the Matterhorn) and Guide 2, which we presume is to the right after the right tunnel (right near the restrooms and Main Street Bank) after you go through Disneyland's main entrance, since that is where the regular name badges are.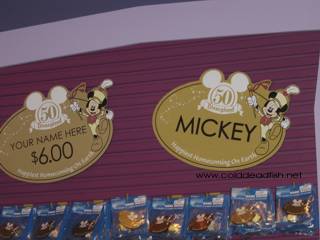 A sample of what the badge looks like, along with the price.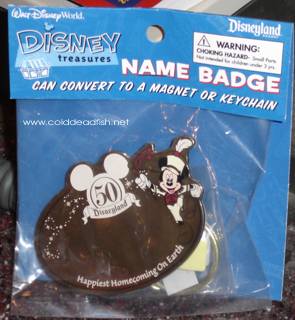 The badge packaging itself.
We headed to Acorns, which is the gift shop inside the Grand Californian Hotel. We had been in there the day before and seen some of the new merchandise released in celebration of Disneyland's 50th birthday this year. We had looked around Disneyland today for this merchandise and was surprised to find none there, except for the occasional gold Mickey-head-shaped pen and an autograph book. Acorns has quite a few of the items in the line (dubbed the "homecoming line", per a DCA CM) available. Each of the original lands is represented by one of the Fab Six - bandleader Mickey represents Main Street, princess Minnie represents Fantasyland, Pluto represents Frontierland, Goofy represents Adventureland, Donald represents Tomorrowland and Daisy represents New Orleans Square. There are small plush for each character except Daisy, and each costs $10.00. The main character for the line is bandleader Mickey, who sometimes appears alone on the items. Sometimes, it's Mickey and Minnie, and others have the Fab Five - Mickey, Minnie, Goofy, Pluto and Donald. Daisy only seems to appear with them when it's the full design. There are many different items available in the line, including a scrapbook, large photo album, small photo album with a picture frame on the front, picture frames, relief plate, mug, freezer mug, shot glass, small snowglobe, ornaments, static window cling, beach towel, magnet frame, playing cards, pencils, stickers, postcard, magnetic memo holder, penny press collection book, magnet, keychain and compressed towel. All of these items are currently available at Acorn.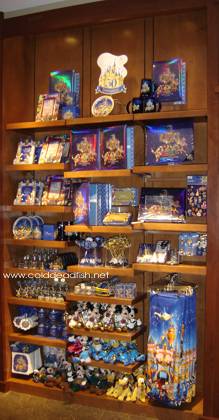 The wall of 50th celebration "homecoming" merchandise.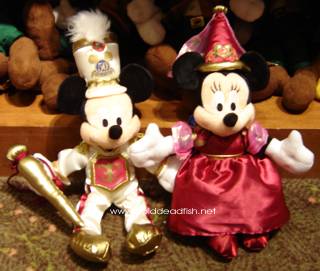 Bandleader Mickey and Princess Minnie small plush.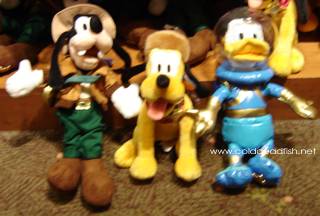 Adventureland Goofy, Frontierland Pluto and Tomorrowland Donald small plush.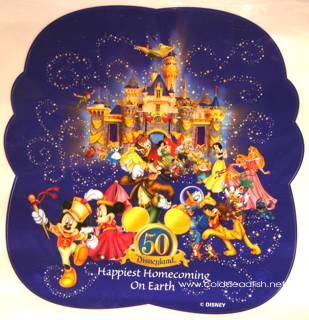 The full "homecoming" design.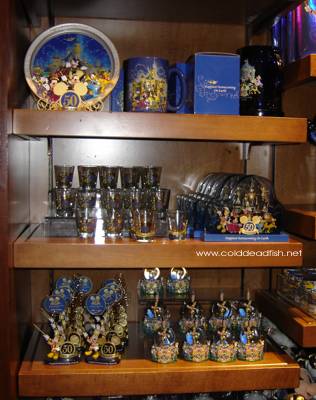 Relief plate, mug, small snowglobe and other merchandise.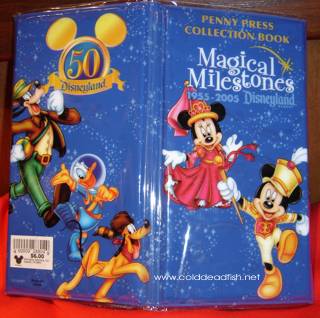 Pressed pennies collection book.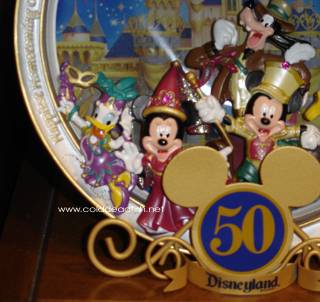 Here's the not-often-included New Orleans Daisy, from the relief plate.
We decided to stop into Whitewater Snacks in the Grand Californian for lunch. My husband ran into DCA to get us Fastpasses for Soarin' Over California, and at just after 1pm, he came back with Fastpasses that had a return time between 6pm and 7pm. The busyness of DCA seemed to have migrated over to Whitewater as well, as most of the inside tables and just about all of the outside tables were full, rare for our visits there. After lunch, we both headed into DCA to go to Off the Page in the Hollywood Backlot section, to look at more of the 50th merchandise that we had seen the previous day. In addition to some of the items available at Acorns, there is also a large snowglobe that opens up, a replica of the castle that lights up, a throw blanket and other merchandise. A CM came over to say hi and offer help, and I mentioned how much I liked the new items but that I was surprised that Disneyland wasn't carrying any of it, given that the merchandise was in celebration of Disneyland's 50th birthday. She mentioned that Disneyland would be unveiling their line on May 5, but that on Monday night, another line would be released at Greetings from California, the store just to the left after the main entrance gates. She didn't elaborate on what the new line was, so I'm interested in seeing what else will be available.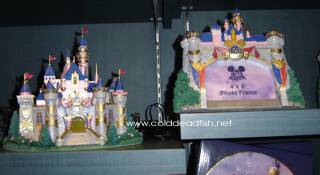 Light up castle and picture frame.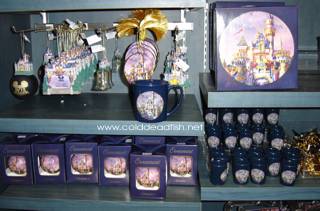 Ornaments, plate, mugs, shot glasses and other merchandise.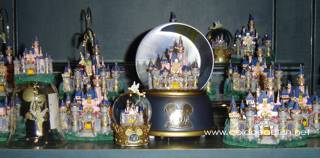 Yet more merchandise from the same line.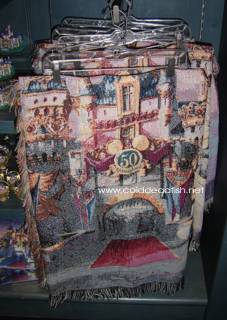 The throw blanket.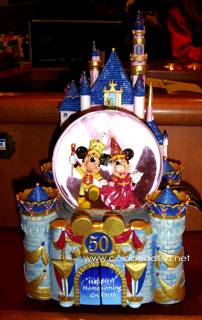 The large snowglobe, closed.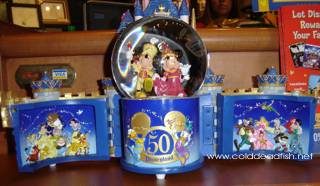 The large snowglobe, with the castle opened.
We went to take a look at the work that had been done so far to turn the old Superstar Limo into the new, as-yet-to-be-officially-announced "Monsters, Inc." ride. Sulley was out nearby doing a meet and greet - nope, not a hint at all. As we headed further, we noticed a substantial line of people waiting to get into the Aladdin show, and a CM was making his way down the line telling people that the show expected to be filled to capacity and that there weren't that many seats left and there was a good chance there wouldn't be any space left by the time they got to them, so they might want to think about coming back for the next show.
After wandering around DCA a bit and stopping to see Golden Dreams, we made our way to Souvenir 66. The name badges were indeed there, along with the plush and some other items we hadn't seen elsewhere, including t-shirts (adults and kids), a sweatshirt and hats.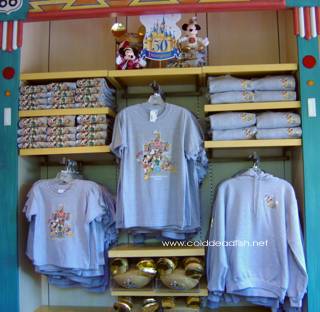 Kids t-shirt, adult t-shirt and sweatshirt.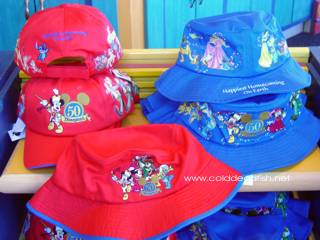 Three different kinds of hats, with the two hats on top showing front and back.
We then made our way to Sideshow Shirts in the Paradise Pier section and discovered another setup there for this merchandise. In addition to some items available elsewhere, there was also a large Mickey plush, more t-shirts and sweatshirts (adults and kids), license plate fram, fanny pack, backpack, tote bag and even jackets (adults and kids).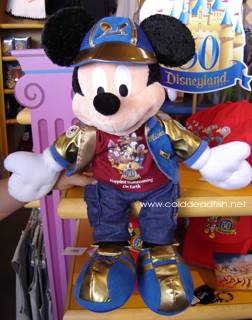 Large Mickey plush. Notice his t-shirt and that his name is stitched on the front of his jacket.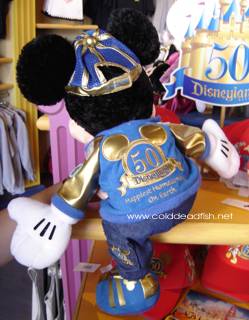 The back of the large Mickey plush. Notice the logo on the back of his jacket and the design on his pant leg.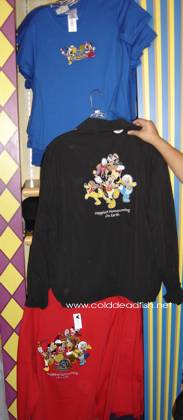 T-shirt, back of polyester/nylon jacket and sweatshirt, all embroidered.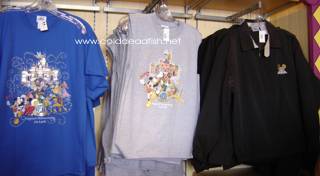 T-shirt, tank top and front of polyester/nylon jacket.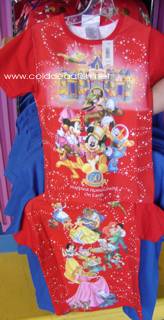 Front (at top) and back (at bottom) of kid's shirt.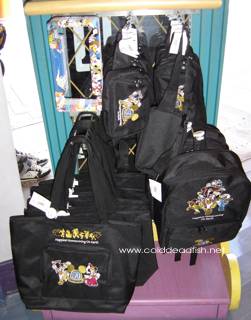 License plate frame and assorted bags.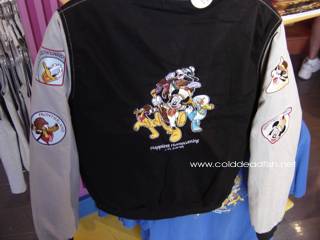 Kid's jacket - notice patches on sleeves.
As we continued our way through Paradise Pier, it being 4:30 at this point, my husband noticed that a train for California Screamin' had just launched with no passengers aboard. We noticed that there was a huge line for the ride that went back almost to Catch A Flave ice cream shop, and the people in line were just being let into the regular queue area. It looked like the ride had been down (though we didn't know for how long) and was just reopening. They seemed to be trying to accommodate as many people as possible, with three trains out running at once while two were in the station being loaded. We decided to stop into the Cove Bar for a bit of refreshment and in just browsing the appetizer menu noticed that since our last visit, they'd added a barbequed chicken pizza to their fairly limited menu.
We then made our way to Rushin' River Outfitters, the store right next to Grizzly River Run, and we discovered another display of the 50th merchandise, including a leather jacket. One nice thing that I particularly appreciate is that many of the apparel items in the line include embroidered pictures, not simply printed pictures. The embroidery, while costing a bit more, looks much nicer and keeps much longer.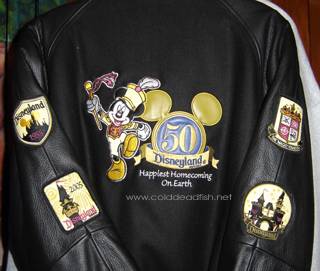 Back of leather jacket. Notice patches on sleeves.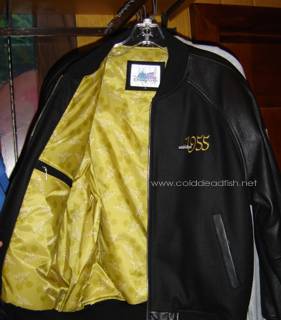 Front of leather jacket. Notice 50th logo design on lining.
There is another line of 50th merchandise that had been recently released which has a much simpler and more elegant logo, with just Mickey and the castle. Some of the items available in that line include a t-shirt, polo shirt, sweatshirt, keychain, hats, and an absolutely gorgeous leather jacket. Most of these items are currently available at both Rushin River Outfitters and Acorns.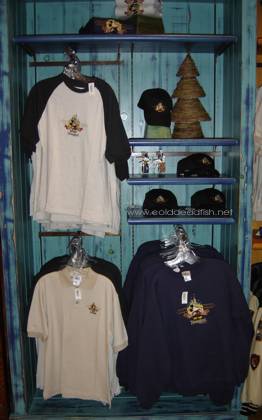 T-shirt, polo shirt, sweatshirt, keychains and hat.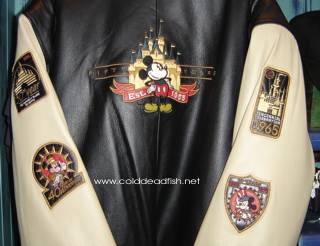 The absolutely gorgeous leather jacket. Notice decade celebration patches on sleeves.
We then made our way to Engine Ear Toys, which is directly across from Greetings, to the right after the DCA entrance gates, and there was yet more 50th merchandise there, including a light-up Sleeping Beauty castle.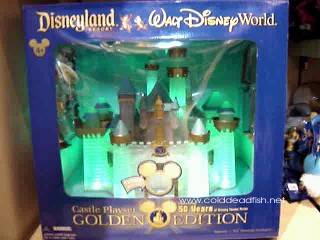 Golden Sleeping Beauty Castle playset.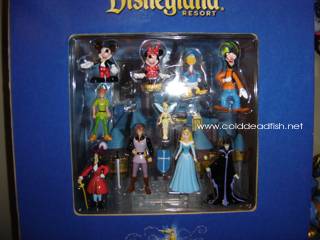 Characters included with the playset.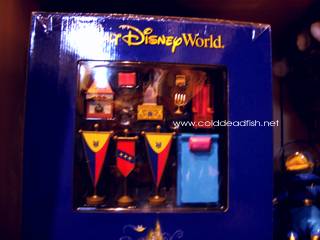 Accessories included with the playset.
The castle includes sounds and changing lights. See the video of the changing lights here (1.4 MB).
By this time, it was 6:15 and time for our Soarin' ride. It's been quite a while since I've been able to go on that ride, so I really enjoyed our trip. All the smells were working perfectly, and I sat next to a family that had never been on it before and the teen sitting next to me had been a bit worried because she didn't know anything about the ride but loved it and was cheering and clapping along with the rest of the crowd during the ride. After the ride, we headed back over to the Hollywood Backlot to have a look at the Tower of Terror. At 6:40pm, the standby wait time was listed as 110 minutes. We browsed around the store and discovered the same Stitch bellhop that we'd seen at Engine Ear Toys.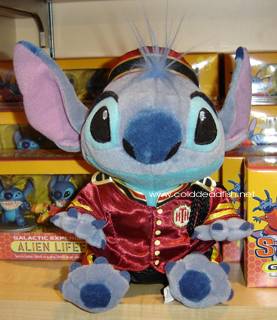 Tower of Terror bellhop Stitch small plush.
After that, it was out of the park and off property for dinner and home after a weekend spent mostly at the resort.
Back to Cindy's Disneyland Resort Page.
Back to home.