Disneyland Resort in Anaheim - May 29, 2005 trip report
Just a few notes from our trip to the resort on May 29, 2005. We noticed four new big figs are now available: Beauty and the Beast, Chip and Dale, Cinderella and Donald. All four were at Disneyana, though most of them were indicated as being currently sold out. All except Beauty and the Beast were also on display at Off the Page in DCA and the World of Disney. The Beauty and the Beast one appears to be the one that's been available at WDW for some time now. The Donald figure might have previously been available either online or elsewhere.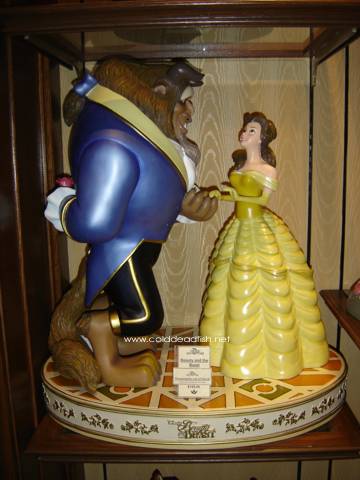 Belle and Beast are separate figures that stand on the base.
Chip and Dale are also separate but have pegs on the bottom of their feet that go in holes in the base.
Oh, and their heads bobble.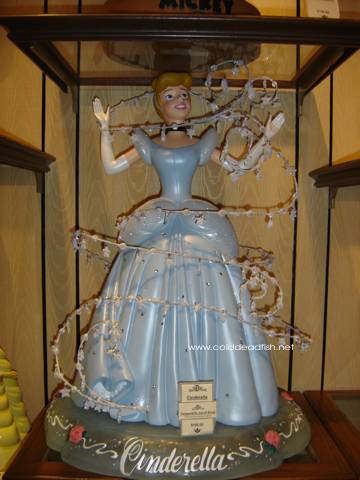 Cinderella is a fairly large big fig.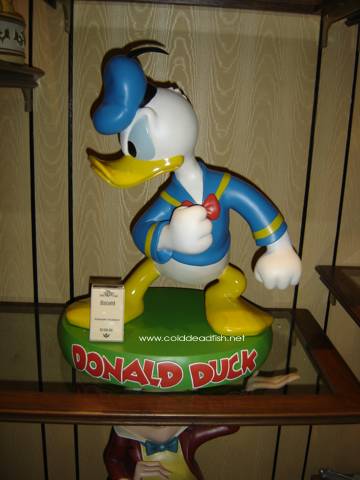 Donald doesn't seem very happy.
We also noticed new toys related to the "Pirates of the Carribean" film. There are two electronic Jack Sparrow dolls, one of him serious and one of him smiling. Not really sure what the actual differences are between the dolls. The price for each is $50. There are also action figures of Jack Sparrow, Barbossa (which comes with a monkey), Will Turner (which inexplicably comes with an "alternate head" that has a different hairstyle) and a cursed pirate. We saw them all at World of Disney (near the entrance/exit closest to Downtown Disney), but they may also be available elsewhere at the resort.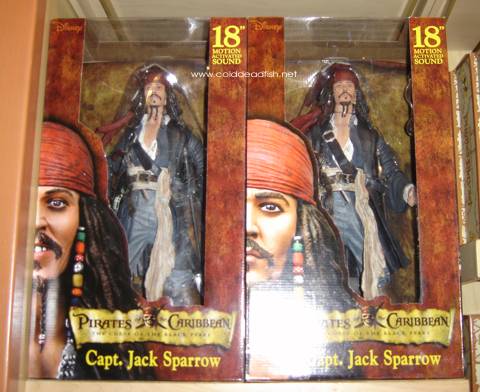 Which version of Jack do you want?
Action figures of the Pirates movie characters.
We spent a little bit of time at DCA, looking at the Pixar murals in sun plaza. My favorite is the "Monsters, Inc." mural, which actually includes Boo.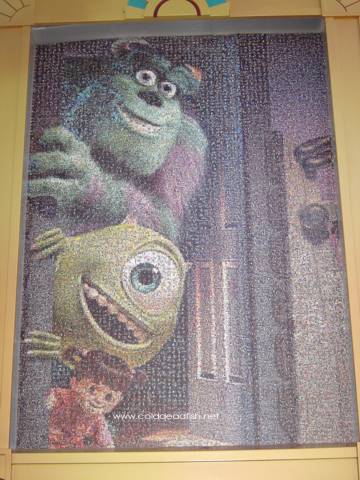 Sulley, Mike and Boo.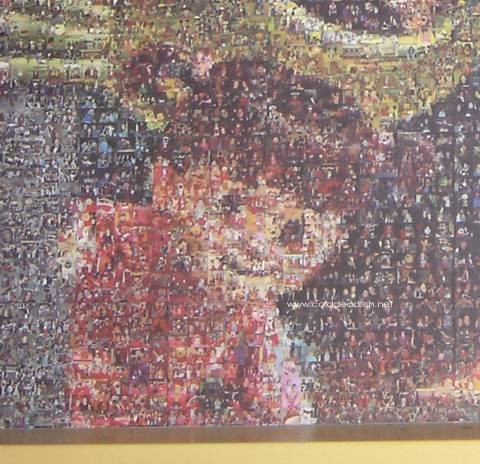 Isn't she cute?
Speaking of Boo, we had a chance to catch the Block Party Bash again, which I really like. The performers are really into it and expend a lot of energy, and it's really a lot of fun. The plan was to be close to the "Monsters, Inc." float - and we managed to hit the jackpot by sitting in the green party zone near A Bug's Land, right across from the sign directing people to the Golden Vine Winery. The float stopped right in front of us, so we spent our time with the Monsters characters. Did I mention that I had been excited to discover on my first viewing of the Block Party Bash that they had a walk-around Boo, in her monster costume no less? She is incredibly adorable, and the detail is awesome (Isn't that a great word?), down to her little pink ponytail holders, which you can see underneath her monster costume. She can't gesticulate much in that costume, but she does flap her arms a bit, and she is also able to bob her head.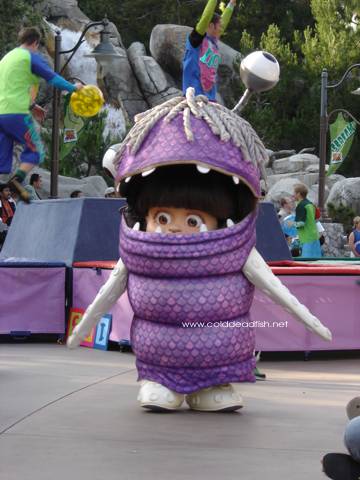 Does she know that I'm stalking her?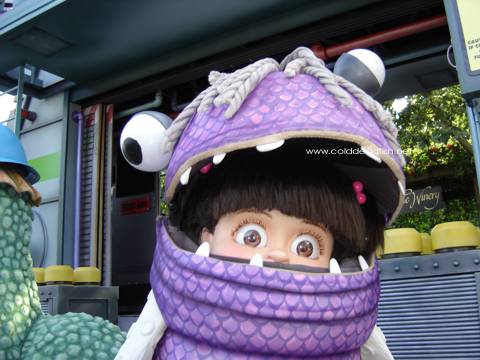 Her ponytail holders are visible under her costume.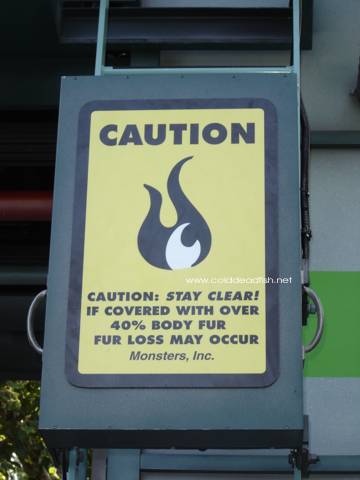 One of the signs on the float.
We stayed to watch the fireworks, and even though Tink was absent from the show, it was still great to watch. I especially love watching the reactions of people who are obviously seeing these fireworks for the first time.
Back to Cindy's Disneyland Resort Page.
Back to home.