Disneyland Resort in Anaheim - July 17, 2007 trip report
July 17, 2007 marked Disneyland's 52nd birthday. Being an "off" birthday, no big festivities were planned, but there were signs around Town Square alerting guests of the afternoon celebration.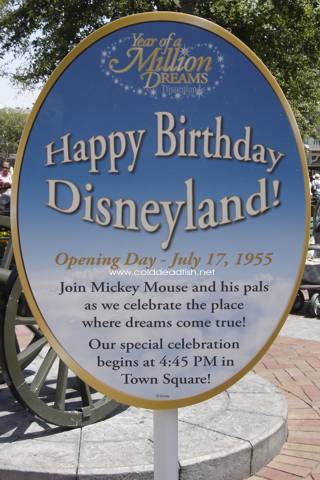 Letting guests know about the birthday and celebration.
A friend and I decided to have lunch at River Belle Terrace. I decided to have the fruit plate, which turned out to be quite good - good selection and quantity of fruit. I had also wanted some soup for lunch. The regular soup at River Belle comes in a bread boule and includes a side salad. I didn't want the bread and extra salad, so I was able to order what they call a side of soup. It comes in just a regular bowl. The soup was quite good but turned out to be a bit more expensive than I would have expected. The bread boule of soup with a side salad cost in the neighborhood of $9. The side of soup by itself cost about $7. I was at least pleased to see that it was a nicely rounded bowl, so you did get a lot of soup, something that doesn't always happen when it comes in a bread boule if they don't scoop out very much bread.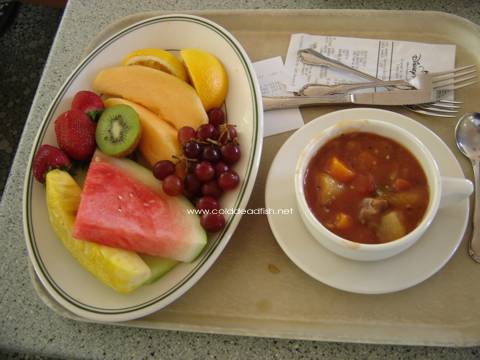 Fruit plate and side of soup from River Belle Terrace.
During the day, we were able to meet up with other friends and spend some time with them, and then later in the day, it was time to head for Town Square for flag retreat and the birthday celebration that would follow.
Every afternoon, the flags on the main pole in Town Square are retired for the day. Sometimes, there's a live band present, and sometimes, it's just prerecorded music. The time that flag retreat is held varies, so you can check with City Hall or any cast member who has a cast member show schedule. The Disneyland.com website also includes flag retreat on its show schedule. It would be great if they could include it on the in-park schedule as well. Flag retreat is something that I definitely recommend for people to see when they can.
On occasion, including this day, the Dapper Dans are there to provide some pre-ceremony entertainment.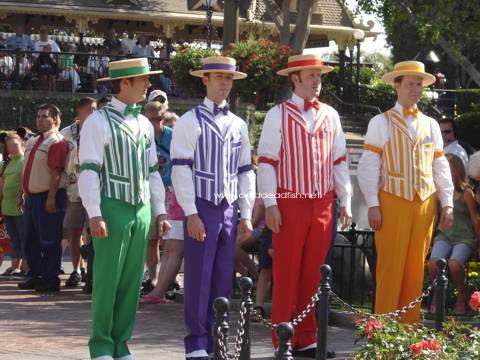 The Dapper Dans sing to the gathered crowd waiting for flag retreat.
After flag retreat, the crowd shifted over towards the Main Street railroad station. The ceremony would be held on the steps leading to the station. The Mayor of Disneyland presided over the ceremony, during which Walt Disney's opening speech was played, and Mickey was joined by a number of his friends as well as the Disneyland Band in celebration.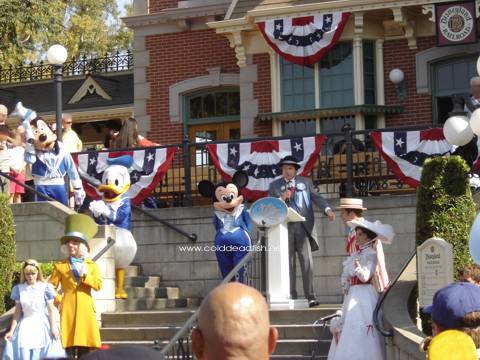 Mickey stands with Mayor as Donald, Goofy, Alice, Mad Hatter, Mary and Bert look on.
(Minnie and Pluto are off camera to the right.)
Anyone who attended Disneyland's 50th birthday on July 17, 2005 will never be able to look at a cupcake the same way again. But Disney has a new themed cupcake, available at the Main Street Bakery.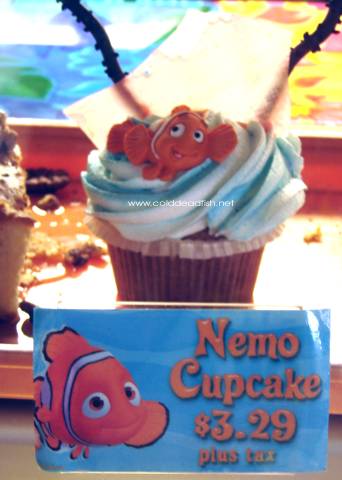 Nemo cupcake. (No, it's not fish flavored.)
Back to Cindy's Disneyland Resort Page.
Back to home.