Disneyland Resort in Anaheim - August 7, 2005 trip report
Just a quick, short trip report about some of the new merchandise we saw.
We'd seen the new Halloween mini bean plush a week or two prior. It's a matching set of Lilo and Stitch. Lilo is dressed up like a witch, and Stitch is dressed up like a devil. Both of their costumes say "trick or treat" on the front. The back of Lilo's costume says "give me something good to eat". The back of Stitch's costume says "smell my feet". Those brave enough to do as Stitch instructs will note the chocolate smell. Each is priced at $10, and each has an identifying 2005 tag on the underside of one foot.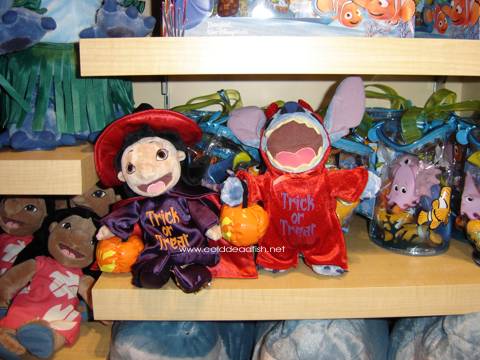 The new 2005 Lilo and Stitch Halloween mini bean plush.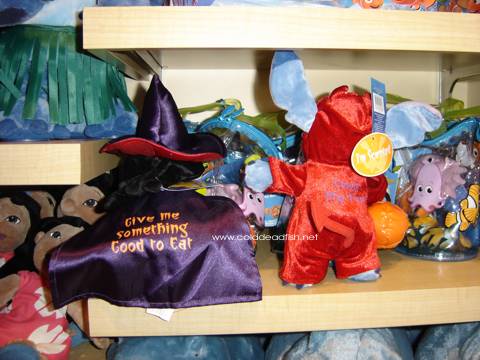 Lilo and Stitch facing the other way. The tag on Stitch says "I'm scented".
Continuing with the Halloween theme, two new antenna toppers have been released. One is of Stitch dressed as the devil, with a cape. The second is of Minnie dressed as a witch. Both are priced at $4, like the other antenna toppers.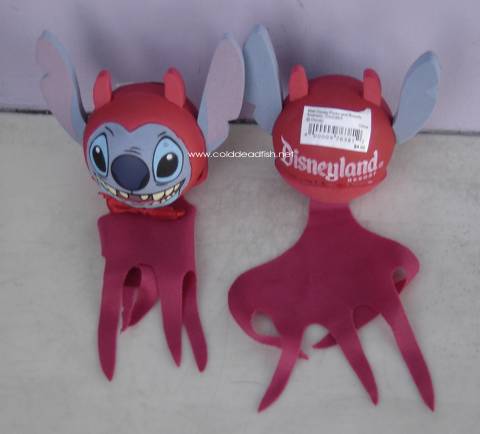 Front and back of Stitch Halloween antenna topper.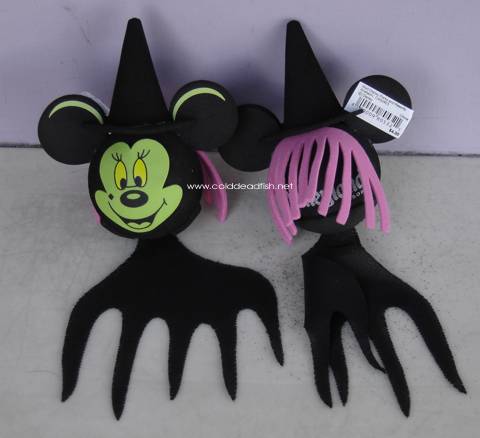 Front and back of Minnie Halloween antenna topper.
Another recent arrival is not Halloween related but rather part of the growing line of Stitch merchandise. Stitch is dressed in a hula outfit, and he dances with music and singing if you press his left hand. The item costs $36.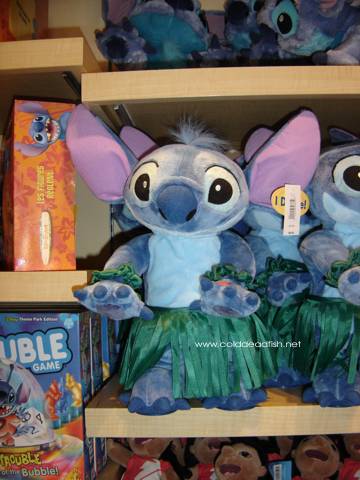 Dancing Stitch.
Here is a video of dancing Stitch in action (18 MB).
One other new item we saw was a big fig of the Auctioneer from Pirates of the Caribbean. This item is supposed to go on sale online at Disneydirect.com starting on August 12, so we were surprised to see it in Off the Page at DCA. We were apparently so surprised that we forgot to take a picture of it, but there's a picture located at the bottom of the page of this March 2005 sneak peek preview of merchandise for the 50th.
Happy shopping! Happy Halloween! How many more shopping days left until Christmas?
Back to Cindy's Disneyland Resort Page.
Back to home.