Disneyland Resort in Anaheim - August 13, 2006 trip report
I made a rare solo trip to the resort, and I arrived at about 11:45am. It wasn't terribly crowded in the parking structure or while waiting for a tram.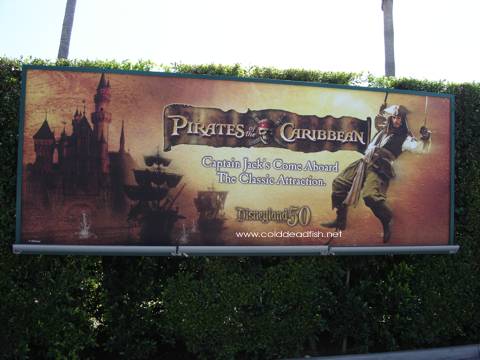 Hmmm, there's apparently something (someone?) new on Pirates.
I did some shopping (Note to self and others - if you're looking to buy pins, buy them early in the day because they may run out when everyone else gets there. At one pin location, I went to pick up some pins that had been released the day before. 3 of the 4 styles of pins were still available. When I went back a couple hours later to look for something else, 2 more of the styles were gone, whereas there had been a whole rack-full of them when I'd bought mine.), and then I headed off for lunch at French Market.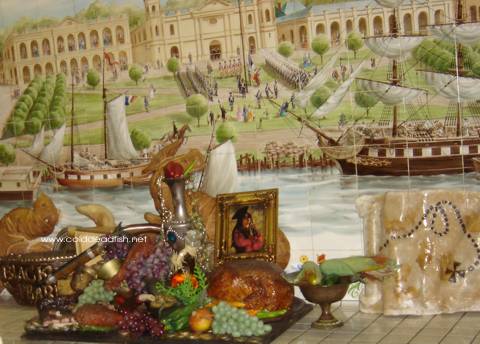 French Market has been invaded by pirates as well.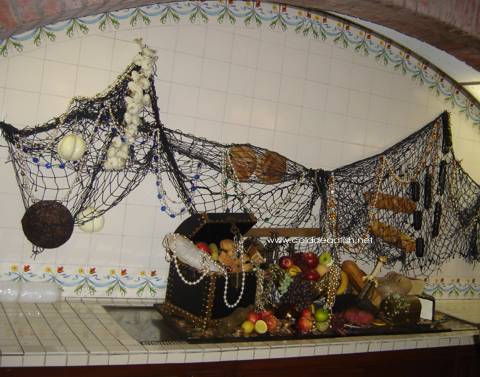 More pirate treasures.
I usually get the fried chicken with french fries, which comes with a side salad. You can also get the fried chicken with beans and rice. The fried chicken at French Market is a bit different than the fried chicken available at Plaza Inn. French Market's fried chicken is a little crispier, and the portion size is smaller, even though you still get three pieces in both places. At Plaza Inn, the breast piece in particular is much larger, but instead of french fries and salad, you get mashed potatoes and green beans, which are good as well. Even though I like both, I've found that Plaza Inn's fried chicken can be a bit hit or miss, with the chicken sometimes too dry, but I've never had a problem with French Market's fried chicken.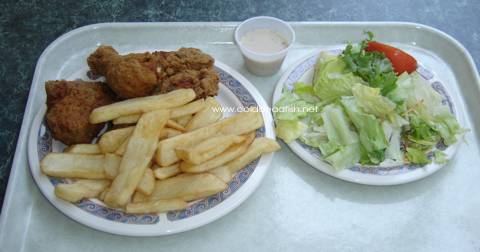 French Market's fried chicken with french fries and side salad.
After lunch, I did a little browsing at Showcase, which is on Main Street's Town Square, the shop on the corner after the Opera House and the Mad Hatter. They had the place decorated for Halloween, and costumes and other Halloween-themed items were for sale.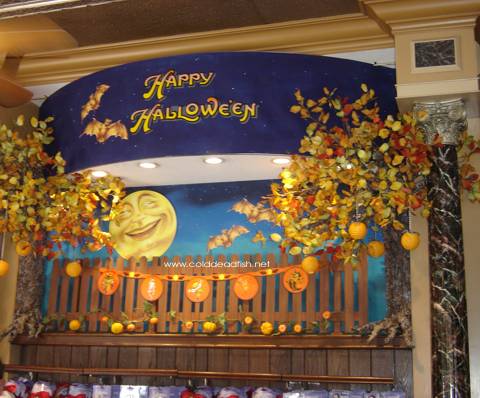 Showcase is ready for Halloween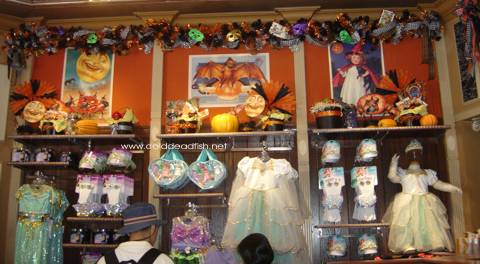 More decorations and costumes too.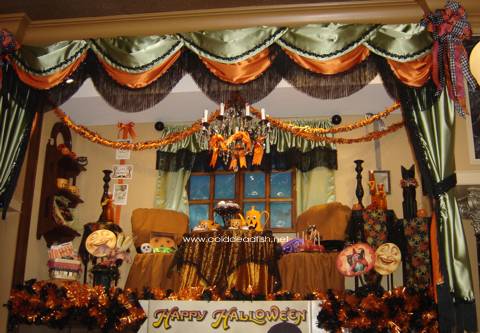 Nice decorations, but they're all generic.
Why are none of the Disney decorations up?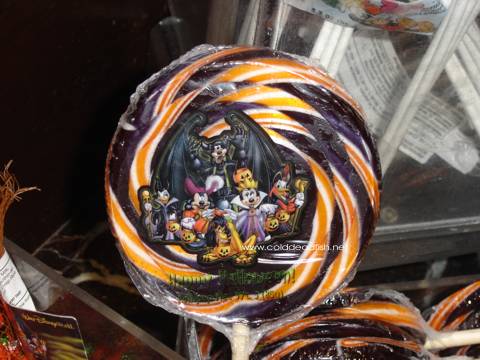 A lollipop with this year's Disney Halloween logo.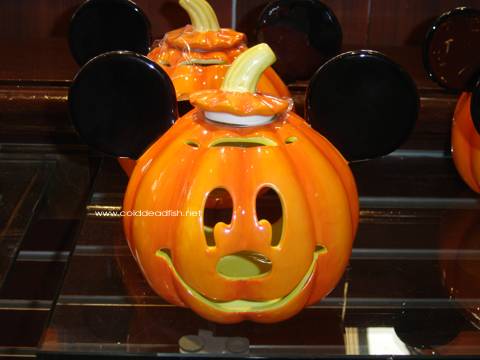 A Mickey o'lantern candle holder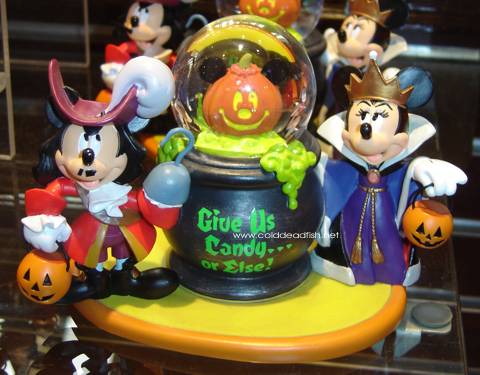 A figurine featuring Captain Hook Mickey and Evil Queen Minnie.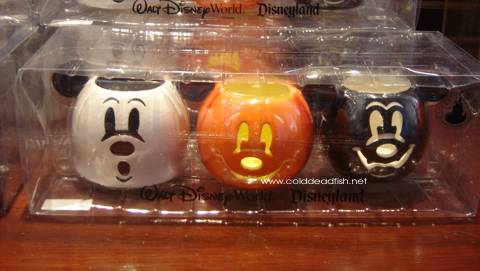 Mickey votive holders.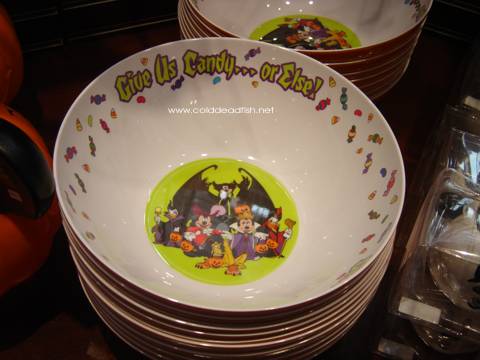 Candy bowl - but with candy in the dish, you can't see the picture,
and since this is presumably what you're putting candy in to give the trick or treaters,
the "give us candy or else" sentiment seems a bit misplaced.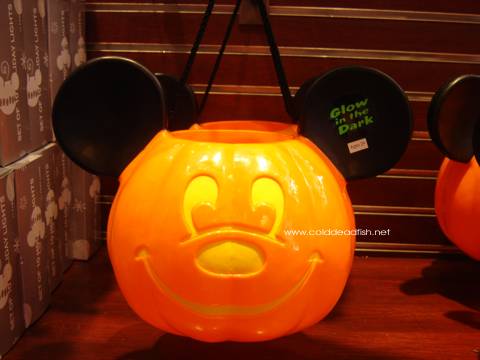 A Mickey o'lantern trick-or-treat container that claims to glow in the dark.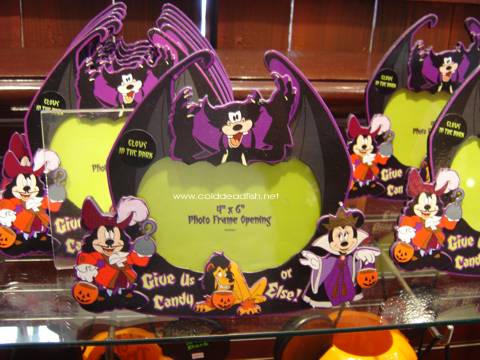 A picture frame with the Disney characters dressed for Halloween.
Jafar Donald and Maleficent Daisy are missing on this product.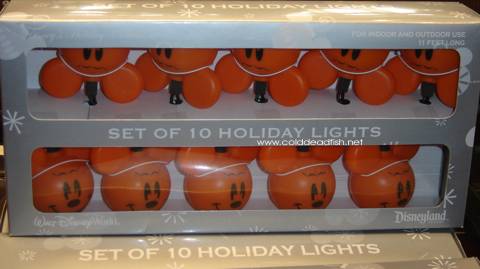 Pumpkin Mickey string of lights.
I had been excited to hear that this year, Disney was not going to be ignoring Fall and Halloween like they have for several years now, and the season change is starting a little early, particularly in front of Pioneer Mercantile, the shop at the split between Adventureland and Frontierland from the Main Street hub.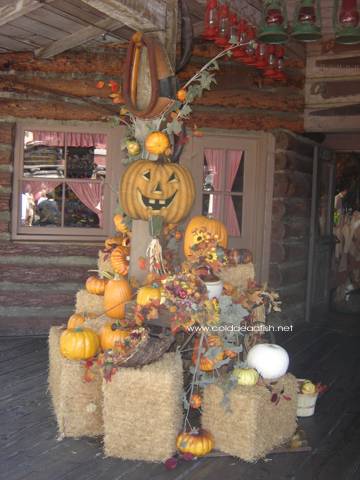 It's starting to look a lot like fall.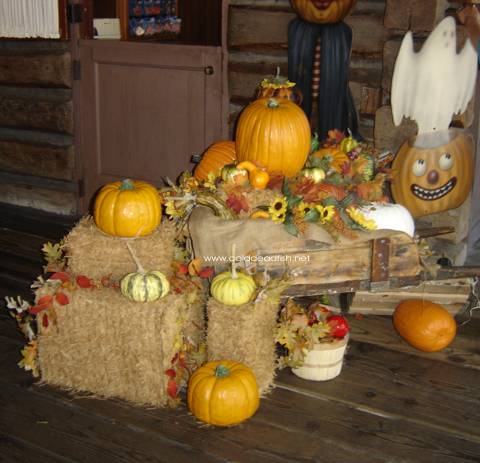 Fall is in the air ... ummm, on the ground.
The Mark Twain was being loaded, so I sat in the waiting area for a trip on the Columbia. As I was waiting, a couple came in and sat next to me, and they had their souvenir Blue Bayou/Pirates of the Caribbean menus. A child with his family sitting on the other side of me went up to them and asked where they had gotten their posters from. They said it was from the Blue Bayou Restaurant, and the child went back to tell his family. The woman then got up and took one of the menus with her and went over and told the little boy that reservations are sometimes hard to get, so she gave him her menu, which he thanked her for. That was one of those nice "awww" moments at Disneyland that I so enjoy.
Before the Columbia arrived, I got a phone call and abandoned my trip to meet up with some new friends instead. They were headed for Small World, so I joined them on the trip. After bidding goodbye to my new friends, I headed for Main Street to wait for the Parade of Dreams. My favorite float is the one for the Lion King, so I took my normal spot in front of the ice cream parlour. Another friend called, and she came to meet up with me, and we both watched the parade together. On my last couple viewings of the parade, I'd noticed that the floats weren't moving fast enough at the beginning of each segment, so consequently, they weren't necessarily all at their designated spots when the show stop happened, so this time, instead of being in front of the Lion King float, our spot ended up being between the Lion King and Alice floats. I had to strain a bit to see my favorite rope dancer/aerialist, but it was still fun, and she waved and winked at me when the float eventually went by. I'm thinking she recognizes this particular stalker. (Oh, and Ariel is *still* without water. What's up with that? Do we have to bring our own SuperSoakers?)
We then headed off to the Golden Horseshoe to see Billy Hill and the Hillbillies. My friend had already seen two of their shows that day, so I decided to join her for this one since I hadn't seen them in a while. It was already fairly crowded, so we went upstairs and took seats there instead. I don't think I'd ever been there when the upstairs was open, so that was a new experience. We got really good seats fairly close to the stage. The upstairs box seats are unfortunately not open to the public. It was pretty packed by the time the performance started, with a range of people in attendance. They are great performers and interact really well with the crowd.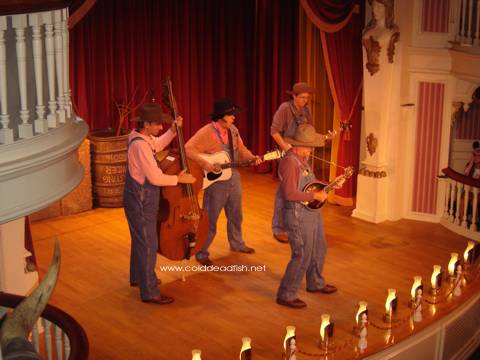 Billy Hill and the Hillbillies.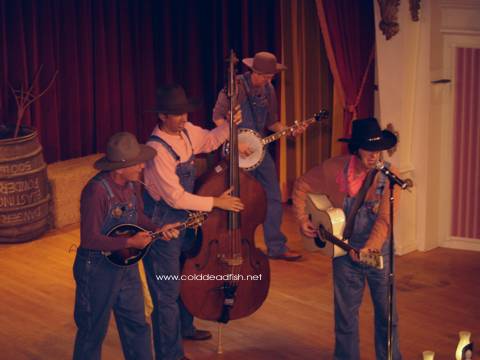 More Billys.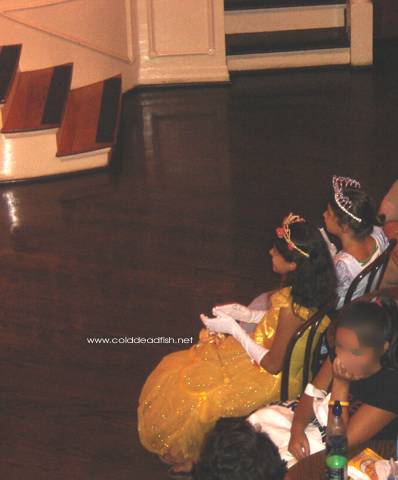 It's a command performance attended by royalty!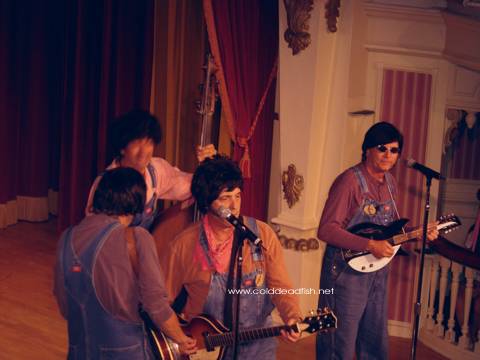 The Billys' tribute to the Fab Four.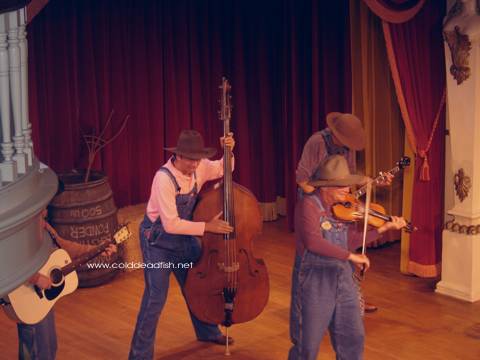 The Billys performing Orange Blossom Special.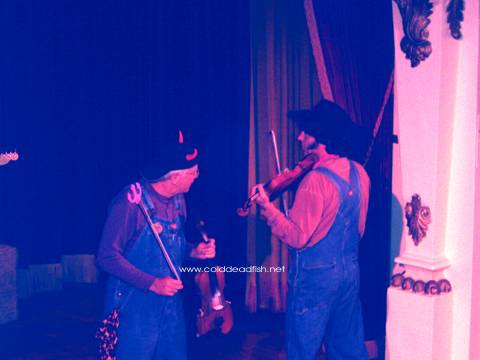 The Devil (and a Billy) went down to Georgia, where the coloring is all weird...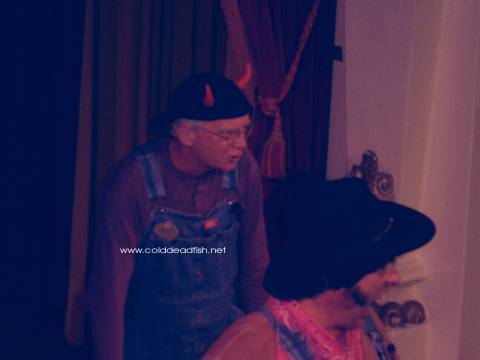 Devil Billy.
After the show, my friend showed me a hidden Mickey in the grating in front of the stage.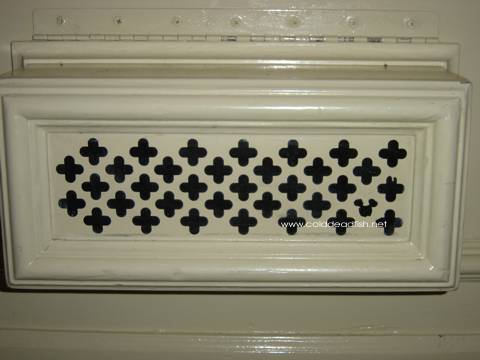 Hmmm, which one doesn't look like the rest?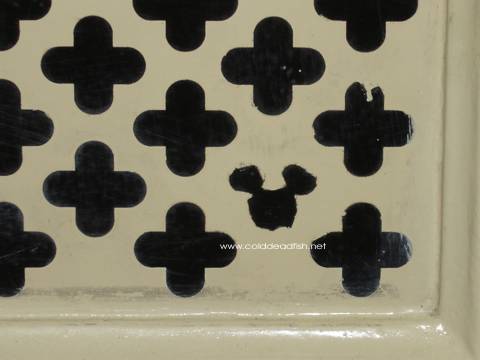 Close-up of the hidden Mickey.
I accompanied my friend to Rancho Del Zocalo, where she had an early dinner, and I made a snack of their fruit plate. After that, she went to continue her Billyathon, and I headed over to DCA to catch Block Party Bash from the Golden Dreams location, stopping for a minute in Town Square since they were in the midst of flag retreat. I really enjoy Block Party Bash, and I had wanted to catch the performers on the trampolines right behind the Monsters, Inc. float, but I missed my mark by a little. I'll know better for next time. However, I was very content sitting in front of my favorite float in that parade.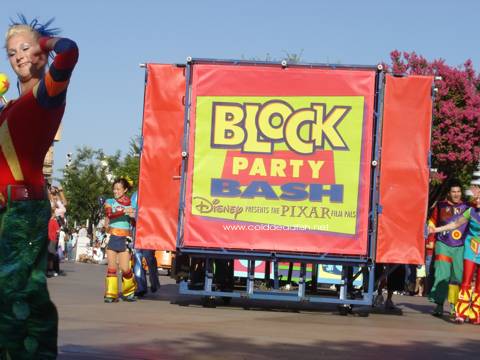 The opening title float.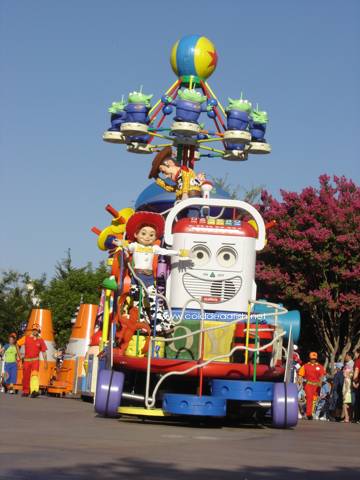 The Toy Story float.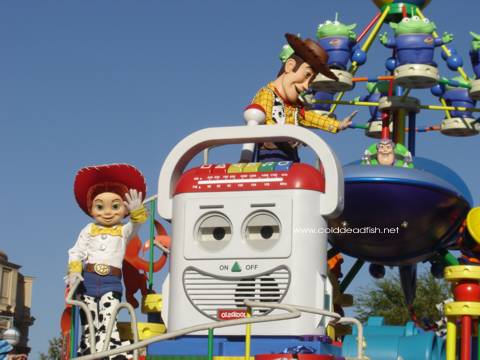 Jessie and Buzz on the Toy Story float.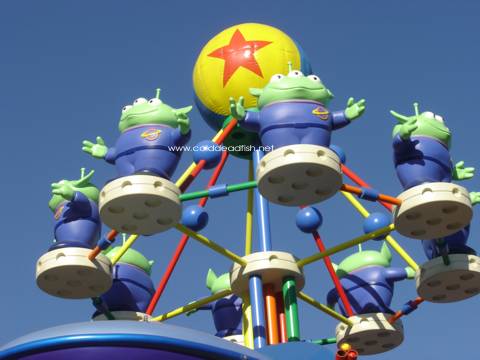 Kind of like a rotisserie but with aliens instead.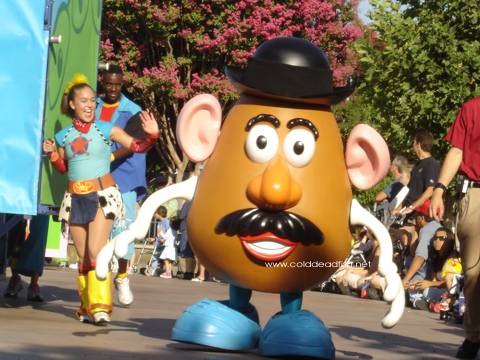 Mr. Potato Head.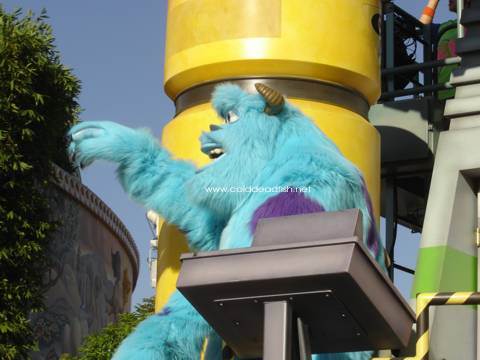 Sulley on the Monsters, Inc. float.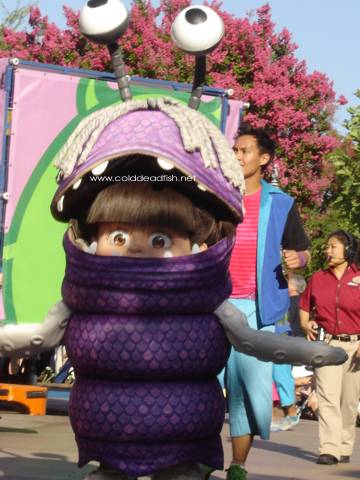 One of my stalkees. Isn't she adorable?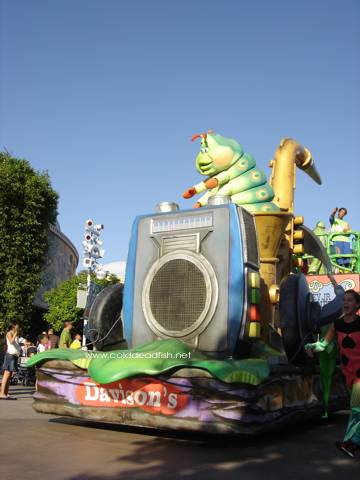 The Bug's Life float.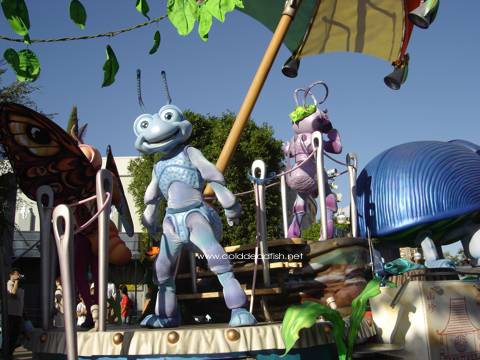 Flik and Atta on the Bug's Life float.
This parade also has a show stop, so I happily watched Boo's antics right in front of me. Here is video proof of my stalking her. (14 MB - 8 minutes) (It was a double-stalking day for me!) The video follows Boo for most of the show stop. There's also a section where she's a bit further away, but you can see a bit of how great the trampoline performers are. And there's one segment where you can see a green army man do a prolonged fast-spin in the middle of the float.
After the show ended, I made my way out of DCA through the Grand Californian Hotel, popped into Napa Rose to see what I wasn't having for dinner that night (lobster tempura on the vintner's menu?), browsed through the World of Disney for a few minutes and then headed back to the trams and home.
Yes, I like being one of those Disneyland locals!
Back to Cindy's Disneyland Resort Page.
Back to home.