Disneyland Resort in Anaheim - August 23, 2008 merchandise trip report
A week before the end of August, and Halloween was already making its presence known at the Disneyland Resort. Disneyana on Main Street had a few new Halloween-related items in their window, and there were also lots of new Halloween merchandise and decorations on display around the resort.

A new shadowbox from Dave Avanzino in Disneyana's front window.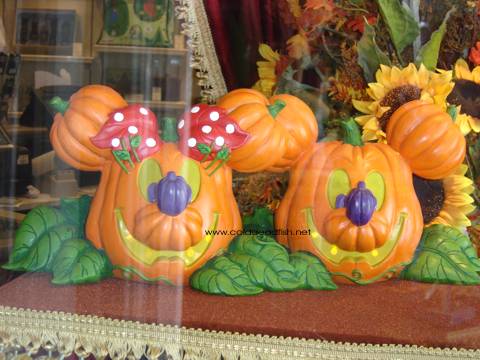 A mini-big fig with pumpkin Minnie and Mickey.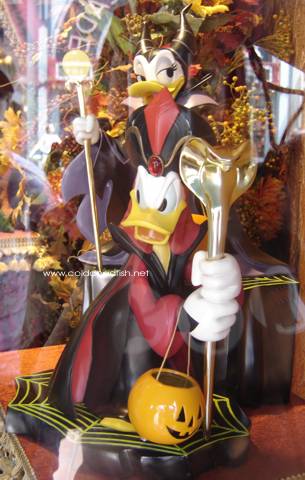 A new double-figured mini-big fig
with Daisy as Maleficent and Donald as Jafar.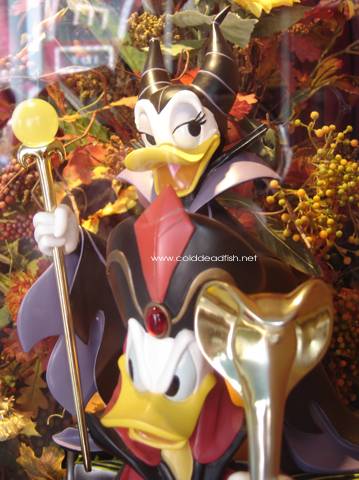 A closer view.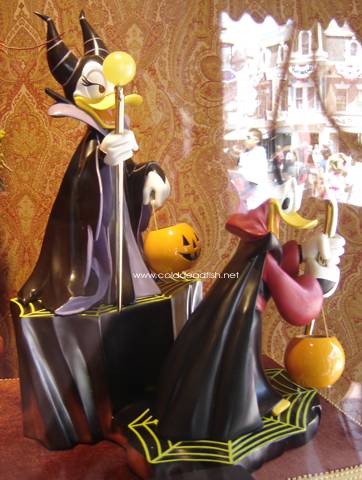 A side view of the big fig.
Disneyana's bigger-ticket items are well complemented by the more everyday items available at Showcase, on the right-hand corner where Main Street meets Town Square, right next to the magic shop. In addition to merchandise, Showcase itself has been decorated with more Disney-themed adornments this year.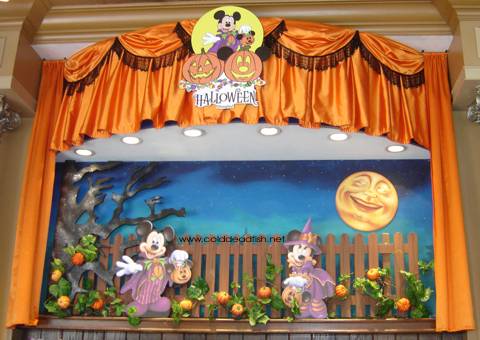 Mickey and Minnie enjoying Halloween.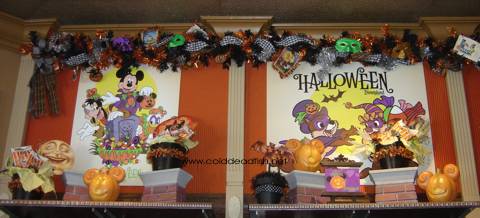 The two styles of decorations that adorn the upper parts of the store.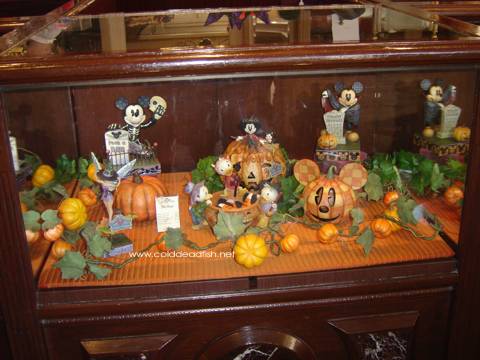 Jim Shore Halloween merchandise on display.
In addition to returning merchandise from last year, there are a number of new offerings this year.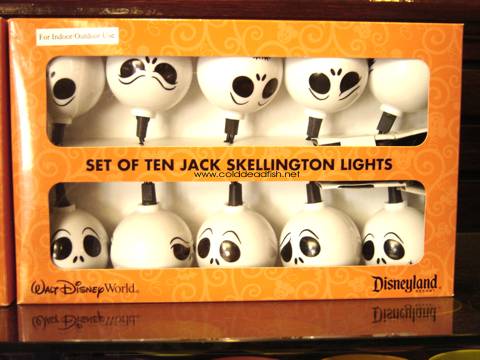 A light string of Jack Skellington heads.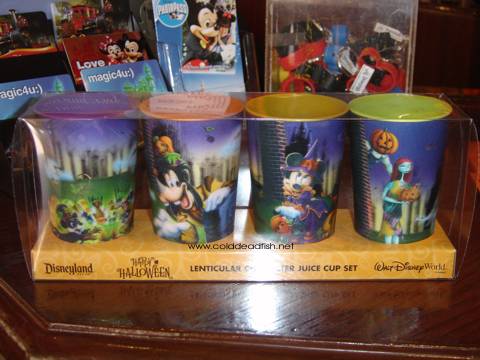 A set of four lenticular cups with cute scenes.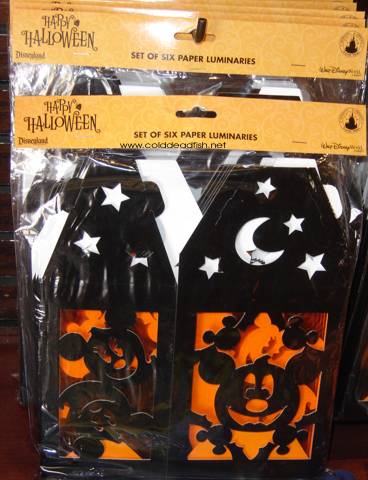 Halloween paper lanterns.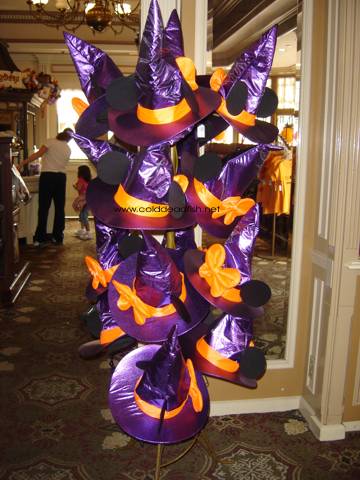 You too can now wear Minnie's Halloween hat.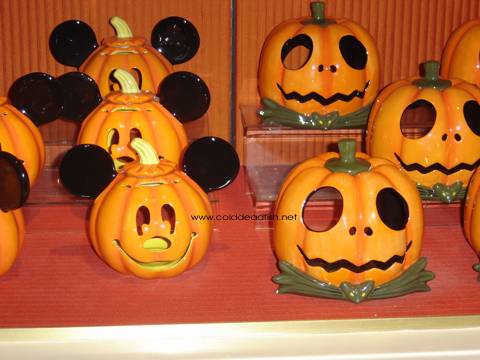 New Jack pumpkin-head candle holder joins last year's Mickey pumpkin-head candle holder.
A cute festive new Halloween shirt with Disney characters galore.
The boys are on the front.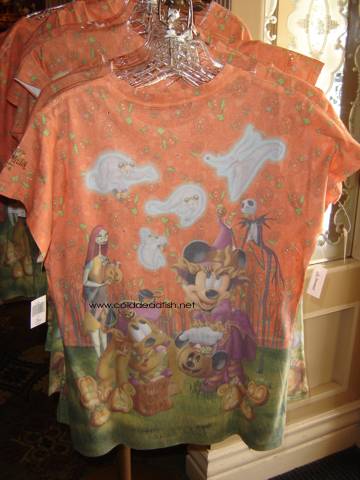 And the girls are on the back.
I would expect this to be a very popular shirt.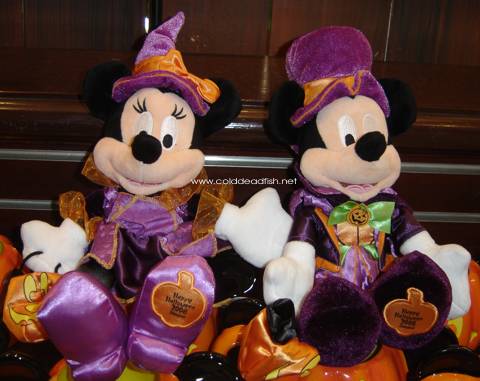 Mickey and Minnie plush for Halloween 2008.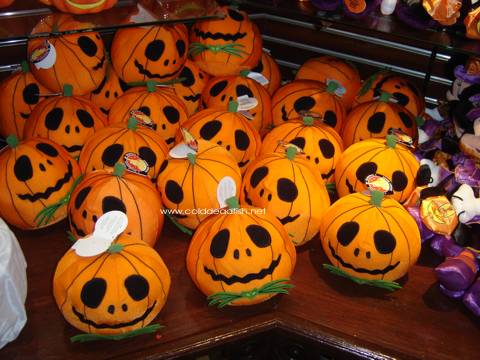 This year, Jack gets to be a Halloween pumpkin roundie too.

A new Halloween antenna topper - it's even got two white fangs.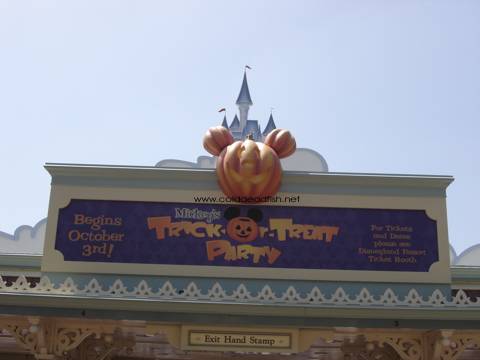 As you leave Disneyland, you're reminded about Mickey's Trick or Treat Party.
It's not just Disneyland that's gearing up for Halloween. The World of Disney has its share of decorations as well.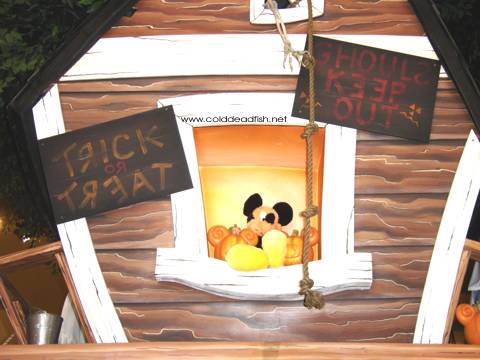 The treehouse has been adorned with Halloween decorations.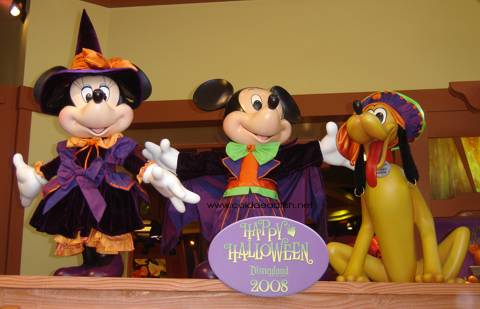 Minnie, Mickey and Pluto are already dressed for Halloween.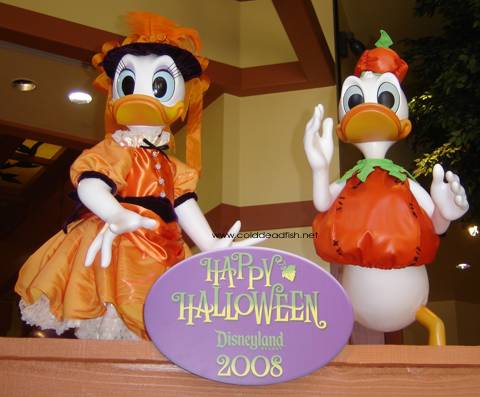 Daisy and Donald are also in on the fun.
In addition to the candy corn antenna topper, you can now hang a candy corn ornament.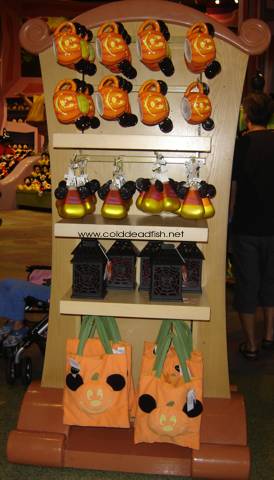 A display of Halloween merchandise inside World of Disney.
Are you getting ready for Halloween too?
Back to Cindy's Disneyland Resort Page.
Back to home.