Disneyland Resort in Anaheim - October 1, 2006 trip report (with additional pictures added 10/15/2006)
Being fortunate enough to live local to Disneyland, it's easy to take for granted what others travel a distance to visit. But having heard a few months ago that Disney was finally NOT going to ignore fall and Halloween this year, I was excited to see what they had in store, so we planned on spending a rare full Sunday at the resort.
We got to the parking structure at about 8:45, and from the way the cars were being parked, we could already tell that it was going to be a busy day. The Halloween decorations along the tram route had already been put up the week before, but there were lots more signs of what was to come at the tram stop.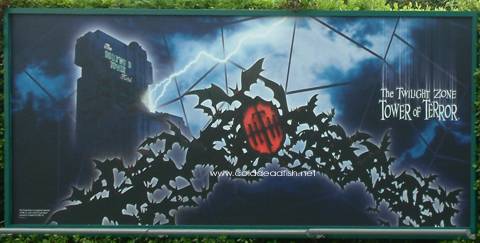 The left billboard at the tram stop.

The center billboard at the tram stop.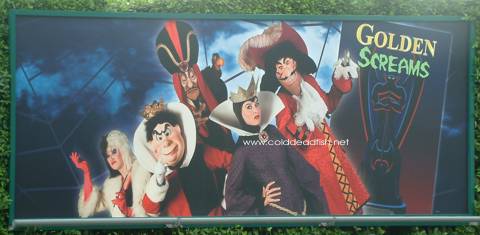 The right billboard at the tram stop.
After you got through bag check, there was another billboard proclaiming the new season.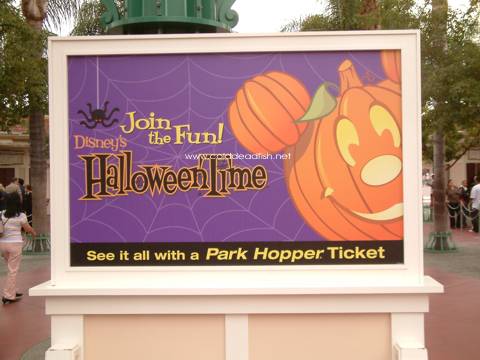 Halloween returns to the Disneyland Resort.
On the backside of this billboard, which you wouldn't presumably see until you were leaving, you were reminded that another season is just around the corner.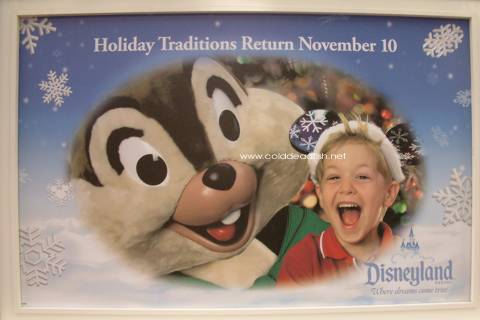 Come for Halloween - come back for the holidays.
The letters that spell out California in front of the entrance gates to DCA have been repainted in candy corn colors, and the two A's have been replaced by giant-sized candy corn. I personally hate candy corn, but I love the color change of the letters.

I hope kids don't think to "taste" the A's.
Halloween at Disneyland, however, is even more evident - over the front entrance gates are pumpkin recreations of the Fab Five, as if they are growing on a vine. There are two identical sets, one over each set of gates, but the trees in front obstruct the view of some of them.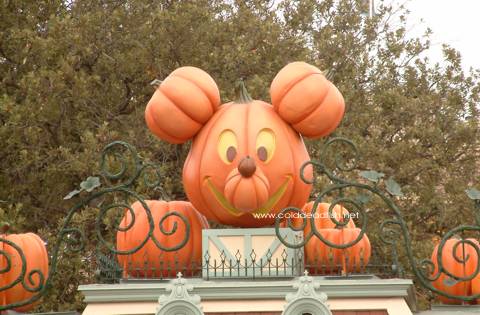 Mickey himself.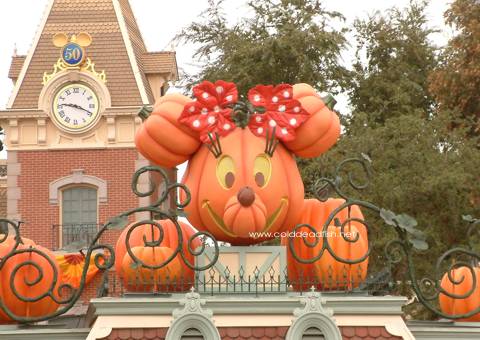 Notice that Minnie's bow is actually made from two leaves.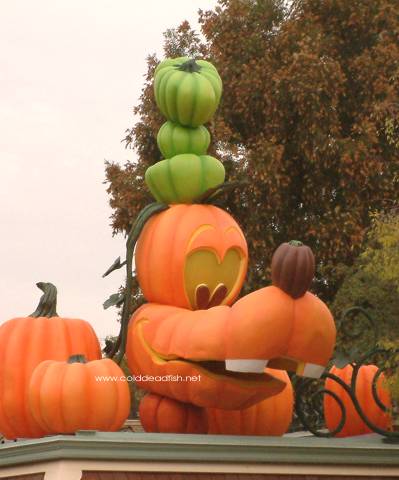 Goofy, with 3 green pumpkins piled on top.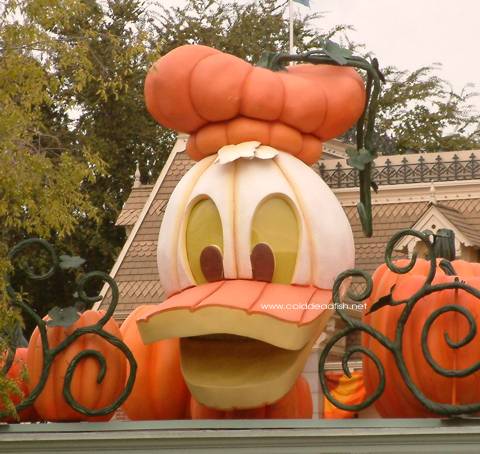 Donald is made with a white pumpkin.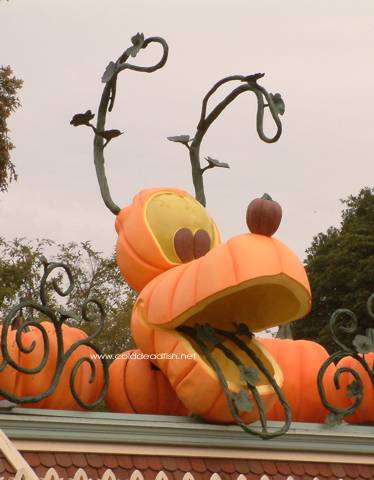 Pluto, who has ears and a tongue thanks to cleverly placed vines.

The backside view of the pumpkin Fab Five.
Once you enter through the turnstiles, you also notice that the familiar Mickey floral has a decidedly Halloween twist. On either side of Mickey are vines from which are growing happy-faced pumpkins. The Mickey floral itself is made not from the usual flowers, but instead, small pumpkins! I thought that was such a clever idea, and the overall look was terrific, especially the mask that Mickey wears.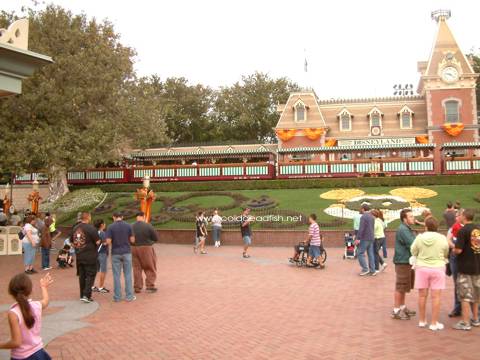 The vine to the left of Mickey.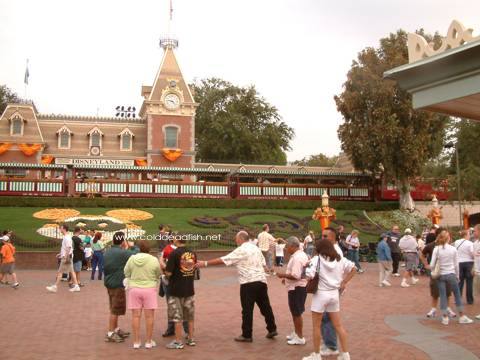 The vine to the right of Mickey.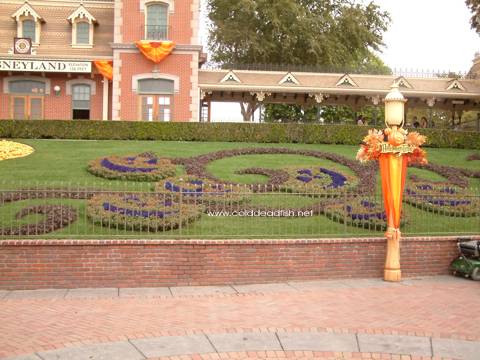 A closeup of the vine and pumpkins.
(I love their coloring.)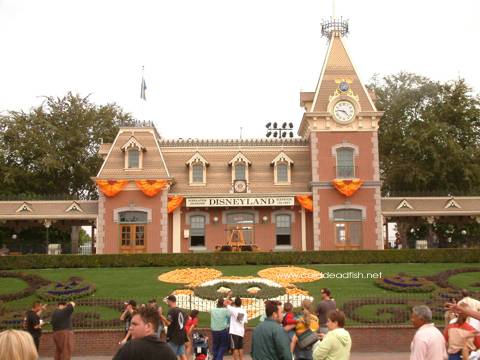 The Mickey floral with a pumpkin twist.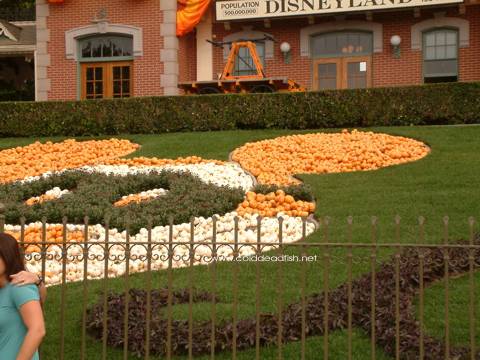 A closer look at Mickey's face and mask.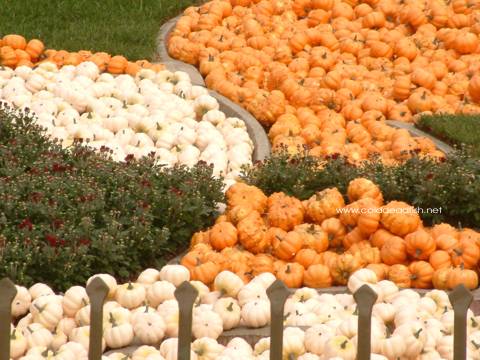 An even closer look - pumpkins everywhere!
The streetlamps are decorated in the Halloween spirit as well.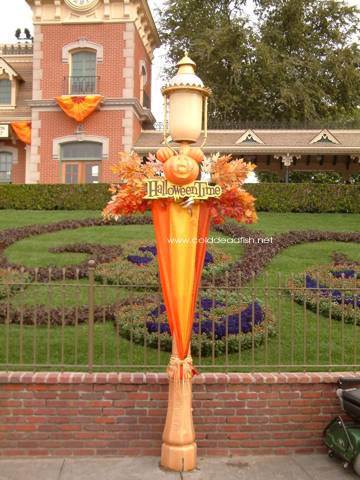 All the lamps on Main Street are similarly adorned.
Once you enter Town Square, the arrival of fall and the Halloween spirit is readily evident.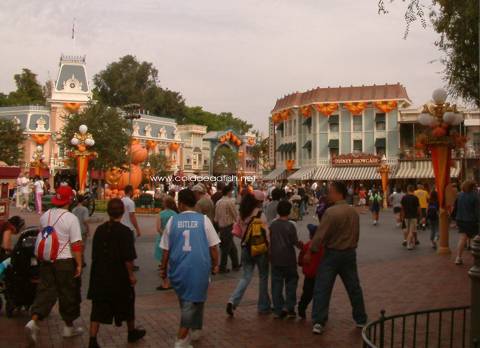 Orange is busting out all over.
The characters are dressed in their Halloween costumes as well. Minnie's costume is especially delicate, with many trailing fabric pieces - I hope she's got a few of these because she might need to change into a new one with all the people clamoring to take a picture with her.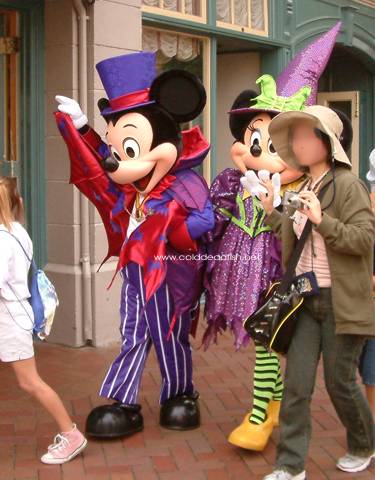 Mickey and Minnie in their new costumes.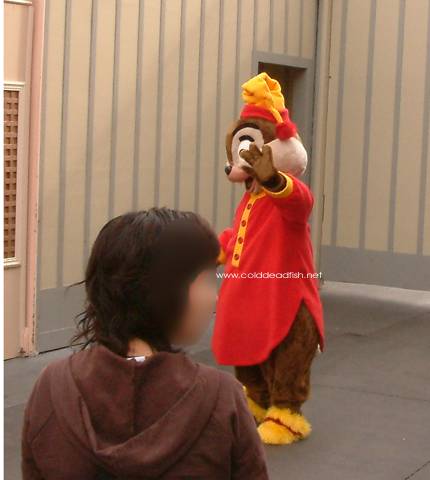 Chip is in his pajamas.
Some of the cast members are wearing ribbons of the season as well. While I like the sentiment, I think these are a bit of overkill.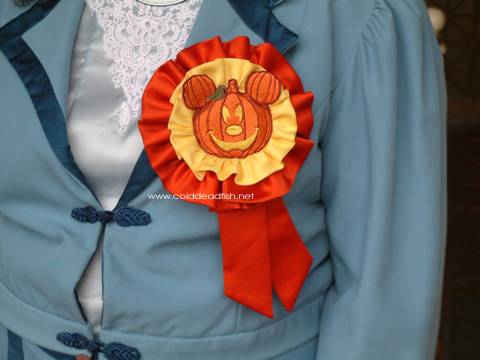 You can't miss these ribbons.
All of Town Square and Main Street is decorated with orange bunting and jack o'lanterns, and of course, there's the giant Mickey pumpkin at the center of Town Square.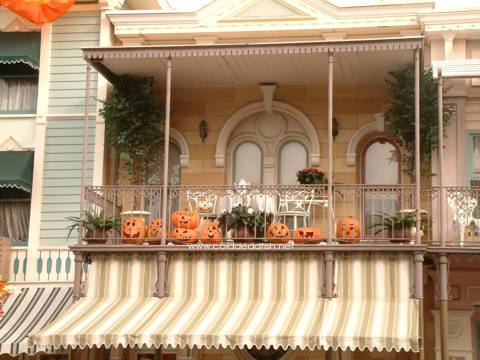 The balcony above Showcase. What a nice place for a cup of tea!
City Hall.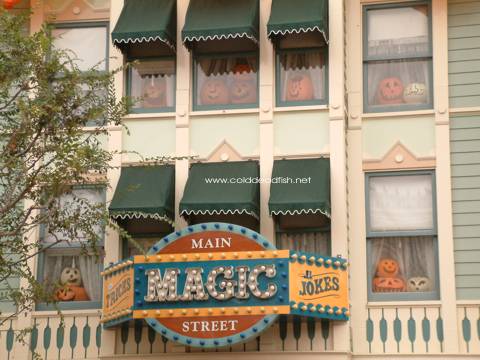 The Magic Shop.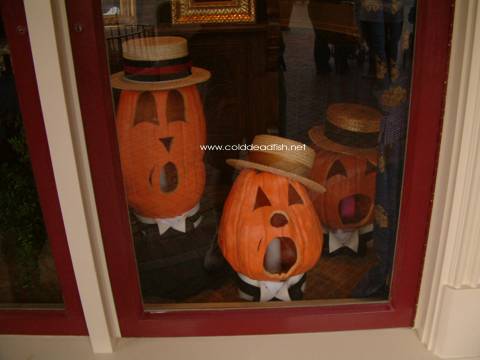 Dapper Dans minus one?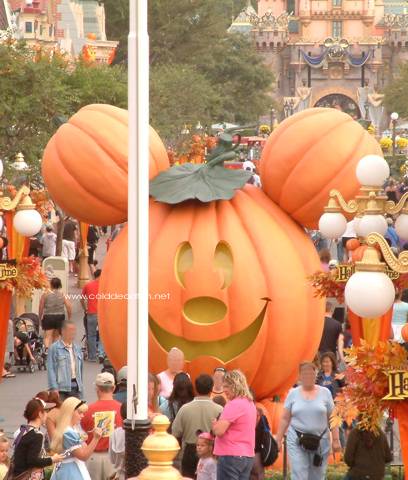 The view of the Mickey pumpkin from the train station.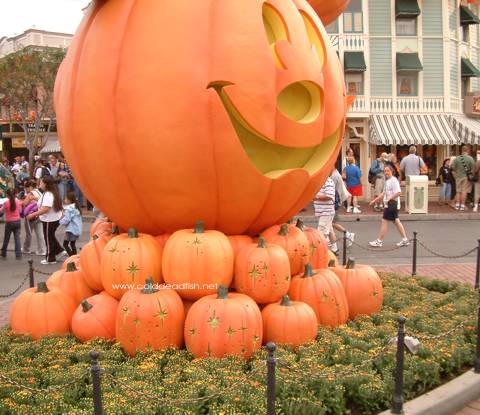 Pumpkin Mickey is surrounded by smaller pumpkins.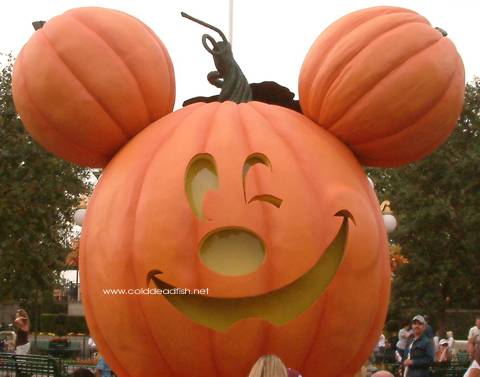 When viewed from Main Street, Mickey looks a little different.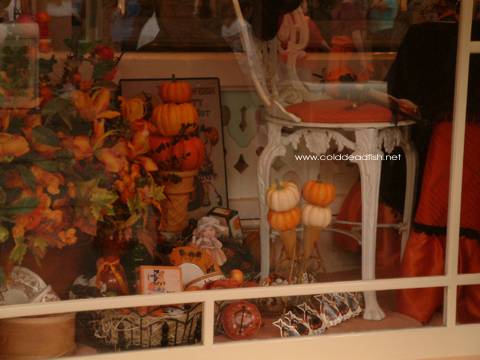 The sundae window has been redressed as well.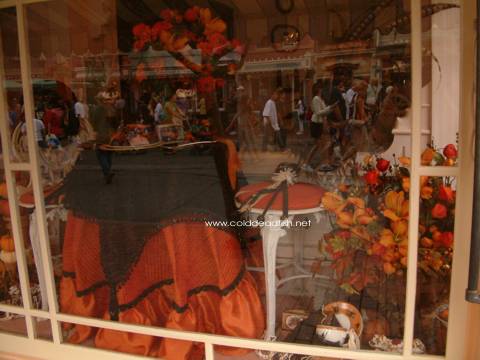 A different view of the window.
A few of the merchandising windows outside of the Emporium have been changed as well. They're still selling merchandise, but I love the displays.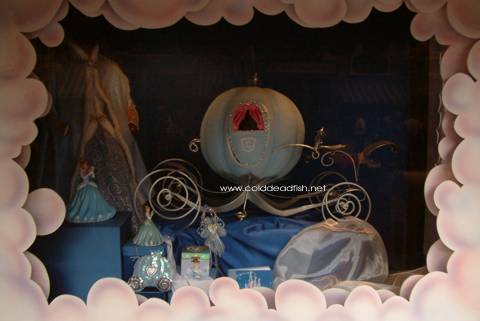 Cinderella's carriage.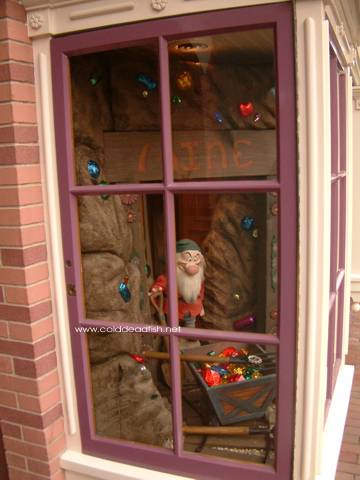 Can you mine your own jewelry?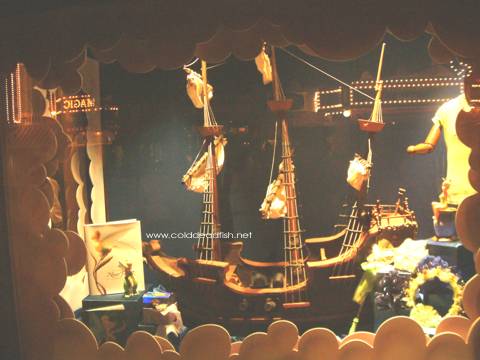 Hook's ship and Peter Pan merchandise, taken in the evening.
We headed over to ride Haunted Mansion Holiday. The line wasn't too long so we went in. There isn't much changed from last year, but since I love the ride anyway, being able to ride it again is thrilling enough for me. My favorite thing about riding for the first time each year is seeing what the gingerbread house looks like that's sitting on the dining room table. This year, the house is being broken apart, literally, as various ghoulies are trying to make their way out of the house. I enjoyed seeing Oogie return as a topiary in the front yard and as an ornament on the tree in the ballroom. I also enjoyed looking at the different wrapping paper styles in the attic - I think the one patterned after Sally's dress is particularly cute. Cymbal-crashing Oogie is back, but I didn't see the bride monkey this time. When we got to the end, we were excited that we got the mystery coffin, so we were able to see Lock, Shock and Barrel pop up.
We stopped by French Market to see their new menu items, and we were disappointed that the restaurant wasn't very decorated. When Haunted Mansion Holiday first debuted, the French Market would have at their queue entrance a smaller duplicate of the gingerbread house that's in the Mansion itself. Last year, it wasn't exactly a duplicate, but they still had a cool gingerbread house. This year, they just had the menu. There are a few decorations on the pillars but nothing like it's been in previous years. Maybe they haven't finished decorating yet? I hope that's the case.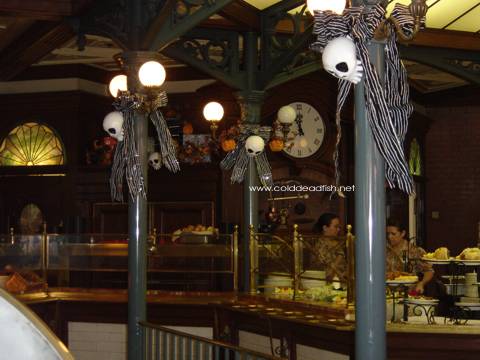 The majority of the decorations in the restaurant.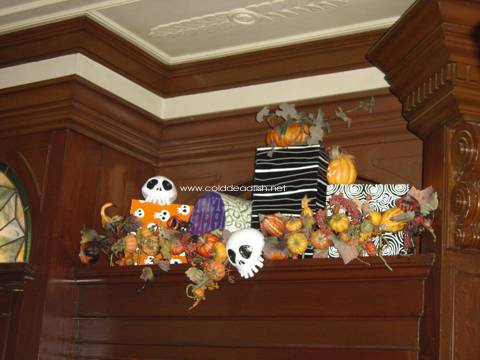 The only other spots of restaurant decorations.
After doing a little shopping, we then headed to the hub to meet a friend. We had gotten a glimpse of pumpkins at the hub as we had headed to Haunted Mansion Holiday, but when we got a close-up look, we thought they were even cooler. There are seven pumpkins, one for each land, in the folliage surrounding the partner's statue, and the back of each pumpkin has a design that matches the front.
Tarzan represents Adventureland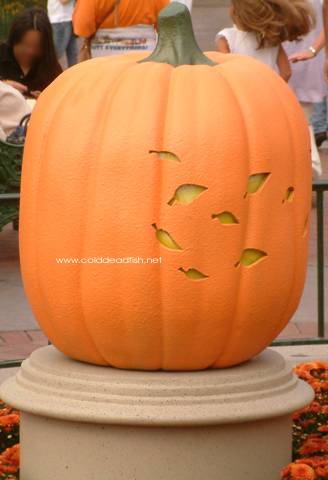 The back of Tarzan's pumpkin has leaves.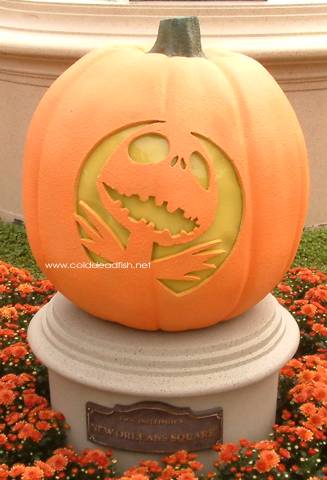 Jack Skellington represents New Orleans Square.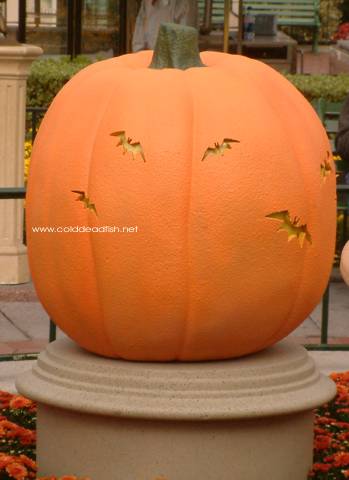 The back of Jack's pumpkin has bats.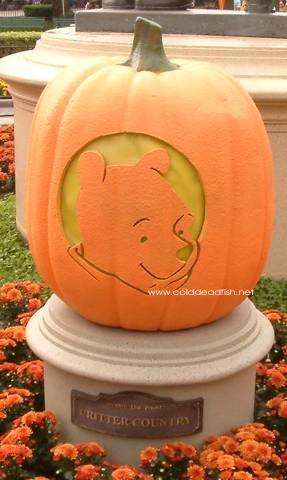 Winnie the Pooh represents Critter Country.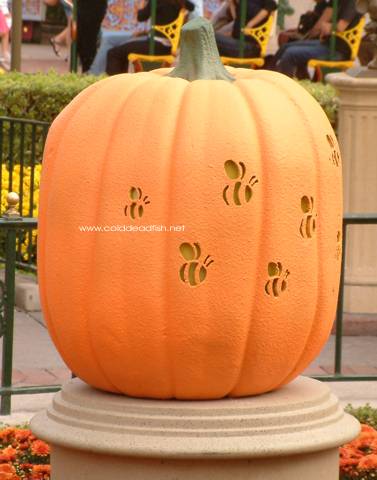 The back of Pooh's pumpkin has bees.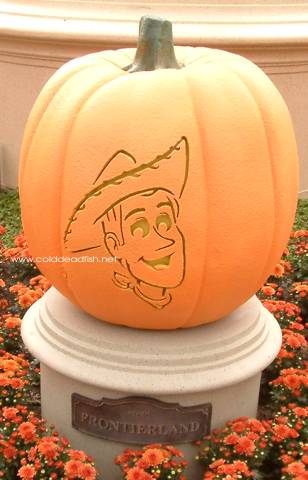 Woody represents Frontierland.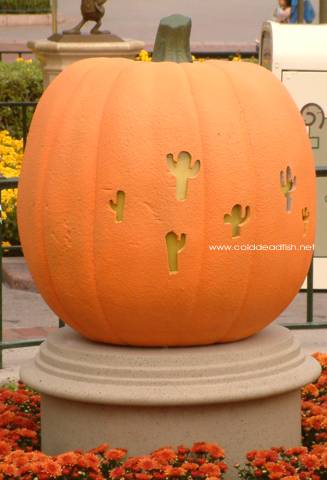 The back of Woody's pumpkin has cacti.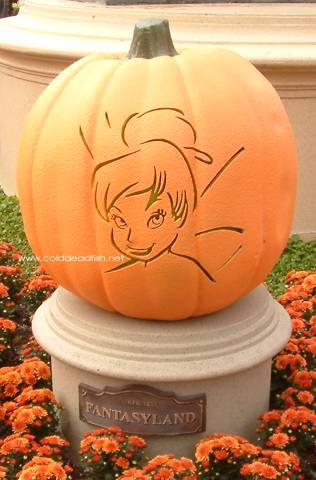 Tinkerbell represents Fantasyland.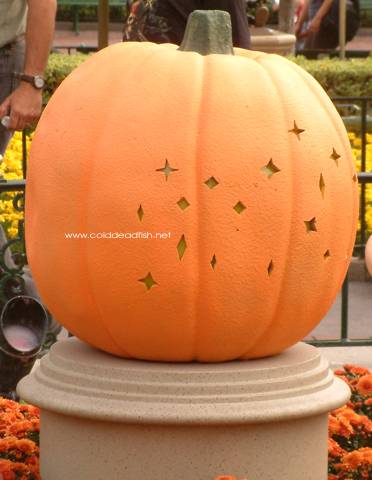 The back of Tink's pumpkin has pixie dust sparkles.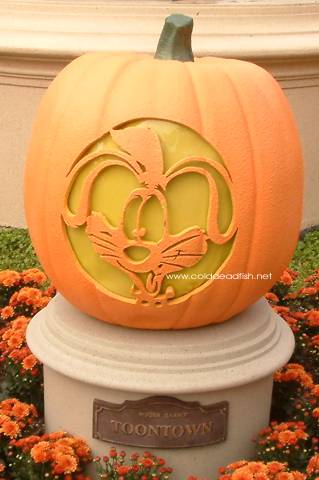 Roger Rabbit represents Toontown.
The back of Roger's pumpkin has funny symbols.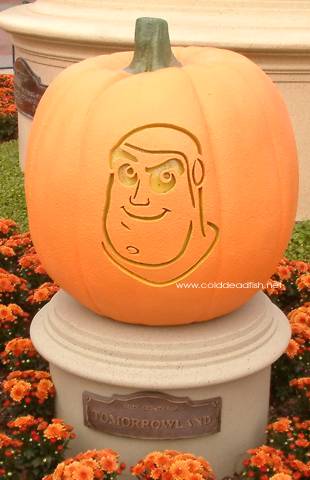 Buzz Lightyear represents Tomorrowland.
The back of Buzz's pumpkin has celestial symbols and a rocket.
After meeting up with our friend, we headed down Main Street towards DCA, which had opened about 10 minutes prior. We stopped by the Emporium and noticed two new Mickey ears.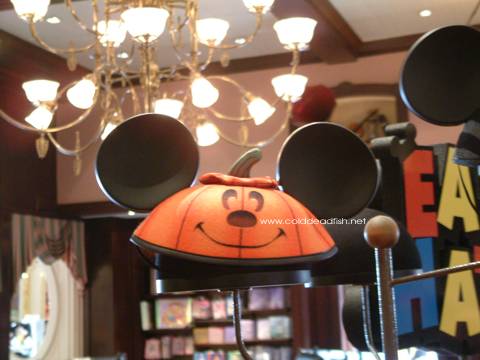 This is one of the cutest themed ears I've seen lately.
If I was inclined to Mickey ears, I'd get this one.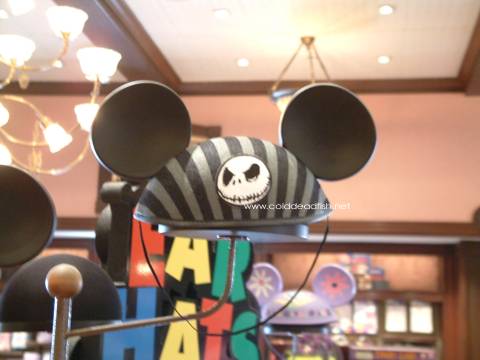 Jack Skellington adorns these new ears.
Once in DCA, we headed over to the Hollywood Pictures Backlot. There were Halloween banners lining Hollywood Boulevard, but not much else, which I found disappointing. When we got to the Hollywood Tower Hotel, though, there were nice additions to the outside.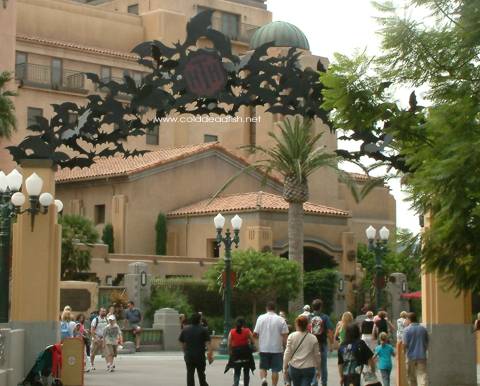 A bat arch in front of the Hollywood Tower Hotel.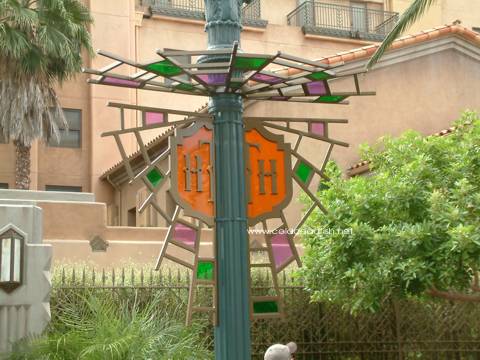 Pretty spiderwebs attached to the posts.
The foyer of the hotel has been redressed with a Halloween theme.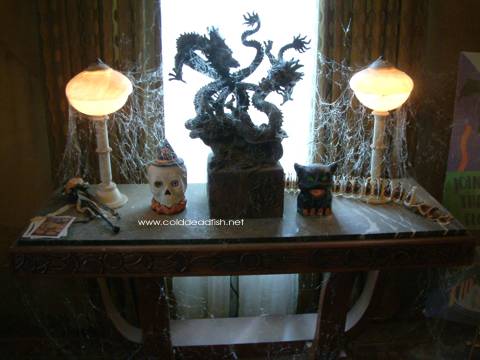 A creepily decorated side table.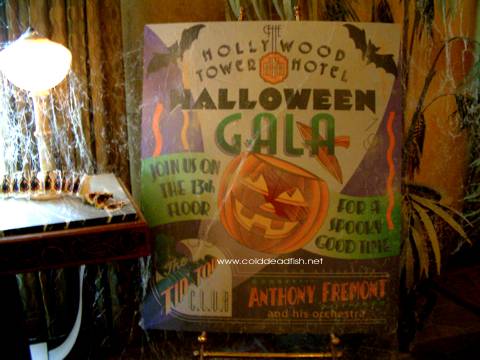 A sign next to the table announces a party on the 13th floor.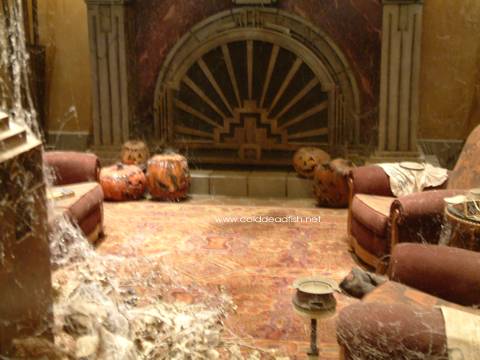 Rotting pumpkins in the foyer.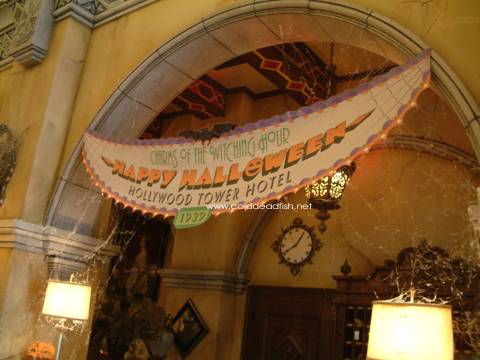 A banner over the registration desk.
The ride itself wasn't any different than usual, but it was still fun. And when you're at the top, you get a pretty good look at the Halloween decorations across the way. Afterward, with visions of candy corn dancing in our heads, we decided to take a ride on Heimlich's Chew Chew Train.
We then made our way to the former Golden Dreams theatre, which has been redubbed Golden Screams. We weren't very familiar with what the new show was about, but we decided to give it a try. The show itself is only about 20 minutes long with specific show times scheduled throughout the day.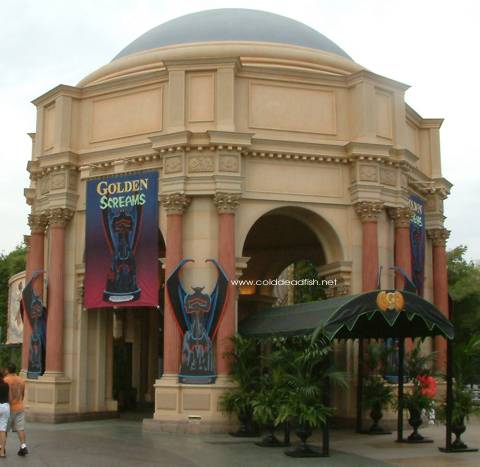 The Palace of Fine Arts with its new decorations.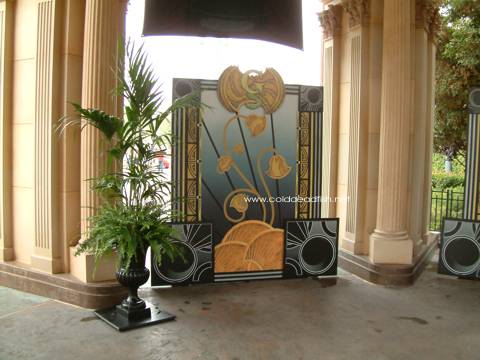 The backdrop for photo ops.
As we waited to be let into the queue, a few villains came out for autographs and picture taking. The line to get into the queue seemed to be moving fairly slowly, which puzzled us. We figured out the delay - as each child entered, he/she was asked to scream and then asked for his/her name, which a CM wrote down. It seemed a curious and time-consuming practice, but it would make more sense later. We were eventually let into the theatre, and we ended up sitting in the back. The big statues of Califia (aka Whoopi Goldberg) normally on either side of the screen were replaced by the Chernabog award design.
After enduring the show, it occurred to me that someone at some point had to go to someone else and say they had a great idea for a new show and pitched what we saw. And then that person had to think it was also a good idea, and that idea was passed down the line and enough people had to think it was a good enough idea that it was actually implemented. I cannot for the life of me figure out why they thought it was such a good idea. I thought it was boring and really a waste of time. We were three adults attending the show, so maybe for families with kids, the kids might enjoy it, and that would be enough reason for the adults to sit through it. But my recommendation would be to enjoy the villains outside but skip the show altogether. Following are full spoilers about the show. If you'd like to skip the spoilers, please click here.
The premise of the show is that it's the Golden Screams award ceremony, and from a field of six nominees, the audience is supposed to decide which is the winner. A montage of clips of various Disney villains is shown, and then the host of the show comes out to talk for a bit. The host we got was very eager and gave it a great go, but his dialogue was horrible. Each of the nominees (Stromboli, Madame Mesusa, the Queen of Hearts, the Evil Queen/old hag, Maleficent and Captain Hook) is introduced and then a film clip is shown. I had thought the villains would come out on stage and was very disappointed that it was just movie clips. After all the clips are shown, the audience is supposed to pick which one they think is best by screaming as each nominee is named in turn. There's a segment earlier where the Magic Mirror explains the rules, but I pretty much didn't pay any attention. The Magic Mirror returns to announce the winner, but confusion ensues when it's not the nominee who received the loudest screams. Eventually, it is revealed that the winner is in the audience, and a name is announced. A young girl went up on stage, and presumably, they picked a winner from the list of names they wrote down as people entered the queue earlier. There is then a commotion as the Queen of Hearts (I've heard that it's a different villain during different shows) protests losing the contest, and eventually, the audience winner is proclaimed an honorary villain complete with taking an oath and receiving a button. I expect this is a lot of fun for the child who is chosen and his/her family and friends, but otherwise, it's not that thrilling for the rest of us. Since they do have villain characters around, it would have been a lot more fun to see them on stage rather than just sitting through a bunch of clips that you can watch at home.
Did I mention I recommend you just skip this entire show?
We then headed back to Disneyland to meet up with other friends. As we were walking down Main Street, we noticed a portable pedestal in front of Carnation Cafe with something proclaiming a pumpkin festival. Other than singing, we weren't really sure what they were doing. The colors and costumes were very nice, though I expect that patrons at the Carnation Cafe didn't quite enjoy the quiet meal they had been expecting. The pumpkin festival apparently runs several times a day somewhere on Main Street.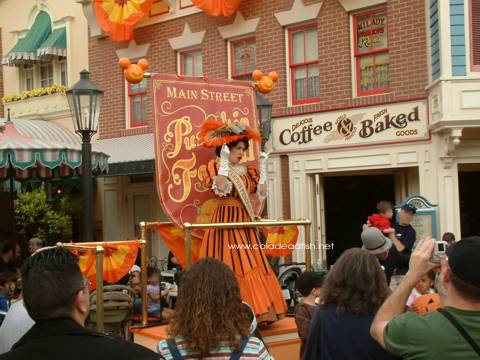 The Pumpkin Festival and the Pumpkin Princess.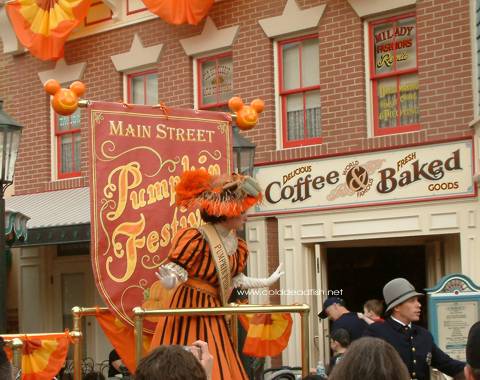 Another view.
We bid farewell to our friend, who headed off to see Billy Hill and the Hillbillies before having to leave for the day. We met up with other friends and then decided to head to French Market for lunch, since I wanted to try their new menu. When we got there, we were stunned to see the amazingly long line, which came out of the entrance and wrapped around the seating area heading towards the Mansion. As much as I wanted to try the new dish, we didn't want to wait that long nor did we want to deal with the inevitable difficulty of finding enough seats for all of us, so most of us decided to eat at Rancho, with a few people deciding to get food from elsewhere and joining us there.
Lunch at Rancho was fine, but we again noticed a problem there that we had noticed previously. When the former Casa Mexicana was remodeled and reopened as Rancho del Zocalo, they redid the seating, so there was lots of nice seating, and the restaurant could accommodate a lot of diners. However, they never seem to be properly staffed, either inside or outside, as the wait to get your food is often long, and then when you get outside, there are often many tables that haven't been bussed yet, so there's nowhere to sit unless you decide to buss your own table or you wait around to have it bussed for you. It seems fairly ridiculous to me to have your capacity cut down by so much because there aren't enough people clearing tables, especially during a prime meal time.
After lunch, we decided to head over to Woody's Halloween Roundup at Big Thunder Ranch. We had enjoyed Santa's Reindeer Roundup that had been there during the holidays last year so were interested in seeing what they had to offer this time. Outside the entrance on the Ranch side (as opposed to the old BBQ restaurant side), there is a photo op outside, and lots of decorations on the signs.
The photo op location outside.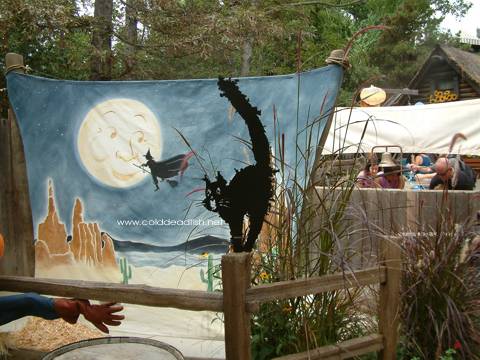 Another view.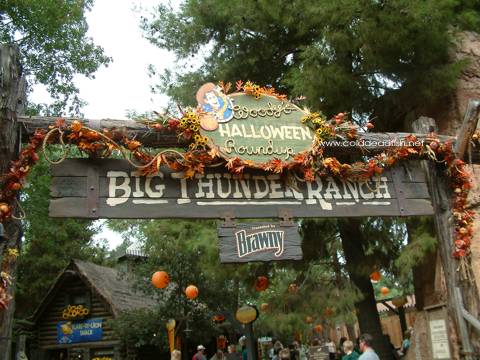 The welcome sign.
Santa's cabin has been redressed, and there are lots of locations to take pictures.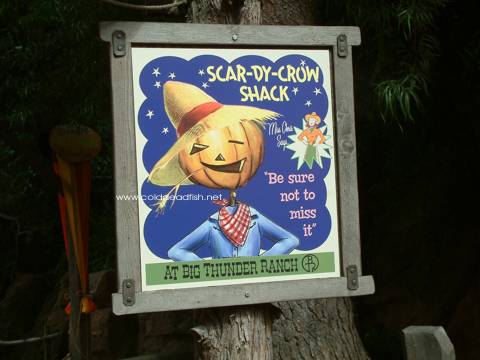 Don't miss the shack.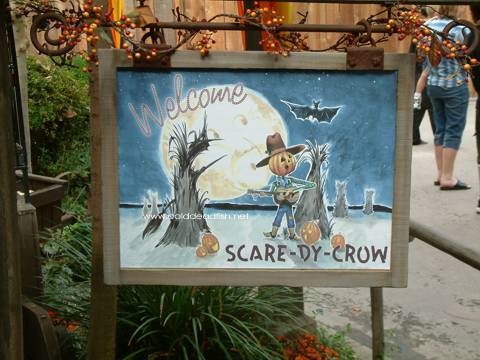 Welcome to the shack.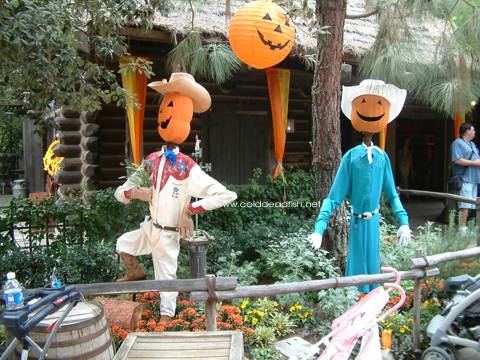 In the yard outside the shack.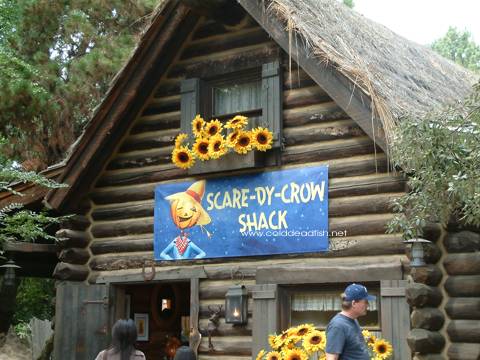 The shack.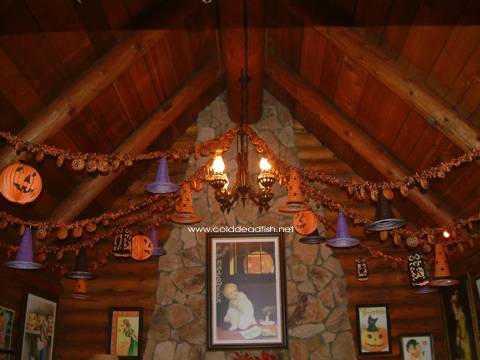 Inside the shack.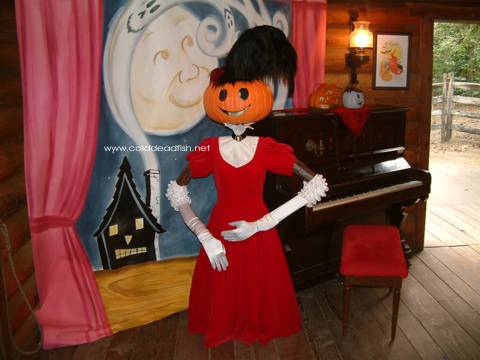 Take a picture with a dancing girl.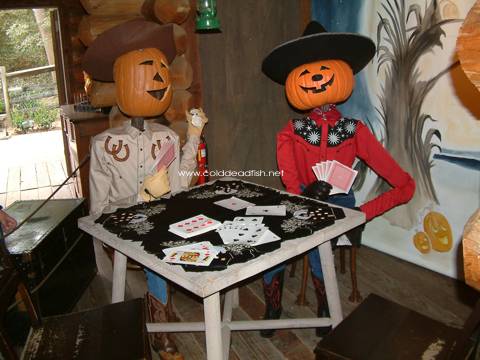 Or take a picture with the card players. You can play with the cards on the table.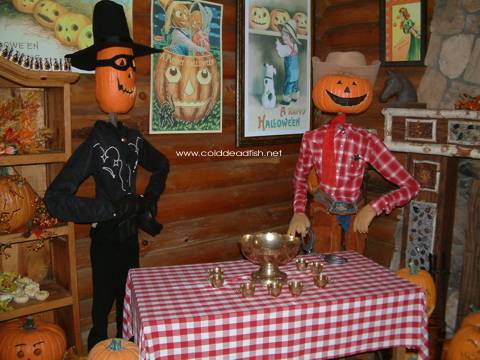 Another picture opportunity.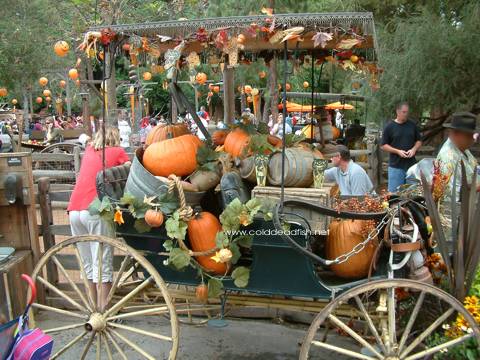 More decorations outside.
In the old BBQ restaurant side, there's a stage where performers periodically come out, and there's also a woman carving pumpkins.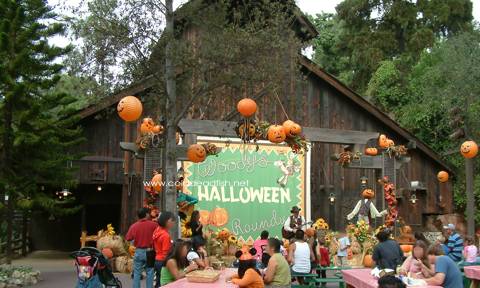 The stage.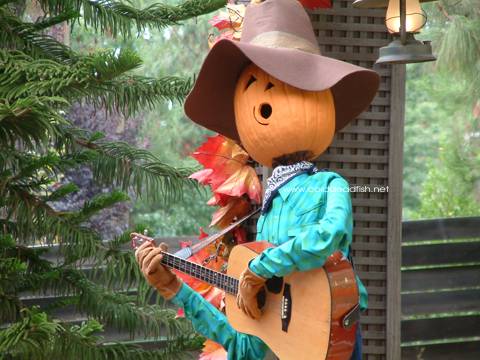 He's at the front left of the stage.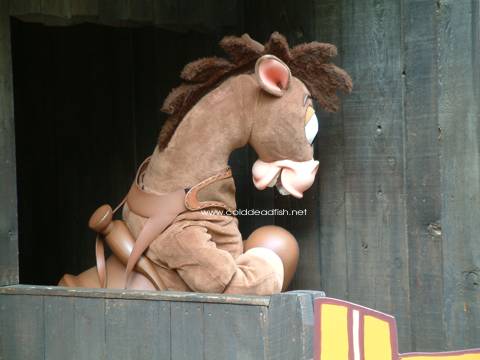 Bullseye getting ready to go on stage.
Bullseye is joined by Jessie.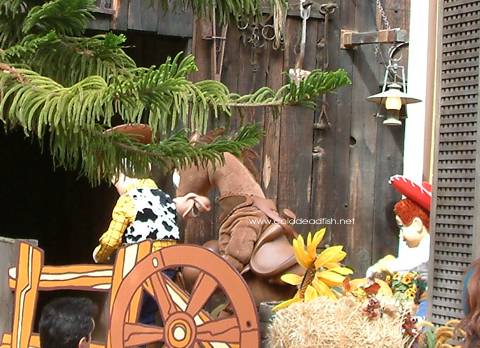 Woody, Bullseye and Jessie going offstage.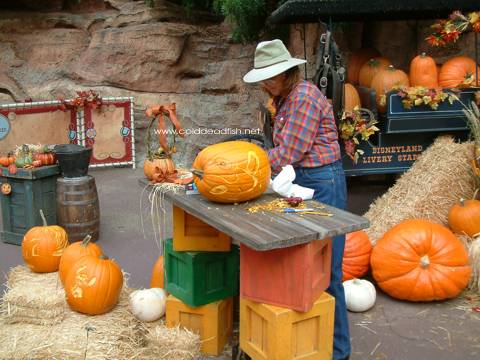 A CM carving pumpkins.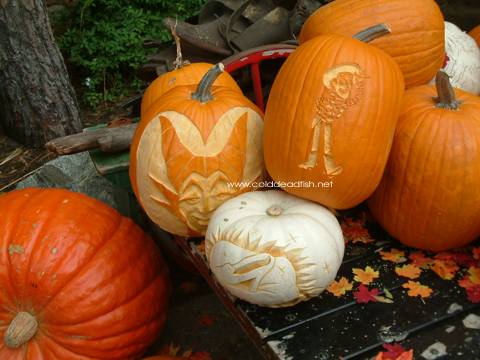 Some of the carved pumpkins (Maleficent, Woody and glass slipper).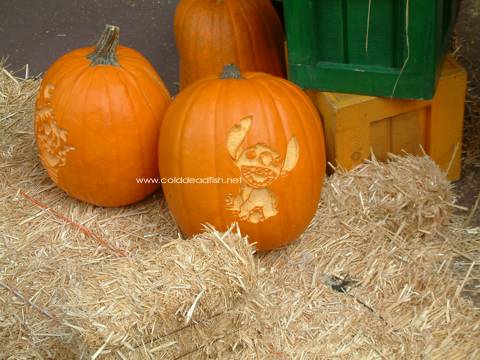 Stitch is cute too.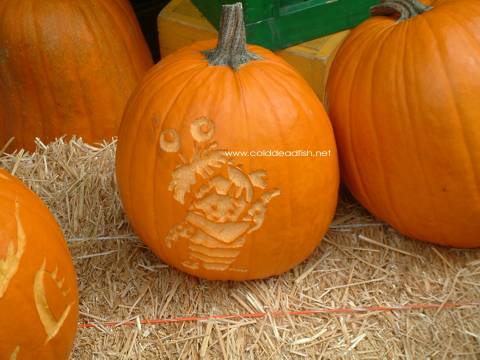 This one is my favorite.
During the holidays, you could buy a cookie that came with decorations you could put on. In this case, it wasn't a cookie, but rather a cake shaped like Mr. Potato Head. There were no signs at all, but after inquiries, we discovered the cost was $8. We decided to take a break to enjoy the decorations and the entertainment, and two of us bought cakes.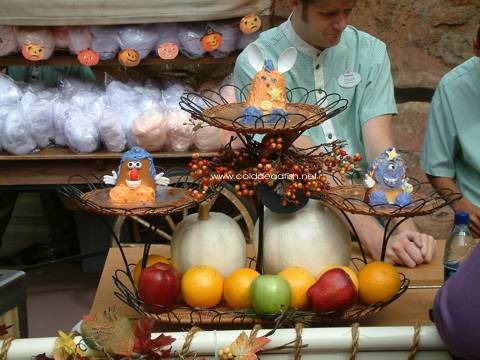 Here's the display advertising the cakes, though there is no signage whatsoever.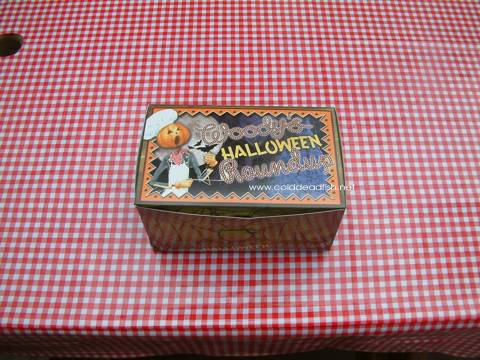 The top of the box that you get.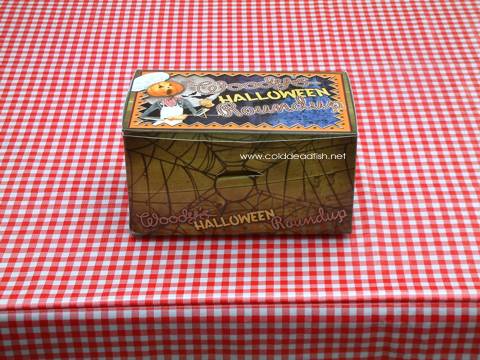 One side of the box.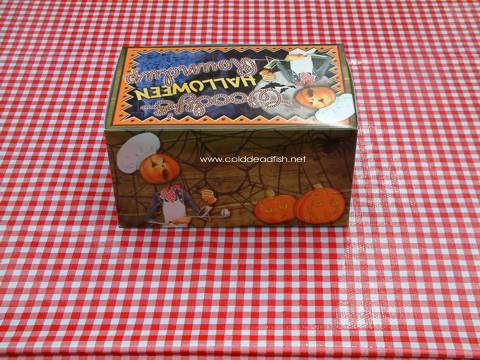 The other side of the box.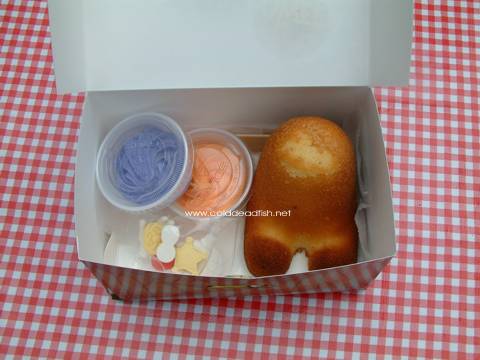 Open the box and there's the people...ummm...potato...ummm...cake.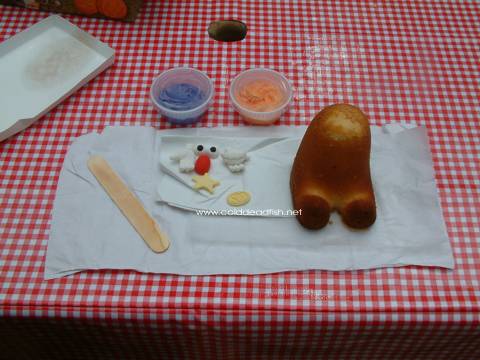 Here's everything you get inside the box.
Purple and orange frosting? Battlestar Galactica squadrons!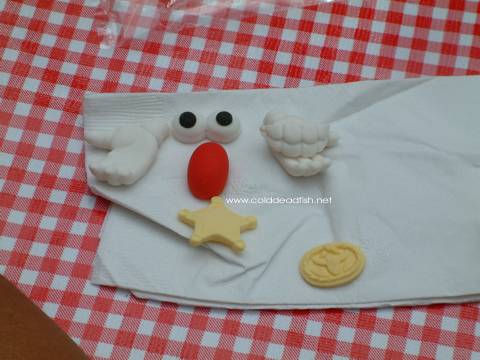 A close-up of the pieces.
The cake was a bit dry at first, but it was more moist inside. The frosting was ok, but the candy pieces left a lot to be desired. The best way to describe the taste was waxy chalk with a bit of fruit flavoring. A lot of people would probably think of cookie or cake decorating as mostly for kids, but with only one child and 6 adults, we had a great time just enjoying each other's company and the decor and ambience. The adults also had a rather good time thinking of inventive ways to decorate one particular Mr. Potato Cake.
As we sat having a good time, a CM led a parade of animals and guests through the area. We weren't sure what it was about, but the costumes were fairly interesting.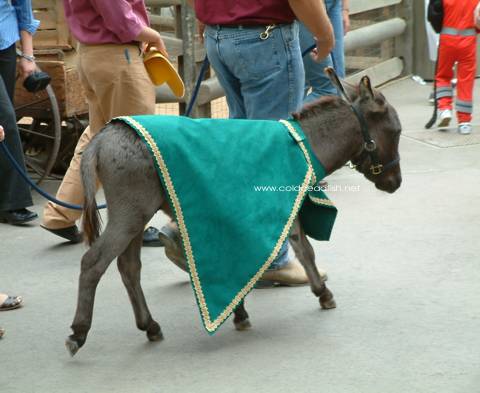 It's a Musketeer - of sorts.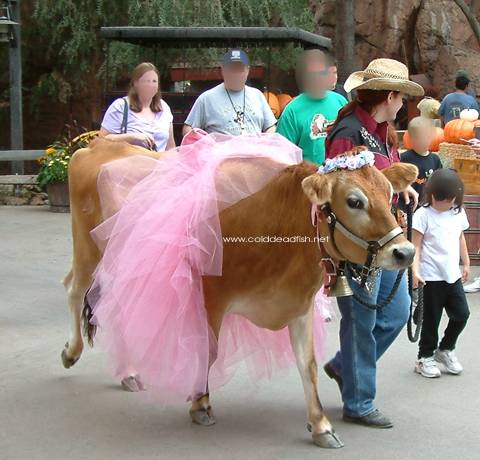 This is just wrong.
After having enjoyed our time there, we got up to leave and made our way out and back down Big Thunder trail. I love the decorations in that area, and I highly recommend spending some time there, even if you don't plan to decorate your own Mr. Potato Cake.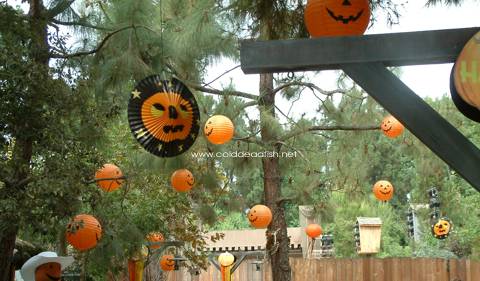 Pumpkin lanterns.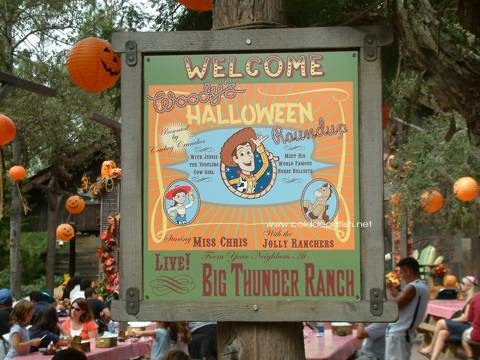 A sign at the former BBQ entrance.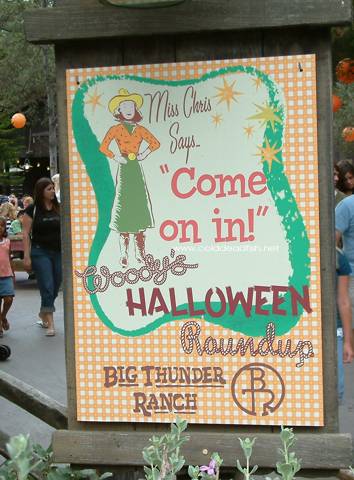 Another sign.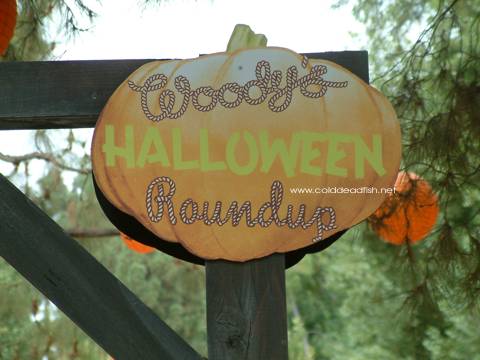 The logo.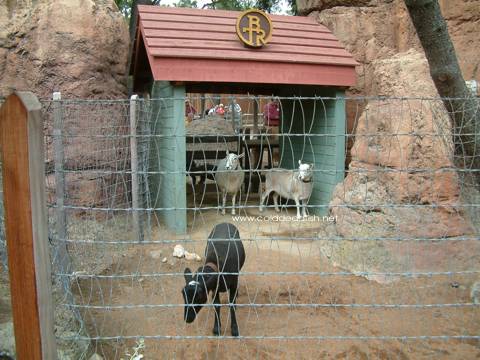 These are not the turkeys you're looking for.
We then took a ride on the Mark Twain, and we had the good fortune of having a band get on the boat just before we departed. Most of us stayed on the lower deck, and the band was on the middle deck, so they provided a nice musical backdrop to our ride around Tom Sawyer Island. After our ride, our group split up as different people wanted to do different things. Some of us decided to do some shopping on Main Street. We decided to head for Showcase, where a number of Halloween pins had been released that day. When we had entered the park at 9am, the line out of Showcase (by the Mad Hatter in Town Square) went all the way down Main Street to about where the cone shop/lockers are. Now, we do collect pins that we like, but I did not want to spend hours in line waiting to buy pins rather than enjoying all the new decorations and offerings at the resort. When we came back into Disneyland after visiting DCA (around 12:30), the line was still extremely long down Main Street. We had decided that we'd check back later, and if there were still pins left, that was fine, but if not, that was ok. We looked in the store and they did indeed still have all of the pins available, and there were only about 5 or so people in line, so I was glad that we were able to get the pins without having to waste hours in line.
We wandered through the Emporium and then made our way to the little jewelry shop next to the watch shop. As we had been walking down Main Street earlier in the afternoon, we had heard the announcement that Disneyland would be closing an hour later than originally planned (11pm instead of 10pm) and that a second showing of Fantasmic had been added at 10:30pm. The park must have been pretty crowded for them to extend the operating hours as well as adding an extra showing of Fantasmic. However, they apparently neglected to tell the people who ran the restaurants. I was surprised that Carnation Cafe was already closed (a stranger later came up to me confused about how to get seating at the restaurant, and I had to tell her that it was already closed), so two of us sat at a table there to relax while others in our group went to flag retreat. I had seen the band marching down Main Street toward Town Square, and I had been impressed with their new costumes and the brilliantly beautiful fall coloring.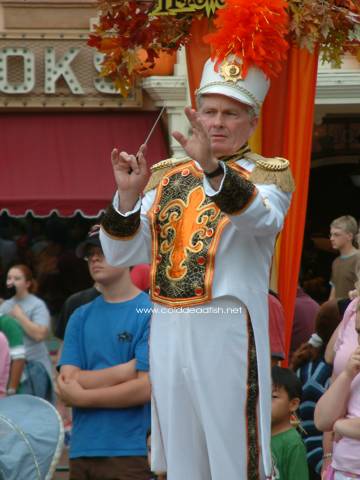 The band leader.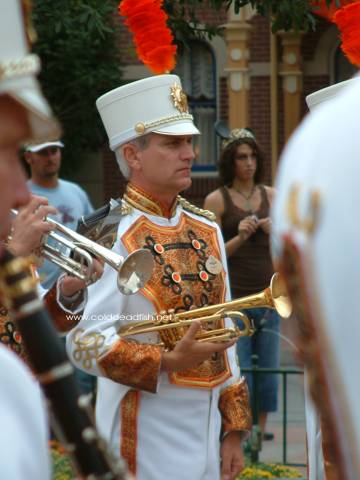 One of the musicians.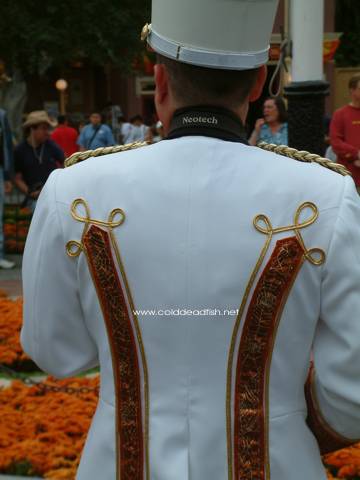 The back of the new costume.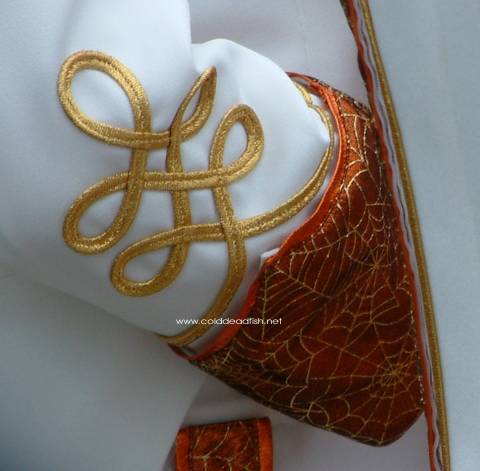 Details.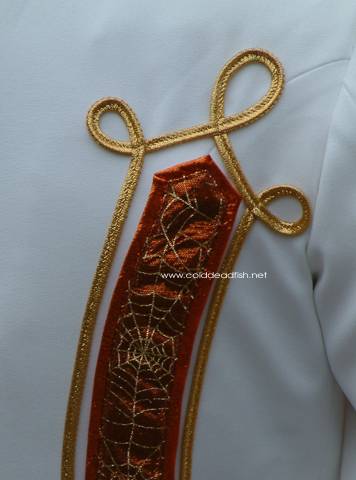 And more details.
When flag retreat was over, we made a trek over to Market House so that some people in our group could get some long-awaited and much-loved pumpkin fudge, and then we returned to Carnation Cafe. I popped over to the bakery next door to have a look and was pleased and dismayed to find that they had pumpkin cheesecake available as well as a pumpkin muffin and a pumpkin cookie, though I don't know if it's just shaped like a pumpkin or actually tastes like pumpkin. They purport to have a mini pumpkin loaf, but I didn't see it. I was happy when they had it last year, only to be severely disappointed when I bit into it to find that it was almost completely filled with raisins, which I don't care for. Blech. Why would you ruin perfectly good pumpkin bread with massive amounts of raisins? I figured I'd ask this year before buying it again.
We were re-joined by the other friends who had gone off to do other things, and then we headed to Tomorrowland to see the new store where Radio Disney had previously been housed and the newly redone Tomorrowland Terrace stage. We then made our roundabout way to New Orleans Square to ride Haunted Mansion Holiday using the Fastpasses we had gotten earlier. After that, it was time for dinner at French Market. There was still a line, but not nearly as long as it had been at lunch. Since it was now later, there were fewer people there, so we figured finding a table wouldn't be a problem either. Some of our friends decided to head home, so we bid them farewell, and it was probably a wise decision on their part, because even though the line wasn't that long, the line was extremely slow in moving. When we got into the building itself, we realized that part of the problem was that they had already closed down one side, so there was only one line serving guests, and that line was moving slowly anyway. Again, apparently, Foods didn't get the memo. You would think that if they knew it was crowded enough in the park to be open an extra hour and to add another Fantasmic, it might also occur to them that all these people still in the park might be interested in eating and that they might have their food locations better staffed. What might normally have been a 10 or 15 minute wait turned out to be about a 30 or 40 minute wait. Even after we got our food and had found a table, there were still more people in line for the restaurant, and the line was even longer than when we had initially joined the line.
Since the debut of Haunted Mansion Holiday, the French Market has introduced special menu items themed to "The Nightmare Before Christmas". Some years, I have really enjoyed them (mmmm, chicken six feet under and bowl of bones), but last year, I didn't care for the items being offered. This year, the items sounded interesting.

The two new menu items at French Market.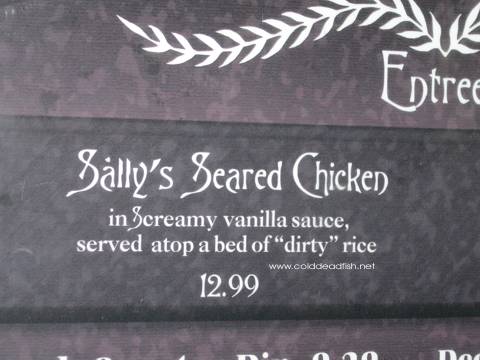 The inside menu listing has more information.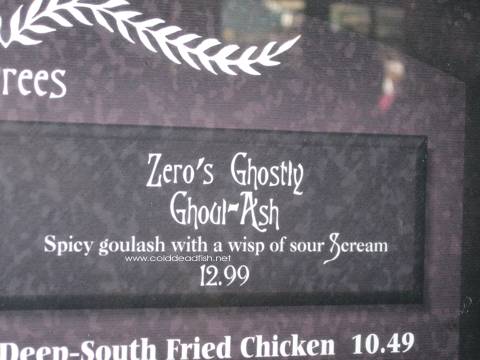 The inside menu listing also indicates the price.
The annual pass newsletter had said Sally's chicken would be on pumpkin rice, but I guess they changed their mind. Or, maybe there's just some decree that only "dirty" rice can be served in New Orleans Square, since it can also be found both at Cafe Orleans and Blue Bayou. I had wanted to try the chicken, even though the inside menu had more information about the dish, including a vanilla cream sauce, that didn't sound entirely appealing to me. However, when I asked for the chicken, I was told they were already sold out. I asked the CM what goulash was, and she described it as beef stew without the potatoes over noodles, so I decided to have that. Even though the menu doesn't say so, the dish comes with a side salad and a sourdough bread bone. French Market usually also has special desserts, though I find it a little irritating that there are no signs so you don't necessarily know what they are, and it's not necessarily evident just by looking at them. I asked a CM about the various desserts, and I apparently didn't believe what she was saying because I made her repeat it three times before I fully comprehended that one of the desserts was pumpkin pie. I'm not a huge fan of pumpkins in general, but I happen to love pumpkin pie and pumpkin creme brulee. So, onto my plate did the pumpkin pie go.
The French Market also generally has some sort of promotion, whether a patch or a coin of some kind, that's free with purchase of $30 worth of food. We did get a coin, which was a smiling Jack Skellington. This year, the coins are apparently the different faces/expressions of Jack, which doesn't sound interesting to me, but maybe to hardcore fans of "Nightmare". Even in previous years when I've liked the giveaway promotion more, I can't imagine eating at French Market for 13 weeks in a row.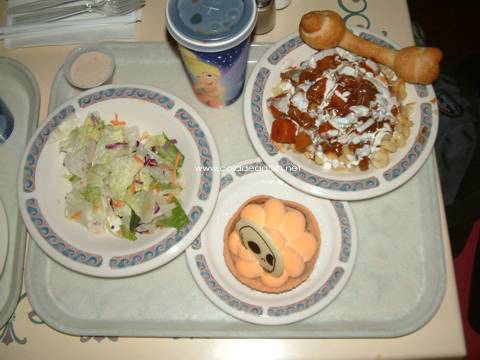 Dinner at French Market.
I rather enjoyed the goulash, and the mix of flavorings and textures with the goulash and noodles was quite good. The bread bone was fine, but it was mostly just fun to eat. The pumpkin pie, though, was incredible. It's topped with a slightly-pumpkin-flavored whipped cream, and the entire dessert itself was just delicious. It doesn't look like a huge serving, but because of its denseness and flavor, it was shared by 3 of us with 2 others having a taste or two. The Jack head is made from white chocolate. The dilemma I'll be running into is that when I visit next time to try the chicken, I'm going to have to resist the pumpkin pie.
After dinner, we decided to take the train to Tomorrowland and wandered around Star Trader and then headed back down Main Street. We noticed the pumpkins in the hub were lit, and they looked great, and the giant pumpkin Mickey in Town Square as well as the other pumpkins lining Main Street were lit as well. The carved pumpkins had different expressions and such, so we enjoyed looking at them as we walked past. We noticed one along Main Street that had the castle and clouds design carved on it, and appropriately enough, Mickey's silhouette was carved into the pumpkin that was in Walt's apartment above the Fire Station.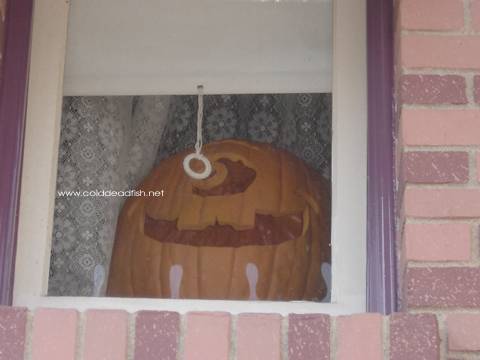 Mike on Main Street, Boo in Frontierland.
Is Sully around somewhere as well?
Castle with clouds on middle pumpkin.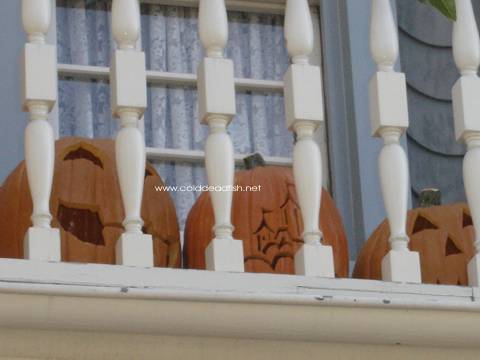 A picture taken in the daytime.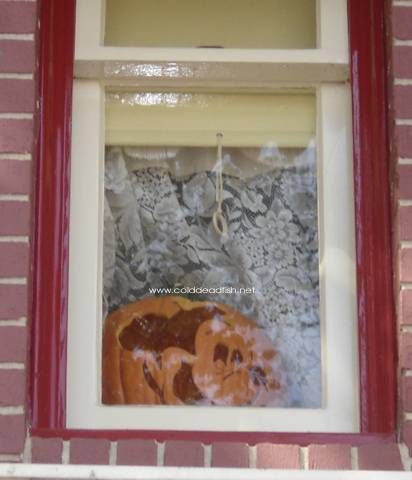 The Mickey pumpkin in the window of Walt's apartment.
When we got to the exit turnstiles, we noticed that the Fab Five pumpkins up top were lit as well, though only one set were working while the other was dark. From a certain angle, the slightly lit pumpkins were a bit eerie.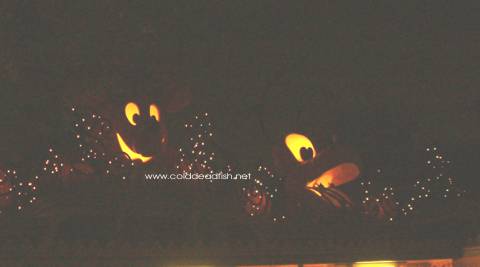 Minnie and Pluto.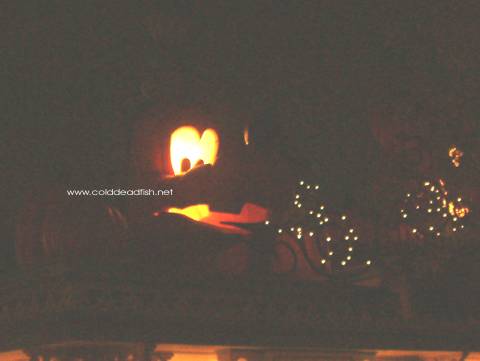 Goofy.
We enjoyed another full and fun day with friends at the resort, and I'll definitely be returning to enjoy more of the Halloween fun and decor. There are many places to go if you want a scary or creepy or gory Halloween, but I'm glad that Disney has created a place where those of us who just enjoy the fun and festivities of the season can have a good time as well.
Disney's Halloweentime runs through October 31.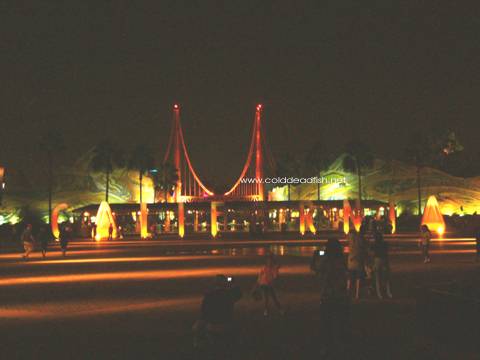 Back to Cindy's Disneyland Resort Page.
Back to home.