Disneyland Resort in Anaheim - October 8, 2006 trip report (with additional pictures added 10/15/2006)
This will be a trip report on the short side and with no new pictures for the moment since my photo processor is currently unavailable. The only pictures for now will be archive pictures. Topical pictures to be added at a later date. (10/15/2006 - Additional pictures have been added.)
I was making a rare solo visit to the resort today, but I first stopped by the character warehouse aka Disney outlet store in Fullerton to see what might be there. I actually walked away with a purchase this time! Here are some of the things I noted, some of which are new, some of which I might not have noted last time:
Tower of Terror Stitch mini plush $7.99 (regular price $12)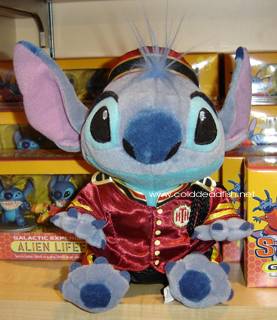 Bellhop Stitch.
Dave Avanzino Adventureland and Frontierland sculptures $49.99 (regular price $75)
Larry Nicolai bronze Fantasyland and Adventureland sculptures $59.99 (regular price $75)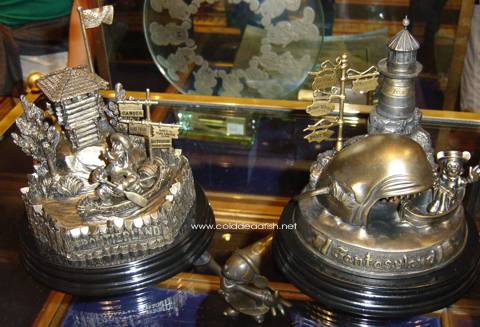 The Fantasyland piece is pictured on the right.
Thomas Kincade 50th painting stationery set $17.99 (regular price $24)
retro blue mini glasses set $10.99 (regular price $16)
retro blue tin notepad $6.29 (regular price $10)
50th Homecoming castle snowglobe $69.99 (regular price $90)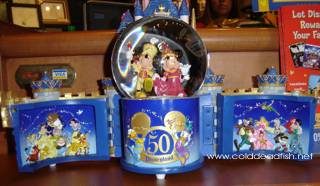 The snowglobe, with the castle opened.
50th upscale leather jacket $249.99 (regular price $385)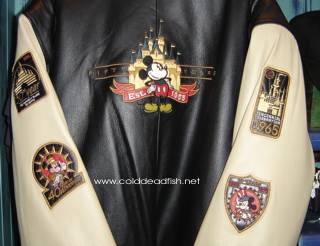 The leather jacket.
50th upscale sweatshirt $38.99 (regular price $52)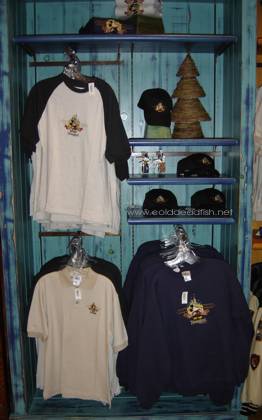 The sweatshirt is pictured at the bottom right.
gold Mickey ears $4.99 (regular price $10.50)
50th earhat keychain $3.99 (regular price $6)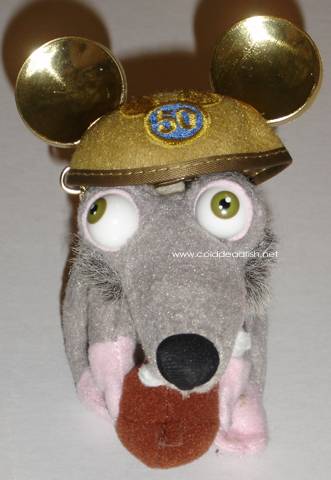 Scrat models the keychain hat.
50th antenna ball $3.99 (regular price $6)
Gold antenna ball.
50th Homecoming name badge $3.99 (regular price $6)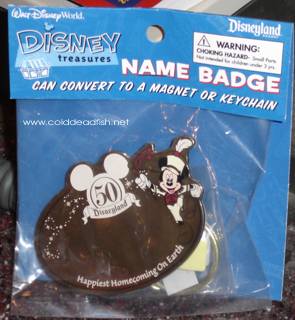 50th name badge.
assorted Cars playsets and plush (various prices)
I thought it odd later to notice that some of the items being sold at a discount at the character warehouse (Larry Nicolai pieces, gold hats) were still being sold at the resort for full price. I don't think I'd noticed that happening before.
I left the store and headed to the resort and when I got to Ball Road, I discovered that the left lane was backed up quite a bit with people trying to turn left to go into the parking structure. It looked like all the roads into the parking area were congested, as the cars on the freeway flyover were moving pretty slowly as well. I ended up taking the back way into the parking structure, and I think that ended up taking less time. Inexplicably, though, the down escalator from the third level wasn't working, so there was quite a pedestrian traffic jam as everyone traipsed down the stairs to get to the escalator on the second floor. I noticed that the 50th banners in the tram loading area which were still up last week had been replaced by leaf-like banners for the new Where Dreams Come True promotion. When I got to the resort itself, I noticed that the 50th banners in the esplanade had also been replaced by the new promotional banners.
I did a little shopping and then decided to have an early lunch to hopefully avoid the bigger crowds since at 11:30 it was already fairly crowded. I knew that French Market opened at 11am for lunch, so I headed there - to join the line that had already formed. As I inched closer in the line, I realized it was the same problem as when we'd had dinner there the week before - only one side was open, and they didn't open the second side until noon. A long line in and of itself isn't that daunting if it's moving. A long line where you spend 5 or 10 minutes not moving at all is fairly frustrating. It can't have come as a surprise or as a recent revelation to the powers that be that this was going to be a very crowded day, what with the convergence of the CHOC Walk, Gay Days weekend and Columbus Day weekend, where some people have it as a three day weekend with Monday off. I can't imagine why they weren't better prepared to have both sides open, knowing they were going to have so many people in the park. I did see a number of "suits" and non-costumed CMs either standing outside or gathering inside the serving area. Not sure why they all needed to be there - just to say, "hmmm, yeah, it's a really long line of people waiting to eat here, and we only have one line open"?
I wanted to try the other special menu item, Sally's Scared Chicken. There is a generous portion of "dirty" rice in a bowl, and then they add a chicken breast and drizzle a vanilla sauce of some sort over it. You also get a wedge of cooked pumpkin and a sourdough breadbone, and it also comes with a side salad. I managed to resist the urge for dessert and didn't have another of the delicious pumpkin pies available there. I thought perhaps I might try the pumpkin cheesecake at the bakery later, but I didn't end up doing that either. I liked the chicken dish ok - the chicken was a little dry, though the sauce helped some. I did like the rice, which was quite tasty. I'm not a huge fan of just cooked pumpkin, so it was just ok to me, but I expect a bigger pumpkin lover than me would have enjoyed it a lot more. If given the choice, I'd have the goulash again rather than the chicken again.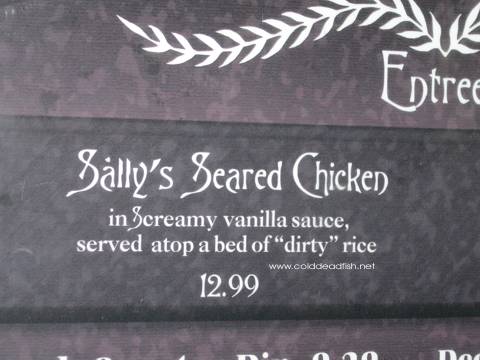 One of the two new menu items at French Market.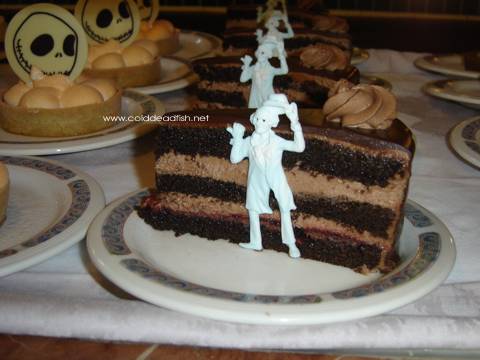 The chocolate cake wants to hitch a ride.
Note the wonderful pumpkin pies to the left.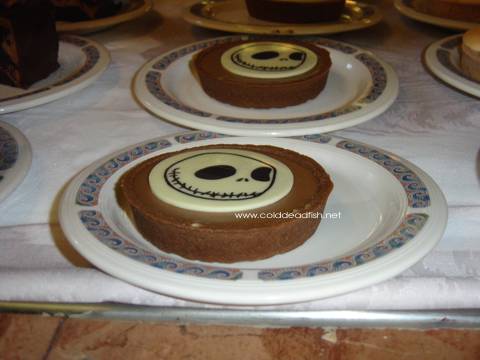 Jack's smiling face atop a caramel apple tart.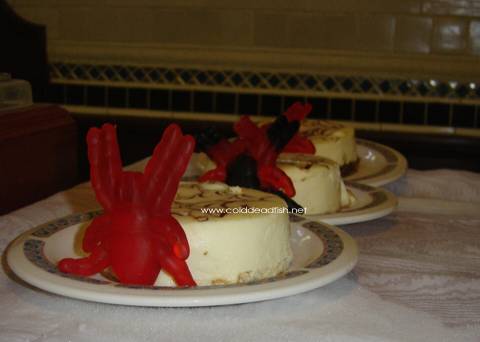 Cheesecake with giant gummy spider.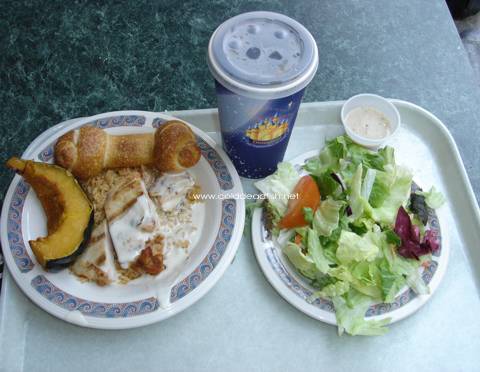 Lunch.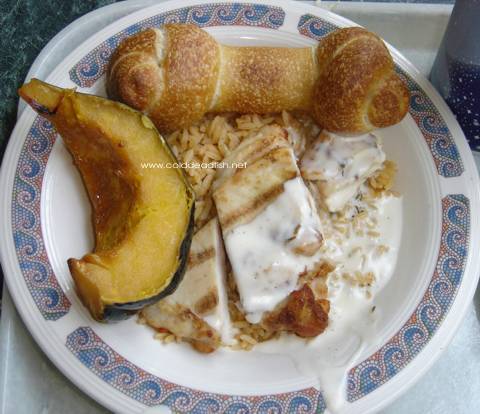 A close-up of the chicken dish.
After lunch, I browsed around a bit and was disappointed to discover that they apparently really didn't do any merchandise at all for Haunted Mansion Holiday this year. How disappointing. I have enjoyed getting the t-shirt or sweatshirt every year because it's dated.
Since I had figured it was going to be a very crowded day, and I was alone, I didn't figure I was going to want to wait for rides, and I wasn't sure if I wanted to wait for parades or shows or anything else, but instead, I decided to head to the Hearthstone Lounge bar (by way of DCA, where I ended up walking past Golden Screams and managed to contain myself and not yell to all the people waiting for the next show that it wasn't worth their time and that they should get out now while they still had the chance, but as I was walking past, two villains came out for their photo ops, and I was surprised to see the Old Hag, as I'd never seen a walk-around of her before, and she graciously posed for a picture), where I spent about 3 1/2 hours watching the Philadelphia Eagles/Dallas Cowboys game. The bartenders were very nice and very busy the entire time I was there, and their strawberry margarita is very good but also *VERY* strong. I left after Drew Bledsoe finished handing the win over to the Eagles, almost literally.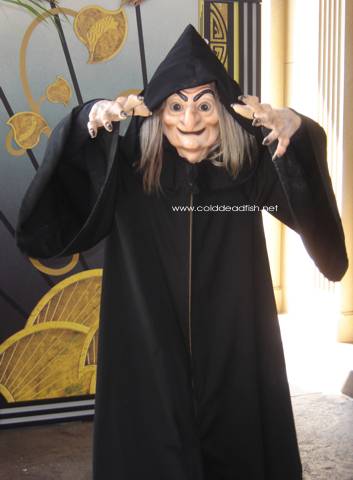 The Old Hag.
I wandered around Downtown Disney and then went into the World of Disney to have a look. I discovered that they'd released a mini plush of Mickey dressed for Halloween Treat. He's wearing jeans and a t-shirt with the Halloween Treat logo, and he's carrying a jack o'lantern bucket for trick-or-treating. On the bottom of his right foot is a pumpkin-shaped patch that says "Mickey's Halloween Treat! 2006" in orange on a black background. He is really cute, and I'm really looking forward to seeing what the event will be like this year, so I had to have him. Cost is $10.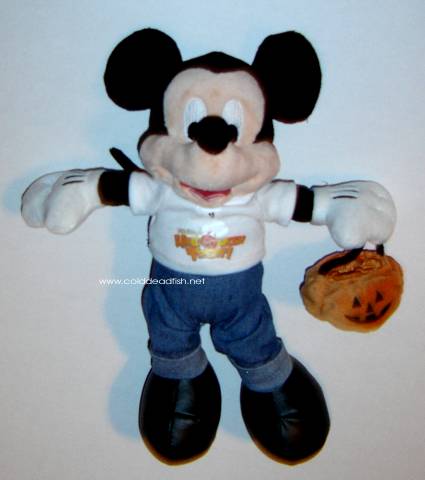 Mickey is already dressed for the event.
I then decided that I didn't want to go through bag check again and deal with the crowds at the parks, so I left the resort. A few weeks ago, I had reported about seeing a cool new balloon at the resort. Someone on a Disney discussion board that I frequent mentioned that someone had bought her one from a grocery store. Well, she was definitely right. I stopped at the Albertson's on Harbor Blvd. right near the 22, and they did in fact have that balloon. Why in the heck is that balloon for sale at a grocery store BUT NOT AT THE RESORT DURING DISNEY'S HALLOWEENTIME?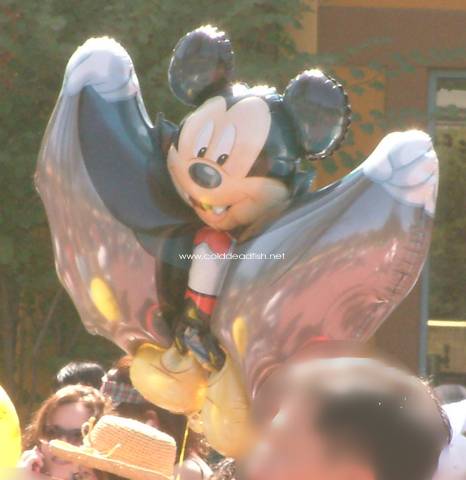 Grocery store, yes. Disney's Halloweentime, no. Go figure.
Back to Cindy's Disneyland Resort Page.
Back to home.