Disneyland Resort in Anaheim - December 2, 2007 trip report
The husband and I are pin collectors (we buy the pins that we like, but we don't trade other than with cast members), though we're not nearly as fanatical as some others, so since many new pins are released on the first Sunday of the month, and it's the first day of each month's free pin with purchase promotion, we generally find ourselves at the Disneyland Resort for at least a little while each first Sunday.
This particular Sunday was the second day of the Candlelight Procession on Main Street of Disneyland this year, so we were a bit surprised when we arrived at the parking structure around 11:30am to find it not all that crowded. We figured most people would be coming later in the day for that. There were many lines open at bag check and the turnstiles, so we made it into Disneyland pretty easily. I was surprised to see that at about noon, people had already staked out spots for Candlelight. On either side of the reserved seating in Town Square were green benches, most of which were either full with people and belongings to save space. We headed to Store Command in Tomorrowland, which is pretty much pin central, to make our pin purchases for the day. Our favorite CM was working, so we got in her line. She's both friendly and knowledgeable, so we had a minute to chat with her as she was helping us with our purchase. After browsing for a few minutes at Star Traders across the way, we decided on Pizza Port for lunch.
The line to get into the restaurant was slightly out the door. We waited our turn and then headed inside. I had actually wanted the chicken fusili pasta, which I really like, but the pasta line was extremely long, extending back through the salad station and pretty much to the entrance line itself. I didn't feel like waiting that long, so I opted for the special pizza instead, which was a nice vegetarian selection with lots of different vegetables. I noticed they had a holiday themed pizza choice - alfredo sauce with a sprinkling of basil and tomatoes, presumably for that red, white and green Christmas effect. Looked and sounded like a boring pizza choice to me. The husband had gotten a slice of pepperoni for himself and our normal planetary salad for us to share, so after getting drinks, we found a short cashier line and paid for our food.
I generally like tabasco sauce on my pizza when I'm at Disneyland. However, Disney seems to be really weird when it comes to Pizza Port and tabasco sauce (and parmesan cheese and pepper flakes, for that matter). Years ago, when Pizza Port first opened, those three condiments were available along with salt and pepper and forks and spoons and straws and napkins and the like. At some point, I noticed that the tabasco and the parmesan were gone, and I happened to mention it to a cast member at one point. The cast member said that no, they weren't gone, they were just inside the cabinets now, and he got me some. From then on, I've known that they have these three items. If there's a cast member there, I'll ask for it so they can get it for me. If there isn't a cast member there, I'll just get it myself. I have no idea why Disney chooses to have them available but not have them out or even have any indication that they have them unless you know from before or you just happen to ask. Some people have postulated that people might like taking extras of the packets and either wasting them by throwing them away or taking them with them, so Disney saves money by not having them out. OK, so they'd save even more money by not *offering* them, since they aren't necessities, like forks and spoons. But why even carry them if you aren't going to let anyone know about them? At least if there were some kind of sign that they were available if you ask a cast member, it would make more sense.
It was a pretty crowded day at Pizza Port, and just as we were deciding where to sit, we happened to see an empty booth for two nearby, so we took that. We rarely sit inside, partly because there's rarely space available since we're usually with a number of friends, and partly because we like the outdoor seating. We generally prefer the outdoors downstairs seating as they have larger tables there. However, on a busy day like this, and as much as we like spending time with our friends, it was nice just having to find a small table to accommodate our needs.
After lunch, we headed over towards Fantasyland. With Candlelight later in the day, the two Christmas parades were running much earlier than usual, so we made it through the crossing just before the first parade stepped off from Small World. We had considered stopping and watching it, but we noticed that the raised area along Small World mall was blocked off for Family Holiday Party media, so we decided to skip it this time. Instead, we made our way to Big Thunder Ranch to have a look at Santa's Reindeer Roundup.
For the last couple of years, the Big Thunder Ranch area has been transformed into Santa's Reindeer Roundup for the holidays. They have a stage where they have little shows, and you can buy holiday cookies that you can decorate. When we got there, what looked to be some kind of magic show was in progress, and some very familiar faces were sitting with the rest of the crowd watching the show.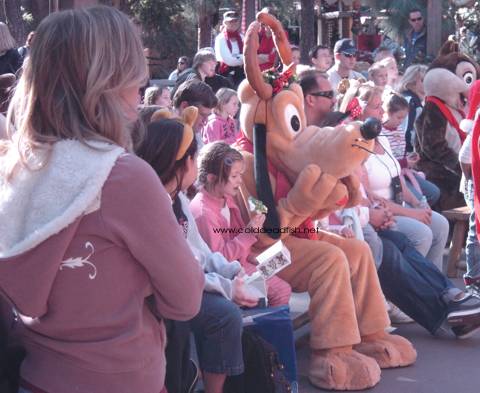 Pluto has a front row seat.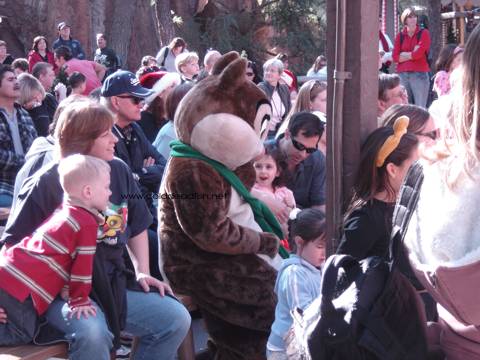 Chip was seated a bit further back and to the side.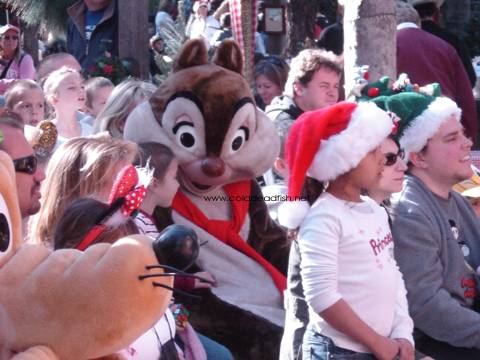 Dale was sitting near Pluto.
Once the show was over, Pluto, Chip and Dale went back to interacting with the guests.
We headed over to the other side of the ranch, where the petting zoo normally is but which now had reindeer that you can see but not pet or feed.
We noticed this year that a tent had been put in over the reindeer. Not sure if it's to protect them from the sun and rain. We did notice something odd. The lights around that area are multicolored, but the lights under the tent are only blue and white. Do the reindeer get to celebrate Christmas outside the tent and then celebrate Hanukkah while under the tent?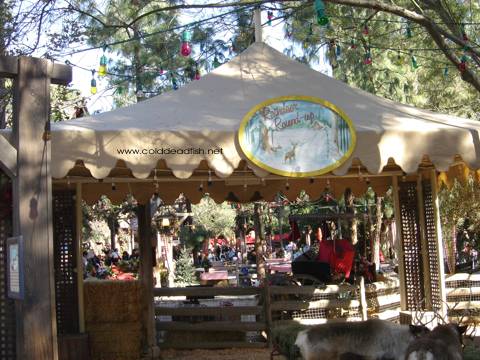 The tent over part of the reindeer area.
Notice the colored lights above the tent.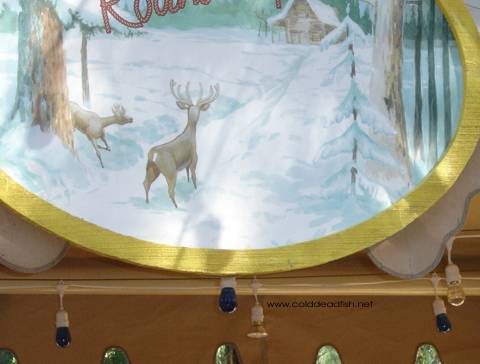 A closer look at the blue and white lights under the tent.
Is Santa now recruiting Jewish reindeer?
For those other, more famous reindeer, we had noticed last year that buckets of treats had been set aside for them.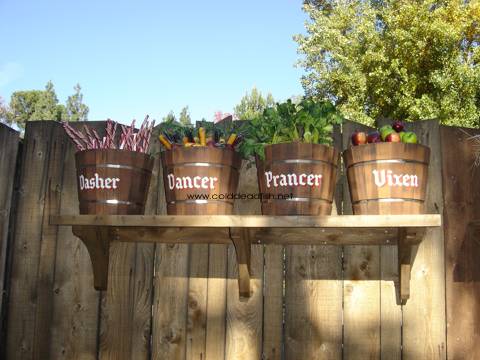 Dasher must have a sweet tooth.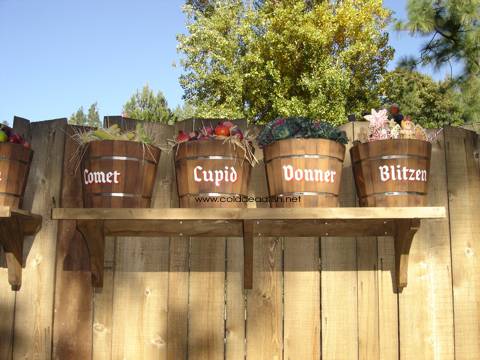 I didn't know Cupid liked pomegranates.
But what about Rudolph? No reindeer games and no treats?
Santa was available for pictures inside the cabin, so there was a line of people waiting to see him. We headed out and over to Critter Country to look at the Christmas decorations there. We had noticed last year that heffalumps were actually holding up the garland and other decorations, and I thought that was really cute.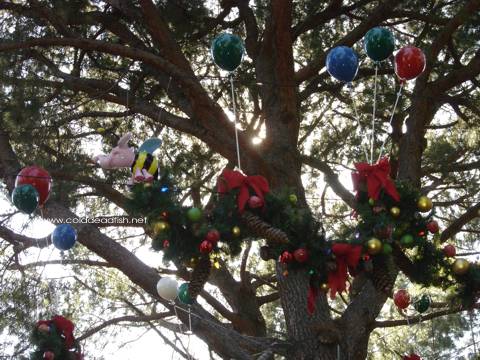 Heffalumps and balloons help keep the decorations up.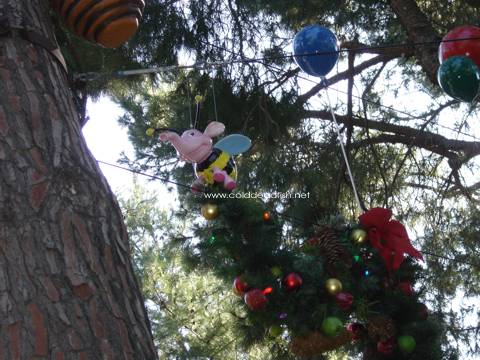 A closer view of a heffalump.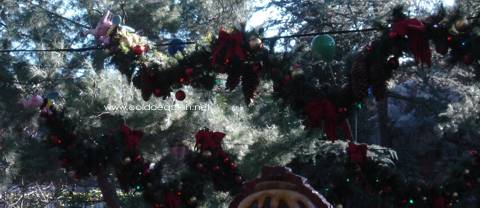 More decorations.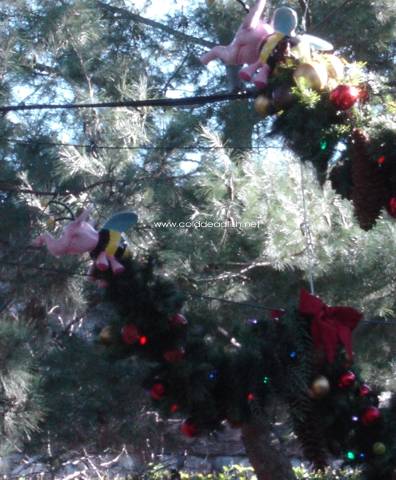 And even more heffalumps at work.
Pooh Corner is nicely decorated for Christmas, and there were surprises and treats inside as well.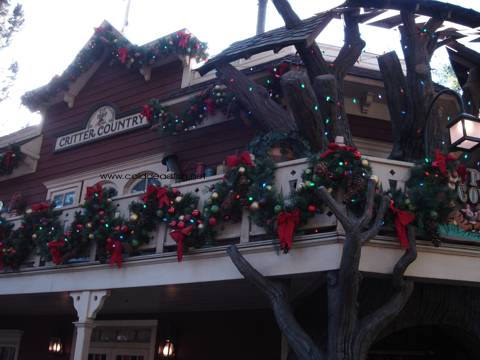 Pooh Corner looking festive.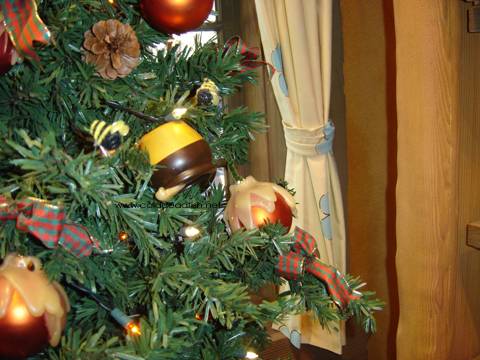 The Christmas tree has overturned honey pots and honey-covered ornaments.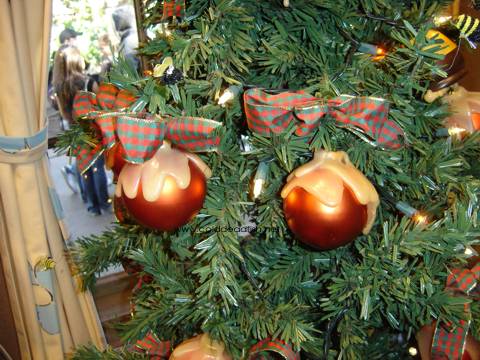 More honey-covered ornaments.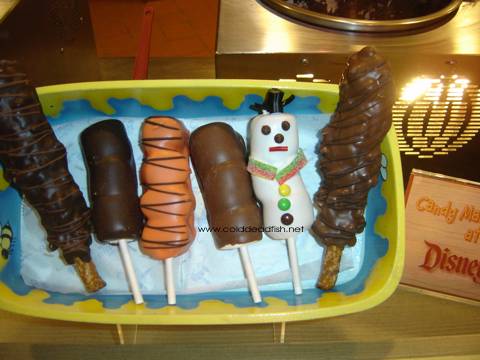 The treats aren't just in the trees.
Notice the marshmallow snowman.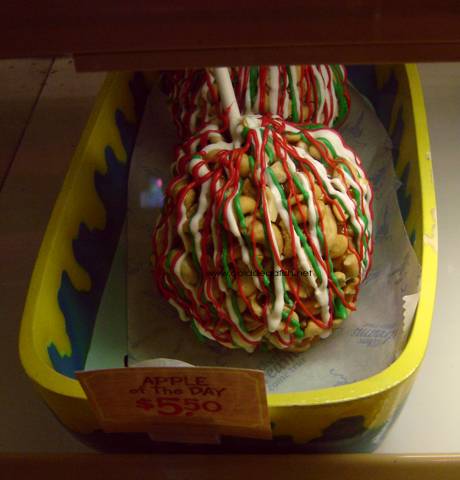 The holiday-colored apple of the day
Under the colored drizzles are cashews.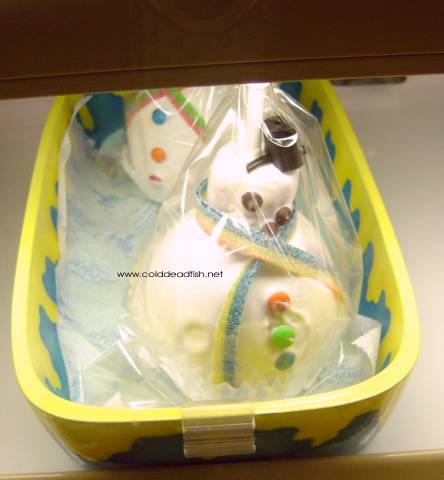 Candy apples can make a good snowman too.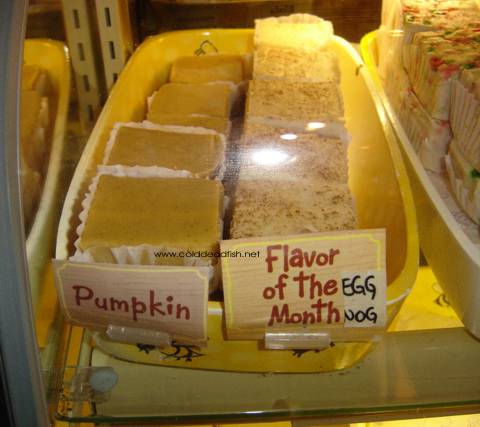 The ever popular pumpkin fudge and the December flavor of the month - egg nog.
As we were on our way out, we noticed that Brer Rabbit had left a gift for Brer Bear and Brer Fox.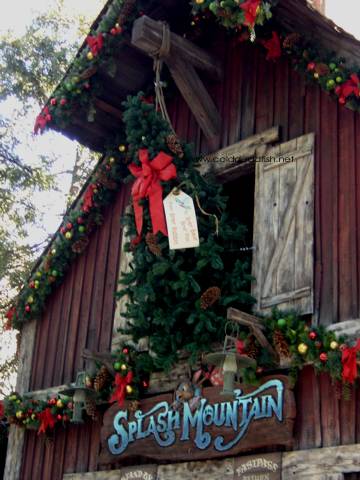 What a nice tree.
It was getting closer to the time that the first show of Candlelight would be starting, and we wanted to be out of the park before it got too crowded. We browsed around the Emporium a bit. I had noticed new beanies a couple weeks ago. These seem to arrive earlier and earlier every year.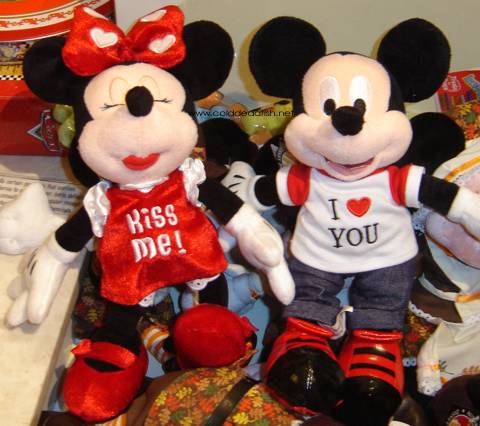 I think Mickey looks ok, but Minnie would have no idea who she's kissing.
Back to Cindy's Disneyland Resort Page.
Back to home.