Disneyland Resort in Anaheim - December 10, 2005 trip report
Saturday, December 10, 2005 was definitely crowded at Disneyland. We were at the park very early today, already in line prior to park opening. When the gates opened at 8am, the lines to get into the park were well into the esplanade.
After doing some shopping, we went to do rides around 9am. We walked to Space, but the standby line was already 50 minutes, and the Fastpass machine wasn't on, which we thought was curious, so we skipped that ride. We went to the Matterhorn, which didn't have a very long line. First time I've been able to ride Matterhorn in about 3 years, so it was actually fun. We then went on Small World, which didn't have a very long line, and then Storybook, which had somewhat of a line, but the line moved fairly quickly, and we ended up on the gold boat, which was cool. Our CM decided to take a bit of a Jungle Cruise approach to this particular ride.
As we and a friend headed over to Main Street to do some browsing, another friend went to get Fastpasses for Haunted Mansion Holiday. The return time wasn't too bad on that, so after we were done on Main Street, it was 11:10 and time to use our Fastpasses. The standby queue was fairly long at that point. We decided to have an early lunch and headed to French Market, where the line was already considerably past the menu sign. After getting our food, we sat in the little area to the side of French Market, right outside the Sparkly Store. (How you know you've been going too much - I noticed that the tables were different. They've usually been round tables, which has always been a problem when we've got more than 2 or 3 people, but now, they're square tables, which work much better for a party of 4.) As we enjoyed our lunch, the line to get into the restaurant remained long. After we finished, we browsed around New Orleans Square for a while and then decided to head over to DCA.
We were on the bridge over the Pirates queue at about 12:40 when we noticed the huge crowds in that area. We had noticed that Pirates (both sides into the entrance were being used) was being queued and going considerably far down past River Belle and the adjoining seating.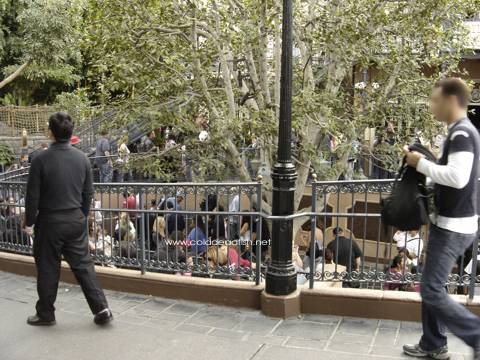 The left side of the queue, using the additional queue space in the back.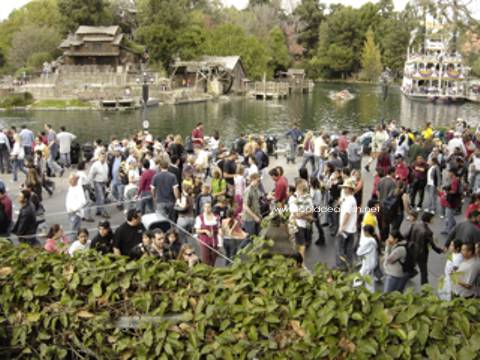 From the bridge looking out onto the Rivers of America. You can see the line of people waiting for Pirates.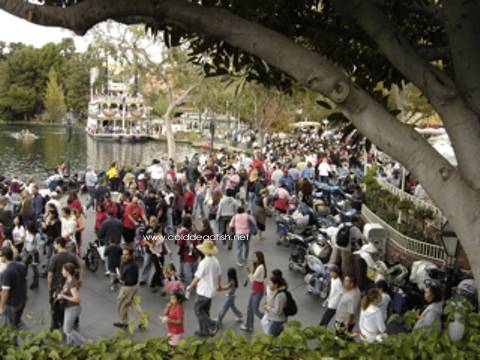 From slightly further right, where you can see the queue extending even further.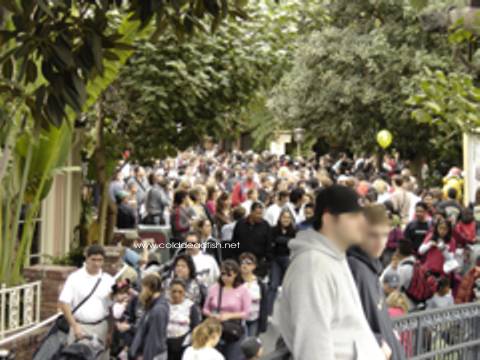 From the bridge, looking at Adventureland.
When we had earlier headed to Haunted Mansion Holiday, I'd noticed that the Jungle Cruise line was queued out the entrance, even though the upstairs queue seemed to be in use. As we tried to make our way out, we headed toward Adventureland, but when it barely seemed to move, we cut through River Belle Terrace, noticing along the way that the Rivers of America side of the queue was really long, almost meshing into the Pirates queue that extended even past that restaurant.
As we were walking down Main Street, many people were still streaming into Disneyland, and in the esplanade, the lines to get into Disneyland were still fairly long. The lines into DCA were long as well, so it took a while for us to get into that park. We headed for Soarin', but at 1:30, the standby wait time was 40 minutes and the Fastpass return time was 4:30, past the time when our friends would have to leave. We headed to Screamin' to get Fastpasses, and the return time was only about half an hour, but immediately after we got our Fastpasses, the ride broke down (we saw one train stopped on the track right before the launch and another train stopped on the track just after a back hill), so we then headed for Aladdin since one of our friends hadn't seen it before. It was pretty crowded, and we ended up at the mezzanine, which included a difficult hike up the stairs, but it was a good show. Another friend who was going to join us had called earlier and said that it had taken him half an hour to get into the parking structure.
After the show, we met up with the other friend but ended up deciding to call it a day as everyone had other plans for the evening.
Back to Cindy's Disneyland Resort Page.
Back to home.