Disneyland Resort in Anaheim - December 31, 2005/January 1, 2006 trip report
December 31, 2005
Our last New Year's Eve spent at Disneyland had been in 1998, and we gradually came to the decision to brave the crowds (which seemed to be growing ever heavier this December compared to previous Decembers, probably because of Disneyland's 50th birthday celebration) this New Year's Eve. We were fortunate enough to be able to find accommodations nearby (close to the Convention Center) at fairly reasonable rates, so we stayed in Anaheim on December 30, 2005. On Saturday morning, we made our way onto the resort by way of the entrance near the Convention Center, and we were surprised to see that cars were not being parked at the Timon lot but were instead being waved through, presumably to be parked at the Simba lot as we couldn't figure out where else they were being sent. The cast member at the crosswalk informed us that the Lion King trams that serviced the Timon lot weren't going to be running until 8am. It was about 7:50 at that point, and we thought it odd that the trams wouldn't be running until park opening, but we figured it was because they weren't actually parking anyone in Timon. Resigned to having to walk all the way to the main entrance, we cut across the parking lot to shorten the distance. As we neared the tram stop closer to the entrance, we noticed a tram making its way to the farther Timon tram stop. We decided to wait for the tram after all. After picking up people at the far stop, the tram made its way to us, stopped to let us on, and then continued to the main entrance. There was no line for the bag check, and by the time we made it to Disneyland's turnstiles at about 8:05, there was no line at the entrance gates at all. We wondered whether there hadn't been that many people waiting for the park to open or if they opened the park prior to its 8am official opening, since they would not have been able to clear all the lines in 5 minutes.
Our first stop was at the lockers on Main Street. Figuring the park would be crowded and that all lockers would be taken up quickly, we wanted to be sure to get one. Lots of other people had the same plan, as the locker area was quite crowded. People had brought jackets and coats and were putting them away in case they needed them later. After getting a locker for ourselves and one for a friend arriving later, we went to Frontierland to pick up the New Year's Eve/New Year's Day pin that was released that day. We encountered a cast member (CM) who was less than knowledgeable on the cash register, so the transaction took much longer than normal. When we were done, it was off to the Main Street Bakery, where the line was quite long as expected. After making our way through, we picked up a few items for breakfast and then headed to the Main Street porch to enjoy our breakfast. We noticed that they had gotten new cups for the large size coffee drinks. Normally, the cups are blue, but these were white with the 50th logo.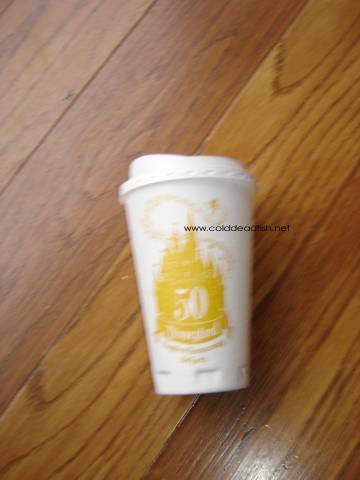 The new white grande cup at the Main Street Bakery.
As we were in line at the bakery, I had noticed that they were selling gingerbread men cookies in keeping with the season. I was amused to discover that in addition to the normal happy-faced cookies, there were a few that sported frowns instead of smiles, and I was amused enough (and curious enough, since I'd never had a gingerbread cookie before) to purchase one of the frowny cookies to enjoy later.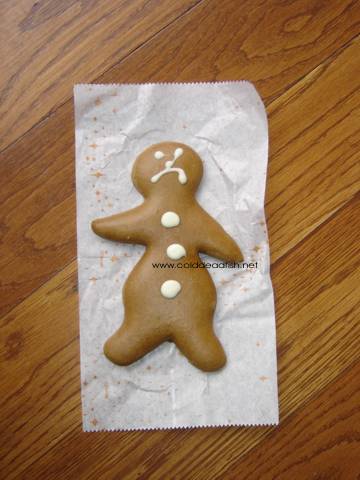 A not-so-happy gingerbread man.
As a slight derail, the porch on Main Street is one of our favorite spots to relax, especially early in the morning and later at night. There is one bench and two chairs as well as ground and stair space on the porch itself. It's a great place to people watch, and in the morning, you can hear snippets of conversation as the people walking by are making their plans for what attraction to visit first. You often also get many strange looks because it looks like you're sitting on the front porch of a house. Many years ago, a family stopped on the porch to adjust their stroller, and the little girl came up to me as I was sitting on the porch and asked if I lived there. I responded with something like "sometimes it seems like I do" because of how much time I'd been spending at Disneyland at that point. And now, back to our story...
After we had been enjoying our breakfast and people-watching for a bit, the Dapper Dans (a barbershop quartet that performs on Main Street) approached and had decided to use the porch area as the stage for their performance. We asked if they wanted us to move, but they said it was fine for us to stay there as they would be on the other side of the porch. We'd seen the Dapper Dans perform before, but it was great to be able to see and hear them from that proximity, and we also had a chance to chat and joke with them in between songs. It was also nice to see the passing crowds stop for a bit to watch and listen as the Dapper Dans were performing.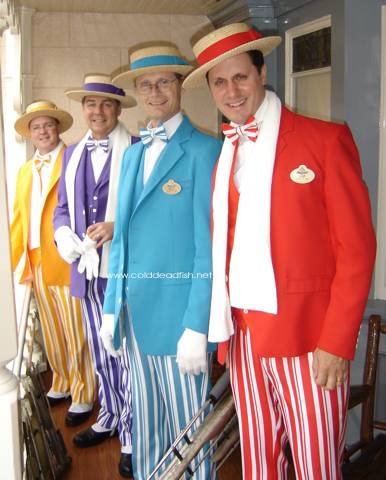 The Dapper Dans in their colorful outfits.
During a break in their performance, I had happened to mention the gingerbread cookie to one of them, and when I showed it to him, he was as amused as I'd been, enough to draw the attention of the others to look at the cookie. After my husband had taken their picture, they asked if we wanted a picture of them with us in it, but we declined. One of them asked about having a picture taken with the gingerbread cookie in it, and that, we accepted. I wrapped the bottom part of the cookie in the wax paper it came with and handed it to one of the Dapper Dans. He suggested to the others that they also have frowns to match the cookie. We had figured that it was appropriate for the cookie to be frowning because after all, he was eventually going to be eaten. We absolutely loved the time we spent with the Dapper Dans, being able to watch them interact with other people, and especially for their great sense of humour.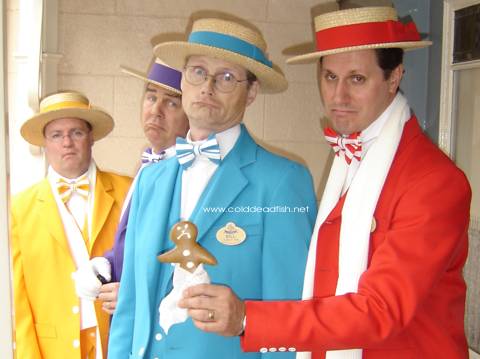 The Dapper Dans empathizing with the gingerbread man.
We had previously heard the announcement about the rededication ceremony, so we unfortunately had to bid the Dapper Dans farewell to go to Town Square as it was almost time for the 10am ceremony. Each morning, they replay Walt Disney's opening day speech as a rededication of the park. When we got to Town Square, we noticed some of the train CMs were blocking off the main staircase, and people who wanted to ride the train were being redirected to a side entrance. A podium had been set up on the middle landing area. The street was to be kept clear, so we picked a spot on the opposite sidewalk just in front of the train station. Shortly after 10am, Mickey, Minnie, Pluto, Goofy and Donald made their way to the front, followed by the Disneyland Band. Then the Mayor of Main Street was introduced, who then introduced Walt's speech, which was then played over the speakers. After that, the Mayor invited everyone to have a wonderful day at the park. It was a fairly short ceremony, but it was a nice little touch, and people seemed to enjoy hearing Walt's speech being played and his sentiments and wishes for the park and its visitors being reiterated.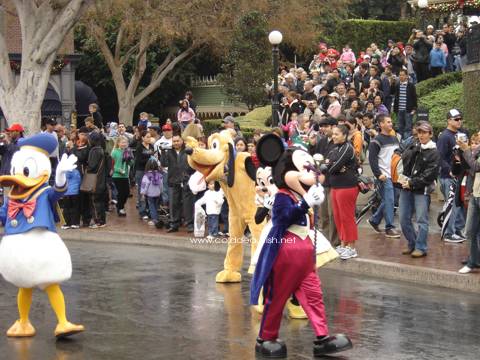 Mickey and friends at the start of the dedication ceremony.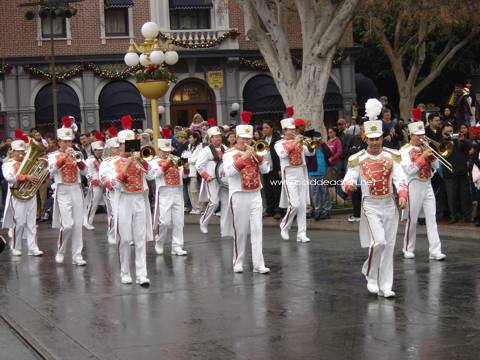 The Disneyland Band joins the rededication ceremony.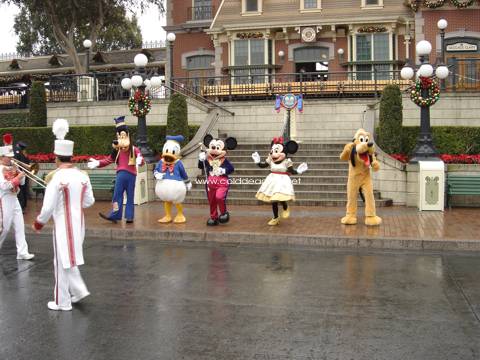 The Fab Five.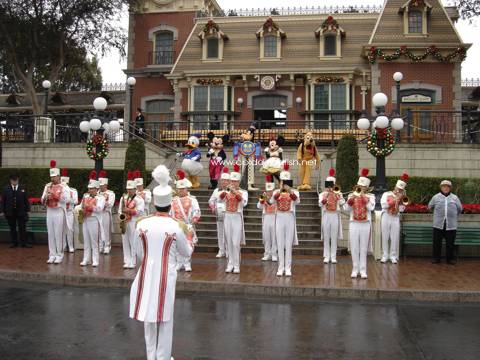 Ready for the ceremony.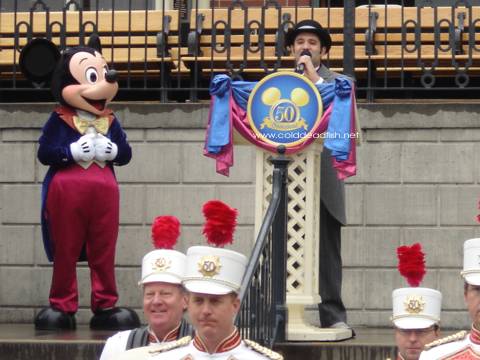 Mickey looks on as the Mayor of Main Street speaks.
After the ceremony, we decided to head to Space Mountain to get Fastpasses. I didn't expect to go on the ride that day but figured our friend would be able to use my Fastpass. We then wandered around the park a bit, just looking at things, and then we headed back to the porch to wait for our friend. He hadn't said exactly what time he was coming, so we were just waiting for his call. It was getting close to noon, and we discussed calling him soon just to see if we should wait for him for lunch when we saw him coming down the street headed toward us. He told us that he'd forgotten his phone at home, which is why he hadn't yet called us, so it was very serendipitous that he happened to see us on the porch. He went to drop some stuff off at the locker, and another friend stopped by, so we chatted with her for a while, then when our other friend came back, we headed off for lunch at Rancho Del Zocalo.
When we got to Rancho, we were surprised to discover that the menu had been changed. Someone on a Disney-related discussion board that I participate in had mentioned a few months ago that Rancho would be having a menu change, but then the change had been pushed back, and I hadn't heard anything recently about an actual change. We perused the menu, which was much more limited now, and then we joined the line of people waiting to get their food.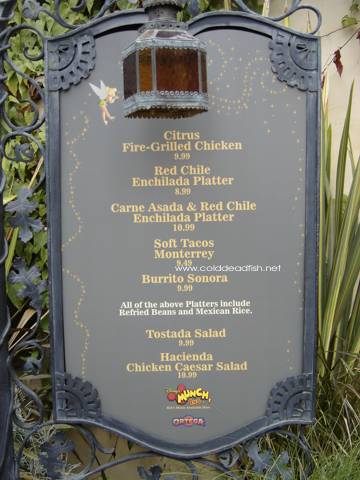 The new menu at Rancho Del Zocalo.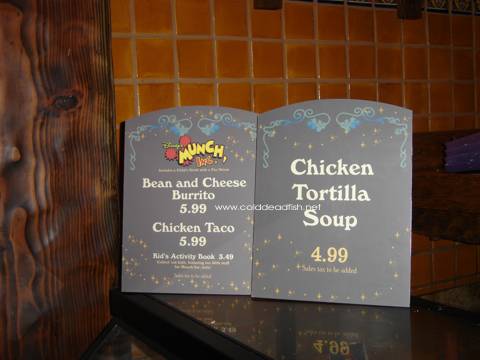 Additional items are available, but you won't know until you get inside.
One of the curiosities we've never been able to figure out is why Disney seems to make changes so that things which previously worked just fine become so much more difficult. Rancho has gone through several menu changes since the restaurant was first opened (after having taken over the space formerly occupied by Casa Mexicana), and there has always been different stations that serve slightly different items, similar to the way Plaza Inn and Pizza Port are run. However, with each menu change, it seems to be more and more difficult to get into the restaurant to get your food, which isn't a problem at the other restaurants, and the difficulties don't seem to arise from the changed menu items themselves. We were in what was the only line to get into the restaurant. After we'd been standing there for a few minutes, a CM came out and announced to the people in line that the line we were in was only for burritos and tacos. For anyone who wanted one of the other items on the menu, they should follow her. Quite a few people did, but that pretty much just resulted in a group of people cutting in front of the people already in line in front. When we got into the restaurant, we also noticed that the trays and silverware placement had been changed. Previously, there had been a couple locations where they could be picked up. Now, there was only one location, so everyone coming through the line had to pretty much get to this one area to get their tray and silverware, and it was off to the side a bit, so if you didn't notice it, you had to then come back and try to get through the line of people to get to them. It sure made a lot more sense before to have several locations conveniently separated inside the restaurant where trays and silverware could be picked up, so I can't even imagine why they decided to make the change and make it so much more difficult now.
We all eventually got our food and then went outside to look for a table. It had been raining earlier that morning, so the outdoor tables and chairs were wet and not really suitable for use at that point. We went into the covered area and found a larger table occupied by two people with leftover dishes left on the other parts of the table. We asked if they wouldn't mind us sharing, and they said no, so we cleared the other dishes and took our seats. As we enjoyed our lunch, it continued to rain, so we could see other people also having difficulty looking for available tables.
I had particularly enjoyed the garlic chicken and garlic shrimp that had been on the prior menu, so I'd been disappointed when I'd heard they'd be taken off the menu. I decided to try the new citrus chicken on the menu, but even by Disneyland dining standards, the price seemed a bit steep for what you got, especially since it was much blander now with just rice and beans, whereas the chicken plate previously came with a black beans and corn salad and a side spear of grilled pineapple. The chicken tasted fine, but I don't know that I'm likely to order it again. I'll probably opt for another selection, but I don't think I'll be suggesting Rancho as a meal destination much. My husband had the carne asada and cheese enchilada plate, and he said it was good but would have liked to have a little more meat than just the four little slices. [We all shared the gingerbread man for dessert. At this point, he'd been broken into multiple pieces, but he was still quite tasty.]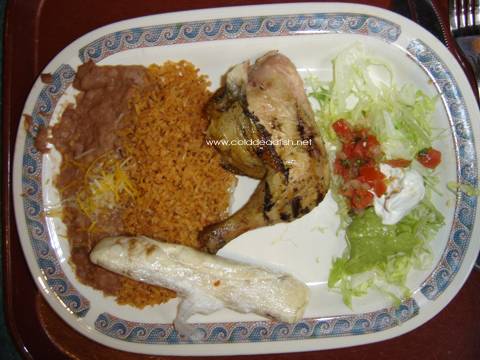 The new chicken dish.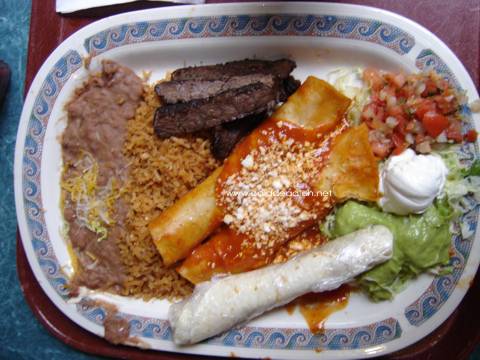 The new carne asada and cheese enchilada dish.
After lunch, we headed over to Haunted Mansion Holiday to get Fastpasses, and then we wandered around New Orleans Square a bit. At this point, it was about 2pm, and it started to rain again. We decided to head to the Main Street Opera House since it was out of the rain and we enjoyed periodically seeing the new film hosted by Steve Martin and Donald Duck about Disneyland's 50th. When we got done with that, we decided to head to Innoventions so my husband could see Asimo the robot, which he hadn't seen before. The CM working outside was someone we knew, so we said hi to him and then proceeded inside. We walked around the bottom floor a bit, and it was weird to see so many people inside. Many people had chosen to camp out in Innoventions to avoid the rain, and it almost looked like a shelter inside, with people leaning against every wall, and even some people sleeping in dark corners. Couples, small groups and entire families were all settled in Innoventions away from the storm outside. At about 2:50, we found ourselves at the counter where tickets are given away for the Asimo presentation. The CM there had just informed another group that while the show is done every hour on the hour, there was a break at 3:00 so there was no 3pm show. We decided we didn't want to wait another hour for the next show, so we headed upstairs, wandered around there a bit and then exited. At this point, we decided to get on the train at the Tomorrowland Station, and we ended up riding it for one and a quarter loop. It was still raining, so we got sprinkled on periodically, depending on which way the wind was blowing the rain. We eventually got off at Main Street, wandered around the very busy Emporium for a bit and then ducked into the Main Street Cinema, where we caught one showing of "Steamboat Willie" and one showing of "Plane Crazy". I happen to love both of those shorts, but they are definite reminders that Mickey hasn't always been the nice guy that everyone has come to know.
It was getting close to 4:30pm, and I had previously decided I wanted to see the flag retreat, so we waited in Town Square by the flagpole. The three security officers were in their regular uniforms but with clear raincoats over them, and it was nice to see that even in the rain, there were a number of people who stopped to watch as they took down the U.S. and California flags. I had also wanted to see the lighting of the Christmas tree, which was to follow soon after, so we took a bit of shelter under one of the Emporium awnings so that we'd have a good view of the tree lighting. At about 4:50, there was a short announcement where everyone was instructed to say "happy holidays", and then the tree lights slowly came on. We were very disappointed that the tree lighting was so short, especially since I had recalled seeing it in previous years when the Dickens Carolers sang songs beforehand. In speaking to a friend later in the evening, she told us that she'd seen the tree lighting about a week prior, and the Disneyland Band, the Mayor of Main Street and Mickey himself were in attendance. We figured that the lighting ceremony was cut extremely short this day because of the rain. As we had been waiting for the tree lighting ceremony, we noticed a lot of people heading down Main Street past us and toward the exit gates. We figured the rain was chasing a lot of people either home or back to their hotels. At this point, the Space Mountain Fastpasses we had gotten earlier were up, so we headed there.
We went to the exit area, where we ended up finding a spot for me to sit down. I gave my Fastpass to our friend, and he and my husband headed off for their ride. I hadn't been back there in quite some time, and I had ended up sitting in front of the kiosk where you could purchase your ride picture. They also had other Space Mountain merchandise available, including a really cute t-shirt that I hadn't noticed before. I absolutely love the design because it combines all the important elements. The t-shirt is available in grey for adults and dark blue (or black - I couldn't really tell which) for children. They had another t-shirt there as well, but I didn't care for that design that much. I ended up going back the next day to purchase the t-shirt.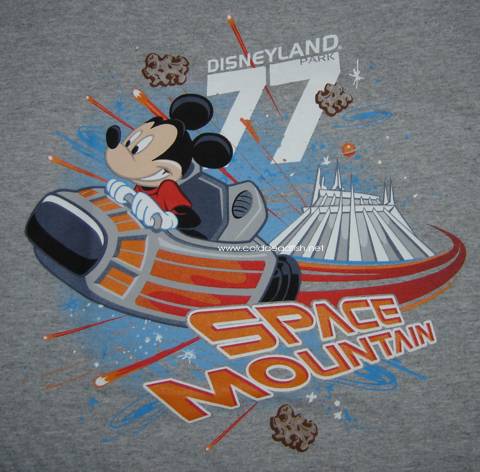 A cool new design for a Space Mountain t-shirt.
It was about 5:30 when my husband and our friend returned from their ride, and we were pleased to discover that the rain had stopped. We decided to head for Fantasyland. We started with Peter Pan, which usually has an amazingly huge line (we noticed that the extra queue space was still up and extended to the store next to Peter Pan), but it wasn't actually that bad, so we got in that line and had a nice ride. We then went on Mr. Toad's Wild Ride, making back-to-back visits to London.
When we got off the ride, we noticed people with New Year's hats, and while we'd seen people throughout the day with various New Year's adornments, they were individuals who we presumed brought their own. When we saw a number of people with the same hat and noisemakers, we figured they must be Disney issued. My husband had read in the park guide earlier in the day that hats and horns would be distributed starting at 7:30pm, so we figured they must have decided to start earlier. We headed to Big Thunder Ranch (the other location was near Small World) and were directed to what was actually the Festival Arena. They had tables that had hats stacked on them and horns as well. They also had CMs holding hats and horns, who we ended up getting ours from. With the availability and setup, it was really quick and easy to get the hats and horns. We got one of each for ourselves, and I took an extra of each for another friend. The hats were black plastic, with a strip of gold above the brim with "Happy New Year" in block letters across the front and in script on both sides of the back. The horns came in assorted colors.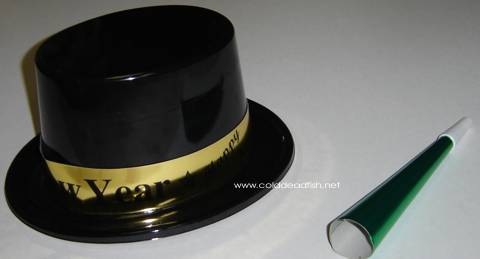 The festive hat and the green version of the celebration horn.
We then went back to Fantasyland and tried Pinocchio, but while we were in line, the ride experienced a problem, and it was announced that it would be 20 minutes before it would be operating again, so we got out of line and went to Snow White's Scary Adventures instead. We then headed over to New Orleans Square, but our return time for Haunted Mansion Holiday wasn't quite up yet, so we proceeded to Critter Country and rode The Many Adventures of Winnie the Pooh and said hi to the tribute to the Country Bears. We then went back to HMH and enjoyed a nice ride.
We had spoken to another friend earlier who had decided she was going to come down for the evening. We had then been discussing where to have dinner since we figured it would be crowded, even with all the people who might have left because of the rain. Our friend had expressed some concern about being able to get into the park since on several days in recent weeks, Disneyland had been restricting entry into the park because of capacity, but we figured the rain would have chased enough people away that it wouldn't be a problem. However, the rain also meant that much of the outdoor seating at dining locations wouldn't be available. When we had been on our way from Fantasyland to New Orleans Square, we had passed by the Golden Horseshoe, and I had wondered how late they were open. My husband had gone to read the sign and came back to say that while the last show as at about 5:30, food would be served until 9pm, so we had discussed going there for dinner. After we got off HMH, we went to the Golden Horseshoe to see if there were tables available. There were people in there, but it wasn't terribly crowded, and we managed to get two small round tables that we could push together. While we'd been on HMH, our other friend had called to say she'd arrived and was at Carnation Plaza with some other friends who were hoping to be able to dance that night. Our friend and I stayed at the Golden Horseshoe while my husband went to get our other friend. When they got back, they got in line to order while I stayed at our tables. The menu at Golden Horseshoe is similar to that at Stage Door Cafe and Strips and Dips at DCA, with chicken strips and batter fried fish, with the Golden Horseshoe also offering chili in a bread bowl. The Golden Horseshoe ended up being a great place to have dinner since it was indoors and all the tables and chairs were dry, and it was relatively uncrowded. They were also playing various Disney songs, so we enjoyed listening to those as we had our dinner. During the course of dinner, we noticed that other people had apparently discovered the place as well, as the line to order got to be 15 or 20 people deep at one point. We ended up in there for a while, just being indoors and enjoying chatting with each other.
As it got closer to 9pm, we decided to head out and stepped into a nearby store to do a quick bit of shopping. As we then left, the first showing of Fantasmic was already under way, so we headed towards Main Street, but none of us had thought about it much, so it wasn't until we got there that we realized many people were crowded onto Main Street to wait for the fireworks. We made our way across and decided to head towards Small World, which is where we generally see the fireworks, but since the walkway by the Matterhorn was closed in anticipation of the fireworks, we were routed through Tomorrowland. When we passed by the Buzz Lightyear ride, I was amused at the Fastpass return time (and surprised there were still Fastpasses available, as we knew that Fastpasses for Space Mountain and HMH had been sold out at some point during the day), and when I pointed it out to my husband and our friends, they were amused too, so we all got Fastpasses as souvenirs.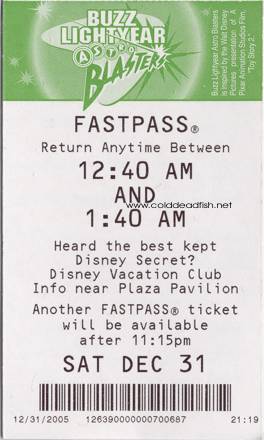 Only a Disney dork would get a Fastpass just because of the funny return time.
With only about 15 minutes to go, I didn't think we'd actually make it to Small World before the fireworks started, but we ended up finding space on one of the elevated sections along Small World Mall, where we had a fairly decent view of the fireworks and the Matterhorn, though the castle was concealed from view, and the fireworks started shortly after we got there. With the rain and wind earlier in the day, we had been concerned that there would be no fireworks this evening, but even though it was still a bit cloudy, the wind had apparently died down enough for the fireworks to be presented. "Remember...Dreams Come True" is indeed a wonderful fireworks presentation, even when you can't see everything that happens on Main Street. For the holiday season, after the fireworks, there is "snow" on Main Street, in New Orleans Square and on Small World Mall. I thought we were far enough down not to get snow, but it turned out we were right in the middle of it, so during slight wind shifts, we got pelted pretty good.
After the fireworks, we decided that Small World would be a good place to be at midnight, so we decided to hang out at the nearby Fantasia Gardens. We found an empty bench and chair and enjoyed just spending time with each other there. They also had a DJ on Small World Mall who was playing music we actually liked, so we enjoyed listening to the music as well. One curious thing we encountered was that at one point, the DJ referred to one section of people as the "ashtray" people. We had no idea what that meant. We tried to think of things that he could be referring to, but we came up with nothing. Even the obvious, that they were smokers, didn't work since Disneyland has designated areas where smoking is permitted, and there was no such designated smoking area in Small World Mall. Maybe at some point, we'll come across someone who knows why he kept referring to them with the word "ashtray".
At about 11:45pm, we decided it was time to head back up to Small World Mall and see if we could find someplace to go. Small World Mall itself was actually packed with people, but we headed back up to the elevated part, which wasn't nearly as crowded, and found space up there to wait for the new year. There was apparently a dance floor area, as the DJ had been talking about various people dancing, and my husband said he could see some of the characters on a stage as well.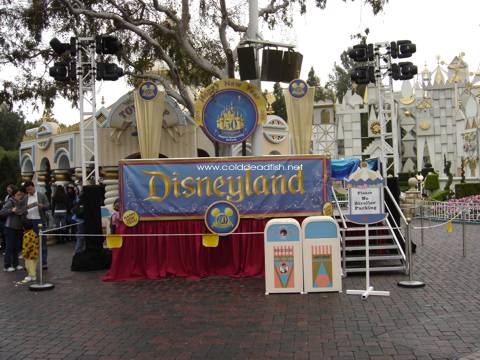 A picture taken earlier in the day of the Small World Mall stage.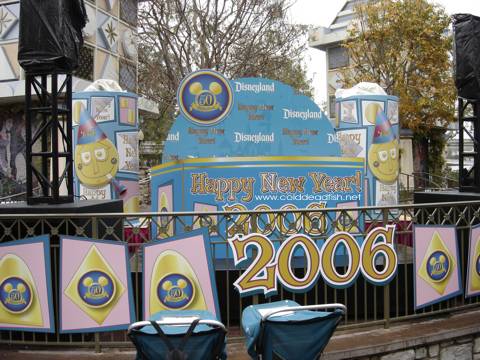 A picture taken earlier in the day of the Small World Mall DJ platform.
A couple of us had our New Year's Eve/Day pins on, and the pin includes a circular portion that says "New Year's Eve 05" on one side and "New Year's Day 06" on the other side, and that portion spins, so we were ready to spin that portion when midnight hit. My husband observed that with the stormy weather early in the day, which cleared enough for the 9:30 fireworks, the sky was now completely clear, and stars were clearly visible. There was even no wind, which would be evident later when the smoke from the fireworks didn't dissipate at all. For the last five-second countdown, single rocket fireworks were fired off to count down each last second, and as midnight hit, fireworks were also launched from the castle and somewhere on Main Street (based on the smoke we saw right afterward since we hadn't been facing that direction and didn't actually see the fireworks).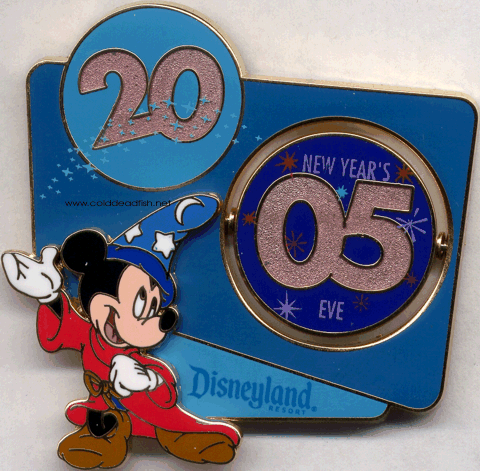 HAPPY NEW YEAR! Goodbye 2005, hello 2006.
Immediately following was a presentation of the "Fantasy in the Sky" fireworks to celebrate the new year. We had all been familiar with what the "Fantasy in the Sky" fireworks were like, but this presentation went above and beyond that show. The same soundtrack was played, but the new fireworks technology enabled them to not only have better and more interesting fireworks, but at various times, there was an absolute barrage of fireworks in the air. The finale to the show was deafening. We hadn't really known what to expect, since Disneyland's recent fireworks shows ("Believe" and "Remember") had far surpassed the old "Fantasy in the Sky" fireworks, but the midnight show was as awesome as you'd expect from Disney.
After the fireworks ended, we headed back to Fantasia Gardens to wait out some of the crowds. After about half an hour, we decided to venture out. We first headed to Toontown to see if it was open, but we then realized that with the midnight fireworks, they wouldn't be reopening Toontown for the rest of the night. We then headed back to Fantasyland to try to finish up the rides we hadn't been on. The first stop was Pinocchio, which was working again and which we were able to ride without a hitch this time. Our last stop on the Fantasyland dark ride tour was Alice in Wonderland. We got on the ride and managed to fall down the tunnel and had just passed Tweedle Dee and Tweedle Dum when the ride broke down. A CM came over the loudspeaker to ask us to remain seated until someone came to let us out of our vehicles. We decided to place the blame of the ride breakdown on one of our friends, since she'd had a rather interesting encounter with the Tweedles multiple months prior. At this point, it was almost 1:30am, so it was time for our ride on Dumbo. Years ago, when we'd been coming to Disneyland on New Year's Eve, the tradition had evolved that we had to ride Dumbo when the park was open after midnight, and eventually, it became the 1:00am Dumbo ride. Mostly, it was because Dumbo was generally extremely crowded, and at that time of the morning, the line was much shorter. We headed to Dumbo where we only had to wait one cycle, and then we each got our own Dumbo, though we were disappointed to discover that they no longer gave out feathers to claim a Dumbo. We didn't know when they'd stopped doing that. After Dumbo, we continued the theme by taking a ride on Casey Junior, which had an even shorter line. We chose to sit in the caboose. After that, it was off to the carrousel. There was only one party in line in front of us, who turned right when the gate opened. My husband headed left and so was able to ride on Jingles, the lead horse who was gold for the celebration. Everyone else put their party hat onto their horse, but my horse had his ears pulled back and so could not support a hat.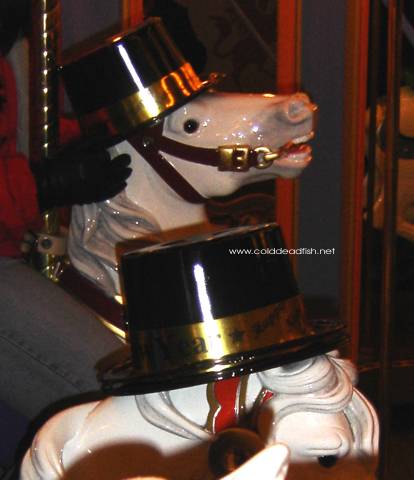 Even the horses can join in the new year's celebration.
After that was done, we knew we only had time for one more ride, so we decided to leave Fantasyland and take a ride on Big Thunder Railroad instead. We walked through the queue all the way to the loading station, and we were assigned the back of the train. One of our friends and I decided we weren't up for doing the "goat trick", so we let the boys sit in the very back row.
When we were done with our ride, we headed towards the Rivers of America and out through Frontierland. As we were approaching Main Street, we could hear the recording being played which announced the end of Disneyland's operating day. Normally, Main Street is open for an additional hour for shopping, but with the 2am closing time, the recording basically bid everyone a good night. As we walked down Main Street, most of the shop doors were closed, except for the Kodak location where picture pickup was. Some doors were still open, but that was only to let people out. I could see some people still inside stores and figured they just weren't being asked to leave yet. We stopped by our lockers to pick up our belongings, and one of our friends mentioned being hungry and wanted to stop by Denny's so the rest of us decided to go along. Service at Denny's was extremely slow, so it took some time for us to get our food, and we didn't end up leaving there until close to 4am. We bid farewell to one friend, and the other friend dropped us off at our hotel.
January 1, 2006
With our very long day and late night the day before, we only got up in time to get ready and be out of the hotel by the noon check-out time, arriving at the parking structure at about 12:15pm. After getting off the tram, we made a stop at the World of Disney and then Acorns, the shop inside the Grand Californian Hotel, noting along the way that blowers had been set up in the lobby area to continue the drying out process from the water damage that occurred from the Christmas tree fire that happened several days previous. We noticed that the normal carpet in the middle of the lobby had been replaced by more generic carpet, presumably on a temporary basis. There were some partitions and shrubbery set up to hide some of the machinery, but the lobby was quite full.
While we were in the World of Disney, we had noticed there was already Valentine's Day merchandise out for sale. There was a set of Mickey and Minnie mini-bean plushes. There are magnets under each of their noses so that when put together, they "kiss". The cost is $20 for the set.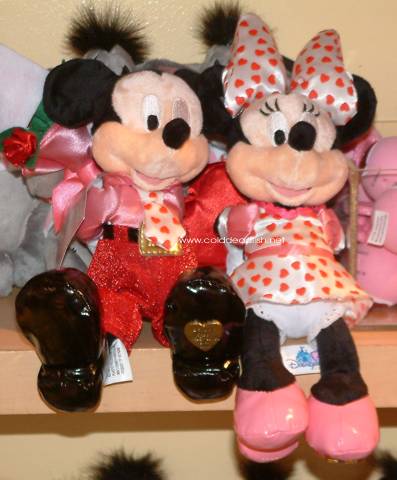 Mickey and Minnie Valentine's Day plush.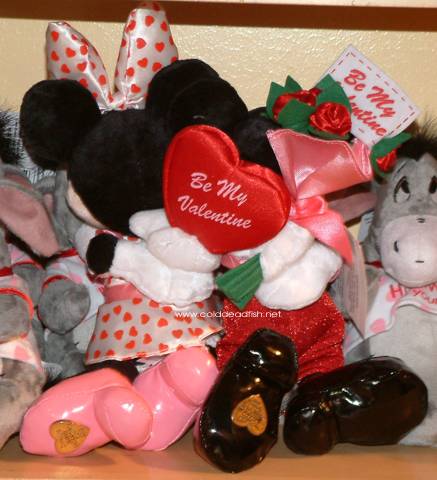 Mickey is hiding flowers while Minnie is hiding chocolates.
There is also a mini-bean of Eeyore wearing a shirt that says "Hug Me I'm Yours" on the front and "Happy Valentine's Day 2006" on the back, as well as a mini-bean of Marie (from "The Aristocats") with a collar tag that says "Kiss Me I'm Yours" and wearing a flowery hat. The cost of each is $10.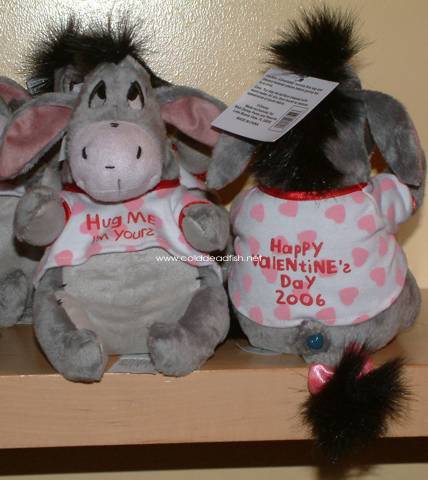 Eeyore dressed for Valentine's Day.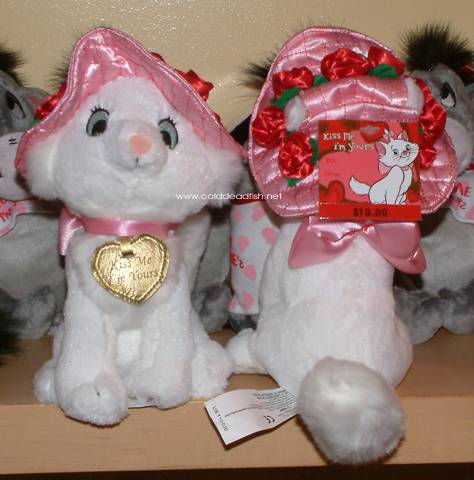 Marie is ready for Valentine's Day as well.
There's also a new Valentine's antenna topper, which I kind of like, but I think the heart in the middle is a bit over-the-top.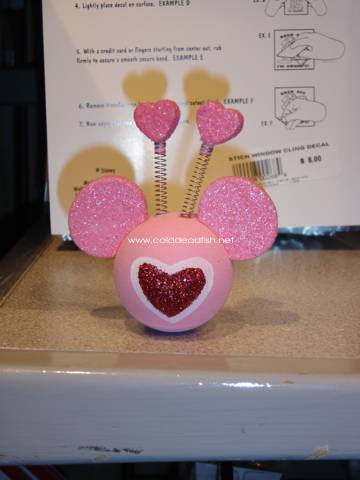 A new Valentine's Day antenna topper for 2006.
We had previously noticed that the new 2006 Disneyland Resort line includes a new antenna topper as well.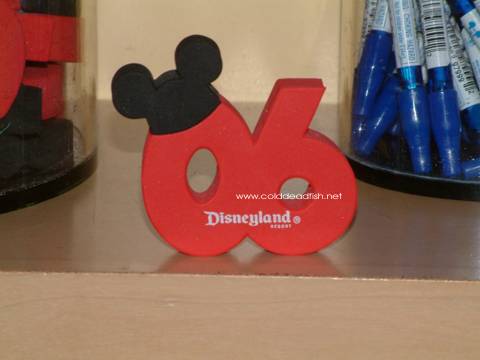 The new Disneyland Resort 2006 antenna topper.
We made it into Disneyland, and as we were walking through Town Square, the horse pulling the carriage caught my attention because he had birthday stickers all over him. We went to where the carriage stopped, and I was able to talk to the driver CM. I asked if the horse had really been born on January 1, and he said that in the horse world, all horses have their "birthdays" on the first of the year as that is when they are designated as being a year older. Even a horse that's born in November is considered one year's old when January rolls around two months later.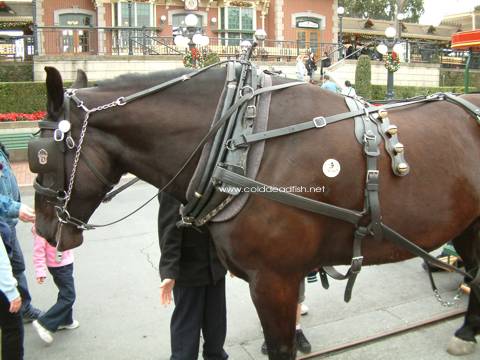 Horses get birthday stickers too.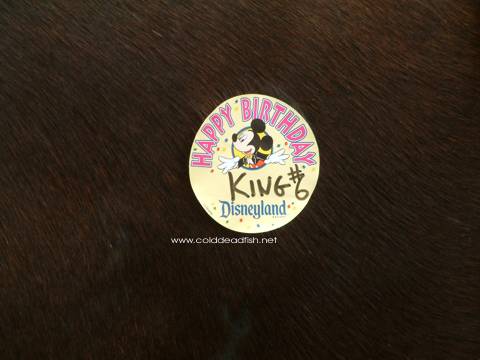 Happy Birthday, King!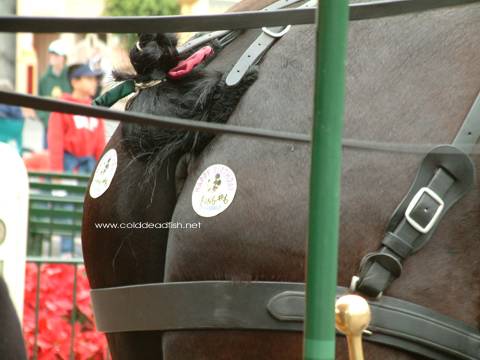 Birthday stickers can be put just about anywhere...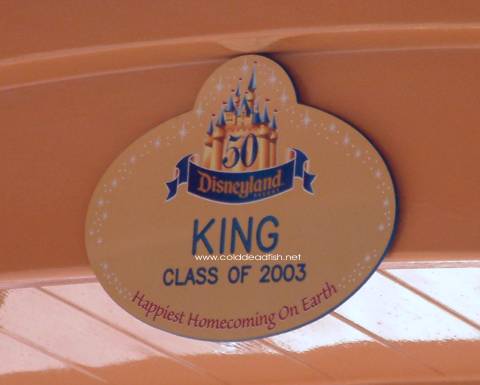 Even the horses got new nametags for the 50th - look for them inside in front of the driver.
We then headed to Haunted Mansion Holiday to get Fastpasses, went to Plaza Inn for lunch, headed to Space Mountain to get a commemorative Fastpass dated January 1, headed back to HMH for one final ride and then out of the park at about 2:30pm just as it was starting to rain.
Since we had been changing our minds back and forth about spending New Year's Eve at Disneyland, we were so happy that we had decided to do so. There were a couple of hours of rain in the afternoon, but it was never that cold, something that tends to bother me. Even with the rain, we managed to have fun, and then the rest of the evening, we had a great time, even going on many rides (who would have thought that would be possible on New Year's Eve evening before midnight?), watching the normally great fireworks show and then watching an even more amazing fireworks show at midnight, with the rain, wind and clouds banished for the evening. And all this while sharing the fun with good friends. Who could ask for a better way to start a new year?
Back to Cindy's Disneyland Resort Page.
Back to home.