HAUNTED MANSION 40TH ANNIVERSARY EVENT
SEPTEMBER 9, 2009
QUICK JUMP TO SECTIONS
Online Registration.
Preparing for the Event
Event Registration - 9/8/2009
Event Day - 9/9/2009
Artist Signing
Haunting Seminar
Wedding "Feast or Famine"
To The Mansion
INTRODUCTION
The Haunted Mansion attraction at Disneyland celebrated its 40th anniversary this year, and in honor of this occasion, Disney held an event to celebrate. Well, they called it a "merchandise event", a term which I really hate and object to. The Tiki Room had a "merchandise event" for its 45th anniversary last year - all Disney did was release merchandise for its anniversary and didn't actually bother to have an actual celebration. With the Haunted Mansion anniversary, it was a whole event, with a panel and a dinner and a show. Sure, I like merchandise for these types of events, but I just don't think that the merchandise should be the focus of the celebration, and having the term "merchandise event" makes it seem like the attraction is secondary to the merchandise, which I don't think should be the case. And yes, I know that the merchandising department runs these events.
For anyone who has previously read any of our event coverage (and even for those who haven't, I suppose), here's a disclaimer up front - there were a lot of things that Disney did wrong with regard to this event, pretty much from beginning to end. And all of those things will be mentioned in the course of this report, and I'm not happy with the fact that there are going to be so many things that I will end up being critical about. But, the bottom line is that we (the husband and I, and a friend who also came to the event) had a good time, in spite of the multitude of problems that arose, and none of us regretted having gone. Disney really goes all out for these kinds of events, and on the grand scale, things were good. It's the small things that went wrong, which isn't normally that big a deal, but when there's a growing mound of small things that go wrong, pretty much all of which could have been easily avoided, it does tend to mar your experience somewhat. I'm not sure what those problems can be attributed to, whether it's the customary pattern we've seen where Disney seems to forget every couple of years how to run any particular kind of event, whether it's because much of the merchandising staff was let go earlier this year so there might not be as many people around to run the event, or whether it was because Disney bit off more than it could chew by having the Haunted Mansion event the day before the huge inaugural D23 Expo, an event that I'm sure must have taken up quite a bit of what was left of the merchandising staff. In any case, the story of this particular event started months before the event itself.
ONLINE REGISTRATION
The Haunted Mansion event was announced on Disney's events website in late November of 2008. They also had "save the date" cards that were mailed to people who were previously signed up on the Disney Gallery mailing list, and the cards were also available at the Disneyland Resort at the Disneyana store.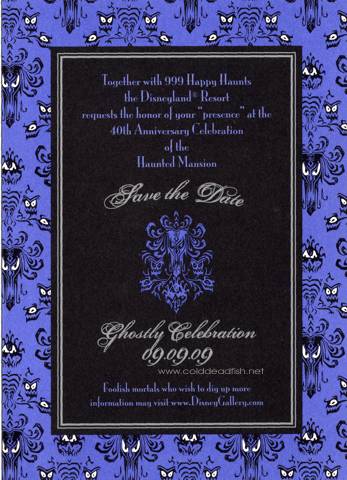 "Save the date" event card.
Registration was scheduled to occur on January 20, 2009 for the two upper-level packages that included one night's hotel stay (at either the Grand Californian or the Disneyland Hotel, depending on the package) and on January 21, 2009 for the two lower-level packages (one of which was identical to the upper-level packages but just without the hotel stay and one that was pretty much a bare-bones package). The most troubling part of the announcement, however, was that each person had to register separately. In the past, each person could register up to four people, which would work better for couples and families who wanted to attend the event together. Now that each person had to have their own registration, and since registrations for these types of events sell out notoriously quickly, it was entirely possible that one member of a couple could get a package while another would be unable to, or perhaps half a family could get a package, but the other half couldn't, or if a parent wanted to bring a child, it was possible for only one of them to end up getting a package. Since the registration date was 2 months away from the initial announcement, though, I hoped that they would make a change to the "1 person per registration" requirement by the time of registration.
January 20, 2009 came around, and I was disappointed to see that the requirement had not been changed at all. As it turned out, the husband was not able to be at a computer at registration time, so I was in the position of having to try to register for the both of us. Even with my own registration, it was difficult to get through. I repeatedly got failure messages or messages that the queue was currently full, as did many others who were also trying to register. I finally managed to get into the system and complete my registration for the Grinning Ghosts package, and I continued to try to get a second registration for the husband, but both packages were sold out in about 15 minutes. I did, however, manage to get into the system again far enough to get the husband on the wait list for the Grinning Ghosts package.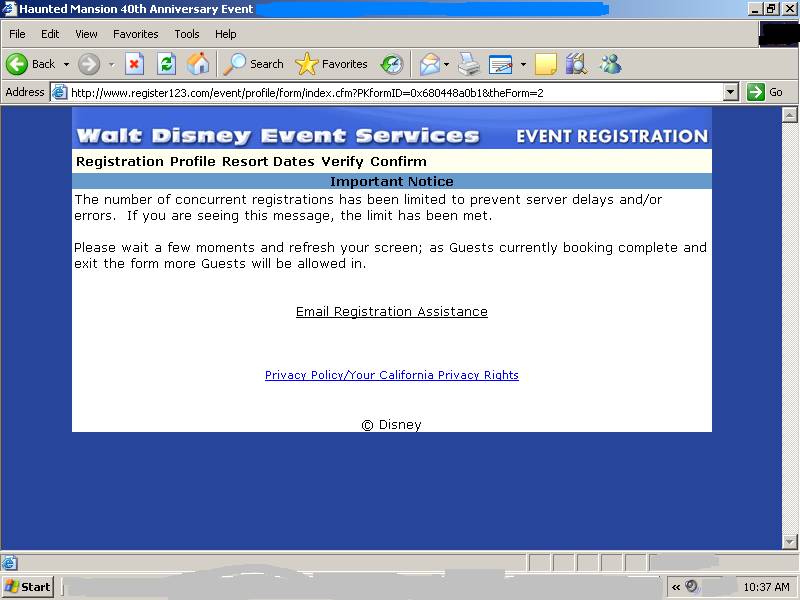 This was taken when I was testing out the link prior to registration, but this message came up often during my attempts to register.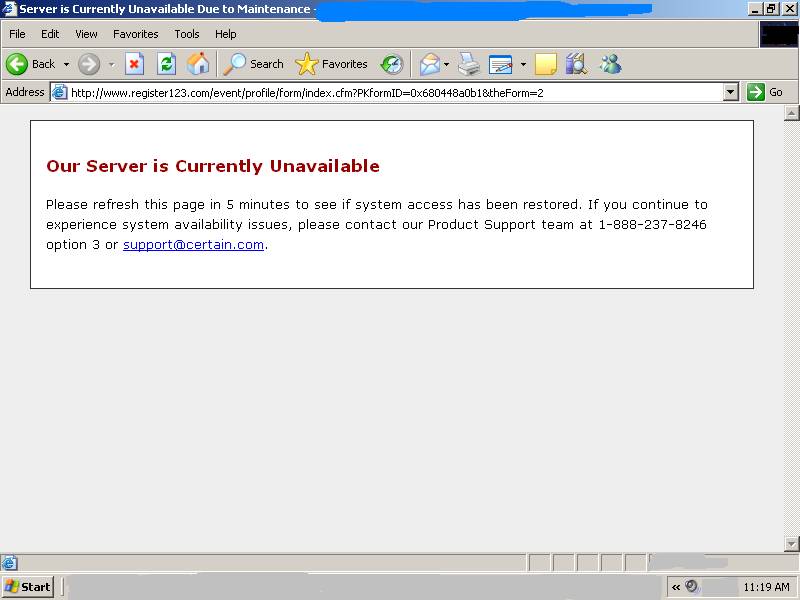 Well, this is a problem when you're trying to register.
Since we didn't know if anything would come from the Grinning Ghosts wait list, we wanted to make sure that the husband would at least be able to attend the event, so the next day, we both tried to get into the system to get him registered for the Dearly Departed package. And the same problems/messages I'd encountered the previous day arose on that day as well. He did finally manage to get completely through registration, but a friend who had been planning on attending with us under that package as well never got a package but instead got on the wait list for Dearly Departed. The Dearly Departed packages were sold out in about 45 minutes, and the Hitchhiker package sold out in about 2 hours.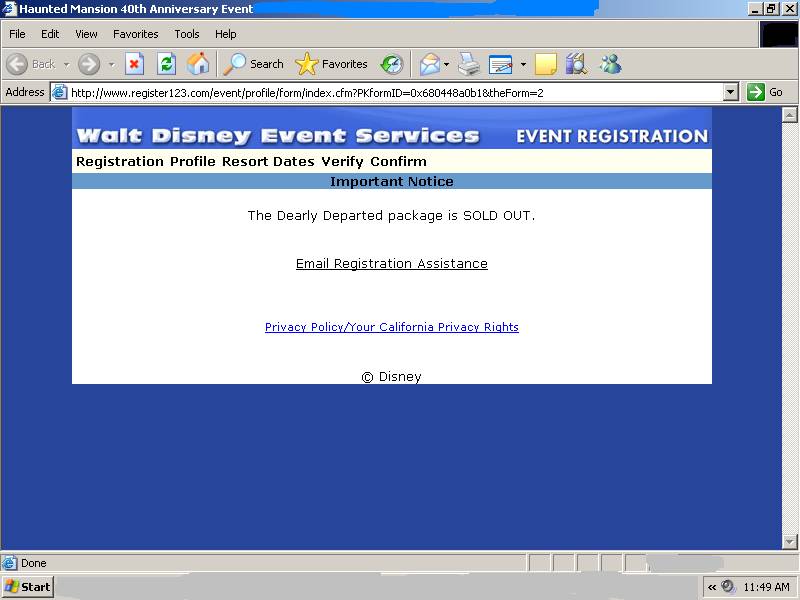 Dearly Departed package no longer available. Notice the time stamp on the bottom right.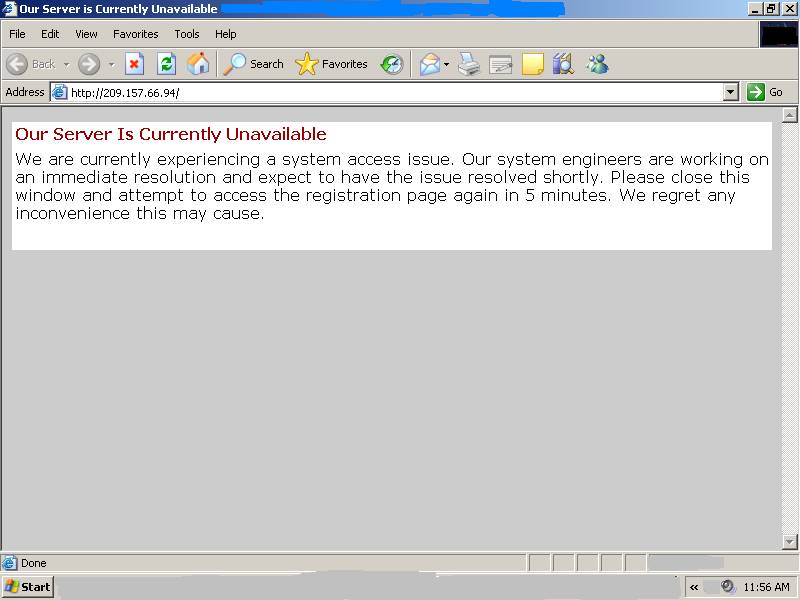 And the problems get worse for those still trying to get the Hitchhikers package.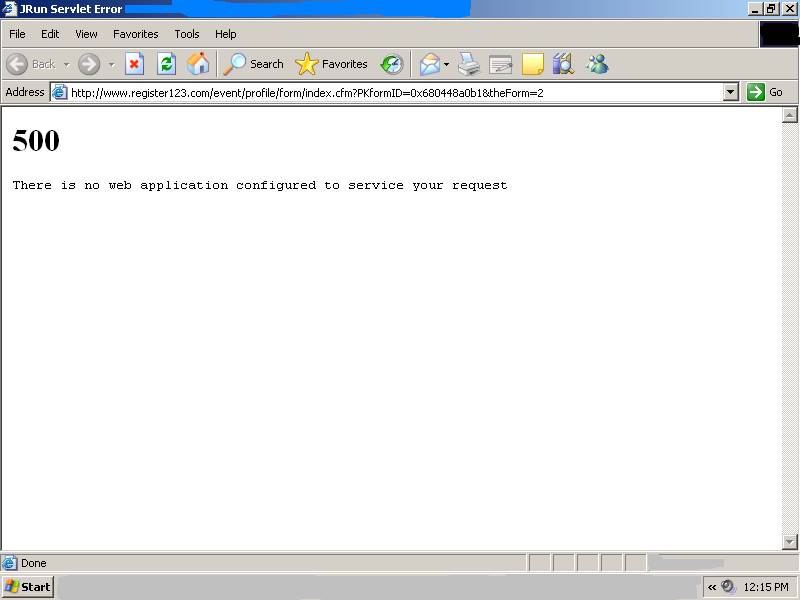 And even worse.
For informational purposes, included below are screenshots of the main page announcing the event as well as what each package includes. These shots were taken after the packages had already been sold out, which is reflected in the text.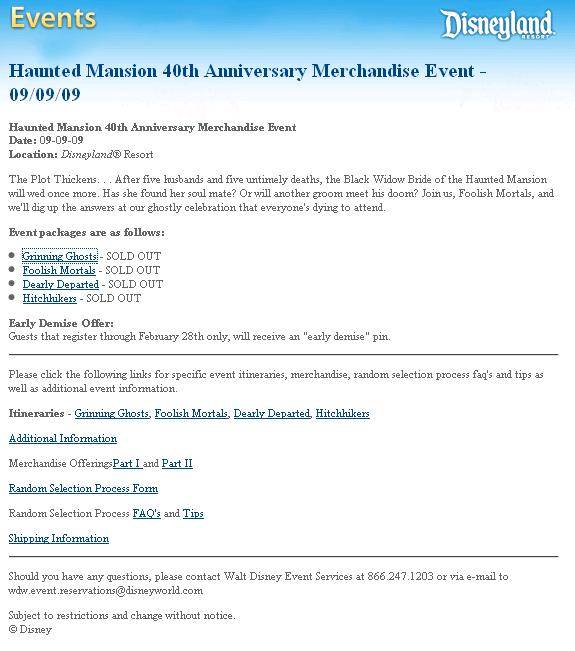 Main page for event.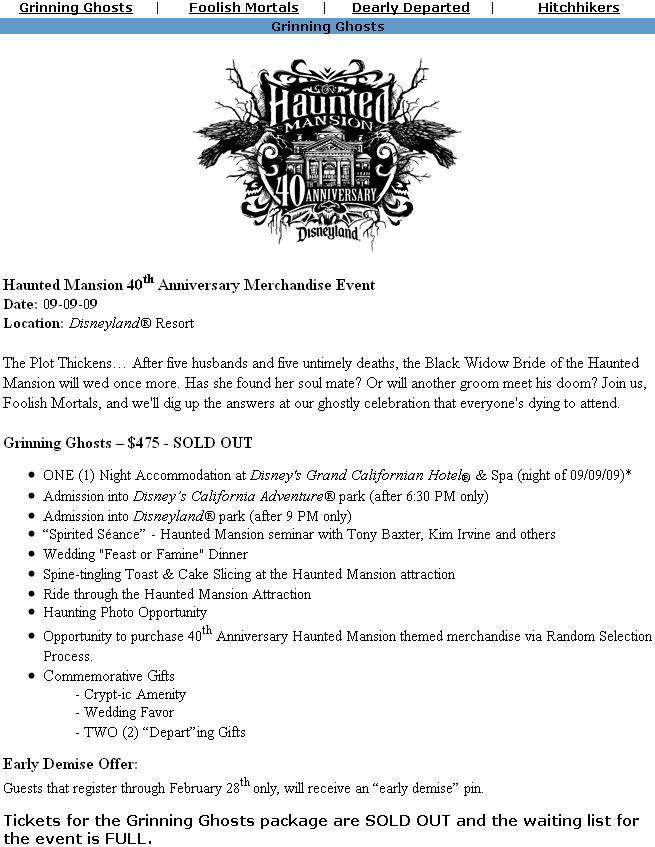 Grinning Ghosts package details.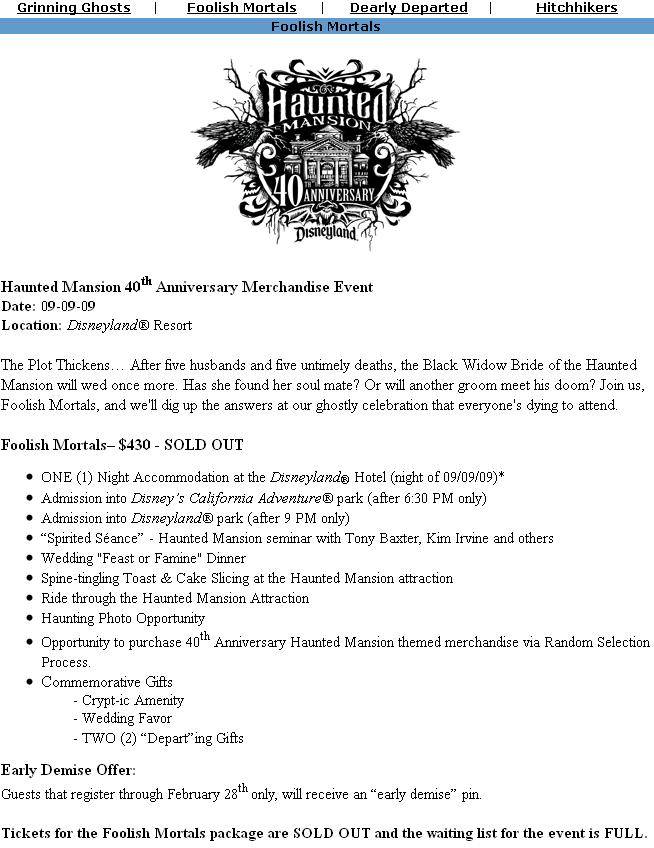 Foolish Mortals package details.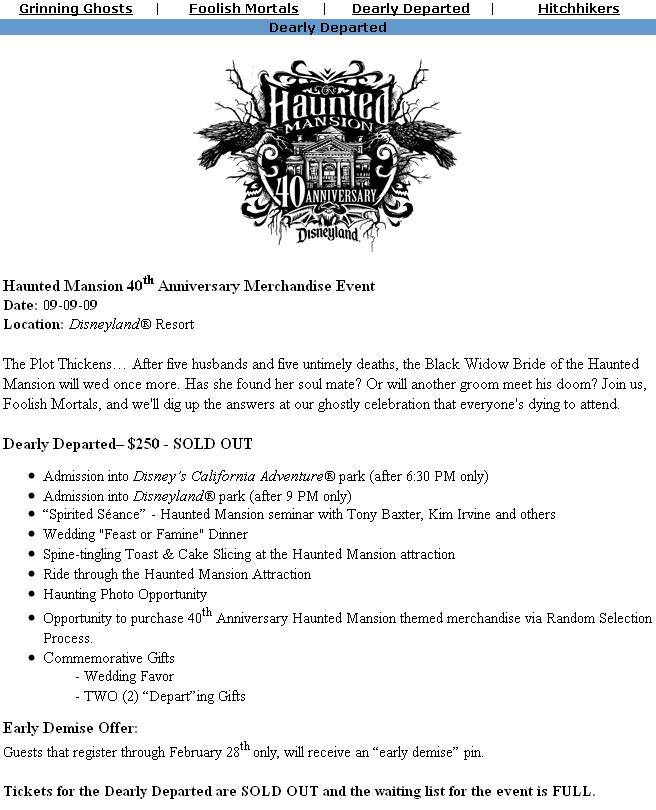 Dearly Departed package details.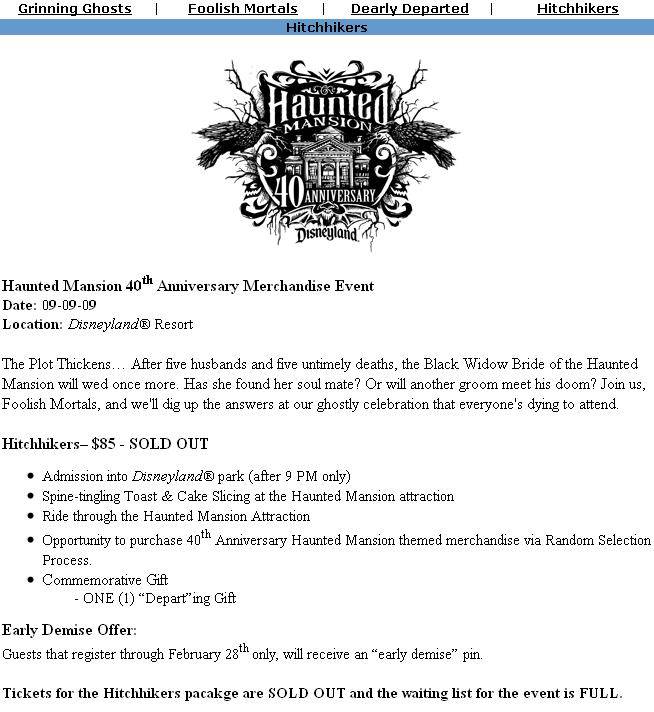 Hitchhikers package details.
The fiasco of the registration was bad enough. Disney routinely has events that they KNOW are going to be popular, based on past history, and yet, they continue to not have the resources to be able to handle the volume of people who will be registering for these events. For the Candlelight Procession dinner/show packages that were available last December, I'd read about these exact same problems happening. Lots of venues and companies are able to handle a high volume of people trying to register online at the same time for a limited number of tickets to something, and they can do it without the server crashing or the other frustrations that I encountered on both registration days, so I cannot for the life of me figure out why Disney can't as well.
But then on top of that mess, I still don't understand why Disney switched to only allowing one person per registration. While we would have preferred both having the same package, it wasn't a problem that we only got one hotel package and one non-hotel package. But what if he hadn't been able to register for the Dearly Departed package at all? I would then be in the position of deciding whether to go without him. And what if that had happened with a couple from out of town, where it's not as simple as a 30 minute drive to the Disneyland Resort, but rather, it's about making travel arrangements? Does half the couple buy an airplane ticket and leave the spouse at home, or does the couple both come with one of them attending the event and the other half trying to find something to occupy themselves with in the meantime?
I don't know why Disney put the restriction of one person per registration on this event only, because for the Candlelight Procession event last year, one person could buy more than one ticket, and for Mickey's Halloween Treat, one person can buy more than one ticket. Having one person per registration doesn't even guarantee that someone can't horde reservations since the following is clearly stated on the confirmation email: "Tickets for this event are non-refundable, however name changes will be accepted until 4PM Eastern Time on August 28, 2009." So why not let one person register for 2 or 4 people (whatever limit they decide on) and then be able to do a name change to the other people in the party attending with them? One person on a discussion board that I'm on stated that she registered herself two times for the same package and then just did a name change to the person who was supposed to be going with her to begin with. But why put her through the trouble of having to go through the system twice? Why not let her register for 2 spots to begin with and if for whatever reason, the name of the companion can't be submitted right there, the name change can be done later anyway?
Because of what seemed to be numerous occurrences of the problem I expected to happen - half a couple or part of a family was unable to register for the desired package - Disney did relax their rule that the tickets were non-refundable. In a case where the entire party couldn't get into the event, they allowed a refund to those who had gotten a package. Consequently, some packages opened up after that. The husband never got contacted about a Grinning Ghosts package being available, so it was a good thing that he did get the Dearly Departed package. I was then just able to add his name to my room registration so that we could share the hotel room that was part of my package. (Had he been able to get the same package I had, we would just have been able to spend two consecutive nights at the hotel, which would have been nice but wasn't absolutely necessary.) Luckily, our friend ended up getting a Dearly Departed package after all.
About a month or two after registration, the husband and I were in a store at Disneyland, and we overheard a couple talking to a cast member about the registration. The wife had gotten the Dearly Departed package, but the husband wasn't able to get that and only got the Hitchhikers package. Whereas the Dearly Departed package includes all the same events as the Grinning Ghosts and Foolish Mortals packages, the Hitchhikers package was much more limited and did not include the seminar nor the dinner. If they chose to, they could attend the artist signing in the afternoon, but otherwise, they didn't have any event-related activity until 9pm, when they would be allowed entrance into Disneyland and to the Haunted Mansion. So, for the afternoon and early evening, the wife would be at the seminar and dinner while the husband would have to get dinner elsewhere on his own and occupy himself until 9pm. We know that this happened in a number of cases (where couples or at least groups were separated) because we saw the reunions that occurred when the participants of the three dinner-included groups met up with the Hitchhikers package participants. Of course, each of them chose to keep the packages they had and to have their couple/group be separated during the event, but I just don't think that a couple or a family should have been put in the position in the first place of deciding whether or not half or part of them would attend. For a couple or an entire family to not have gotten into registration is one thing, but for only half or part of them to have gotten in? That is just not what I think Disney should be making happen.
PREPARING FOR THE EVENT
After registration, the next step was to wait for all the information about the merchandise that would be available for event participants. There were various deadlines to submit requests for different items. We didn't end up with too many things on our request forms. Much of the merchandise was centered around the attic in its current incarnation - a change that occurred in May of 2006. With so many other recognizable and beloved aspects of the Haunted Mansion, I found it incredibly odd that a major part of the available merchandise for its 40th anniversary focused on one section that had only been around for a little more than 3 years.
As September 9 drew closer, I went to the event website to see what information was available about the event and to see the itineraries for the various packages that had been posted. The itineraries for the three upper-level packages were identical, with the Hitchhikers package only having a different itinerary.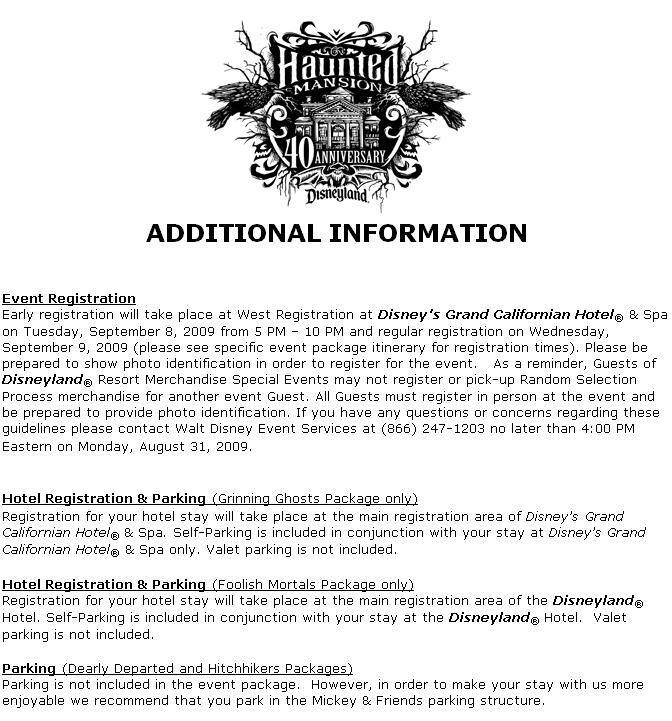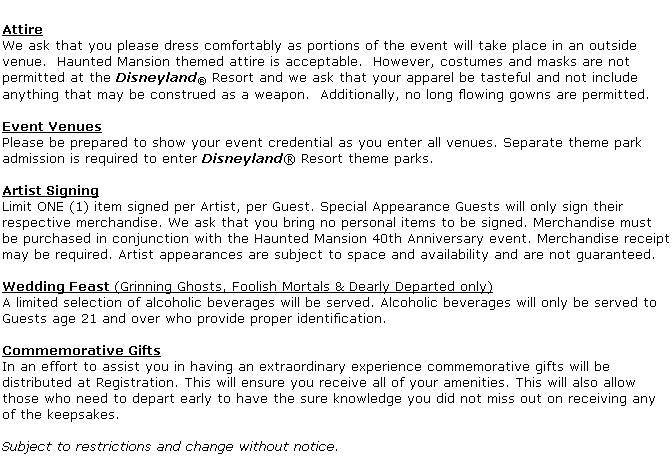 Additional information for the event.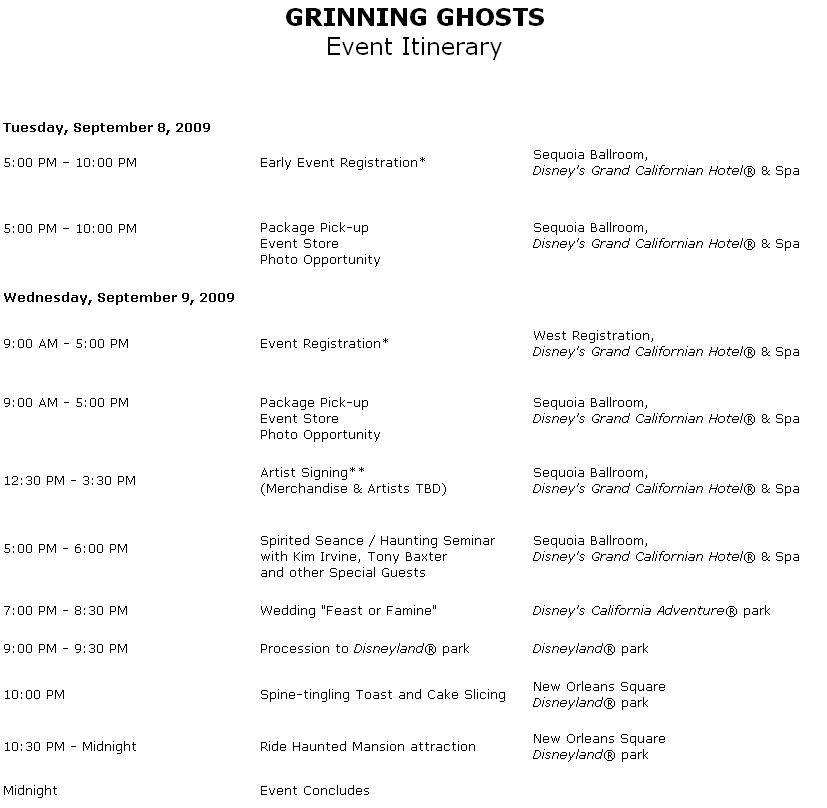 Event itinerary for Grinning Ghosts, Foolish Mortals and Dearly Departed packages.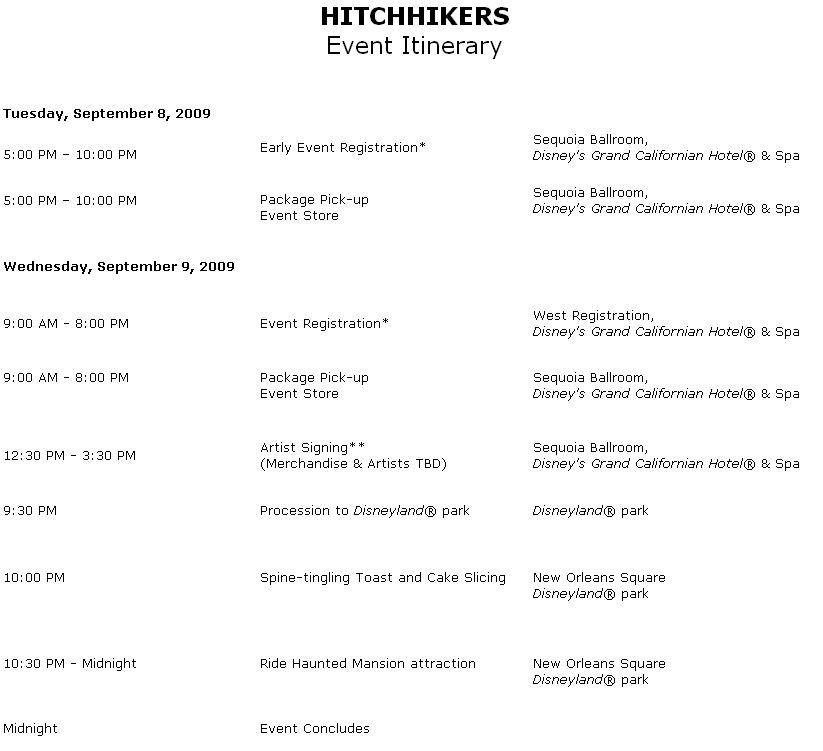 Event itinerary for Hitchhikers package.
The information indicated that early registration was available the evening before the event, which Disney has been offering at events for a little while now. One change this time around was that all the gifts (save one) included in the packages would be given out at the time of registration. Traditionally, one final gift is given to each participant at the end of the evening when everyone is leaving, but presumably, there has been issues with people leaving early and missing out, so they decided to give everything out at the beginning. In the past, we'd taken advantage of early registration because it's nice to get everything out of the way, and you don't have to worry about being stuck in registration and missing out on the scheduled events themselves. I had made plans to meet the husband at the Grand Californian to take care of early registration after he got off work on Tuesday, September 8.
EVENT REGISTRATION - SEPTEMBER 8, 2009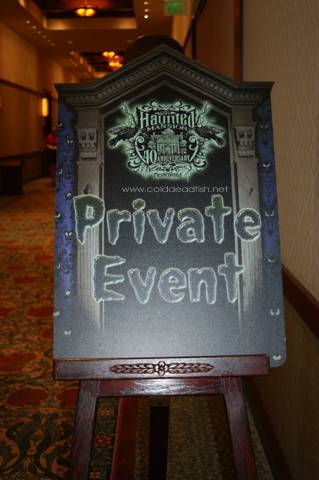 Standee at front of hallway.
Registration was scheduled to open at 5pm and was held in the Sequoia ballroom of the Grand Californian Hotel. I arrived at about 5:30pm, and the husband was a little late meeting me, so since there was already a substantial line, I decided to just get in it, and he could join me when he got there. I stayed in the same spot for about 20 minutes and never moved. When we started moving, we moved very quickly and continuously, which surprised me. It was about 6:08pm when the line of people was taken into Sequoia D, which had rows of chairs set up. (It was actually set up for the event seminar the following evening.) No one ever told us at the time what they were doing. They just ushered us in and had us sit down in the order that we were in line. I overheard a cast member telling another person that we were still in line, but it wasn't until we were all inside the room and seated that the merchandising department cast member told everyone that they had moved the line inside because it was more comfortable since we could be seated. He said that they would be taking us one row at a time to get back in the regular line for registration and to pick up our merchandise and to visit the merchandise store and the photo opportunity room. All of the other rooms were only accessible with an event credential, which we would receive at registration, so we couldn't do the other things first. Early registration was scheduled to close at 10pm, so people were concerned about what would happen if 10pm came around and they were still in line. He said that he didn't expect there to still be a line by then, but then also responded that the line would be monitored and the line would be stopped ahead of time if necessary.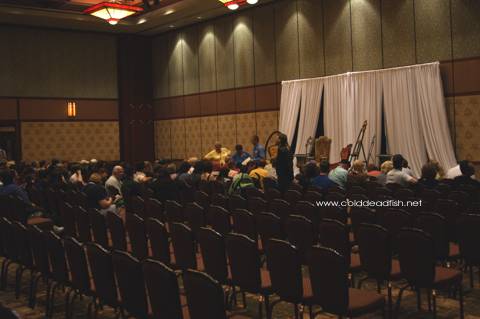 People waiting in Sequoia D.
The husband joined me shortly after I was seated in the room, and during our wait, many of those waiting came and went from the room, whether to use the restroom or take care of something else. At 6:47pm, a table was brought in with water dispensers, so that was nice. At 7:28pm, our row was finally called out of the room to join the line going into Sequoia A, where registration was actually taking place. By the time we got to the front and it was our turn, it was just about 8pm.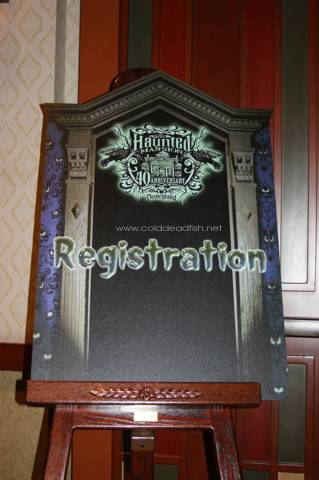 Finally, we get to registration.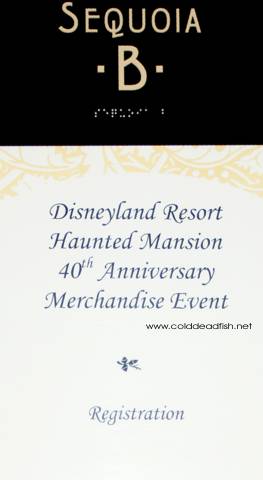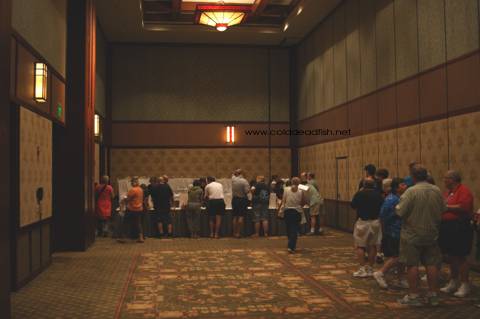 Inside the registration room.
The cast member took our IDs and came back with our envelopes, inside of which were all the things that we would need, including our event credential (which was the same for all of the groups, but the dinner-included packages had a goldenrod lanyard whereas the Hitchhikers package had a black lanyard), confirmation of the event merchandise which we had purchased, a list of merchandise still available for sale in the event merchandise store, a flyer about a new CD box set that hadn't previously been announced, a hard copy of the itinerary which had been available on the website, various vouchers that we would need during the course of the event, a special pin for early online registration, and a letter from Mary Murray, Director of Disney Theme Park Merchandise at the Disneyland Resort.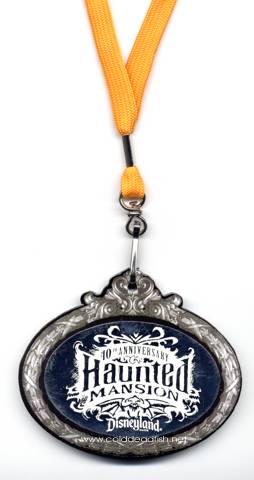 Event credential with lanyard.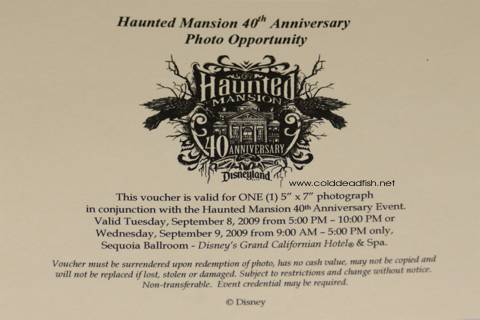 Photo opportunity voucher.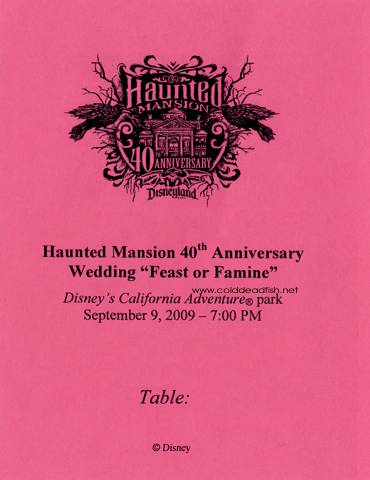 Table assignment card for dinner.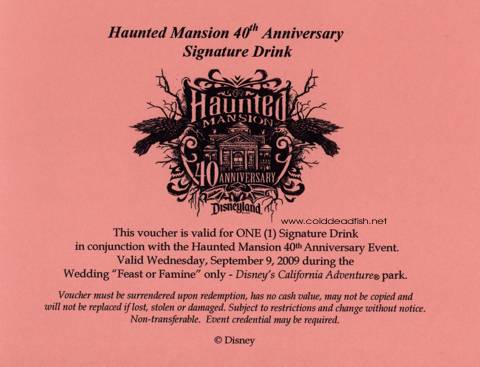 Voucher for signature drink.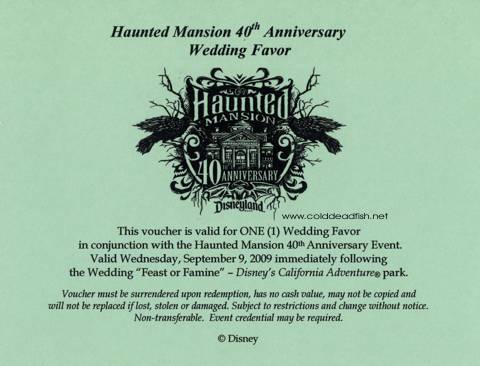 Voucher for wedding favor.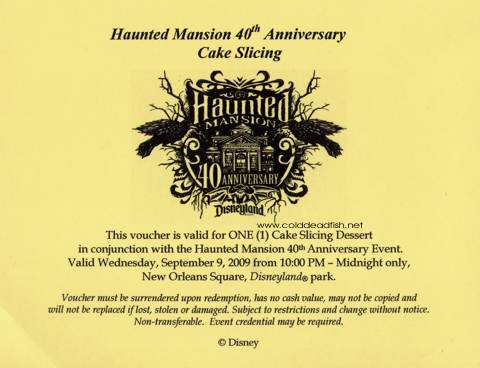 Voucher for cake slicing.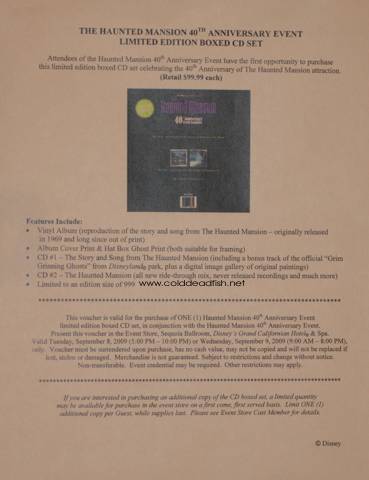 Flyer with information about the CD box set available for purchase.
Click here for a larger, easier-to-read version of the flyer.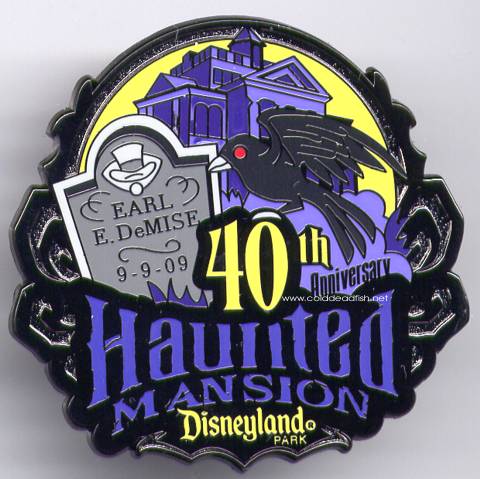 The "early demise" pin given to all guests who registered for the event prior to February 28, 2009,
which would be pretty much everyone.
One thing I did notice that was missing that had been included in prior events was a sort of "welcome letter", usually from the president of the Disneyland Resort. The letter that was included was instead to alert participants that some of the merchandise items weren't actually available yet due to production problems and wouldn't be available until approximately November 4, 2009 and would be shipped at Disney's expense to the participant's home address. The no-show merchandise was as follows: event exclusive Griffin bookends, mirror compact, logo pocket watch, framed glass stretching portraits, dessert plates, block puzzle, tabletop clock and painted chess set. We were also given a white bag with the various gifts included with each package, 3 for the Grinning Ghosts package and 2 for the Dearly Departed package. After we'd gotten all of our goodies, we went outside to the hall to inspect everything to make sure they were all ok.
All package levels, including the Hitchhikers package, included one particular gift.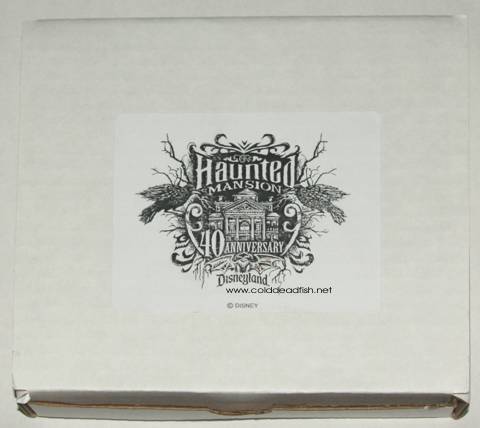 The box for the gift that everyone received.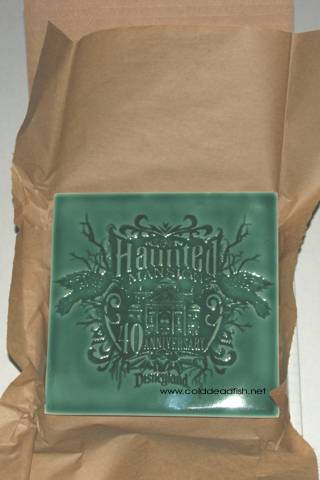 Inside the box was a tile with the event logo.
The top three package levels received an additional gift.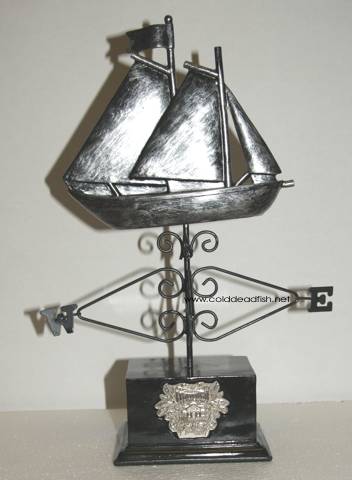 A very nice weather vane.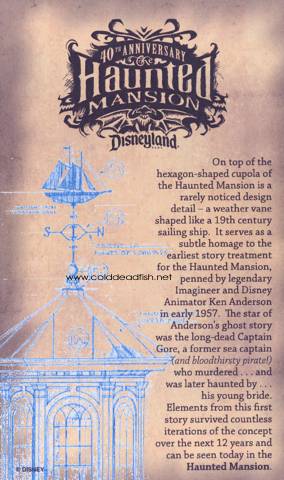 The card that explains the significance of the weather vane.
The top two package levels also received a third gift.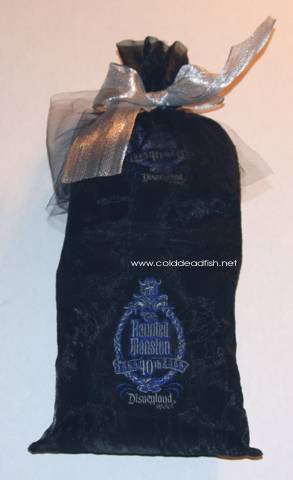 A nicely wrapped set of two hand towels.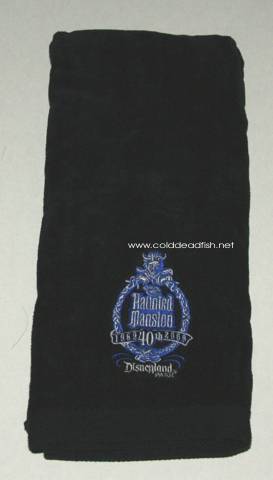 A better look at one of the towels.
When we were done, we decided to go to the event store and photo opportunity before picking up our regular merchandise. We were at the event store at about 8:20 and purchased the CD box set and then headed over to the photo op room to get our picture taken. Each voucher entitled you to one free picture at the picture spot. It took about 5 minutes for the picture to develop. We noted that this year, it was a backdrop that simulated a doom buggy whereas at a prior Haunted Mansion Holiday event, they actually had a doom buggy for us to get into to have our picture taken. We also noted that the picture came in a regular white envelope as opposed to a themed frame as in some prior events.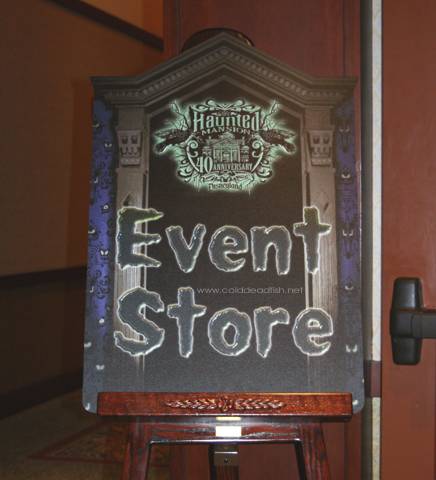 Sign in front of event store.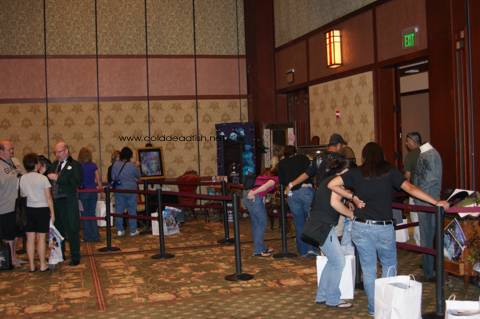 Inside the store.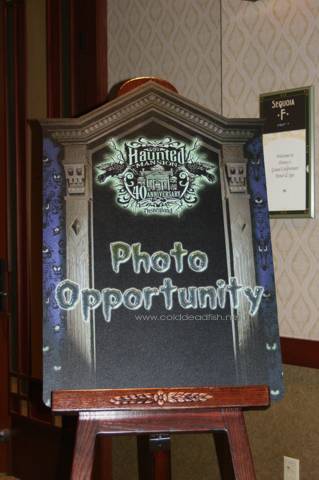 Time for a photo op.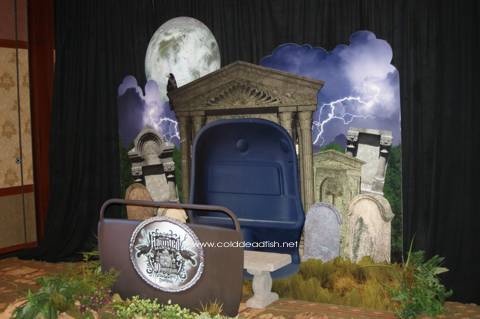 The backdrop for the photo op picture.
All of that took 15 minutes, so at 8:35pm, we were ready to pick up our merchandise. Or should I say, we were ready to get in line to pick up our merchandise. We were back in Sequoia D, which now housed the wait line (on the right side) for the registration room as well as the wait line (on the left side) for the merchandise pickup room. It wasn't really big enough to hold all the people waiting for each thing, and there were sometimes mixups in the seated lines which caused complications. At 9:30pm, we were pulled out of our row and into the line for the merchandise pickup room, and it was 10:18pm by the time it was our turn to go to a desk to have our merchandise pulled. Since we had an item that wasn't yet available, after we had inspected the merchandise that they did have, we had to go to the shipping line so that we could fill out forms. The merchandise was supposed to be shipped to our address on record, which is our home address, but we prefer to have our items shipped to the husband's work address. By the time we were completely done, it was just about 11pm. Friends who had come to registration after us were just at that point being pulled into the merchandise pickup line (and they weren't the last ones by a long shot), so I guess they didn't decide to cut everything off at 10pm after all.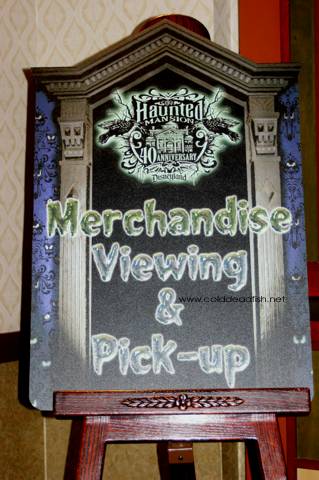 Finally, it's time to get our merchandise.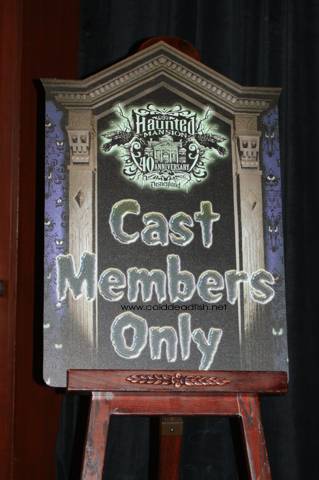 Only cast members are allowed in some areas.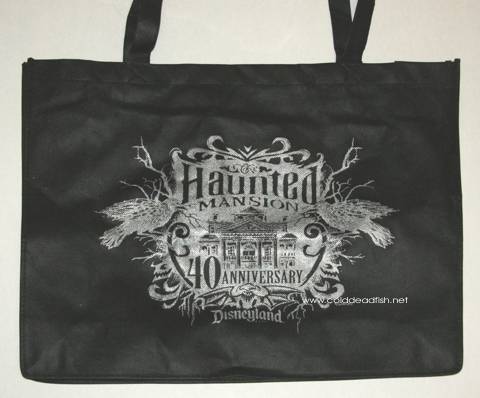 The merchandise came in a bag with the event logo on it.
I'm not entirely sure what caused the huge backup in the entire process. It could be that more people showed up for early registration than they expected - one of the merchandising department cast members said that there were 800 people attending the event - but with the D23 Expo starting the next day, they might have thought that more people would be in town early and could take advantage of early registration. The registration room itself was pretty small, so I think it took longer for the registration process to be done. Also, by giving out all the gifts at registration, that took a bit more time as well. Having more lines open at both registration and merchandise pickup might have been a good idea. One of the merchandising department cast members kept telling people that they could come back tomorrow since registration would be open again, but I guess if you're going to make early registration available, it's a bit weird to not expect people to take advantage of it. I'm not sure that the process of putting us all in Sequoia D really helped at all - it seemed like an impromptu idea that they came up with to alleviate the crowding that both the registration and merchandise pickup lines were creating. In total, it took us about 5 1/2 hours to get through all of registration - and that's definitely not something we would ever have expected.
EVENT DAY - SEPTEMBER 9, 2009
Since it had been a rather late night the evening before (after we were finally done with registration, we quickly got some dinner at the Grand Californian's Hearthstone Lounge and then went to a midnight showing of a movie at the Downtown Disney AMC), we were glad we didn't have to be back at the Disneyland Resort too early on Wednesday. We arrived at about 1:30pm and met up with our friend. She had gotten there shortly after noon for registration, which had been a very easy process. There was little to no wait at registration and to pick up merchandise, and there were only a couple of people in the merchandise store. I was glad that she didn't have the same problems we did (I had warned her about the no-show merchandise items), and when we talked to someone else who we had spoken to the night before, he had arrived just about 9am that morning, when registration began, and there had been a line, but nothing like it had been the night before.
We decided to see if we could check in to our room early so got in line at the front desk. We were happy that our room was already ready at shortly before 2pm (normal check-in time is 3pm) and went upstairs to drop some things off. Our room was very nice (we'd only stayed at the Grand Californian once before, during Disneyland's 50th birthday event), though we were surprised that in addition to the queen-sized bed, there was also a bunk bed in the room. We'd heard about the bunk beds before but had never really seen them, so that was kind of fun. Our room was right over the World of Disney and overlooked the front part of Downtown Disney, right next to the tram route.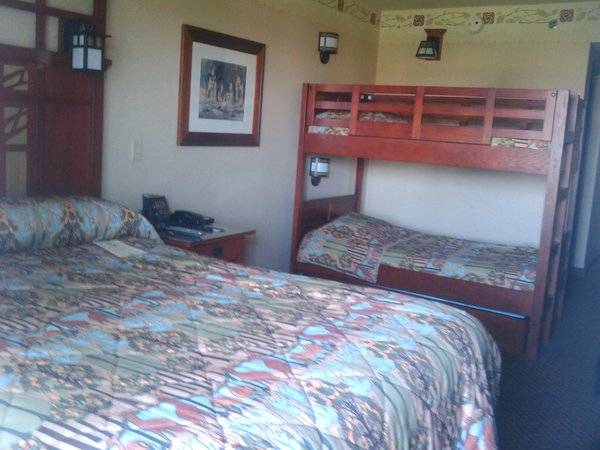 The view of the room from the balcony.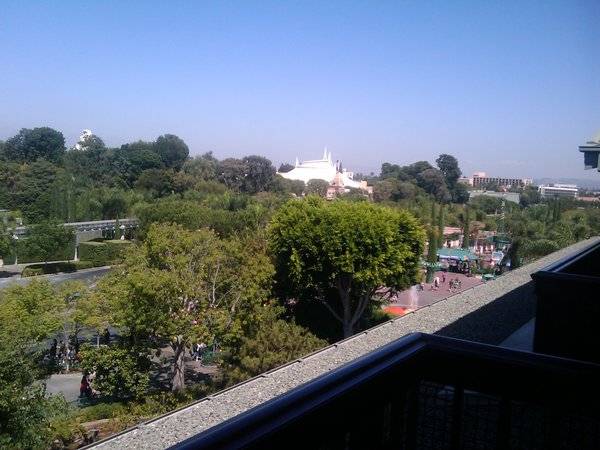 The view out from the balcony, to the right.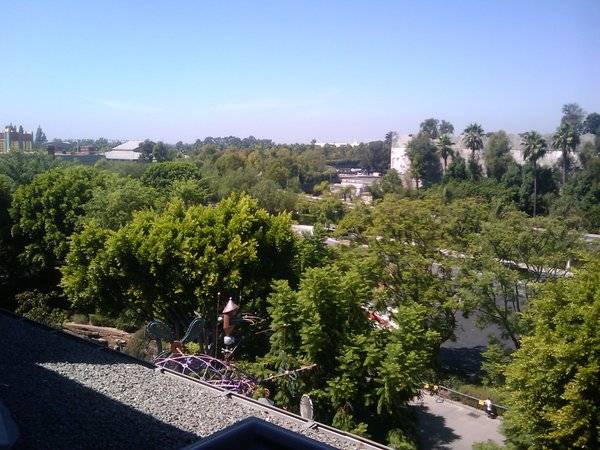 The view out from the balcony, to the left.
ARTIST SIGNING
After a couple minutes settling down in our room, we headed downstairs and were back in Sequoia D at 2:10pm - they were using the same process as the night before to handle the line of people waiting for the artist signing session. We were only seated in the room for a few minutes before we were pulled into the line outside the artist signing room (which was the same as where registration was the night before). When we first entered the room, there was a little table at the side where you could unbox the items for signature. There was a row of small round tables along the wall, with one artist at each table. We stopped to say hi to one of the artists that we knew, and we commented how nicely they'd done their name signs for the event.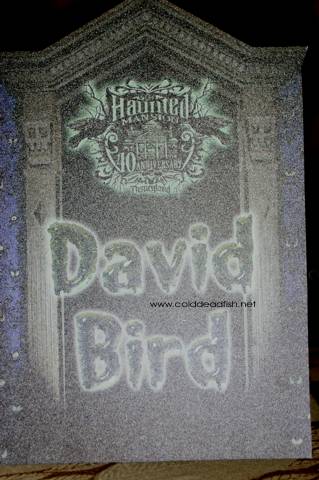 Guess we should have taken a picture of the artist himself, too, huh? Sorry, David!
We went over to Bob Olszewski's table and waited in line. Bob usually has the longest line at artist signings, partly because he's very popular and lots of people want him to sign his items that they've purchased, and also because he likes to speak to each person rather than just signing his name and sending them on their way. We then took our turn chatting with him for a few minutes while he signed our pieces.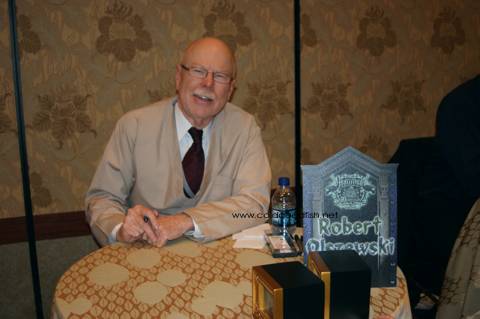 Robert (Bob) Olszewski.
When we were unboxing our items, the cast member at the table had given each of us a little notecard (similar to the "save the date" cards) that we could use for autographs from the artists if we didn't have other things for them to sign. We'd never gotten something like that before, and I thought it was a really terrific idea. Our friend ended up using her notecard to get autographs from David and Bob.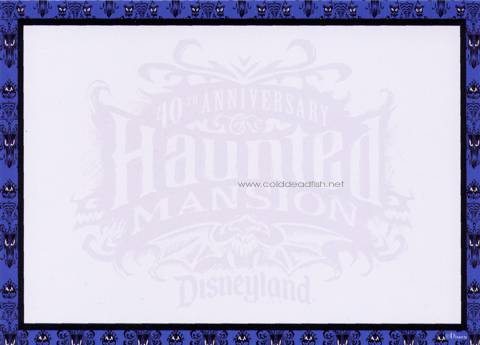 A good keepsake even without any autographs.
We re-boxed our items and left the signing room to head back to our room upstairs for a bit since we had about 2 hours before our next event activity. As we were walking down the hallway, I noticed the sign on another of the ballrooms that intrigued me.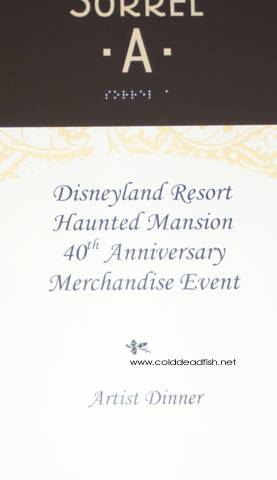 Artist dinner?
We ended up speaking to both David and Bob about the dinner later in the week, and we were told that all of the artists who made pieces for the event as well as some of the merchandising executives had dinner in that ballroom while we were at our next activity. It was a chance for them to get to know each other or to visit with old friends. They both said that they enjoyed the dinner very much.
HAUNTING SEMINAR
We hung out in our room for a while, just relaxing and chatting, and then we headed back down for the seminar that was scheduled to start at 5pm. We were back in Sequoia yet again, but they had opened up some of the partitions, so it was a much bigger room now, and the front of the room was decorated with some interesting items.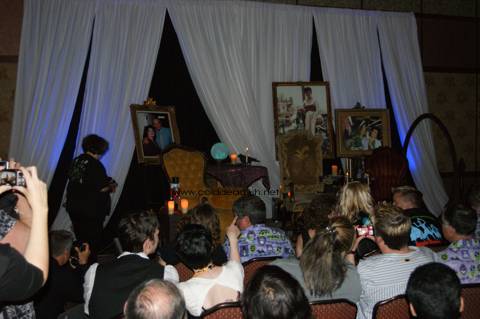 The seminar is about to begin.
In attendance at the seminar were Jason Surrell, Tony Baxter and Kim Irvine, and they talked about their experiences with and memories of the Haunted Mansion. (Kim was dressed as Madame Leota, complete with face makeup, and she even made her entrance with a bowl on her head!) Kim Irvine's mother (Leota Toombs) was the original model for Madame Leota in the seance room, and she's also the voice of Little Leota at the end of the attraction. Kim said that when she brought her little daughters on the ride, at the end, she would point to Little Leota and tell them it was their grandma - she imagined that anyone nearby who witnessed that must have thought she was insane. Some years ago, they re-did the face in the seance room and Kim ended up being the model for that, and she is also the voice of Leota during the Haunted Mansion Holiday version of the attraction. She finds it amusing that the rest of the year, it's her mother's face that's projected onto a bust of her face.
Tony Baxter is to the left, in the top hat. Kim is in the middle,
where you can barely make out her face in front of the picture of her and her mother,
and Jason is difficult to make out on the chair to the right.
WEDDING "FEAST OR FAMINE"
After the seminar, we were told to head over to Disney's California Adventure and to meet in front of the "C" in preparation for going into DCA, where the dinner was being held. After a quick stop back in our room, we headed over and joined the line that had formed, and we were eventually led into DCA. As we had expected, the dinner was being held in the Hollywood Pictures Backlot section, in Stage 17, which formerly housed the "Who Wants to be a Millionaire: Play It!" attraction. That had also been the location where the "Taste" event (during Disney's California Food and Wine Festival) and the dinner portion of the Snow White 70th anniversary event had been held. We followed the line of people entering the building, and as we got closer, we saw the banner outside which was the theme of the evening's meal.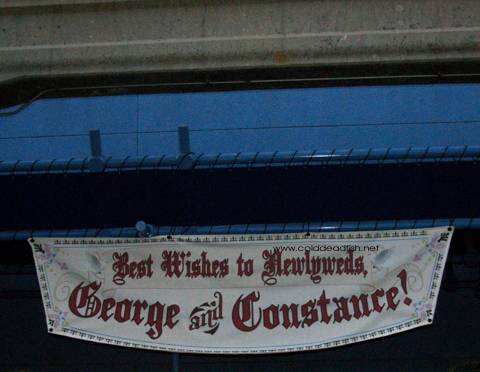 It's a wedding celebration.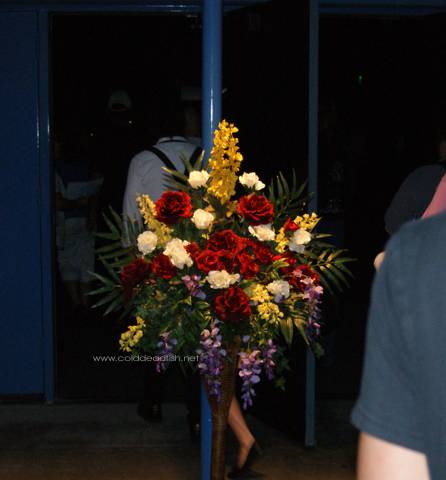 A very nice flower arrangement at the entrance.
Once we got inside, there was a cast member inside who asked if we needed help finding our seats. I told her our table number, and she showed me where it was on the map she had and pointed to where we should go, but the map wasn't oriented the same way as we were facing, so she completely pointed me in the wrong direction. Luckily, I happened to see another friend who we were supposed to be sharing a table with, and he was waving us over, so we headed that way.
A few months ago, all dinner-package participants had been sent an email with a dinner seating form, so that if you were there with other people, you could all request to be sat together, with a max of 8 names. The husband and I were going to be sitting with our friend anyway, so we added the names of two other friends who would also be attending. I had expected the tables to be round, so I was surprised that the tables were actually rectangular and all in rows. We didn't know the three other people at our table, and I think we said hello to them, but that was pretty much it. We didn't really talk to the people at the adjacent table either. The setup was actually quite nice and probably allowed them to fit more people in the room.
There was a stage at the front of the room that was eerily decorated, and the candelabras and candles on the tables added to the decor.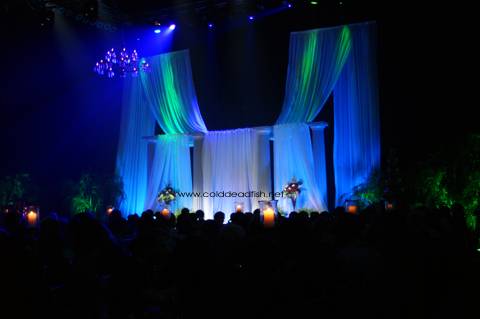 The stage setup.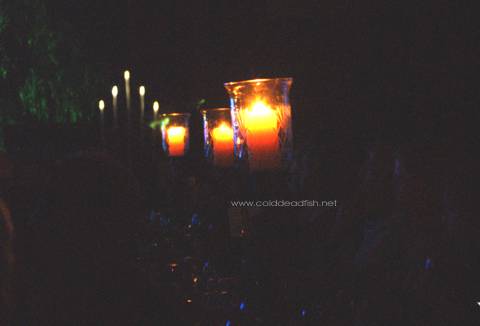 Ambient lighting on the tables.
One of our friends mentioned to us that there was a wedding cake at the front of the room, to the right of the stage, so the husband went to have a look.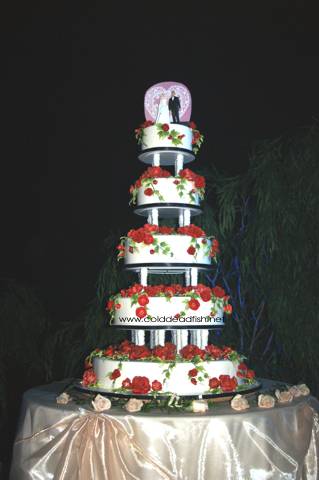 What a beautiful wedding cake!
When we sat down, we noticed that there was a card with the night's menu on it.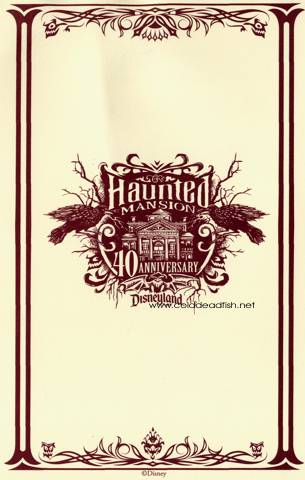 The back of the menu.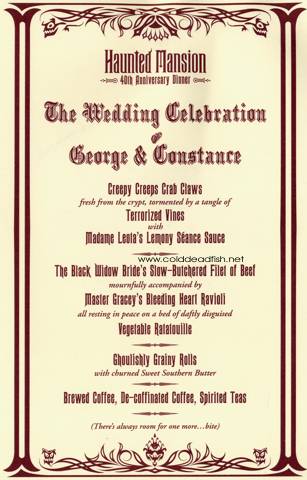 The menu for the evening's dinner.
The first course had already been placed at each setting.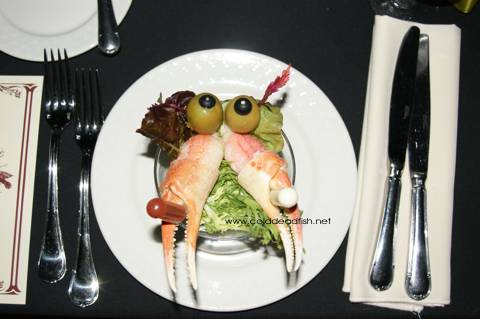 Creepy looking but quite tasty.
The black dots inside the green olives were the tops of toothpicks. The "vials" inside the crab claws were cocktail sauce (red on the left) and lemony sauce (white on the right). I really enjoyed this dish. The crab legs were delicious, and there was more crab meat underneath the greens. And I love green olives.
After we'd sat down, a staff person came over to see if we wanted anything to drink other than the water in glasses on the table. The menu had listed "spirited teas", so I asked for iced tea, but I was a little confused when she said that they didn't have any iced tea. She had to check with someone else before coming back to tell me that they only had hot tea. Since they had soft drinks available and the menu had listed teas, I didn't think iced tea would have been an issue, but the menu probably should have clarified that it was hot tea that was available. I also found it odd that the person offering drinks wasn't exactly clear on what varieties of drinks were actually available.
We were enjoying our starter and good conversation, and about half-way through, Ed Grier, President of the Disneyland Resort, came out to welcome everyone to the event.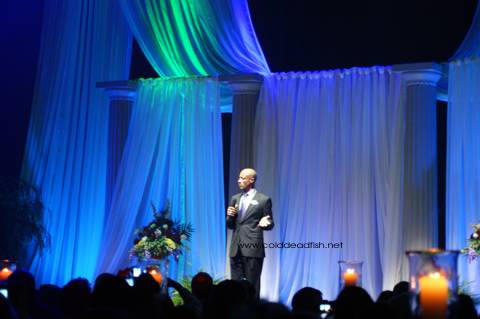 Disneyland Resort President Ed Grier.
He was then followed by the wedding procession - groomsmen, bridesmaids and bride Constance herself.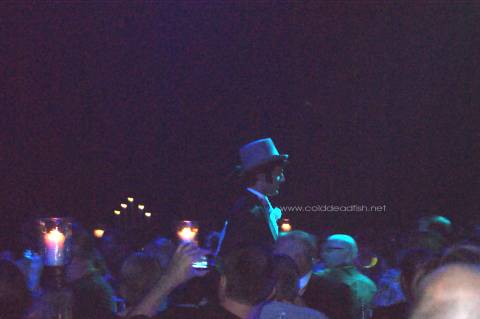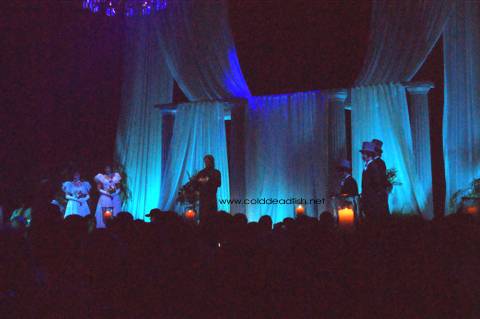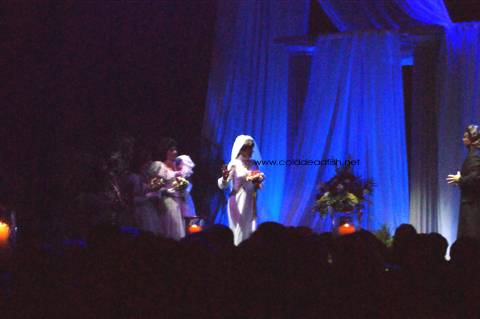 However, complications arose when groom George was nowhere to be found. We were asked to continue to enjoy our dinner while they tried to locate the groom.
Our entrees were then brought out to us.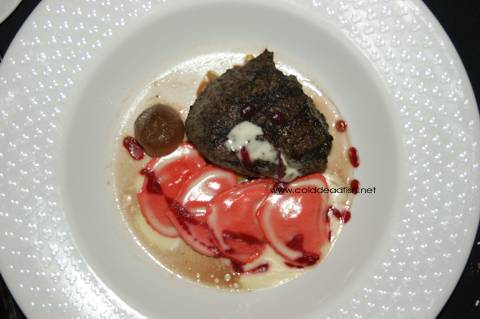 The dish looked pretty good, but I was disappointed that it wasn't quite as tasty as I would have hoped. My portion of meat was cooked much more than I normally like, with almost no pink left, while others at the table had meat that was severely undercooked. The meat also had very little seasoning on it. I noticed a friend adding salt to his plate, which at first struck me as odd because I didn't expect that, but once I'd tasted it myself, I understood why he put the salt on it. The ravioli was ok - I liked the heart shape though. The "ratatouille" which was supposed to accompany the dish was something I was really looking forward to, but it was mostly non-existent. The menu described it as "daftly disguised" but I didn't think that meant that the ratatouille was really just going to be one pearl onion and maybe one other decent-sized piece of vegetable, but otherwise, it was just tiny pieces of undistinguishable chopped up vegetables. Maybe it's just a preference of mine, but I would really have liked to have more vegetables to go with the meat and pasta servings. I was actually quite surprised at the less-than-stellar quality of the entree because we'd had dinner at other events before, including the Haunted Mansion Holiday events where dinner was held at the Blue Bayou, and the meals had been terrific. I'm not sure if the problem was that they were serving many more people at the same time than they would have served when the dinner event was held at the Blue Bayou, so being able to make consistently good food was more difficult. But then, the Grand Californian hosts events and wedding receptions and other occasions where Banquet Services would have to serve a large number of people at the same time, and I would expect better at one of those events. Maybe they were just keeping with the wedding theme, where people are generally not that enamoured of the food served?
One other problem that many of us had during the meal was that it was quite dark in the room. I get that the ambiance and Haunted Mansion theme called for a darker-than-normal room, but it proved to be quite difficult to see what we were eating. There was some light coming from the candles and candelabras on the tables, but that light was mostly blocked by your own shadow or the shadow of the person sitting across from or next to you. On more than one occasion, people were pulling out celphones and directing the light to their plate to see what exactly was on it. I noticed a few people who took a while to realize that the raviolis were shaped like hearts because it was so hard to see the food. One of our friends had a surprise when the vegetable she thought was a mushroom turned out to be the pearl onion instead, and the dark lighting and tiny diced vegetables pretty much made it impossible for anyone to pick out any particular vegetables they might not have liked. There wasn't much they could do with the light coming from the candles, and maybe not even with the candelabras, but I think that for the meal portion of the night, they could have turned up the regular lights in the building. And it's not like they had to be harsh, bright white lights. Even brighter blue or green lights would have helped us see the food in front of us.
One other issue came up during the course of dinner, and that involved the "signature drink". The "Additional Info" page on the website had mentioned that some alcoholic beverages would be served at dinner, and the "signature drink" voucher is usually used for that purpose, since they don't offer unlimited alcoholic beverages, like they do with water and soft drinks. I saw a line at what looked like a bar station, so once the line got shorter, I went to see what the signature drink was. I was therefore surprised to find that the station was just for soft drinks and water, the same things that the staff was bringing directly to the tables. I asked about the signature drink and was told that the voucher was for inside Disneyland, during the cake cutting. I was confused since the voucher specifically said that it was for use in DCA during the dinner, but when I got back to the table, the husband told me that he had gone to speak to one of the merchandising department cast members that we kind of know from events, and she had checked with someone and confirmed that the voucher was mis-printed and that the voucher was for when we got into Disneyland. OK, it still seemed weird to me since I would think an alcoholic drink would go better with dinner rather than dessert, but we saved the vouchers for later.
As we were finishing up our meals, Tim O'Day took the stage as the moderator for another panel discussion, which included all of the people at the earlier seminar and two additional people. The discussion was very similar to the one held earlier, so I found it very odd that they would schedule a panel discussion that was in some part a duplicate of the panel discussion that had occurred hours before. For those of us who did attend the earlier panel discussion, some of the information was a repeat of what we'd already heard, and for those who missed the earlier panel for whatever reason, they would get bits and pieces of references of things that had been discussed earlier without actually hearing the full story. During the earlier panel discussion, a story had been told about Walt Disney's less-than-family-friendly-language response to a particular Imagineer who for some reason was adamant that Luxembourg should be included in it's a small world. There were also a lot of things said which people could object to, so Jason Surrell and Tim O'Day kept giving out the name and corporate address of Bob Iger, President and CEO of The Walt Disney Company, to whom they jokingly said letters could be sent. I loved hearing Tony Baxter's story about being a cast member at Disneyland and being so excited that the Haunted Mansion was soon to open, after having sat dormant for so many years. He then heard that cast members were being recruited to test the ride (riding over and over again for 4 hours) and to provide feedback, so he showed up on the appointed day, which was actually a day off for him, only to be disappointed to find out that since they needed to be paid for their work, he had to be on the clock to participate. He then quickly went to his locker and put on his costume and was able to participate after all.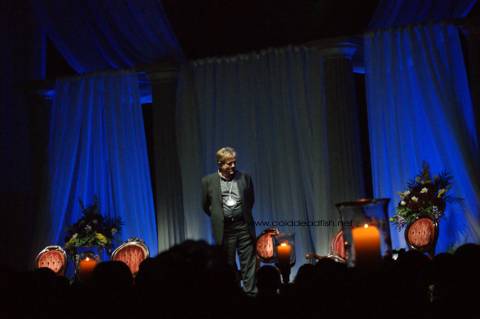 Tim O'Day as moderator of the second panel discussion.
Alice Davis joins the panel.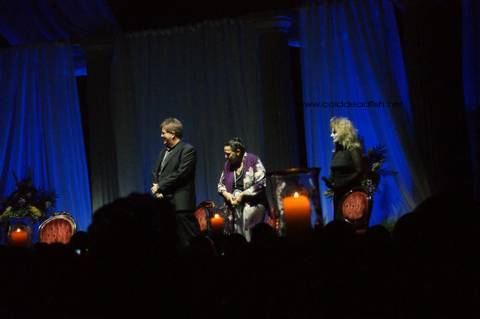 Tim O'Day, Alice Davis and Kim Irvine.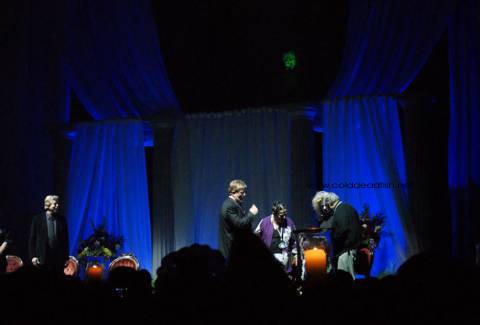 X Atencio, who wrote the theme song for both the Haunted Mansion and Pirates of the Caribbean attractions, joins the panel on stage.
You can see floating-head Leota at the top - she'd been introducing each panel participant.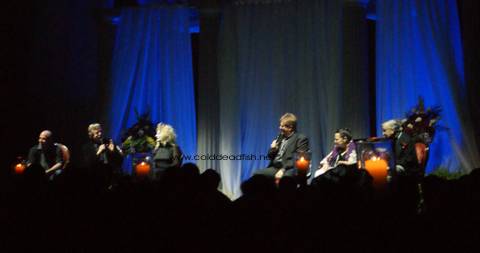 The panel participants - Jason Surrell, Tony Baxter, Kim Irvine, Tim O'Day, Alice Davis and X Atencio.
After the second panel discussion, the wedding/show from earlier continued. George had indeed been found, but the poor would-be groom had been murdered. However, he took his revenge on his beloved bride-to-be, killing her so that they could still be together. And then the Grim Grinning Ghosts came out to socialize! (The husband recognized the voice of one as being a former Dapper Dan.) I really enjoyed the show, which was much darker than you'd normally expect from a Disney production but was completely in keeping with the theme of the night and the attraction.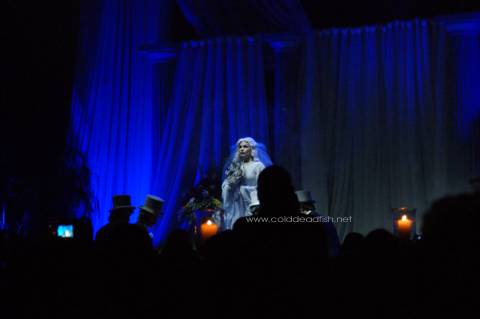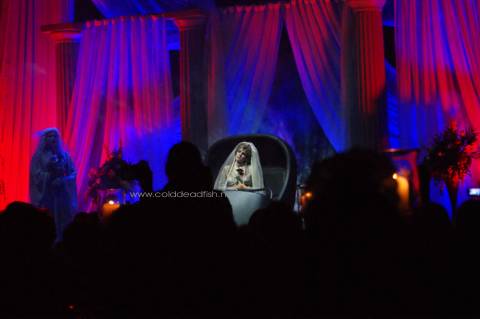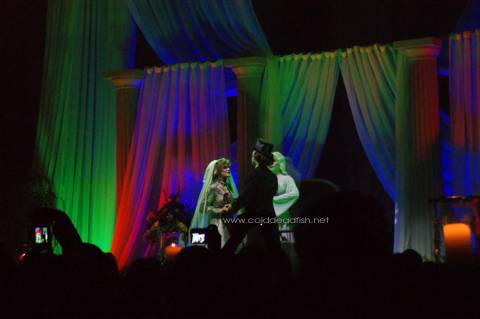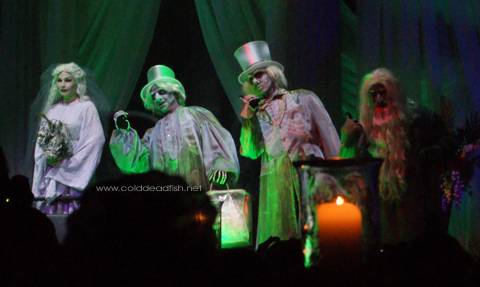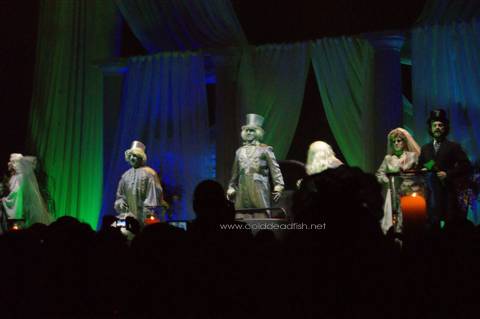 After the show, we all gathered our things and got ready to leave and head over to Disneyland. We were told to have out our "wedding favor" vouchers, which we traded in for our gift as we left the building.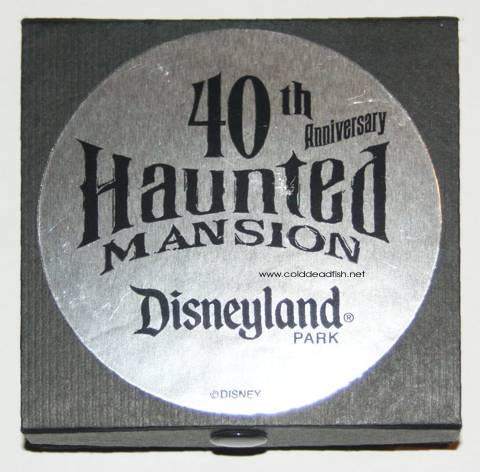 The box that held the wedding favor.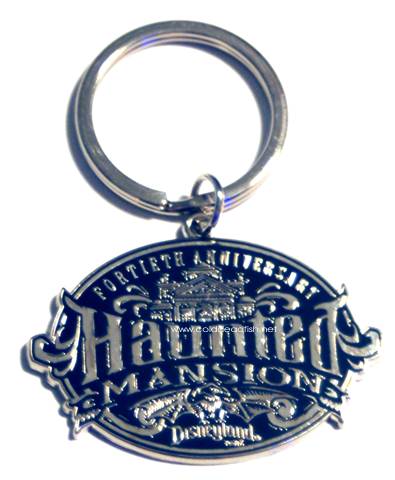 The wedding favor.
It's a bit hard to admit to being disappointed with a gift, but in this case, I was. The other gifts we had received had been quite nice, and I was intrigued to see what this would be since it was billed as a wedding favor. Well, how nicely themed to the occasion of the wedding feast! But when it turned out to just be a keychain with the event logo, it just seemed very unimaginative. OK, so leave the logo on the outside, but how about an actual wedding favor to commemorate our attendance at a very different kind of wedding? I thought they might have something like a bundle of candy or chocolates - perhaps black and blue colors, wrapped in black tulle and tied with a black ribbon imprinted in Haunted Mansion script with Constance and George's names and the 09-09-09 date. Or if they didn't want to do chocolate, maybe a figurine of the couple, but distorted a bit to reflect their unorthodox relationship. Or even if they wanted to do a keychain, instead of having the Haunted Mansion 40th logo on it, how about a keychain as a real wedding favor, with etchings of Constance and George, the date, and the words "newly dead" (a phrase used later in the evening) on it? That can't have been that much more trouble than the logo itself, and how cool would it have been to have had an actual wedding favor from the wedding itself?
As we left the Hollywood Pictures Backlot, we were directed to the front of DCA, where people had the opportunity to use the restrooms. We stood there for a while before the gates opened and we made our way across the esplanade to the far right entrance gates of Disneyland. There was already a crowd of people there - the people with the Hitchhikers package - and we witnessed the reunion of groups who had been separated because they had different packages. Some of the people were lined up at the gate as well, but they were holding all of them until all of us had gone through first. I thought it was a bit odd and maybe even a little insensitive to have them wait right at the gate, only to just stand there and stare at us as we went in first. I don't think I would have minded if they'd been let in first, but if they were going to be let in last, I would have thought they'd be told to gather elsewhere and then brought to the gate when most of us had already made our way in.
It also seemed a little odd that they only had one gate open to let everyone enter. I guess that way, they only needed one CM to staff the gate, but having only one line open really made for quite the bottleneck since all the participants had to go in. Having 2 or 4 gates open would have been nice.
TO THE MANSION
We made our way down Main Street and were directed over to New Orleans Square and the Haunted Mansion itself. People were let into the courtyard area, and we stood there, waiting for whatever was to come next.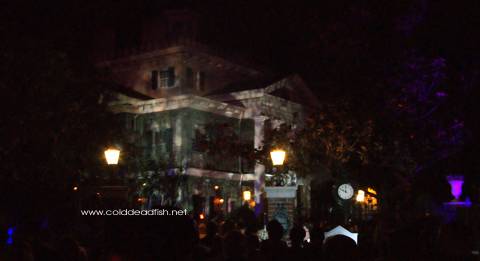 The Haunted Mansion looked great.
We had noticed the cake on the balcony - much different than the festive cake that had been at the wedding. Constance and George then came out to see their guests.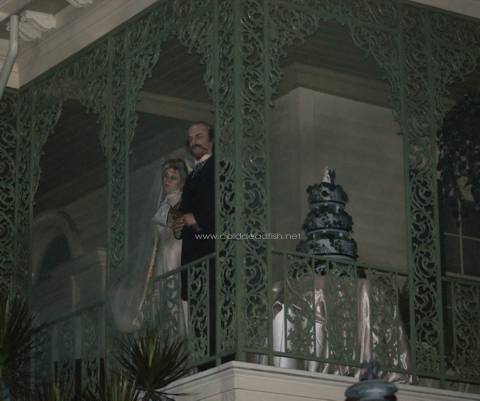 Constance and George looking out onto the crowd.
A close-up of Constance and George.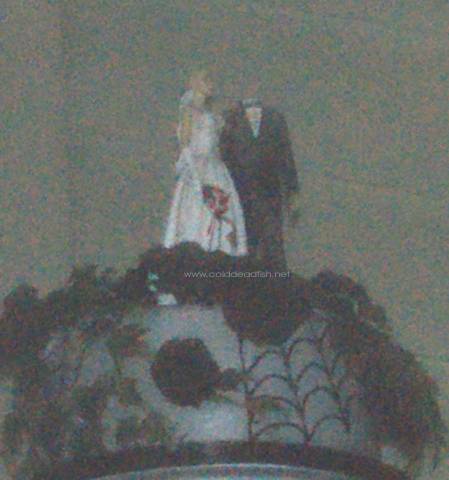 I wonder where they'll be-headed on their honeymoon.
(I didn't come up with that line - the husband gets the credit!)
George had an axe, which he and Constance used to cut the first slice of cake.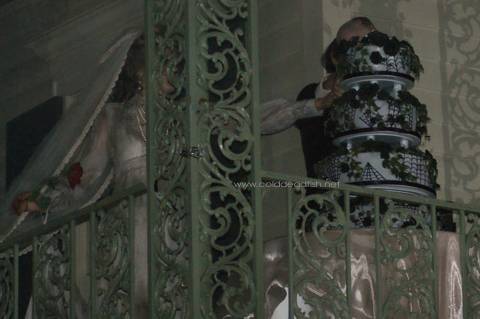 The cake topper didn't survive.
At that point, Constance and George were still standing on the balcony, and audio began to play, but before we could make out what it said, it was abruptly cut off. They pretty much stood there continuing to wave at people, and people were then starting to get let into the mansion for their ride, so we made our way as well. There was supposed to be a "spine-tingling toast", but that never materialized. We were wondering if that was what the audio was supposed to be and something went wrong. We went on the ride and I was wondering if there'd be anything special on it for the event. I had originally thought that Constance and George might be enjoying themselves in the ballroom, but since they stayed outside waving to people as the guests entered the mansion (Constance was pretty funny - she was eyeing someone as her potential next husband.), I knew that wasn't going to happen. I thought there might be a new portrait in the attic, but that didn't happen either.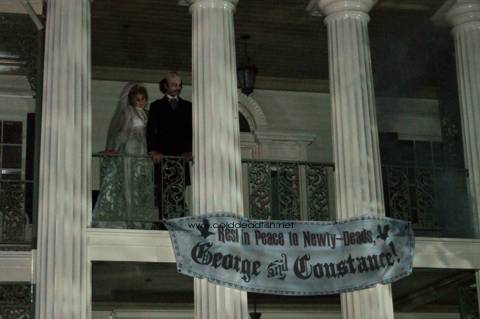 The newly-dead couple.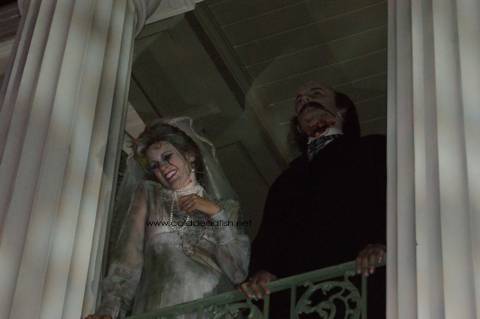 The bride flirting with her next victim ... um, potential husband.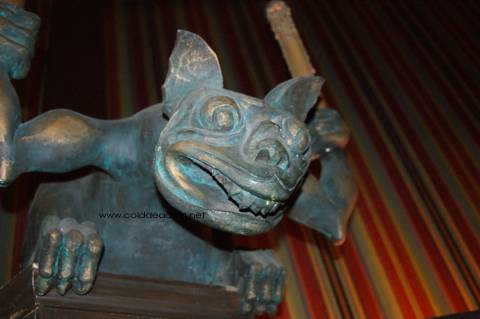 A familiar face greeted us in the stretch room.
We came out of the attraction and noticed that the hitchhiking ghosts from the show were right outside the exit, and people were having their pictures taken with them.
Next, we went in search of cake. They had multiple stations set up with slices of cake. I was a bit surprised that they had vouchers for the cake - I don't recall them having done that before, and I guess I don't figure most people are going to have inordinate amounts of cake. The people serving the cake didn't seem to know what kind it was - one mentioned that she thought it had some kind of red velvet in part of it. The stations also had punch and water available.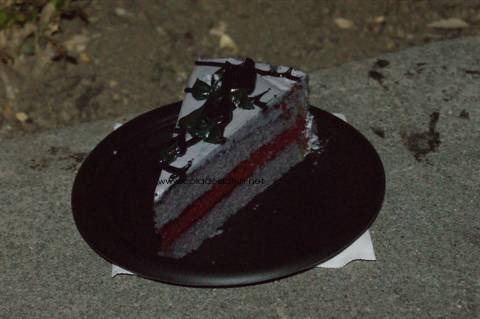 A slice of wedding cake.
I again went in search of the "signature drink". The people at the drink stations had no idea what I was talking about and told me that the drink was supposed to have been available at DCA. OK then - I guess we'll just keep the drink vouchers as additional souvenirs. The miscommunication and misinformation about the elusive signature drink was just getting entirely too comical. If there had been a change of plans, I would have thought they would have known that at least the day before, so that the vouchers could have been removed from our packets and we could have been told that it wasn't going to happen. I would love to know what the drink was supposed to have been, when we were supposed to have had it, and what happened that went wrong.
I was disappointed that there was never a toast. I'm not sure who was supposed to have given it. The caretaker might have been nice. The cake cutting seemed a bit abrupt by itself - a toast to the happy couple afterward would have been a nice send-off.
After we'd had our cake and drink, we sat around for a bit, and I was surprised at the time. I then looked at the itinerary again, and the schedule they'd planned on didn't really make sense anyway. From 9pm to 9:30pm was when everyone was supposed to be entering Disneyland and making their way to the Haunted Mansion. OK, I wouldn't think it would take half an hour for that, but there were a lot of people and maybe they just wanted to make sure they had plenty of time. But then the toast and cake cutting weren't scheduled until 10pm, so what was supposed to happen in that half hour time period? It surely wouldn't have taken an hour for everyone to get to the Haunted Mansion. Was the half hour supposed to allow everyone to get a drink (maybe the elusive "signature drink" after all) to be able to toast with? And half an hour was allotted for the toast and cake cutting, so that would also presumably allow people enough to time to enjoy their cake before the mansion was open to ride at 10:30pm? But then, I thought that the hour and a half would have a been a good time to spread out what people would want to do, with some having cake first and some riding first, to divide the crowd some. As it was, the schedule was running late, as we came into the Disneyland gates at about 9:30pm, and there were still a lot of people behind us. The mansion was open until midnight, but we were pretty much done and ready to leave by 11pm.
Even with all the problems and difficulties that we encountered, I do want to reiterate that we had a good time. Even being in line for 5 1/2 hours on Tuesday night ended up becoming a game since a couple of friends were also in the lines at various points behind us, so we at least got to commiserate. It was nice to hear the stories from the people involved with the Haunted Mansion and especially to hear Kim Irvine talk about her mother's involvement as well as her own, not to mention how much a fan Tony Baxter was way before he became an Imagineer. The dinner was nice in that we got to spend some time chatting with friends, and the show itself was very good. The performers were terrific, and it was especially nice to have Constance and George at the mansion. Their interaction with the crowd was fun to watch as we were waiting to go inside.
And to end this on a not-entirely-related note, the husband had taken the weather vane out of the box to take a picture of it. Our cat, Orkid, loves empty boxes, so she promptly climbed in and made herself comfortable so that she'd have a close-up view of what the husband was doing. The blotch on the top of the box is the Haunted Mansion 40th logo.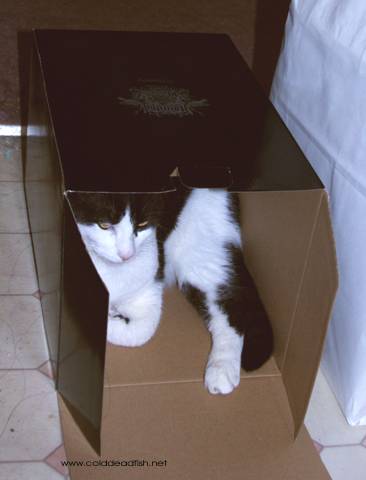 Did everyone who attended the event get one of these too?
Back to Cindy's Disneyland Resort Page.
Back to home