INDIANA JONES ADVENTURE 10TH ANNIVERSARY EVENT
MARCH 3, 2005
INTRODUCTION AND GENERAL DL / MERCHANDISE INFORMATION
When we first heard that Disneyland would be holding a special event for the 10th anniversary of the Indiana Jones Adventure ride, we knew that this was something we wanted to go to. We both love the Indy ride, and we've both enjoyed the Disney special events that we've attended, so mixing the two seemed perfect.
On the day of an event, we usually arrived in the morning, but since there were to be no additional merchandise items related to the event/ride (like there usually are with the Haunted Mansion Holiday event), we didn't arrive until 3pm on this day. We met up with a friend who was also attending the event, and we decided to do some shopping before heading to registration.
We noticed that additional merchandise had been released for St. Patrick's Day and Easter. For St. Patrick's Day, there is a Mickey mini plush, with him wearing a green hat with a four-leaf clover and a green outfit with "Happy St. Patrick's Day" on the back.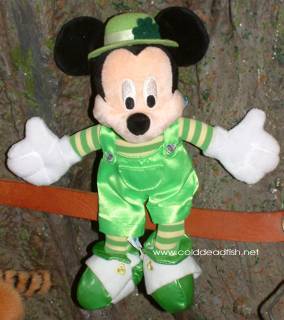 St. Patrick's Day Mickey.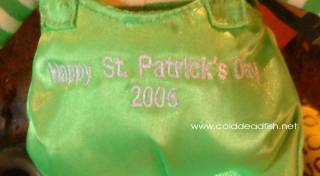 On Mickey's back.
For Easter, there is an assortment of plush available, from a large plush of Stitch to smaller plush of the usual core characters.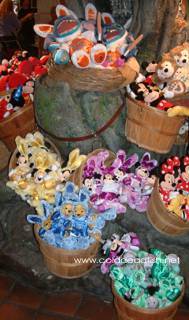 Easter colors abound.
Previously, we had noticed new antenna toppers for St. Patrick's Day (Mickey head with shamrocks) and Easter (Mickey head with fuzzy bunny ears), but when we looked for them to show our friend, we couldn't find any. We asked a cast member who told us that they had sold out of both items and weren't expecting any more. With St. Patrick's Day two weeks away and Easter three weeks away, it's a shame they're not available for purchase any more.
We did notice that there's a new castle antenna topper, which we had actually seen on a car as we were walking through the parking structure.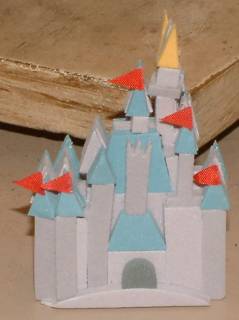 Castle antenna topper.
There are two new big figs available at the resort, having arrived the previous weekend. There are individual big figs of Lilo and Stitch, with Lilo's stuffed toy being part of her big fig. Each big fig costs $150, and they were available at World of Disney. We did not see them on display in Disneyana.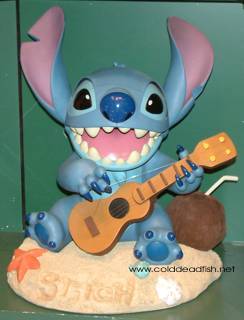 A lifesize Stitch?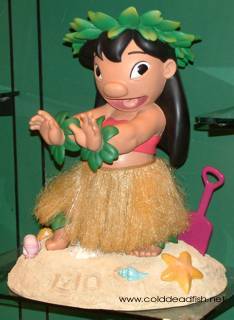 Lilo is hulaing with her toy behind her.
On a non-merchandise front, we had noticed when we'd entered the park that there was new signage on the building next to the tour garden. This used to be the location of Disneyland Security, but the building now sports a sign that says "Guided Tours". We checked the door, but it was locked, so I went inside City Hall to inquire about it. The cast member (CM) there said that it was relatively new, but it wasn't operational yet. That would be the location where people could book tours and meet up for tours, and she expected that it would be up and running in a couple of months.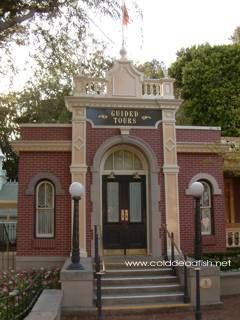 The future new home of the guided tour department.
With our shopping done, we then headed over to event registration, which was again in the Disneyland Hotel. Registration for events used to be held in the Grand Californian, which we prefer because it's not quite as much of a trek as getting to the Disneyland Hotel. As we neared the hotel, we noticed a sign outside directing you to registration. This was a much-appreciated addition, as at registration for the last event we attended, there was no signage except for right outside the entrance to the exhibit hall, so finding the location was a bit difficult if you were coming from Downtown Disney.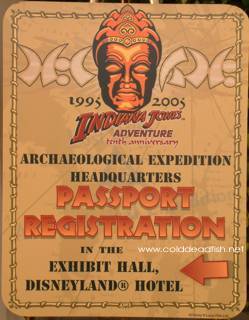 This way to event registration.
Once you got closer to the exhibit hall, there was additional signage about the event.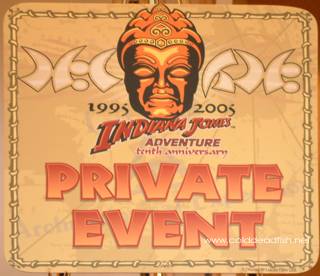 Oh, so that's what's going on.
EVENT REGISTRATION
We arrived at registration at about 5pm and were pleasantly surprised that there was almost no line. When I later asked the merchandise CM about how busy registration had been, she said it had been slow most of the day, but that there was still plenty of merchandise to be distributed, so they were expecting that many people were still to arrive. Registration was from noon until 8pm.
Right at the entrance to the exhibit hall, there was set up some tables and chairs, which was apparently a pin trading area. Usually at these kinds of events, there is an opportunity to meet and talk to the creators of the merchandise. Those are usually late in the afternoon, and since we usually register earlier, we never see the artists, but this time, we arrived right in the middle of the meet and greet. Available for guests to talk to were Elisabete Gomes and Dave Avanzino.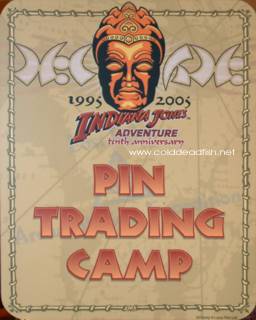 Was Indy a pin trader?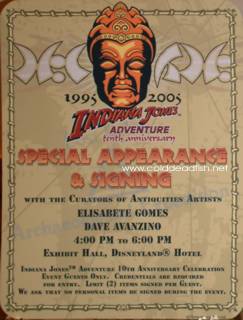 Oh, so that's who they are.
In the hallway were also cases that displayed the merchandise items that were available for purchase as part of the event. There was a separate room to purchase any items that were still available after prior selections had been made.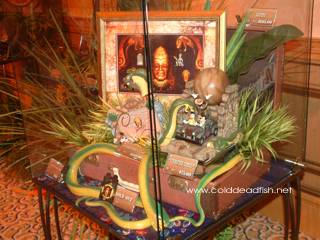 Event merchandise.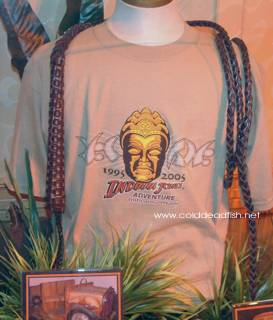 Event merchandise.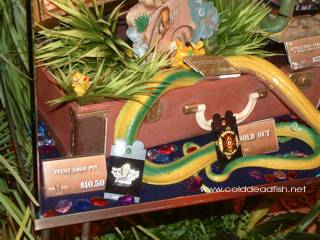 Event merchandise.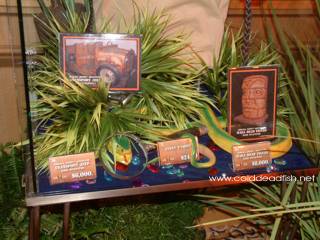 Event merchandise.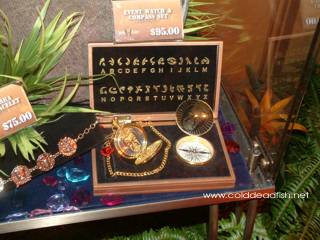 Event merchandise.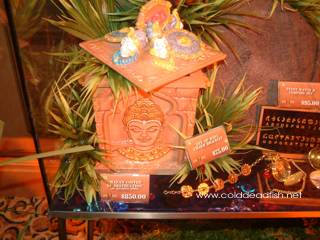 Event merchandise.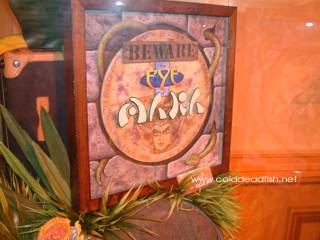 Event merchandise.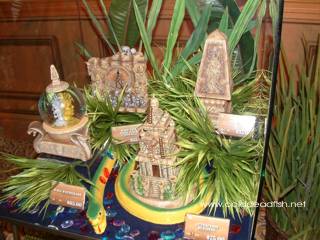 Event merchandise.
Here's where you buy if you saw what you liked and didn't already.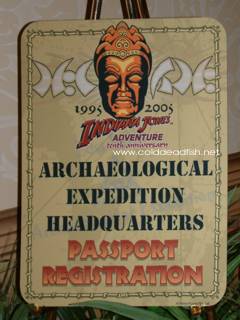 Here's where it all begins.
We proceeded down the hall to registration and received our packets, which included the following:
1. welcome letter from Mary Murray on letterhead containing the event logo
March 3, 2005
Welcome my friends!
On behalf of the Disneyland Resort Cast, Indiana Jones and his longtime friend Sallah we would like to take this opportunity to welcome you to the expedition known as the 10th Anniversary Celebration of the Indiana Jones Adventure.
It is a great honor to be able to host such a noble group of archeologists and explorers such as, yourselves. Your journey will lead you on the adventure of a lifetime! You will encounter strange and exotic people, wild beasts, dark caves and haunting music. At every turn there are things to discover and uncover...so keep your wits about you as you courageously embark on this expedition. Please take a moment to review your itinerary and ensure all your travel documents are in order.
May good fortune go with you.
[signature]
Mary Murray
Director, Merchandise Specialized Businesses
Disneyland Resort
2. badge showing Mara's head with itinerary on the back and an additional sheet with the event logo and group name on the front and a Mara alphabet guide on the back (there were three group names and each group name had a different colored lanyard)
Mara gives you entrance to the event.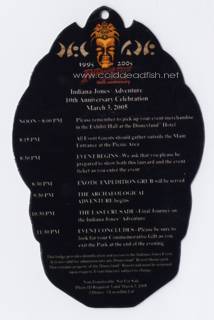 The back of Mara's head includes the event itinerary.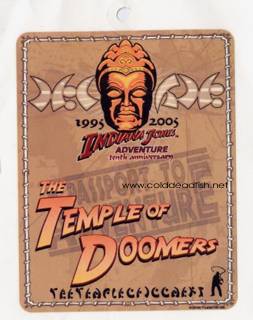 Mara script translation sheet.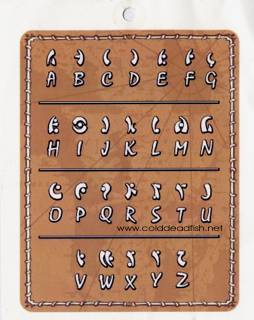 Mara script to English translation code.
3. ticket for admission to Disneyland for the event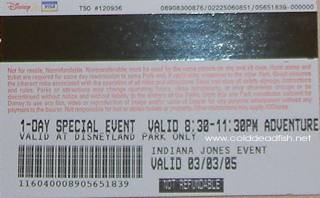 Event admission ticket.
4. event itinerary
5. event evaluation
6. shopping list for items still available in merchandise store
7. invoice for pre-purchased items
8. 4 voucher cards to redeem a refreshment, a chocolate treat, an ancient artifact and a commemorative gift; and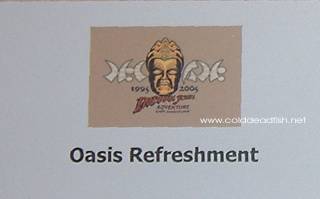 To quench your thirst later.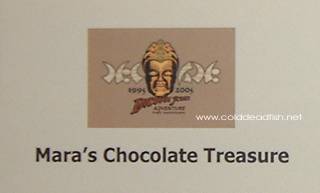 To satisfy your sweet tooth later.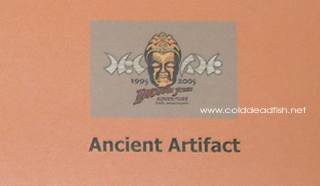 A treasure to find.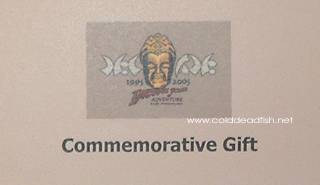 Thanks for coming.
9. photo opportunity voucher.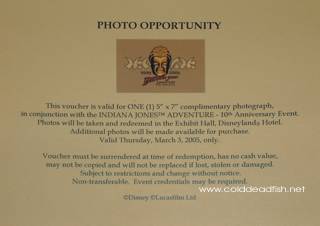 Picture day is here.
We then proceeded to the merchandise pickup room, and the CM who helped us was very nice and handled the merchandise very well. We noticed that she was using a different method of opening the boxes, and she explained that they had actually been instructed to open the boxes in this new way as it was more efficient and also guarded against damaging the merchandise in the opening process, a problem we'd run across during a prior event. In conversation, she also mentioned that there were about 400 people expected for the evening's event. For prior events, merchandise was put in a translucent bag. For this event, they instead used a sturdy paper bag with the event logo on the front. Guests also had the option of shipping their purchases home.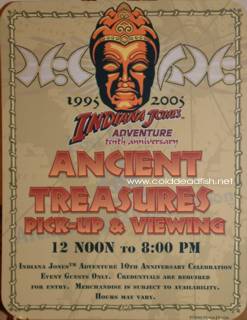 If you bought it, come and get it.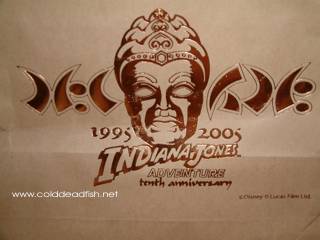 Logo on front of merchandise bag.
By the way, the word written in Mara script in the logo is "decade".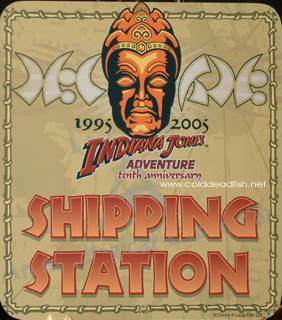 Have your merchandise sent home.
After we had received our registration packets, we were pleasantly surprised to discover that a complimentary photo op picture was included with our packet. We got in line at the photo station and then took our turns. The photo station is fairly simple, with the framing of the picture added separately. At prior events, photo op pictures could be purchased, so it was especially nice that one photo was included in our packet this year, with additional photos being available for purchase.
Photo op location.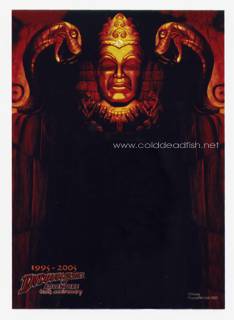 The framing around the picture.
PRE-EVENT
After finishing up and taking our merchandise to drop off at the car, we headed back into Disneyland to see what the setup was like. Most of Adventureland had been roped off, with enough room on the side with the shops for people to walk through. They had begun to put out tables and tablecloths and the stations for the chafing dishes. Tropical Imports, the store right next to the Jungle Cruise (which was currently not in operation as part of a planned update), had been cleared out of its normal merchandise in preparation for the event. We noticed one box on a table that we found particularly interesting since it contained edibowls. We figured that might be used for something like soup. What a great idea. We had also noticed a throne in the area when you first enter Adventureland, but we weren't sure what that would be for.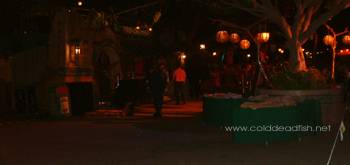 Getting ready for the party.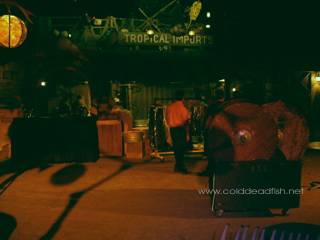 A lot of work still needs to be done.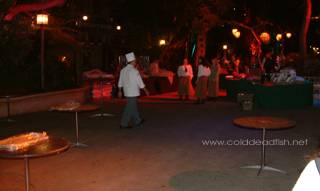 Everybody's busy.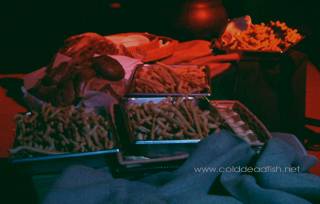 Hmmm, what are those for?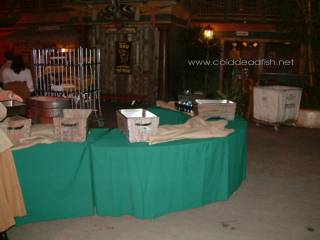 A food station being set up.
These bread boules will be used as serving containers.
Hmmm, what are these?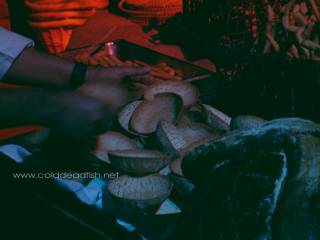 Edibowls.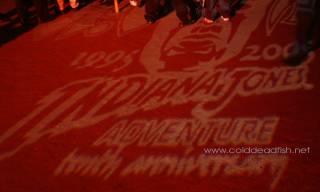 The event logo projected on the ground.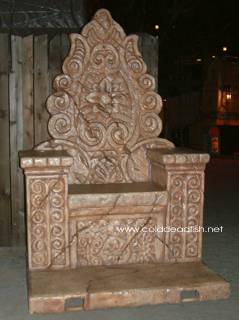 Who will get to use this?
THE EVENT
After watching for a bit longer, we decided to rest for a bit at Coke Corner, as we had a busy night ahead of us. We had been instructed to gather at the picnic area outside the park at 8:15, so we headed out at about 7:45. We noticed that a number of event attendees were gathered outside the exit, near the restrooms and outside lockers. After checking with a CM, it was confirmed that we were supposed to be in the picnic area, so we headed there. At about 8:30, we noticed that people were leaving, so we followed the group, which took us through the bag check station. We had been surprised that the meeting place was outside the bag security zone, but since by 8:00, DCA was already closed, and Disneyland was just closing, the bag check stations were probably no longer in operation. As we followed the group towards an entrance turnstile on the far side, we noticed that a number of people had stayed in the exit area, so they ended up being at the front of the line, which we thought was unfair since they hadn't gone to the picnic area as we'd been instructed. We all lined up at a turnstile, and we waited for a while in that line. We were finally let in, but since they had to scan all of our tickets, it took a while to get through the line, even with two turnstiles open. We were probably about at the mid-point of the entire group. There were still people leaving the park as we walked down Main Street and to Adventureland. At the entrance to Adventureland, we noticed the throne we'd seen earlier had been decorated with more things, and it served as a background to take pictures with Mickey, who was dressed in safari gear. Minnie was off to one side dressed in safari gear as well and graciously posed for a picture. We saw the two of them later in the evening walking through as we were in line for food. The event logo was also projected on a wall near the entrance.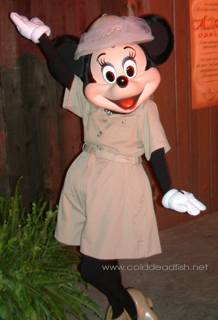 Minnie, stylish as usual.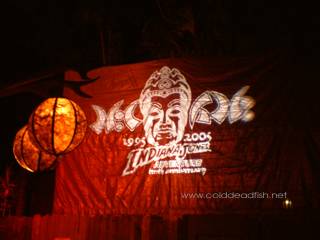 There's no mistaking where you are with this on the wall.
In the area above Tropical Imports where the steel drum band normally plays, there was a three-piece band along with a male and female announcer. They were up there for the duration of the event, bantering back and forth and with the crowd. They supposedly had some vague familial relationship with Sallah...but it was complicated. They were entertaining for a while but actually became a bit irritating to listen to as time went by. We noticed that all of the shops in the area were closed except for the Indiana Jones attire store. Last minute purchases, anyone? There were also atmospheric people wandering around greetings attendees. I had found out earlier in the day that as I had feared, there would in fact be live snakes at the event. I am deathly afraid of them, but I love Indy anyway, though it is extremely snake heavy. I had been warned that I should stay away from the Jungle Cruise area, but as it turned out that that was where all the food was, that wasn't going to work. As we were waiting in line for food at one point, I did notice that two belly dancers each had a live snake draped around them as the dancers were making their way through the crowds. Luckily, they were far enough away that I didn't have to leave the area to avoid them, and not too long after, the dancers went off-stage to prepare for the next portion of the evening.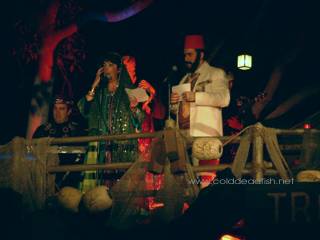 Let us entertain you.
A line had formed at one of the food stations, so we joined it, but then a CM informed us a little while later that there were actually two identical stations that branched out from the middle, and that we should actually line up at another location, and then the line would split into two, one to each side. It wasn't clear at all that that was how it was set up, and it was hard to tell where the middle was where the line was supposed to branch. It would have been much more helpful if there had been a CM there to help direct when the lines initially formed or if there was some signage or ropes as some indication.
The first line we got to ended up being for salad. There were three kinds of salad, one with grilled vegetables, one with pasta salad, and one with curry chicken. The plates provided for our use were plastic but resembled bamboo and were divided into three sections. Each dish had a sign explaining what it was that also included a clever thought. There were also random signs interspersed throughout as part of the general theming.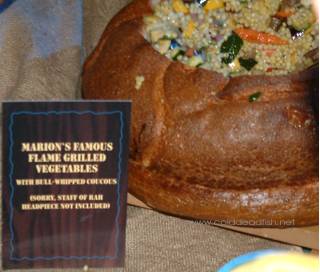 Grilled vegetable salad.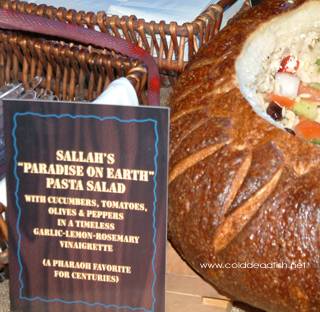 Pasta salad.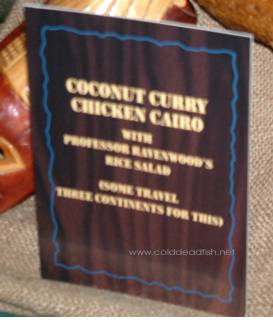 Curry chicken salad.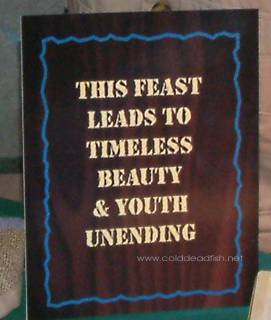 Random sign scattered on food tables.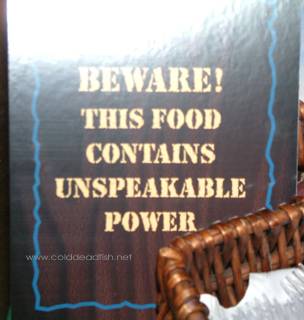 Another sign.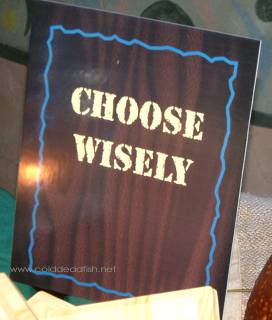 Yet another sign.
After we got our food, we noticed a line for the next station, so we got into that line and ended up eating our salads while waiting in that line. We saw that some people had sat down at the tables, but since the lines for food were so long, it didn't seem like there would be time for much sitting. Eating our salads while standing in line was definitely not preferable. I really enjoyed the curry chicken, which had good flavor, and the other two salads were ok.
At the second station, which again split into two sides, there were appetizer-type offerings. There was a dip with pita chips, bread sticks, and then the bowls we'd seen earlier, which were in fact being used for a red lentil soup. There were also samosas at the end.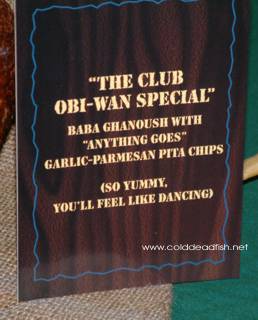 An appetizer.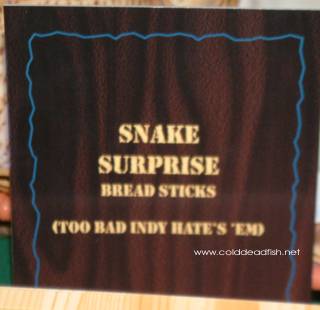 I'll pass on this, thanks.
But note the inappropriate inclusion of the first apostrophe.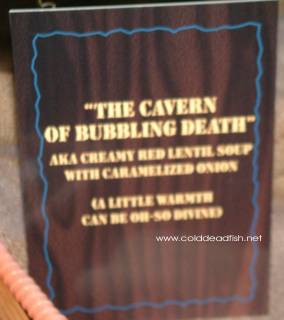 Soup is good food.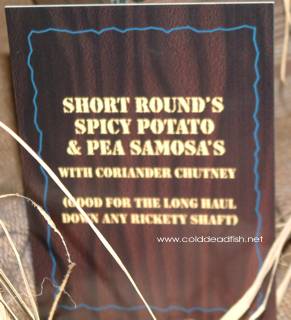 More appetizers.
We decided at this point to sit down to enjoy our food, and we had been told that French Market seating was available, so we headed inside. Soft drinks and water were available at stations, so we stopped to get our drinks on the way. I thought the dip and samosa was just ok, but the soup was very tasty, with good flavor. The edibowl seemed to be made out of hard bread or pita.
We had seen people with skewers of food earlier, so we decided to go back for that, with two of us going and one staying to watch our table and things. The line was fairly long for the skewers. There was again one line that branched out into two identical serving stations, all located right in front of Bengal Barbeque, where the skewers were apparently being cooked. They had bacon-wrapped asparagus, chicken and shrimp with pineapple. We took our food back to our table to enjoy. The bacon-wrapped asparagus was quite good, and it seemed to me that the asparagus spears were larger than what I remembered being served at Bengal Barbeque, but my husband disagreed as they seemed the same size to him. We all agreed that it was very tasty. The shrimp was definitely not up to par. It was very mushy, like it had been frozen shrimp that had been thawed poorly. I ate one or two and left the rest on my plate, choosing to eat the pineapple bit instead. The chicken, which was all white meat, was also delicious.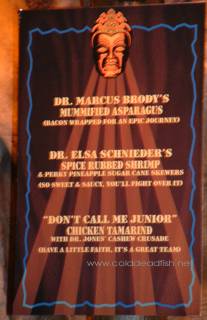 Not quite Bengal Barbeque's regular menu.
THE EXPEDITIONS
As we were eating, a CM came in to announce that the first group was leaving on their expedition. Our itinerary had included an archaeological adventure: "Guests will be divided into three groups and sent off on a scavenger hunt to either the Indiana Jones Adventure, Pirates of the Caribbean or Tarzan's Treehouse. All groups will rotate to all three attractions in a quest for clues. Where will your quest for adventure and antiquities ultimately lead you? Perhaps only Mara knows for sure!!" We had noticed earlier that people had drinks in plastic pineapple containers, and we figured that was the "refreshment" for which we had a voucher. My husband and our friend went to get in line for that while I watched the table. Because our schedule was so far off from the itinerary, we had no idea when anything was going to happen. Also, because there were lines for each food station, there hadn't been that much time to enjoy our food. If we'd been part of the first group called, we would have had to leave right then and there. We knew that there were people who got into the event area after we did, and they would have had to stand in the same lines we did, so they would have had even less time to enjoy their food if they were in that first group. Shortly after my husband and our friend left, a CM came in to tell us that the other two groups were now going on their expeditions. I gathered up our stuff and went to find them. They were still in line for the refreshment, but we were told that would still be available later, so we received an instruction card and headed off to Tarzan's Treehouse, which was our group's starting point. The instruction card said: "Use this master deciphering card to transfer all of your collected clues. Place the corresponding numbered answers into the corresponding numbered boxes, then focus and read Indiana's coded message." In Mara script underneath, it said "good luck fellow travellers". Around the borders of the card were spaces numbered from 1 to 34. We joined the line at the side of the attraction, where the old meet-and-greet with characters used to be held. After waiting a while and watching various people go into the attraction, a woman dressed as a harem girl came by and handed us a card. It was the first clue card, from which you answered questions based on clues, and then you were instructed to write down a certain letter from a certain word as the answer to a numbered space at the top, which could then be transferred to the master card. Each attraction had multiple clue cards (the Treehouse had 2, Pirates had 2, and Indy had 3), with the clues ranging from questions about the attraction itself (what non-man in the Treehouse camp has found his mother, which person whose picture is painted on the wall as you enter Pirates fits the clue, what does the safety card say that Sallah holds up in the caution film) to questions about each of the three Indiana Jones films. Many of the clues or parts of clues were written in Mara script, which you could decode using the guide on the back of the card included with your lanyard. It was fun for a while, but as time wore on, trying to decipher Mara script in less-than-illuminated surroundings became a bit tedious. Once you had the answers to all the clues and was able to transfer those answers to the master card, it would spell out instructions to where you could find the ancient artifact.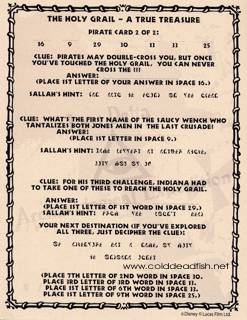 One of the clue cards.
After the harem girl handed us our cards, she said that people weren't actually in line to go into the attraction, but they were figuring out answers to the clues before heading in. That meant we'd been waiting in a non-line. I had earlier seen her handing out the cards to people further ahead of us but figured she was just handing them out as people were moving up in the line. Since there really wasn't a line, It would have been better if she'd stayed at the back of the line and handed the cards out to people as they came up since you could start working on your clues right away. After figuring out the first couple clues which were movie related, we then got to the attraction questions and headed into the camp area. The one answer we were still looking for involved looking at the nameplates of about 6 to 12 plants to get our answer. However, with that many people trying to figure out something in a cramped space, it was very hard to get close enough to get our answers, so it took a while to wait for people to get their answers and leave, making room for others to move up. Once we got our answer, we tried to figure out how to get our next clue card, since the card had said "1 of 2". I saw a CM standing in the area so went to ask her, but she seemed to have no idea what I was talking about. When I asked about the second card, she said I just needed to go to the next attraction, which didn't make sense to me since we'd not yet received the second card on this attraction. Shortly after, we noticed another harem girl passing out the second card. It was frustrating to have a CM there telling me a completely wrong answer to what I expect would have been an oft-asked question. It seems to me that the CMs should have been told how their portion of the event would run so that they could provide assistance instead of wrong answers. We figured out all the answers on that card and then moved on to our next attraction, Pirates.
At the entrance of Pirates, we were given a clue card, and we worked on the answers there. We figured out both puzzles so then proceeded to the loading area. We figured the second card would be at the exit, but we weren't sure if there was anything special about the ride. Again, the CM knew nothing about the second card when I asked him about it. We asked him if anything was different about the ride this night than others, and he replied that he knew there was definitely at least one thing, so we decided to go on the ride. It turns out that the only thing different on the ride is that at one point early on, a woman is standing on an overpass, and she's basically there to help you in case you didn't get the two answers. Since we'd already had both answers, there had been no reason to go on the ride, which we can go on at any time. We ended up spending the 20 minutes on the ride when we could have been doing something else related to the event, 20 minutes that would have come in really handy given later events. At the exit, there was another harem girl with the second card. After a quick scan of the card and seeing that all the clues were movie-related, we decided to head to Indy since it was very late and we wanted to make sure not to miss it. As we headed that way, we saw a crowd in the loading dock for the river boats, and the Columbia was docked there as well. A CM mentioned that Tony Baxter was down there with some games. We'd not been told about any games, nor had we been given any vouchers like we had for previous events that involved games, so we decided to opt for Indy first.
We received our first card at the entrance to the building, with some of the clues from the ride itself. After we got through the safety film room, we finished that card and received our second card. All of the answers to those clues were in the little alcove just past the safety film room, one from the caged area and two from the letters in the display case on the wall. You had to look amongst the letters to find the answers, so again, everyone was in a small space looking for answers, so again, it took a while to get through that area. After finishing our second card, we continued on and got to the ride loading area. We asked the CM if there was anything different on the ride, and he said "not yet", so we just walked through when a jeep pulled up for loading. That turned out to be a good decision since there really was nothing different on the ride, and we would have ended up spending yet more precious minutes doing something we didn't need to do right at that time. At the exit, we got our third card, which we tried to decipher as we walked out.
When we got back outside, we weren't sure what else was going on, but someone had mentioned earlier in the evening that dessert would be available after the expeditions, so we headed back to the food areas. There had been no mention of dessert in the itinerary, so if not for being told that accidentally, I'm not sure we would have known about it. On the way there, we ran into one of the event organizers who told us that we could go down to the Columbia area to participate in something else, or we could just redeem our vouchers for our artifact at a nearby table. We figured out later that the final answer to all the clues would direct people to the Columbia to get their ancient artifact, but because of timing and convenience issues, they also had the artifacts in the main event area. We asked about the special ride, and she said that was definitely still coming up. We also asked about the timing of everything, and she said that because everything had been running late, while the event was originally scheduled to end at 11:30, everything was being pushed back, so the ride should be open until midnight or 12:30. At this point, it was about 11pm or just slightly after. We decided to just pick up our artifacts and have dessert. The artifact ended up being a block of hard clay that was wrapped with a small hammer and chisel. We were told that you break the block apart to find the treasure inside, and that at the Columbia loading dock, they could help you do it there or you could take it home to do it. We opted to take it home. We didn't open the block when we got home, but another attendee had opened his block at the event, and inside the block was a tin with the event logo, and inside the tin was an event pin.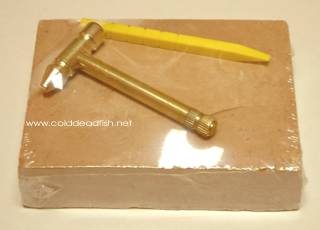 What treasure lies within?
All of the desserts were available inside Tropical Imports, so we found a nearby table with chairs (the available tables that had been put out for the event were regular tables with chairs and cocktail tables where people could stand) . I watched the table while my husband and our friend went to exchange our refreshment vouchers. The voucher was for one of the coconut drink containers, which included a non-virgin Mai Tai, which tasted pretty good. However, for those who chose not to have the drink, they had packaged drink containers that people could take with them. They also went to redeem our chocolate voucher, which turned out to be chocolate shaped like Mara's head, and then we took turns getting dessert. While our friend and I waited, the announcers atop Tropical Imports announced that it was time for a special event and invited attendees to move closer to that area. They then introduced Tony Baxter, who spoke about the development and creation of the Indy ride as well as the opening ceremonies 10 year prior. Since it hadn't really been announced beforehand, and people were still scattered and some may have still been on one of the attractions on a quest, some people might have missed Tony's talk altogether. While he was speaking, our friend and I decided to join the dessert line and continued to listen to Tony while we got our dessert. They had a sampling of different things (strawberry papayas pieces, date walnut bread, macaroons, bananas, pineapple chunks and mini cheesecakes) with chocolate sauce that you could put on top. As we were in line, we heard Tony talk about the ride and announce that as a special treat for the evening, we would be able to go on the ride with all the work lights on so we could see all the work that had gone into the ride. The announcement was met with a cheer from the crowd, many of whom probably had wished for just such a treat. We took our dessert back to our table to enjoy, figuring we still had plenty of time.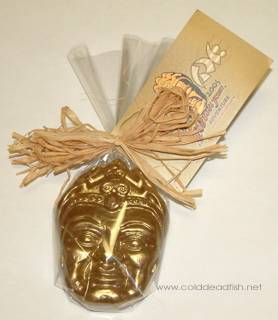 You shouldn't look into Mara's eyes, but should you eat her head?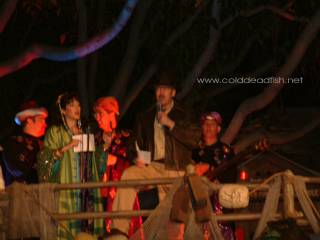 Tony Baxter.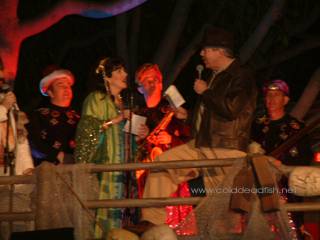 Tony again.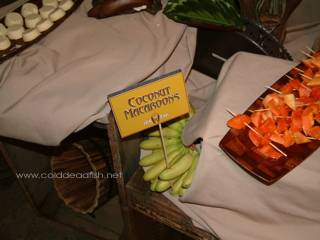 What's for dessert?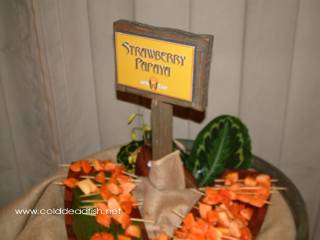 More dessert items.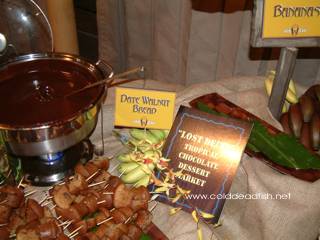 Chocolate, anyone?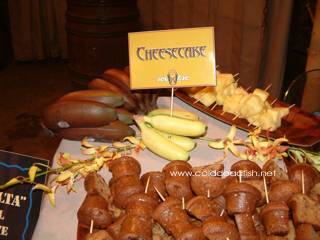 More from the fondue bar.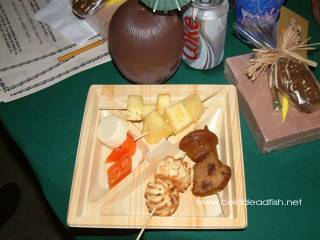 Time for dessert.
The coconut drink container is above the dessert plate.
When we first sat down at our table, I had noticed a napkin different from the ones that had been available all evening. Rather than the regular-sized napkins, this was a cocktail napkin, and though I looked around at the still-open stations, I could not find another one, so I'm not sure where this napkin came from, but it was definitely a preview of things to come.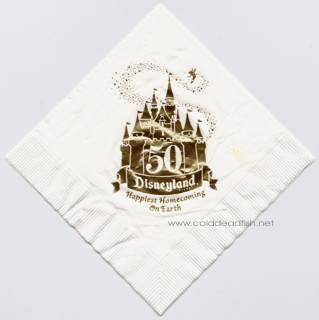 A preview of the 50th.
We had noticed that as soon as we sat down with our desserts, the dessert station had closed. We had a few bites and then decided that we should head over to the ride, since it was now 11:45. When we got to the ride entrance, we noticed a crowd (consisting of what looked like about 40 people) standing by one of the event organizers, and then we noticed that the entrance to the ride was closed. But it was only 11:45, not midnight or 12:30. Apparently, since the ride had originally been scheduled to close at 11:30, it had in fact closed at that time, never mind that the event had been running behind schedule all evening. I was also remembering what another event organizer had told us earlier about the ride being open later, but perhaps she didn't know that things were going to change. As we stood around wondering what was going to happen, we were told that they were taking down our names so that we could be compensated for our missed opportunity. That was definitely not what I wanted to hear. I didn't want compensation. I wanted to ride Indy with the lights on. There was not going to be any compensation that would make up for that unless it was a voucher to come back another day to ride it with the lights on, which could have been easily done by us because we live locally but not by someone who might have flown in for the event. But I didn't want more merchandise, I didn't want a comp ticket, I didn't even want a refund of my event admission, and I didn't want anything else that they could have come up with as a substitute. We spoke to another event organizer who told us that they were trying to see if they could get the ride back up, but they didn't know, and rather than make us all wait, that's why they were taking our names. I asked how long a wait they thought it would be, and she said maybe 10 minutes. I said we were fine to wait that long. Apparently, the problem had been that since the event was supposed to end at 11:30, that's how long the attraction CMs had been scheduled to work. They were in the process of trying to get the CMs to stay longer so that we could go on the ride. After waiting around for a few more minutes, someone who looked to be an attractions manager or equivalent came and told us that he was very sorry for the inconvenience, but he had been able to convince the CMs to stay on, so we'd be getting our ride shortly. A cheer went up in the crowd, and we all moved closer to the entrance to wait to be let on. When the ropes were finally dropped, we went through, and we made it a point of thanking each CM along the way for staying late so we could go on the ride. With the group that was already standing there when we walked up to the closed attraction, and whoever else might have come up while we were waiting or once the attraction opened again, I don't know how many people there were who ended up finally getting to ride with the lights on.
After making our way through the queue, we got near the loading area and noticed Tony Baxter standing with a group of people on the exit platform. He looked surprised and asked where we came from, and we gave him a quick update as we walked past. At last, we were loaded into a jeep and headed off. It was a spectacular ride. We were able to see all kinds of things, including various ride mechanisms and even ride elements that add to the theming but really aren't visible during a normal ride. We along with the people in our jeep were whooping and hollering and cheering through the whole ride, as I'm sure was duplicated during the evening by other attendees. It was almost an occasion to give yourself whiplash as we looked left and ride and ahead and left and ride and ahead to see as much as we could see with this one ride. While there were many interesting aspects to the ride (hey, there are huge fans in here - what're those metal tubes sticking out of the walls in the room where they're supposed to be blowing darts at you), the absolute best was in the room with the rolling boulder. There was more cheering at the end of the ride, and everyone was so thrilled to have been able to go on it with the lights on. On the exit platform, Tony Baxter was still there, so I made it a point of going up to him and shaking his hand and thanking him for such a spectacular attraction.
At the exit, we said goodbye to the event organizers, who were still there, and we thanked them for arranging for us to get our special ride. We made our way out of the mostly-empty park and smiled understandably at the numerous people having their picture taken on a near-empty Main Street. One of the things I love about these evening events is that by the time the event finishes, the park has been closed for some time, and you walk through near deserted areas of the park. Even the music on Main Street had been turned off at this point, not surprising since it was about 12:30am and the park had closed at 8pm. As we exited the park, we handed a CM our last voucher and received our commemorative gift, which was a perpetual calendar wrapped in a bag. The wooden calendar has an elephant sitting atop, and scrolls that are turned for each of the month, date and day. We noticed that the scrolls themselves were made out of cloth rather than paper or plastic, which added to the look and would add to the longevity of the calendar.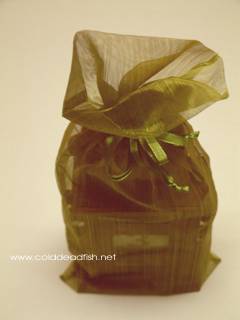 The commemorative gift.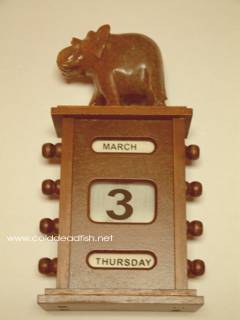 The front of the perpetual calendar.
The event logo (in this case crooked) on the back of the perpetual calendar.
We made our way to the tram stop and thought it odd that one of the vans usually used as the disabled guest courtesy shuttle was parked there. Usually, at the conclusion of a late evening event, there's a tram waiting there. We saw other attendees get into the van, so we made our way there as well. There weren't enough seats left for our party of three, so the party of two who were walking behind us took the last two available seats. As they were driving away, another van pulled up, so we got into that. After we had a full bus, we headed off toward the parking structure. The driver was dressed in the normal tram costume, so we asked about the van being used rather than the tram. She said that they had expected most event attendees to park at the Disneyland Hotel (which had been suggested in the information given to us prior to the event, but since we had annual passes, it made more sense to park in our normal structure rather than pay the extra money to park at the hotel), and since the event was ending so much later than expected, the vans seemed the best solution for getting people back to the structure. It was rather a pleasant drive back, as the driver was very nice and easy to talk to. We got dropped off, bid her farewell and headed to our cars and home.
OBSERVATIONS
All in all, I had a good time at the event, but it was definitely marred by the various problems that arose. The biggest problem seemed to be the rather late start to the event (we never got around to asking anyone what had caused the delay), compounded by various activities taking much longer than one would expect. Even entering the park for the event took some time, since they had to scan in everyone's ticket once the turnstiles had been opened. For the last Haunted Mansion Holiday event, anyone who was already in the park at the time of park closing was allowed to stay and a line had already started along the Rivers of America. Having event attendees already in the park would seem to be the best solution as there is no additional time being taken up getting people in. With Main Street still open when the event started, I can see how mixing the two might be challenging, but there are places like Big Thunder Ranch or the Festival Arena or the Fantasyland Theatre which could serve as good holding places.
The format of the dining portion was also a definite problem. People spent a lot of time in lines, lines for each course and for drinks. I noticed that outside River Belle, there was a table set up with a CM and what seemed to be exotic birds, but we never even had time to go over and look. The dining was rushed both by the revised schedule and because so much time was spent in lines - needing to eat one thing while you're waiting in line for another really is a problem. For the last Haunted Mansion Holiday event, there had been food provided as well, but we never ran into this kind of problem, so we wondered what the difference was. Then it occurred to me. At the start of the HMH event, there was food available, but there were also numerous games to play, and a band playing, and characters wandering around, and the ride to go on, so people were spread out all over, doing various things, so no one thing was unbearably crowded. In this case, there was nothing else to do, so everyone was eating at the same time. When we later went on our expeditions, there seemed no reason why the dinner and the expeditions needed to be separate. The quests were really individual endeavours rather than needing to be led by a CM, which we thought might be the case when we were speculating on what the expeditions would be like. According to the itinerary, the expedition would last a total of one hour. With 3 attractions to go through, that allotted about 20 minutes for each attraction, which really wasn't enough time given the amount of deciphering necessary and some of the attraction-based answers that were needed. It would also have been nice if the CMs at the attractions were able to instruct the attendees that going on the rides wasn't necessary to complete the quest, except in the case of Pirates if people didn't already have both answers. Even then, given the time constraints, it doesn't really add up to try to figure out the answers and then have to ride the almost-20-minute ride to get them. As much as I enjoy Pirates, the 20 minutes we spent on the ride itself really could have been better used on other event activities.
I also remembered that at the HMH event, there were 6 identical food stations, so there were plenty of places for people to get food. For this event, there were only 2 identical food stations for each course, which was definitely not enough to adequately accommodate all the event attendees in a reasonable amount of time. This was coupled by the fact that since everything was held in Adventureland, there isn't much space to work with in the first place, whereas the HMH event had basically all of New Orleans Square to work with, so there wouldn't have been room to have more food stations in Adventureland anyway. When we initially registered for the event, we had been in anticipation of it and discussing what we thought might happen. We had figured that Adventureland was too small and crowded to accommodate serving stations and tables for that many people, so we didn't know what they were going to do. Unfortunately, our assessment that it wouldn't work proved to be all too true. While I understand that the Adventureland area added additional atmosphere to the evening, I would definitely have sacrificed that for a larger area in which to comfortably handle the crowd. The area by the Rivers of America around the entrance to Pirates would have seemed ideal, with plenty of room to put additional food stations as well as tables and chairs, not to mention a beautiful view of the Rivers of America during the meal, and the announcers/band could have been situated on the bridge above. That location is still central enough to be able to easily get to Indy, the Treehouse and Pirates.
I liked that the "game" we played was different than at the last two events we attended, but while I appreciate the obvious time and effort that went into creating the elaborate quests, I did think it was too involved and difficult and took too much time. Since the event was about the attraction, I would have liked fewer questions based on the films and more based on the attraction. And the couple instances where attraction-based clues involved a very small space that everyone had to get into to get their answers really made the game that much slower.
I was disappointed that the special ride on Indy with the lights on was only available for a short time, seemingly, after Tony Baxter made the announcement. In recent prior events, the special ride was available for a number of hours during the course of the event, so you could ride it multiple times, which I'm sure is something event attendees would have liked to have done in this case. Even with one of the quests being on Indy, the answers were only in the queue area, so having the special ride itself being available for most of the event wouldn't have seemed to be a problem. We thought that perhaps, the CM had mistakenly told us that there wasn't anything different on the ride when we asked, but we later heard another attendee say that she'd gone on the ride during the quest, and it was the normal version. If the special version of the ride had been available near the beginning of the event, it would have been yet another activity that attendees could have chosen to do, spreading out the people even more.
One minor point that became a bit of a problem was that with the various things we were receiving (coconut cup, ancient artifact, chocolate), there was no way to easily carry everything. We had encountered this problem at the last HMH event as well, so we had planned to bring a bag with us in case there was stuff we needed to carry. Unfortunately, we forgot to do so, and it ended up being lucky that our friend was carrying a backpack so she was nice enough to let us put all of our stuff in her backpack. It would be helpful if a merchandise bag could be included either in the registration packet or at admission into the event if multiple giveaways are involved.
One thing that seemed to go completely right was the weather. We've only been to one special event that even had the threat of rain. Given that these events are held during times when rain is possible, that is no mean feat. With this event, there had been weeks of torrential rain in the Southern California area with only occasional breaks, so the thought that it might rain on the day or night of the event must have been a daunting prospect indeed for event organizers to face. Given the outdoor setting of most of the event, rain would literally dampen the evening. But come Thursday morning, it was a bit cloudy, but nothing else. As night came, it was mostly clear with just a few clouds, staying that way for the entire evening. But come Friday morning, rain. For another special event that Disney held in early February, when the rains had already been pounding, it was again rain-free. Whatever Disney is paying to make the weather cooperate, keep those payments current.
I do applaud the organizers for making this event a bit different, so that regular event attendees weren't getting exactly the same kind of event that they'd gotten used to, but with any new system, there are problems that definitely need working out. Hopefully, the organizers have themselves observed the difficulties over the course of the evening that are mentioned above so that any future similar event can be adjusted accordingly. Even with all the problems mentioned above, we still had a great time and don't regret going to the event at all, and we're definitely planning to attend any future events that interest us.
Back to Cindy's Disneyland Resort Page.
Back to home