"SNOW WHITE AND THE SEVEN DWARFS" 70TH ANNIVERSARY EVENT
NOVEMBER 16, 2007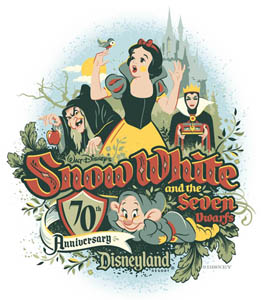 INTRODUCTION
When we first heard that there was going to be an event celebrating the 70th anniversary of the release of the first feature-length animated film, "Snow White and the Seven Dwarfs" (the actual anniversary is on December 21), we were intrigued. This was the film that started it all, for feature animated films in general and Disney animated films in particular. When the details of the event were released, I was a little hesitant as it didn't quite include everything I had expected, but the husband expressed a greater desire to attend, so we decided to go, and I'm glad we did.
There were two packages available. We optioned for the higher level one, the Poisoned Apple package, which included entry into DCA after 2pm on the day of the event; the soiree (hors d'oeuvres, dessert and signature drink); premiere viewing of the new "The Fairest One of All" exhibit; panel discussion with John Lasseter, Chief Creative Officer Pixar and Disney Animation, as well as other guests, moderated by Disney Animator and Producer Don Hahn; reserved seating for a special screening of the film inside DCA; opportunity to pre-purchase themed merchandise; artist signing opportunity with Dave Avanzino, David Bird, Elisabete Gomes, Robert Olszewski and Yakovetic; and commemorative keepsakes. The lower level offering was the Magic Mirror package, which included entry into DCA after 5pm on the day of the event, attendance at the special screening of the film and a commemorative keepsake. We had chosen to attend under the higher level package because it included the panel discussion and soiree. If for some reason the higher level package had sold out and only the lower level package had been available, I don't think we would have gone, because just going for the film and a keepsake wasn't worth it to us.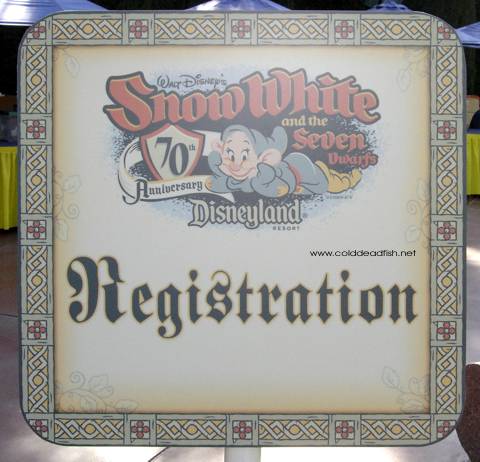 EVENT REGISTRATION
We had booked a room for the night at the Tropicana Hotel, across Harbor Blvd. from the main entrance to the resort since our original plans had included needing to be at the resort early on Saturday morning. Those plans fell through, but we had already paid for the room, and we always enjoy staying at the Tropicana, and it did end up coming in handy anyway, so we checked in early and then arrived at bag check at the resort around 12:30. We had read that event registration was at the east esplanade, and we noticed right away that there were tables and umbrellas set up just inside of bag check, so we made our way there. There was almost no one else checking in at that time, so the process was quite easy. We showed our drivers licenses, and they pulled our packets, checked to make sure we had everything we needed, and we were on our way.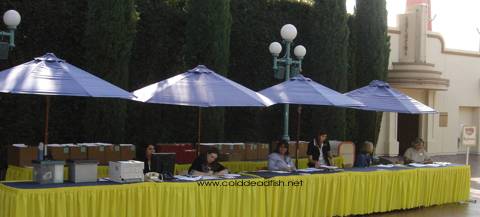 The registration tables.
Our packets included the following:
1. welcome letter from Mary Murray on letterhead containing the event logo
November 16, 2007
Welcome to the Enchanted World of Snow White!
On behalf of the Disneyland Resort Cast, Snow White, Bashful, Doc, Grumpy, Happy, Sleepy, Sneezy, and of course Dopey, we welcome you to what is sure to be a delightful evening. And we wish you seven times the fun!
We are honored to have all of you Lords & Ladies, as our guests this evening. A word of caution as you set out into the world of fairy tales: Beware of strange old peasant women that offer gifts, they may not be all that they appear. And sometimes the woods can be a terrifying place after dark so stick together whenever possible. Now with that being said, please take a moment to review your itinerary and ensure all your documents are in order before you venture into the woods.
And may you live happily ever after.
[signature]
Mary Murray
Director, Merchandise Specialized Businesses
Disneyland Resort
2. badge for Poisoned Apple package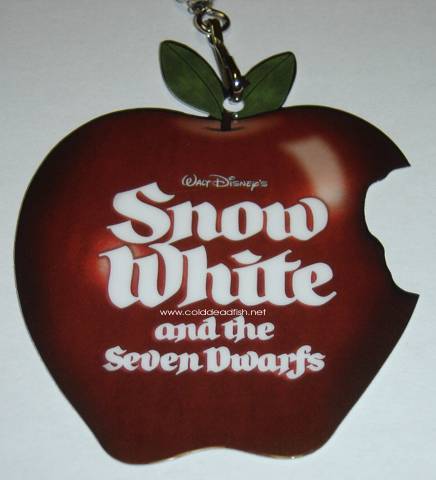 The front of the Poisoned Apple badge.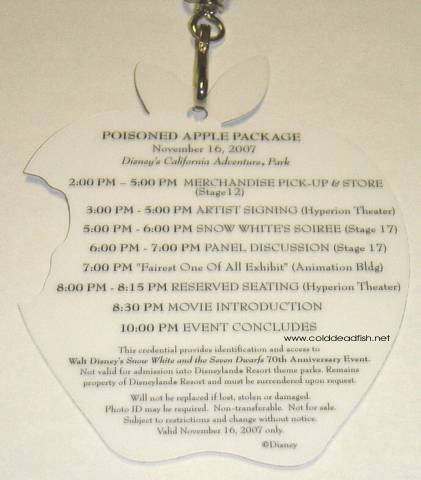 The back of the Poisoned Apple badge, with itinerary.
3. event itinerary
4. shopping list for items still available in merchandise store
5. invoice for pre-purchased items
6. voucher for commemorative gift at the end of the event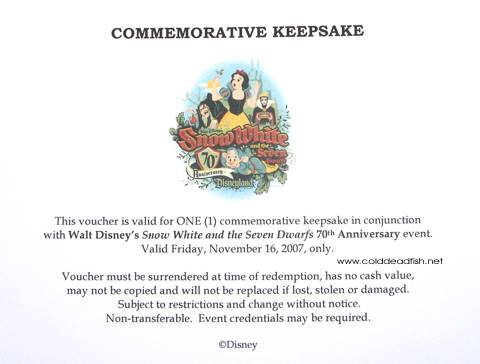 Voucher for commemorative keepsake.
7. We were also each handed a wrapped gift, which was part of the Poisoned Apple package. And how appropriate a gift!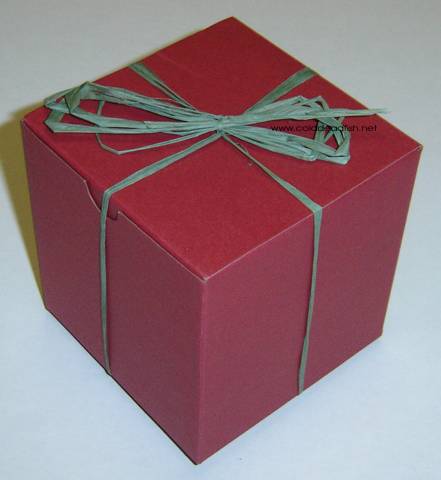 Wrapped gift.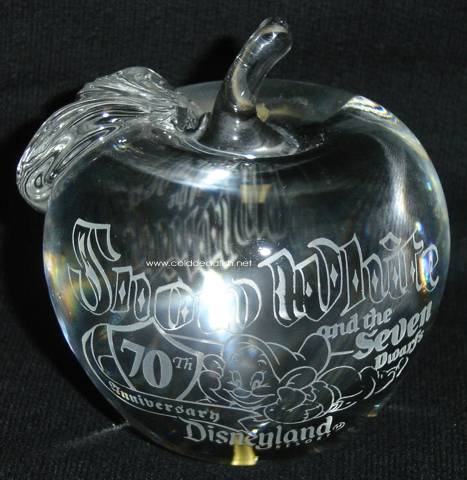 Inside the wrapped box was a beautiful glass apple,
etched with the bottom half of the full event logo.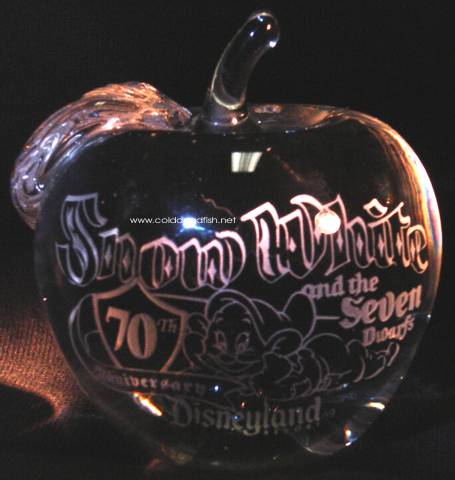 A slightly different picture of the beautiful apple.
When we checked in, we were asked if we had our own admission into DCA, and we said we had annual passes. Presumably, if we did not already have our own admission media, they would have given us some kind of admission ticket, as they have done in the past.
Those who purchased the Magic Mirror package had their own badge.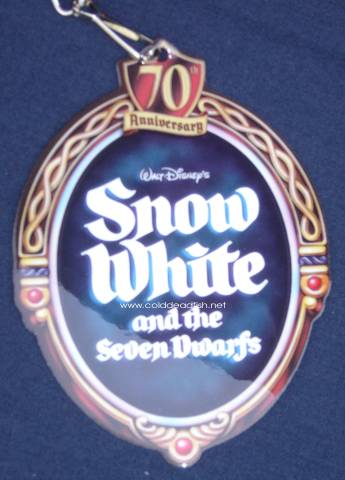 The front of the Magic Mirror badge.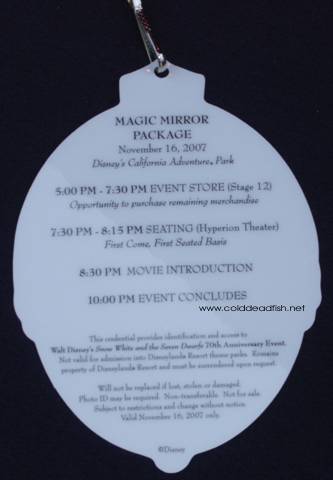 The back of the Magic Mirror badge, with itinerary.
We headed into DCA for some lunch before the event. We hadn't been to the Mexican place at DCA, called Cocina Cucamonga, in quite some time, so we decided to stop there. We put in our orders and then waited for our food to come up. And waited. And waited. And waited some more, along with lots of other people as well. I've only eaten there once or twice before, and I remember having to wait quite some time on those occasions as well. It baffles me as to why it takes so long to get your food there. It's not like they have to cook anything - everything is pretty much already pre-made, and it's just an assembly line process to put together whatever you ordered, whether it's tacos or a burrito or whatever. Our food finally came up, and we sat down to enjoy our lunch. We both found the food to just be ok. The food at Rancho Del Zocalo at Disneyland is much better, with a bigger portion, and certainly much faster service. If we want Mexican food in the parks, we'll opt for Rancho, so I can't imagine ever going back to the Cocina again.
THE EVENT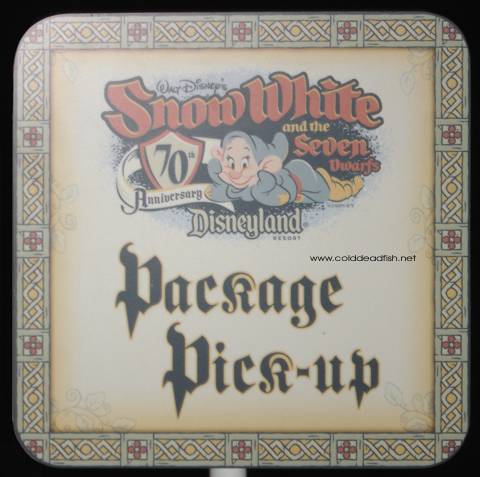 Merchandise pickup and the event store opened at 2pm, so we headed over to Stage 12 (the former Hollywood and Dine eatery in the Hollywood Pictures Backlot). The inside had been cordoned off with a section to pick up the preordered/prepaid merchandise, and the remaining merchandise was also available for viewing, with cash registers available to handle those purchases. Since only the seating area of the former eatery has really been torn out, but the facades of the different food stations themselves were still there, and because they were using the back section of that area as staging/merchandise holding, there wasn't actually very much room for the lines, cashiers and event store. In addition, when we got there, the queues themselves were oddly set up, and the CMs were rearranging the ropes set up to formulate the queues, so much so that with the changes they were making, they were making it even more confusing to figure out where we were all supposed to go. Eventually, they got it figured out, and we waited to pick up our merchandise.
One of my major frustrations with the handling of this event concerned the merchandise. As with other events, theme merchandise was being offered, and through a system called the random selection process, attendees could submit their lists of wants with regard to the merchandise they wished to buy, and if more people wanted a particular item than there were quantities of that particular item, there was a lottery of sorts to decide who got to purchase the items. There was a deadline by which you had to submit your requests. We waited until the day of the deadline before submitting our requests because even at that point, pictures of all the merchandise were not available. Most of the merchandise included an artist rendering, but it was indicated that the design was not the actual design on the merchandise, just concept art. It turned out that the renderings were in fact what appeared on those products, so I'm not sure what that was all about. But what really irritated me was that the $250 event watch had no image whatsoever for us to look at. So, we were supposed to agree to buy a $250 watch, sight unseen, with zero idea of what the design was going to even resemble? A sketch of the watch design didn't show up until a few days after the deadline to submit merchandise requests. There were a number of other items where this was also the case.
Because of the problems with merchandise ordering and because there wasn't actually that much available, we had only submitted requests for two items - the event logo pin and the Olszewski Gallery of Light piece with Snow White kissing Dopey. We are collectors of Olszewski's work anyway, so we had already planned to purchase this piece even before we knew it was being released as part of this particular event.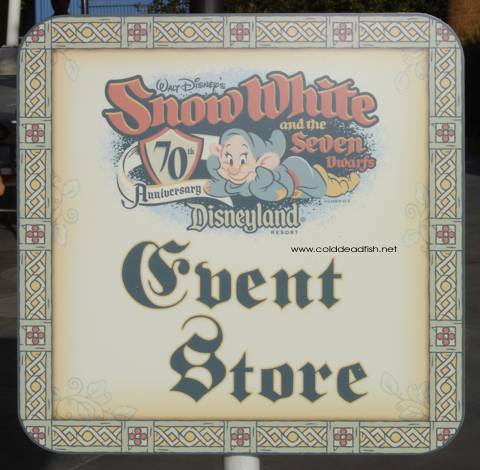 After picking up our purchases (which were in a large bag with the full event logo on it), we went to see what else was still available and to look at the merchandise to see what the actual designs were. I decided I liked the t-shirt, but my dilemma was that I liked the fitted t-shirt, but I preferred the design on the regular t-shirt. I opted for the design that I preferred rather than the cut of the t-shirt that I preferred. I also got my first look at the actual event watch, and I really liked the design, so I decided to get that as well.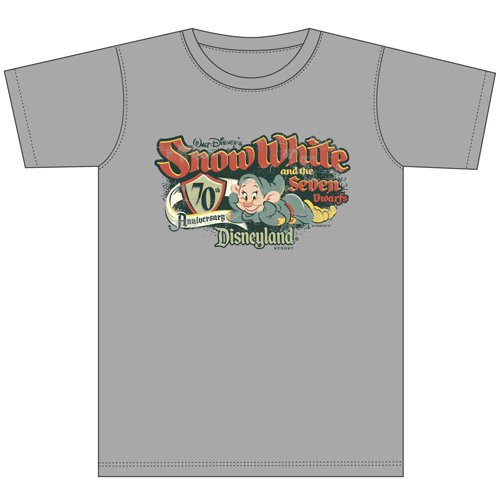 The t-shirt with the modified logo design.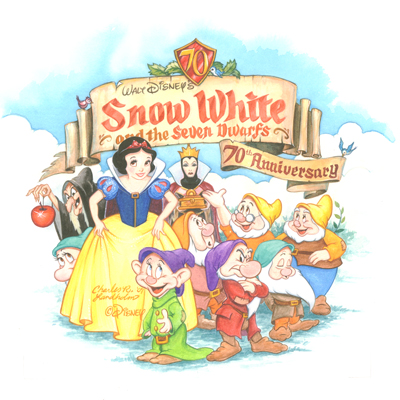 The design for the event watch.
I love the placement of Bashful, as well as the incorporation of
the Evil Queen/hag, who is often ignored or omitted.

There was a station set up where you could arrange for your merchandise to be shipped. They were also still selling tickets (presumably, the Magic Mirror package) for the evening film screening.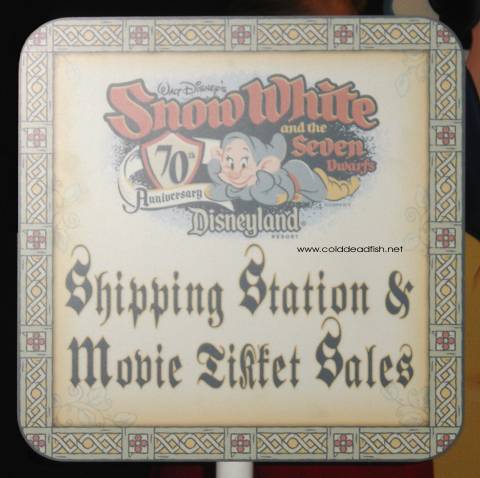 After finishing up there, we wandered around Off The Page for a little while until the artist signing start time at 3pm. The itinerary had indicated that it was being held at the Hyperion Theatre, which puzzled me as I didn't know quite how they were going to manage that. It made more sense once we went over there and saw that the artists had actually been set up with tables and chairs in front of the entrance doors to the Hyperion.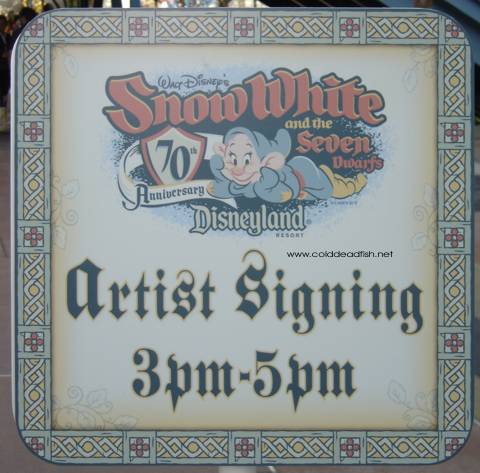 There were a number of people in line, but the line wasn't outrageous. It turned out that most of the people in line were there to see Bob Olszewski. We stopped in to have him sign our piece and to say hello to him and Travis. We also stopped to say hello to artist David Bird, who we'd met at a prior event.
At this point, we decided to take our merchandise back to the hotel so that we could rest for a bit and so we would not have to carry everything all night. The glass apples were particularly heavy, and I also did not want to risk bending or otherwise damaging the litho that came with the watch. I couldn't resist already wearing the watch itself.
SNOW WHITE'S SOIREE
We made it back to the resort just around 5pm, when the Soiree would start and when those with the Magic Mirror package were allowed into the park for the event store. It puzzled me that with Disney staff knowing that two components of the event were starting at 5pm, they still only had 3 turnstiles open. You would think they would have figured out that in addition to normal day guests, many people would be entering the park at that time for either of the event components, and they'd think to have more lines open during that time. We finally made our way over to the Soiree being held in Stage 17, the former stage that the "Who Wants To Be A Millionaire: Play It!" game had previously occupied and where the "Taste" AP event had been held earlier this year as part of the Food and Wine Weekends. They were apparently running a little late as we arrived there about 5:10pm, and doors were opened shortly thereafter.
We lined up to go inside, and once we entered, we saw that a stage had been set up for the panel discussion to be held later. There were also rows of chairs lined up in front of the stage, and the back part of the location had cocktail tables scattered around. We noticed various servers walking around with various tasty items. In fact, there were seven items in total, and in the middle of each serving dish was what looked like a plastic bath toy of each dwarf associated with each dish, as follows:
Bashful - crepes stuffed with smoked salmon and caviar. The smoked salmon and caviar was very tasty. There was a bit too much of the crepe compared to the amount of salmon and caviar, but the wrapped package did look very cute.
Sneezy - peppered beef tenderloin with onions and blue cheese on potato. I really liked the beef, but since I'm not a fan of blue cheese, that turned me off some.
Grumpy - prosciutto-wrapped potato croquette. This was delicious. The croquettes were almost like tater tots, except with just the mushy center and not the crispy outside.
Dopey - nutty coconut chicken. I am generally not a fan of coconut on food that is not dessert, but I had to at least try this, especially since Dopey is my favorite dwarf. (I know, that's a dumb reason.) Surprisingly, I rather liked it. The nuts added to it, and the coconut flavor was quite subdued, unlike coconut shrimp which is usually covered in coconut.
Sleepy - lemony langostine. Speaking of shrimp, I thought langostine was lobster, but in any case, these were shrimp with some kind of sauce on it that escapes me, but they were incredibly delicious. During the night, I had several of these. Yum.....
Happy - enchanted forest mushroom and brie tart. This was quite tasty, particularly because I love brie. We only saw this come around once during the soiree.
Doc - apple with cinnamon shooter. This came in a plastic tallish container, and it was like apple sauce that poured out. Very tasty.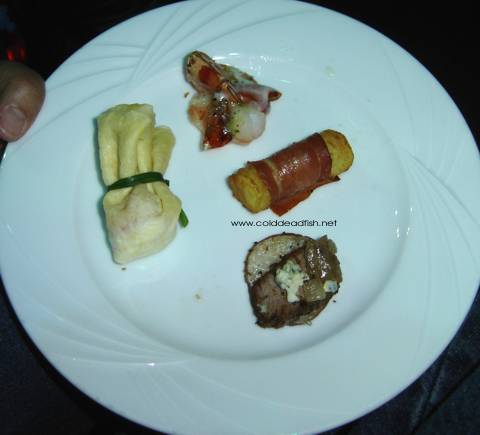 From the left going clockwise are Bashful's crepe, Sleepy's langostine,
Grumpy's croquette and Sneezy's tenderloin.
As I mentioned, servers carried around trays with each of the dishes around to guests. When we got our first taste, the server also offered us napkins. As I reached for the napkin, I looked at it and was amazed at how beautiful the napkin was. It was embossed with the small logo for the 70th anniversary, and I couldn't possibly bring myself to use it simply as a napkin.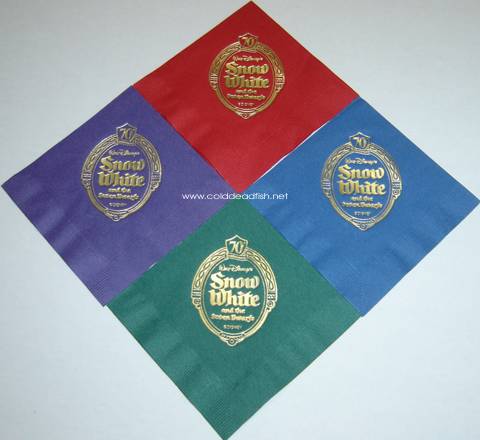 The beautiful themed napkin came in four colors (that I saw, anyway).
There were also drink stations scattered around, where guests could get water, soft drinks, or their signature drink, which was a combination of white cranberry juice, Sprite and vodka. You could also get a virgin version of the drink, which was then just the white cranberry juice and Sprite. They also had plastic ice cubes would light as either the juice or Sprite were poured in. Apparently, the vodka doesn't conduct electricity enough to make the contacts on the plastic ice cubes work.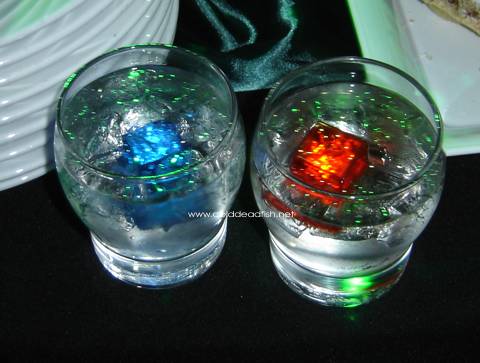 The glowing signature drink for the night.
We each had one of the signature drinks, but after I'd had a couple of sips, I was finding it to be stronger than I'd like for still having a panel discussion and movie to sit through, so I opted first for the virgin version and then just bottled water. There were no drink tickets issued, so I suppose people could have had as much of the signature drink as they wanted. Getting non-alcoholic drinks was no problem either.
Also scattered throughout were tables with various desserts, where guests could help themselves.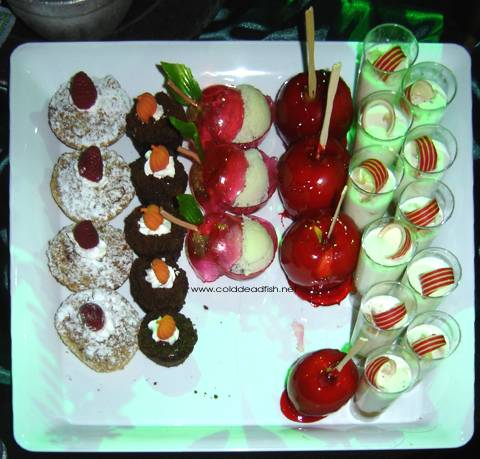 What's a soiree without dessert?
From left to right, apple pie crumble tart, death by chocolate cake,
a sort of ice cream in a spun sugar apple-shaped shell,
candied apple and a sort of cream/pudding/mousse.
A close-up of the spun sugar apple-shaped shell dessert.
Many people took up places standing at the various cocktail tables. We decided to take seats instead that would serve dual purposes. Since the stage was elevated and there were projection screens, we didn't feel that we needed to be seated at the very front. We found seats along a side aisle that had a decent view of the stage and screens and also happened to be where the servers were coming out with their trays of goodies. So we had the advantage of the food coming to us (most of the servers were pretty good about coming over to offer us what they had, especially if we looked at them to try to figure out what they were carrying), being able to eat while seated (we had gotten dinner plates off the dessert tables and so had somewhere to put our food, and with the bite-sized offerings and no utensils needed really, it wasn't hard to eat that way), and already having seats for the panel discussion to follow. Sometimes, servers would come with various beverages, and sometimes we would go over to a beverage station ourselves. Even though the offerings were in bite-sized pieces, there was plenty to go around, so making a meal of what was available was not difficult at all. The servers were very pleasant as they came around to offer what they had, and eventually, we started turning them down because we'd had our fill. The husband went to get one of each dessert (except for the actual candied apple), and we each shared tastes. Even though I'm not necessarily a fan of apple pie, that turned out to be my favorite. It wasn't as sweet as I generally find apple pie to be, and the crumbles and crust were a nice addition. I think the small serving size also really helped. We did notice that many of the dessert offerings utilized apple.
A couple that we're friends with ended up sitting in the row behind us, so we were able to chat with them for a while before the panel discussion started. We also noticed that on the other end of the row from us sat Imagineer Doug Hartwell and his wife, and Imagineer Tony Baxter sat with them for a while. Tony left before the panel discussion, so I'm not sure if he left altogether or if he sat elsewhere during the panel discussion.
In one corner, there was also a photo op backdrop. At one point, I saw Snow White there, and another time, the husband saw the Evil Queen there. Not sure if other characters came out at any point.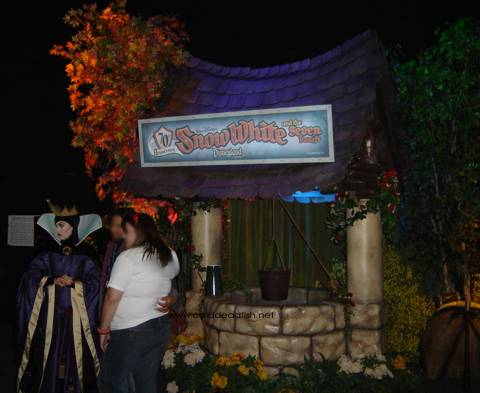 The chance to have a picture with the Evil Queen.
To the side of the stage was also an artist painting a picture of the Evil Queen next to the magic mirror. I didn't see it myself, but the husband had gone over to take a look, and he said that the artist was using a sort of black light paint so that under certain light, the face of the mirror appeared in the mirror, and under different light, the face of Snow White appeared. He said it looked really cool.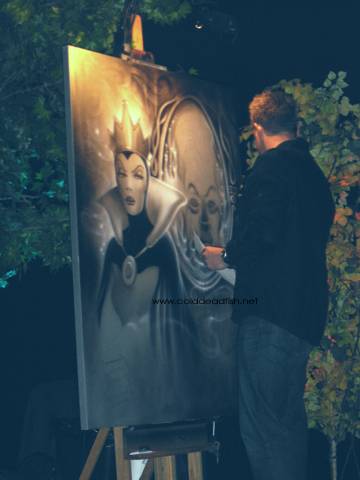 So what happened to this painting after the event?
PANEL DISCUSSION
The panel discussion had been scheduled to start at 6pm, but it didn't actually start until 6:30pm. The late start of the soiree might have contributed to it, but apparently, there were also traffic problems that made a few of the panelists late, so they wanted to make sure they had all arrived before they started.
The setting for the panel discussion.
The panel was moderated by Disney producer Don Hahn, and the panelists were John Lasseter (Chief Creative Officer Pixar and Disney Animaton), Leonard Maltin (film historian), Lella Smith (Creative Director of Animation Research Library), Glen Keane (Disney Director/Animator), Marge Champion (animation model for Snow White) and Roy E. Disney. Each person was escorted to the stage by one of the seven dwarfs.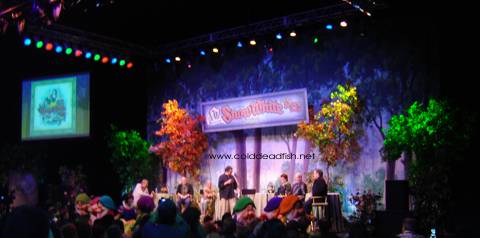 The panelists are seated as the dwarfs go off stage.
The panelists talked about the production and influence of "Snow White and the Seven Dwarfs". Following are some of the comments made during the panel discussion.
Alice Davis, Disney legend in her own right and wife of the late Mark Davis, was in the audience, and Don Hahn asked her for some of her thoughts. She said Mark started working on the film in 1935 and was amazed at the progress that had been made since the short film "Steamboat Willie", and that to the day he died, "Snow White" remained Mark's favorite animated film.
Leonard Maltin mentioned that the 30s were gripped by the Depression, and one of the things that Walt Disney provided with production of this film was employment during hard times. He arranged for his artists to take classes to get better at their craft, and even though they worked hard and worked long hours, they were grateful to be working, and doing something they loved to boot.
At this point, an original trailer for the movie was shown.
Roy E. Disney said that his father and Uncle Walt ran out of money before the picture was completed. Walt Disney arranged for a representative of Bank of America to meet him where the film was being made. Walt and Roy waited for him, and when the rep showed up, Walt kicked Roy out and showed the film, what had been completed and sketches of what still needed to be done, to the rep, selling it as only Walt could. When he was done, the rep came out and told Roy that whatever he wanted/needed to finish the film, he could have.
Roy E. Disney also told another story of the time he was sick with the chicken pox, and his Uncle Walt had come over to have dinner with his parents. Uncle Walt paid his sick nephew a visit and basically spent 20 minutes or so telling him the story of Pinocchio that he wanted to make. Little Roy was enthralled. Much later, he eagerly went to a screening of the film - and was disappointed. It wasn't nearly as good as when his Uncle Walt had told him the story.
John Lasseter mentioned that he was at CalArts before there was such things as videotapes. There was an animation room at CalArts (room A13 - which is why you see that somewhere in all of the Pixar films). One of the films that they had on film was "Snow White", and he and his fellow classmates (which included the likes of Brad Bird, Tim Burton and Glen Keane) would watch that film over and over again. They learned a lot from their instructors, including Frank Thomas and Ollie Johnston, as well as from seeing the film repeatedly. They learned that you needed to create thinking characters. John happens to love the scene where Grumpy gets kissed by Snow White because it tells so much with so little. At the time, "Snow White" was made with groundbreaking technology, but John learned and would later put into use the lesson that it wasn't about the technology or that it was a "cartoon". It was about the story and the characters. He mentioned that Walt Disney was told at the time he was making "Snow White" that people wouldn't sit for a full-length cartoon - and he proved them wrong. When John was making "Toy Story", he was also told that people wouldn't sit through a full movie done with CGI animation, very similar to what Walt had been told. Again, it wasn't about the CGI - it was about the story and the characters.
At this point, there was a short film shown about the process of making an animated film. There was much laughter elicited as the film often mentioned that "pretty girls" were employed to do this or that on the animated film. The theme of "pretty girls" would recur for the rest of the panel discussion.
Glen Keane mentioned the scene where Snow White falls as she's running through the woods. He said that when the animators were first working on that, she started her falling motion and then pretty much just went thud from six feet up in the air. The animators were appalled by that and said that wouldn't work - she'd break her arm and other things as well. They needed to have her fall like a real person. They were starting to see their characters as real people, and they needed to have them behave like real people, so it was decided that they needed a live model to give them better perspective.
Marge Champion was the live action model for Snow White herself. She was a dance student at the time, and she had a father who was a famous dance instructor. The Disney folks came to that dance studio to look for someone to be the model, and they thought they needed someone who could dance rather than someone who could act, and they eventually chose Marge. She worked two days a month for about a year and a half, as the animation process was extremely slow then. However, since the film was such an achievement in animation, Walt didn't want people to get the wrong idea about the film, so it was kept quiet about Marge being the live action model. Accusations arose that the film was merely a conglomeration of traces of live people, something that Walt found insulting to his animators. There were indeed rotoscopic traces done of the live action models, but those were used mostly for reference purposes. You can tell from the look of the characters that they are not simply traces of real people.
There was then footage shown of various live action models, including Marge, for Snow White and the various dwarfs.
John Lasseter mentioned that storyboarding hadn't been used much prior to the making of this film, but Walt wanted to make sure they knew exactly what they were doing, so storyboarding became a regular tool after that point.
Roy E. Disney mentioned that he'd seen a pencil test scene of Snow White being attacked by the trees, and it absolutely scared him. He said it was ok to scare kids, to a point, and animators shouldn't be afraid to do that.
There was then footage shown that explained the multiplane camera technique used to create the film. This footage is on the DVD of the film. There was also footage of the night of the premiere.
Marge Champion told an amusing tale about the night of the premiere. Since her involvement had been kept under wraps, she saw the film from the balcony of the theatre, even though she was involved in the making of the film. However, Shirley Temple, who was quite popular at the time (and who Marge was actually friends with because her father was teaching Shirley dance routines for one of her pictures) but had nothing to do with the film, got to sit right up front. The running joke was that Shirley had stolen Marge's seat.
Walt Disney's outlook on "Snow White" was that it wasn't just for children. It needed to engage adults too. The ongoing love and fascination for the film proves that Walt was right and that he succeeded in doing what he set out to do.
Roy E. Disney told a story about Ward Kimball, how towards the end of the film when the dwarfs think Snow White is dead, they're all crying. Ward noticed that people in the theatre were crying at that point as well, and he was amazed because it was just a bunch of drawings. But that showed how something that was just a bunch of drawings could elicit so many real emotions from people.
Another story had been told earlier concerning Ward Kimball. Originally, there had been a scene involving the dwarfs enjoying the soup that Snow White had made them for dinner. It was apparently quite a nice scene - but Walt felt it didn't really fit into the film and ultimately decided to cut it, much to his animators' disappointment. It has been said that Ward was one of the most disappointed and never got over having that scene cut. Walt had to actually appease him, and to convince him to stay with the company, he told Ward he could work on a cricket in the next film, which turned out to be Jiminy Cricket in "Pinocchio".
Alice Davis wanted to mention the music in the film, since it had not been discussed. She said Mark would hear the music all day while at work on the film, and the music was so great that he never tired of hearing it.
To conclude the panel discussion, a Disney songstress sang the signature song "Someday My Prince Will Come" with the Prince and Snow White in attendance. Here is a video of the song (2.2 mb). (Fans of Fantasmic will probably recognize the Prince's and Snow White's dance moves.)
There are some people who don't understand the appeal of a panel discussion. Sometimes, that's because due to various affiliations they have, they have had plenty of opportunity to see/hear/interact with the people who might normally be guests on panel discussions. I don't generally get to see them except at events such as this, and even on the occasions when I've seen the same person multiple times, they generally have something different to say and there are new things that I learn from them. There are also others that for whatever reason just aren't interested in this sort of thing. In addition to events like this, I've also attended panel discussions when there's been a special screening of a film at Disney's El Capitan Theatre in Hollywood or otherwise. I think I realized this night what the appeal of panel discussions is for me. For me, it's the realization that these opportunities are not always going to be there. Sad as it may be to face, the number of people who worked on the early films and who worked directly with Walt Disney are diminishing as each year goes by. Right now, I can still listen to people talk about their experiences working on "Snow White" or "Peter Pan" or working with Walt Disney on various pictures or in building Disneyland. But at some point in the future, there won't be anyone left around who can tell those stories first-hand. Generations to come will only be able to hear those stories from people who have heard them from the people who actually had the experiences. For me, it's taking advantage of the increasingly rare opportunity to listen to the creators themselves.
"THE FAIREST ONE OF ALL" EXHIBIT
The panel discussion had been scheduled to end at 7pm, but with the late start, it didn't end until 7:30pm. We all then headed over to the Animation Building to see the new exhibit.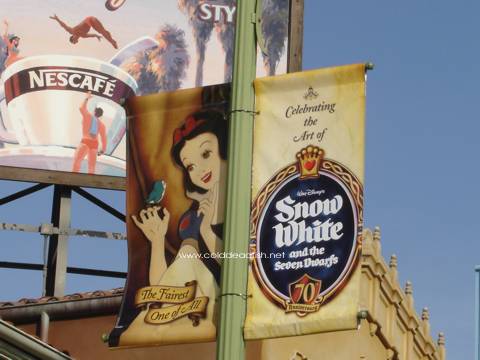 Signs along Hollywood Boulevard advertise the new exhibit.

The scrolling marquee of the Animation Building announces the new exhibit.

More of the marquee.

More of the marquee.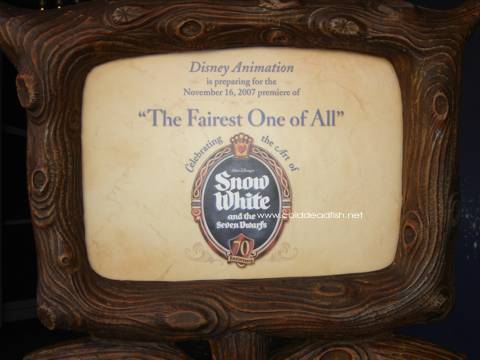 The sign in front of the entrance into the Animation Building.
Earlier in the day, we had walked past the Animation Building. In front was a facade of the dwarfs' cottage which served as a photo opportunity for guests.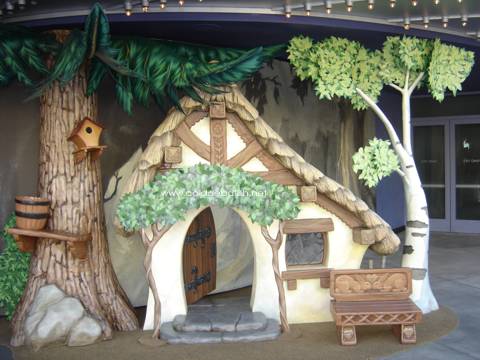 The front of the dwarfs' cottage.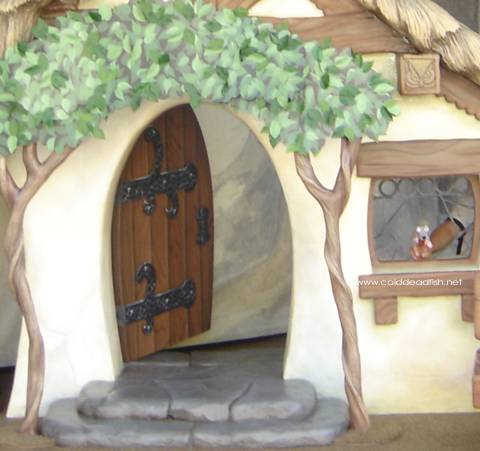 Scrat snuck into the dwarfs' house while they were away at the mine.
The line into the exhibit was fairly long, but we decided to wait. When I'd heard about the exhibit, I hadn't known what quite to expect, but it's much more extensive than I'd imagined. Rather than taking up a small room, it takes up the center lobby area of the entire Animation Building, and it took about seven months to create. Instead of the normal loop of footage and songs from various Disney films that plays on the wall screens, there are instead pictures of various things affiliated with the film. (Maybe this also means Disney is taking this opportunity to update the regular loop with more recent releases? We can hope.) There are no actual songs or moving footage like with the regular loop, but there is music playing. There is an extensive exhibit with a lot of original concept art and reproductions of cels from the film, as well as production tools like size comparisons of the characters and style sheets for the characters, so that they look the same no matter who is actually drawing the particular character. There's also art from scenes that were either never done for the film or cut from the film (like the soup scene). There are also different sections that depict the development of a particular character or a particular aspect of a specific character. We did walk through and were able to see mostly everything, but it's an exhibit that I plan to see time and again, to take in each section little by little.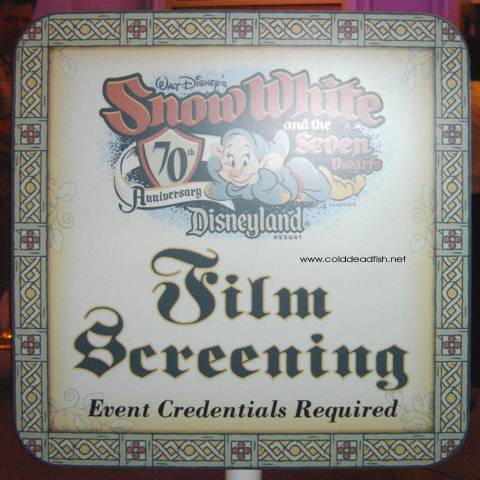 THE FILM
At about 8:10, we headed over to the Hyperion Theatre, where the film was to be screened.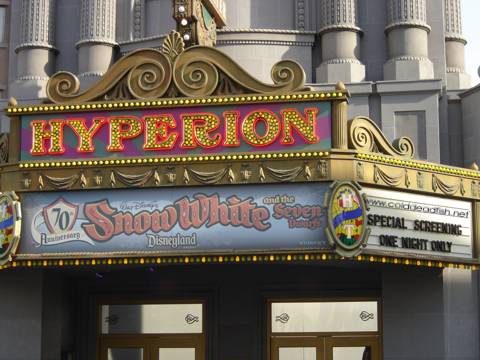 One night only.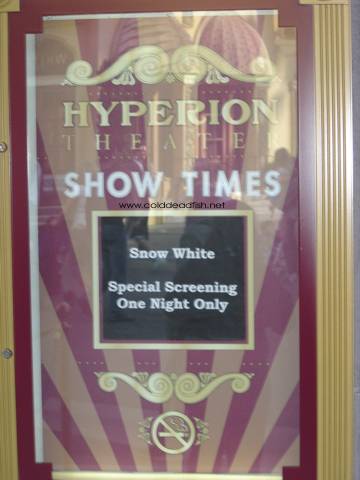 A side window at the Hyperion.
As part of the Poisoned Apple package, we were supposed to have reserved seating for the film. We were directed to the orchestra level, but when we got further in, a CM said that the reserved seating was the first five rows, which were already full, so he directed us to the mezzanine. So we went back outside and took the stairs to the mezzanine. (I was told there were no CMs stationed at the elevator, so I was annoyed to discover when we got to the mezzanine that there were in fact CMs working the elevators.) We were not directed where to go, and there didn't seem to be any reserved seating, so we found some seats that were about at the middle of the screen. I was fine with my seat, but I didn't know how the reserved seating was supposed to have worked. From what we'd been told about where the reserved sections were, there weren't nearly enough reserved seats to accommodate everyone who was in the Poisoned Apple package, based on the number of people we'd seen at the soiree/panel discussion. Maybe they had intended to let the Poisoned Apple package people into the theatre first before the Magic Mirror package people, but the delay of the start and ending of the panel discussion put a crook in that. However, they were supposed to be reserved seats and not first seating, and they would have known starting at 6:30 at the start of the delayed panel discussion that the schedule was being changed a little and would have been able to accommodate that.
In any case, at about 8:30pm, John Lasseter came out to introduce the film. Here is a video of John's introduction (6.6 mb). Note that the early portion of the video is not very good with regard to keeping focus, so it's really included just for the audio. When the video cuts to a closer view, the focus gets much better. During that segment, notice the dwarfs' antics behind John. In particular, Bashful and Sneezy are preoccupied with their own doings.
It was very nice to see such a pristine print of the film, and especially to see the film after having learned so much about it from the panel discussion and exhibit.
CONCLUSION
At the end of the film as we were leaving, we were reminded by CMs to have our gift vouchers out. Before leaving the Hyperion Theatre area, we each turned in our tickets and were given a large envelope. At first, I thought it was a set of lithos, as the package seemed quite thick. I then read the front of the envelope: "This souvenir program replica is an exact reproduction of the program originally distributed at the Snow White and the Seven Dwarfs film premiere on December 21, 1937."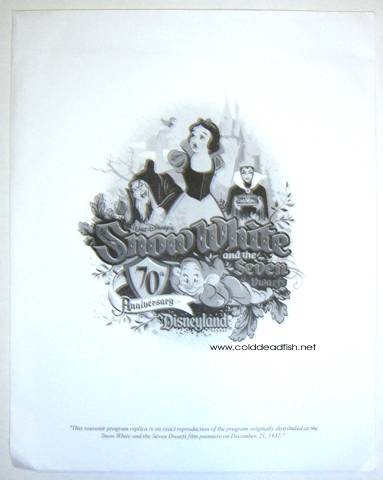 The front of the envelope.
We stopped at the corner to pull out one of the programs and to look through it. It's simply an amazing item to have.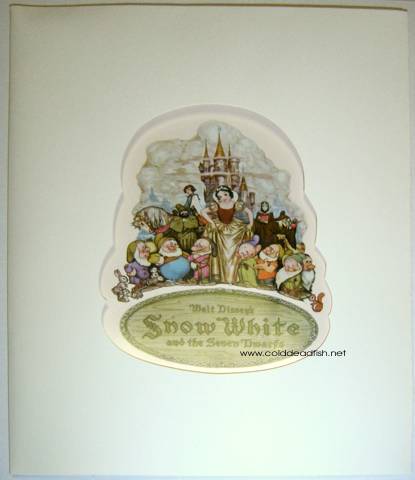 The front of the souvenir program replica.
After the event was over, we went to Downtown Disney to say hello to some friends and then we went into Disneyland. To finish off the event for ourselves, we decided we needed to ride Snow White's Scary Adventures. Hmmm, I don't remember that scene being in the film. We also rode Storybook since Snow White is represented on that attraction as well. We tried to end the evening at Snow White's Wishing Well, but while the fish were up and running (and squirting), there was zero audio, so we pretended there was, and the husband threw a quarter into the well at the end.
We definitely enjoyed ourselves at this event, and I definitely recommend that people spend some time enjoying the exhibit at the Animation Building. Also inside the Animation Building in an adjacent room to the Snow White exhibit is a zoetrope for "Toy Story". Be sure to catch that as well. If you're not sure what it is, stay in there long enough for the zoetrope to start spinning and the lights to start flashing. It's definitely a lesson in animation and a fitting companion to Snow White.
Back to Cindy's Disneyland Resort Page.
Back to home