Taste - 2007 Disney's California Food and Wine Weekends special AP event - May 12, 2007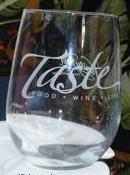 Disney's second year of their California Food and Wine Weekends in 2007 including a new event called Taste. There wasn't much information released about the event at first, just that it was open only to annual passholders, and it would offer guests a chance to taste dishes from each of the major restaurants at Disneyland, Disney's California Adventure, Disney hotels and Downtown Disney. We've eaten at most of the restaurants, but it still sounded fun to try dishes from each place. The price was $100 per person, which seemed a little steep, given that much wasn't announced about the event at the time, but because it was a new event that sounded interesting, we decided to give it a try. As the day of the event drew near, more information was released. Here's the menu and other information Disney had on their website about Taste. It was also announced that the band Barrage would be performing at the event, which was held from 6:30pm to 9:30pm in the Hollywood Pictures Backlot area of Disney's California Adventure, inside Stage 17, which formerly housed the Who Wants to be a Millionaire attraction.
We arrived at DCA at about 6:15pm and made our way to Stage 17. The area surrounding the building had been cordoned off with temporary walls, with other attendees standing around waiting to be let in. We recognized one of the food managers that we've known for quite some time, so we went over to say hi and to chat for a bit.
At about 6:30pm, they started letting people in to the walled-off area. Once you showed your confirmation letter at check-in, you were then given a lanyard and badge to wear as a sort of admission ticket. One side of the badge had a nice blurb about the event, and the other side had the menu items for the evening. There were separate serving tables set up inside the building, each with a different colored sign, and the badge indicated which dish was at which colored station. One thing I really liked about the badge is that the logo side was done the normal way so that others looking at it saw it right side up, but the menu side was upside-down, so to speak, so that you as the person wearing the lanyard could just turn the badge over and be able to read the menu, without also having to twist it upside down. Great idea, and kudos to whomever thought to do the badge that way.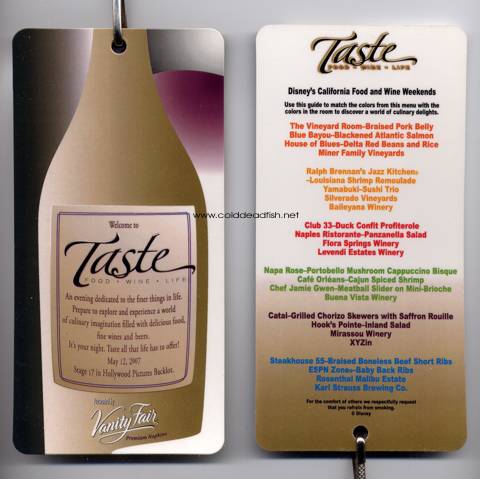 The front and back of the badge.
After we got our lanyards, we continued on to where we could each pick up a plate, which had a notch on the side, and a wine glass, which fit nicely into the notch so you could hold the plate and glass in one hand.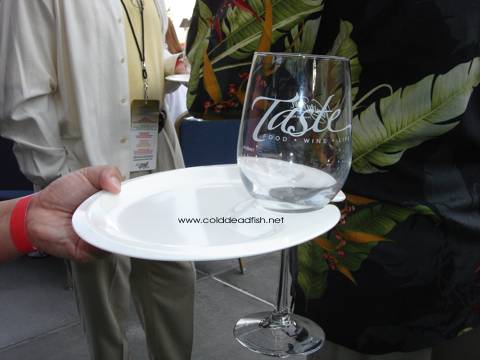 Ready for Taste to begin.
There were various tables scattered within the enclosed area outside the stage, so we found a table and saved our two seats before heading inside the building.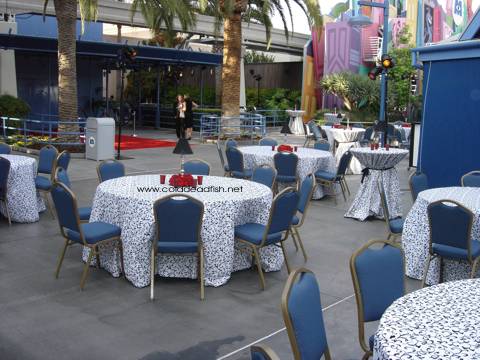 Some of the tables set up for Taste.
The tables were nicely decorated.
Once we'd had a look inside the building, we discovered that tables had been set up in there as well. However, they were cocktail tables, which meant they were the right height for when you were standing, but there was no seating available. We decided that we would rather be inside where everything was going on, even without the seating, rather than outside, so we retrieved our things and found a table near the front, along the wall to the left of the performance stage. About 4 or 5 other people ended up joining us at the table, and we enjoyed talking to them for the rest of the evening. I noticed later that some people had pulled tables with chairs into the building near the entrance.
During the course of the evening, the husband was the one to retrieve the dishes for us. Sometimes, we specifically decided what we wanted to try next. Sometimes, it was a matter of what might be closest or not as crowded. I stayed at our table most of the night. As I mentioned, each serving table had various dishes and wines. There were sous chefs inside the perimeter of the stations who were plating the food onto small cocktail plates. The plates were then placed on the serving table, so you could get them yourselves if you wanted to, but otherwise, the executive chef of each restaurant was present to hand the plate to you or to talk to you. (We were pretty impressed that Disney was willing to pull the executive chef of all the restaurants to be at this event on a Saturday night. We had friends who were having dinner at Napa Rose that night, so we joked that they'd be disappointed that they wouldn't be able to say hello to Executive Chef Andrew Sutton whereas we would.) Each plate was portioned as an individual serving, so the husband would get two plates of each. We had decided that we were going to try everything, but if someone didn't like a particular dish or kind of food, they could have more of what they did like. There were no tickets needed for each dish. You could have as many of whatever you wanted to make your meal, so this tapas approach to dinner really appealed to me. Because there were so many different things to try, we never went back and got seconds of anything. There was plenty to make a full meal as it was.
We did run into one problem - we didn't know what to do with the plate that we'd been given to use. Our table was fairly small, so each of us didn't have a lot of room. There wasn't really room for much more than one or two of the cocktail plates for each of us, and since each dish was already on its own plate, we weren't really sure what the notched plate was for. We ended up using it pretty much as a charger, just something to put the smaller plates on. We probably didn't have a use for the plate because we were based at a table. For those who might have been walking around instead, they could get each individual cocktail plate with food on it and put it on their notched plate as a true charger. They would then still have a free hand for a utensil and so could walk around and still be able to eat and drink.
For our first dish, we decided to try the Delta Red Beans and Rice with Andouille Sausage from House of Blues. I found the corn bread to be pretty good, especially since I'm not a particular fan of corn bread, but this was fairly moist, which I prefer. The beans had a very good flavor. I've eaten at House of Blues once, and it was just ok, and this dish didn't make me want to go back again.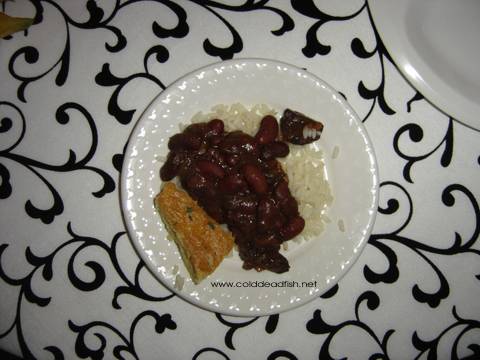 Red beans and rice from House of Blues.
Next we had the Duck Confit Profiterole with Stone Fruit Compote and Ginger Coriander Soubise from Club 33. The duck had wonderful flavor, but the fruit seemed out of place with the tastes from the rest of the dish. Yes, how could I possibly not love a dish from Club 33. We've been there for breakfast, and I've been there for a special snack, but we've not yet had the chance to have lunch or dinner there.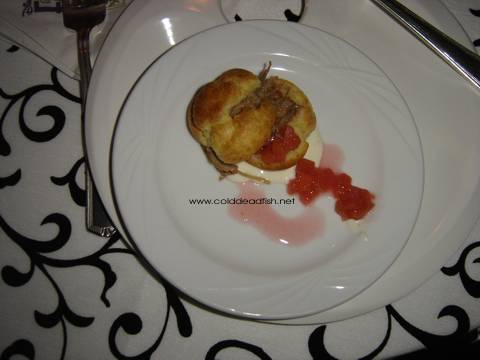 Duck confit profiterole from Club 33.
Next was the Louisiana Shrimp Remoulade (spicy boiled gulf shrimp tossed in a traditional New Orleans remoulade sauce) from Ralph Brennan's Jazz Kitchen, and the shrimp was quite tasty. We've been to Jazz Kitchen a few times, mostly for Sunday brunch a few years ago. I'm not enamoured of the time we went for dinner, and while I liked the shrimp, I'm not sure it's enough to make me give them another try.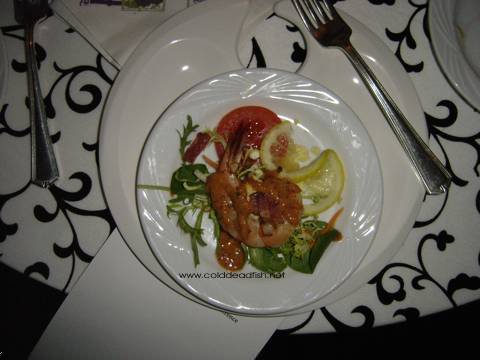 Louisiana Shrimp Remoulade from Jazz Kitchen.
Next we had a taste of the Braised Boneless Beef Short Ribs with Mashed Potatoes from Steakhouse 55, which used to be known as Granville's Steakhouse. The short ribs had great texture and flavor, and the meat was very tender. This was an excellent dish. I'd been to Granville's once for dinner and two times for breakfast. I'd definitely go again, and I'll have to keep the short ribs in mind if they're actually on the menu.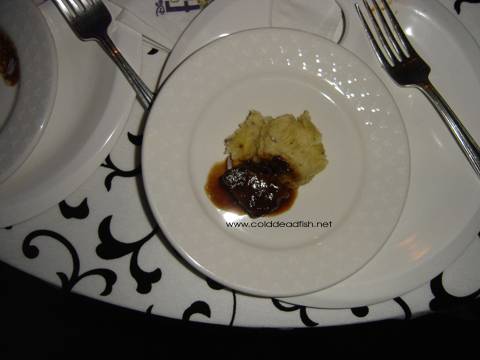 Braised beef short ribs from Steakhouse 55.
Next was the Blackened Atlantic Salmon accompanied with a Louisiana Crawfish Etouffe from Blue Bayou. I thought the dish was ok, but it didn't have a lot of flavor, and since I don't generally like spinach, I didn't enjoy the spinach that accompanied the dish. I've been to the Blue Bayou on numerous occasions, and I'd definitely go back. We generally go for lunch instead of dinner.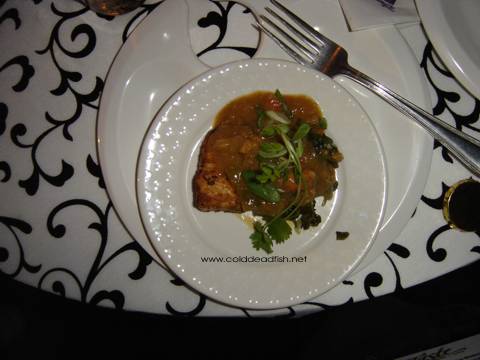 Blackened Atlantic salmon from Blue Bayou.
Scattered around the room were also cheese and fruit platters from which people could help themselves. The platters had several different kinds of cheeses, star fruit, walnuts and other dried fruit. It was a nice selection, and I particularly liked the choice of the star fruit since I love it, and it also served as a nice palate cleanser.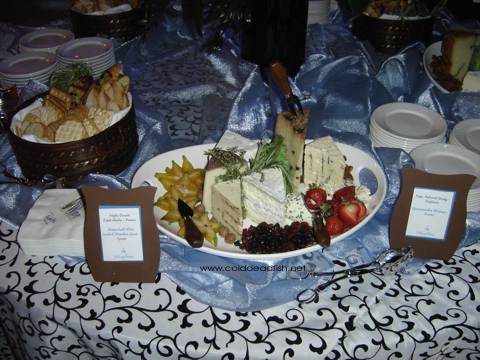 Cheese and fruit presentation.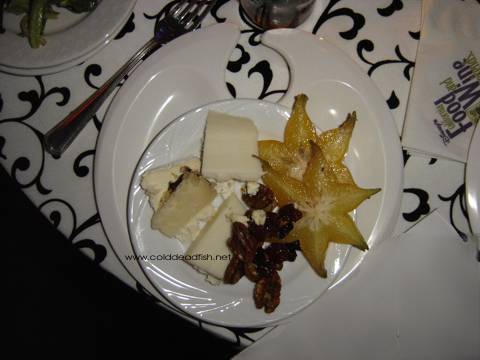 Cheeses, star fruit and other goodies from the platter.
Next was the Cajun Spiced Shrimp Served on a Mini Ratatouille Corn Cake with a Drizzle of Mornay Sauce from Cafe Orleans. The corn cakes were very tasty, but the shrimp was just ok. I don't remember seeing this on Cafe Orleans' menu. I used to love Cafe Orleans from many years ago, but when they changed the menu, I couldn't find anything I liked. Since they've implemented the table service menu, I've been a few times, for breakfast, lunch, and dinner, and while it's not a spectacular place, I'd definitely go back again.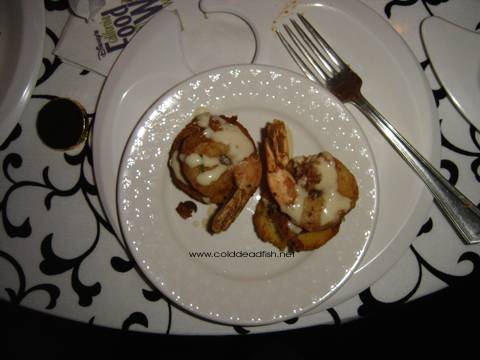 Cajun spiced shrimp from Cafe Orleans.
Next was the Braised Pork Belly with Baby Basmati Rice and Spicy Pickled Cabbage from The Vineyard Room. The pork belly had a very nice flavor, like roasted pork, and the spicy cabbage was very good. We used to like The Vineyard Room quite a bit, but since they've changed their prix fixe menu, we haven't been back. Maybe it's time to give them a try again.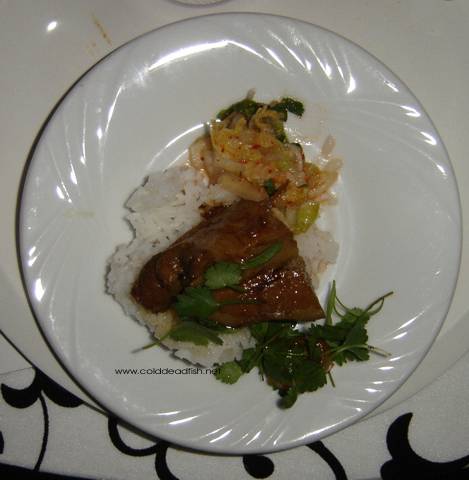 Braised pork belly from The Vineyard Room.
Next was the Baby Back Ribs Served with Garlic Slaw from ESPN Zone. I really enjoyed the flavor of the ribs, not too sweet, and the meat was very tender. The cole slaw was also a nice complement to the dish. I've never eated at ESPN Zone, so I might have to try the ribs there for a meal sometime.
After that was the Portobello Mushroom Cappuccino Bisque with Brandied Thyme Froth from Napa Rose. This happens to be one of my favorites from Napa Rose, which is a favorite restaurant as well, so it was nice to be able to have a taste. It's got a great mushroom flavor and is all around a terrific bisque.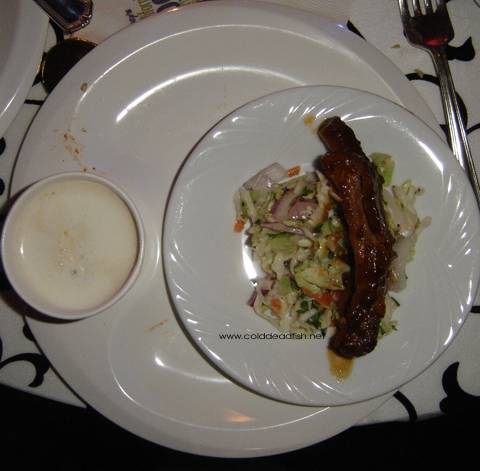 Baby back ribs from ESPN Zone on the right and
portobello mushroom cappuccino bisque from Napa Rose on the left.
Next was the Inland Salad (field greens, candied walnuts, crisp apples and bleu cheese tossed with a tart apple cider vinaigrette) from Hook's Pointe. I thought the salad was just ok, but it didn't have a lot of flavor. I had dinner at Hook's Pointe in October of 2007, and it was a great dinner, so even though they have a fairly limited menu, I'd go back again.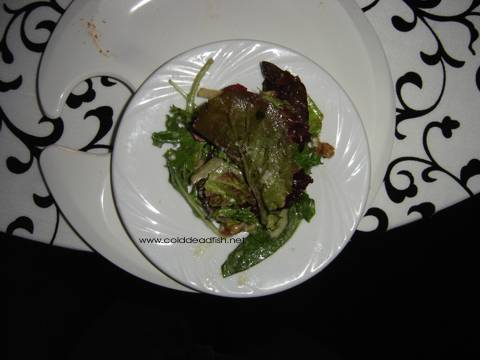 Inland Salad from Hook's Pointe.
Next was the Grilled Chorizo Skewer with Saffron Rouille from Catal Restaurant. Catal is one of my favorite restaurants, but chorizo is not a favorite of mine, and I thought this was just ok, but a little too salty. But I know I'm going back to Catal on a regular basis.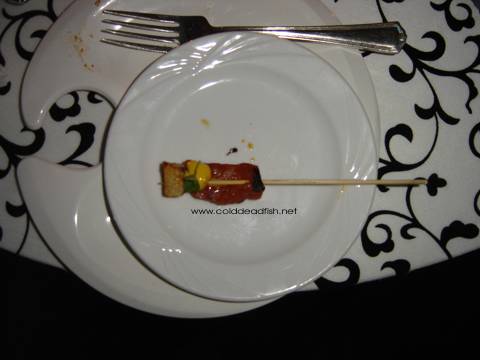 Grilled chorizo skewer from Catal Restaurant.
Next was the Panzanella Salad from Naples Ristorante. The tomatoes were quite good, but the dressing didn't have much flavor. I'm not a fan of Naples, and I've only been there as part of the Patina Group Downtown Disney AP event, so I don't expect that to change.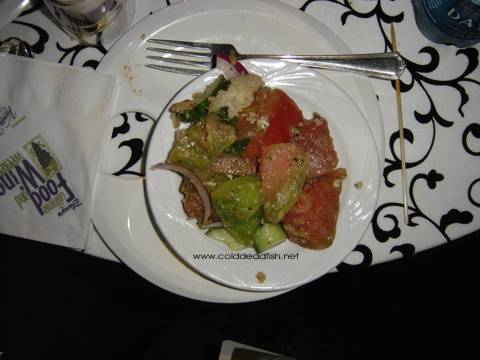 Panzanella Salad from Naples Ristorante.
Next was the Sushi Three Ways from Yamabuki, which consisted of California roll, tuna roll and cucumber roll. They were ok, given that they were fairly simple versions of sushi and only one contained any actual fish. We had decided to have them last on the list of restaurant food since it wasn't particularly interesting sushi. Given how many people they were serving that night, I'm not surprised that they decided to go with simpler stuff, but I would have expected probably two fish and one California roll. I've been to Yamabuki once, before their refurbishment, and it's definitely on my list of places to go again.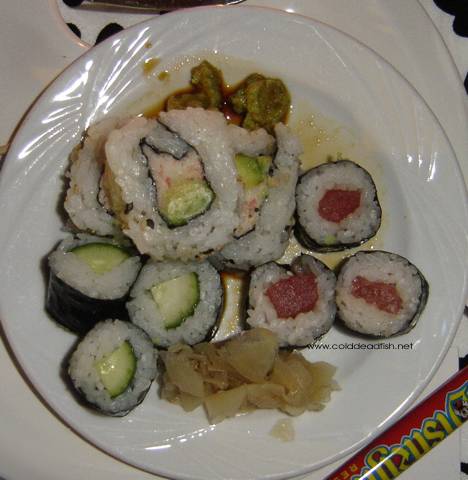 Sushi Three Ways from Yamabuki.
Next was the Meatball Slider on Mini-Brioche with Savory Tomato Sauce from guest celebrity chef Jamie Gwen. The sliders had very good flavor. We hadn't originally planned on having the sliders, especially since the line was quite long. By the end of the evening, though, the line wasn't too bad, so the husband decided to wait.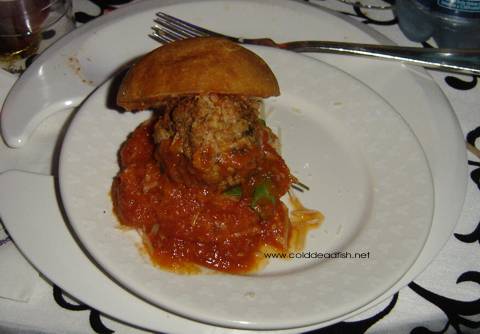 Meatball slider from Chef Jamie Gwen.
Since we'd now had all of the dishes, it was time to try the desserts. The Spicy Mango Exotic Mousse Cake was very good, with a sharp mango taste, which I like. I found the Chocolate-Caramel-Banana Tart to be too sweet for my taste, but I really enjoyed the Ruby Peach Compote and Vanilla Bean Panna Cotta. They also had Strawberry-Pistachio Mousseline Cream Tart and White Chocolate and Blood Orange Creme Brulle Cake, which I didn't try.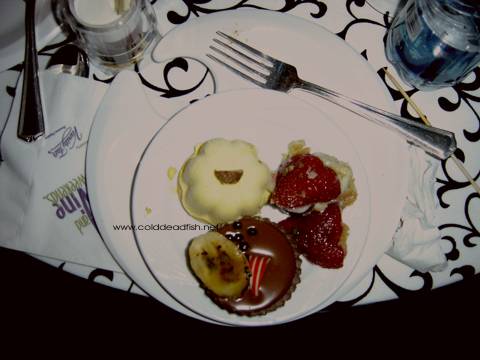 Some of the desserts offered this evening.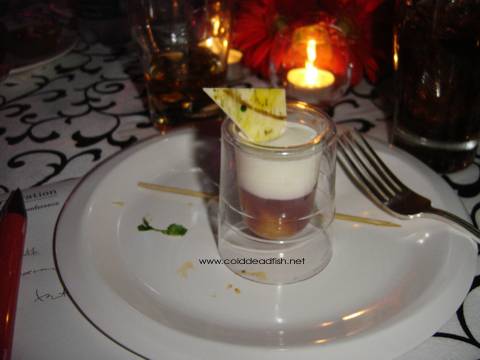 Ruby peach compote and vanilla bean panna cotta.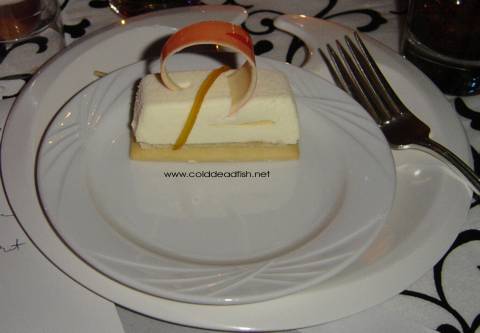 Mango mousse cake.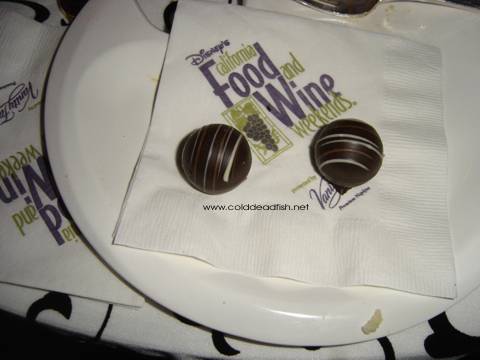 Mmmm, truffles.
Various wines were also offered at each station. You just brought your glass to get a pour of whatever you wanted. Of course, you had to be over 21 to sample the wine. They put a wristband on you at check-in for those over 21. I'm not a big wine person, and even then, there are only a few whites I like, so I mostly had soft drinks and water, which were plentifully available at side stations. I particularly don't like Chardonnay, but someone at our table mentioned that the Levendi Estates' Late Harvest Chardonnay was very good, so I gave that a try. Because it was late harvest, it was much more of a dessert wine, and since my favorites are things like moscato and German riesling, I rather liked this form of Chardonnay. The husband, who is very much into wine, enjoyed being able to taste different new things. Following are pictures showing the wines that were available.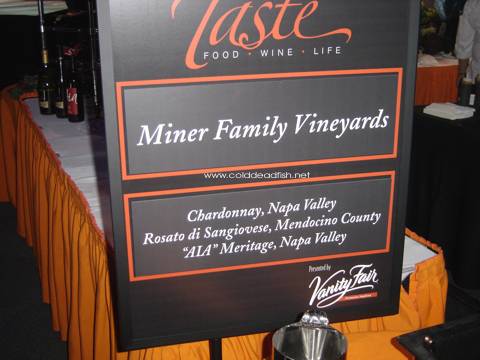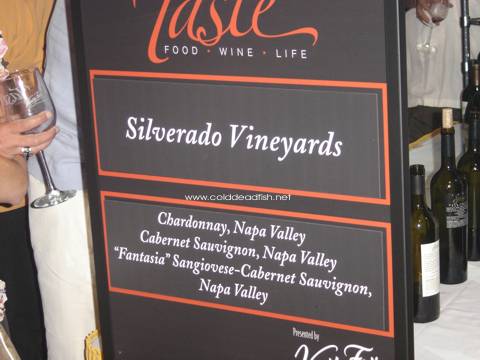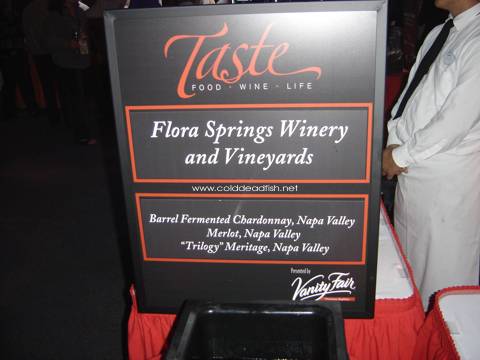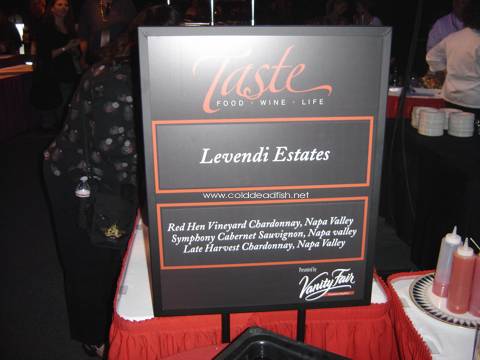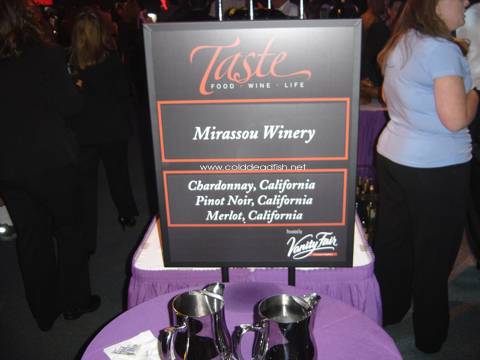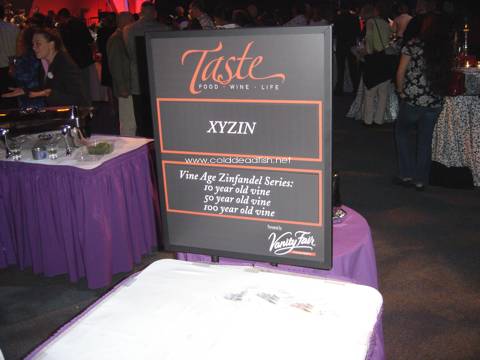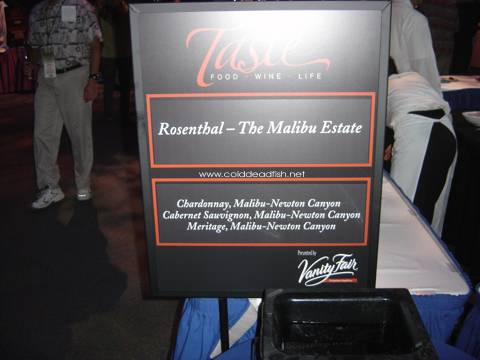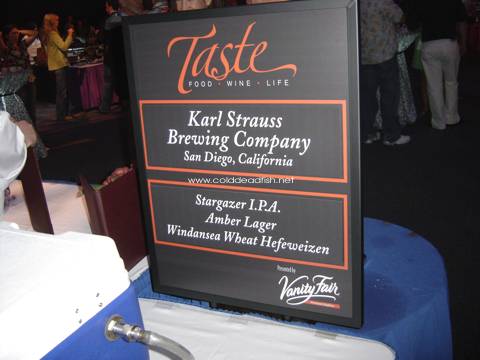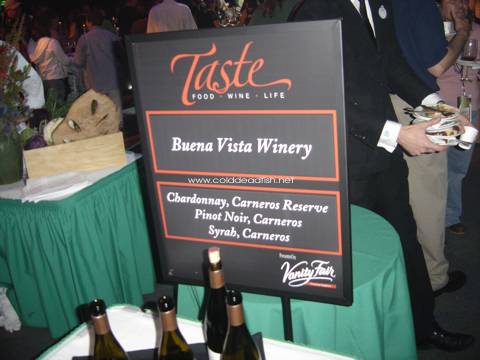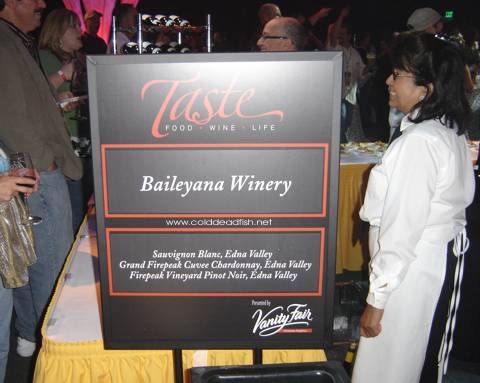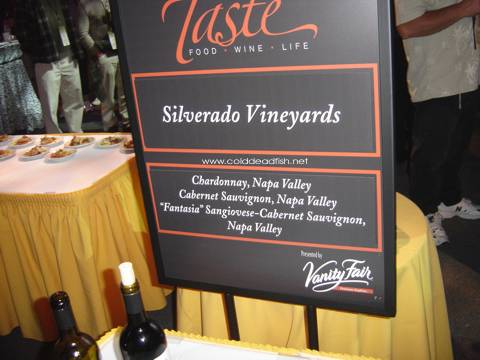 As I mentioned, the band Barrage played periodically during the evening. Here's their official website. I'd heard of them before but had never heard their music, and I ended up loving them, to the point where I later bought a CD and concert DVD for myself and as a gift for a friend. Their style was perfect for this setting. At first, we were concerned that it would be too loud since we were so close to the stage, but since they mostly play fiddles, they weren't too loud or jarring and served as a perfect accompaniment to the meal. There were also a few big screens up so that people further back could see them as well. Following are some pictures of Barrage taken during the course of the evening.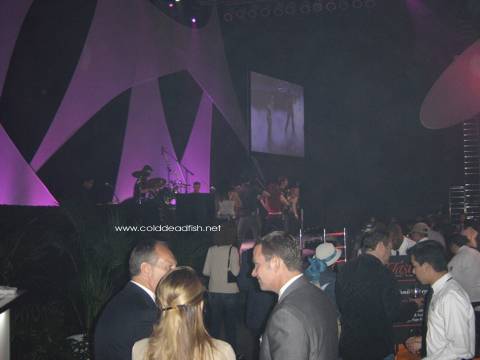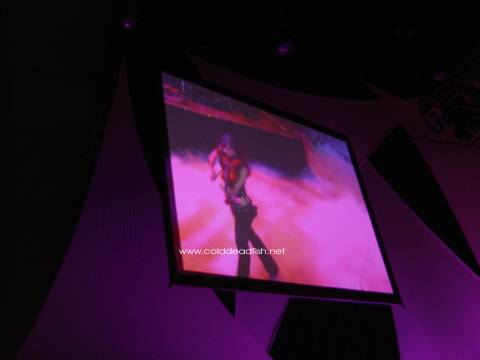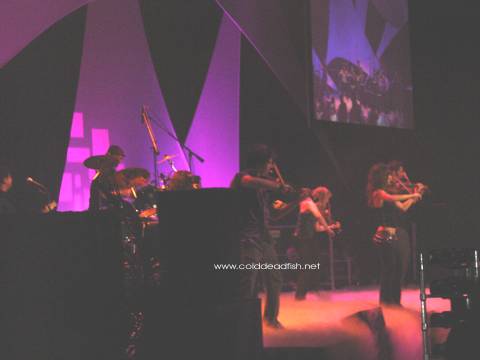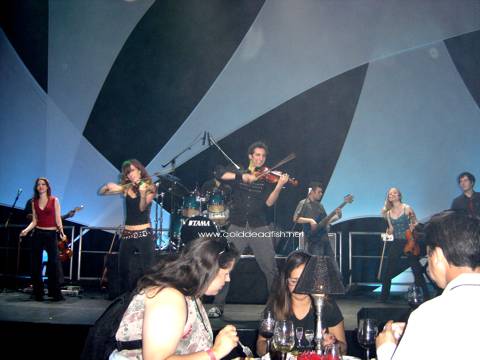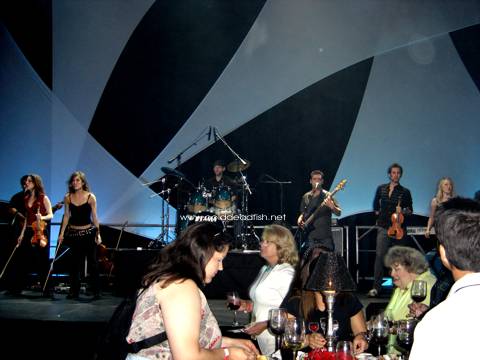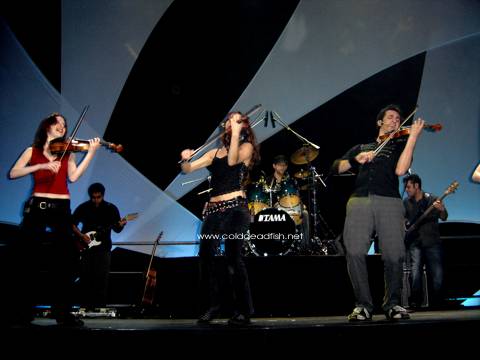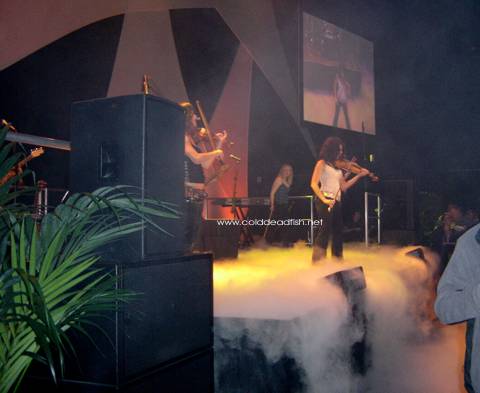 Barrage used to periodically perform at the Tomorrowland Terrace stage at Disneyland. Here's an article on a Disney-related website that talks about the band and includes an interview.
At the end of the evening, we were told that we could keep the etched event glasses that we had been given to use, and as we were leaving, they even provided bags in which to carry the glasses.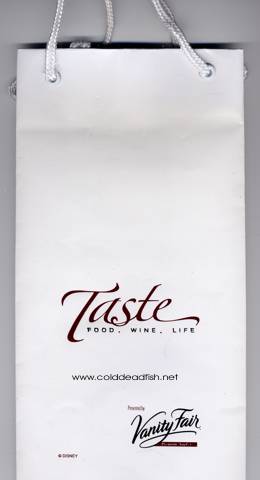 An event bag to carry out the wine glass.
We were definitely glad that we had decided to attend the event, which we found to be worth the price we paid. We had the opportunity to try out quite a number of dishes, there was plenty to make a filling meal, we got to enjoy great music, we got to meet some new people, and we generally had a terrific time. We found out later that there were between 400 - 600 people at the event. We were also glad that we decided to take a table inside, even though it didn't have seating, because we were much more immersed in the surroundings. I would expect that those who chose to sit outside had a very different experience than we did. I believe that utilizing the cocktail tables took up less space inside, and it actually helped to facilitate conversation better rather than trying to talk to people across an 8-person table. All in all, it was a terrific evening.
Back to DLR Restaurant Reviews.
Back to home.