The Porch on Main Street at Disneyland
One of the many advantages and benefits of being an annual passholder at the Disneyland Resort is that you have the luxury of exploring and enjoying the little things, places that usually, single-day visitors don't have time to experience. However, being an annual passholder and having the ability to return at any time gives you the opportunity to slow down, to just enjoy the atmosphere, and to people watch.
One of the best places to relax is the porch on Main Street. It's so unobtrusive that even some regular visitors don't notice or remember the porch. But it's hardly a well-kept secret as it's right out in the open, and you'll often see people sitting on the porch.
Walking down Main Street from Town Square to Central Plaza, the porch is on the right side, in between the Silhouette Studio and the China Closet gift shop. It looks like the front of a house, with a couple of stairs leading up to the porch, which has a bench and two chairs, all of which are padded with light cushions.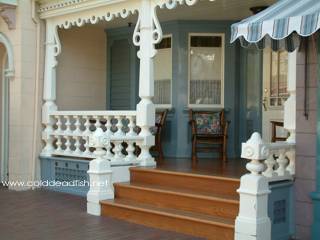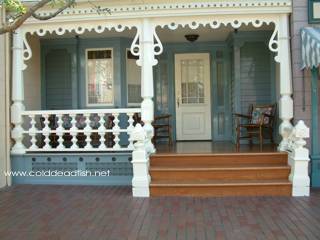 Two views of the porch on Main Street.

Early in the morning, it's a great place to sit, perhaps enjoying some coffee and/or a muffin or croissant or other item from the nearby bakery on the other side of Main Street while visitors walk by. From this spot, you can hear the excitement and plans of all the visitors to the park, and it's a perfect spot to see the variety of people that are drawn to Disneyland. Later in the evening, it's a good place to relax, to enjoy listening to the music on Main Street, and watching the people leave who have spent a full day enjoying Disneyland. Since all visitors to Disneyland must enter and exit by way of Main Street, it's a great place to people watch.

The porch also serves as a good place to sit in the middle of the day to take a break, and it also provides a good vantage point for parades. The porch can also be used as a meeting place.

Back to Cindy's Disneyland Resort Page.

Back to home.

Last updated February 2, 2004.