Blue Bayou - lunch - July 17, 2006
With the recent changes at the Blue Bayou, we decided to pay a lunch visit, and what better day than Disneyland's birthday to celebrate?
We had 12:40pm reservations and checked in about 10 minutes early, but it was very busy that day, so we weren't seated until about 1pm. Our party of 5 was seated at a table deep into the restaurant but in the back furthest from the water. Many people insist that a waterside table is the only way to go in that restaurant, but we found our location to be very pleasant, and I enjoyed the experience equally as much as when I'd had dinner at a waterside table previously.
The Blue Bayou currently has a promotional tie-in to the recently released Pirates of the Caribbean feature film sequel, complete with souvenir menus that you may keep.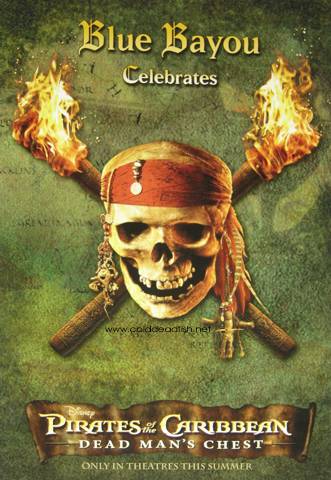 The current picture on the front side of the menu.
Click here for a full-sized readable version of the menu.
All of the lunch entrees now come with a choice of soup (New Orleans gumbo) or salad (Cajun-inspired wedge salad) as well as two sides (choice of Blue Bayou potatoes, seasonal vegetables or sauteed spinach). The crab cake appetizer sounded good, but with the additions to the entree and knowing we wanted dessert, we considered perhaps sharing the crab cake appetizer on a future dinner visit. Two of us ordered the short ribs (Buccaneer's Beef Short Ribs - slow-roasted, then finished in a Zinfandel demi glaze), two others ordered the salmon (Cajun-Spiced Salmon - blackened, with citrus crawfish beurre blanc), and my husband ordered the prime rib (Five-Pepper Roasted Prime Rib of Beef - seasoned with the chef's signature pepper rub blend, then slow roasted over rock salt).
Two of us started with the gumbo while the other three opted for the salad. I enjoyed the gumbo, and I believe it's the same gumbo that's now served at Cafe Orleans, complete with a spoonful of "dirty rice" on top. Those who had the salad enjoyed it as well, but the menu needs to be quite a bit more descriptive of the salad. "Cajun-inspired" apparently means that it comes with a few slices of sausage, which would be good to know for any vegetarians dining there so they can ask that it be left off. The salad also comes with a slice of tomato and a slice of avocado and a sherry vinaigrette dressing. The salad is topped with bleu cheese crumble, and one of the people who had the salad doesn't care for bleu cheese, so she would have liked to have known ahead of time so she could have asked them to omit it.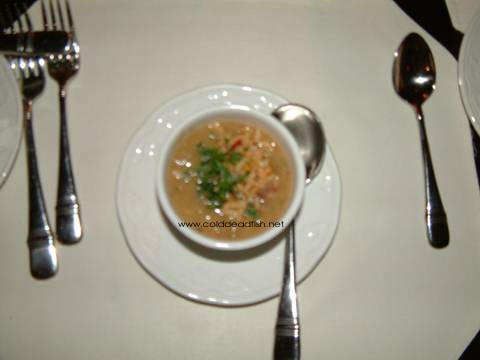 New Orleans gumbo.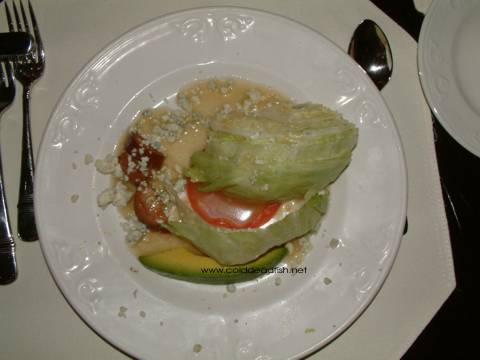 Cajun-inspired wedge salad.
Rolls are now directly served to each person, which I rather liked as the tables are not that large in the restaurant, so there's no bread basket to take up more space. None of us needed more than one roll, but other diners have reported that getting more rolls is not a problem at all as the staff is very attentive.
Our entrees arrived shortly thereafter. I loved the flavor and texture of the short ribs, and the meat was very tender, and the sauce was a nice complement. The potatoes turned out to be au gratin, but they had a very nice flavor and consistency that I've not necessarily noticed in most au gratin potatoes. I was also particularly pleased that the seasonal vegetables were white asparagus and broccolini, since I really like both. All in all, it was a terrific entree. The other person who had the short ribs enjoyed them as well. The two who ordered the salmon enjoyed their entrees as well. My husband particularly enjoyed the prime rib and gave it high praise indeed. He had been a big fan of the prime rib when it had been served during the holiday season sizzling hot off the grill at the now-closed Big Thunder Barbeque. He said this prime rib was almost as good as that, citing the pepper rub and slow roasting as the main reasons.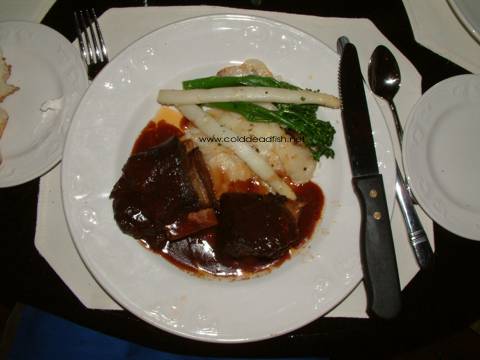 Short ribs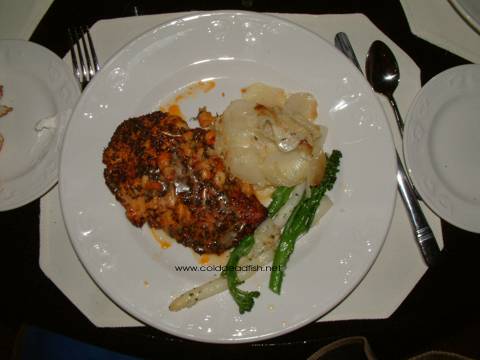 Salmon.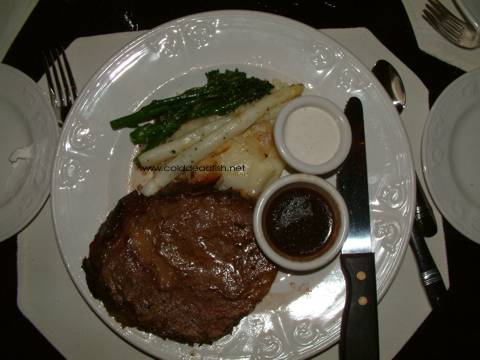 A nice cut of prime rib.
After savoring our entrees, it was time for dessert. We'd heard about the new desserts, and there was definitely no skipping dessert on this meal. My husband and I decided to share the cookie boat (Flying Dutchman Cookie Boat - warm chocolate chip cookie boat, served with Dreyer's vanilla-bean ice cream, caramel and chocolate sauce), two others decided to share the creme brulee (Tortuga trio of creme brulee - chocolate, passion fruit and vanilla-bean custards, caramelized and served with Brittany cookies) and the other person decided to have the key lime pie (The Key West, Key Lime - flaky crust filled with tangy key-lime citrus creme).
When the desserts arrived, they were inspired in both their presentation and taste. The cookie boat was very rich, and the vanilla ice cream was definitely needed to cut the thick chocolate chip cookie, which was really more like a thick chocolate chip brownie. A friend had mentioned that it was too large for one person, and we found that to be all too true. Even with two of us, there was a lot left over. Those who had the creme brulee and key lime pie enjoyed their desserts as well.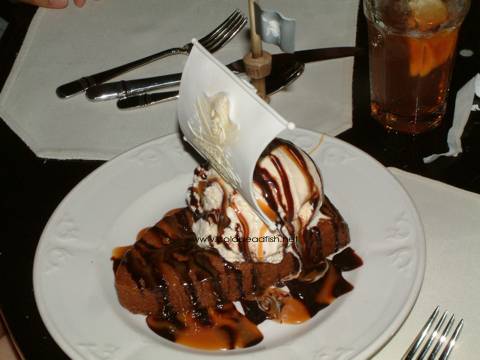 Cookie boat.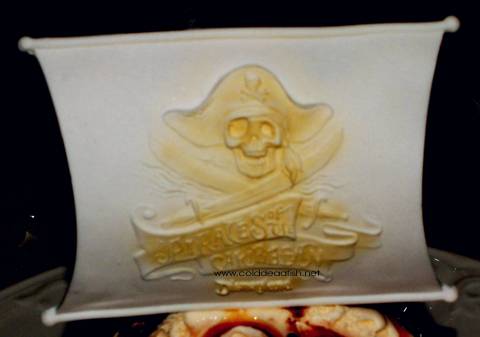 The etching on the sail.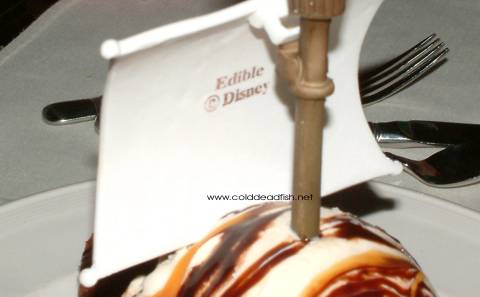 We found the stenciling on the back of the sail to be interesting.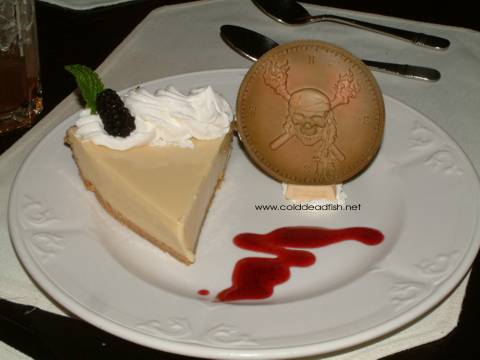 Key lime pie.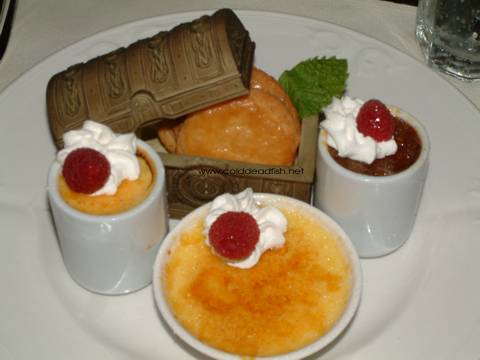 The creme brulee comes with a treasure chest.
On my previous lunch visits to the Blue Bayou, I ordered the jambalaya a few times, and the serving was so large that I always had leftovers to take with me. I was pleased that the combination of salad and entree and dessert were enough to be satisfying but not overwhelming. I'm not sure if it was the serving size of the short ribs that I had, but I do plan to try the new jambalaya on a future visit, and I'm hoping that portion size is reasonable as well. I also definitely plan to try the creme brulee next time.
The ambience was lovely, and while it had been warm and bright outside, it was great to be able to spend a leisurely lunch in a cool, darkened setting that was actually fairly quiet. It's definitely not an inexpensive place to have lunch, and I don't expect we'll be eating there too often, but for the occasional visit for good food, good atmosphere, good service and good friends, I'd definitely recommend it.
Back to DLR Restaurant Reviews.
Back to home.