Celebration Roundup and Barbecue at Big Thunder Ranch - lunch - April 12, 2009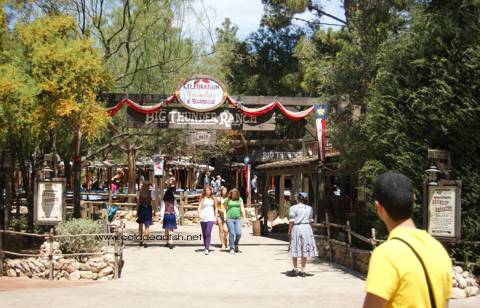 The entrance to Celebration Roundup and Barbecue at Big Thunder Ranch.
The Big Thunder Ranch area used to be home to a terrific barbeque, but that closed in January of 2001. The area was open as a Big Thunder Country Picnic restaurant for a short period of time in the summer of 2004, but otherwise, it was just a venue that could be rented out by private parties. Early this April, the area reopened for barbeque in a different format. I'd heard reports from people who went the first few days when it was open, and while I was a bit skeptical at first, I became more interested the more I heard about it. The husband and I and two friends decided to try it out for Easter lunch.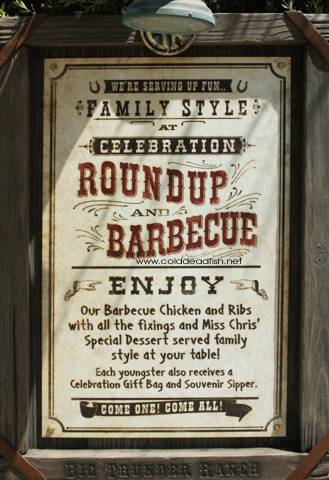 A sign right outside the entrance tells you a little about the barbeque.
The current menu includes pork ribs, chicken, cornbread, cole slaw, corn on the cob pieces and baked beans, all served family style, which means that each item comes on a separate serving dish from which everyone can help themselves, instead of each person receiving a pre-plated meal. The meal also comes with dessert as well as a choice of a drink (iced tea, Coke, Diet Coke, root beer, Sprite, lemonade, Fanta orange soda, apple juice, milk or chocolate milk). Though not advertised as such, the meal is actually an all-you-care-to-eat dining location, so you can ask for extras of any of the meat items or sides. A vegetarian option is also offered which includes two skewers of vegetables instead of the ribs and chicken.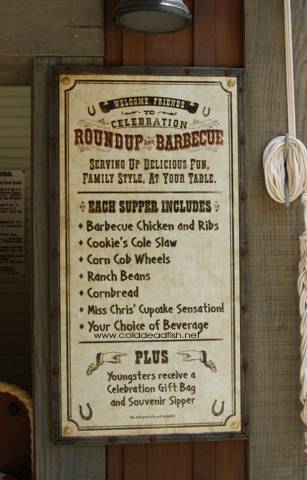 A sign near check-in gives more details about the meal.
I had made a priority seating reservation, but our friends were running late, so we ended up checking in a bit later than our time, but that wasn't an issue. Two of the people in our party had dietary restrictions that could prove difficult to accommodate given that it was a barbeque location, but after having spoken to a friend who had already visited the restaurant, we were prepared to see what accommodations could be made and make do if need be.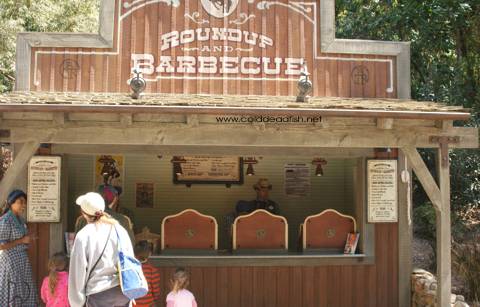 The check-in area.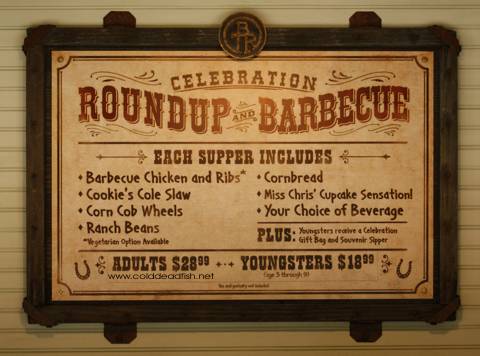 The sign in the back of the check-in area has the meal prices.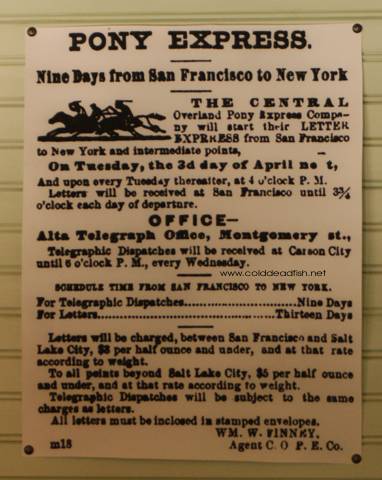 Another sign in the back of the check-in area adds to the decor.
The husband went up to the check-in area, and as had been recommended to us, he asked for a lead (Disney-speak for "manager") as this was an issue that probably couldn't be addressed by a regular cast member ("CM"). There happened to be a lead there, so the husband explained to her that two of the members in our group had dietary restrictions which would prohibit them from eating any of the sides that come with the meals, so we wanted to see if it would be possible to substitute the vegetable skewers for the sides for those two people. One of the other cast members said that the only way to do that would be for them to charge us for another adult entree, but that really didn't make any sense. I was prepared to perhaps pay a little extra for the substitution, but another full-priced adult meal was excessive. There was also a concern about the sauce that was on the meat items, so we wanted to see if there was any change that could be made, like perhaps getting the meat before extra sauce was added on. The lead said that they would ask for the chef to come out and talk about what accommodations could be made regarding the food items.
Meanwhile, another CM suggested that we just order two regular entrees and two vegetarian entrees. The husband explained that the problem with that would be that the vegetarian entrees would still come with sides that the two people couldn't eat, so we weren't sure how that was going to work. The same CM said that they'd make sure no one went away hungry, which to me seemed to be an odd thing to say, and his tone didn't seem like he really understood the dietary concerns that were the issue.
Shortly thereafter, sous chef R came out to talk to us. He explained that the barbeque sauce normally used on the ribs contains sugar, but he said that the rub normally used on the chicken and vegetable skewers also contained brown sugar, so that wouldn't work. He said that he would make a fresh batch of each of the items and season them with salt and pepper and some cayenne pepper and some other spices - basically, he was going to make something up that would accommodate the dietary concern. He said that because everything was served family style, the entire table would have to have the specially made food, which we said was fine. We were satisfied that the meal would work out, so we were then taken to a table and seated.
A waitress came over and took our drink orders and mentioned that she knew we were getting our food specially made. She was good at coming back every once in a while to check on us, and she was very nice and friendly, so we chatted with her about various things when she would come by.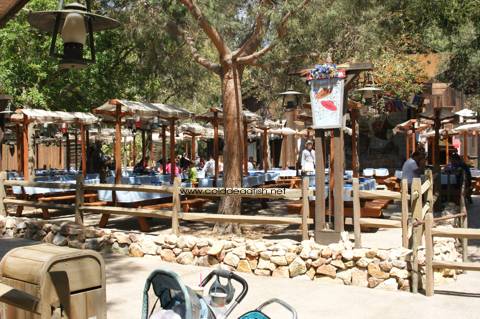 Some of the seating area for the barbeque.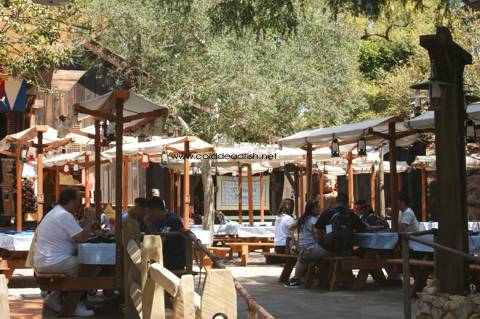 The overhead canopy provides a nice shade.
The waitress brought our drinks, and we were very happy to see that they were using the mason jar mugs that are similar to those used at the old barbeque. We even noticed that the salt and pepper shakers were in the same style, and we thought that was pretty cool. It's those kind of little touches that Disney is particularly good at.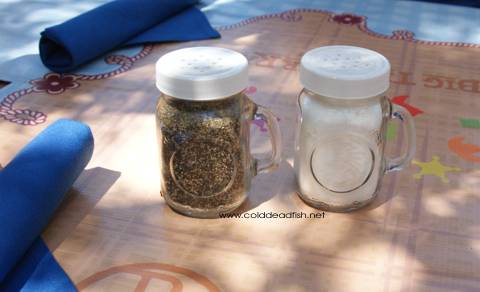 Cool salt and pepper shakers.
To derail for just a second, as I mentioned, all of us were very nostalgic for the old barbeque restaurant. The husband and I had happened to have lunch at the barbeque on its closing weekend, and they had offered for sale plastic commemorative mugs which we had purchased. Being the first time back in that location having barbeque, I decided to bring the mug with me. I didn't actually use it for anything, but it was just nice to have around, and the various CMs that we ended up showing it to liked seeing it as well.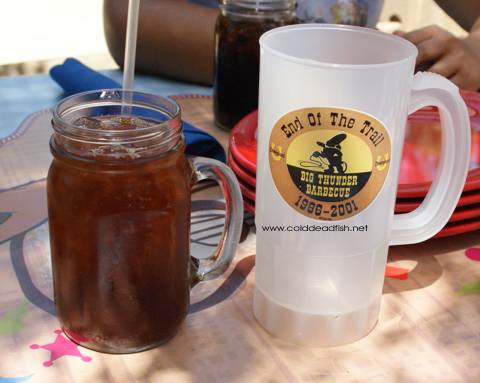 Mason jar mug and commemorative mug.
While we were waiting, we sat and enjoyed the entertainment. There was a stage, and at various times, Woody and Jessie and Bullseye would come out and sing and play around. There was also a piano player named Sarsaparilla Sam who would also sing from the stage. He also wandered around the barbeque, and when he came by our table at one point, I mentioned how much I liked his jacket with all of its stitching. He very proudly told me that his mother made that jacket, which made us smile. There was also another entertainer named Tex Tumbleweed who played the guitar from the stage and also walked around the barbeque, talking to the guests and singing songs as well. I'd heard of another set of people who show up as well - I think they're the supposed proprietors of the location - but even though we were there for a while, we never saw them.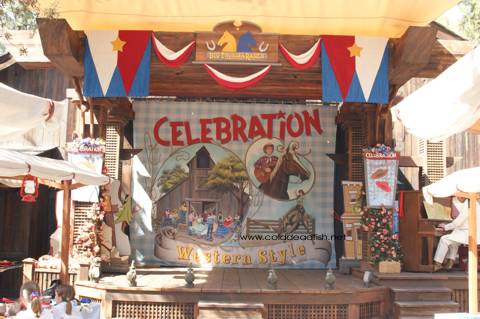 The stage in between entertainment sets.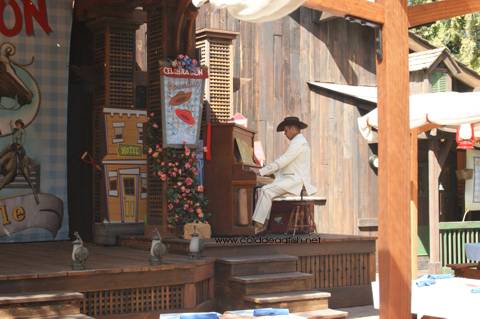 Sarsaparilla Sam at his piano on stage.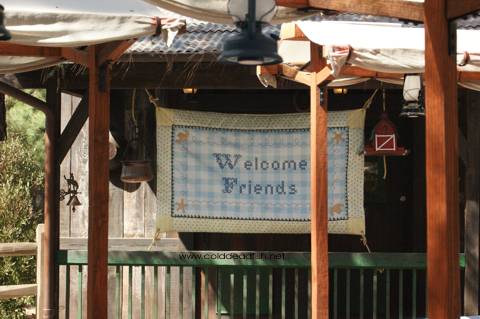 A pretty "welcome" quilt hangs to the left of the stage
but it's not really a quilt at all - it's plastic. Still very pretty though.
Our waitress came by and brought our table settings in preparation for our meal.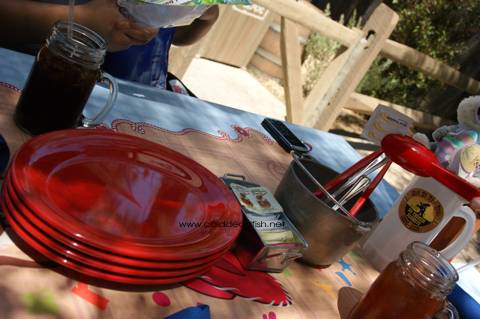 Pretty red plates and serving utensils.
I loved the little pail. This one would eventually double as our trash/bones pail.
We had been waiting for a while, and then I was surprised to see the sous chef come over to our table. He asked if we were ok, and he mentioned that they were cooking our food, and that it was taking a little longer than normal since they were starting from scratch. The husband later mentioned that the sous chef had said that during the initial conversation at the front. The sous chef said the food would be available in a bit and excused himself.
We sat and enjoyed our conversation and really enjoyed being back at Big Thunder Ranch again. We were all big fans of the old location, so it was nice to be back, even though it looked a bit different now. Gone was the dirt floor - I actually wished they had left it rather than paving it over. Gone was the nice big firepit that had a roaring fire in the evenings. But otherwise, it was familiar surroundings indeed.
Finally, our waitress came by with our food. And boy did it look good! There were two small pails, one containing ribs and the other containing chicken, each containing enough that we could each have a couple of pieces. There were also two plates which each contained two vegetable skewers, so we gave those to the two people with the dietary restrictions.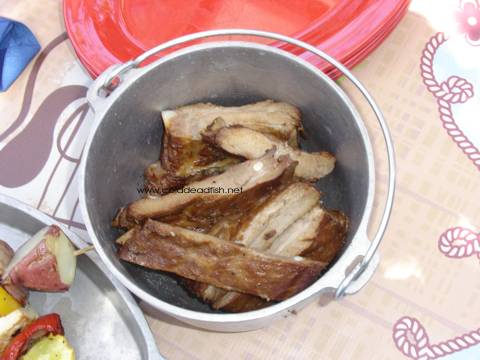 A pail of ribs.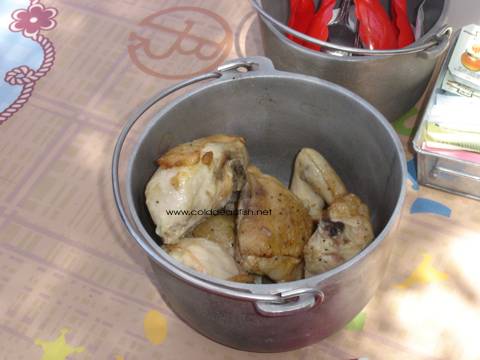 A pail of chicken.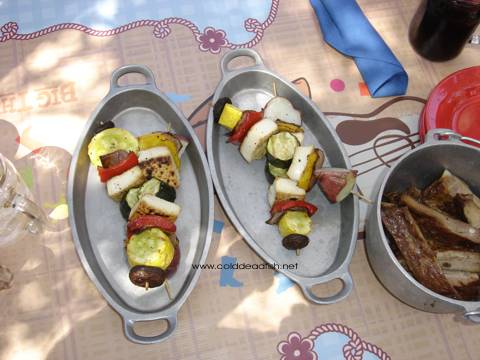 The vegetable skewers.
I had noticed that the waitress hadn't brought any of the sides, but I wasn't sure if she'd be going back to get them since it might have all been too much to carry at once. After she had put everything down, she said "enjoy your meal", so before she left, I stopped her and asked if she could bring the sides as well. She seemed a bit confused but said ok and went inside. She came back and said that the chef had said all the sides had some kind of sugar in them, so they wouldn't work, but I explained to her that the vegetable skewers were the substitute sides for the two people who couldn't have the regular sides, but that two of us could still have the regular sides, so she confirmed that she would go back and bring two-person's worth of sides. I think it was a little confusing for them because of the substitution of sides and because it was only half our party that needed to do that. She came back shortly with our portion of sides.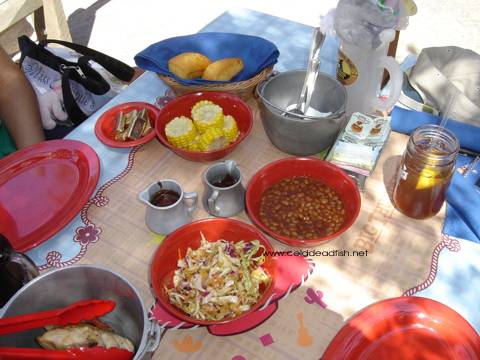 The sides for the other half of our party.
The normal ribs at the location already have sauce on them while the chicken does not, but they also give you extra sauce on the side. We were given the sauce as well, so the two of us could put it on our food if we wanted. We thought the little sauce container was very cute. The different preparation of our food could have posed a problem if there was someone in our group who liked a lot of sauce, but then again, since we had the extra sauce on the side, they would have been able to just put more sauce on their own food, so I think it would have worked out regardless.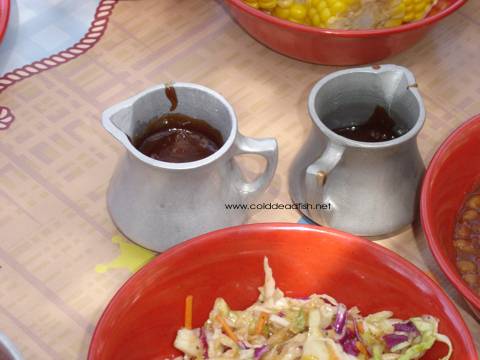 Tiny pitchers of barbeque sauce.
I thought both the ribs and chicken were very good - tasty and tender, and the chicken was nicely cooked and not dried out or rubbery. The simple seasonings on the meat were quite good. I am not one who generally likes a lot of sauce on my barbeque anyway, so this worked out perfectly for me. I did try the barbeque sauce, and I did like it, and I dipped a bit of my ribs in it, but after a while, I didn't end up using it because the ribs and chicken were tasty enough without it. I am not generally a fan of cornbread because I find it to usually be too dry. I tried the little cornbread loaf and found it to be quite moist and tasty, with kernels of corn baked into it. Now, if everyone made cornbread like that, I think I'd like it much better. It was also the perfect individual serving size. I like certain kinds of cole slaw and don't like the kind that has too much sauce. I really liked their cole slaw, which had a much more vinegary flavor than regular coleslaw, and it was pretty light on sauce. The cut up pieces of corn on the cob were good, and they were much easier to eat that way. The only thing I didn't like was the baked beans, but then, I think I've figured out that I'm just not a fan of them in general. I usually find them to be too sweet, and the baked beans that came with the meal had the same kind of flavoring. I had a taste, and that was it. The other person who had the sides with me seemed to like the baked beans, so I figure it's just my general dislike of that particular food item.
The husband had a plate of the vegetable skewers as his side, and he really liked it. It was a good-size portion, and the normal vegetarian entree has barbeque sauce generously poured over the skewers, which was omitted in this case, of course. There was a nice mix of vegetables, and he said it was nicely cooked and seasoned. Each skewer included two pieces of tofu. The husband is not generally a fan of tofu. He did try one of the pieces but didn't like it enough to have the other three, so being a huge fan of tofu myself, I had them instead. They were nicely cooked with a good consistency and flavor. If you don't like tofu, then you'd probably not like it, but if you're either neutral or love tofu, you'd probably find it to be quite good. I certainly did. The husband had a small taste of the cole slaw, cornbread and barbeque sauce just so he could have an idea of what they each tasted like.
As we were enjoying our meal, the sous chef came out to check on us again, and we told him how much we liked everything, I was curious about the new setup, so I asked him a few questions, and he was very forthcoming with information.
The kitchen at the ranch is in the back of the location. They actually gutted everything behind the facade where the stage is and to the right of that. The sous chef said that the only thing remaining from the old kitchen is one sink. Otherwise, they have all brand-new ovens and cooking devices.
The ribs and chicken are not actually barbequed on a grill - they are oven baked. There are apparently restrictions in place (not sure if they're city or state) that prevent the open barbeque and the rising smoke and smells and such. That doesn't surprise me as I know of a Downtown Disney restaurant that had wanted to do an open barbeque but were denied for those same reasons, and that was a couple of years ago.
The kitchen is similarly situated to where it used to be, though they reconfigured it to be a little thinner in width but longer. There is plenty of room back there for the chefs to work, and the chefs apparently like all of the new gadgetry.
The sous chef excused himself again, and we finished up our meal. As I mentioned, though it's not advertised as such, the barbeque is an all-you-care-to-eat dining location. If we had wanted more, we could have asked for it, but we were pretty satisfied with what we had. We finished all of the meat and most of the sides.
At one point when the waitress came back to check on us, I asked her about a washboard menu that I had heard about that was normally brought to the table at the beginning of the meal. Because of our special meal, there had been no need to bring it out, but she was nice enough to get it so we could take a picture of it.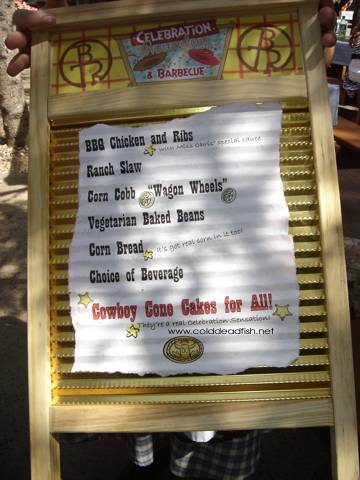 Here's what's on the menu.
After we had finished our meal, our table was cleared, and we were ready for dessert. We knew that instead of the "cowboy cone cakes", you can ask to have fruit instead, but we weren't sure either would work for the two people in our group. So we were very surprised when the sous chef came out again to discuss the dessert options with the two people. The sous chef said that the cake part itself and the frosting were "no sugar added", but that the fruit filling and cone itself did have sugar. We had figured the two people would just need to use the cone as a serving device and dig around for the cake while trying to avoid the filling. The sous chef suggested omitting the filling and cone completely and just bringing out the cake with frosting on a plate. That was a great idea. The sous chef then asked the two of us what we wanted as our cone cakes. I had already heard about the flavors, but it was all kind of happening at once, so I had him repeat the flavors, and I chose the chocolate while the other person chose the red velvet.
The special desserts were brought out first, and I was surprised that there were two little cakes. I thought they'd only each get one, so it was nice of them to include one of each since they weren't getting the cone or filling. They apologized that it turned out the red velvet recipe did actually include sugar, which is why they only brought out the chocolate and regular one.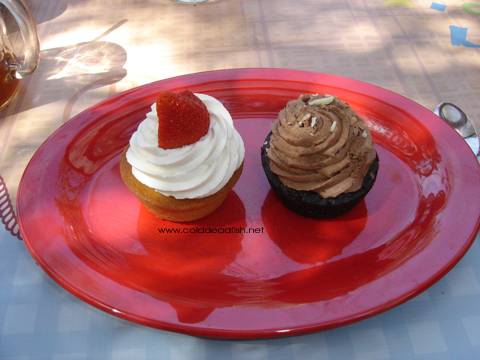 No-sugar-added cake and frosting.
Our cone cakes were brought out in the normal container, which is pretty cool. There are slots where the cone cakes can be inserted, holding a maximum of six cone cakes.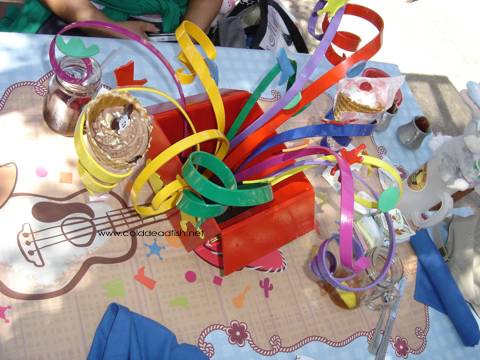 Cone cake holder, with the chocolate cone cake on the left and the red velvet cone cake on the right.
A close-up of the red velvet cone cake in the holder.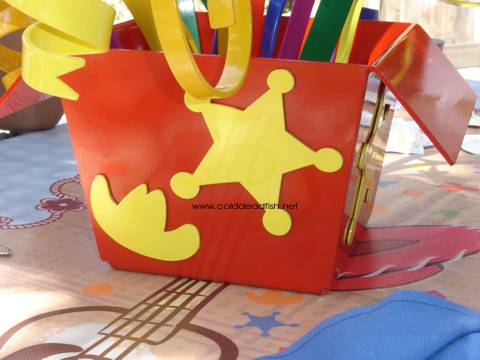 The base of the holder has cute decorations.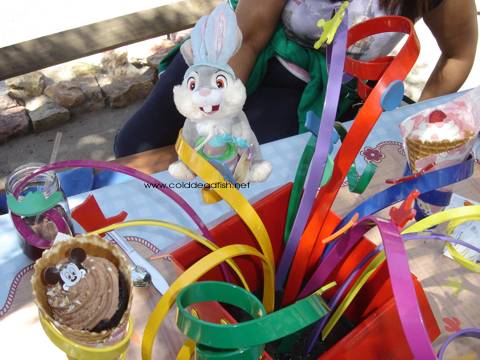 I had brought Easter Thumper along,
but I don't think he expected to be served up as dessert.
Those who had just the cake and frosting enjoyed their dessert, and I really liked my cone cake. I think the other person liked the cone cake as well. The cake was very tasty, and I liked having the filling as well, though it was kind of funny eating out of a waffle cone with a spoon. When I asked about the waffle cone, the waitress said that she thought they were made at the ice cream shop on Main Street.
I had previously mentioned the entertainment, and Woody and Jessie came by once or twice to visit our table. I think Bullseye only appears in the show - I don't recall seeing him visit tables. Because we were at the back of the restaurant, we were next to the walkway that leads to the restroom as well as the walkway that characters take to come out from backstage. They would need to walk right past our table (though on the other side of the little wooden fence) to get to the Big Thunder Ranch area where the petting zoo is. We had seen Chip and Dale go by a couple of times and meet with guests in the petting zoo area. One of the times they walked by us, the husband noticed that their kerchiefs had acorns on them as well as the Big Thunder Ranch logo. When Chip walked by and waved at us, we mentioned it to him, and he was very happy that we noticed. We asked to take a picture, but our camera jammed at that moment, so we told him we'd catch him later so as not to hold him up. When he and Dale walked by sometime later, Chip stopped in front of us and pointed at his kerchief, which was great that he remembered. The husband took out his camera, and Dale posed for a picture like he normally does, but Chip kept turning him around so his back was facing us. Dale kept turning back to face us since that's how pictures of them are normally taken, right? Dale seemed confused that Chip had to keep turning him around so that both of them had their backs to us. We were laughing so much that I didn't notice if Chip even attempted to try to explain in gestures to Dale why they were facing the other direction for the picture. We thanked them for letting us take the unusual picture.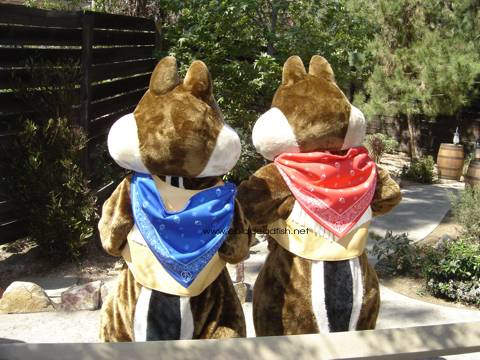 Chip and Dale show off their pretty kerchiefs.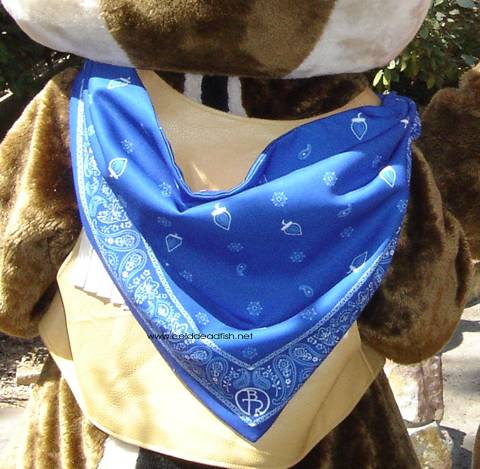 A close-up of Chip's kerchief.
I hadn't noticed Chip and Dale wandering around the barbeque like Woody and Jessie were, but I did notice them at the photo spot when we were done with our meal.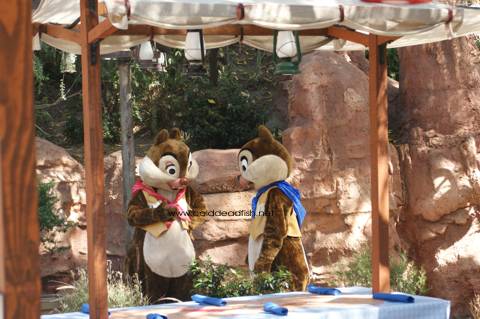 Hangin' with the 'munks.
Speaking of the photo spot, before we were taken to our table, we were taken to a spot off the side of the check-in area to have a group picture taken with a character, and Woody was there at the time. I had heard that they then come by your table to show you the pictures in case you were interested in purchasing them. Because Woody was funny during the photo shoot, we were interested in at least looking at the pictures. We didn't notice until our meal was over that they had never come around with our pictures. We asked our waitress about it, and she went to check. She was gone for some time, but eventually, it turned out that we had somehow just gotten missed. We waited for one of the photo rep CMs to come by to show us our pictures. He turned out to be very funny, and we did like the pictures, so one of our friends ended up buying a package and graciously giving each of us one of the pictures.
Overall, I had a terrific time at lunch. It took longer than normal because we had to wait for our food to be specially made, but we enjoyed the time we had there, and I thought the food was delicious. I watched the other wait staff bring food out to the other diners, and the regular ribs and chicken looked good too, and people seemed to be enjoying their meals. The cost of the meal is higher than a regular meal, but that's because it's really a character meal and buffet of sorts. I'm not really understanding why they're not advertising the buffet aspect of the meal as that would help people to understand better the price of the meal as well as what to expect from the meal. The waitresses do ask if there's anything else they can get you, but I'm not sure most people would understand that means that if you want more ribs or chicken or sides, they will bring more at no extra charge.
I was most pleased with the attention that we got from the sous chef. I don't think I would have been surprised for him to come out once to check on us, but I didn't expect him to come out multiple times to make sure we were taken care of, and I was especially pleased and surprised that he came back to discuss the dessert options available and what accommodations could be made with those. The husband said he noticed the sous chef out another time, just looking around the restaurant to make sure everything was ok and maybe even looking to see how everyone was enjoying their meals. The sous chef went above and beyond the focus on service that is the hallmark of the Disney brand.
We are not generally ones to do character meals/buffets very often at the Disneyland Resort. We visit Storyteller's Cafe for breakfast maybe a couple times a year, we go to the Mother's Day brunch every year, and we might do one other character meal maybe once a year or every other year, but that's about it. I don't expect we'll be visiting the Celebration Barbecue very often for the same reason. And while we know that they can accommodate the dietary concerns we have, we do know it would take extra time and effort, for us, for the CMs and for the chefs, so that might make us hesitate as well, but it's good to know that if we want to go, there's not an issue with someone not being able to eat there.
I do want to stress, though, that the substitution they allowed us to make with the vegetable skewers instead of the sides was because of an actual dietary restriction. The skewers are there first and foremost as a vegetarian entree option. I would hope that people understand that the skewers aren't something you can ask for instead of the sides just because you'd like the vegetables better or because you're on a self-imposed diet where the vegetables would fit that diet better than the regular sides. I'm glad that they made the accommodation for us because of a medical need, and that they did so without charging us any extra, but I would hate for that accommodation to be taken advantage of by someone just because of personal taste preferences. However, if you have the same dietary restriction, you should know going in that the meal will take a bit longer, so don't go when you're already starving. Understand that it will be some time before you're served, so plan accordingly. Also, the CMs probably aren't encountering this issue much, at least not yet, so you have to be ready to explain the situation to them, to ask for a lead, to speak to the chef. As I mentioned previously, our waitress was a bit confused about the sides, but we were probably the first group to get that changed meal, especially since the barbeque had only been open for little more than a week at that point, but once we explained it to her, everything was fine. You might not get the exact same accommodation we got, but they were certainly willing to do what they could.
I was a bit surprised that they did ring up our table with two regular entrees and two vegetarian entrees. The only reason I could figure is perhaps for inventory reasons, for the vegetable skewers. Inventory on the ribs and chicken and sides would be done differently since they're available to anyone, with additional servings if asked for. However, the vegetable skewers would only be made if someone ordered a vegetarian entree, and at the end of the day, if they didn't ring us up for two vegetarian entrees, there would be no accounting for the skewers which they let us have as a substitution.
The character aspect of the meal is nice in that it's not intrusive or overbearing as some character meals can be. However, one difference about this character meal is that it's basically out in the open. Generally with character meals, the characters are indoors or at least behind a barrier, so you pretty much know that they're available only to the guests of that meal. However, you can see the show and characters from the walkway outside the ranch, and you can see it from the petting zoo area as well, and especially for someone who has been to the area during the Halloween and Christmas roundups, where characters are wandering around for everyone to meet, they wouldn't necessarily know that the location has now been turned into a character meal. While we were sitting there, I noticed one family come in through the back and sit down at an empty table to watch the show. The location is not isolated and separated like other character meal locations, and the restroom for the location is actually way in the back, outside the boundaries of the restaurant itself, as the restroom is also accessible from the petting zoo area. There is a gate to get back into the restaurant area, but there's no sign on that side to let you know that you're actually entering a restaurant. The family sat for a couple of minutes before a lead went up to them and asked if they were there for the meal and explained the restaurant to them. Putting up a hedge or something would probably be too intrusive, but I think they do need some kind of signage in the back area to let people know that there's a restaurant on the other side of the short wooden fence.
Annual passholder discounts are accepted, and you pay for your meal at the end, which includes a 15% automatic tip. One change has actually been made since our visit. The price for a children's meal has been lowered, and the goodie bag advertised on the signs is no longer included in the price of the meal. That can be purchased separately for an additional fee. At a glance, the goodie bag looks like the one that's offered (or at least used to be offered) at Goofy's Kitchen for birthdays.
If you're going to the barbeque and have no dietary restrictions, your experience will obviously be somewhat different than what I described above. MousePlanet has a terrific review of the restaurant which will give you a better idea of what a regular visit is like. There are lots of great pictures and more information about the cone cakes.
Back to DLR Restaurant Reviews.
Back to home.