Cafe Orleans - lunch - July 2, 2006
With the re-opening of Cafe Orleans as a table service restaurant, we decided to give it a try. We arrived for our 1:10pm reservation at about 12:50pm. I checked in at the podium, and the CM pulled a pre-printed piece of paper out which apparently had the reservation information on it. We were then told to join the line to the left of the podium. We waited a while as other names were called before our turn came up. We were a little disappointed to be seated outside as the humidity was fairly high that day, and we had been hoping to be seated in the air-conditioned indoor section, which still had plenty of open tables.
Our server came by to take our drink orders shortly after we were seated. I found that the glasses used to serve the beverages were fairly small, smaller than at other Disney restaurants, so we needed refills quite often. It would seem that if they used regular sized glasses, the servers wouldn't need to spend quite as much time giving refills.
Two of us decided to start with the gumbo. The soup came in a small cup, with a heap of rice on top. I liked the gumbo very much. It was very flavorful and had a lot of different ingredients rather than just being mostly broth. I've not had the gumbo from the Royal Street Veranda, but I'm told that it's not nearly as hearty there. One of the other people decided to start with the house salad and enjoyed that.
We got an order of the french fries that we all shared. The others seemed to like them quite a bit, especially the Cajun spice aioli. I liked them ok but didn't necessarily think they were spectacular.
For an entree, I had the shrimp salad. The shrimp were nicely portioned, and I liked the added different tastes of the prosciutto, asparagus, cherry tomatoes and avocado that came with the wedge lettuce. I'd be inclined to order it again, but next time, I'll ask for the dressing on the side. I liked the taste of the vinaigrette, but there was more of it than I prefer, so by the end, my lettuce was sort of swimming in dressing soup. Two other people had the crab salad sandwich, which came accompanied with a couple of strawberries and some grapes, and they really enjoyed their sandwiches. Another person in our group had the seafood herb crepe and while he liked the taste of the entree, he was disappointed that their idea of "seafood" meant only various kinds of fish, and he said that because of that, he wouldn't be inclined to have it again.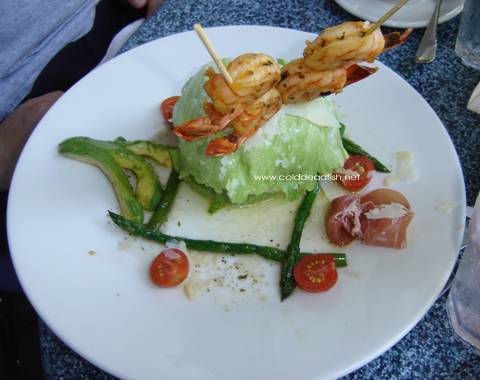 Shrimp salad entree.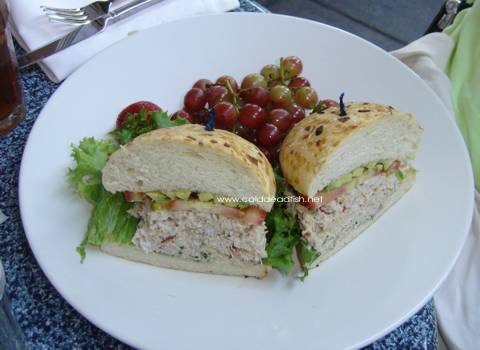 Crab salad sandwich.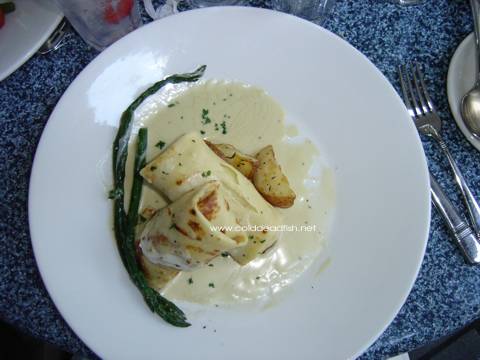 Seafood (really fish only) crepe.
For dessert, we decided to share an order of the Mickey-shaped beignets. The others enjoyed the sauces that came with it, but I had mine just with the powered sugar, and I really liked them. One order is a fairly large serving, though, consisting of 5 beignets. It was a nice size to share among four of us, but it would seem a lot to share even between two people.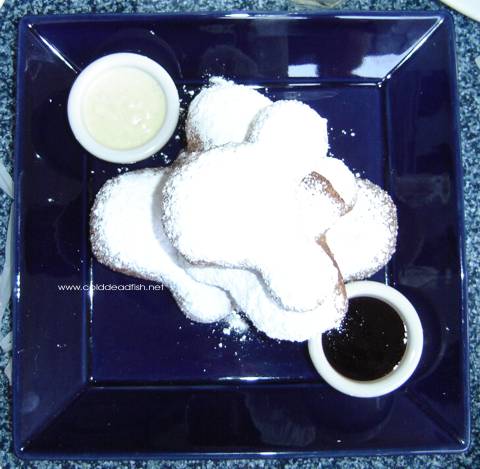 Mickey-shaped beignets.
The service was ok, but I expect that they're still working out the kinks. The various courses took a bit longer than I expected given that the restaurant was only about half full, and plates weren't necessarily cleared away in a timely fashion when we were done. They didn't take away my empty soup cup until they also took away my entree plate. Our server was pleasant enough, and he did come back a few times to let us know that the entree would be coming soon, but he seemed a bit frazzled. Our dessert also came a lot more quickly than we expected, so we had to help clear plates away so they'd have somewhere to put the dessert and our dessert plates. There also seems to be more training and/or practice needed for the runners because a few times, we saw them bringing out food without really knowing which table they were supposed to go to. As it was, we had noticed that the table next to us had gotten their food a while back, and we saw the runner putting down another tray of food near them, ready to serve to them. After looking at the contents of the tray, we let the runner know that in fact he was about to serve them our orders, and he made a comment about there still being changes with the table numbers.
Probably the part I liked the least was that the new pirate band is set up very close to where the outdoor seating for the restaurant is, so while they're doing a set, it's quite loud and difficult to have conversation without talking louder to each other. When they were between sets, it was very pleasant to be on the patio and be able to hear the ambient sounds of that part of New Orleans Square. When the current pirate phase is over and the pirate band is hopefully gone, I think dining in the patio area will be a lot more pleasant. However, for anyone who wants to be able to hear the pirate band, have somewhere to sit and have a meal, the patio area would be a perfect location.
The meal is a little expensive, but not really much more so than any other table service restaurant at the resort. The cost of a meal will vary, of course, depending on how many courses one orders.
I would definitely recommend the restaurant, but the only prohibition is their current system of accepting patrons. While we were waiting to be seated, they turned away quite a number of people who did not have reservations. However, the restaurant was only about half-full, and I don't think the restaurant was ever much more than half full in the entire time we were there. Given that we had a wait for our food, I'm wondering what the wait time would be if they did have a full restaurant. I hope they can work out a system where they take a certain number of reservations but also hold a certain number of tables for walk-ups. With locals making up quite a large percentage of Disneyland guests, having to make reservations quite a bit ahead of time could make dining at Cafe Orleans more prohibitive.
Back to DLR Restaurant Reviews.
Back to home.