Cafe Orleans - breakfast - December 3, 2006

Cafe Orleans started offering breakfast service in about mid-November, and there were some very interesting items on the menu, so we decided to give it a try.
Shortly after we were seated, a server came to take our drink orders, but we needed a little more time to decide on our orders. Eventually, all four of us ended up ordering a different item for breakfast.
I ordered the Cafe Scrambled Eggs, which is scrambled eggs with potatoes, bacon and fruit. It was a fairly simple breakfast, but I enjoyed it very much. The eggs were exactly as I like them - thoroughly cooked but yet still fluffy. The potatoes were nicely cooked, and the bacon was crispy and flavorful. The side of fruit was a nice finish to the meal.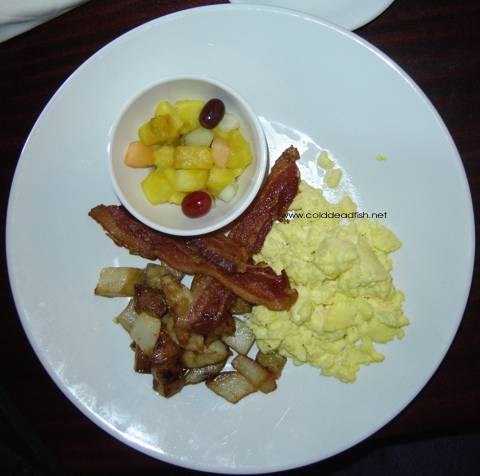 Scrambled eggs with potatoes, bacon and a side of fruit.
Another person in our group ordered the "Mickey" waffles, which are small, crispy, Mickey-shaped waffles served with bacon and fruit, and she enjoyed her breakfast.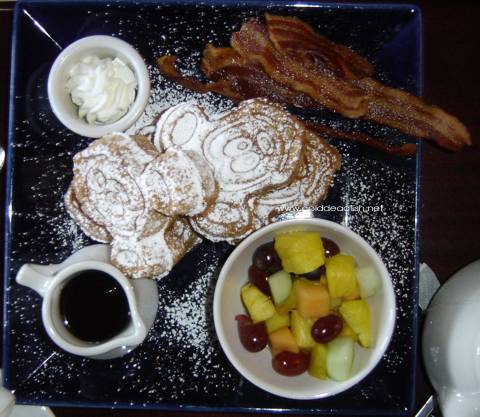 "Mickey" waffles, bacon and fruit.
Another person in our group particularly enjoys eggs benedict, so he ordered the Creole Eggs Benedict, which is listed as two delicately poached eggs served over grilled spicy andouille sausage atop toasted English muffins, finished with a spicy Cajun hollandaise sauce and a side of fruit. Unlike the eggs which were billed to be "delicately poached", one was instead thoroughly cooked through and the other was only slightly less cooked. He liked the sausage and really enjoyed the Cajun hollandaise sauce, but he said overall, it was not a dish he could recommend.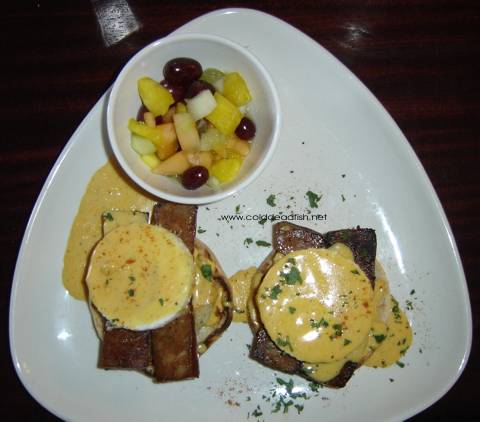 Creole Eggs Benedict.
Another person in our group who enjoys Monte Cristo sandwiches ordered the Three-Cheese "Monte Cristo" French Toast, which is described on the menu as hearty egg bread filled with Brie, Swiss and mozzarella cheeses grilled and finished with a berry compote and includes bacon. After his first bite, we asked how he liked it, and he said he had to think about it some more. By the end of the meal, he said that he figured out what was wrong with it - it had too much cheese. Since all of us love cheese, we did not think that was possible, but he said that although it is billed as "hearty egg bread", the bread was actually too thin for the amount of cheese so that the cheese completely overpowered the bread. He said the berry didn't add the right taste to it and considered trying it with syrup (since it's french toast) but didn't think the syrup would work well with the cheese. He said he couldn't really recommend the dish until they fixed the presentation. After our meal, I stopped by to say hello to friends having breakfast at another table, two of whom also had the Monte Cristo French Toast, and they were similarly disappointed with the dish. They had actually tried it with the syrup but said it didn't help.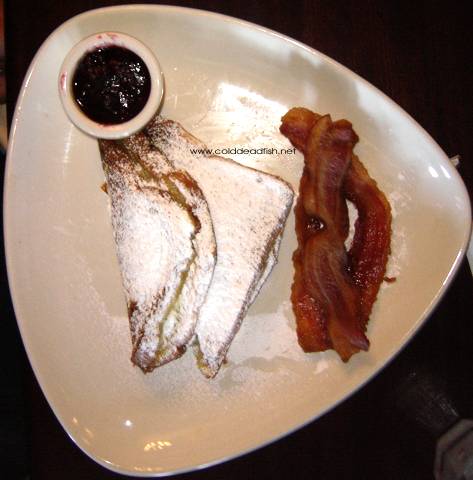 Monte Cristo French Toast.
So while two of us enjoyed our breakfast, two others of us didn't have as good an experience. The problem would seem to be that the actual presentation of the two dishes didn't match the descriptions on the menu. If the eggs on the eggs benedict had actually been delicately poached, and if the egg bread used for the french toast was actually hearty, that would have seemed to have solved most of the problems.
The service was okay, though we did have to ask for refills once or twice. I had asked for indoor seating when I had made the reservation, and as it was actually quite brisk out, we were glad for that. Our reservation was for 9:20, and it didn't appear that they were full as they were also seating people who walked up without a reservation. We noticed that everyone was sitting inside and that the patio was empty, probably because of the brisk temperature. One thing to note - pirates in New Orleans Square apparently keep much earlier hours than one might expect of normal pirates. We ended up being seated a bit later than our reservation time as we were waiting for a friend, but the pirate band right outside Cafe Orleans was up and singing at about 10am. Even though we were sitting inside, we could still hear them fairly well, so I know how loud they would have been if we were sitting outside, as had happened the first time we had lunch after Cafe Orleans reopened. I hope that after the release of the third Pirates movie next summer, the current pirate craze will die down. It would actually be very pleasant to have a meal at Cafe Orleans and enjoying the ambiance of New Orleans Square instead of being subjected to loud and repeated pirate songs.
We will probably try breakfast one more time so that each of us can try one of the other items on the menu, but I wouldn't think this is somewhere we'd be having breakfast very often.
Back to DLR Restaurant Reviews.
Back to home.