Club 33 - brunch - April 25, 2010
A friend who was coming down for a visit to the Disneyland Resort was going to be having brunch at Club 33 with her daughters, and she very graciously invited a few of us to join them. The husband and I had previously been to Club 33 for a special event breakfast five years ago, but we'd never been there for a regular meal, so we were excited for our first regular visit.
The reservation was for 11am, Sunday brunch. We arrived in New Orleans Square right around that time and met up with the rest of our group, 8 people in total. One of the family members went to the door to ring the bell and let them know that we were outside. There were quite a number of people around that area, both people waiting to be let into Club 33, and people in the stand-by wait line for the adjacent Blue Bayou Restaurant. She was told that they would be letting us in shortly. We waited for a bit, and then the cast member (CM) came out to get our party. We went into the lobby, and we waited in there for a few minutes while our table was still being prepared. When our table was ready, some of the group took the lift (elevator) up and the rest of the group went up the stairs.
I was very happy to discover that we were being seated in the Trophy Room. On our previous visit, we'd only utilized the main dining room. The Trophy Room is a much more intimate room, and a little quieter because of its size and location. The main dining room is up the stairs and to the left and around the corner to the right, past the hallway and food stations. The Trophy Room, on the other hand, is up the stairs and just to the right, so there's less traffic going that way. We were placed at a corner table towards the right front of the room. That ended up working out well, because one of the friend's daughters had a service dog with her, so she sat in a chair by the corner, and the dog was able to have room to relax and lay down without her getting in anyone's way or anyone having to worry about her being stepped on by servers and/or other diners.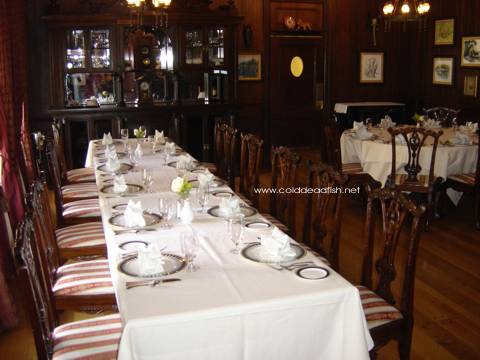 The tables on the left side and back of the Trophy Room.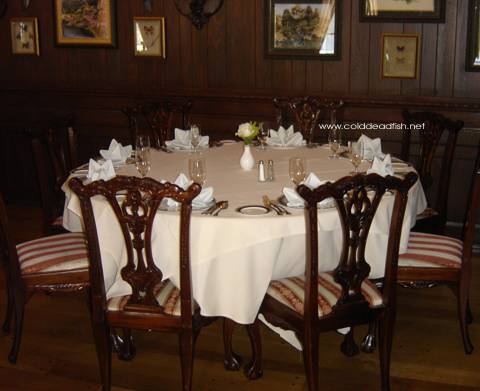 The table where we sat, re-set for the next seating.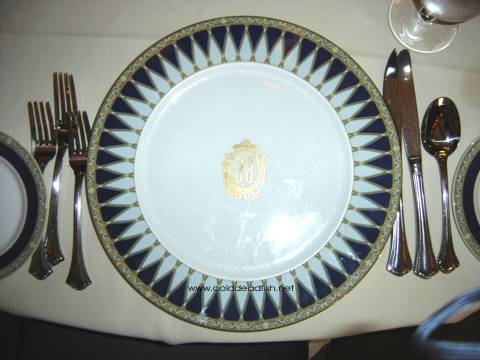 The place setting, with the logoed Club 33 charger plate.
After we were seated, our server came by to introduce himself, and since some of us were attending brunch for the first time, he explained what brunch entailed. There was a menu with entrees that we could choose from. (One of the members of our group was a child, so he was given a child's menu.) While we were waiting for our entrees, there was a cold foods bar by the main dining room that we could help ourselves to. The usual drinks (sodas, juices) were also included, as was champagne. They did also have a full bar from which we could order other drinks, which were not included in the price of brunch.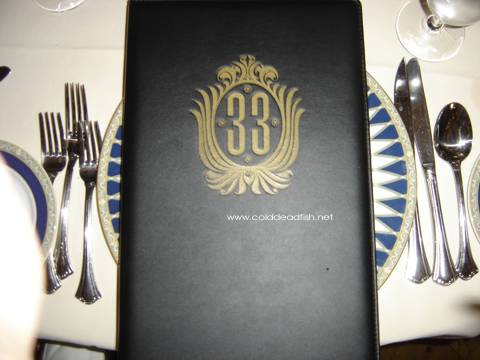 The front cover of the menu.
We all perused our menus to see the entree choices, which I understand can change seasonally. I had a difficult time deciding what I wanted since there were a couple of things that sounded good, and two in particular that I had trouble deciding between. We were all discussing our choices, and when I found out that the husband was going to order one of the dishes I was thinking about, I figured I could see/try his dish, so I ordered the other one.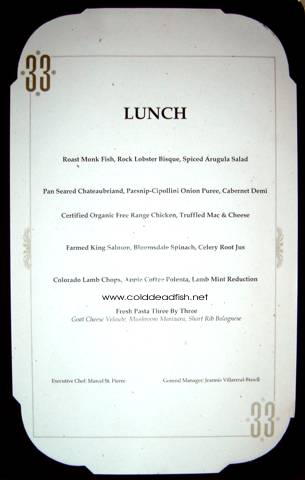 The current brunch menu.
Click here for a larger, easier-to-read version of the menu.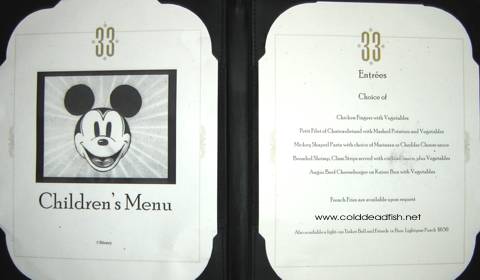 The current brunch menu for children.
Click here for a larger, easier-to-read version of the children's brunch menu.
A bread basket and drinks were brought to the table, and our orders were taken, so we got up to help ourselves to the bar. There were many delicious items available there, enough to really make a meal of just those items. But I knew I still had an entree that would be arriving, so I only tried bits of the things I really wanted.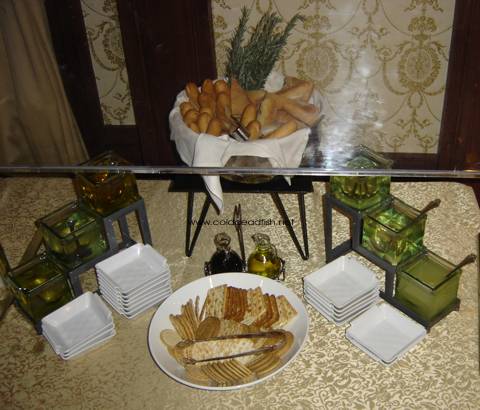 Assorted breads, oils and balsamic vinaigrette.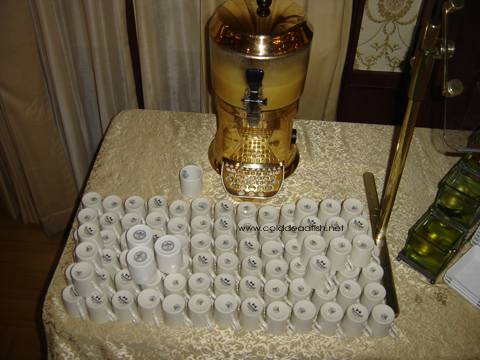 Potato leek soup, which I unfortunately didn't get a chance to try with all the other food available, but the husband said it was quite good.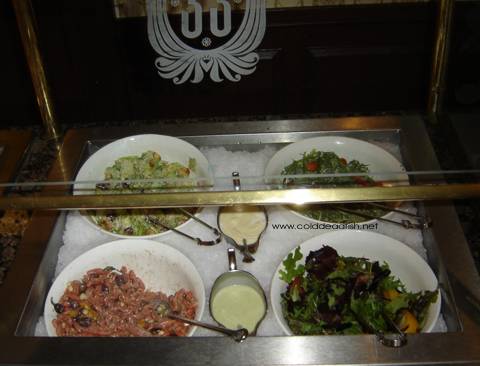 Assorted salads (including mixed greens and caesar with anchovies) and dressings.
(And yes, the dish at the front left caught me off guard as I thought it was something else because of its color and shape, and then I realized it was pasta salad.)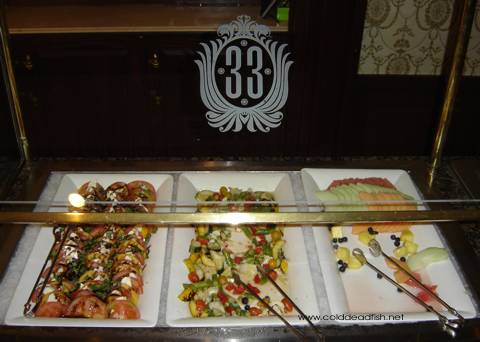 Caprese salad (tomatoes, mozzarella and basil),
grilled and chilled vegetable medley (including asparagus, tomatoes, bell peppers, zucchini, yellow squash and artichokes),
and assorted fruit.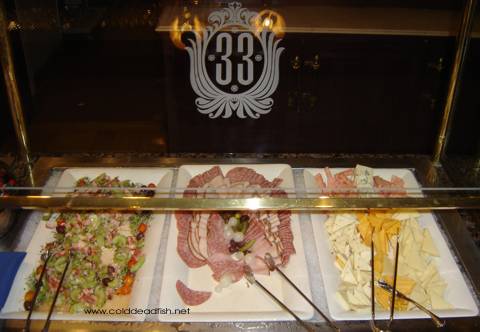 Seafood and cucumber salad, meat tray and cheese tray.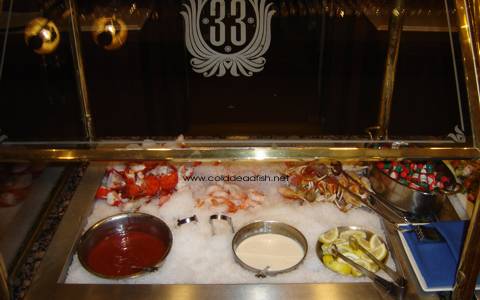 Small lobster tails (kind of like slipper lobster, but maybe a little bigger than that),
shrimp and crab claws with accompanying sauces.
I particularly enjoyed the caprese salad and the grilled and chilled vegetable medley. I also liked the seafood cucumber salad, and I sampled a few of the cheeses from the tray. But my favorite was the chilled seafood. I *love* seafood, but it has to be good seafood. There are some places where you can get an abundant amount of seafood without paying too much for it, but I have found that the quality of the seafood in those places is very poor. Sure, you're not paying a lot - and you're getting exactly what you're paying for. Life is too short for bad seafood. I had known about the shrimp (which were good sized and very crispy, not limp like some shrimp can be), but I hadn't known about the crab claws and little lobster tails. Both required a little bit of work to get the meat out of the shells, but the effort was entirely worth it - the reward was succulent seafood meat! They were so good that I had to seriously refrain from filling up on just those items alone.
Some of our group had the champagne that was included with the brunch, but a few of us ordered from the bar. The drinks were a bit on the expensive side, a few dollars more than you'd normally expect in a regular restaurant, but on par with the pricing in some higher-end bars.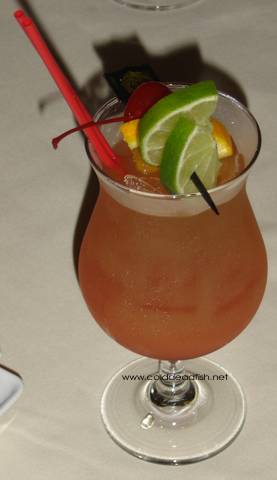 Mai Tai, a festive tropical drink.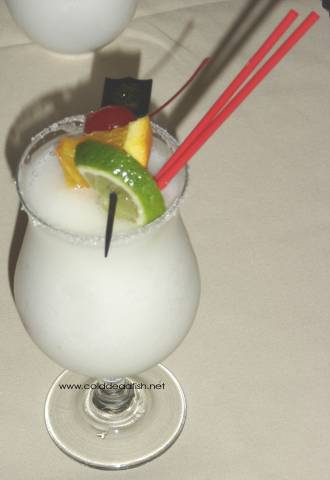 Pina Colada.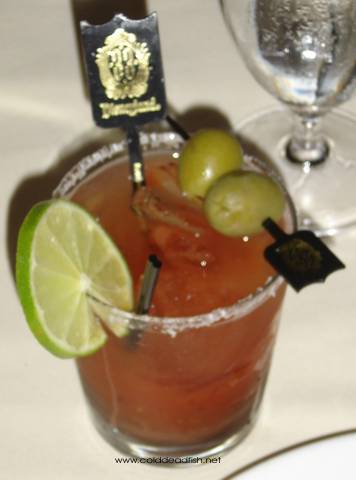 Bloody Mary.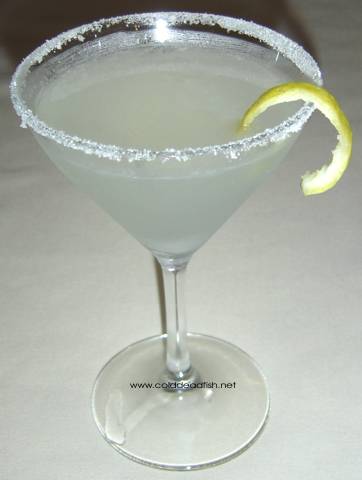 Lemon drop. This was my drink.
We had plenty of time for good conversation and to enjoy the food from the cold bar and our drinks before our entrees were then brought out to us.
The most popular dish among our group was the chateaubriand, which 3 people ordered. It did look very good. One person ordered the pasta three by three, which also looked good and came nicely presented with each pasta portion in a separate square dish. The husband and another person ordered one of the dishes I was thinking about, the lamp chops, which came with apple coffee polenta and broccolini. The husband really enjoyed the lamb (he offered me a taste, but I declined since there was too much else for me to enjoy), but when I asked him about the polenta (I love polenta), he said it was kind of weird because of the apple pieces. I tried some of the polenta, and there were indeed chunks of apples in the polenta. I was surprised at first because I'm not used to sweet-ish polenta, but while I enjoyed the taste of the apples in the polenta, I thought the size of the apple pieces really clashed with the smoothness of the polenta. If the pieces had been smaller, I think it would have worked a lot better. I don't remember really tasting any coffee in the dish though.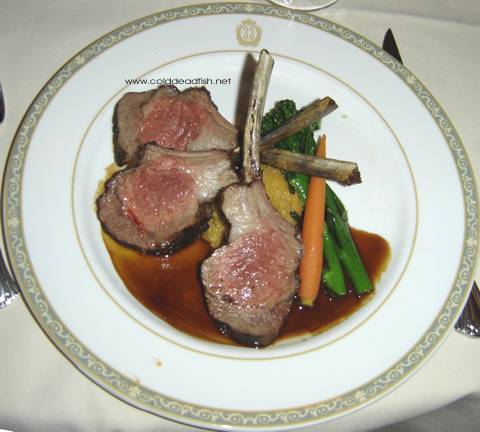 Lamb chops with apple coffee polenta, broccolini and carrot.
The dish I had chosen was the roast monkfish with rock lobster bisque and spiced arugula salad. I was first introduced to monkfish liver at a sushi restaurant several years ago and have really liked it, and I've had cooked monkfish once or twice before and have really liked that as well. Monkfish isn't something that's readily available in most restaurants, which is why I'd wanted to order it. This monkfish had good texture, firm but not too tough, and very moist. It was surrounded by the lobster bisque, which had good flavor and was a nice complement to the monkfish, and the arugula added a nice bit of greens to the dish, which I always like.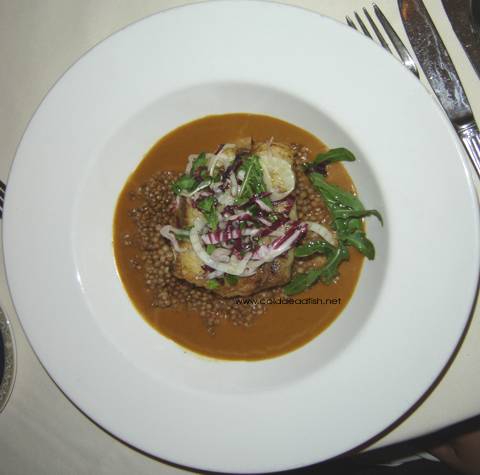 Roast monkfish with rock lobster bisque and spiced arugula salad.
The youngster in our group had chosen the chicken fingers with french fries (I thought the children's menu had a good selection of entrees to choose from). Most of us have probably seen chicken fingers and fries in a children's meal, but none of us expected what was actually brought to him. There were 4 or 5 good-sized pieces of chicken (as I commented, they were more like chicken hands rather than chicken fingers - yeah, they laughed at me when I said that as well), and there was also a large mound of fries. The plate that his entree was served on was a full-sized plate, not a smaller child-sized plate. It would have been a good portion of food for an adult, but it was definitely a very large serving for a child's entree.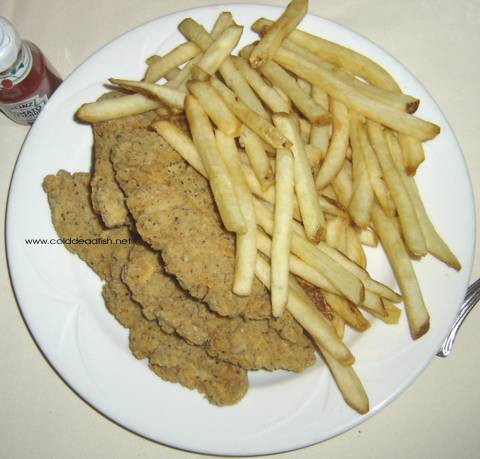 Chicken fingers and fries.
And note the cute little bottle of ketchup that came with the entree.
Everyone enjoyed their entrees and more good conversation, and then, it was time for dessert. There was an assortment of dessert items, but I didn't know what a lot of them were, so I wish they'd had little signs identifying each item. There were no signs on the food items either, but they were fairly obvious by just looking at them. With the desserts, it's a little harder to know what might be inside. I've had that issue at some other places as well, where some items (whether food or dessert) are not easily identifiable just by looks, but there are no signs to indicate what something is. I think most people go with the "what looks good" method and then trying this or that and deciding if they liked it. I know I had a macaroon, which I love, and I had something that was sort of a dense chocolate fudge consistency, which was also very good, especially with the coffee that I had with it. I think I tried one other thing, but after the full meal, there wasn't that much room left for dessert. I was a bit disappointed that there were no sugar-free options available for dessert, which was a concern for one of the people in our group. They have had sugar-free desserts elsewhere at on-property restaurants, so I was a bit surprised that at their highest-end restaurant, they didn't have even just one item for those guests who can't partake of sugar. Perhaps that's something they might add in the future.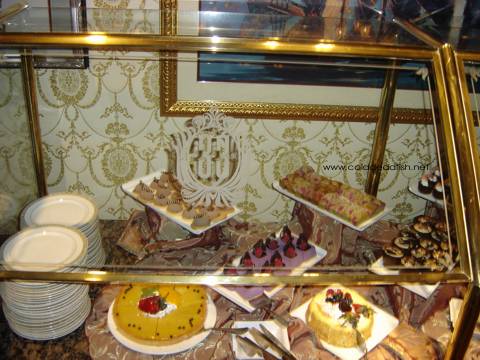 Left side of the dessert bar, which includes cheesecake.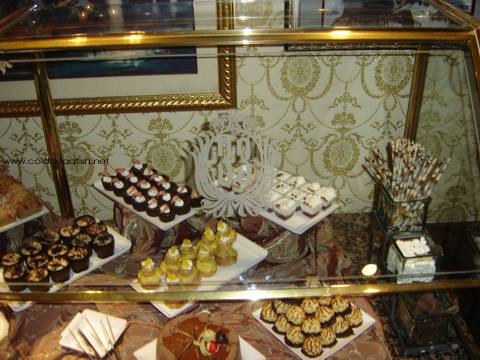 Right side of the dessert bar, which includes the yummy macaroons.
During our meal, two special guests stopped by to say hello to everyone - Mickey and Pluto! It was fun to see them interact with the other diners, but when they came to our table, we made sure they knew about one particular member of our group - the service dog. Since she was in the corner, Mickey had to do a bit of maneuvering to get to her, but Mickey seemed completely taken by her. He spent quite a bit of time with her, to the point where I think Pluto was getting a little jealous. When Mickey finally left her side, Pluto was sniffing Mickey as if he noticed the scent of another dog on his master, and Pluto was definitely not happy about that!
After our meal was over, our server was kind enough to allow us to split our checks however we requested. Brunch was $85 for adults and $65 for children (ages 3 - 9), and the price of the meal includes a one-day parkhopper.
After we were all done and settled, we headed out into the hallway to do some shopping from the merchandise cabinet, which contains a number of Club 33 logoed items.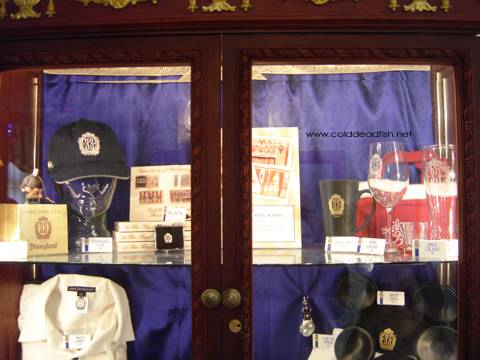 The merchandise in the top part of the cabinet.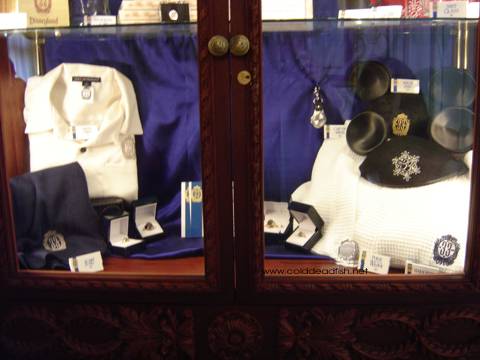 The merchandise in the middle part of the cabinet.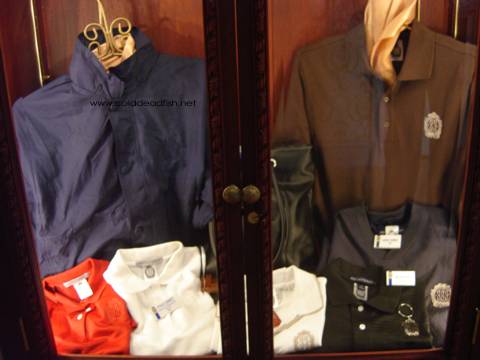 The merchandise in the bottom part of the cabinet.
One of the CMs wrote down what items people wanted, and then she went to get the merchandise and bring back charge slips, and then she would help the next group of people. We all picked out the items we wanted (I was entirely too happy to discover that they had Club 33 purse hooks.) and made our purchases. While we were waiting in the hallway, Mickey and Pluto walked by, and again, Mickey was just entranced with the dog. Mickey was giving her a good rub-down, and she was thoroughly enjoying it. Pluto left to take a break, but Mickey just sat down in one of the chairs to pet the dog, and he did so for the entire time that we were there making our purchases. I think Mickey only stopped because we were done and had to leave. It was really terrific to see just how enamoured of the dog Mickey was. I told the family that if they offered to let Mickey continue petting her, they'd probably have their very own life-size Mickey to take home with them!
We had a thoroughly lovely brunch. The food was good, the service was terrific (professional but friendly, attentive and available without being intrusive), and as I mentioned earlier, I really enjoyed being in the Trophy Room. With a smaller group, it might have been ok being in the main room because at a smaller table, people are closer together, but with the size of our group, we were still able to have conversations that involved everyone at the table without having to raise our voices to be heard, which I don't think would have been possible in the bigger room. The intimacy of the smaller room was really nice. Unfortunately, there was scaffolding all along the front windows of the main dining room, so there was no view and no balcony to go out to. There was also a balcony in the Trophy Room, but with everything going on, none of us had the opportunity to go out there.
One of the questions that always arises about Club 33 is "Is it worth it?" That's never a question that anyone can ever answer for anyone else. No, it's not an inexpensive place to enjoy a meal. If someone is just looking to have a meal, Club 33 isn't the place to go. If someone is just interested in a character meal, that also isn't the place to go for that. Part of the appeal of Club 33 is the history and ambiance and feel of the place. Someone who has no interest in Disney or the history of the reason for the club would probably not get as much out of the experience as someone who does. As I mentioned earlier, the price of brunch includes a one-day park-hopper. For someone who doesn't already have admission media, it's a pretty good deal, considering the price of brunch is actually less than the price of a current park-hopper ticket. Of course, you do lose the time that you spend at brunch (which isn't and shouldn't be a quick meal), but especially on a day when the parks have long hours, I think the time spent at a meal is negligible. In our case, we already have our own admission media, so the price of brunch ends up being more expensive overall, since we don't need the park-hoppers.
That all being said, the visit was completely worth it to us. We enjoyed the food, the ambience, the experience, everything. I expect that we would have had a good time anywhere, given that we were able to share a meal with and spend time with friends, but to be able to do that at Club 33 brunch was just a bonus.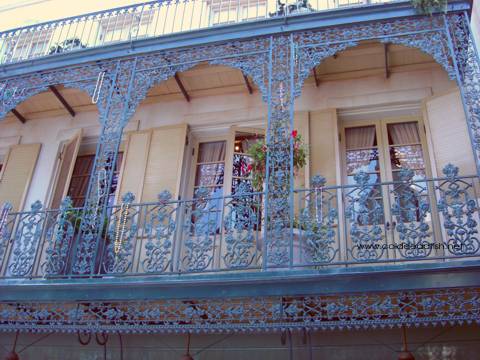 The view of the balcony of the Trophy Room,
as seen from the street in New Orleans Square.
All the pictures above (except the very first one) were taken on this particular trip. The Club looks pretty much the same as it did when we visited five years ago, so we didn't take additional pictures of the rest of the decor. Here is a sampling of some of the pictures from our previous trip to the Club.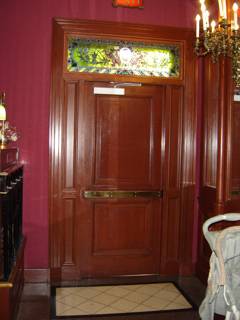 The inside of the entrance door.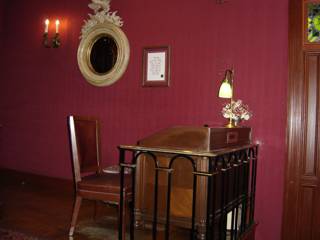 The reception desk area.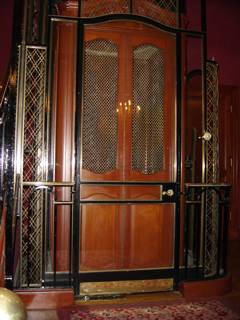 The "lift" aka the elevator.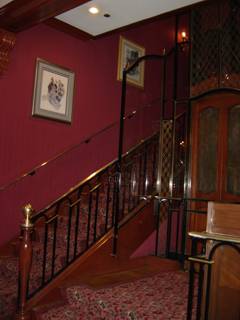 The staircase up to Club 33.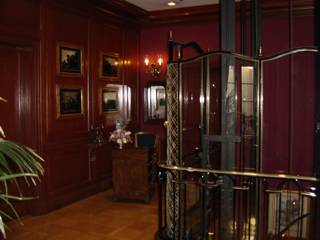 The reception area at the top of the stairs.
The Trophy Room is to the left.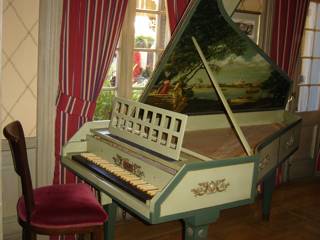 The harpsichord in the hallway.
If you want to see more pictures of the Club, including the famed (infamous?) ladies room, as well as a full account of our prior visit, please click here.
And if you're looking for more information and pictures about the Club, past and present, here's an unofficial website with a lot of good information.
Back to DLR Restaurant Reviews.
Back to home.