French Market - lunch - July 4, 2008
When I first heard that French Market would be changing their menu, I was pretty disappointed. Disney has had a history of taking out entire restaurants that we happen to love or simply taking off individual menu items, usually the one thing on a particular menu that I like. In this case, my favorite thing on French Market's menu was the fried chicken. (It's different than the fried chicken still available [for now, at least] at Plaza Inn, and I actually preferred French Market's version.) Supposedly, Disney decided to make their menus healthier, so they took out the fried chicken. Ummm, ok, so it's nice that they're choosing to offer healthier alternatives, but then, offer them as additional dishes, not instead of other dishes. I don't need Disney policing what I might choose to eat. And if they're trying to go all health-conscious, then I suppose they better take that really fattening Monte Cristo off the Blue Bayou menu. Yeah, that's gonna make a lot of people upset, but hey, the fried chicken at French Market was very popular, and that didn't seem to deter them. No, I'm not really advocating that they stop serving the Monte Cristo, but I think the "we're watching out for what you eat" is way too controlling. Some restaurants do now offer a choice of fruit or fries as a side. Great. But it's still a choice. They're not forcing you to have carrot and celery sticks if you'd rather have fries with your meal.
Anyway, I was a little less upset about the menu change when I heard what was on the new menu. Unlike what has happened in many other cases, when a new menu has just not appealed to me at all, the items on this new menu actually did sound interesting and make me want to try some of the entrees. So when we were at Disneyland for Fourth of July, we decided to give the new French Market menu a try.
French Market wasn't very crowded when we got there shortly after noon in what turned out to be a surprisingly less-than-normally-crowded Fourth. They had both sides open, and there weren't a ton of people in line, so we were a bit surprised that the line moved so slowly, until we got closer up and figured out what the problem was.
Previously, most of the dishes came with a side salad, so the first station you encountered was the salad station. They would take your order, call it down to the hot food stations and then make your salad. By the time you got your salad and moved down to the hot food stations, your order was either already waiting for you or just about to be ready, so the line moved pretty smoothly.
Now, however, none of the entrees come with a side salad, but it's still the salad station that you encounter first. The line is backed up because you don't give them your order until you get to the hot food station, so the line is at a stop while they're making each person's order. Meanwhile, you're standing in front of the salad station, with the poor CM asking if anyone wants salad with their meal and most people saying no, so she was mostly standing there with nothing to do.
One other change is that in addition to the menu at the front, they used to have samples of each dish set out, so you could get a better idea of what each dish looked like, since sometimes, the description doesn't necessarily give you the full picture. Now, it's just the menu up, so I think people might not necessarily decide until they get to the actual hot food station, where you can see the various dishes, or they might change their mind once they see another item. I found myself trying to look at the trays of people who were paying, to see what they'd gotten to get a glimpse of what the entrees looked like.
I was trying to decide between a few different items, but because I like jambalaya so much, I just couldn't pass it up. The husband decided on the citrus chicken. I glanced at the desserts, but nothing really appealed to me. I wish they'd have signs up indicating what each dessert is. Sometimes, it's obvious (like the cup of berries and the mini cheesecake), but sometimes, it's not, like this square flan-looking thing they had. I asked a CM what it was, and she said it was an apple tart. It would just seem a lot more convenient to have signs in front of each row of desserts.
My decision to have the jambalaya was cemented because I had actually gotten a glimpse of it on someone else's tray, and I was not disappointed in the dish in the least. They actually have the rice and the meat/vegetables cooked separately, so they put the rice on the plate first, make a little hole in the middle of it, and then scoop the meat/vegetables in to fill the hole. There was a nice combination of chicken, fish, sausage and crawfish - the crawfish is a bit harder to distinguish because it looks very similiar to the shrimp, but they're a bit smaller and the tail looks a little different. It also had some nice big chunks of okra, which I love. Generally, it had very good flavor, and it had a bit of a kick to it too, which I liked. Even though it was a warm day out, I still very much enjoyed the jambalaya, and I would expect it would hit the spot even more when the temperatures cool. The dish comes with a side of vegetables and a mini-loaf of cheddar corn bread. I'm not particularly fond of corn bread, but I really liked this version - it was moist and very tasty. The vegetables were ok - it was a bit more heavy on the carrots than I normally prefer.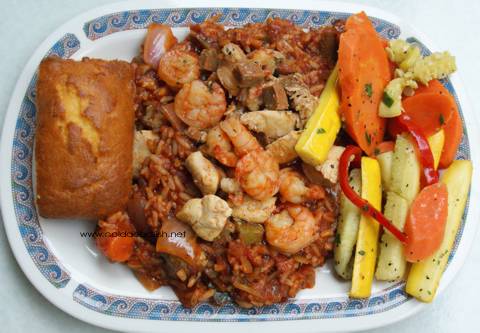 Seafood and chicken jambalaya.
The husband really enjoyed his citrus chicken. He found the seasoning on the chicken to be very tart, which he really liked, but he wasn't sure if most people would like it that tart. He was also a little surprised to discover that the mashed potatoes had cheese and onions cooked into it. It wasn't a problem for him, but for anyone who might have issues with either cheese or onions, it's something to keep in mind. It probably would have been good for the menu to indicate those ingredients as well.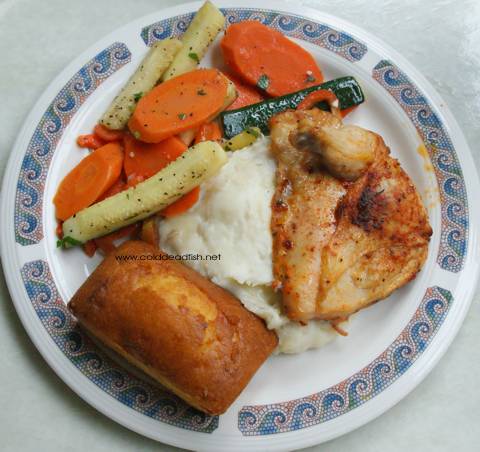 Citrus chicken.
There are a few other items on the new menu that I'm interested in trying, so while I'm sad that the fried chicken is gone, I'm glad that I'll at least be able to continue visiting French Market.
For a listing of the new menu, check out MousePlanet.com's listing for the restaurant.
Back to DLR Restaurant Reviews.
Back to home.