Goofy's Kitchen - brunch - April 11, 2004


We had been going with a group of friends to PCH Grill for Easter brunch for several years, but with the decreasing service, food choices and character interaction we were experiencing at that brunch, culminating in a fairly dismal experience last Easter, we decided to try something else. We hadn't been to Goofy's Kitchen in some time, and I had recalled liking our previous visits, so Goofy's Kitchen for Easter brunch this year it was.

I checked in at about 11:15 for our 11:30 priority seating reservation for 10. It turned out that we only ended up with 7 adults and 1 infant, but I hadn't changed the reservation in case we had any last-minute add-ons. The CM told me it would be a few minutes, and I said that was fine. Then the CM told me that we would be seated at two separate but adjacent tables. I was surprised when he said this and asked if we could be seated at one table. He said that if we wanted to do that, we'd have to wait longer, possibly up to an hour. When I asked him how far apart the two tables were, he pointed at two nearby tables in the waiting area. I asked him if the two tables could be pushed together, and he said no. I asked him how long they'd been using this system, and he said rather abruptly that they'd been doing this since the restaurant opened. My husband pointed out that what he said was not true, since we had been to the restaurant for brunch shortly after they'd moved into the former Stromboli's Restaurant location, and while we can't remember the exact number in our party, it was about 8 or 10, and we were at one table. It's one thing for a CM to say that a policy has changed, and he/she doesn't remember when. It really bugs me, though, when they just blatantly lie, whether knowingly or whether they've just been told to say that. With nowhere else to go with this conversation, I let it go, but we went back to our group to let them know what had happened. I understand that the priority seating system means you don't have a guaranteed table the moment you arrive, and it's more of a "front-of-the-line" pass than anything else, but I also don't expect that when I make a reservation, our party would be split up with no prior notice. I can perfectly understand if we had just walked up with a large group, and they didn't have a table big enough at that time to accommodate us, but it's not like our showing up was a surprise or anything. I think they really need to re-think this part of their procedure.

After waiting about 15 minutes, I heard my name being called to approach the counter. I went up to the CM who had called my name who said that if we really had 10, we would have to wait while the two tables were being cleared, but if we only had 7 and the baby, there was one table they could fit us at. When I looked at the seating chart she was showing me, it was obvious why the two tables couldn't be pushed together. They were slightly around the corner from each other, as far as I could tell from the chart. Wouldn't that be fun for our group to sit at? I told her that we'd be fine at the smaller table. She told me I could go to the cashier line, and after that, we were brought to our table.

Our table was towards the very back of the restaurant, just a little before the exit doors where the characters go off to take their breaks. The table was a bit cramped for our party, but we managed ok and were glad that we were at least all at the same table. Our server came over to introduce himself and went around to take our drink orders, since drinks are included with brunch. He was very nice and attentive and came back often to refill our drinks and to check on us.

Since one of the people in our party happened to be celebrating a birthday that day, we had gotten her the Goofy's Kitchen birthday bag which includes a soft foam puzzle, a Goofy silhouette writing pen, maracas, a party hat, a birthday button and mylar balloons with the Goofy's Kitchen logo, all for only $5. Later in the meal, a CM came over with a little birthday cupcake with candles, and since Aladdin happened to be right near our table, he joined in our round of singing "Happy Birthday" to the birthday girl.

Following are the offerings available at brunch, with some items rotated in and out during the course of the meal:

omelet bar with add-ins including mushrooms, onions, ham, tomatoes,
green peppers and olives
whole eggs are available for fried eggs to be made
Daisy's scrambled eggs
Max's crisp bacon
Cruella's pork sausage
Donald's bacon potatoes
cereal - Apple Jacks, Fruit Loops, Rice Krispies and Raisin Bran
cottage cheese
Pluto's citrus asparagus
Belle's baked ham
Goofy's biscuits and gravy
Aladdin's enchiladas
fresh broccolini
tortellini with marinara
sweet and sour roasted chicken
grilled salmon
Pluto's rice pilaf
meat lasagna
Goofy's roast tri tip
Goofy's chicken noodle soup
Cruella's tomato and garlic pizza
Pluto's pepperoni pizza
Chip's cheese pizza
Goofy's peanut butter and jelly pizza
mini-bagels
smoked salmon
salad fixings and lettuce
potato salad
meat and cheese platter including ham, turkey, swiss and cheddar
Minnie's assorted muffins
Goofy's assorted pastries including danishes and cinnamon rolls
Donald's croissants
The omelet bar.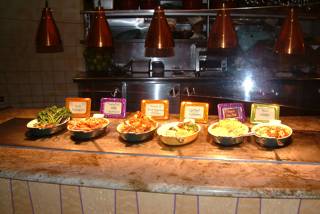 Some of the hot food items.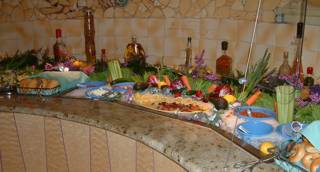 Mini-bagels and smoked salmons with fixings.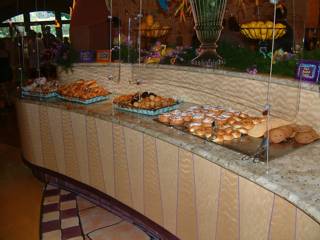 Baked goods.
children's menu
Pluto's hot dogs and buns
Mickey's chicken nuggets
Goofy's potato rounds
Goofyroni and cheese
Mickey waffles
Alice's French toast
Mickey pancakes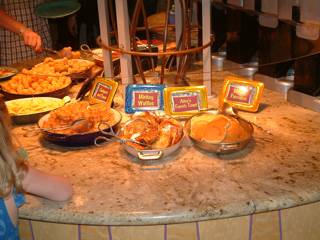 Kid's menu counter.
dessert
Aladdin's apple cobbler
Minnie's apple crepes
Donald's English bread pudding
Jasmine's rice crispy towers
Baloo's lemon bar
Mad Hatter's carrot cake
Dale's peanut butter brownies
Max's worms and dirt
Goofy's goof cake
chocolate chip cookies
sugar cookies
watermelon
honeydew
cantaloupe
orange slices
cling peaches
pear halves
dried cranberries
dried apricots
yogurt
vanilla and chocolate soft serve ice cream
whole fruit - oranges, plums, red apples, green apples, bananas and lemons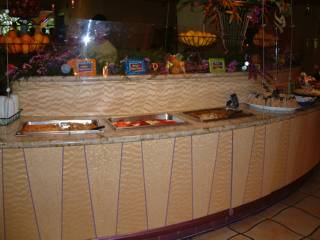 Some of the available desserts.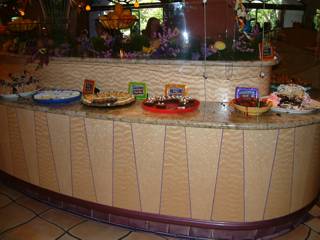 More of the available desserts.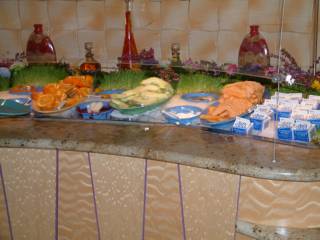 Fresh fruit dessert items.
The quality of the food was good, about what you'd expect from a brunch buffet, and items were constantly being replenished. One odd thing we noted is that the potatoes had bacon in it, so any vegetarians or anyone who doesn't eat bacon wouldn't be able to have any of the potatoes, though they could have the "tater tots" from the kids' section. Since there was plenty of bacon to be had otherwise, it seemed odd to also add bacon to the potatoes, making them untouchable to some. On a picky note, we laughed at some of the characters that were attached to various items. "Alice's French toast" seemed an odd pairing, whereas Belle's French toast would have made much more sense. And "Donald's English bread pudding" would probably have sounded better if it had been Alice's or Wendy's English bread pudding. And "Aladdin's enchiladas"? Hmmm.... But, yes, nit-picky.
During the course of our meal, we saw Rafiki, Baloo, Chef Goofy, Aladdin, Donald and Wendy in the restaurant. However, given our table placement, very few of them bothered to stop at our table. During the course of our almost-two-hour meal, Rafiki always just walked by us, Baloo stopped once for a few minutes, Chef Goofy stopped by once for a few minutes, Aladdin stopped by to sing happy birthday, Donald walked by us and Wendy actually spent a bit of time at our table. We've always had very good experiences at various other character meals, so we were disappointed in how scarce the characters were, and whereas characters had previously spent some time at our table, most of the characters during this meal simply waved or just walked right by us. We figured part of the problem was the location of our table. Since we were near the exit where the characters go to take a break, most of them only wandered that way when they were either going to their break or coming back from their break, but very few of them actually treated our table (and the few tables around us) as tables with guests who would have liked to have seen the characters as well. Rather, we were treated mostly as just part of the thoroughfare between their break area and the rest of the tables in the restaurant. With the restaurant as big as it is, it's understandable that they couldn't spend too much time at any one table, but it was a bit frustrating to have them basically just walk by with little acknowledgement. I think the problem is exacerbated by there being fewer characters than I remember from our last visit. Specifically, I know that Pluto and Chip used to be there.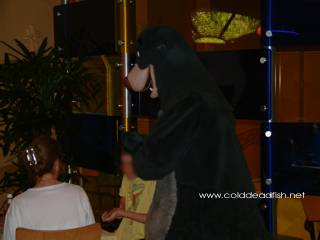 Baloo visits with guests.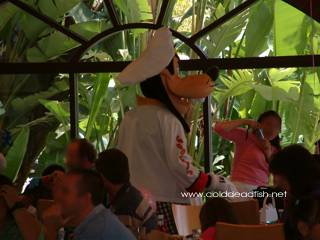 The proprietor himself, Chef Goofy.
The biggest problem we found with our meal was when they would do a sing/dance-a-long with the characters, which would happen periodically. The announcement would be made by the server or more often, music would just start blaring out of the speakers, one time even being so abrupt that it startled all of us. They play the Tiki Room macarena song, and the characters all gather in the area right in front of the food stations, but the music is at such a volume that it's nearly impossible to have a conversation during that time, even if you're nowhere near the dance area.
While the service and food were good, the limited character interaction, the loud music, and the initial table problem made for a less-than-perfect meal, enough that we don't plan to return next Easter. We'll have to find yet another location for next year's Easter brunch, but the options on Disney property are quickly dwindling.
Back to DLR Restaurant Reviews.
Back to home.