Granville's - breakfast - July 22, 2006
We were at the resort early one morning and decided to give Granville's a try for breakfast. We'd previously had breakfast at Hook's Pointe, when Granville's had been closed for refurbishment and the breakfast service temporarily moved to Hook's Pointe. Granville's dining room is very elegant and much more lit than when dinner is being served, so you can see much more of the decor and the beautiful pictures on the walls.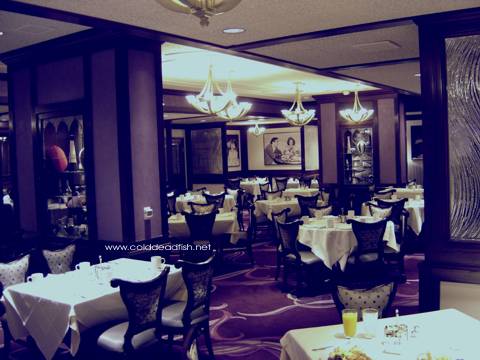 A view of part of the dining room.
As soon as we were seated, someone came over offering coffee, but as it was already quite warm outside, we opted for cooler refreshments. I ordered the "two times four" and my husband ordered the eggs benedict.
The wait staff was very attentive, and our food arrived shortly thereafter, which was a very different experience than when we'd had breakfast at Hook's Pointe. At some point during the breakfast, we noticed that the server we'd had there was still working at Granville's for breakfast. I think if we'd been assigned that server again, we would have asked for someone else. But we very much enjoyed our breakfast.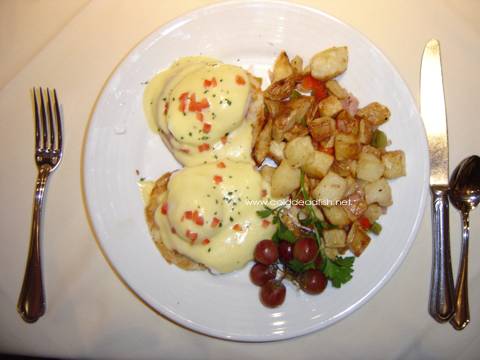 Eggs benedict.
Two times four.
Breakfast at Granville's was quite pleasant and a definitely nice air-conditioned respite from the summer heat. It was also fairly quiet in there, especially in comparison to Goofy's Kitchen next door. It's also a great way to be able to see the decor inside the restaurant if you've never been there for dinner or even if you have, since it's much more dimly lit in the evening. A definite recommend for breakfast.
For the review of the breakfast at Hook's Point, please click here. You'll notice that both my husband and I ordered the same thing both times, but the pictures from the Hook's Pointe breakfast are different in that we had already started on our breakfasts. After waiting an hour (kinda like being on an episode of "Hell's Kitchen"), we were hungry and forgot to take the pictures until we'd already started on our food.
For the Granville's breakfast menu from 2004, which hasn't really changed, please click here.
For a review of dinner at Granville's from 2005, please click here.
Back to DLR Restaurant Reviews.
Back to home.