Hook's Pointe - dinner - April 21, 2002 (includes details of Blast! Dining Package)
Our group decided to have dinner at Hook's Pointe as part of the Blast! Dining Package. For $45 (no discounts apply), the package includes priority seating for the Blast! showing of your choice, a full meal (lunch or dinner - appetizer, entree, dessert and non-alcoholic beverage) at select restaurants (Soap Opera Bistro, Avalon Cove, Wine Country Trattoria, Hook's Pointe, Yamabuki, PCH Grill or Storyteller Cafe), including tax and gratuity, a lanyard and an exclusive pin.
Our group consisted of 6 people, 4 who were purchasing the package and 2 who were not. We called the Disney Dining Reservation phone number (714-781-DINE) around noon and were booked for 6:45 that evening. We told them that part of the group would be on the dining package and were told that it would not be a problem, that those using the dining package would just need to present their meal vouchers. We then headed out to the Group Sales windows, in the esplanade just west of the main entrance to Disneyland, to buy our packages. For each package that was purchased, we were given a meal voucher and a ticket for Blast!, both of which were printed on the same media that is used for single-day theme park admission tickets. The meal voucher listed the various restaurants participating in the package. The Fastpass read as follows: "Hyperion Theatre Dining Package" Present this coupon 30 minutes before show time to receive PRIORITY ENTRANCE AND SEATING. The show name ("The Power of Blast") is then listed, followed by the date and the showtime. The disclaimers read as follows: "Late arrivals can not be seated. Show subject to cancellation. Not for Sale. No Cash Value. NOT valid for Disneyland Resort Theme Park admission." The CM also started writing down the number for Disney Dining Reservations, but we told her that we'd already made a dinner reservation, so she discarded it. She then gave us one lanyard and pin for each package we purchased. The lanyard is black, with a gold clasp to hold the plastic cover at the bottom. On the lanyard is the free pin, which is a horizontal theatre marquee that says "HYPERION".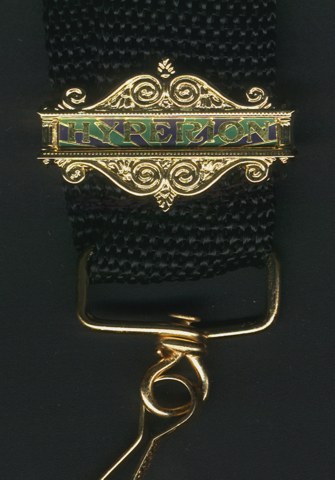 Inside the two-compartment plastic cover (which is useful for holding the meal voucher and Fastpass) is a double-sided card with additional instructions.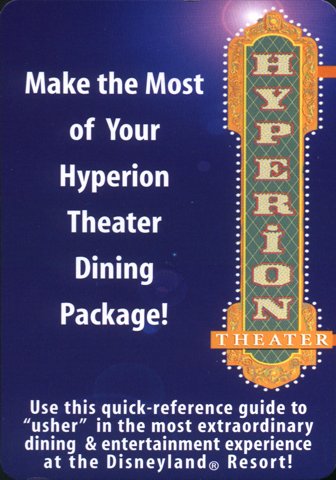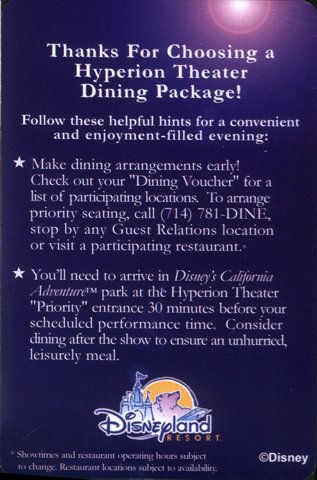 We had elected to attend the 5:15 showing of Blast!. The two people who had not purchased the dining package had each gotten a regular Fastpass for that showing of Blast! as well. As the return time for the regular Fastpass was also 30 minutes before the show's start, we all got in line at the same time. We all entered through the Fastpass line. The 4 of us who had the dining package entered a smaller line closer to the entrance doors, just behind the people lined up for Special Assistance. The 2 who had regular Fastpasses proceeded down the normal way. The CM who had seen us split up told us that we'd be able to save seats for our two friends, so we told them to look for us when they entered the auditorium.
When the auditorium opened, the people in the Special Assistance line were let in first. Those of us in the dining package line were let in second. As we entered the auditorium, we were directed that we could sit in a section, which was in the upper orchestra, especially reserved for the dining package or we could sit anywhere else we liked. We elected to sit up closer and took seats in the middle of the auditorium, about where I'd sat the other time I'd seen Blast!, entering on a Fastpass. A little while later, the people in the Fastpass lines were let in, and our friends made their way to us and the two extra seats we'd saved. After that, the people in the standby line were let in. The dining package basically allows people to have first shot at whatever seats they want, and it was kind of nice not to have to fight through the crowd of people coming in all at once. Also, they let you enter the auditorium at about mid-level, rather than making you go up the stairs and to the back of the auditorium first, as they do with everyone else.
After the show, we headed over to Hook's Pointe, arriving at just about our reservation time. We were immediately taken to a table, though they chose an awkward table at which to seat our party of 6. 5 of us sat in the booth while the 6th person sat in a chair, but as our table was right next to a row of other tables, the person in the chair effectively blocked out any access that the wait staff would have to the table. That table should really have been for no more than 5 people. We informed our waitress about the differing dining plans and gave her our meal vouchers, and we decided that the easiest thing would be to separate out the meals for the two non-dining-package people onto a separate check.
I was not feeling very well that day, so my choices were different than they would have been if I'd been feeling better, but I still enjoyed what I had. For an appetizer (salads and soups count as well), I had the Mixed Baby Greens, my husband had the Vine Ripened Tomatoes, and the other two friends ordered the Crab Cakes and the C-Zar Salad. For an entree, I had the Day-Boat Scallops, my husband had the Filet Mignon, and the other two friends ordered Filet Mignon and Pacific Salmon. The other friends not on the dining package each ordered the New York Steak. Two in our group also ordered wine, which was not included in the dining package and so was separately charged.
My husband and I had dined at Hook's Pointe twice before, once for lunch and once for dinner, and we enjoyed both visits very much. As usual, the food was very good all around, and everyone enjoyed everything that was ordered. The service has usually been very good, but I was disappointed this time around. Two of us had ordered Diet Coke and a third had ordered Coke, but they were very slow at refilling the drinks. My drink had sat empty for about 10 minutes before the waitress came around again to check on us, and when I asked for a refill, she took our glasses away. About another 5 minutes went by, and she didn't return. I had not yet finished my dinner as I was waiting for my refill, and a few other people were still enjoying their dinner. The waitress then brought out the dessert tray, and we made our selections then. Three of us each chose the creme brulee, one other chose the chocolate cake souffle and the other couple split a chocolate cake souffle between them. About 5 minutes after that, she stopped by to say that the restaurant had run out of carbon dioxide for the fountain and so needed to replace it. About 10 minutes passed before she finally brought the Diet Cokes back, saying she had gone downstairs to the bar to get them refilled. Desserts were then brought, while two of us were still having our dinners. (BTW, we all enjoyed our desserts. I've come to be a lover of creme brulee, but as my first taste of the dessert consisted of three different flavors, regular one-flavored creme brulee isn't that special to me, even if it's very good. They did include some berries with theirs, so that was a plus.) The waitress never remembered to bring back the refill of the regular Coke. We discussed among us whether she was being so inattentive because she knew that 4 of the 6 were on dining packages with the tip being inclusive or whether it was just a bad day for her. She seemed pleasant otherwise. We tend to be fairly good tippers and would probably have added in a little extra for her had we gotten better service, but as it was, the two non-dining-package people paid their bill with a customary tip, and we just settled our bar bill without leaving anything extra.
Though our dinner experience was less than stellar, it would not dissuade me from going to Hook's Pointe again, and I'd certainly recommend it to others.
As for the dining package, I do think it's worth the price if the situation is right. We have a friend who is a CM, and neither he nor his wife is interested in pins, and they don't generally order an appetizer at dinner, so given also that his CM discount for the meal would not apply, the dining package wouldn't make sense for them to purchase. If someone wanted to have a nice meal at a nice restaurant anyway, I think the package is a good deal. The only two places where I wouldn't think it would be worth it is Wine Country Trattoria (given the lower prices there anyway) and Avalon Cove (since they already have a set menu for a set price, lower than the dining package price of $45). Also, I think one would get better value out of the package opting for dinner rather than lunch.
My other suggestion would be that couples who don't want two lanyards and two pins just purchase one package. With the one package, they still get the one lanyard and the one pin. They would need to get a regular Fastpass for the same showing of Blast!. One person would enter with the priority Fastpass and save a seat for the other person. (The only downside being that they'd have to wait in separate lines.) At dinner, they could share the appetizer and dessert (which is plentiful enough), and the other person only needs to order a separate entree. Had we known ahead of time how the plan worked, we might have opted to do this rather than purchase two packages, but we do feel we got full value for what we spent even so.
For the current dinner menu offerings, please click here.
Back to DLR Restaurant Reviews.
Back to home.