Hook's Pointe - dinner - October 31, 2007
A friend and I were at the resort that day to attend the evening's Mickey's Halloween Treat and to celebrate her birthday, so she chose Hook's Pointe for dinner. We had a reservation at 5:30pm, when the restaurant opened, and after checking in, we were taken to our table promptly.
In addition to the regular menu, they had a special entree for the evening, and once our server told us what it was - cioppino - we both changed our minds about what we were going to order. We both happen to love cioppino so there was no question. It had been a while since I'd been to the restaurant, and they didn't previously have special entrees, so I asked how long they'd been doing that, and the server said it had been a few months, just to introduce a little more variety into the menu.
For a starter, my friend chose the ahi, and I chose the shrimp. We both enjoyed our dishes immensely.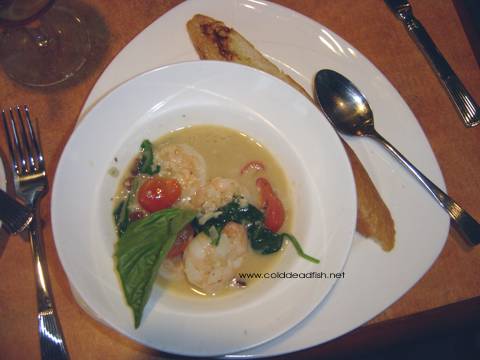 Shrimp appetizer.
When our entrees arrived, we were as happy with it as we had expected. The variety and quantity of seafood as well as the quality and flavor of everything was just delicious.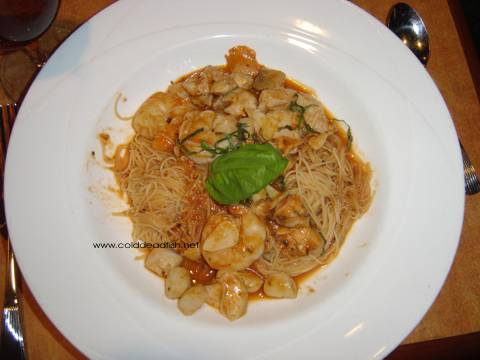 Special entree of the night - cioppino.
For dessert, I chose the key lime pie, and she chose the cheesecake.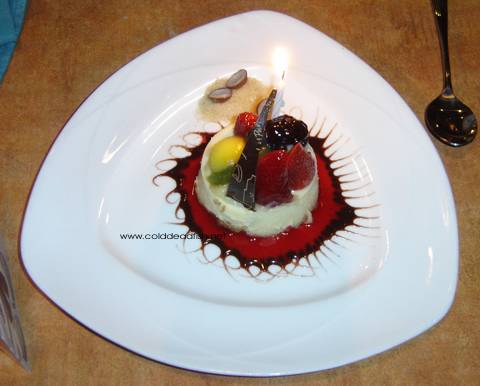 Tropical-island themed cheesecake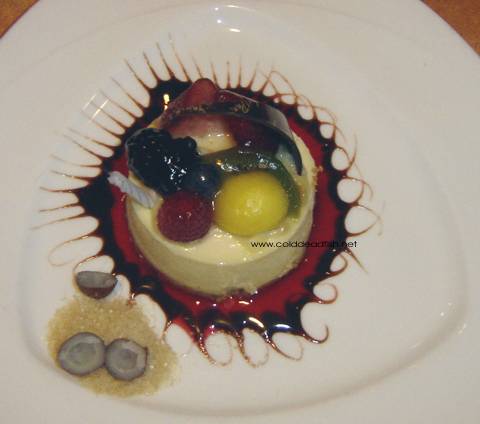 A closer picture to show the "coconuts in the sand".
The "sand" are sugar crystals, but the "coconuts" are actually nuts
that when cut in half look like miniature coconuts. They were amazing.
It was a terrific evening all around. Since we were attending the event following dinner, we told the server, who made sure that all the courses came in a timely manner. He was also quite knowledgable, very attentive and extremely friendly. All of the food was delicious, and the ambience was quite nice. I'd definitely go back, especially if they continue to do daily specials.
Back to DLR Restaurant Reviews.
Back to home.