Plaza Inn - breakfast - August 11, 2002
The Plaza Inn offers a character breakfast buffet themed to the 100 Acre Woods characters, with Pooh, Tigger, Eeyore and Piglet in attendance to greet and interact with the guests. We've also discovered that Pooh and company usually have one extraneous friend that visits. On this visit, it was Genie from "Aladdin". On a previous visit, it was Rafiki from "The Lion King". Both times, the characters had very interesting and clever explanations for their visiting friend. The characters are very playful and active, and we've had good experiences with the characters both of the times that we've been there.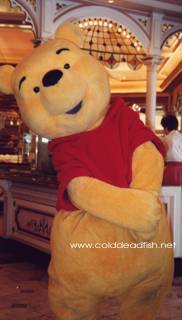 Pooh gives an autograph and poses for a picture.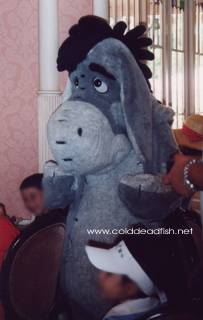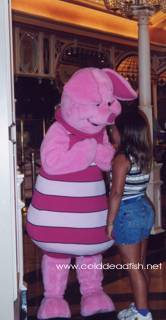 Eeyore and Piglet mingle with the guests.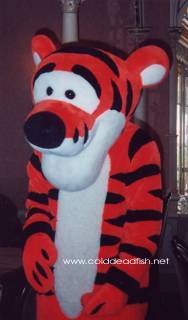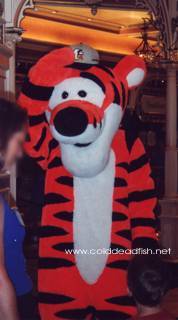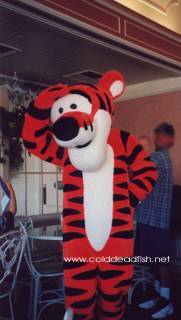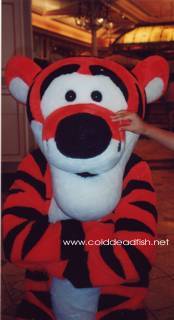 The many faces of Tigger. (BTW, he has a spongy nose!)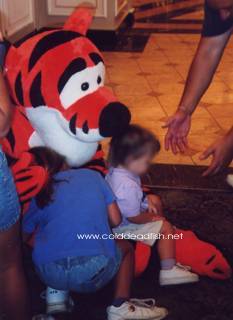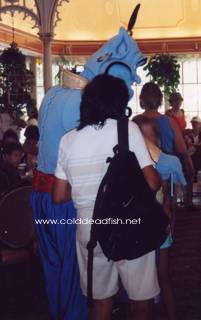 Tigger and Genie with guests.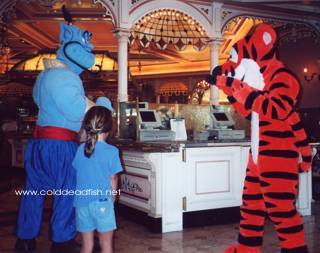 Genie and Tigger with a little friend.
The buffet (which includes a beverage bar) offers an abundant array of breakfast items, including French toast, biscuits and gravy, scrambled eggs, bacon, sausage, potatoes, mini-bagels, danishes, croissants, mini-muffins, waffles, assorted cereal and fruit. There is also an omelet bar that features bacon, sausage, onions, mushrooms, peppers, tomatoes, ham and cheese.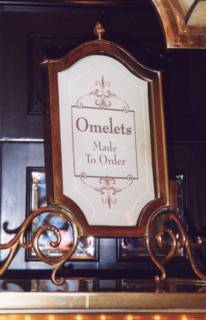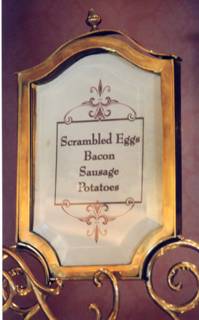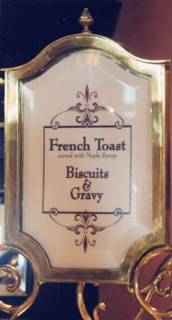 Hot entrees for breakfast.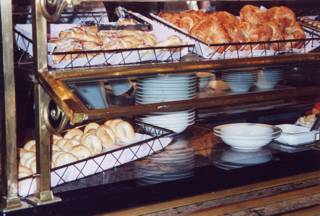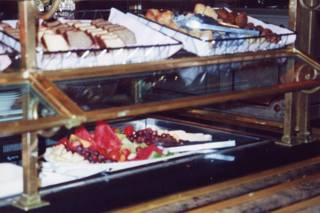 Assorted baked goods and fruit.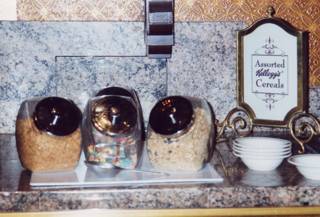 Cold options are available as well.
The price is $18.95 for adults and $9.99 for children ages 3 to 11. Breakfast seating is from 8am to 11am, and you can remain in the dining area until 11:30am.
The morning we were there, the temperature was set fairly low, so if you're inclined to chills, I would recommend bringing a sweatshirt just in case.
Back to DLR Restaurant Reviews.
Back to home.