Practically Perfect Tea - afternoon tea - November 5, 2000

This was the second time I'd been to tea, the first time being three years ago, and it was just as good as last time. Mary was the exact same one as on my previous visit, and it's always a lot of fun to watch her interact with the children and to see the sheer joy on their faces. I'd also brought my four Disney beanie penguin waiters and ended up having just the right number so one penguin could sit at each table, so we each had fun playing with them, and Mary commented on them as well.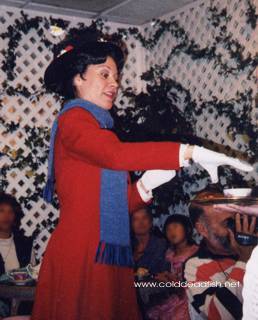 Mary Poppins hosts the Practically Perfect Tea.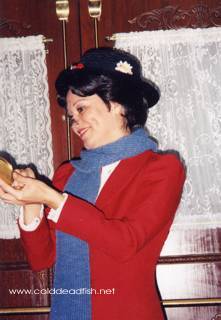 Mary using her "soot" compact.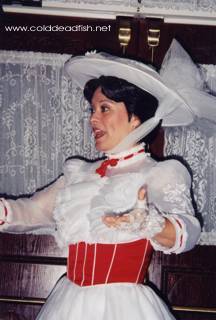 Mary after a change of costume.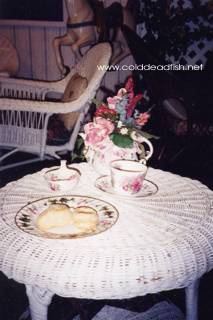 One of the side table settings.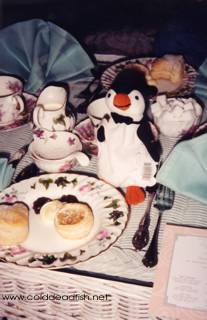 Who's more appropriate to have at tea then a penguin?
One thing about the menu that I noticed was different than last time is that they serve soup with the little sandwiches. The normal soup is the shitake mushroom soup from the PCH Grill, but since one of our friends is allergic to mushrooms, he was offered another soup instead. In between courses, the group at our table for 6 were examining our china and noticing the different china patterns and trying to match up the right ones between the tea cups, the saucers, the teapots, the plates, the creamer and the sugar holder. Oh, and they've changed the creamer holders as well. They used to be fairly small, which made for some very funny moments at the last tea, but now, it's more of a regular size. Our perusal of the various china patterns also gave me the idea that it would be cool if they'd offer a tea patterned after the Mad Tea Party. Alice and the Mad Hatter and the White Rabbit would be the entertainment, the chairs and the china and everything else could be all different, and whatever other stuff I'm sure they could come up with. How much fun would that be?

As like last time, when it came time for the pictures, we took them in two groups - one of the girls, and one of the boys. The other people at tea had gotten their pictures taken first because we'd told Mary that we'd wanted group pictures, so being last, we wouldn't be holding other people up with our group of 16.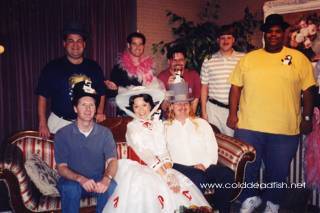 The men pose for their picture with Mary.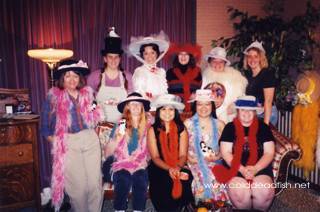 The women pose for their picture with Mary.
Back to DLR Restaurant Reviews.
Back to home.