River Belle Terrace - lunch - August 3, 2008
River Belle Terrace had changed their menu some time ago, but the new menu, which only has a couple of salads and a couple of sandwiches, seemed very limited, and I just didn't feel motivated to go. I've had breakfast at River Belle several times in the last six months, and I've rather enjoyed those, so today, we decided to give it a shot for lunch.
Because it was a fairly warm day out, it wasn't surprising that the indoor air-conditioned seating was fairly crowded. We found an empty table that would fit our party of five, so I staked out the table while the rest of our group went to get food.
In deciding what I wanted, I looked at the salads which had been made for display, and while both the prime rib and turkey salads looked good, I decided on the prime rib this time. On this day, salad sounded better to me than a sandwich. The sandwiches come with one side, but salads do not, so I had the husband get me a side of pasta salad as well. The husband and one friend both also got the prime rib salad, with the husband getting a side of lentil salad, and our two other friends both got the pork sandwich. One got a side of fruit and I can't remember what the other person had for a side.
I very much enjoyed my prime rib salad. I thought the flavoring of the dressing was quite nice, and it was pretty light on dressing, which I like. I am not a fan of salad swimming in dressing soup. Since I wasn't in line, I didn't know how everything was made, but the husband said the salad was made back in the kitchen and then delivered to the line to give to the guest. The dressing is only on the salad, and then the meat added on top, which is nice because then you're not drenching the prime rib in the salad dressing. The salad had a nice mix of lettuces as well as sliced cherry tomatoes, and the prime rib was very tasty. The roll was a nice side, and it was very soft. All in all, it was a very tasty salad that I would definitely recommend. I also enjoyed my pasta salad, which was nicely seasoned, though the portion size is a bit small for the price charged, even by theme park price standards. My only disappointment is that they've chosen to use only plastic plates and plastic utensils in the restaurant, which really detracts from a nice salad like this. I would also think that using plastic ware doesn't go well with Disney's green and conservation efforts.
The husband also liked his prime rib salad as well as his side lentil salad, though he was disappointed that they didn't have the three-bean salad that we'd seen on a previous breakfast visit. Our friends seemed to enjoy their meals as well, though we all remarked that the sandwiches came on fairly thick French rolls, and one of our friends mostly scooped out the meat to eat and left most of the bread.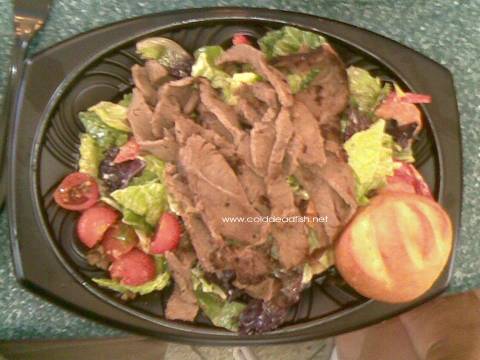 Prime rib salad at River Belle Terrace.
I would definitely return for lunch to try their prime rib sandwich and turkey salad.
Back to DLR Restaurant Reviews.
Back to home.