Genesis - Turn It On Again - North America Tour 2007
Introduction/Background
Rumours about a possible Genesis reunion tour had been swirling for years. Other than Tony Banks and Mike Rutherford, who else would be included? Would Peter Gabriel and Steve Hackett be part of it? Would Phil Collins agree to it? For quite some time, Phil's response was that he would be willing to do a reunion tour only if Peter would be the lead singer and he would just have to be the drummer. Well, that's never going to happen, so no reunion tour.
And then the rumours became stronger. And then the official tour announcement came out. The tour was originally supposed to include Peter Gabriel, with the band performing "The Lamb Lies Down On Broadway". But Peter's schedule was in flux, and he thought he might be out on tour himself at that time, promoting a new album. The rest of the boys decided not to wait and decided to go out with just the three of them, along with Daryl Stuermer and Chester Thompson, who constituted the rest of the touring incarnation of Genesis. I've heard conflicting reports about whether or not Steve Hackett was actually invited, and I haven't cared enough to actually do the research, so I don't know what the real story is behind that.
When I first heard about the tour, I wasn't sure what to think. Yes, I'd enjoyed seeing them previously on tour, and I would have gone to see them on the "Calling All Stations" tour, after Phil had left and singer Ray Wilson had joined the group to do lead vocals, but the U.S. leg of the tour was cancelled. I knew that Phil hadn't really enjoyed the last tour or so and had been tired of singing the same songs and the grind, so I wasn't sure how this tour was going to go.
I figured I'd have to see them once, just to see them. They were bound to play Los Angeles.
And then I kept hearing more about the tour. And I kept hearing how they really wanted to do this. And I got more excited. And then it became a matter of how many shows I was going to.
Most tours tend to start back east and then move west, so I'm used to seeing bands at the end of tours. This time, I decided I wanted to see an earlier show as well for two reasons: 1) I already knew the setlist for the European leg of the tour, and there was talk of possible changes for the U.S. tour. I figured if they were going to change anything, it probably wouldn't be until later in the tour, so if I saw an earlier show, I'd be ok. 2) I really just couldn't wait until the very end of the tour to see them. I needed to see them sooner.
There was no particular reason why I chose to see them in Hartford, Connecticut other than that it fit what I needed to do. With my schedule, I couldn't take a lot of time off for this, so I needed a show that was on a weekend. For my first time seeing them on this tour, I also wanted some place that was not in a huge arena. Since the Hartford show was on a Sunday, which meant I just had to take Monday off, and it was in the venue where the local hockey team played, I figured that made sense.
When the original schedule was released, the San Jose show and the Friday night Hollywood Bowl show were included, so I made plans to attend those. San Jose is fairly close by, so travel wasn't a big deal. And then they added the Sacramento show, and that's a hop from San Jose, so I got a ticket to that. And then they announced the Saturday night Hollywood Bowl show. The last night of the tour, and local - I had to go to that too.
So plans were set - one show in mid-September, and 4 shows in 5 days in mid-October. I've been part of a Genesis mailing list for many years now, so I also read everyone's reports from the European shows as well as the U.S. dates.
Here's the setlist, which was identical to the setlist for the European leg of the tour.
Behind The Lines/Duke's End
Turn It On Again
No Son of Mine
Land Of Confusion
In The Cage/Cinema Show/Duke's Travels/Afterglow
Hold On My Heart
Home By The Sea/Second Home By The Sea
Follow You, Follow Me
Firth of Fifth/I Know What I Like
Mama
Ripples
Throwing It All Away
Domino
Drum Duet/Los Endos
Tonight, Tonight, Tonight/Invisible Touch
Encore
I Can't Dance
Carpet Crawlers
Here are the intros or information about various songs which they did at each show.
The beginning of the show are two instrumentals, so the boys were able to ease into the show with that and show off their musical prowess to start things off. I thought that was nice throwback to their older stuff and set a good tone for the night.
After "Turn It On Again", Phil took out his digital camera and took pictures of the crowd. (Some of the pictures that he took in Europe appear on the tour program.) He also took pictures of each of the band members, as a sort of introduction. When he took his own picture, he said, "Even I bothered to show up."
After "Land of Confusion", Phil asked if there were any old people in the audience, to which there was a nice reaction. He then made a comment about it was a time when some of us had hair, or when some of us had dark hair, looking at Tony. He then said they were going to play some really old songs.
"Hold On My Heart" was performed with Phil sitting on a stool at the center of the stage.
As the intro to "Home By The Sea", Phil had the audience make a scary noise. And then he said that it was a coincidence that they made a scary noise because they had a scary song. He said it was about a house on a hill where there were creatures living in the walls and the carpets, and they'd come out at night. He then said it wasn't just that house, but they were in everyone's houses, and that when we all went home tonight, we'd see them too. And then he wished everyone to have a good night later.
On "Follow You, Follow Me", Phil sang this while on the drums. It was one of the few times he sang from behind the kit.
"I Know What I Like" - During the entire song, there was a montage of old pictures of the band scrolling across the LED screen, some during concerts, some for photo shoots, and some from just candid moments. It was nice to see Peter and Steve there too. During a later part of the segment, there was footage of Phil on screen using his tamborine to hit various parts of his body, and he did the same thing on stage.
After "Mama", Phil apologized for the depraved and dirty lyrics of the previous song and said that they were now going to a place of beauty and innocence and virgins - which was nowhere near where they were. That was the intro to "Ripples".
During "Throwing It All Away", the cameras were showing shots of the audience.
As the intro to "Domino", Phil asked the crowd to yell "domino", and when they did, he said that was a real coincidence since they had a song by that name. He then said that he was going to demonstrate the domino principle and proceeded to have various sections of the audience stand up and shout in succession at his instruction, and he even got the band involved.
"Carpet Crawlers" - He introduced this song as one that was very special to them, and it was definitely a fitting last song to play in the concert.
The music being played as the crowd was leaving at the end of the concert was "Fading Lights", which I thought was very appropriate.
Hartford Civic Center, Hartford, CT - September 16, 2007 (115, X, 15)
Pre-show note: The concert was on Sunday night, so I had arrived on Saturday night. My hotel was adjacent to the arena, and I didn't really have any plans for the day. When I got up in the morning, I wandered around outside and noticed the semis carrying what I figured was some of the tour equipment. When I made my way to the back of the arena, I noticed more trucks, some of which would be alternately driven into and out of the arena as they were unloaded. I spent several hours there, just watching, knowing that with each minute and hour that passed, I was closer to showtime. Eventually, some of the staff and drivers noticed me and started talking to me, as did one of the local police officers assigned to handle traffic control, so I spent quite some time talking to all of them, sometimes about the show, sometimes about the city, and sometimes about completely other things. One of the things I did learn from the drivers was that the current show took 16 semis to haul everything around for the regular show, including two generators. The setup that was used in Montreal and that is being used at Giants Stadium later takes another 13 semis or thereabouts.
The anticipation I was feeling before the show was incredible. I had thought I'd never see them again, and here I was, waiting for them. The show was scheduled to start at 8pm, but it actually started at about 8:20pm, which is apparently the way the schedule went. When they took the stage and then as they went through each song, it was just great to hear how incredible they still were. For this show, I was on the right side of the stage, about 3 sections from the stage, about half-way up. Some notes about this specific show:
During "Land of Confusion", Phil gestured to the front row. I thought he was just motioning some of them over so that he could shake their hands since they had their hands outstretched. It took me a second to realize that he was motioning specifically to one guy who had a celphone in his hand, presumably calling someone so they could hear the song over the phone. The guy handed the phone to Phil, and for a couple of lines, Phil was singing simultaneously into the phone and the mic. The crowd went crazy. Can you imagine being on the other end of that call? Or better yet, listening to your voicemail and hearing Phil singing to you?
"Afterglow" - One of the songs I love, and it was incredible to hear how beautifully Phil sang it. Same with "Ripples". Amazing.
"I Know What I Like" - I loved the montage that goes by, but it's so hard trying to decide whether to watch the montage or the stage, especially with Phil's antics. So fitting that Peter and Steve should be included in the montages (and Daryl and Chester, of course). I looked to see if Ray was in there, and I didn't see any in the times I was looking, but as much as I like "Calling All Stations" (the album as a whole), Ray was really just a blip and more of a hired gun in the history of Genesis. I'm still surprised that the album artwork appears on some of the tour merchandise - I didn't even expect that.
"Mama" - When I first heard that they were doing this, I was really surprised because doing this song totally rips Phil's vocal chords to shreds. Singing this every night of the tour? Maybe they decided to go ahead and do it since it was a relatively short tour, and there's quite a bit of instrumental work on the setlist, so at least Phil isn't singing for the entire close-to-3 hours. He sounded incredible.
"Invisible Touch" - Oh my gosh! Indoor fireworks! I had no idea. How very cool.
The concert ended at just about 11pm.
One of the things I learned this night: If you can't feel it, it's not loud enough. ;)
For anyone who's going to future shows and want to see what the merchandise selections are like ahead of time, they have a brochure available with everything they're selling, and there's quite a selection. Some of the items can sell out at certain locations of certain sizes. Notice there are no prices in the catalog. Apparently, their prices aren't consistent. The program was apparently $5 cheaper at Hartford than it had been elsewhere. Never heard of that kind of thing before.
Here's the first page of the brochure and here's the second page of the brochure.
HP Pavilion, San Jose, CA - October 9, 2007 (Flr 3, 18, 10)
This has been the best show so far for me. I had a floor seat, 18th row, left of center. The people around me were so into the concert - some of them would leave to get drinks or go to the bathroom, but mostly, people were focussed on the show. The guy to my left had never seen them live before and never thought he would. He said he was also attending the Friday night Bowl show. The guy to my right hadn't seen them since the 80s, and he was just loving every minute of it. I was standing/dancing for most of the concert, which was fine and which I expected being on the floor. When everyone was standing, I could still get a good view of Tony, so I didn't have to rely only on what the cameras showed me. At Hartford, I basically only had a view of the back of his head. There was a tall guy a couple rows in front of me, but I could see Chester and Phil on either side of him. And when people in front of me were sitting down, I could see the entire stage. I couldn't believe I was that close.
"Hold On My Heart" - Phil seemed to be struggling with some of the notes, though I couldn't tell if it was really just him or some distortion from the sound system.
"Ripples" - This seemed to be a favorite of the floor crowd at least. Though it happened on some other songs as well, on this song in particular, the crowd was acting as Phil's backup on "Sail away, away". It sounded amazing.
"Throwing It All Away" - I had been surprised at how they staged this song when I saw them in Hartford, with the camera just showing people in the crowd, but I realized that it was another slow song in the set, and they wanted to make it more fun. The tempo was a bit more upbeat than the song normally is, so that added to it.
"Domino" - During Phil's demonstration of the domino principle, when he got to the "tiny people in the back", they reacted by throwing their arms up, but they didn't jump to their feet like the other sections had. Phil apparently noticed because he then said, "Don't get up." I laughed a lot at that comment. I also loved seeing the band doing their part of the "affects those of us up here", especially sedate Tony throwing his arms up.
From that proximity, I could better see facial reactions and observe a lot more of what the guys were doing, both when they had the spotlight on them and otherwise. It was so nice to see the playfulness among them, and they'd be joking around with each other. They really seemed like they were enjoying themselves up there. And even though Phil tells the same stories/jokes every night, some of which he's told for several decades, he still does a good job of making them sound fresh.
ARCO Arena, Sacramento, CA - October 10, 2007 (109, E, 8)
For this show, I was on the left side of the stage, about as far back as the 13th row on the floor, and I was about 5 rows up, so I was at about where the left projection screen was. Still a pretty good view of everyone, except that during certain parts, the lights on the right side of the stage would light, and they'd be blinding, since they were just to the right of Tony from my viewpoint.
I noticed especially during the drum duet but also at other instrumental parts that it looks like Phil is chewing gum or candy. Is that to keep his throat moist? Does he spit it out when he's actually singing and only has it in his mouth when he's just the drummer?
I also noticed that after "Follow You, Follow Me", the roadie switched out his drumsticks. It looked like that was planned (I think I noticed that at Hartford too), but I don't know if the sound is just different with different sticks or they wear after a while or what, since that's almost about the half-way point.
"Ripples" - The crowd was doing the same backup singing as in San Jose. I hadn't noticed that happening in Hartford.
"Domino" - This time, when the "tiny people in the back" reacted, Phil again said, "Don't get up." But then he added, "Oh, wait, you're already up." Was this an inside joke for those who'd been the night before, including the band? No matter, I laughed.
When I was in the merchandise line before the concert, there was a kid there, probably in high school, who was there with his dad and a friend. The kid was saying that if his dad would buy him a t-shirt, he'd buy one himself as well. His dad asked why he needed 2 t-shirts. His response was, "They're my favorite band!" It was nice to see the mixture of ages of people there. This kid definitely did not look old enough to have even been able to see them live before.
On the darker side, there were two assholes sitting in front of me who decided they needed to talk throughout the entire show. Sometimes, it was about the show itself. "How weird is this? Dude, isn't this weird?" Sometimes, it was about entirely unrelated things, like where one wanted to go on vacation. Why the hell do you come to a show to talk through the whole thing? There were parts where they weren't even paying attention to what was going on onstage. I think their wives were doing the exact same thing. So their talking would be intrusive during the faster and slower songs since they'd have to yell loud enough to hear each other over the actual concert being performed there. One of them also decided to be an even bigger ass and he'd sing/yell *really* loudly at parts, totally off-key. And he'd make derogatory comments about how the band would have to change this or that part when they played L.A. because L.A. people would never go for that. Hey, asshole, he's been doing the "Home by the Sea" routine for years now, and even though it's a little different this time, the audience participates no problem in L.A.
With the first three shows I've seen, I've been on both sides and the middle and from different distances, so I've been able to see the show as a whole, with the screens and lights and such, as well as the more intimate moments on stage. I think they did a good job of mixing it up on the setlist, with lots of older and newer stuff, and I'm surprised (though enjoyably so) that there is so much instrumental stuff in the set. The only song I'd take out is "I Can't Dance" since I'm not all that fond of the song, but it is contagious and catchy and gets the audience up again during the encore. I'd rather they substituted "Anything She Does" - it's from the same album and also upbeat, though obviously not a hit, and then Phil might have to apologize for the content of the song like he does after "Mama".
Only two more shows left on the tour, both at the Hollywood Bowl. I'm really interested to see how the stage setup is going to work, given the Bowl's shell and all. There's a part of me that's not feeling sad because I never expected to see them again, so being able to see them on this tour has been a bonus. And I already went through these feelings during Phil's First Final Farewell Tour, when I'd resigned myself to never seeing him on tour again. But who knows what I'll feel on Friday and then Saturday night, knowing this is really probably the end. I can only hope that they can work something out with Peter.
Hollywood Bowl, Los Angeles, CA - October 12, 2007 (terrace, 1223, 3)
The falling rain never seemed to put a damper on the audience, but it did end the concert a little early.
I was really interested in seeing what the setup would be like because the Bowl's shell would be an obstacle they haven't had to deal with otherwise on the tour. They did end up keeping most of the stage setup. All the balls inside the shell of the Bowl were taken out, so that left a lot of room. The 7 light fixtures that hang over the boys was in place, as was the video screen behind them. The screen that's normally behind that wasn't in place because there was no place to put it. I was wondering what they were going to do during something like "Mama", where the heavy drum parts later in the song were accompanied by the bright flashing white lights that interrupted the red hue of the song itself. Well, it worked out great because they had the lights inside the shell pulsing to that beat instead. It was great. Instead of the oval screens on the side, they had square screens instead. I didn't notice, but the husband noticed that there was a second set of screens about half-way back, so that those in the back had screens that were closer for them to see. The gangplank/walkway on the left side of the stage was gone, as was the riser part on the right, where Phil normally sings the beginning of the last section of "In The Cage", after he's been offstage for a bit. The right side of the stage was just flat.
I can't imagine why people pay good money to go to a show and then spend money on beer that's gonna cost them more than if they just went to a bar to have beer. A guy near us brought a beach ball and launched it before the show started. I hate that kind of stuff too, even at baseball games. I'm there to watch what's going on. If you're not interested in that, why are you there?
We were in one of the box seats, the ones that you pretty much have to wait until someone dies before you have the ability to be next in line. We were in a four-person box, but it was just the husband and me. And they had nice fold-up/like director chair types, so that was much more comfortable than the bench seats where we normally sit. And we had a lot more room too, instead of being squished in with other people.
I had been surprised that they had chosen to play the Bowl rather than something like Staples. I don't know if the other venues were unavailable or if they specifically picked the Bowl, but even with the limitations and problems that ended up arising from being in an outdoor stadium, it just seemed right for them to play a venue as classic and iconic as the Hollywood Bowl in what one might speculate is their last tour. It was just so amazing to see and hear them with the backdrop of the Bowl's shell behind them. The other added bonus is that the Bowl has lights in the back of the theatre as well as in the middle walkway, and all those lights were used to great effect for many of the songs, so whereas at the other venues, all of the light really just came from the stage, the entire stadium here was bathed in whatever color was the theme for any particular song or moment. During "Mama", the entire stadium was just a sea of red - gorgeous.
I can't remember what song it was - maybe "Mama"? - but at one point, the top of the Bowl had smoke coming out with alternating reddish lights so it seemed like the top of the Bowl was on fire. It looked incredible.
The forecast had called for rain, but they had said it wasn't expected until very late in the night, maybe midnight. Well, the rain showed up a bit early. A light rain started towards the end of "In The Cage" - I had a bad feeling as Phil was singing "Raindrops keep falling on my head", and the rain started shortly thereafter. Following "Afterglow", Phil made a comment about knowing what you should expect to get with a Genesis concert - "the fucking rain. Oh, Genesis is having an outdoor concert tonight?" and then Phil made the sound like a rip-roaring thunderstorm/cloudburst. It was a steady, but not heavy, rain, and it lasted through "Hold On My Heart" and stopped right before "Home By The Sea".
I was a bit surprised but very pleased that so many people seemed to be enjoying "Firth of Fifth" and really happy that it was being played. People were up and dancing, almost like what you'd expect from a Top 40 hit song and not an instrumental.
As Phil was doing the intro for "Ripples", one of the women in front of him must have said something to him. (Unlike at the other venues I've seen, the Bowl has people right up against the edge of the stage.) He said something like, "Well, I'm a little busy right now. ... I love you too." He was talking about apologizing for the previous song and its smut and filth and now going to a place where virgins live. He must have been really distracted by the woman who interrupted him because he didn't say the next line about how where virgins live is nowhere near here obviously. He seemed to rush through the intro more than he did at the other shows.
The rain had stopped but started again at the very end of "Throwing It All Away". The "Domino" demonstration was still fun, though Tony didn't participate in the part where the people on stage are affected as well. I think he was preoccupied with his equipment. More on that later. From that point on, it was raining steadily, first about the same heaviness as earlier in the concert, but then it started to rain harder. People were still very appreciative during the drum duet and "Los Endos", and lots of people were dancing for "Tonight, Tonight, Tonight" and more were dancing for "Invisible Touch".
During the beginning of "Tonight, Tonight, Tonight", Phil also made another reference to the fucking rain and changed the ending of one line later in the song to be in reference to the rain. And yes, of course, there are the rain references at the beginning of the song.
At various points during the show, in between songs, the roadies would run on stage and cover equipment and wipe down the stage and other equipment with towels. Phil actually referenced them at one point, so we of course gave them a hearty round of applause. Sometime during the show, a bunch of roadies came out and put hard plastic covers around/on top of Tony's keyboards. He was further up the stage than the drums or Steve or Daryl, so he and his stuff was apparently getting wet. Later in the show, they even brought out a huge umbrella (like you'd see on patio furniture) to cover him and his stuff as well. I had the husband take a couple pictures with his celphone. Not sure you can even see anything, but here they are for what they're worth.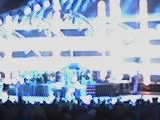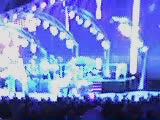 I think you can sort of see the umbrella in picture two - it's in between the second and third light fixtures from the right. Well, about 2/3rd of the way through "Invisible Touch", I heard this noise that sounded like Tony had either just smashed his hands all over the keyboards and hit a boatload of random notes or someone had just dropped the keyboards on the ground. I looked at Tony, and he was leaning down under one of the keyboards, and I figured he was turning it off. The husband said it sounded like the water had shorted out one of the keyboards. They finished the song and then all left the stage. I couldn't tell if Phil left and came back or just stayed out, but he said, "Ladies and Gentlemen, we're lucky that we made it this far through the show, but you're all getting soaked and our equipment is breaking, and we can't play anymore. On behalf of Mike and Tony and Steve and Chester, thank you so much for coming. Be careful driving home." (That's not verbatim, but it's the gist of what he said.) People were disappointed, and I think they would have definitely stayed for the encore, but the boys really just couldn't do it anymore.
It was pretty cool for the fireworks to be indoors at other arenas, but I forgot that the Bowl has its own fireworks setup, so they did what was done during the regular show and then had some higher fireworks that were part of the Bowl's setup before the final thunderclap fireworks. Very cool.
When the show started, I noticed that Phil had a light jacket on, zipped up all the way to his neck. He didn't have a jacket in the other shows, but I figured since this was an outdoor venue, he needed to keep his throat and chest warm. It wasn't until much later, though, when I was watching him on one of the screens, that I noticed how wet his jacket was. I should have realized that if Tony and the keyboards was getting wet, Phil would be getting wet while he was singing as well since he's pretty far up the stage. It wasn't terribly cold out, but being wet and being rained on couldn't possibly have been very good for him and his voice, though he sounded great throughout. Even with all the rain and the problems, all of them put on a great show. When Phil was doing his announcement and because of the other times he was swearing during the show, you could tell he was really pissed off about the rain.
I don't think missing "I Can't Dance" was a big thing, but I feel really sorry for those who missed out on "Carpet Crawlers" and Phil's genuine thank you at the end. He did get some of that in, but of course he was hurried because of the weather. And it wasn't a case of them stopping the show and then the rain letting up right afterward. It took a while to get out of the stadium and all, and it was raining the whole time, and it even rained harder.
I didn't mind some of the lighter rain. There was something about seeing the rain in the lights and hearing the music and seeing the audience just so into the moment, all at the Bowl of all places, that was just beautiful.
While we were walking out, I heard two people behind me say that there were a couple of really good songs that they didn't play. I did manage not to turn around and say that there are actually quite a number of really good songs that they didn't play, but with their catalog and it already being a close-to-three hour show, there's no way they can play everything.
The rain is supposed to end mid-afternoon on Saturday, so we should be good for the Saturday night show. It'll be interesting to see what sort of mood Phil will be in.
Hollywood Bowl, Los Angeles, CA - October 13, 2007 (garden, 71, 4)
There's not a lot to say about this show other than that it was the most incredible show I've seen. I had a seat that was extremely close (in front of the stage was "the pit" section, and I was in the first row in the section behind that), so I was able to see all of them and their expressions quite well.
Here's a link to the seating chart at the Bowl, and you can see that my section is actually on the map itself. You can also click on the section to see what the view is like from there.
Before the concert started, when they were playing random music, one of the songs they played was Simon Collins' version of "Keep It Dark". It sounded good.
During "Home By The Sea", Phil screwed up during the intro. When he was talking about the scary people, he initially said that they came out of the walls of the carpet (instead of the walls of the house). When the audience hooted and hollered at his mistake, he just kind of stared out into the audience and said, "You know what I mean to say!" And then he said it correctly.
During the intro to "Domino", when he got to the "tiny people in the back", after they reacted, he said, "Don't get up. Oh, sorry, you're already up." I figured out that what he meant by that is that they were so small that he couldn't tell if they were standing or not.
There were some clouds in the sky but not a drop of rain. Phil still had his jacket on, and I saw him zip it up right up against his throat a few times and then unzip it a little at others. Sometime during the course of the show, someone brought a jacket out to Tony. Since he's not moving around stage, he's probably more susceptible to cold than the others, but then, Daryl and Mike had their jackets on the whole show.
They were definitely "on" during every song. The audience was totally into the entire show, and it looked to be a full house, and I think the boys completely fed off that. And of course, it was also the last night of the tour, so there's an energy around that as well. Before "Carpet Crawlers", in addition to thanking Daryl and Chester, Phil also mentioned the names of a lot of the touring crew, as well as production managers and Tony Smith and various other people. And Phil also made a comment about not having ever said this before, in public or in private, but he turned to Tony and said, "I love you Tony" and then turned to Mike and said, "I love you Mike". And then he said, "And being English, we're now just going to continue right along." And they launched into "Carpet Crawlers".
Oh, and celebrity sighting note: given that it's in L.A., I thought there might be some celebrities in the crowd, but I wasn't looking too hard. After the concert was over, I sat for a while, and when I finally got up to leave to take some pictures of the stage from further away, I noticed that the person who came out of a row into the walkway was Greg Grunberg, who people might know as Matt Parkman, from "Heroes", the cop who can read people's minds.
I've created a file that includes all the pictures I took, minus the bad ones that I've already deleted. Here's the link. Be warned that it's a huge file, including 222 pictures and 3 videos. As I mention on the page, anyone is welcome to take any pictures they want, though I do ask for credit if you're putting the pictures on another site. There's also a link to where all the files themselves are located. Any corrections to captions greatly appreciated.
For those who just want to see the videos, I'm including separate links to them here.
This was just something I thought was interesting, so I took video of it. From where I was seated, you could see a really good shadow of Chester during the drum duet. This is a short video of Chester's shadow during the early part of the drum duet (510 kb).
The is the major part of the drum duet with Phil and Chester. It cuts off right at the beginning of "Los Endos". Yeah, in watching the video, I was disappointed that I didn't get all of "Los Endos" as well. Here's the video (6.3 mb).
This is Phil's final speech (14.3 mb), which includes his entire thank you speech, as well as the entirety of "Carpet Crawlers".
Conclusion
I know a lot of people have talked about the ticket prices for these shows, and I completely understand that everyone has their own idea of whether or not something is worth it. I'm grateful that I had the means to be able to see them 5 times in 3 different cities (I know others saw them more than that on this tour), and I ended up dropping a fairly hefty amount on this last show. But it was totally worth it. It's an experience I'm never going to forget. And at the end, I wasn't sad. They left me with incredible memories on this tour, and since I never really expected to see them again, it's not a matter of saying goodbye to them now. I'd already done that. Seeing them on this tour was a bonus, something I didn't think would happen, so every opportunity that I had to see them on this tour was something I wouldn't have otherwise had. Some people don't understand seeing them more than once, but for me, it's being able to get a fuller experience. Seeing them once wasn't going to give me a good enough impression of the entire show. With the Hartford, San Jose and Sacramento shows, I was able to be on the right, center and left, and I was at three different distances, so I could see the overall show when seated further and see more of the details when seated closer. Same with the two Bowl shows. Sitting a little further back Friday night meant I could notice more of the lights that washed over the entire stadium, and I had a great view of the orange light/smoke fire effect off the top of the Bowl and the fireworks as well and the general light show coming off the stage. But tonight, being as close as I was, I could see more of the boys interacting with each other, of the emotions that were on their faces at different parts, of the details of the stage and show. I could add up the sum total of what I've spent on this tour, but the experience and memories are priceless.
Back to the Entertainment Reviews.
Back to home.