LAS VEGAS TRIP - MARCH 2003
For the third year of our group trip, we decided to take advantage of the lighter weekday crowds and extend our usual Saturday-to-Monday trip an extra day to include Tuesday.

On Saturday morning, after stopping for breakfast to go, our caravan got on the road at about 9:30am. Making use of the recently-opened connector from the 210 freeway directly to the 15, we were able to bypass the traffic that we sometimes encountered in Ontario. With a quick customary stop in Barstow, we arrived at the Aladdin Casino and Resort at about 1:30pm, meeting up with another friend who had driven in himself. We'd not had a chance to see the Aladdin on either of our previous trips, and when we had been looking around for a brunch buffet, we'd heard good things about the one at the Aladdin and had decided to go there.

The weekend champagne brunch at the Spice Market Buffet runs from 8:30am to 2:30pm and costs $17.99 for adults and offers a wonderful selection of foods from different ethnicities. Among those offered: jewels of the sea (stuffed sole with crabmeat, seafood and sausage paella, Gulf shrimp, smoked salmon, fish and chips, crab cake benedict), sauteed green beans, breads, rolls, bagels, assorted salads, cut fruit (watermelon, honeydew, cantaloupe, grapes, pineapple), an assortment of cheeses, tortilla soup, tomato basil soup, French toast, buttermilk pancakes, sausage, applewood bacon, eggs benedict, scrambled eggs, pasta dishes, pizza, asian food (fried rice, vegetarian spring rolls, pot stickers, stir fry, orange peel chicken), carved ham, carved turkey, carved striploin, rotisserie chicken, grilled asparagus, marinated olives, Mexican food (enchiladas, quesadillas, fajitas, tortilla chips and salsa), Middle Eastern food (samosa, saffron rice, tandori chicken, grape leaves, pita bread, hummus, tabbouleh) and desserts (creme puffs, pies, fruit tarts). The Buffet is also offered as a weekday lunch from 11:00am to 2:30pm and a nightly dinner from 4pm to 9:30pm. We very much enjoyed our meal, but because we ended up being seated at almost 2pm, there were slim pickings when we were ready for dessert. I can understand that the brunch dishes need to be put away and the dinner offerings need to be prepared, but I wish there was some way that a sort of "last call" could be made. I've always not been pleased when a buffet shuts down shortly after its scheduled closing time without taking into consideration those patrons who might have been just seated and who apparently need to make all their choices immediately before the food stations are cleared. I don't recall having this problem at the Bellagio brunch buffet that we went to last year. I would definitely recommend the Spice Market Buffet, but do try not to be seated any later than an hour before the posted closing time.

After brunch, we spent a bit of time walking around the Desert Passage shops and found two stores that were of particular interest. The Wyland Gallery had many wonderful pieces, including some paintings that do incredible things with the way the lighting is painted, so much so that the painting almost looks like a photograph. We also discovered a kitchen/home goods store called Sur La Table that boasts an extensive array of cooking supplies, table wear and other similar items. We were happy to discover that there is a chain of such stores, with a location not too far from home as well as a website. Dangerous, though.

Following our shopping trip, it was time to go check in. This year, we had decided to head back to the Best Western Mardi Gras, which offers nice rooms for a good price. Located on Paradise Road, it's also convenient to not always have to deal with the traffic on the Strip, but getting to any location from the hotel is relatively easy.

After resting for a bit, we decided to head to the Golden Nugget for the evening. Since there are several of us, we usually decide on a casino to play in, and then we all go our separate ways, since we all have different preferences on what we like to play. Usually, at some point in the evening, after we've been playing for a while, people will begin to want to leave or do other things, so then they start rounding up the group. I roamed around the casino for a while, playing at one machine or another. Not being a big gambler, I usually look for something that's fun and/or engages me to do more than just insert money and pull a lever. After wandering around some more, I found a machine that I recalled playing elsewhere and liking, so I sat down to play. I discovered that the bill slot didn't work, and I hadn't gotten any change, so I pushed the "change" light. Usually, at some point, a change person will come around and make change for you. After waiting 20 minutes with no one showing up, I finally asked a passing cocktail waitress to direct the change person my way if she saw such person. A few minutes later, a man in a red jacket came by to ask me if I needed anything since he saw that my change light was on, so I said that I needed a change person. He said that he was the change person, so I told him that the bill slot didn't work and that I needed change. He said he didn't have any change on him and opened his coat to prove it to me (Then you're not the change person, then, are you?), but then he pointed out to me the change counter that was nearby where I could get change. I'd been frustrated because I could see the change counter from where I sat but I couldn't go there because there was no way to hold the machine that I wanted to play while I went and got change. Again, it's not like I'm a big gambler, but that was the only machine of its kind there, so I didn't want to lose it. When I told him that my going to the change counter would involve me having to get up from the machine, he didn't seem to understand why that was a problem. You would think that someone who works in the casino business would understand why someone sitting at a slot machine wouldn't want to get up to get change and risk losing the machine. He then said that he would call a technician, who showed up a few minutes later and fixed the bill slot. He had me put one bill in, and when the machine accepted it, he left. At this point, my husband happened to come by, and when I tried to put in a second bill, the slot apparently wasn't working again, so my husband went to the change counter to get change for me. We both played for a while, and then some friends came by and said they wanted to get a quick bite to eat (it was about 9pm at this point), so I said I'd be ready if they'd wait a minute while I finished losing the last bit of money in the machine. When I was left to my last dollar of the $20 that I'd started with, I ended up hitting some kind of good combination and ended up with $7.45, so I cashed out. We rounded up the rest of the group and headed for the hotel coffee shop. This trip would end up involving a coffee shop tour.

The coffee shop at the Golden Nugget is called the Carson Street Cafe and turned out to be not just a regular coffee shop, but they had some good selections available. Dinner was good, and I had a pasta dish similar to one that I always order at California Pizza Kitchen, and I actually liked this pasta dish better as it wasn't quite as dry. Our server was from Bulgaria, and he was not just good at his job but also personable and funny. After dinner, we headed back to the hotel to turn in early.

Sunday morning, after everyone was dressed and ready, we sat around in one of the rooms just chatting for a while. We were heading out to pick up a friend at the airport who wasn't able to drive in and so would be flying in to join us. The rest of the group would meet up with us at Paris, where we had decided to have lunch. One of the lessons we learned on this trip is this: don't turn left on Desert Inn Road. After leaving the parking lot of the Mardi Gras, it's necessary to make a u-turn to head in the direction of the airport. Because of all the monorail construction in the middle of the street, it's not always possible to make that turn, so we figured we'd turn left at Desert Inn Road and then make another series of lefts to get back on to Paradise where we could then turn right. WRONG. We found out (as did others of our group independently later) that Desert Inn Road is actually a thruway with no turn-offs for about 2 or 3 miles, so we ended up stuck on this street going in a direction that we completely did not want to go. Once we were finally at a stop light, we had to turn around and come all the way back before heading to the airport. Luckily, we'd left early enough that we weren't late in picking up our friend. As we were telling her our ordeal of the neverending Desert Inn Road, we headed to Paris.

The Paris resort is one of my favorite casinos because I absolutely love the decor inside. The Paris resort has a smaller version of the Eiffel Tower, and the legs of the Tower come straight through and into the casino. We'd decided to have lunch at Le Cafe Ile St.Louis, but with a slight mixup, we ended up getting there before some of the other group, but one of the people ended up having some good bit of luck while waiting for us, so all turned out well. The restaurant has a good selection of foods available, and among the entrees ordered by everyone at our table, we had breakfast, lunch and dinner all covered. Many of us commented that we wanted to return to this restaurant as there were so many things that sounded good to try. Because I wasn't feeling particularly well, I decided to have the ramen noodle soup, which was very good, with a very tasty broth. Our waiter was very good, and he was very excited about what several people ordered because he had recommended dishes to them, and his recommendations were dead on. It's great to encounter a waiter who knows his menu so well that he knows what to recommend and what he recommends is really good.

After lunch, some of us decided to go up in the Tower. I'd been up there twice before, but both times were at night, so I was curious to see it in the daytime. While there is a good view of Las Vegas in the daytime (you can see the mountains then), I much prefer the nighttime view, which is much more impressive, but then I think Las Vegas as a whole looks much more impressive at night. While we were up in the Tower, we did watch the Bellagio water show, and when the song turned out to be Celine Dion's "My Heart Will Go On" from the film "Titanic", a few of us looked at each other and grinned. Celine Dion had been and would continue to be a running joke during this Vegas trip. After we finished with the Tower, we did some playing on the machines and also did some shopping before heading to Caesar's.

We had been to the Caesar's Forum Shops on our previous year's trip and had loved browsing through the new FAO Schwartz that had been opened there, but we had not been able to spend very much time there. My husband and I had been able to go back on our quick trip in December 2002, but the others wanted to see it again, and one of the people hadn't seen it at all.

We spent a bit of time again looking at the Steif bear setup in the front of the store, and I actually noticed a few things that I didn't remember seeing the previous times. I love the third floor of the store, which has entire sections devoted to Star Wars, but I was disappointed that the Cantina Band wasn't playing, and the x-wing hanging from the ceiling was still rather than changing back and forth into and out of attack position. The Cantina Band had been silent when we were there in December as well, but they had been using that area as a staging place for gift wrapping, so I had assumed that's why they hadn't been working.

We then made a quick trip back to the hotel and then continued on to the Hilton for the evening.

For no reason in particular, we had normally spent Monday mornings at the Hilton, but on our last trip, we had decided that we wanted to spend a bit more time there and have dinner at Quark's, the Star Trek-themed restaurant. We arrived right on time for our 7:30 reservation and were seated towards the back of the restaurant. The restaurant and shopping area are supposed to be representative of the Promenade from the TV show "Star Trek: Deep Space Nine". In one section of the restaurant, there is actually a big screen that shows various Star Trek episodes. The menu at the restaurant boasted pretty normal food but with funny and related names for Star Trek fans. We noticed that the drinks menu must have been recently updated because one of the drinks was named after T'Pol, the Vulcan in the current television show "Enterprise". I had a grilled chicken dish, which was very good, and my husband had the filet mignon. I had a taste, and the flavor and texture was incredible. Two of the people at the table also each ordered a mini-warp core breach, which is a mixture of a whole bunch of alcohol. Star Trek Geek Moment here: while the mini-warp core breach looked great, it's actually misnamed. The drink is served in a round bowl that sits on a metal device that makes the entire thing look like a planet with rings. There is some dry ice in the drink itself to make it smoke, which I guess is where the warp core breach is supposed to apply. Very pretty and cool, but on the whole, that's not a warp core breach. (The regular warp core breach looks the same, just bigger because it serves two.)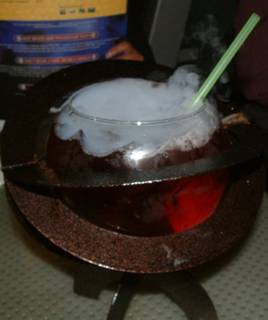 mini-warp core breach
OK, end of Star Trek Geek Moment.
Dessert looked and sounded really good, and I had every intention of trying Deanna Troi's chocolate dessert, but when I finished my dinner, there was no way I was going to be able to have dessert. Some of the people at our table weren't entirely happy with their food, but the most disappointing part was that the service wasn't very good at all. The restaurant was only about half full, and it still took a while for us to get our appetizers and main courses, and the waiter didn't come back to check on us much. We're usually very good tippers, but we didn't tip quite as much as we usually do.
During the course of dinner, there are various "characters" who wander around the restaurant. A Ferengi came by to visit with us, commenting on the fact that we women were clothed, and when I later remarked to him that he had nice lobes, he said that "flattery will get you a discount" as he rubbed the bar of latinum that hung around his neck. Star Trek fans will completely understand the significance of that last sentence. I was very impressed that the Ferengi was well-versed enough in his culture to be able to react appropriately to my comment. I would recommend the restaurant for Star Trek fans just for the novelty value, but with the less-than-stellar service we received, it would be hard for me to give this a definite recommend for anyone else. However, I'd be willing to give it another chance at some point.

After dinner, we wandered around the two major shops in the area. While I was in the general Star Trek merchandise section, the Klingon whom I had earlier seen wandering around the restaurant came into the store. I had been looking at a box of lollipops shaped in the symbols of various Star Trek races. I picked up one of them to examine it, and when I recognized the shape, I turned around, showed the lollipop to the Klingon and said to him, "Isn't this the symbol of the Klingon Empire"? He just stood there and stared at me REAL HARD. One of my friends called over to me that it's not safe to irritate the Klingon. After a few more seconds, I made some comment about of course recognizing the symbol of the great Klingon Empire, which seemed to appease him a bit. After discussing a few more of the items for sale, with the Klingon making a disparate remark about the Ferengi, a boy who was about 8 years old came up to the Klingon and said something to him in Klingon. (No, I don't speak Klingon, so I don't know what he said.) Without hesitation, the Klingon responded in kind (No, I don't know what he said either.), which seemed to stun the boy for a second, but then he walked away happy. We burst into applause at his quick and wonderful reaction. A bit later, I pointed out a child's t-shirt to the Klingon that said "my child has more honor than yours", and after making a few choice comments, he left. As we continued to browse the store, we noticed that they had a few more high end items than we'd seen in previous years (and, not surprisingly, more "Enterprise" merchandise). We found a really nice jacket that had "stages 8, 9 & 16" on the front left breast area with the names of the main cast members of "Star Trek: The Next Generation" embroidered inside and the 10th anniversary logo on the back. It was a really nice jacket, but it was absolutely too expensive, which turned out to be a good thing, because if it had been anywhere near reasonably priced, it would have been hard to put it back on the rack. After all, it mentions Planet Hell!

After browsing through the collectible store, we headed to the casino to join the non-Star-Trekkers who had gotten bored and gone up there earlier. I really like the SpaceQuest casino (there is another main casino in another part of the hotel) mostly because they have machines that have a nifty extra feature. Instead of pulling a lever or pushing a button, the machines have a device where breaking the light beam operates the machine. How very cool and appropriately themed. The other thing I really like about the casino is that they play great music, and they even have screens that show the music videos, so while I was playing, I was also able to watch and listen to the likes of Wham, "YMCA" by The Village People, Rod Stewart, The Beatles, Elvis, and Gloria Estefan, to name a few. A few of the group found machines that they liked, one that involved pigs and one that involved cows. During bonus rounds, there would be a song played and other funny stuff that happened. They ended up looking for these same machines at other casinos, and we were making jokes about livestock slot machines for some time. We stayed and played for a while and then got back to the hotel at about midnight.

On Monday, after everyone was up and ready to go, we decided to visit Treasure Island, which we had not been to previously. We decided to have breakfast at the coffee shop there, which is called the Terrace Cafe, and we all enjoyed our meals. Afterward, we wandered around into a few shops, but as it turned out that none of us were looking for or really interested in pirate-themed merchandise, we quickly left. We decided to take the tram to the Mirage next door, where we spent some time looking at the White Tiger Habitat. We didn't have a lot of time, so we didn't pay the extra money to see the Dolphin Habitat and Siegfried & Roy's Secret Garden. My husband and I had seen that a few years ago, but we do want to go back and see it again some time. We then went outside and walked along the sidewalk back to Treasure Island so we could get a good look at the outside.

My husband and I already had plans that night, but one of the group had found out about a place that sold 1/2 price same day tickets for some shows, so we went over to see if there was anything they were interested in. The location is at the Coke/M&M place by the MGM Grand (the ticket windows are in the lobby area between the Coke and M&M stores), and the ticket windows open at 2pm. We ended up arriving around 1:30 to find that a line had already formed, so we stood in line. When the others got there, they browsed the show offerings, but finding nothing they really wanted to see, we then left.

We then headed to Circus Circus to have a look at their Adventuredome Theme Park. There is no longer an admission fee, but instead, people pay a certain price per ride, though they do offer all-day ride wristbands for sale. The whole area is covered and air conditioned, so that was nice. The boys ended up going on the rollercoaster, Canyon Blaster, which has two loops and a corkscrew and costs $5 per ride. None of them seemed to like it very much, commenting that it was a very rough ride. Two of them had ridden the coaster at the Sahara last year and had liked that very much. We also stood around and watched the water ride for a little while. It seemed like fun, with several platform drops rather than one big drop. I wasn't particularly impressed with the Adventuredome as a whole, though, and there wasn't anything there that I was interested in doing and can't imagine paying an admission fee for, but then, growing up and being accustomed to the theme parks in the Southern California area, I suppose my reaction isn't surprising.

We decided to have a light lunch and went to the Pizzeria, which is a order-at-the-counter-but-they-bring-your-food-to-the-table place right off the casino. My husband and I shared an Italian salad and a barbeque chicken pizza, which was surprisingly good and very flavorful.

After lunch, I was not feeling very well and decided that I really needed to rest for a bit, so my husband and I went back to the hotel while the others stayed to play in the casino and at the midway games upstairs.

Later that evening, after everyone else had come back to the hotel and I'd had a nap, we then headed off to Mandalay Bay. My husband and I were seeing "Mamma Mia" that evening (we'd already seen the show in two venues in Los Angeles and love the show), so we went to the will-call area of the theatre to pick up our tickets. When we had ordered our tickets, we couldn't pick exact seats but rather could only request sections. We had asked for the orchestra section, so when we got our tickets, we were thrilled that we had awesome seats - fifth row, right of center on the aisle. We then headed off to dinner at Raffles Cafe, which is a very big restaurant and not at all what you'd expect from a "coffee shop", especially with the cloth placemats and napkins. Three of us each decided to have the fruit plate, which came with a choice of sorbet, yogurt or cottage cheese, and all of us ended up choosing the sorbet. When the fruit plate arrived, we couldn't believe how amazing it was. The fruit plate consisted of cut pineapple, cantaloupe, honeydew, watermelon, a large strawberry cut in half, a piece of kiwi, some grapes, and half a papaya which held blueberries, raspberries, and a blackberry, and all of the fruit was very fresh and very tasty. There were also two slices of banana nut bread on the side, which were delicious. As I'd mentioned, I'd chosen the sorbet with the fruit plate, and I was expecting a little scoop of sorbet on the side. We were very surprised when along with the fruit plates, they had also brought three glasses of raspberry sorbet. A single serving of the sorbet was the equivalent of what one might expect to receive if ordering a sorbet dessert. The whole meal was absolutely incredible, and we all raved about it. I ended up sharing my dinner with a friend, and there was still enough fruit left over to take with us so we could have it for a light breakfast snack in the morning. One of the other people at the table just had the tiramisu dessert, which was served in a glass, very different than what we were used to, and he enjoyed it very much. Two other people had a sandwich and the popcorn shrimp appetizer, and they both enjoyed their meals as well. This is definitely somewhere that we want to visit again, when we are hungry enough to have a regular meal.

As everyone relaxed a bit at the table after dinner, we bid them goodbye and headed for our show. They have a small store outside the entrance, and we had peeked at the merchandise from outside a bit earlier. There wasn't much that hadn't already been available at the other shows, but I did notice a short-sleeve black shirt that had "Mamma Mia" in sparkles on the front and "Las Vegas" in small sparkles on one sleeve that was really cute, so I picked that up.

This production of "Mamma Mia" is performed at the Mandalay Bay Theatre, which is beautifully done with a gorgeous theatre and lobby area. I very much enjoyed this performance of the show. The actress who played Donna was very good, and she looked and sang very much like one of the original female members of Abba. The actor who played Sam made the character a bit different than I'd seen him portrayed previously. This Sam was not quite as cynical, and the actor was a better singer and seemed more at ease. The actress who played Donna's jet-setter friend was much less about providing comic relief than the actress I'd seen in other productions, though both characterizations fit just as well. This actress was also one heck of a singer and dancer. The actress who played Sophie had a voice that was slightly higher than I prefer, but she was still good. And the actor who played her fiance Sky looked a heck of a lot like a young Tom Cruise. It was also fun to see that I knew the show well enough to notice a slight difference in staging. In the sequence with the song "Chiquitita", one of Donna's friends has a leg mishap, but in this production, the mishap is given to the non-glamorous friend instead of the jet-setter. I think the change worked well because given the different characterization of the jet-setter friend, that bit of comedy would have seemed misplaced with her. I really loved that because we had such good seats, we were close enough where we could plainly see the facial expressions on all the actors and also the smaller bits of "business" that they do. As much as I liked the show before, it made it even more enjoyable to see the nuances. We were happy that we saw this show with a good crowd, and that for a 10:30pm show on a Monday night of a non-holiday, the theatre was mostly full. The first time we'd seen the show, the crowd was very much into the music and everything. The second time, the crowd was ok, but much more subdued. This crowd laughed in all the right places and reacted well to all the various bits, and many people got up and danced at the end. By the time the show was over, we ended up leaving at about 12:30am.
For the review of the musical as performed at the Ahmanson Theatre in Los Angeles in October 2002, please click here.

I would definitely recommend this show and this theatre to anyone. (We're actually going to see the show again when it comes around to the Orange County Performing Arts Center this summer, and we're planning to see it yet again when it comes to the Pantages Theatre next year. And if it's still playing when we go back to Vegas next year, we'd consider going again. Have I mentioned that we really like this show?) The only bad part of the experience occurred during intermission. I was happy that through dinner and at the beginning of the show, I had started to feel better than I had in the afternoon, as I really wanted to enjoy the show. At intermission, I was starting to feel bad again, so I knew I needed another dose of medication, so I stood in line to buy bottled water. It somehow never occurred to me that they'd have drinking fountains until my husband mentioned it to me later, but I guess I was just so focused on needing water for the medication. Being a captive audience, I expect to pay more for water than normal, but I was completely unprepared to pay $3.50 for a mini bottle of water, the exact same size bottle that we'd paid $.29 for that afternoon at a convenience store. I ended up getting a cup of ice with it as well, and I drank every last drop of that bottle and all the melted ice to get my full money's worth.

We had known we'd be back to the hotel late on Monday night, so we had arranged with everyone else a later meeting time on Tuesday morning. It turns out that on Monday night after we left for the show, they wandered around Mandalay Bay for a bit, and then some of them went back to the Hilton to play at the casino there for a while. Tuesday morning, we all packed up and checked out of the hotel, sad that our fun time was soon to be at an end. We decided to head to Excalibur as we'd only been there on our previous trip after shop-closing hours, and one of the people in the group had wanted to see some of the shops there. We met up with everyone at the Krispy Kreme store. I'm not a fan of Krispy Kreme donuts and have never had one and don't really care to, but I love that store because it has a production line that you can watch. The dough is turned over and over, and then it's put in the oil to cook on one side and then flipped over to cook on the other side and then it goes under a wall of glaze (I think just watching that wall of streaming glaze could put someone in a diabetic coma.), goes a little ways further to be cooled and then picked up by an employee and put on a rack. I love that kind of stuff. We spent some time looking around the shops and then headed over to the coffee shop for lunch.

The last stop in our coffee shop tour, the Sherwood Forest Cafe was unfortunately the worst of all the ones we'd been to. When we were led to our table, we discovered that they were trying to fit seven of us at a round table that could at most comfortably seat five. When we objected as they were dragging over additional chairs that the table was too small for us (I doubt we would have all been able to scoot our chairs in), they had us go back outside to wait while they made further preparations. We discovered what that meant was that they just dragged over another round table next to the first round table so that we were sitting at a figure eight. The round tables were those that started out as square tables but had extra flaps on each side that flipped up to make it circular. A few of the people put down one flap on each table (and we discovered that they hadn't done that in a VERY LONG TIME and wondered whether they even knew it was possible) and then we pushed the tables together on the flat sides so we could have a more manageable table. The food and service were ok, but not much more than you'd expect from a coffee shop. While it wasn't nearly as bad as the experience we'd had at the Sahara's coffee shop the previous year, I don't envision us going back to this restaurant, even though it does have a very cool name.

After lunch, we decided to play in the casino for an hour and then meet up at 2pm to leave. When the time came, we said goodbyes to each other, since while most of us would be heading the same way home on the freeway, we didn't have any plans for group stops. We stopped off at the airport to drop off our friend who would be flying home, and at 2:30pm, we were on our way. We made a stop in Baker for snacks, and with the good traffic, we were back in our neighborhood at 6:15pm.

I expect next year's trip will be a bit different, partly because we'll probably be looking for other things to do once we've hit all the major hotels, but I expect it will be just as fun.

To read about the April 2002 Las Vegas trip, please click here.


Back to home.