Napa Rose - dinner - February 23, 2003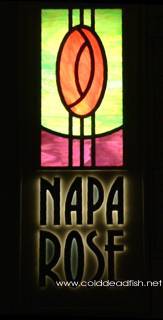 Since it had been a while since our last dinner visit, and there were things on the Winter 2003 menu that we wanted to try, we planned another dinner at Napa Rose and were joined by a friend. On our previous two dinner visits, the offerings of the Vintner's Table had been so good that we'd each ordered that, which unfortunately meant that we didn't try anything off the regular menu. We were actually happy to discover that this evening's Vintner's Table wasn't especially pleasing to us, so we eagerly looked at the regular menu's offerings, and we were pleased that our favorite waiter at Napa Rose was available that night.
After we had made our dinner selections, bread was brought to the table. I've always loved the bread "basket", which looks like a mix of branches and thorns. It goes great with the theme of the restaurant, and the nice mix of breads is a great addition.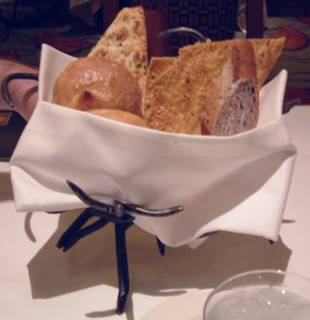 bread "basket"
As a starter, two of us had the arugula and endive salad. It closely resembles the awesome salad we'd had on our first visit in March of 1991, and while it wasn't exactly the same, it was tasty nonetheless.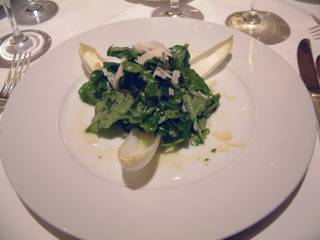 arugula and endive salad
For an entree, two of us decided on the lamb shank. In the past year or so, I've really come to like lamb, having refused to try it for most of my life. I've had it in several different restaurants now, and I've been quite happy with the way it's been prepared. While I did like the lamb here as well, the consistency of the meat was a little different than I'd had previously. My guess is that it has to do with the particular cut of the lamb, so it wasn't quite as tender as, say, a lamb chop, but rather, was a bit more solid. I do prefer the other cuts that I've had. Another person in the group ordered the rabbit and enjoyed the dish. For completely psychological reasons, I can't seem to bring myself to even try rabbit. Oh well. Lots of other meats out there for me.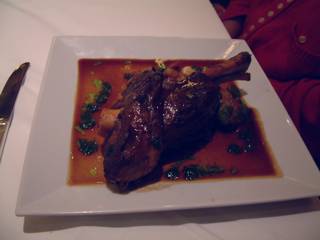 braised Colorado lamb shank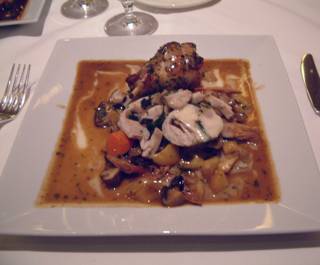 wine country roasted saddle of Sonoma rabbit
One of the other things that I'd seen on the menu that I'd definitely wanted was one of the side items: brussel sprouts. I happen to love them, so we got an order to share. They were delicious.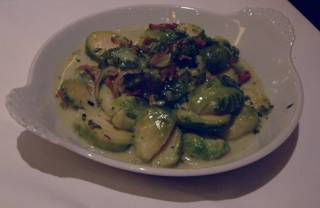 mmmmm, brussel sprouts...
For dessert, the other two people decided on the chocolate pate, which they both really liked. I decided on the trio of freshly made ice cream, which was very good. It was a trio consisting of vanilla, chocolate and strawberry. I'm not normally particularly fond of strawberry ice cream, but I really liked this strawberry ice cream. There were little bits of strawberry in the ice cream that much it so much better. If this was what normal strawberry ice cream tasted like, then I might actually enjoy neopolitan ice cream.
And yes, there was creme brulee on the menu, and yes, I happen to love that dessert, but I've been so spoiled that I only apparently like it at one restaurant. I'd tried the creme brulee at Napa Rose during brunch a few months prior and while I thought it was ok, it was just ok to me.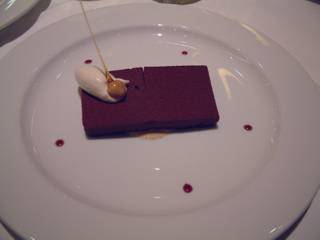 chocolate velvet pate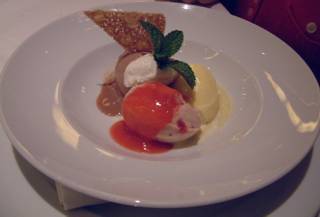 freshly made ice cream
As usual, the service was terrific. Still a very definite recommend for anyone who wants a nice dinner in a nice restaurant.
For other Napa Rose reviews, please click here.
For the current dinner menu offerings, please click here.
For the current Sunday Brunch menu offerings, please click here.
For Napa Rose menu offerings from prior seasons, please click here.
Back to DLR Restaurant Reviews.
Back to home.