Napa Rose - dinner - March 4, 2009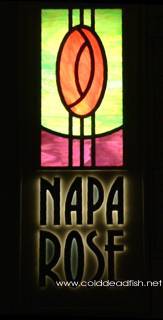 Napa Rose is one of my very favorite restaurants, so it's always nice to find an excuse for a visit - and what better excuse than a birthday? OK, so I think I've picked Napa Rose for my birthday dinner for the last couple of years now, but with the great experiences we have there, I'm hard-pressed to choose a different place. I had made a reservation for 5:30pm. That's quite a bit earlier than we normally like to eat, but we like to sit at the counter seats, which only have two seatings - 5:30pm and 8:30pm. The second seating was a bit late for this night, so I had chosen the first seating. I don't think we've ever gone to the first seating before.
We arrived just before 5:30, checked in and then were told we could wait in the lounge. After sitting for a few minutes, someone came over to take us to our seats.
Napa Rose has regular tables, but they also have counter seats which look out onto the kitchen. Not only do you get to enjoy their great food, but you also get to see what's going on in the kitchen as well. There is a bank of four seats on the left side (seats 1 and 2 are on the far left, and seats 3 and 4 are just to the left of the pass, where food is placed when it's ready for the runners to take them to a table), and these seats look out on the bread station, the appetizer stations and the salad stations. I've sat on that side a couple of times, but it's not my preferred location. There is another bank of four seats to the right of the pass (seats 5 and 6 are just to the right of the pass, and seats 7 and 8 are next to where the desserts are delivered), and these seats look out on the meat stations and dessert station. I believe the fish station is in the back and so not really easy to see from anywhere. There is also a row of seats directly in front of the dessert station, but while I've seen people sitting there quite some time ago, I haven't seen those seats occupied for the last couple of years.
My favorite location is seats 5 and 6, with me sitting at 5. You get a great view of the pass and can see what is coming up that other people have ordered. You also get a nice view of the meat station, where they're cooking all the steaks and other meats. You also have a glimpse of the dessert station as well. But mostly, seats 5 and 6 are directly in front of a work table in the kitchen, and oftentimes, the chefs are preparing things using that table, either for the night's dinner or for an item on the menu for another time, so you have a much better chance of chatting with a chef there and seeing what else might be going on in the kitchen.
We were situated in our seats and then perused the menu. A Vintner's Menu is offered, changing every week on Friday night, which is a tasting menu with four courses, and flights of wine can be added to accompany the courses. Oftentimes, the husband and I both order the Vintner's Menu because they usually have really interesting selections, but this week, the main course was rabbit, which I don't eat, so I decided to order off the regular menu, which the husband ended up doing as well. The server took our orders, and then Andrew Sutton, the executive chef, came by to say hi and welcome us back, and we also had the opportunity to say hello to a sous chef there that we've seen on many prior visits.
As we had been reviewing the menu, we had noticed one of the line cooks holding an item that looked very peculiar. She had taken it out to show one of the runners, and then she put it back in the bag, and we were intrigued. It turned out that the bag belonged to Andrew, and he took one of the items out and set it on the counter.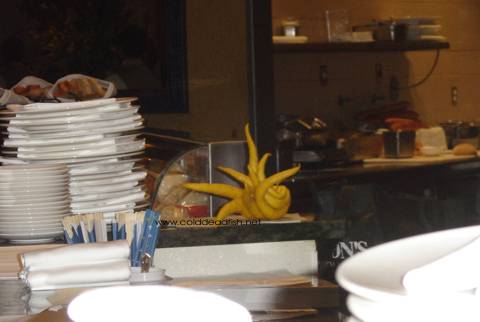 What the heck is that yellow thing? An alien creature?
Andrew then took another one out and was cleaning it.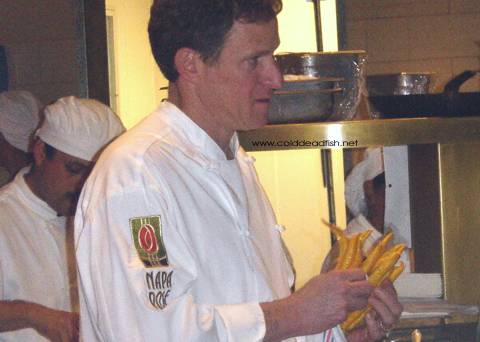 Executive Chef Andrew Sutton and one of those alien creatures.
Our wonderment was interrupted by the runner, who was bringing us a course. Normally, when someone orders the Vintner's Menu, there will be an additional little bite at the beginning, called the amuse bouche, which is usually presented as being compliments from the chef. Sometimes, if the majority of a table orders the Vintner's Menu, the entire table will get the amuse bouche, so as not to leave out the others. Since neither of us was having the Vintner's this night, we were surprised but pleased to also get the amuse bouche.
The amuse bouche was a green olive stuffed with duck and deep fried. It was just a taste, and I finished it in two bites, but the tanginess of the green olive was still very much there, so it was a delicious little treat.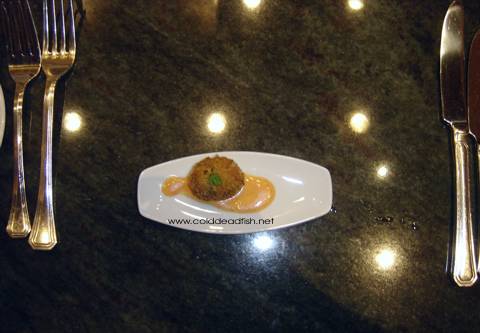 After that little morsel of interlude, our attention was brought back to the yellow alien creatures, which had seemed to multiply and were currently invading the kitchen.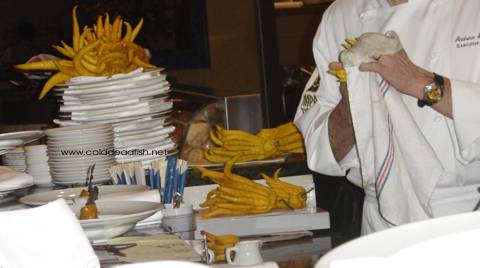 Andrew Sutton next to the plethora of alien creatures.
We asked Andrew what the things were, and he said that they were ancient lemons. And we waited for him to tell us what they really were. And he wasn't kidding. He said that originally, lemons grew in that shape, and that over the years, they've been engineered to look like what most people now know as a lemon. These were actually lemons from a tree that he grew at home, and he said that no two look the same - you never know how many tentacles each fruit will have.
Our lemon talk was interrupted by more food. For a starter, the husband had ordered the duck meat balls with pumpkin fettuccini and roasted shallots in a sage-duck sauce. He very much enjoyed this dish, and he particularly liked the sauce.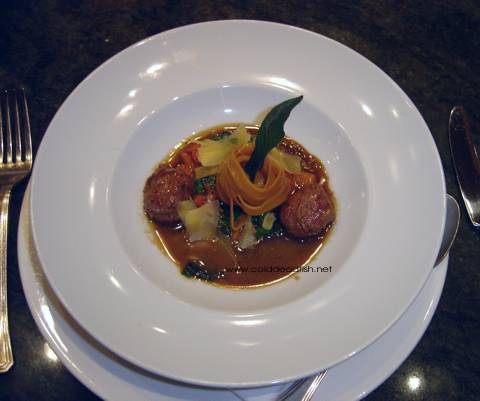 For my starter, I had chosen the tempura fried lobster and asian beef salad, which included mizuna (a type of lettuce) salad with black radish, green apples and coconut-lime vinaigrette. I hadn't even thought about the items in the dish until the server had mentioned that it was a small version of surf 'n' turf. The lobster was nicely fried, crunchy outside and tasty inside. The beef was also tender and nicely flavored. I am generally not a fan of coconut in food (as opposed to dessert, which is fine to contain coconut), but I found myself really liking the coconut flavoring mixed with the tangy lime in the sauce. One thing I did not expect was how spicy the dish was. I'm not really sure what was in it, but it had a definite kick, and the spiciness stayed and multiplied as you had more. I really enjoyed the dish, and I would have ordered it anyway, but I would have preferred to have the spiciness tempered a bit, and I would have liked some kind of indication from the menu description that it was indeed spicy. The serving was also a good-sized portion, especially for a salad course. There was quite a bit of beef and three pieces of lobster, and there wasn't actually that much salad. This could have served very nicely as an entree for a light eater.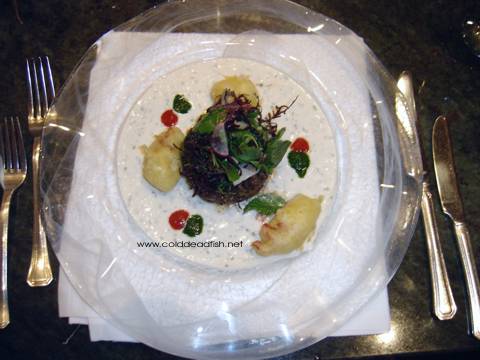 The salad is on top, and the beef is nestled underneath.
And then, back to the lemon saga. Instead of having the lemons just lying around, Andrew had arranged some on the other side of the pass and also arranged some right next to where I was seated. They were a bit in front of me and to the left, but it didn't take long for the wonderfully fragrant lemony scent to come wafting in my direction.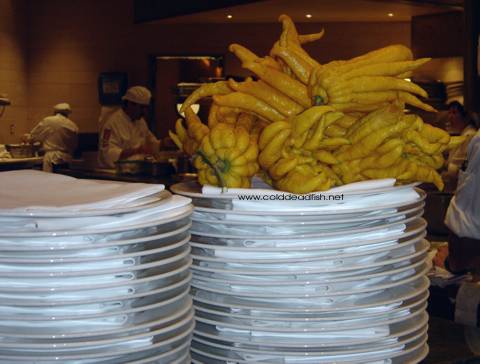 OK, back to food. For a second course, the husband had ordered the tempura fried lobster and asian beef salad that I'd had as a starter. He managed to avoid some of the spicy sauce so it wasn't quite as spicy for him. I had decided not to have a second course (which turned out to be a *very* good idea) and just had bread while the husband enjoyed his course.
After he was done and the plates had been cleared, we were talking and looking around the kitchen, and then the runner brought us each a little cup. He explained that it was the soup of the day, which was ginger carrot soup with wild rice and chicken. It was a lovely taste and another nice surprise.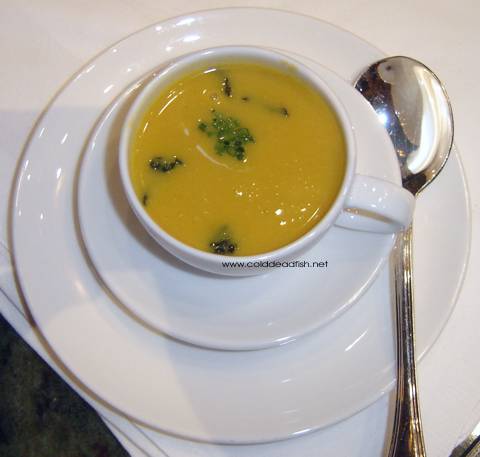 As we were enjoying our soup, Andrew came by with one of the lemons and starting cutting it on the work table in front of us.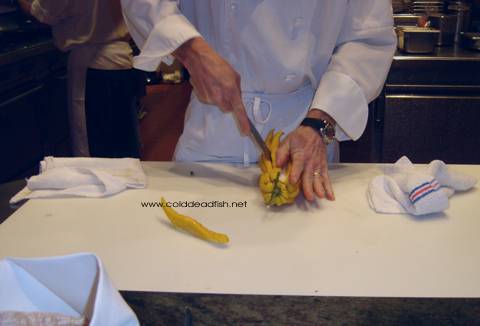 He was cutting each tentacle off and then trimming it. You could see inside after he'd cut it, and it wasn't pulpy like regular lemons. It was mostly just the outside yellow skin part and the white inside. (We commented that this was the perfect lemon to use if you need a lot of zest since there's much more of it than with a regular lemon.) He said that he was going to be making a marmalade out of some of the lemons and explained to us how he was going to prepare it. He also said that the lemons keep very well and mentioned a few other things he like to use the lemons for. As he was cutting through it, the lemon scent became even more pronounced.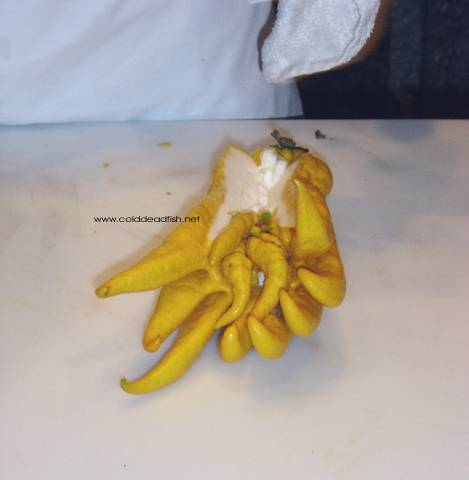 With a couple of tentacles missing, it looks like a mangled, upside-down latex glove.
After we finished our soup, we were watching the kitchen again, and I noticed them preparing one of the other items I'd seen on the menu - cranberry and port wine braised pork osso bucco. The portion size was HUGE, and I understand that there's a bone inside, but still.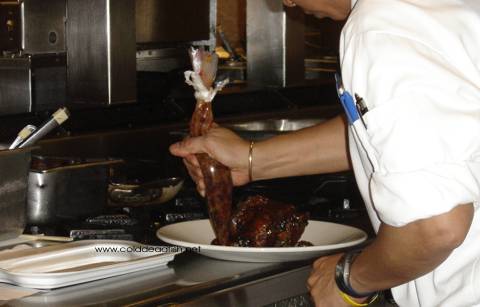 A line chef plating the pork osso bucco and adding sauce to the plate.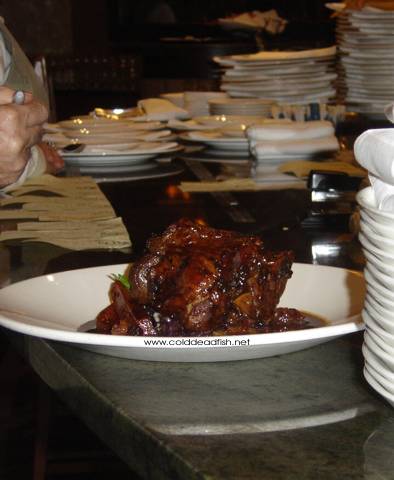 Here's what the final dish looks like, sitting on the pass, ready to be delivered to a table.
Shortly afterward, our entrees were brought to us. The husband ordered the thyme roasted yellowtail with winter wild rice risotto, toasted pine nuts and oven roasted root vegetables. He very much enjoyed his dish, especially the seasoning on the yellowtail. He did not, however, like the cilantro sprouts which were on the risotto tower. He happens to hate cilantro, so once he realized what they were, he moved them onto his bread plate.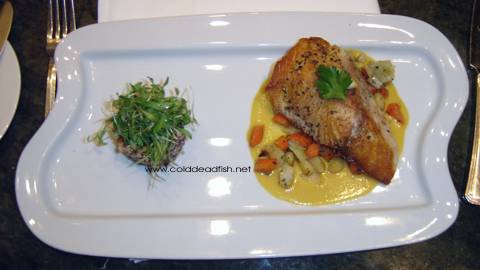 I ordered the Santa Barbara walnut crusted rack of Colorado lamb (cooked medium rare) with braised lamb shank, roasted parsnips and winter mushrooms. The lamb was cooked perfectly and was absolutely delicious - moist, tender and juicy. The vegetables and mushrooms added a nice accompaniment, as did the sauce. There were a couple of pieces of lamb shank to the left, which I had some of. It was tasty, but it confirmed my previous experience that whereas I like lamb chops, I am not particularly fond of lamb shank. I can't really pinpoint why I don't like it, but it seems denser and heavier cooked that way, traits I don't find with lamb chops.
As we were enjoying our entrees, Andrew came back to the work table and had four little copper pots with things in them. He cut up a few small slices of lemon and mixed them in on top. And then he put one of the little pots in front of us to try, and he took the other three pots to other tables. The dish had scallops and oyster mushrooms and other vegetables as well as little pasta shaped like tiny bowls. It was very delicious. Another nice treat.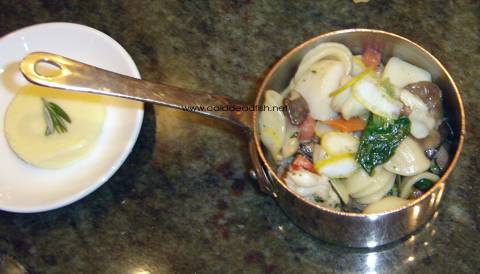 As much as I liked the lamb, I ended up not finishing all of it. I was very glad I hadn't ordered a second course, but with the extra goodies we'd gotten and the large portion of my starter, I was already too full to finish my entree, especially since I wanted to have dessert.
After our dishes had been cleared, the server came by with the dessert menu.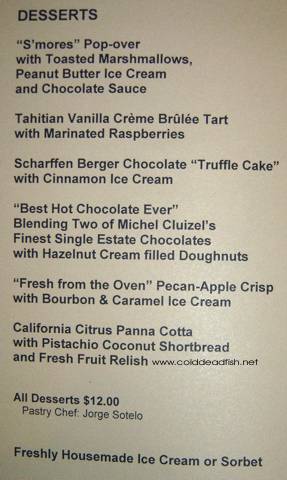 As we were looking at the menu, Andrew came back and was talking to us about the desserts. He said that he really liked the s'mores, which had the marshmallow and chocolate wrapped in a pastry dough and then deep-fried. I told him that was one of the choices I was considering, but that I was also looking at the panna cotta. Andrew's reaction to that was that panna cotta is nice and light but entirely boring. I'd only discovered panna cotta a couple of years ago, so I haven't tired of it yet. But at least Andrew agreed with me that vanilla creme brulee is really boring. I told him about my introduction to creme brulee, which involved three different flavors, and how vanilla just does nothing for me. He said that some people just didn't want anything other than vanilla, but that he's made it with lots of different flavors before, and that the corn creme brulee was quite good. I did decide on the s'mores for dessert, and the husband just had an espresso.
The s'mores were very delicious indeed. The deep-fried part sat on a bed of marshmallows that had been toasted, and the peanut butter ice cream on top was a nice addition. And they even prettily decorated my plate. And to top it off, when our bill was brought to us, we were told that the dessert was complimentary since I was celebrating a birthday. How very nice.

I very much enjoyed the food itself, the items we ordered and the surprises as well, but I also really enjoyed being able to talk to Andrew. We had the good fortune of being there on a night when he brought the lemons, which generated much discussion among us. It was also not terribly busy, so Andrew had time to wander by periodically to chat. I also had the opportunity to ask him (as well as others of the cooking staff) about items being prepared or general cooking/food questions. We knew that the new Vintner's Menu would be introduced on Friday, so the husband asked what was going to be on the new menu. Andrew said that the first course would be fish (he didn't know what kind yet), the second course would be pheasant, and the main course would be veal oscar. Andrew also ended up telling us about a book that he's currently reading and how interesting it was, so it was also nice to be able to talk to him about things that weren't necessarily directly related to food.
As usual, the service was good, with our water glasses being refilled and plates promptly taken away. This was the first time, though, that I had a server I wasn't entirely happy with. He didn't do anything wrong per se, but his manner was just a little off-putting. Since there are many people who are return visitors to Napa Rose, I was surprised that he never asked if we'd been there before, so that meant that he was explaining things to us that we knew because of prior experiences. Some of his mannerisms and speech patterns also came across as being a little insincere.
But, that minor quibble did nothing to diminish another wonderful meal and evening at Napa Rose.
For the trip report for the rest of the day prior to dinner, please click here.
For other Napa Rose reviews, please click here.
Back to DLR Restaurant Reviews.
Back to home.