Napa Rose - dinner - July 25, 2004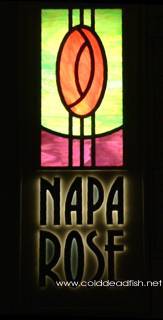 We very much enjoy Napa Rose, but we hadn't had a chance to try one of the "kitchen seats", so we decided to make a trip specifically for that reason. Napa Rose of course has normal table seating, but there are also groups of seats at a counter so that the diner faces the open kitchen. One section of four seats is located to the left as you look at the kitchen, between the salad station and a stove station. There is another grouping of four seats to the right, between another stove station and the dessert station. There is another group of seats right by the dessert station, but those seats seem rarely offered. We had not made a reservation, but with just walking in, it turned out that the two seats to the very left were available, so we were taken to those. A manager came by to let us know that our server would be with us shortly and asked for our drink orders. As we perused the menu, we both decided to have the Vintner's Table for the evening, as the selections sounded good. We then spent a bit of time watching the various cooks as they worked in the kitchen. The manager came back a few times and apologized that our server was delayed at other tables, but bread was brought out shortly, and we were in no hurry. The manager asked if we had any questions about the menu, so we told him that we both planned to order the Vintner's Table. He said he thought they might have just run out, so we picked up our menus again and looked at what else we might order. Our server came by a bit later and apologized for the delay. We asked about the availability of the Vintner's Table, so he went to check with the chef. He came back and said that there was one regular order left. However, as they had run out of the first course (striped bass), they could offer other orders with a substitution of halibut, so we went ahead with our orders. A few minutes later, our server came back to apologize that he had misunderstood and that there were no original versions of the Vintner's Table available, only with the first course fish substitution. As it didn't matter to us, neither of us changed our orders.
As we waited for our first course, we again watched the kitchen staff as they went about their work. One of the prep staff had been working right in front of us, and we had been wondering what it was that he was dishing out into little tiny cups. Our question was soon answered when our complimentary additional first course was brought to us - and it was the soup that he had been dishing out. We continued to watch him as he very carefully prepared the accompaniments that were to be added to a cheese plate.
The first course fish dish was brought out to us, and it was very tasty. I also enjoyed the second course of blackberry barbequed duck with mushroom risotto. I am not particularly fond of risotto, and I knew there were two courses to go, so I mostly just picked the mushroom out of the risotto. The main course was a grilled lamb "t-bone" with a white bean salad. The lamb was very, very good and simply seasoned with rosemary, salt and pepper, so the flavor of the lamb really came out. It was a very generous portion, though, with two lamb t-bones per plate. That would have been a perfectly fine portion if the dish was just a regular entree, but since it was part of a four-course meal, one lamb t-bone would have perfectly sufficed, especially since there was plenty of meat on each t-bone. The lamb tasted very good, but I left quite a bit of my second t-bone because I just could not finish it, and I left most of my white bean salad, just picking out the sun-dried tomatoes and grape tomatoes. Dessert was a summer peach melba with pecan praline ice cream and raspberry coulis and was absolutely delicious.
Service as usual was terrific. The seating arrangement, however, did prove to be a bit awkward, as you couldn't see the runners coming up with the food plates, so they had to verbally make their presence known. In addition, any time someone refilled our water glasses, they had to reach over us to do so, and they had to do the same to clear our dishes. However, as awkward as it probably was for them, they still did a great job. Our server was pleasant and friendly, and the only glitch was with regard to the wine. My husband had added the flight of four wines to his meal, and one of the glasses of red wine that he had gotten wasn't to his liking, with the bottle having been open for too long, he figured. When he asked the server about it, though, the server didn't seem very knowledgeable, which was surprising as in all of our previous visits, the servers were all wine educated, not surprising given that the staff of Napa Rose includes quite a few sommeliers. However, the server did immediately bring another glass of the wine, which proved to be just fine.
We very much enjoyed being at the kitchen seats because in addition to watching the goings-on in the kitchen, the chefs who were acting as the expediters for the evening both came over at different times to inquire about our food, so we had a chance to chat with them for a while. We've noticed that usually, Executive Chef Andrew Sutton is the expediter, but he wasn't there that evening. One of the chefs was a sous chef, and we figured the other chef was the chef de cuisine. Sitting at the kitchen seats is not something we'd do all the time, but it's a nice change of pace to what you normally see in the restaurant. At some point, we do want to do the kitchen seats again, but this time, on the right side of the kitchen.
As always, another terrific meal at Napa Rose.
For other Napa Rose reviews, please click here.
For the current dinner menu offerings, please click here.
For Napa Rose menu offerings from prior seasons, please click here.
Back to DLR Restaurant Reviews.
Back to home.