Napa Rose - dinner - August 19, 2006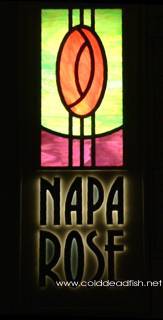 With friends in from out of town and to celebrate another friend's birthday, Napa Rose was the perfect place for dinner. Since the decision was made fairly late, the earliest available reservation at that point was 8:30pm, which was a bit later than we normally liked but worth the wait for this particular restaurant. Those who arrived first made themselves comfortable in the lounge, and when everyone had arrived, the hostess came over to take us to our table.
One of the difficulties at Napa Rose is always deciding what to order. The most difficult decision is always whether or not to order the Vintner's Table, which changes weekly, starting on Friday. Here was the current week's Vintner's Table with available wine pairings:
Crispy Fried Goat Cheese Stuffed Squash Blossom with Farm House Heirloom Tomato Gazpacho and Jicama Cucumber Relish
Laura Aschero, Pigato, Riviera Ligure di Ponente, Italy 2004
Cider Roti Roasted Suckling Pig with Fava Bean Angolotti Pasta, Gala Apple Salad and Sweet Summer Corn Sauce
Fanucchi Vineyards, Old Vines Zinfandel, Wood Road Ranch, Russian River Valley 2000
Marinated Black Angus New York Steak with Roasted Red Peppers, Potatoes, Leeks, and Lemon Basil, and Golden Chanterelle-Barolo Sauce
Michele Chiarlo, Barbaresco DOCG, Piemonte 1999
The Outrageous "Dancin Demon" Plum
Truly the Best Plum of the Year with Lemon Curd-Almond Cake Tart and Honey Lemon Creme
Vin de Glaciere, Bonny Doon Vineyard, Muscat 2004
On this particular evening, three people decided to order the Vintner's Table with the wine flight, two of us ordered the lamb (Colorado Lamb Prepared Two Ways: Roasted Lamb Rack with Sundried Tomato Tapenade and Lamb Osso Buco Braised in a Roasted Garlic-Rosemary Essence), and another person ordered the short ribs (Angus Beef Short Rib Braised "ever so slowly" with a Cabernet Sauvignon-Blackberry Jus and Sour Creme & Chive Whipped Potatoes).
With a Vintner's Table order, the chef customarily sends out a complimentary taster dish. On this occasion, each of us received the taster dish even though only three ordered the Vintner's Table, so I thought that was very nice. The taster dish was chopped portabello mushroom with cheese on a crostini and was very tasty.
I had originally decided to have the diver scallops as a starter, but when the server told us that the soup of the day was a lobster lemongrass soup with mussels, I decided to change my order because it just sounded too good. And it definitely lived up to my expectations. The broth was absolutely delicious and the small tastes of lobster meat and mussels were a nice addition. Those who had the squash blossom enjoyed their dish as well, which was very nicely presented. Unfortunately, we were so busy enjoying our dishes that we completely forgot to take pictures of them.
For a second course, I had decided on the asparagus ("Simply Grilled" Fresh Locally Grown Asparagus with a White Asparagus & Tomato Relish and Truffled Lemon Vinaigrette). I love asparagus, so that wasn't a tough decision to make. The asparagus was cooked slightly more than I would have preferred, but it was still delicious, and the added white asparagus on top was a terrific complement, as was the small taste of cheese. Everyone who had the suckling pig enjoyed their dishes as well.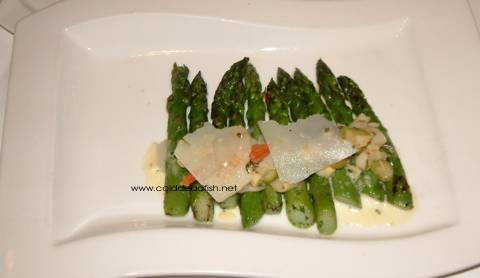 Asparagus starter.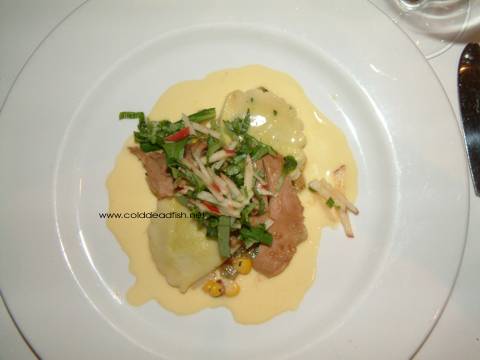 Roasted suckling pig with angolotti pasta.
I had seen the lamb entree on the menu for a number of months now, and it was definitely something I wanted to try. It definitely did not disappoint. The lamb rack was very tender (I generally order my meats cooked medium rare) and juicy, and the osso buco came very easily off the bone. Those who had the steak enjoyed their meals, as did the other person who also ordered the lamb and the person who ordered the short ribs.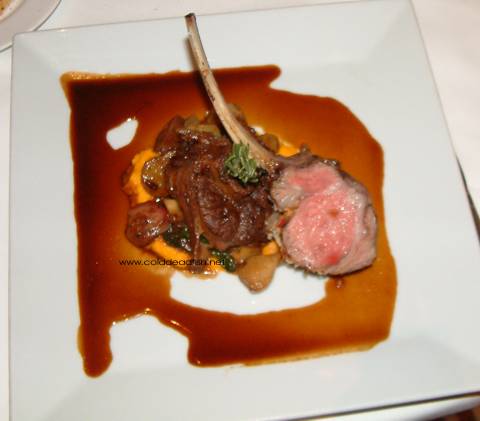 Colorado lamb two ways.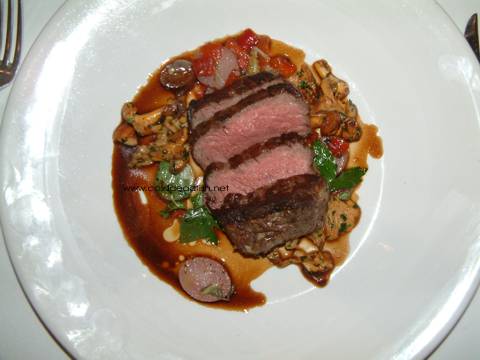 Black Angus marinated New York steak.
For dessert, I knew that I was going to do something slightly unconventional. (Click here for a full-sized readable version of the dessert menu.) I ordered the Napa "Pick Me Up" (Valrhona Chocolate-Espresso Mousse Cake with Bailey's Irish Coffee "Pot au Creme"). However, one of my favorite things at Napa Rose is their strawberry ice cream, which they make in-house. I am not generally a fan of strawberry ice cream, but then, no other strawberry ice cream tastes like Napa's. I ended up getting a very small scoop, and I shared it with everyone at the table. Most people don't understand why I rave about something as seemingly mundane as strawberry ice cream, but like my dinner companions, their minds change immediately upon tasting the amazing flavor of this ice cream. The general reaction is "Wow" accompanied with a stunned look of disbelief at what they're tasting. I enjoyed my regular dessert as well. The mousse cake was heavenly though very rich. The "pot au creme" actually was quite sweet, and the combination of the two was a bit sweeter than I would have liked. Those who had the plum tart very much enjoyed them, with some even saying they weren't generally fond of plums but really enjoyed them prepared this way. Others of our party enjoyed the creme brulee (prepared a bit differently than other restaurants usually prepare it) and the flourless chocolate cake.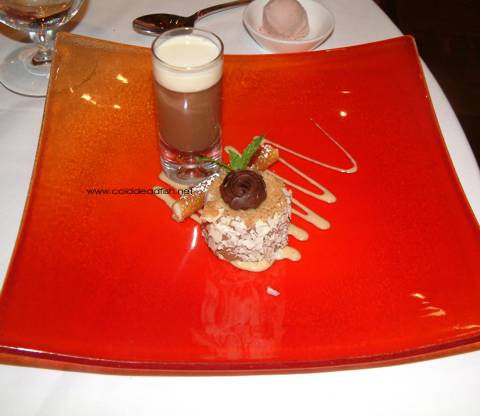 Napa "Pick Me Up".
(The scoop of strawberry ice cream is at the top of the picture.)
Plum tart.
Service this evening had slightly more glitches than we normally experience there. There were a few occasions when some of us had to wait for additional utensils in order to enjoy our next dish, and one person had to wait for a while to get his iced tea, and some of the wine flights arrived a bit later than they should have, but refills of water and ice tea were very prompt. Our server seemed to be handling quite a few tables located throughout the restaurant, which we attributed to the less than stellar service, but she was very nice and friendly to us. The friend who was celebrating a birthday had "happy birthday" written in chocolate on his dessert plate, and the server even sang him a special birthday song.
Napa Rose remains my favorite restaurant at the Disneyland Resort, and one of my favorite restaurants period, and a dining experience that I definitely recommend. Oh, and do try the strawberry ice cream.
For other Napa Rose reviews, please click here.
For the current dinner menu offerings, please click here.
For Napa Rose menu offerings from prior seasons, please click here.
Back to DLR Restaurant Reviews.
Back to home.