Napa Rose - dinner - October 30, 2005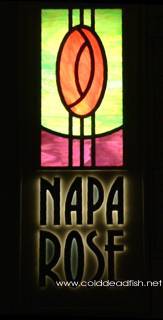 Napa Rose is one of our favorite restaurants, and while their regular seasonal menus are always good reasons for a dinner there, their weekly-changing Vintner's Table menu can present even more of a draw. After perusing this week's Vintner's Table offerings, which appealed to the seafood lover in both of us, we knew we had to pay a return visit.
We didn't have a reservation this evening but were accommodated nonetheless. If the restaurant is not fully booked with reservations, they will gladly accept walk-ups as well. We asked for one of the counter seats and were told they were available. Since we had gotten there slightly before their first seating time of 5:30pm, we were asked to wait in the lounge area until the restaurant was open. When we had seated ourselves at a table, a server came over to ask if there was anything she could get for us, but we told her that we were just waiting to be seated, and she wished us a good dinner. She had already put down a couple of cocktail napkins, and I was pleasantly surprised to see that they were specifically imprinted for the restaurant. I don't recall having noticed that before.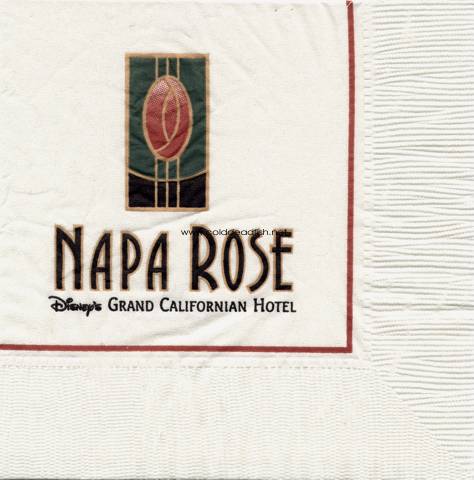 Napa Rose cocktail napkin.
Shortly after 5:30pm, a hostess came over to take us to our seats, and we ended up being seated at the same counter seats as on our last visit. There are four seats in between the food delivery counter (where the finished dishes are given to the runners to take to their respective tables) and the dessert delivery counter, and we sat at the two seats closer to the food delivery counter. When we got to our seats, directly in front of us in the kitchen area was a tray of vegetables that had been prepared and was cooling. These vegetables would be used for the lamb shank dish, and the wonderful smell of them drifting towards us definitely made us ready for dinner, even at that early hour.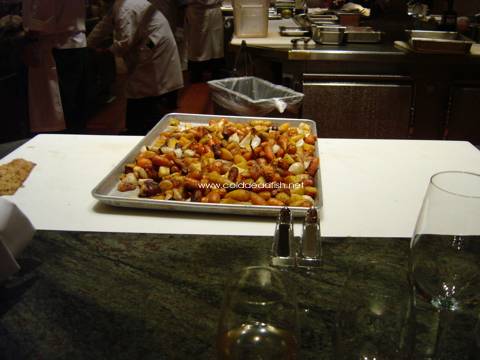 We looked over the menu just to see what else was on it and were surprised to discover that the menu was different than when we had last looked at the menu about two weeks prior. We later discovered that this new menu was in its second week, so they must have just changed the menu right after we had seen the previous one. Even though there were other items on the menu that looked tempting, it was the Vintner's Table that had brought us in this evening, so we both ordered that, and my husband added the wine pairings.
Here's the Vintner's Table menu for this week, with the accompanying wine listed underneath each item:
Tempura Fried Ahi Sashimi with Ginger-Soy-Sesame Vinaigrette
Shafer-Frolich, Estate Riesling Kabinet, Nahe, 2003
Wine Country Stew of Lobster, Veal Sweetbreads and Pumpkin with Three Sauces
Terre Rouge, "Enigma" Marsanne-Rousanne-Viognier, Sierra Foothills 2003
Grilled Diver Scallops on Salsify-Potato Puree, with a Ragu of Golden Chanterelles & Applewood Smoked Bacon
Tantara, Pinot Noir, Santa Maria Valley 2003
Persimmon Harvest Trilogy!
Persimmon Cake with Cinnamon Ice Cream, a Persimmon-Apricot Tart with Caramel Mascarpone and a Pecan Persimmon Parfait
Colosi, Malvasia Delle Lipari, Aeolian Islands, Sicily 2002
Our meal started off with a complimentary dish from the chef of salmon atop gold potato, which was very tasty with good flavor from the salmon.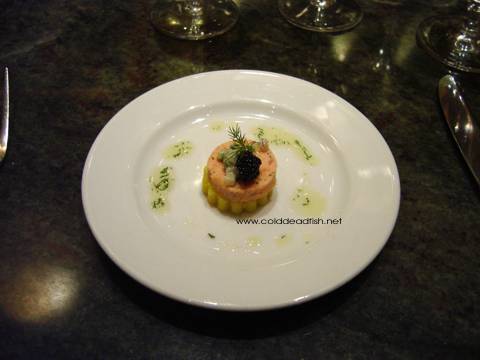 The first course arrived, and it was definitely a great start to the Vintner's Table, to the point that I remarked to the runner that it seemed a shame to disturb such a beautiful creation. He assured me that the work of art tasted just as good as it looked, and he was certainly right. Two pieces of Ahi sashimi had some shiitake mushrooms and wasabi in between them, and the whole thing was wrapped in seaweed and then tempura fried. The tempura frying was so light that just the very outsides of the ahi were cooked. The ginger-soy-sesame vinaigrette was a great complement to the wasabi and the flavor of the ahi itself.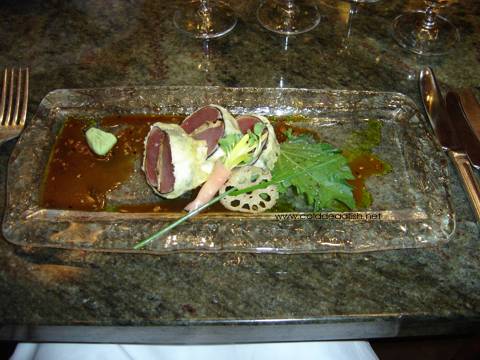 The second course was the wine country stew, and it was an even tastier course than the first. A mix of sweetbreads and lobster pieces were inside a puff pastry bowl of sorts, with a lobster claw on top and three different sauces on the plate. The mix of sauces as well as flavors of the sweetbreads and lobster were just amazing.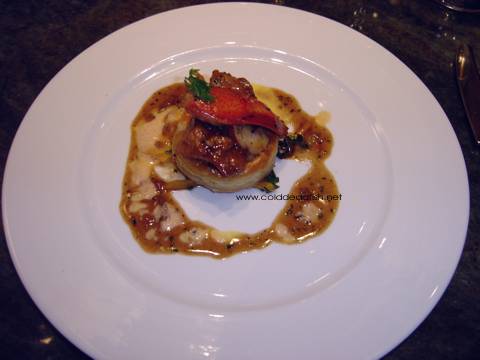 The main course was the diver scallops, and the first thing we noticed was how big the scallops were, not just in dimension but in depth. These scallops were twice as thick as scallops we're used to having everywhere else. Again, the mix of tastes from the various sauces and the scallops themselves were wonderful.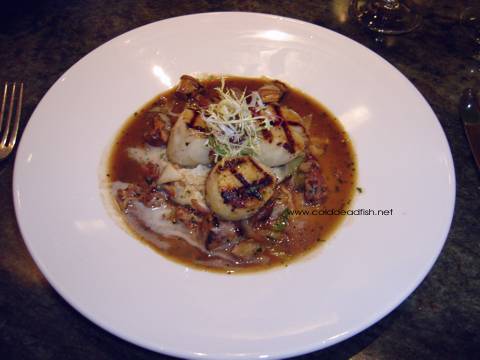 As we waited in between courses, we spent the time watching the various cooks working and looking at the dishes they were preparing. We have come to really enjoy sitting at counter seats for that very reason. It takes the cooperation of each member of the kitchen to make sure that dishes are prepared correctly and in a timely fashion and that they are presented as appealingly as possible. We noticed a few times that chefs would turn this or that item to make sure it was presented better, and you could always see the chefs being very careful in their preparation of their dishes. From the seats we were in, we also had a great view of every dish right before it was delivered to its table. It sure makes you want to come back often enough to try all the dishes.
The lamb shank (almost the size of a turkey leg) is the closest dish.
The dessert course was no less spectacular than any of the courses that preceded it. The persimmon cake was full of flavor, complemented very well by the cinnamon ice cream which was exploding with cinnamon flavor. The persimmon-apricot tart was very light in flavor, as was the pecan persimmon parfait, and I especially enjoyed the flavor of the pecans with everything else on the plate.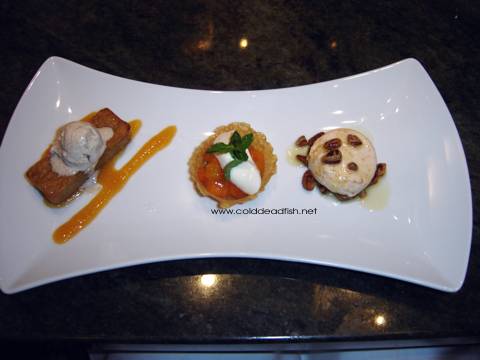 We of course knew that dessert had been included with our meal, but during the course of dinner, we had noticed desserts being made that we didn't recognize, so we figured they must have changed to a new dessert menu. We asked our server if we could look at the dessert menu, and we were able to match the new listed items with the items we'd been seeing being made.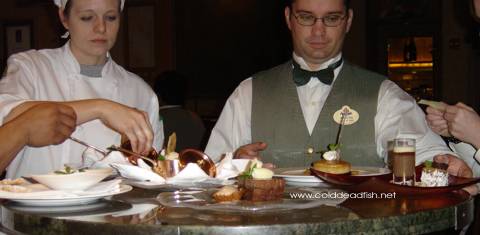 Desserts about to be delivered to their tables.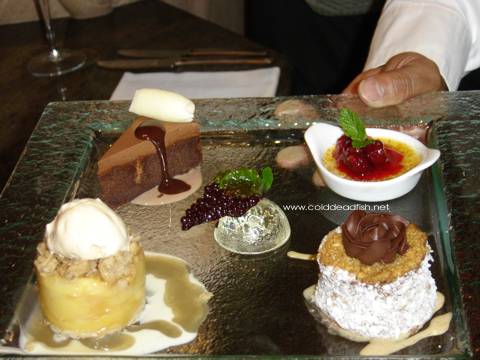 A close-up of the signature dessert - a sampler of unique desserts.
One of the other advantages of sitting at a counter seat is that you have an opportunity to speak to the chefs. They are very forthcoming about answering questions about various dishes and are excited about talking about the restaurant. There were times when we couldn't figure out what this or that dish was, and during a lull time, we would ask a chef or server or runner, and they were happy to explain. We've not sat at the counter during a very busy time like on a Saturday night, so I would expect it would be a bit more difficult for them to spend time talking to guests since they would be more busy doing their jobs. At the end of our meal, we were just sitting there watching the kitchen, and since it was a bit of down time for them, we ended up spending quite a few minutes talking to one of the lead chefs. He talked to us about how the Vintner's Table menus are created, the care and thought that goes into creating each menu and even in the wording and formatting of the menu, and the dynamics of the kitchen. It was really informative, and we always enjoy listening to chefs speak with passion.
It was yet another remarkable meal at Napa Rose.
For other Napa Rose reviews, please click here.
For the current dinner menu offerings, please click here.
For Napa Rose menu offerings from prior seasons, please click here.
Back to DLR Restaurant Reviews.
Back to home.