Napa Rose - dinner - November 5, 2006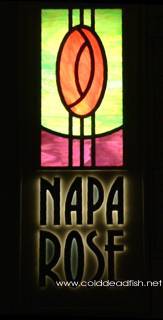 On this particular evening, there were four of us at dinner, and while I had decided to order off the regular menu, the other three people all decided to have the Vintner's Table, which this week was as follows, with the accompanying wine pairings:
Meyer Lemon Grilled John Dory with a Salad of Beluga Lentils, Cauliflower, Roasted Beets & Watercress
Feudi di San Gregorio, Fiano di Avellino DOCG, Campania, Italy 2003
Chanterelle Fettuccini with California Spiny Lobster and White Truffle Butter
Baileyana, Chardonnay, Grand Firepeak Cuvee, Edna Valley 2004
Roast Red Deer Venison Rack with Persimmon Jam Toasted Pumpkin, Pecan, Corn Bread Stuffing and Zinfandel Jus
Robert Biale Vineyards, Zinfandel, Napa Ranches, Napa Valley 2004
Honey Crisp Apple-Huckleberry Panna Cotta and Mini Candied Pink Lady Apple
Bonny Doon Vineyards, Vin d' Glaciere, Muscat, Santa Cruz Mountains 2005
Presumably because three of the four of us at the table ordered the Vintner's Menu, they were gracious enough to bring four servings of the amuse bouche, so I was able to partake of the complimentary course which normally just accompanies the Vintner's Menu, which this time was big eye tuna and was very good.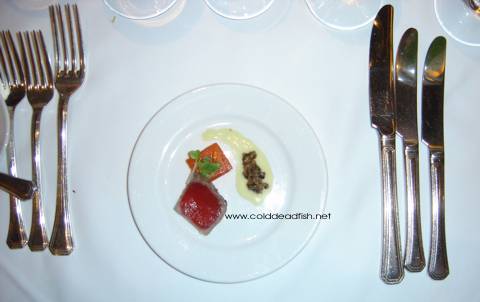 Complimentary starter course.
For my first course, I had ordered the Cornmeal Crepes filled with Warm Dungeness Crab and Swiss Chard on a Sauce of Chanterelle Mushrooms, Apples and Roasted Kuri Squash. There wasn't quite as much crab as I would have liked, but the crepes were still very tasty. The three others very much enjoyed their first course of John Dory.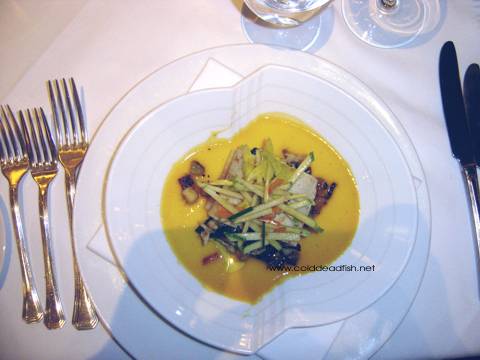 Cornmeal crepes with dungeness crab.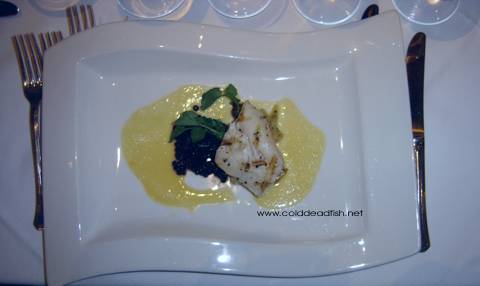 John Dory.
For my second course, I had decided to have the soup of the day, which was mushroom soup. Their mushroom soup was incredibly good, with a very strong mushroom flavor and bits of mushroom in the soup as well. The other three people did not envy my soup at all, though, as they were too busy raving about the spiny lobster fettuccini. They loved the sauce in particular so much that when the fettuccini was gone, they used bread so as not to waste any of the sauce.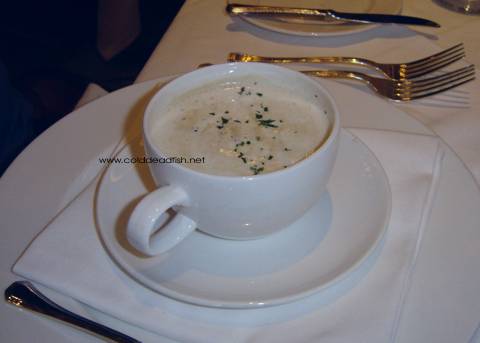 Mushroom soup.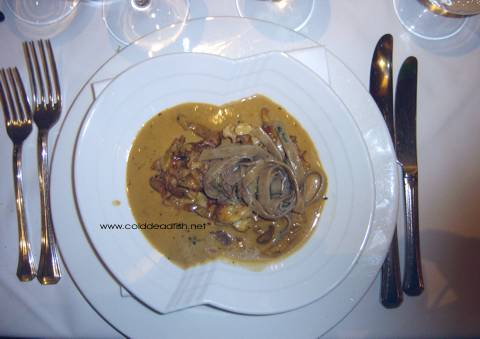 Chanterelle fettuccini with California spiny lobster.
My main course choice had been the original reason for the dinner this evening. Having recently discovered an affinity for macaroni and cheese, I had been joking with some friends that we'd never see mac and cheese on the Napa Rose menu, so when I first saw that the new autumn menu had a dish with a version of mac and cheese, I knew I had to try it. The dish is described as: Grilled "Center Cut" Rib-Eye Steak and Farm House Bacon & Cheddar "Mac-n-Cheese" with Apple & Whole Grain Mustard Beurre Blanc and Cabernet Sauvignon Reduction. The ribeye steak was expectedly quite good and perfectly cooked. The mac and cheese was definitely not the comfort food variety that most people know as the grain being used was orzo pasta, and the dish had been baked a little so that the top was a little crusty. It was exactly the kind of "mac and cheese" that you'd expect at a restaurant like Napa Rose, and I definitely recommend this dish. The other three people were also very much enjoying their entree of venison.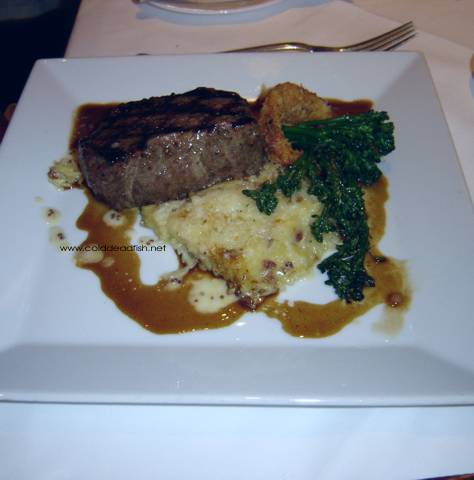 Ribeye steak and "mac and cheese".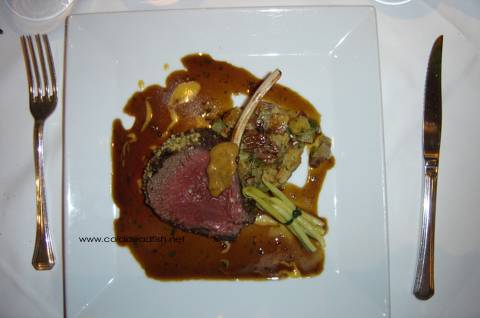 Venison rack.
For dessert, I had the Autumn Pumpkin Chocolate Cheese Cake with Pumpkin Ice Cream, Macadamia Biscotti and Cranberry Sauce, which was all very good.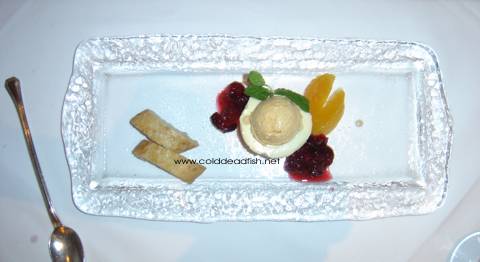 Cheesecake and ice cream.
The other three people enjoyed the panna cotta portion of their dessert, but while the mini candied apple looked very cute, they all agreed that its decorative qualities were the only good thing about it. The texture of the apple was not very good, and the apple was hard to even bite into or cut to even taste it. While they each finished every other part of the meal, most of the mini candied apple was the only thing that each of them left unfinished.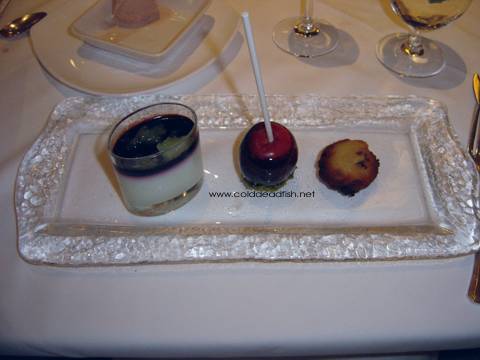 Panna cotta and mini candied apple.
Another wonderful meal at Napa Rose.
For other Napa Rose reviews, please click here.
For the current dinner menu offerings, please click here.
For Napa Rose menu offerings from prior seasons, please click here.
Back to DLR Restaurant Reviews.
Back to home.