Napa Rose - Sunday Brunch - December 29, 2002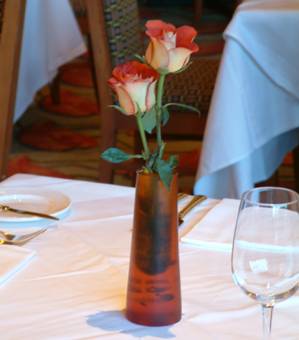 A vase of roses adorns each table.
It had been about a year since my last visit to the Sunday brunch at the Napa Rose Restaurant in the Grand Californian Hotel. The menu offerings had changed a bit, so we wanted to try the brunch again, and two other people came along on this occasion. The brunch is currently a three-course menu (drinks are not included) for $35 per person, with the option to add endless champagne for an additional $8.50 per person. There are choices available for a first course (including a soup of the day), a main course (including a chef's special of the day) and a dessert. However, the restaurant is quite accommodating if you can't find a course in each category. On a prior visit, with two of us there, we couldn't find two desserts we wanted, so we were able to order for dessert a fruit selection that had been offered as a first course. On this visit, one of the people didn't want dessert and so was able to choose two items off the first course selections instead.
As soon as you're seated, you are offered champagne as you peruse your menu. Each of us decided to partake this day, and our glasses were constantly refreshed. Once our order was taken, a basket of bread was brought to our table. The bread selection included mini-croissants, mini corn muffins, rolls and walnut bread, which was my personal favorite.
For our first course, three of our group ordered the lobster "martini". I had a taste, and the lobster was quite tasty, and I especially enjoyed the strong citrus flavor. I had the grilled quesadilla filled with duck, which I quite enjoyed.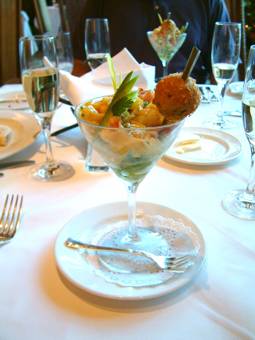 lobster martini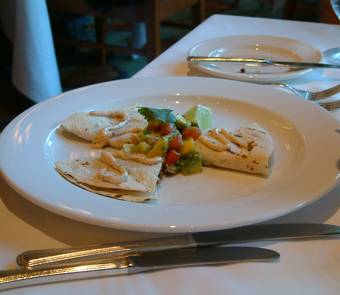 duck quesadilla
As I mentioned, one person in our group ordered two items off the first course list, so her second item, the soup of the day which was portobello mushroom, was brought shortly thereafter.
For our main courses, one person had the poached eggs rancheros, one person had the grilled medallions of beef, and two of us had the chef's special of the day, which was cioppino. On my first visit to Napa Rose in March of 2001, one of the dinner offerings was cioppino. Being a particular fan of the dish, that's what I ordered, and I absolutely loved it. I had been disappointed that with the restaurant's seasonal menu changes, the cioppino wasn't offered thereafter, so I was especially pleased that it was the chef's special of the day. The cioppino consisted of clams, mussels, fish and shrimp and was just as good as I remembered it. I wouldn't normally have cioppino for lunch, but I just couldn't pass it up. Everyone else was quite pleased with their meals as well.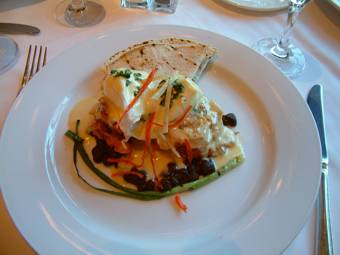 poached eggs rancheros
beef medallions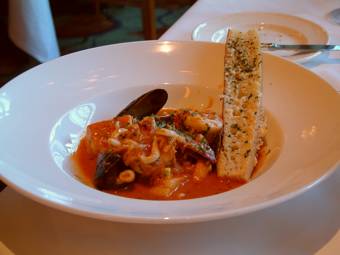 cioppino - mmmmmmm
For our dessert course, one person had the flourless chocolate cake (which he enjoyed), and another person had the "best hot chocolate ever" (which he also enjoyed, even though the chocolate was quite rich and soon cooled to the point that instead of drinking it, he used a spoon to eat the then-pudding-like chocolate).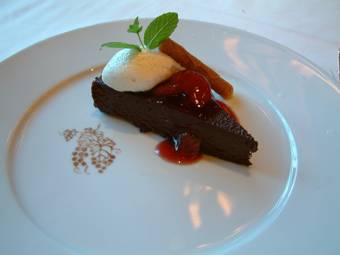 flourless cake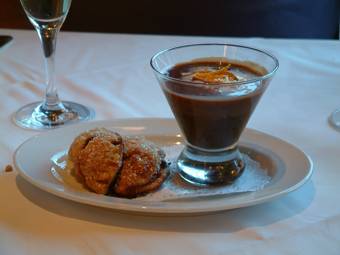 "best hot chocolate ever"
I ordered the lemon creme brulee. I'm a particular fan of creme brulee, having had it for the first time at Catal Restaurant in May of 2001, but my expectations of the dessert have become rather elevated given my experiences at Catal, to the point that I rarely order the dessert unless at Catal. However, since I really like Napa Rose as well, I decided to try their version. The dessert was served not in a ramekin as expected but rather on a small crust, with raspberries and sauce underneath. I did enjoy the dessert, but while it was rather good, it was more the consistency of pudding rather than the more solid version served at Catal, and I'm spoiled in being used to having three little flavors rather than just a larger serving of one flavor, so I didn't end up finishing it.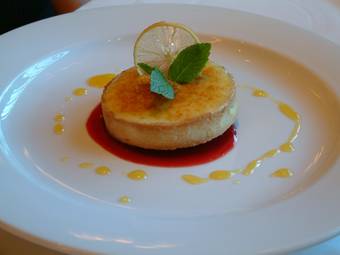 lemon creme brulee
As usual, the wait staff was professional, friendly and very attentive. We had a nice leisurely brunch, which was a great start to a day at the resort.
While reservations are not required, they are recommended.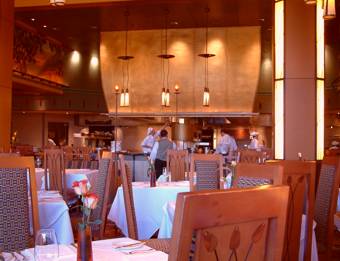 A view of the dining area with the open kitchen in the background.
For other Napa Rose reviews, please click here.
For the current dinner menu offerings, please click here.
For the current Sunday Brunch menu offerings, please click here.
For Napa Rose menu offerings from prior seasons, please click here.
Back to DLR Restaurant Reviews.
Back to home.