Orange International Street Fair - September 2, 2006 trip report
A few days prior, I ended up finding out about the Orange International Street Fair, which is held every Labor Day weekend in downtown Orange, CA. Since it looked interesting, and it coincided with two other things we needed to do that happened to be in the same area, we decided to pay a visit.
The fair is held on Friday evening and all day Saturday and Sunday, covering four square blocks radiating out from the center of Orange Plaza. There are various craft vendor booths lining the circular plaza, and food booths are set up along Chapman and Glassell, which radiate from the circle. Most of the shops and restaurants on those streets are also open for business. There are also stages in various locations that have different entertainment scheduled throughout the days. There's also a street dedicated to children's activities, but we didn't wander through there, so I don't know what that included.
The website had indicated that there were various parking lots and that street parking was also available. After driving around and deciding against paying $7 and $10 in nearby makeshift lots, we ended up parking just a few blocks away in a residential area (it was kind of funny parking on Lemon in Orange) and arrived at the fair at about 12:30. We walked through the various sections just to scout out what was available. Each section has "streets" (aka groups of booths) dedicated to various ethnic foods (entrees, snacks, desserts and beverages): All-American Street, Australian Street, Danish Street, Dutch Street, English Street, German Street, Ginza Street (Japanese food), Greek Street, Irish Street, Italian Street, Mexican Street, Oriental Street, Polynesian Street and Swiss Street.
During the course of our reconnaissance trip, we stopped at a jewelry store that I've been meaning to visit for quite some time - P-X Jewelers. I had a bracelet which needed repair, and someone at the estate jewelry shop at Disneyland had recommended this place. They looked at the bracelet and said they could fix it while we were at the fair, so we agreed to return in about 2 hours. I also had a treasured watch that I didn't want to bring just anywhere to get the battery replaced, but that seemed a good place to trust with the watch, so they changed out a new battery fairly quickly. There were also quite a number of lovely jewelry pieces that I looked at as my husband completed the necessary paperwork. My newest gem discovery is now emerald - what a pretty green color, and it looks great on a ring!
We were then off to have lunch. We decided to go back to Greek Street (stopping for fresh-squeezed lemonade on the way to quench our thirst), and my husband and I each had the bratwurst/sauerkraut/soda combo. We ended up getting an extra side of sauerkraut to share because it was so good. We found some shade in which to have our lunch, and during the course of lunch, a little two-year-old girl and her grandfather walked past, and she seemed to take a liking to us, so she joined us for a bit. We talked to her some and pointed out various things, and she even flirted with my husband! But she was really cute, so I forgave her. ;)
We decided we wanted a little bite more so wandered over to Ginza Street and got an order (2 skewers) of beef teriyaki to share. Mmmm, that was good too.
At this point, it was time to head back to the jewelry shop, and after two years, I was able to wear my pretty bracelet again. They'd even cleaned it so it was truly sparkling. After looking at some of their jewelry again, I pried myself away from the store. Definitely a place I'd recommend for service.
We then wandered over to a collectible shop located just off the center plaza owned by people we know, and we spent a boatload of money.
We had heard a lot about a nearby bakery/sandwich shop, but they were unfortunately closed during the street fair, so we'll have to try them out another time.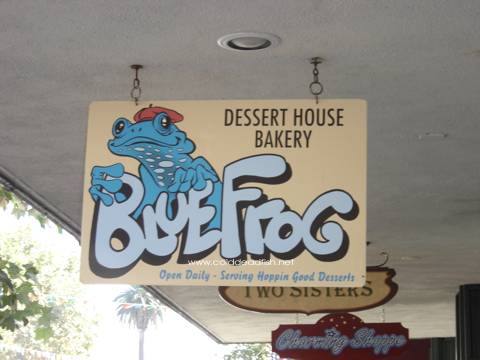 The sign was open, but the bakery was closed.
Hmmm, what's that store sign at the bottom say?
In walking around the various streets, we noticed a number of restaurants and cafes that looked interesting, especially a Mediterranean place and a place that serves Cuban/Spanish dishes, but we decided that since we were there for the fair, we needed to sample from the booths themselves, so we may be returning to try those places at some later time. There were also a few stores that looked interesting, including the Chuck Jones Gallery. I still had my lemonade so didn't go inside but only peeked in from the doorway. We did go into one toy store that had lots of PEZ dispensers and matchbox cars, among other things. While we were wandering around at one point, we noticed a store name that caught our eye, Plaza 42, but what caught my eye further is that someone needed to do a spellcheck before putting up their window display.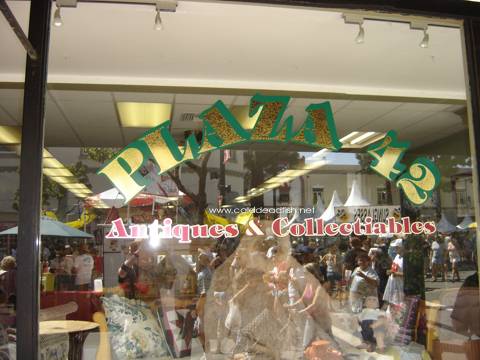 Couldn't decide on "i" or "a", so they compromised and used both.
It was fairly hot out, with only the occasional breeze, so when we were done at 4pm, we were ready to go, but it was a fun outing! Definitely something to keep in mind for next year's Labor Day weekend.
Back to home.