Milk - a new neighborhood ice cream shop in Los Angeles
You can discover new wonderful places in the strangest ways. Back in 2001, we made our first trip to a new restaurant that would eventually become one of our favorite restaurants - Catal Restaurant in Downtown Disney Anaheim. The executive chef, Bret Thompson, was brilliant, had a definite flair for the unexpected even with the familiar (who else would have thought to add crushed corn nuts into creamed corn to give it extra flavor and texture?), and whose own excitement and enthusiasm for cooking and food of all kinds was downright infectious. However, in the tradition of all good things coming to an end, he left to join The Patina Group, the corporate parent company of the restaurant, but our loss was definitely their gain. I would run into him periodically over the next year or two, sometimes in the most unexpected places. He had mentioned that he wanted to start his own place, a dream of an ice cream shop that he'd had for some time. Months went by with no word about the new place or what he was up to. And then, one day, I was reminded to look for him again, and I found the information I was looking for. He had opened his new place, called Milk, in Los Angeles, in February of 2007. On-line reviews raved about it, and we were so excited to find him again that we decided to visit that very night.
Milk is located at 7290 Beverly Boulevard in Los Angeles, between La Brea and Fairfax, on the southeast corner of Beverly and Poinsettia.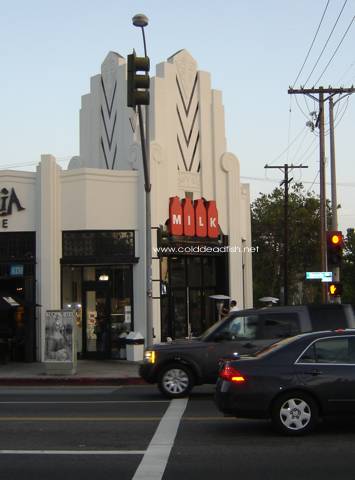 The front of the shop.
We looked around a bit and then had a chance to say hello to Bret and do some catching up.
Milk is a fairly small shop, with seating outdoors in front along Poinsettia and some tables inside as well. There are umbrellas on the tables outdoors, and at night, they bring out portable heaters as well. You order at the counter, and if it's something simple (like a scoop of ice cream or a cookie), they give you your order there. If it's something that needs to be prepared (like a sandwich or a shake), they will give you a number and then bring your food to your table when it's ready.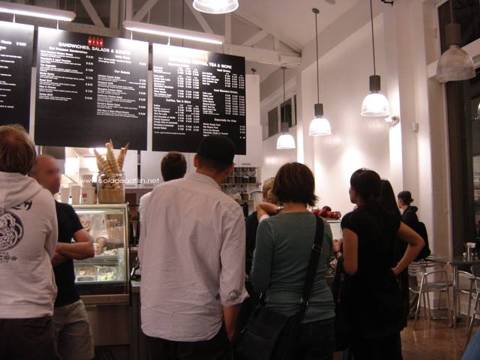 The counter where you order, with seating to the right.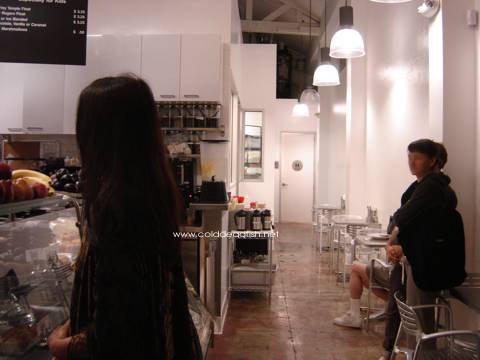 The seating to the right extends down the corridor.
Milk serves a selection of sandwiches, salads and soups as well as an array of ice creams and delicious baked treats.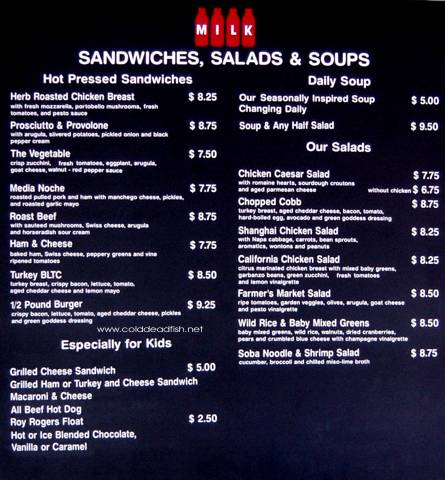 The sandwich, salad and soup menu.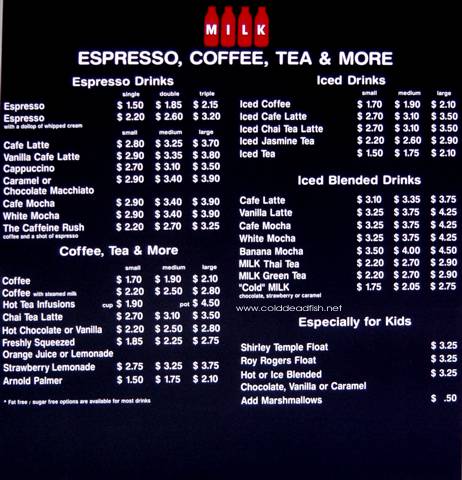 The drinks menu.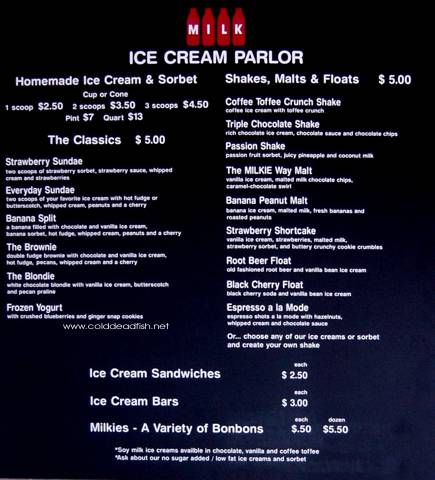 The ice cream parlor menu.
Milk also offers daily specials.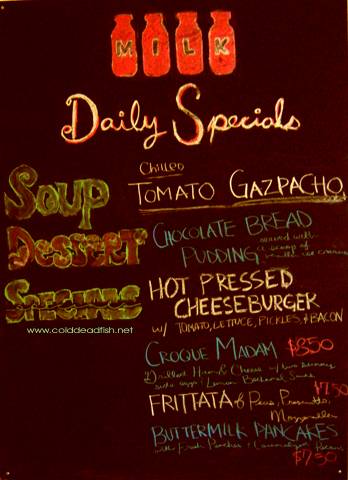 Daily specials menu for Saturday, June 23, 2007.
There's also a refrigerated case where pre-made salads and other goodies as well as other drinks are also available.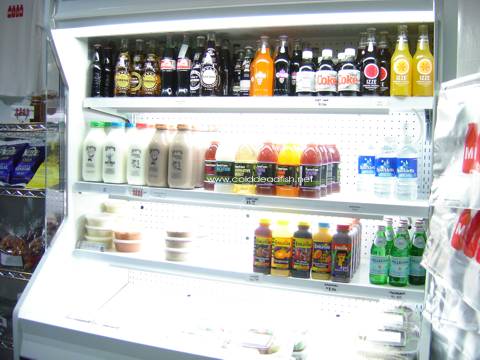 A serve-yourself section.
We decided to start with dinner. The soup of the day was tomato gazpacho, which seemed perfect for this hot summer night.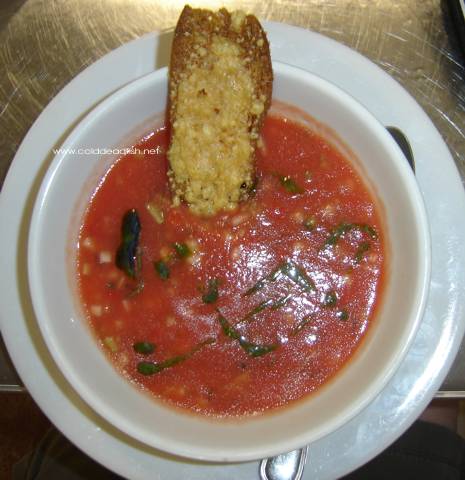 Tomato gazpacho soup.
I have come to love gazpacho, partly because of the tartness of the tomatoes and just the general flavor and coolness of this cold soup on a warm day. The soup was incredibly flavorful, and the drizzle of basil on top was a nice touch. It's a fairly generous serving of soup, though, so in the future, we'd probably share one bowl rather than each ordering a separate bowl.
I ordered the herb roasted chicken breast sandwich. The mozzarella and portobello mushrooms and tomatoes were a terrific accompaniment to the chicken, and the ciabatta bread (which isn't made there) was quite tasty as well. The inclusion of a side of field greens was a nice touch as well.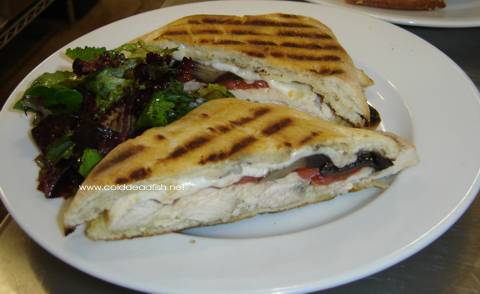 Herb roasted chicken breast sandwich.
My husband ordered the Turkey BLTC and enjoyed his sandwich as well.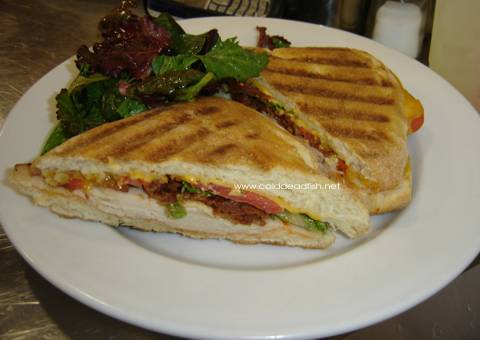 Turkey bacon-lettuce-tomato-cheese sandwich.
With dinner out of the way (delicious as it was), it was time for the real reason for our visit - dessert! The only difficulty is deciding what to have. Milk serves an assortment of homemade ice creams and sorbets, and they have tasting spoons so you can try flavors to help you decide what you'd like.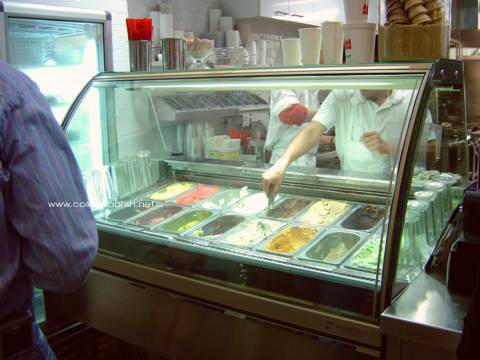 The ice cream case. You can see the tasting spoons, take-out containers and cones on top.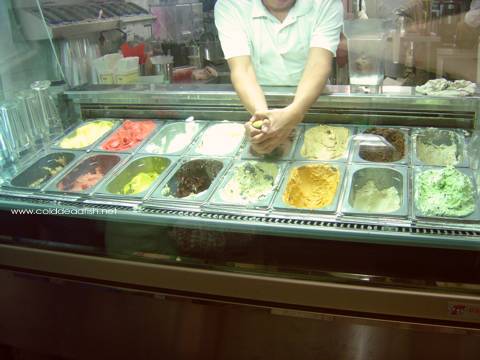 A closer look at the ice creams and sorbets.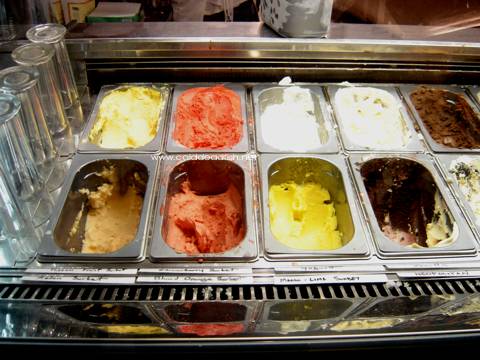 The flavors (all are ice cream unless otherwise indicated), from left to right, top row first:
passion fruit sorbet, strawberry sorbet, yogurt, vanilla;
melon sorbet, blood orange sorbet, mango lime sorbet, neopolitan.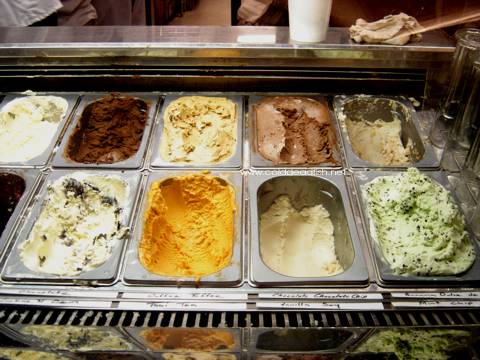 The flavors (all are ice cream), from left to right, top row first:
chocolate, coffee toffee, chocolate chocolate chip, banana dulce de leche;
cookies & cream, thai tea, vanilla soy, mint chip.
I love blood oranges, so I had a taste of that as well as of the thai tea ice cream. Both were delicious - the flavor of the blood orange sorbet was especially good, so I had a scoop of each. My husband had a shake made out of the banana dulce de leche ice cream, and he enjoyed it immensely.
To the left of the ice cream case is another refrigerated case that offers additional treats.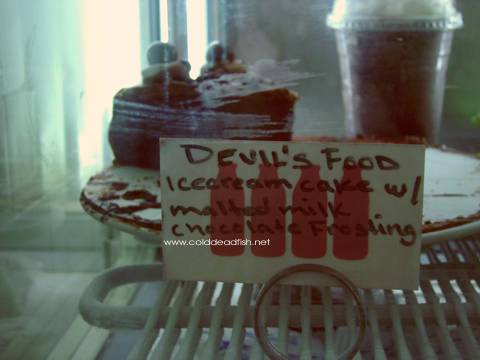 Devil's food ice cream cake with malted milk chocolate frosting.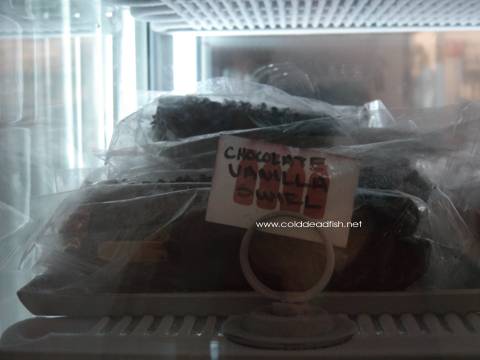 Chocolate vanilla swirl bars.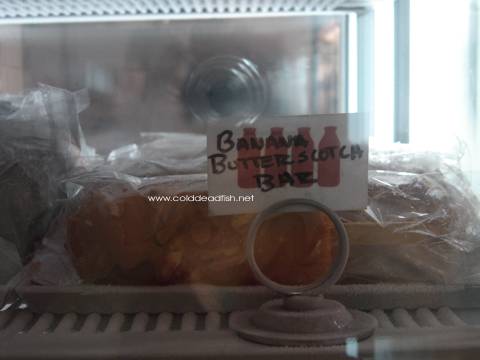 Banana butterscotch bar - banana dulce de leche ice cream with butterscotch and almond slices.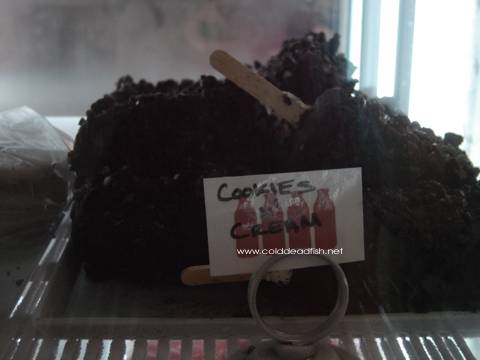 Cookies and cream bars.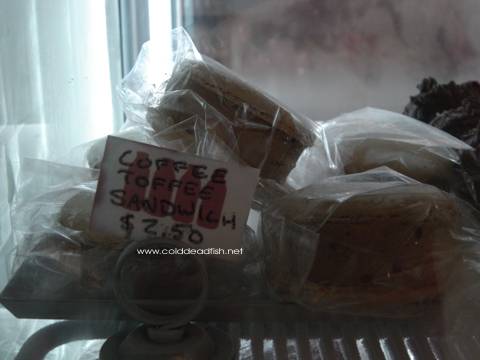 Coffee toffee ice cream sandwiches.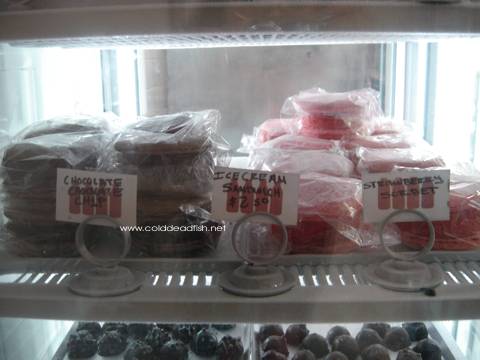 Chocolate chocolate chip ice cream and strawberry sorbet sandwiches.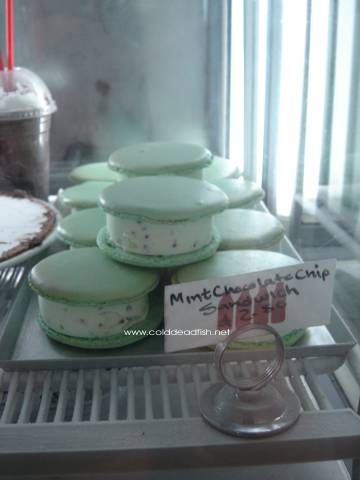 Mint chocolate chip ice cream sandwiches.
My husband selected the banana butterscotch bar to bring home for later, and he enjoyed it very much. I chose the coffee toffee ice cream sandwich, and I loved the flavor of it. I happen to love coffee ice cream, and it has a very strong coffee taste. However, while the cookie was fine, I found that the sugary flavor of it interfered with the taste of the ice cream, so in the future, I wouldn't get the sandwich but rather, just the ice cream.
Milk also offers a sort of mini-bon-bon that they call Milkies. They were originally offered for $0.25 each when Milk first opened, but they discovered they were losing money at that price so raised it to $0.50. It is still definitely a great deal. There's just enough ice cream in there to get great flavor to go with the chocolate covering.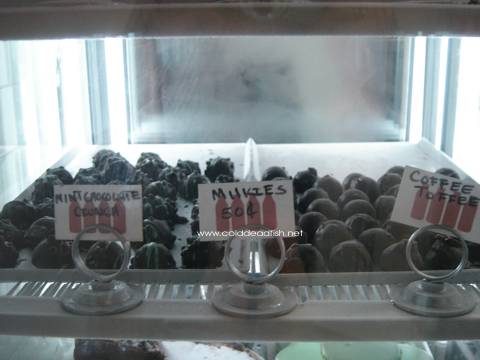 Mint chocolate crunch and coffee toffee milkies.
Ice creams and sorbets, however, are not the only treats that Milk makes in-house. They also make a wide variety of baked goods.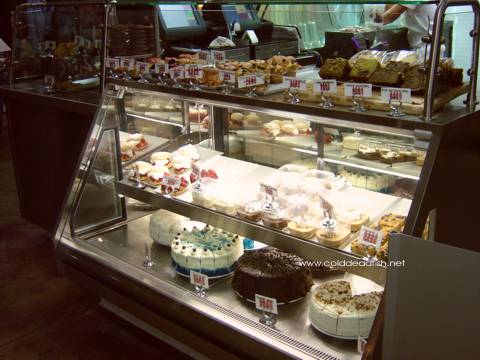 The baked goods display case - the hardest part is choosing.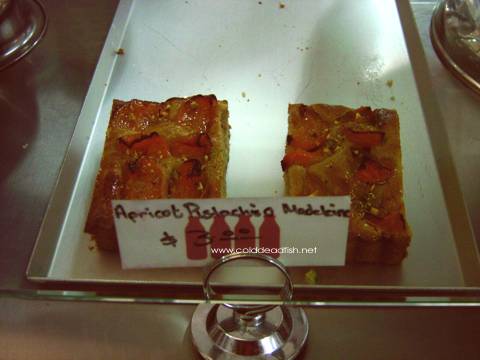 Apricot pistachio madeleines.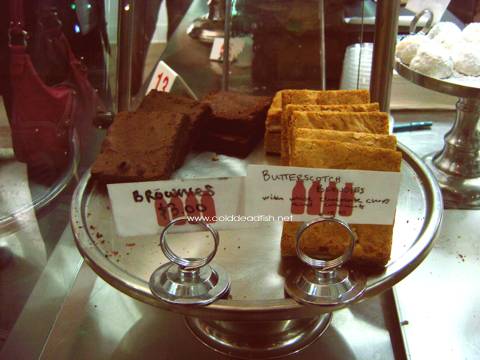 Brownies and butterscotch blondies.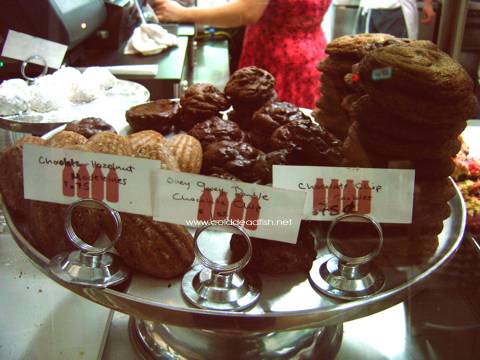 Chocolate hazelnut madeleines, ooey gooey double chocolate chip cookies and chocolate chip cookies.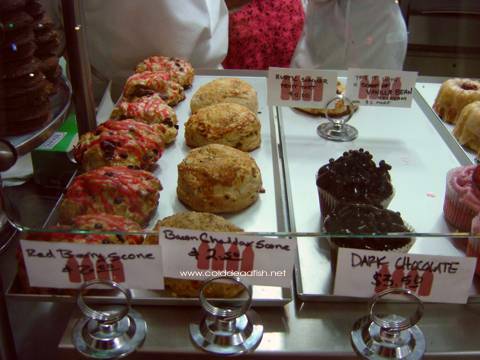 Various scones and cupcakes.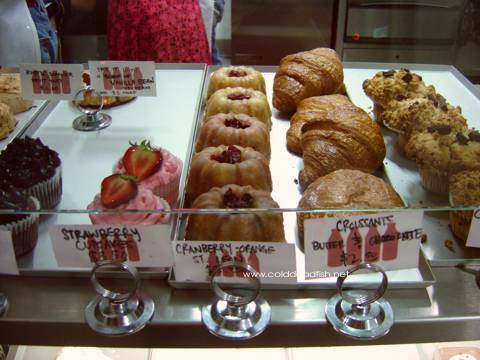 More baked goods.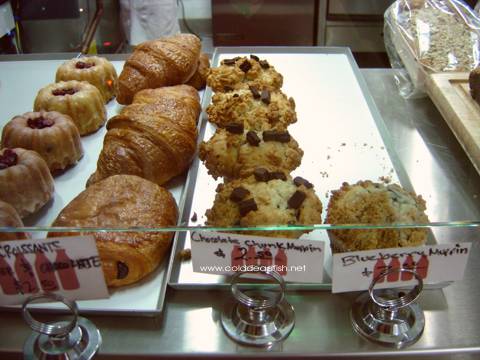 More muffins.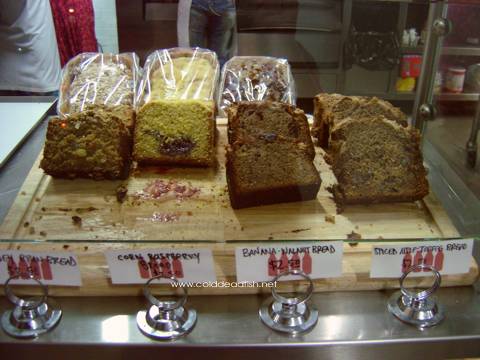 A variety of breads.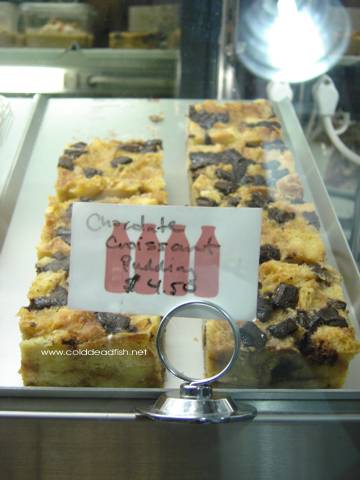 A signature dish - chocolate croissant bread pudding.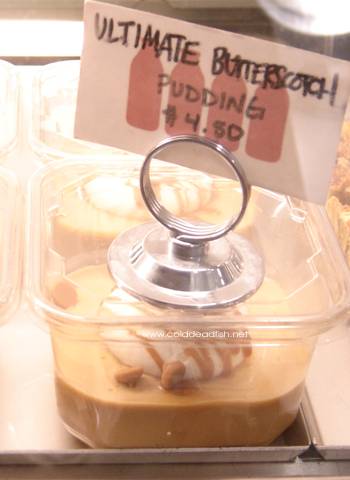 Butterscotch pudding.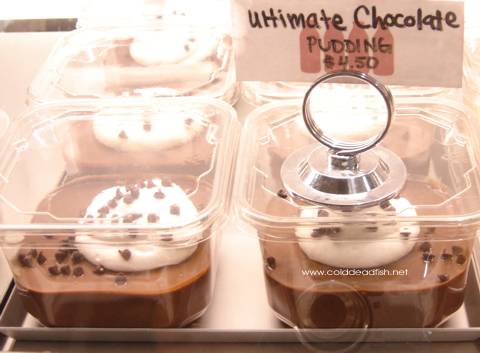 Chocolate pudding.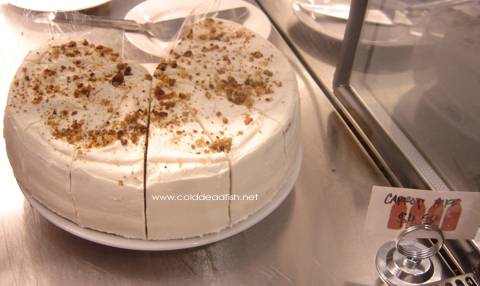 Carrot cake.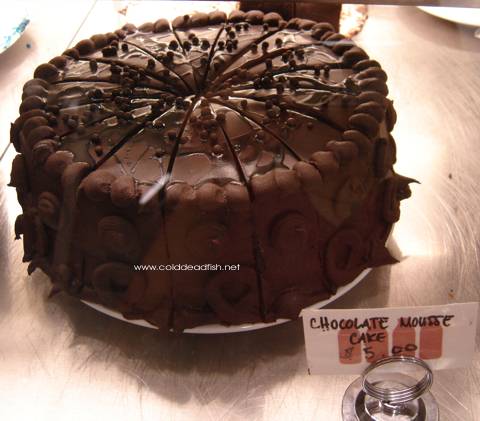 Chocolate mousse cake.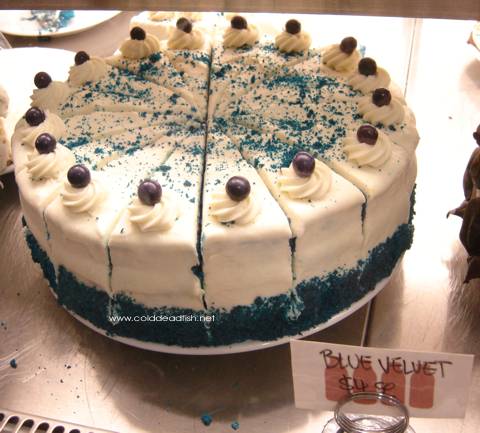 Blue velvet cake.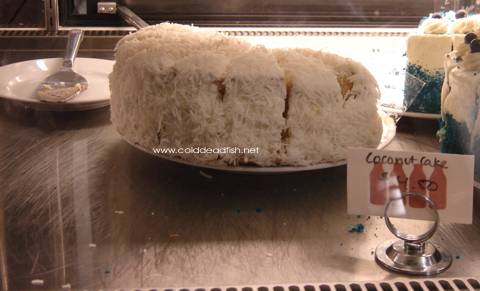 Coconut cake.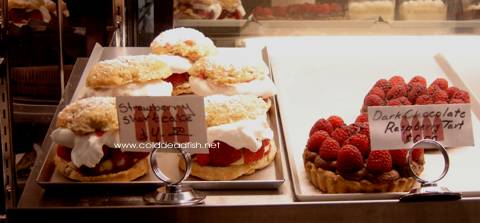 Strawberry shortcake and dark chocolate raspberry tart.
I love banana nut bread so bought a slice to have for breakfast the next day. It was delicious. There are times when there's not enough banana in the bread or not enough nuts for my taste. There was great banana taste but not too overpowering, and there were walnut bits on top as well as throughout the bread. My husband also got the butterscotch pudding to enjoy on another day, and he liked the flavor of that quite a bit.
Milk also offers an assortment of fresh fruits. I was impressed that in addition to the usual apples and oranges an establishment might normally offer, other fruits are also offered.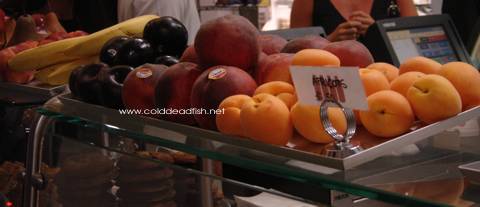 Apricots and peaches and plums, oh my!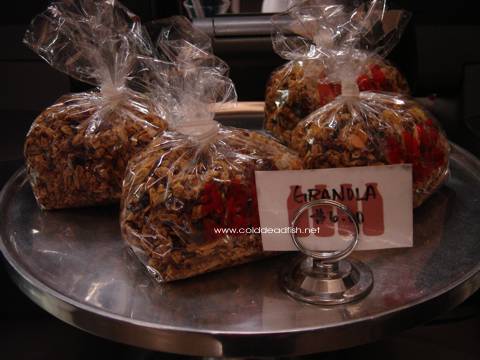 Granola you can take home.
If you buy a glass bottle of milk, you can return the bottle and receive $1 back. They also offer for sale insulated bags with the shop's logo.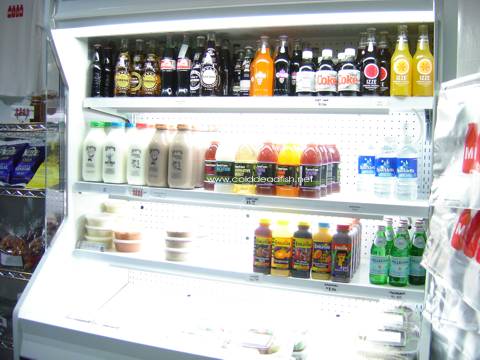 To the right of the case with the glass milk bottles, you can see the insulated bags.
They also offer a small selection of logoed apparel.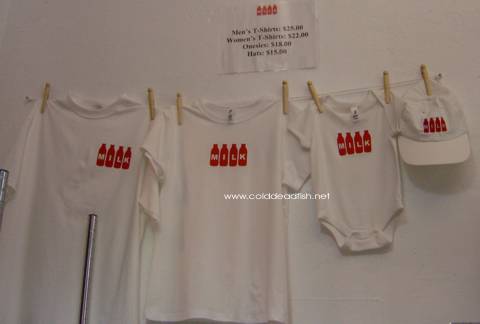 I love the onesie.
We ended up being there for quite some time, and it was a comfortable relaxing place to be. There were a steady stream of people coming into the shop during our time there, and the groupings ranged from younger adults to older adults to families with children. It's a place that everyone can go to where they can get good food for a reasonable price. The staff was also quite good. During this busy Saturday night, there were at times 5 people in the fairly small work space, but they seemed to move around each other easily and worked together quite well. The line of customers got fairly long at times, but the line moved very well because of the efficient staff.
The only downside to Milk is that with its location, parking can be very difficult. The neighboring streets are a residential area with posted parking restrictions. Parking is probably easier during the daytime, but at night, you have to rely on getting one of the limited parking spaces on busy Beverly Boulevard. During the daytime, there is a lot across Poinsettia (behind the Mexican restaurant) where you can park, but you have to leave at 4pm when it reverts to being valet parking for the Mexican restaurant.
We had occasion to return to Milk about a week after our first visit. We had told friends about the place, and they were excited to visit, so we decided to join them.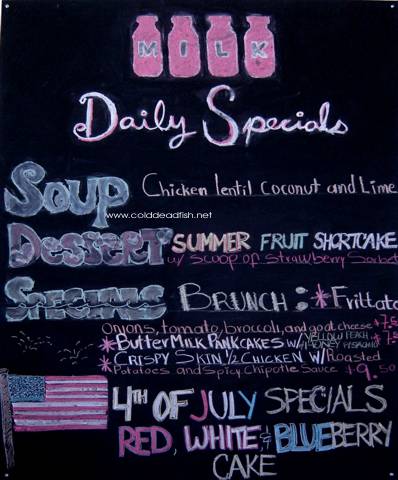 The daily specials for Sunday, July 1, 2007.
A few of the ice cream flavors had changed. We had been told that because they make their own ice creams, some flavors would probably change on a regular basis.
The flavors (all are ice cream unless otherwise indicated), from left to right, top row first:
passion fruit sorbet, strawberry sorbet, papaya, vanilla;
blood orange sorbet, melon sorbet, rocky road, yogurt.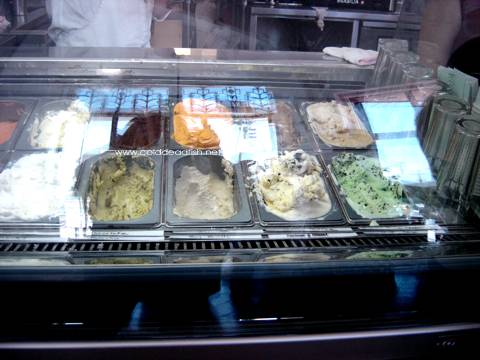 The flavors (all are ice cream), from left to right, top row first:
chocolate, thai tea, coffee toffee, banana dulce de leche;
pistachio, soy vanilla, cookies & cream, mint chip.
The side case had some familiar flavors, but also one new one.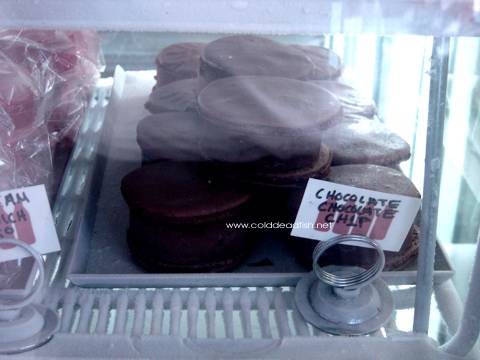 Chocolate chocolate chip ice cream sandwiches.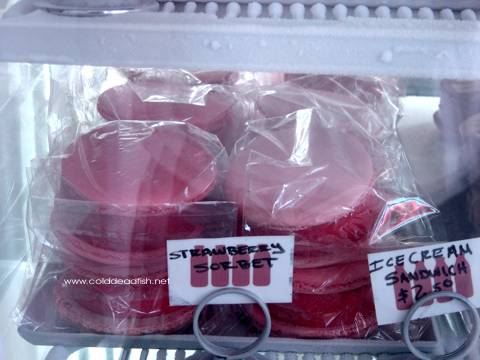 Strawberry sorbet sandwiches.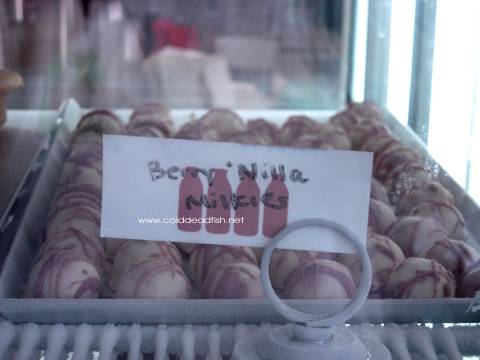 A new milkies flavor - berry nilla.
The baked goods case had a few new items as well.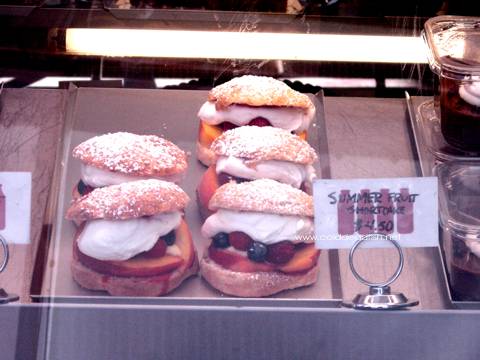 Summer fruit shortcake.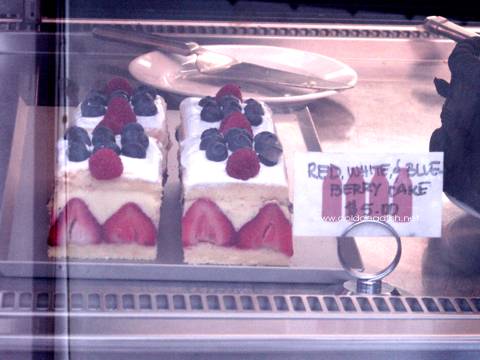 A Fourth of July (a little early) special - red, white and blueberry cake.
Milk also offers a wide range of teas.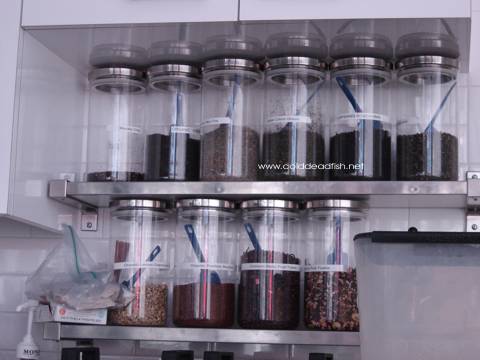 A variety of teas can be ordered by the cup or by the pot.
Our friends were already enjoying their lunches and desserts. One friend had ordered the media noche sandwich and took half of it home with her and told us later that it was just as good the next day. Another friend had the strawberry shortcake shake and another friend had the mint chocolate chip ice cream sandwich, and they both seemed to enjoy them. We were just having dessert this day, so I ordered the chocolate croissant bread pudding, which came with a scoop of vanilla ice cream on top. This is a variation of the dessert that Bret had created years ago which we had come to love, and this version was just as good.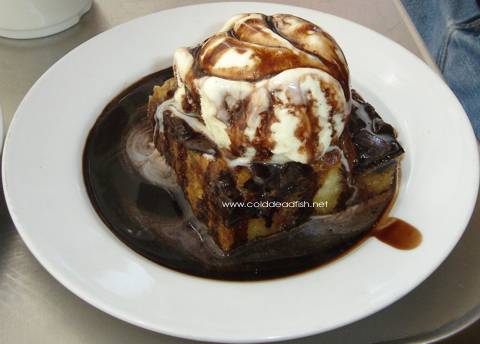 This went great with a nice cold glass of milk.
My husband had the carrot cake. He thought their version was ok, but he tends to have an extremely high standard of comparison when it comes to carrot cake.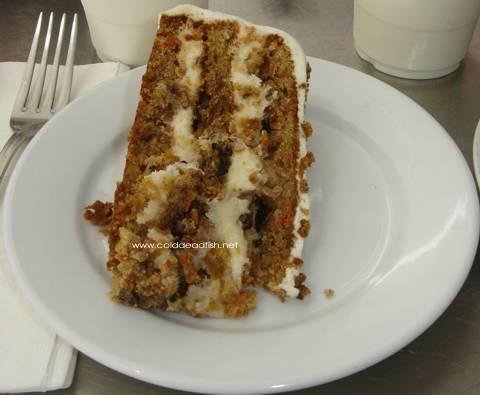 A nice cold glass of milk goes well with carrot cake too.

This is definitely someplace that I plan to visit on a regular basis and that I will recommend to friends. With all the dessert choices, perhaps it's a good thing for me that it's not in my neighborhood!

Milk
7290 Beverly Boulevard
Los Angeles, CA 90036
323-939-MILK (6455)
Sunday - Thursday: 9am to 9pm
Friday and Saturday: 9am to 11pm
Milk's website (The website is currently under construction.)

Back to Restaurant Reviews.

Back to home.

Last updated July 5, 2007.