Tortilla Jo's cantina - dinner - September 10, 2006
It had been a while since we'd been to the cantina, but since a friend, my husband and I were craving nachos, the cantina was the place to go. Because a band was playing very loudly by the front entrance, we asked for and were seated at a table towards the back of the cantina. Since none of us were terribly hungry, we decided to order the nachos appetizer and some tacos to share. On a visit a couple years ago, another couple with us had ordered the nachos, and the serving was unexpectedly huge, so we knew it was enough for the three of us. We ordered the nachos with chicken, and then we ordered three soft tacos, two with steak and one with fish.
We enjoyed the complimentary chips and salsa while we waited for our order. The chips are a bit harder than I've had elsewhere, and the salsa was not quite as spicy as I remembered, which was good as I recalled it being even too spicy for my liking. When the nachos arrived, there were even more chips to share! It's a bit difficult to tell from the picture, but the nachos are served on a regular dinner plate, and the chips are heaped on. We actually saw another party's nachos as they were being delivered, and their chips were even more heaping than ours. There is quite a bit of cheese on top, which is good, but it means you have to dig for the chicken. But the chicken pieces were quite generous. I also liked that the nachos included black beans, which I prefer, rather than refried beans, which I don't care for as much. The black beans were underneath quite a few of the chips as well, so more digging was required. In all, it's a very satisfying dish, and as an appetizer, it can probably serve 4 or 5 easily. As it was, there was still some leftover at the point we all decided we were done.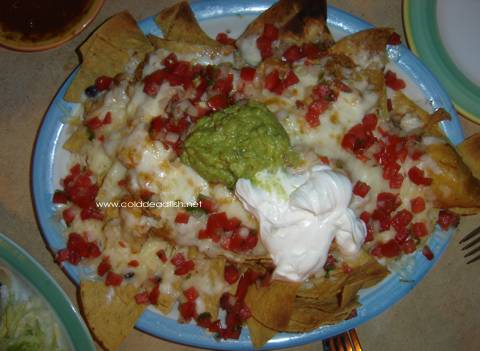 Chicken nachos for everyone!
I rather liked my steak taco, and it was a nice off-set to the chicken nachos. The fish taco contained quite a large piece of fish. Our friend liked it ok but said there was a flavor missing that she couldn't quite pinpoint.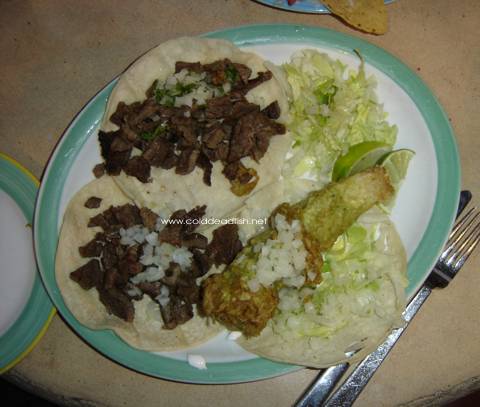 Steak tacos and fish taco.
The service was fine, with our water glasses regularly refilled. If anyone is looking for a fairly inexpensive meal to share, the nachos are definitely the choice to make.
Back to DLR Restaurant Reviews.
Back to home.