"Wall-E" at the El Capitan Theatre in Hollywood - June 27, 2008
If Disney, and specifically Pixar, is releasing an animated feature, that must mean it's time for us to go to the El Capitan Theatre in Hollywood. I was really excited to see this movie anyway, so we made plans to attend our normal opening night show (in our normal seats), but this time, we were there with 9 other friends.
I ended up getting to the area a bit earlier in the day so I had time to look around, and I noticed a giant Wall-E perched atop the El Capitan's marquee.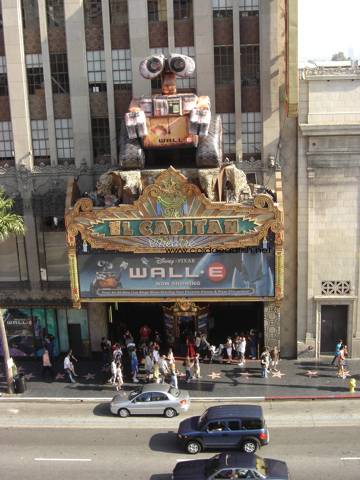 Wall-E has a nice view.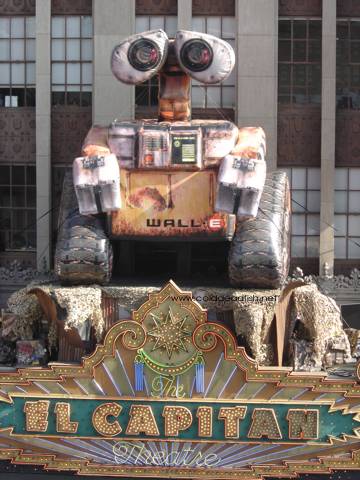 Wall-E and the El Capitan sign.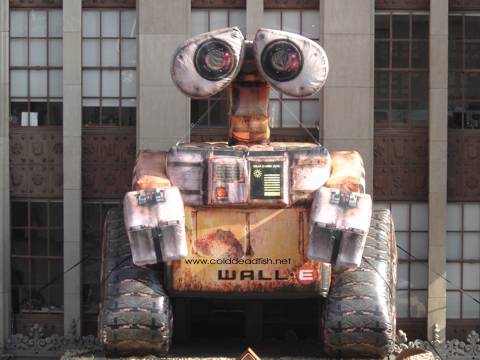 Just Wall-E.
When I had first seen Wall-E, I knew that I wanted to go to the top floor of the Hollywood and Highland complex (where I generally park for the El Capitan anyway) looking out over Hollywood Boulevard so that I could get a better view of Wall-E, and that's where I took all the pictures above. When I was done, I walked back over to the elevators, and after pushing the call button and waiting for an elevator, I happened to look back towards Hollywood Boulevard, and this is what I saw.
He's kinda funny just peaking over the edge,
but with just his eyes, he looks kinda creepy too.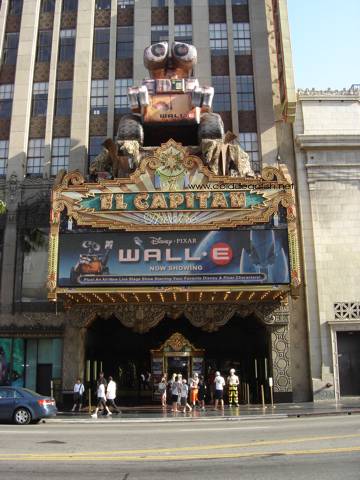 A street-level view to get a better perspective of Wall-E's size.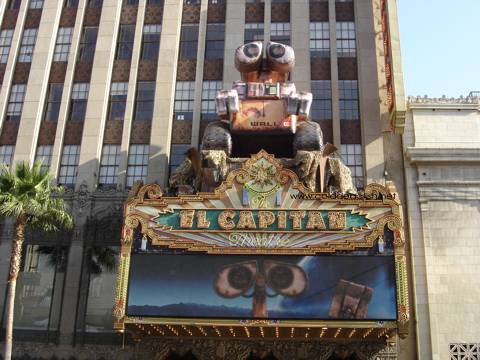 Wall-E looking out from above and from within the marquee.
(Yes, I took a lot of pictures of him. These are just the ones I didn't delete.)
We were at Downtown Disney two days later and noticed that a similar-sized Wall-E was sitting on the ground near the AMC Theatres, so it was easier to get a closer look then.
The images on the El Capitan marquee change, so for the cycle of the changing images, see the video here (1.1 MB).
In addition to the film itself, the El Capitan also generally offers some kind of extra entertainment for its premiere movies. Sometimes, it's props from the film or something like that, and sometimes, it's a stage show. This time, they had an all new live stage show called "Disney's Flights of Fantasy".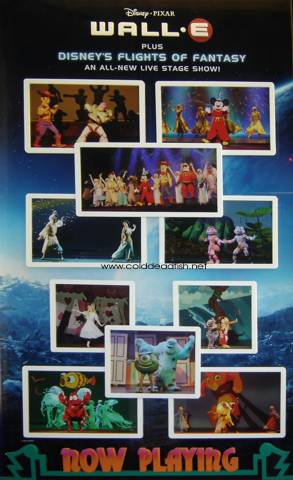 What and who you should expect to see in the stage show.
After we took our seats and the organist finished and the lights went down, we were in store for yet another surprise. They had a kind of scrim curtain with embedded lights that flashed and flickered in time to music, and my description is going to do it no justice whatsoever, but it was really cool. After that, they then had the stage show, which had scenes from various classic films projected on the back wall of the stage while appropriate characters from the films came onstage. It was quite a good show.
Unfortunately, I didn't think to start recording video until after the stage show had started, so I didn't get the curtain show or the beginning of the stage show, but for the rest of the new live stage show, see the video here (21.6 MB).
After the film, many of us headed next door to the Studio Store and Soda Fountain for dinner, where they had also introduced a special themed dessert.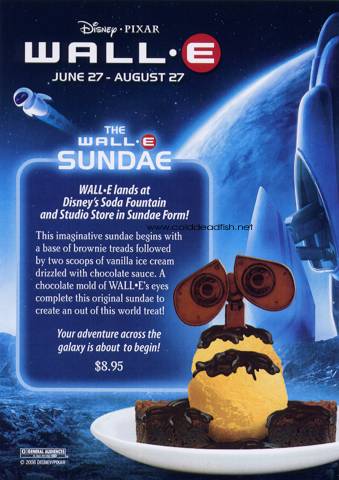 Eat-E.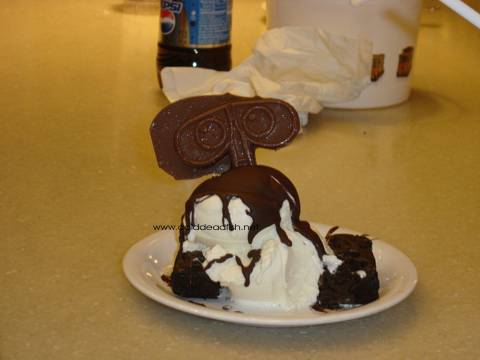 Wall-E in his full caloric glory. He's not nearly as cleanly made as in the picture.
We had ended up with seats at the counter, so we were actually able to watch as they made the various desserts. It was funny to watch Wall-E being assembled, and it was even funnier when they were making multiple ones at the same time - it was a Wall-E factory!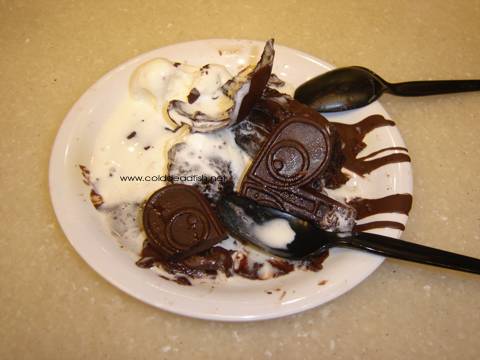 The aftermath of Wall-E. Maybe Eve will come and put him back together again.

For my "Wall-E" (and "Presto") spoiler review, please click here.

Back to Cindy's Disneyland Resort Page.

Back to home.

Last updated July 8, 2008.