CATAL UVA BAR AND CAFE - LUNCH/DINNER MENU - SUMMER 2006 (served downstairs)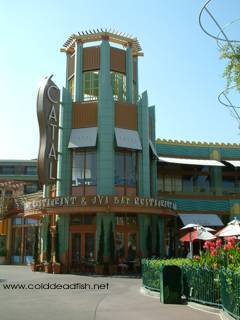 pommes frites
Shoestring French fries with lemon-tarragon aioli $4.00
marinated olives
Manzanilla, Nicoise, Gaeta, Lucque and Moroccan $8.00
mezze
Hummus, Baba Gannoujh, Mouhammara with toasted walnuts and grilled pita $9.00
fritto misto of calamari
Fried calamari, zucchini, fresh herbs and lemon-tarragon aioli $10.00
gambas
Shrimp sauteed with garlic, lemon and lots of parsley $13.00
chicken wings
Harissa-roasted spicy chicken wings with a cucumber salad $10.00
ahi tuna tartare
Spicy tuna tartare, avocado, cilantro sprouts and crispy flat bread $15.00
caesar salad
Romaine lettuce with garlic croutons, shaved Parmesan and Caesar dressing $10.00
ahi tuna salad
Ahi tuna seared rare with Romaine lettuce, couscous, avocado, pita chips and hummus $17.00
manchego salad
Compressed salad of Manchego cheese, arugula, apples, dates and walnut vinaigrette $12.00
steak salad
Grilled skirt steak, Boston lettuce, blue cheese, avocado, tomato and Dijon-tarragon vinaigrette $17.00
three cheese pizza
Mozzarella, Parmesan, Manchego and fresh basil $12.00
pulled bbq chicken pizza
Marinated chicken, red onions, cilantro and bbq sauce $13.00
Catal burger
White cheddar, Boston lettuce, tomato, lemon-tarragon aioli and brioche bun with seasoned garlic fries $14.00
turkey and brie sandwich
Honey roasted turkey, French Brie cheese, avocado, Dijon mustard on toasted sourdough with cole slaw $13.00
chicken b.l.t.
Grilled chicken breast, applewood smoked bacon, lettuce and tomato on brioche with cole slaw $13.00
pork ribs
Slow-roasted half rack with cole slaw $18.00
rotisserie chicken
Half a rotisserie chicken with seasoned garlic fries $17.00
steak and frites
Grilled ribeye with seasoned garlic fries $24.00
. . .
desserts
Vanilla creme brulee $7.00
New York cheesecake with blackberry coulis $7.00
Triple layer chocolate mousse cake with chocolate ice cream, coconut rum anglaise and macadamia nuts $7.00
Daily selection of assorted ice creams and sorbets $5.00
Split menu charge $2.50
An 18% service charge will be automatically added to parties of 8 or more
For special events, please call 714-776-4000.
Executive Chef - Nicholas Weber; General Manager - Albert Leung
CHEF JOACHIM SPLICHAL'S PATINA GROUP RESTAURANTS AT DOWNTOWN DISNEY DISTRICT
For Catal Restaurant and Uva Bar reviews, please click here.
For the current dinner menu offerings served upstairs, please click here.
For Catal Restaurant and Uva Bar menu offerings from prior seasons, please click here.
Catal Restaurant and Uva Bar / Downtown Disney District
1580 Disneyland Drive, Suite 103, Anaheim, California 92803
telephone: 714-774-4442 fax: 714-774-1850
HOURS OF OPERATION
Uva Bar - lunch/dinner
Sunday - Thursday 11am - 11pm
Friday - Saturday 11am - midnight
To see Catal's specific webpage in the Patina Group website, please click here. (Note that the menus on the site are out-of-date, but there are some nice views of the restaurant and some background.)
Back to DLR Restaurant Reviews.
Back to home.
Last updated November 1, 2006.