Disneyland Resort in Anaheim - July 17, 2003 trip report
For Disneyland's 48th birthday, we arrived close to opening to enjoy the day's festivities. As we walked from the tram drop-off to the front gate, we noticed that the line to get a wristband to buy the special edition Dopey pin was already quite long. I had liked the picture of the pin that I'd seen but not enough to stand in the long line. We headed to get our pin quest maps from in front of the fire station so that we'd have them for later, and then we waited for the birthday ceremony.
The ceremony was before the 8am park opening and was held at the end of Main Street, near the hub, and a decorated podium was set up. Groove 66 sang a song, and Mickey came out wearing a birthday hat, accompanied by Minnie, Pluto, Donald and Goofy. Cynthia Harriss then came out and said a few words, and then led the crowd in a round of "Happy Birthday".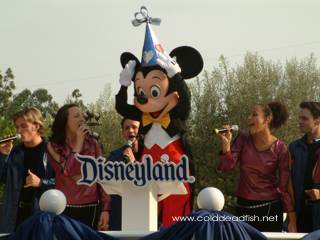 Mickey with Groove 66.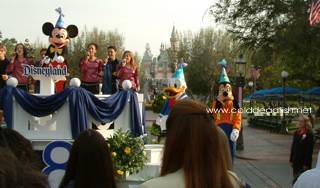 Donald and Goofy are in attendance as well.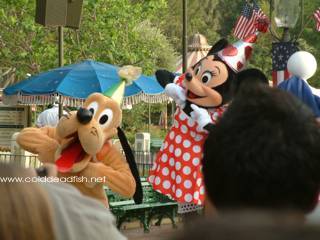 Pluto and Minnie also have birthday hats.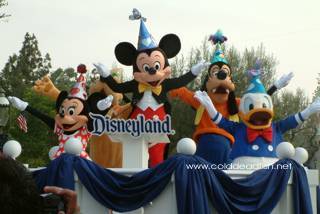 The Fab Four.
Mickey and gang welcome Cynthia Harriss.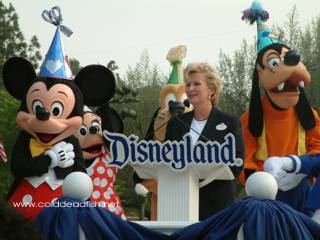 Cynthia speaks to the crowd.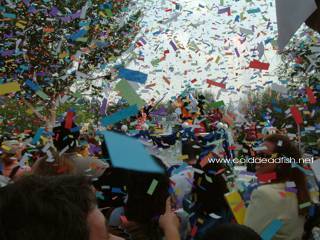 No celebration is complete without an abundance of confetti.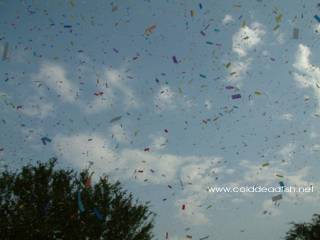 Confetti as far as the eye can see.
After the ceremony was over, we headed to the Premiere Shop in Tomorrowland to pick up a few pins and then to complete the pin quest. Afterward, we headed out for breakfast, and on the way, we passed by the wristband distribution booth again, to discover that no one was in line and they still had wristbands, so we each got one so that we could pick up our pins later.
We had made a breakfast reservation for Storytellers Cafe at the Grand Californian. To read the review of breakfast, please click here.
After breakfast, we went to pick up our Dopey pins in DCA, and then we headed for the noon meet. We met up with a few friends there and then kept them company while they had lunch at Plaza Inn. We then made a trip to the Disney Gallery to see their new exhibit and wandered around a bit around the Disney resort. It was a bit warm out, so we ended up taking a break and having a cool drink at Top Brass, the bar near Goofy's Kitchen.
After spending some time there, most of us headed off to the meet organized by LaughingPlace.com, held at the area which formerly housed Big Thunder Barbeque and was currently a corporate party venue. To read about the meet and to see pictures of all the wonderful cakes, please click here.
After the meet, we wandered around Disneyland some and then met up with other friends and had a wonderful dinner at Catal Restaurant in Downtown Disney. All in all, another wonderful day spent celebrating Disneyland's birthday.
Back to Cindy's Disneyland Resort Page.
Back to home.