Birthdays at the Disneyland Resort
Celebrating a birthday at the Disneyland Resort is great fun for people of all ages.
Here's some information to help you plan that special day.
Is there an age limit for birthday celebrations?
No, there isn't. It doesn't matter if you're celebrating your first birthday or your 100th birthday. Anyone can partake in any of the available birthday activities. What better place to be a kid (again, if relevant) than Disneyland?
Do I have to celebrate on my actual birthday?
No, you don't. Many people have what they refer to as their "Disneyland birthday" - that is, the day closest to their actual birthday (whether before or after) that they'll actually be at the resort. Since the free perks are monetarily insignificant and paid additions are available, anyone can partake when it best suits them.
Free benefits available at both Disneyland and Disney's California Adventure (DCA)
The first thing to do is to pick up a birthday sticker. Available at DCA from Guest Relations (just to the left after you enter the main gate) or at Disneyland from City Hall in Town Square or the Information Booth at the end of Main Street, you can get a "Happy Birthday" sticker. The Disney Cast Member (CM) will write the appropriate name on the sticker as well as the age if requested, and then the birthday person can wear the sticker for the day. Any CM who sees a person with a birthday sticker is supposed to wish the person a happy birthday. Some restaurants might offer the person a free dessert, but as this is not formal policy, this may not always happen, so please do not demand it. On some attractions, the CM might pay special attention to the birthday person (for example, on the Jungle Cruise, the CM might ask the other guests to join in a birthday song for the person), but again, this is not policy and is rather done on an individual basis.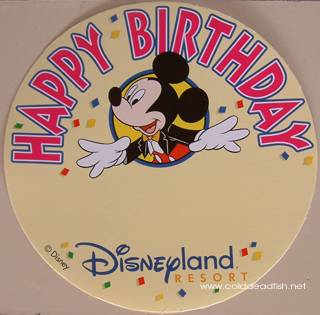 Wear a DLR birthday sticker to celebrate your birthday.
Free benefit available only at Disneyland
The birthday person can be brought to City Hall, and a request can be made of a CM there to have Goofy wish the person a happy birthday. The CM will dial the appropriate extension and then hand the phone to the birthday person. The birthday person can then listen to a birthday greeting from Goofy!
Free benefit available only at DCA
Anyone who goes through the Tortilla Factory exhibit will be given a whole or partial tortilla to sample. Someone who goes through the exhibit wearing a birthday sticker will often be given a bagged stack of tortillas as a birthday present. Be advised that on occasion, the bagged tortillas have been given to people not wearing a birthday sticker, and sometimes, a person wearing a birthday sticker might not get a bag of tortillas if the CM does not see the sticker or if they are running low on tortillas.
Additional for-purchase items
Disney has added a few items that guests can purchase to help celebrate their birthday. There is a birthday cart in front of the Plaza Inn restaurant that has many items for purchase, including the following:
party - $10.00 per person
pin - $6.50
magnetic frame - $3.99
Mickey plush - $8.00
Winnie the Pooh plush - $8.00
balloon - $6.50
buckets - $20.00 (The buckets can be purchased at selected restaurants - including Plaza Inn, Carnation Cafe and Storyteller Cafe - and are available in Sorcerer Mickey style, Princess style, Buzz Lightyear style or Pooh honeypot style and includes the bucket, a small cake, a pin and a few toys.)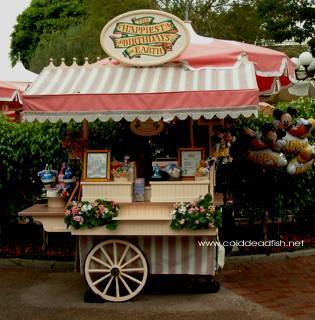 The birthday cart outside Plaza Inn.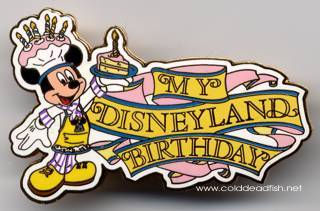 pin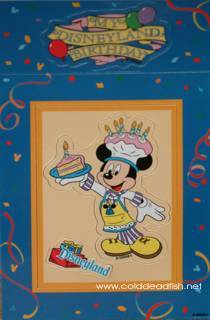 magnetic frame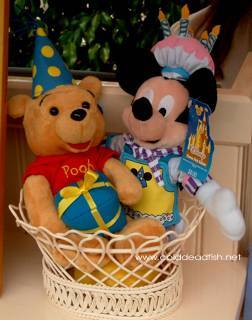 Winnie the Pooh and Mickey birthday plush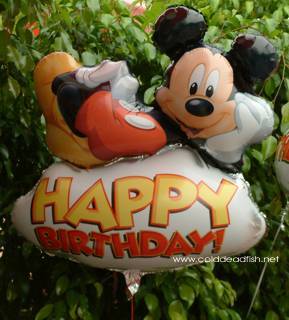 Mickey birthday balloon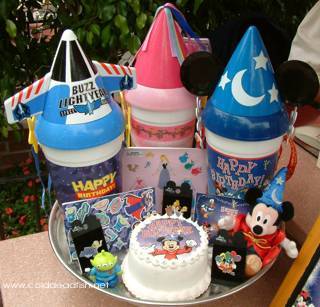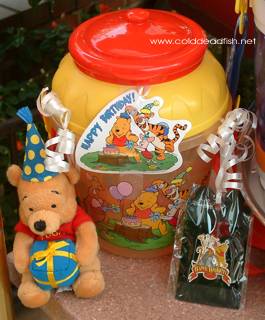 Four styles of birthday buckets are available for purchase.
Guests can also choose to be part of the Happiest Birthdays on Earth celebration party at Plaza Inn, led by host Pat E. Cake. For the price of $10 per person, each person will receive a birthday hat, punch in a collectable sipper, and a small cake along with three colored frostings and three kinds of sprinkles with which to decorate the cake. There is also a photo opportunity with Mickey and Minnie at the end. There are usually two seatings per day.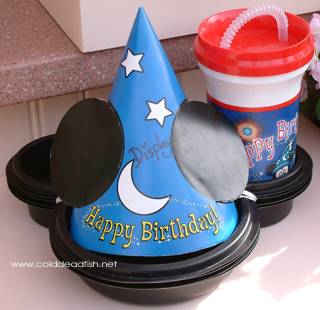 Goodies from the Happiest Birthdays on Earth party.
To read about the July 17, 2002 Plaza Inn birthday party, please click here.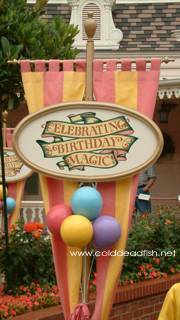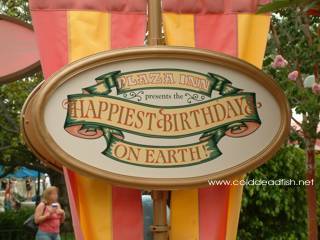 Signage around the birthday party area.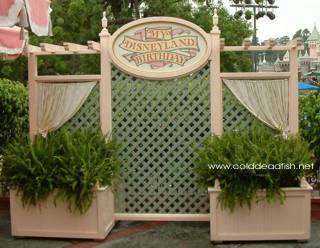 The backdrop for the Mickey and Minnie photo opportunity.
Guests at the Goofy's Kitchen character meal can also purchase an additional party bag for $5.00 plus tax which includes a soft foam puzzle, a Goofy silhouette writing pen, maracas, a party hat, a birthday button and balloons at their table.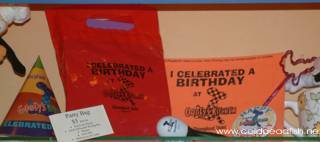 Available only at Goofy's Kitchen.
Enjoy your Disney birthday!
Back to Cindy's Disneyland Resort Page.
Back to home.
Last updated December 18, 2003.