Christmas 2005 around the Disneyland Resort
Christmas is always a great time to visit the Disneyland Resort because of all the wonderful decorations and special activities. Here are some of the sights around the Disneyland Resort from Christmas 2005.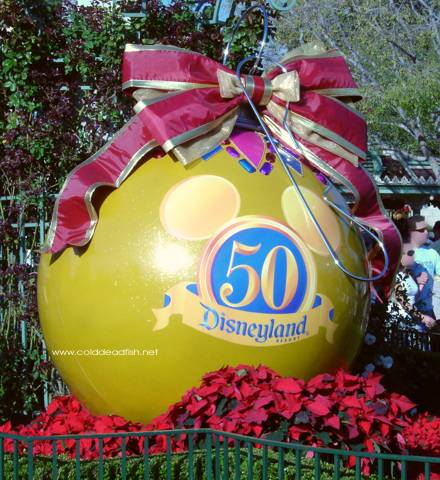 A giant ornament in front of the entrance to Disneyland.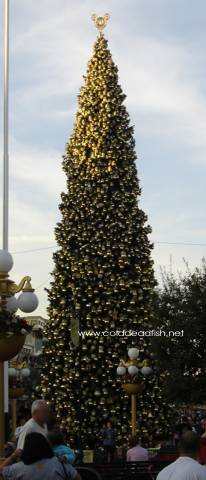 Disneyland's traditional Christmas tree takes on a gold hue this year in honor of Disneyland's 50th birthday.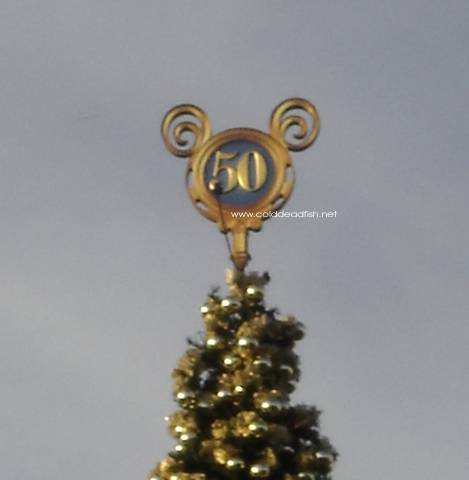 The tree topper is a 50th Mickey which is illuminated at night.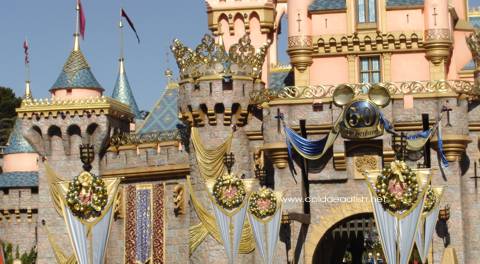 The 50th-decorated castle foregoes its traditional Christmas decorations,
but Christmas decorations line the walkway to the castle.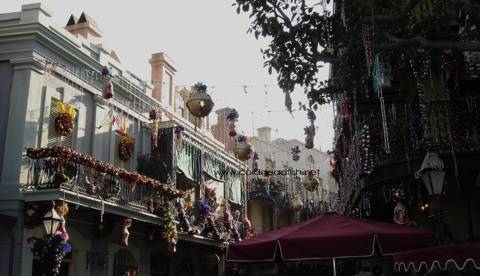 New Orleans Square decorated for the holidays.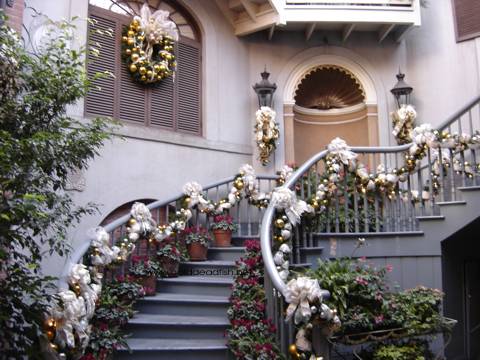 The Court of Angels always looks breathtaking in its holiday finest.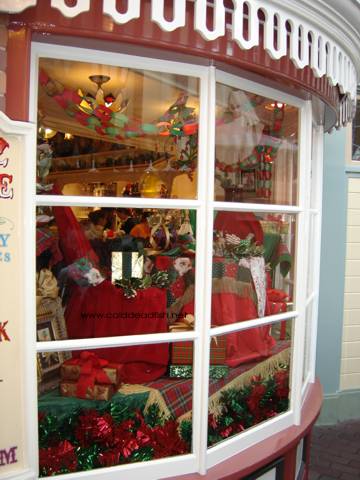 Christmas also comes to the bookstore window on Main Street.
This year, Christmas at Disneyland included Santa's Reindeer Round-up, where children of all ages could visit Santa, Mrs. Claus and some reindeer and enjoy goodies at Big Thunder Ranch.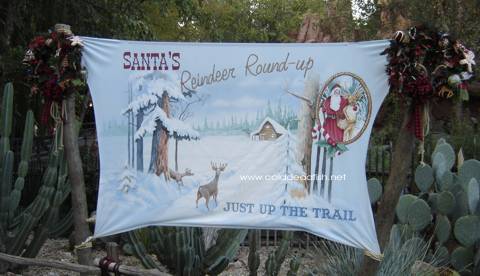 Heading to visit Santa.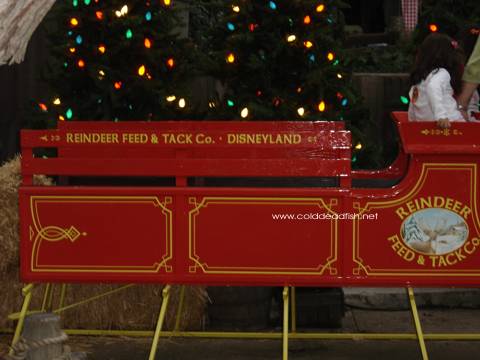 You can even take a picture in a sleigh.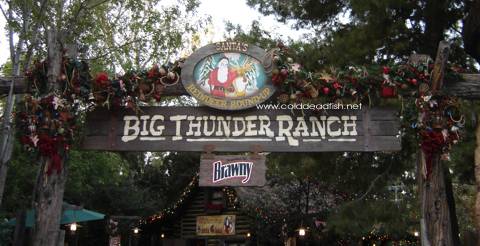 Big Thunder Ranch becomes Santa's non-polar temporary home.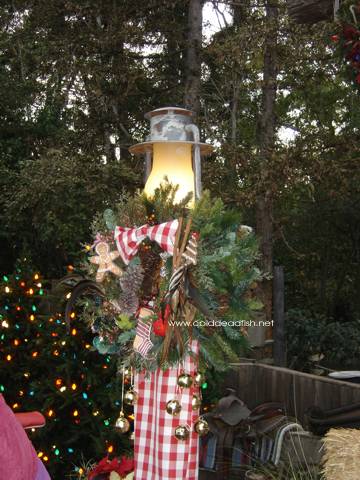 Even the lamp posts are decorated for Christmas.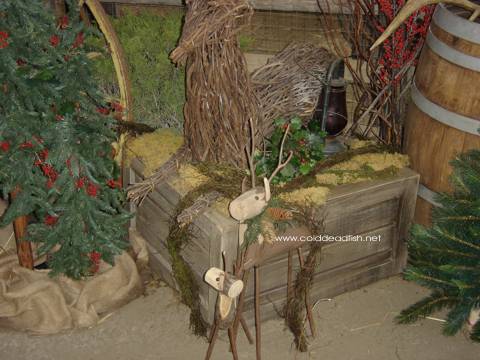 Some of the decorations.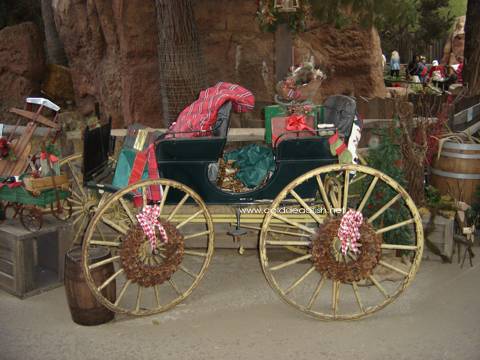 More decorations.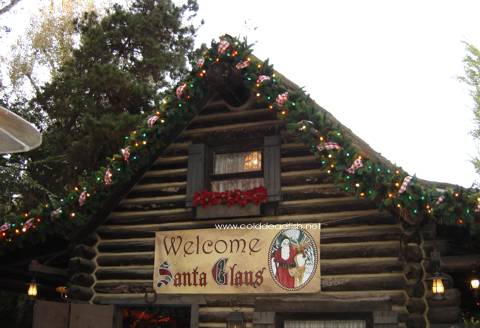 Hmmm, I wonder who's in there.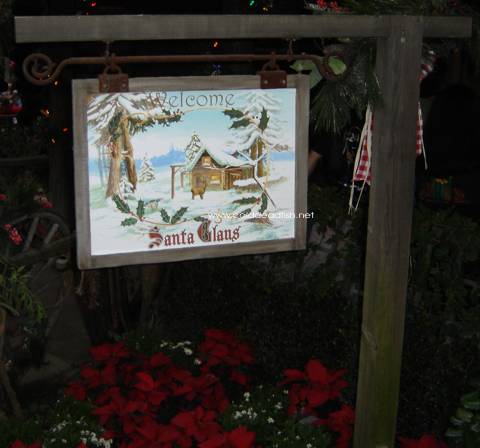 This way to visit Santa.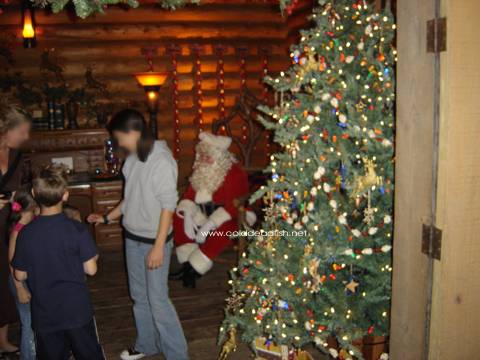 Santa with some guests.
Santa brought along some of his reindeer. No Rudolph sightings, though.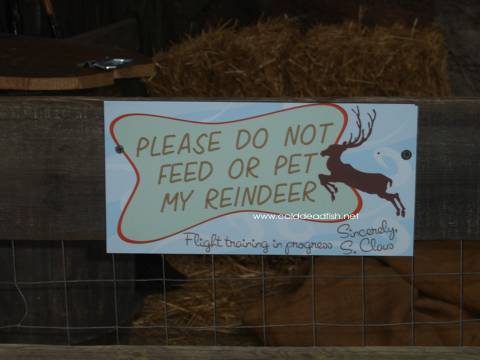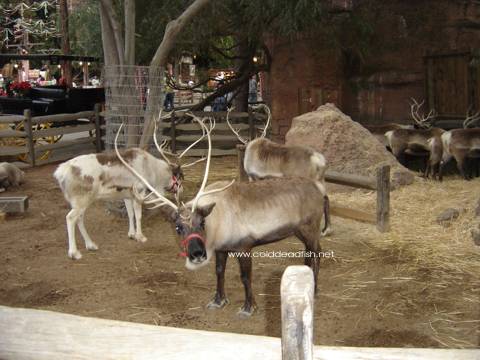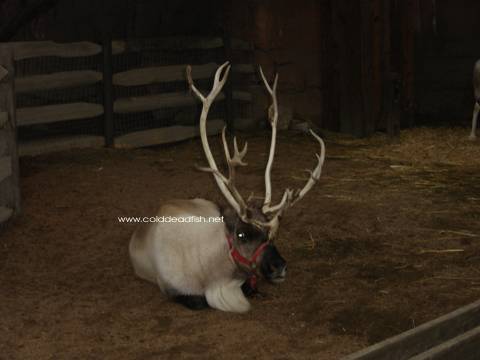 There were various signs scattered around the ranch which included reindeer facts.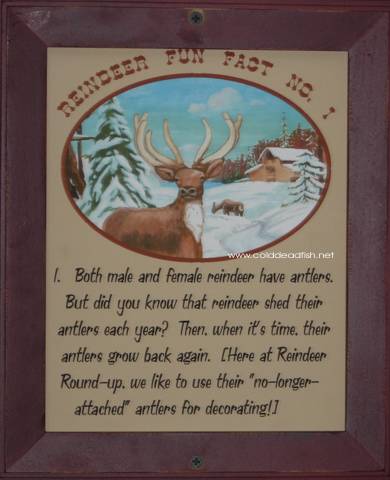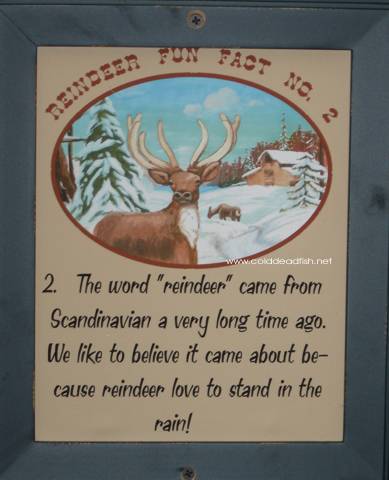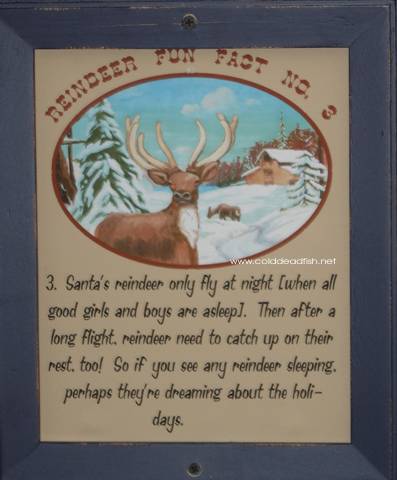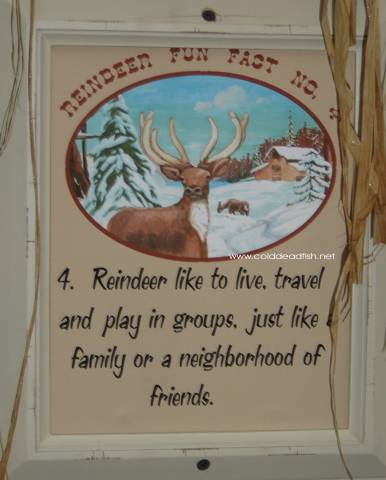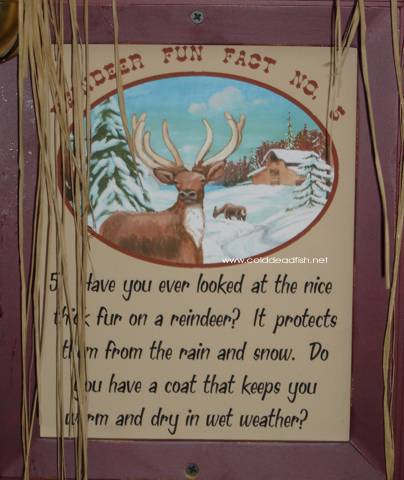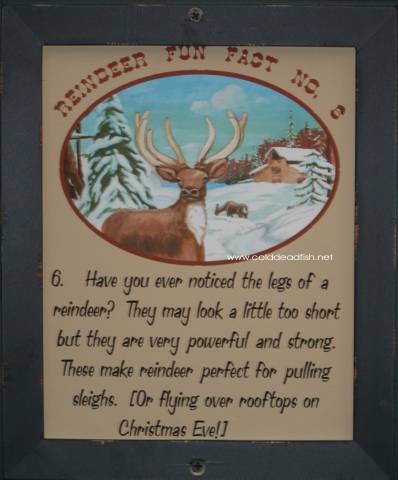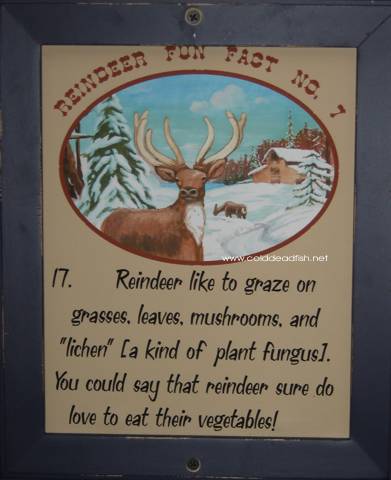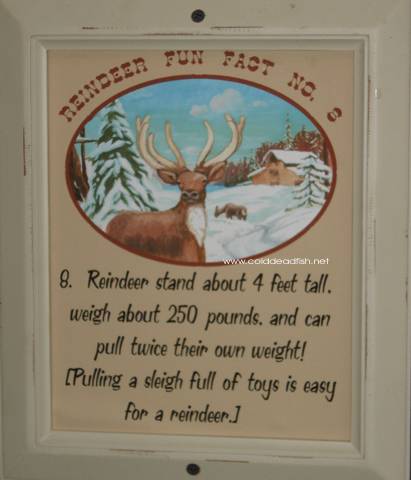 In the space formerly occupied by Big Thunder Barbeque, you could participate in crafts, buy and decorate (and of course eat) a cookie and meet some characters.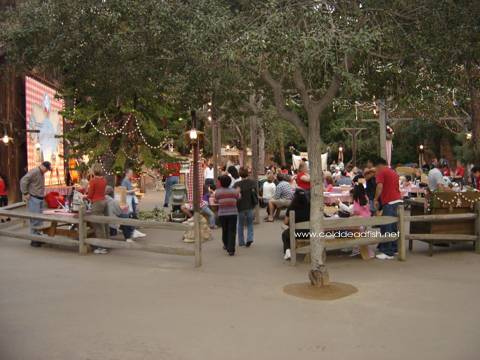 Hmmm, no barbeque here.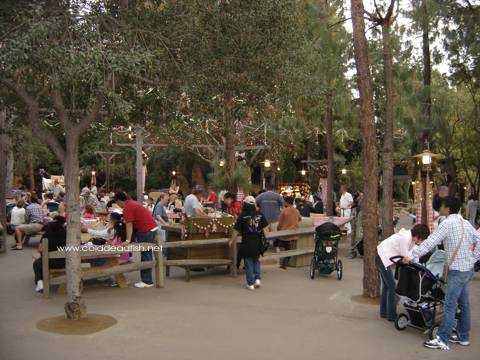 It's Christmastime instead.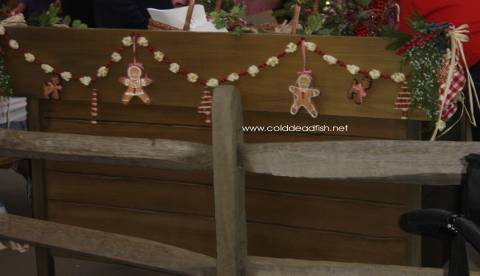 Holiday cheer adorns the fences too.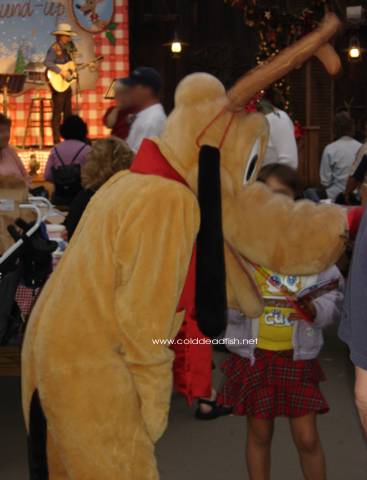 Pluto with his reindeer ears.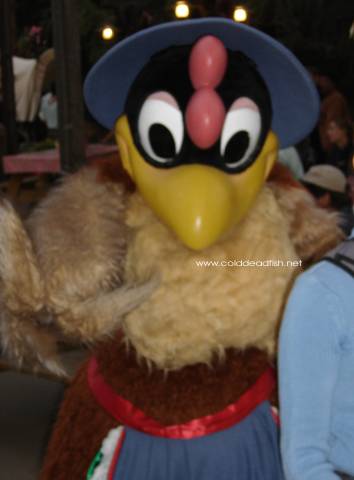 Here's a character you don't see very often.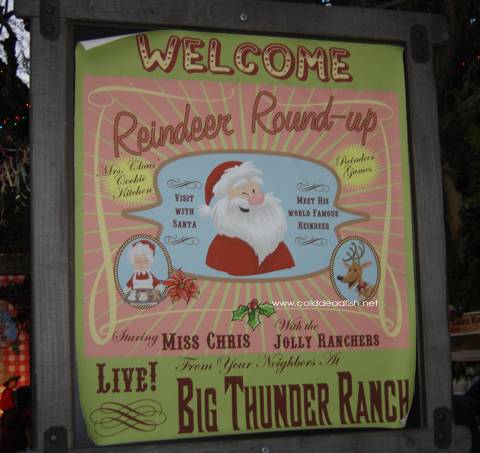 In case you didn't know where you were.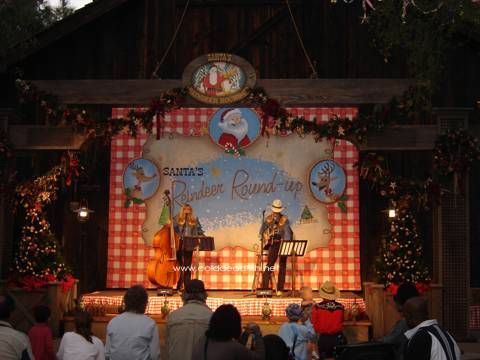 Entertainment on stage.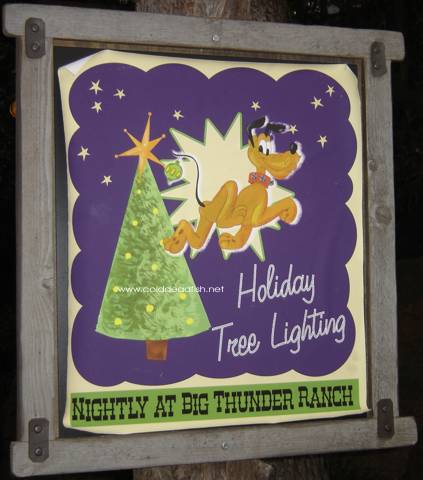 Yet another tree that needs to be lit every night at the Disneyland Resort.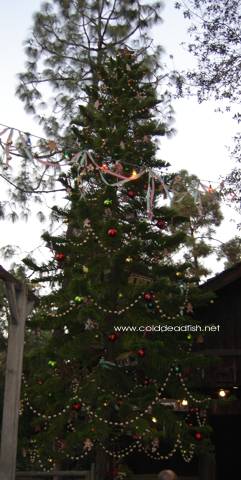 Christmas trees everywhere.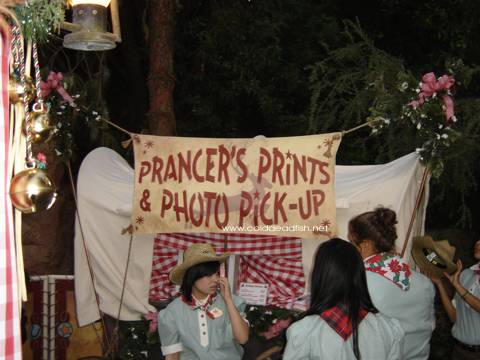 Pictures, anyone?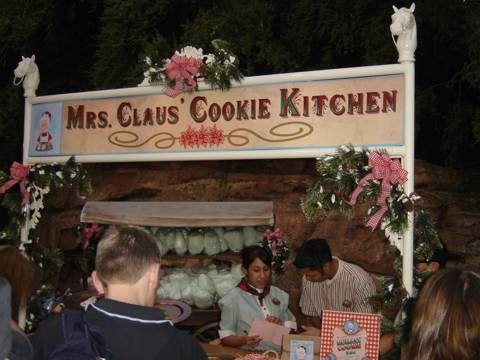 How about a Christmas cookie?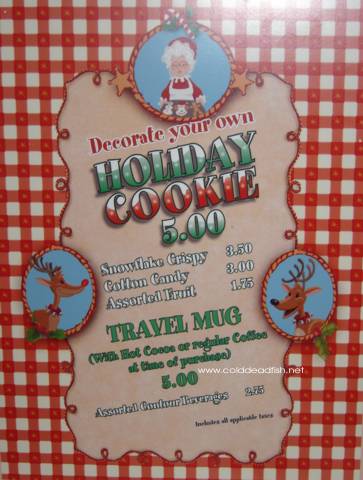 Mmmmm, cookie...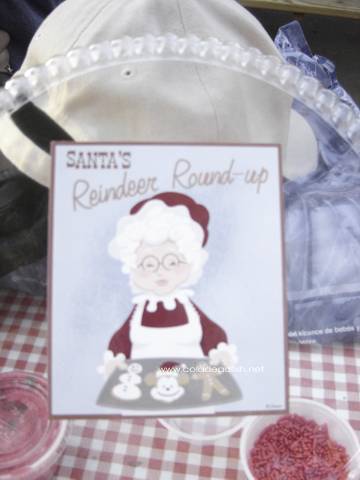 The logo on the cookie container.
The presidentially-pardoned turkeys took up residence at Big Thunder Ranch.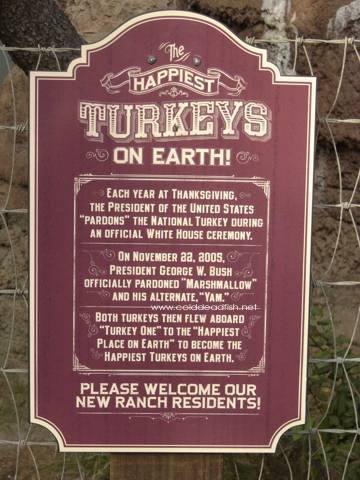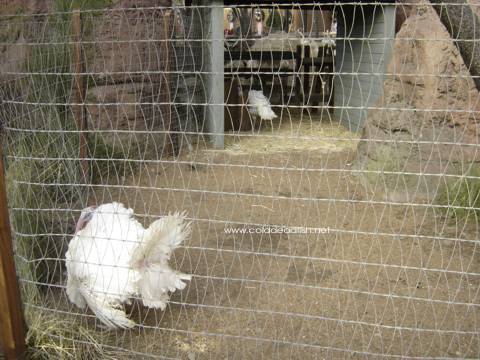 This year, Christmas Mickey ears were available for purchase.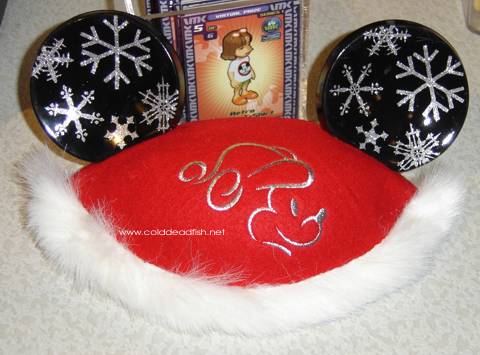 What a great way to celebrate Christmas Disney-style.

The front entrance to Disney's California Adventure has its Christmas adornments.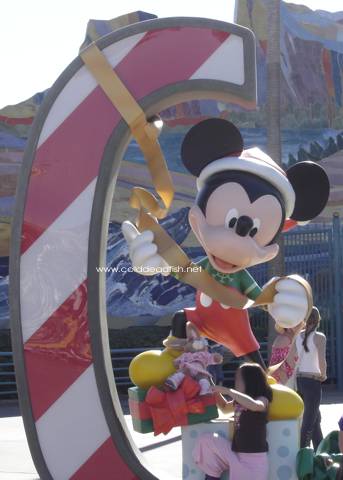 Mickey is perched on the "C".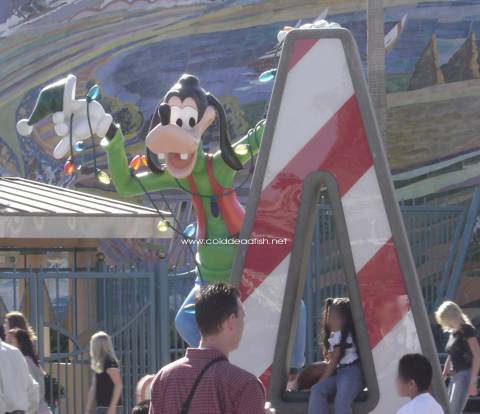 Goofy is hanging on the last "A".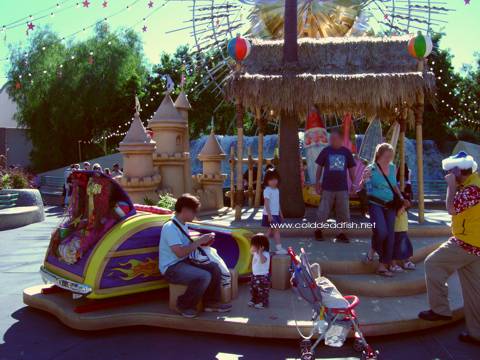 Santa's Beach Blast is located in the Sun Plaza.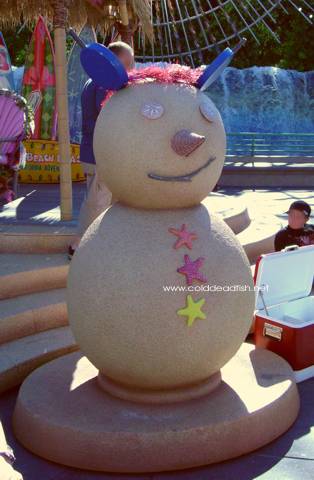 There's a Mr.-Potato-Head-like snowman you can play with.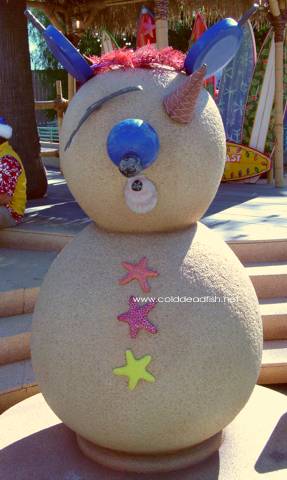 The snowman's parts are quite interchangeable.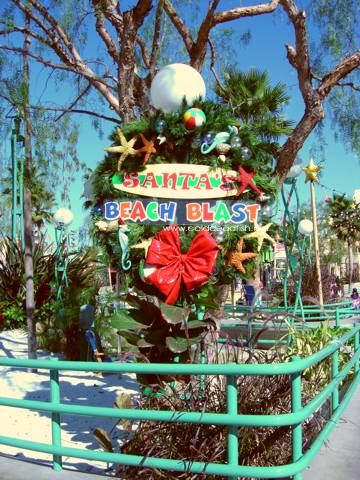 Some of the decorations in the Sun Plaza.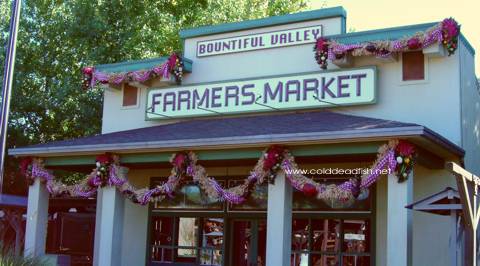 Even closed food locations are decorated for the holidays.
Too bad you can't get any salad or turkey legs there anymore.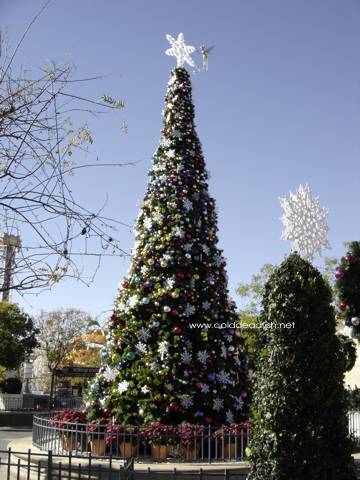 Disney's California Adventure has its own Christmas tree.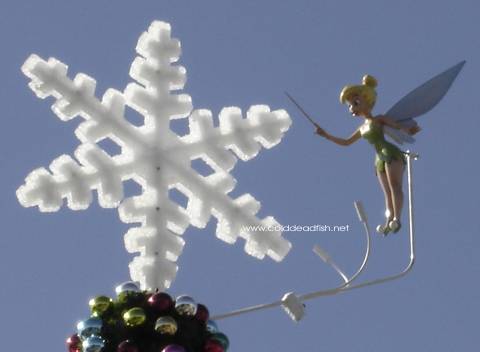 A snowflake and Tinkerbell top this tree.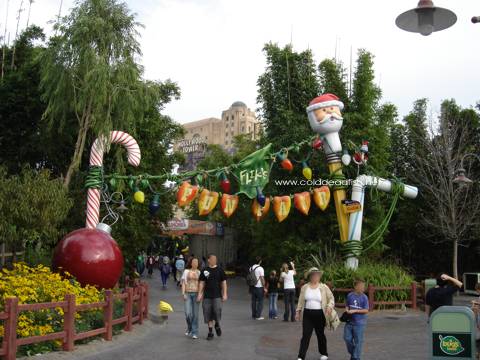 The front entrance to Bug's Land sports Christmas additions.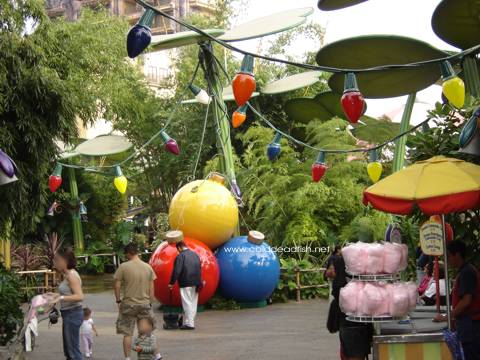 Inside, there are giant ornaments and some Christmas lights, but that's about it. Maybe more next year?

Are you making your plans to visit the Disneyland Resort this Christmas?

To read the October 30, 2005 trip report which includes information and pictures of merchandise released for Christmas 2005, please click here.

Back to Cindy's Disneyland Resort Page.

Back to home.

Last updated January 29, 2006.