MICKEY'S HALLOWEEN PARTY
DISNEYLAND
OCTOBER 1, 2010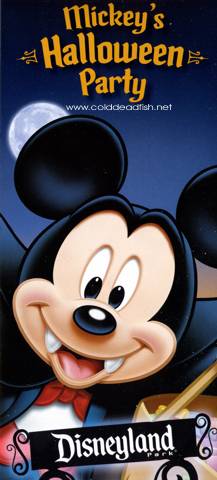 The Disneyland Resort has hosted a separately-ticketed Halloween event at Disney's California Adventure (DCA) since 2005. This year, it was announced that the event, now named Mickey's Halloween Party, would be moved to Disneyland. The event would run on 10 nights, on Tuesdays and Fridays as well as on Halloween night. The Tuesday night events would run from 6pm to 11pm, and the Friday night events and Halloween night event would run from 7pm to 12midnight. Prices ranged from $49 to $59 per person (same price for adults and children , with kids 2 years old and under free) depending on the night, and some discounts were available for selected nights. It was later announced that event attendees would be able to enter the park 3 hours prior to the official start time of the event, so 3pm for Tuesday nights and 4pm for Friday nights and Halloween night. One of the benefits of attending the Halloween events at the Disneyland Resort is that whereas adults normally are not permitted to wear costumes into the parks, they are allowed to wear costumes to the events. There was some confusion/misinformation about whether adults in costume would be allowed into the park at the earlier entrance time, but it was later confirmed that costumed adults could enter Disneyland at 3pm or 4pm, depending on the night they were attending the event.
The husband and I had attended the Halloween Treat event for four of the five years that it was held at DCA, and with its move to Disneyland, we wanted to see what the event was like, so we decided to attend the first night of the new event, on October 1, 2010.
We arrived at the Mickey and Friends parking lot at about 4pm. At the bottom of the escalators, there were signs with guidelines indicating what costumes would be allowed for the event.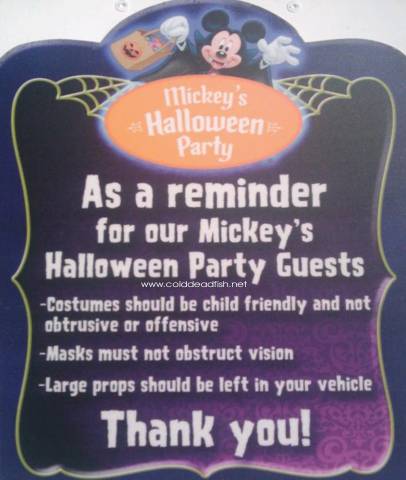 Costume guidelines.
By the time we got to the front turnstiles, it was about 4:20pm. Several turnstiles on the right side were being used as dedicated entrance gates for event guests whereas regular guests could use the turnstiles on the left side. There were lines of people waiting to get into the event.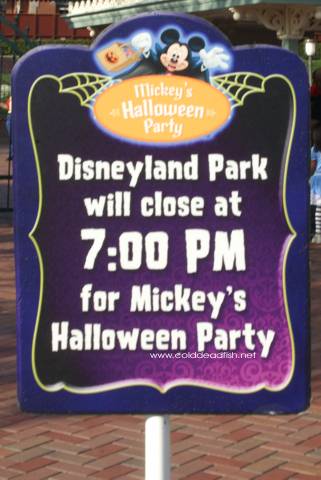 Signs to alert regular guests about Disneyland's closing time.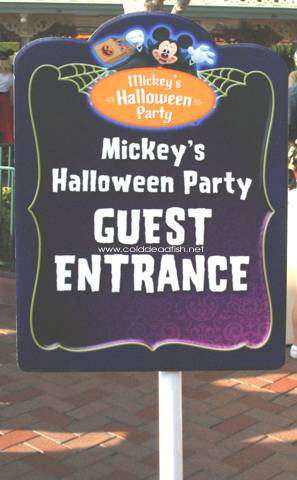 This sign was in the section of turnstiles for event guests.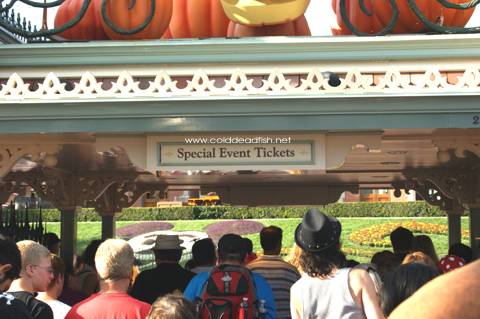 The signs overhead indicate which lines are for event guests.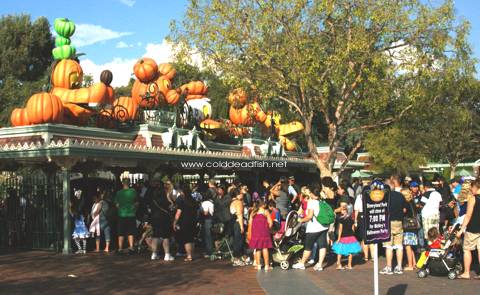 Line of guests waiting to enter Mickey's Halloween Party.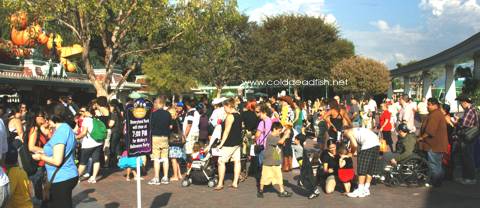 Some of the event guests are already in costume.
We had remembered that early entry for the event was supposed to be at 4pm, so we were surprised that people hadn't been let in yet. We got in line, and the special event turnstiles opened at about 4:35pm, so we're not sure what the delay was. When I had ordered the tickets, I'd opted for an e-ticket, which I had printed out at home.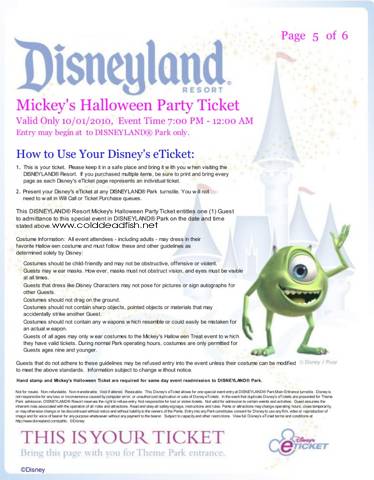 The actual e-ticket printout includes a barcode that is scanned at the turnstile.
When we got to the front, we handed our print-outs to the CM, who then handed us an admission ticket. (Event maps were available at the turnstiles.) We then went through the turnstiles, and the area was cordoned off so that anyone coming through the special event turnstiles was funneled to a row of small round cocktail tables. The CMs at the table took our ticket, stamped it with the day's date, and then put a wristband on each of us. Each of the tables was exactly the same, so it didn't matter which table you went to. We were initially on the left side, but the line wasn't moving at all. We noticed that people were moving much faster on the lines to the right, so we changed lines and got through very quickly. After we got our wristbands, there were then a few rectangular tables with CMs handing out treat bags.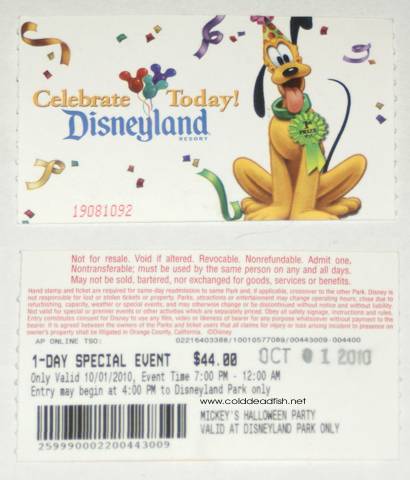 Event ticket, stamped with the date.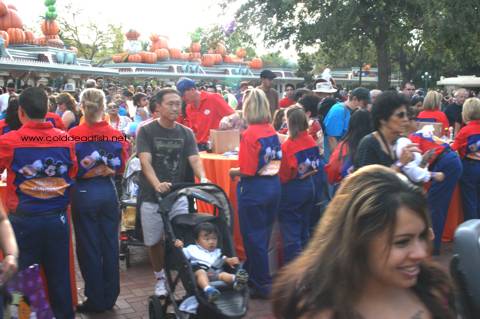 These CMs stamp the event admission ticket and put the wristbands on guests.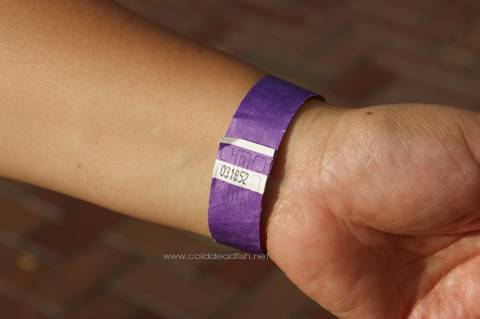 Event wristband, purple for this day.
These CMs hand out treat bags.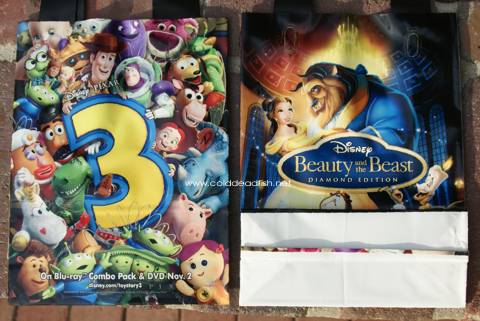 The front and back of the treat bag.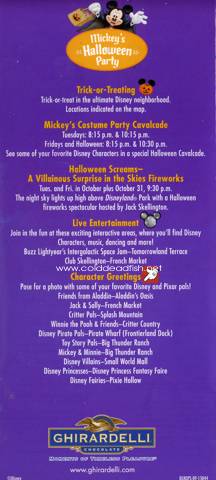 Special offerings for the event.
Here's a link to a large version of the left side of the event map. And here's a link to a large version of the right side of the event map.
The front entrance area had a few decorations for the events, mainly the light-up ghost Mickeys previously used for the event.
Light-up Ghost Mickey, with the Lilly Belle in the train station behind it.
We decided to walk around to see what decorations had been put up for the event. On Main Street, a few light-up pumpkin Mickeys were scattered around Central Plaza.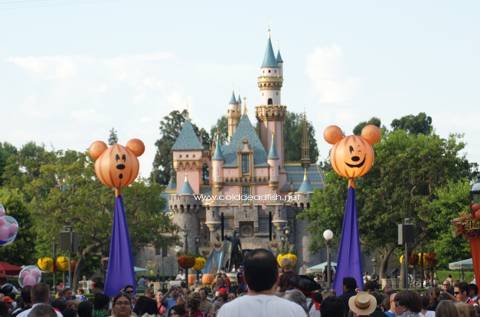 Pumpkin Mickeys and Sleeping Beauty Castle.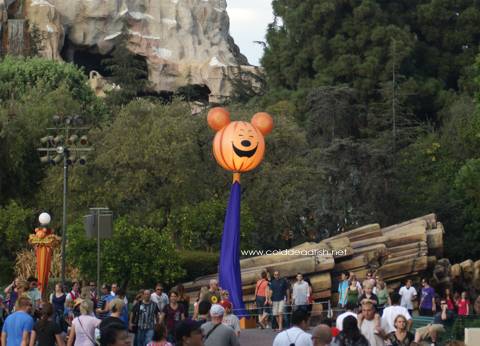 Another pumpkin Mickey, with the Matterhorn in the background.
Unlike in previous years, where many of the event dates were sold out well in advance, none of the dates had yet been sold out for this year. Tickets for the night's event were still for sale even in the park.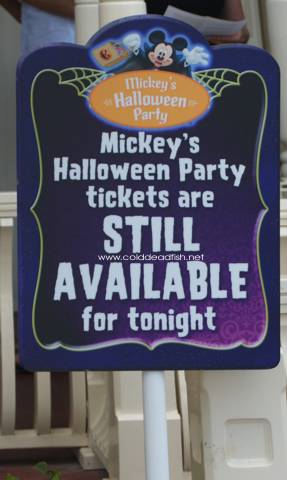 Sign in front of Plaza Pavilion. I expect that sign will probably be up every night of the event.
I had read that as with the DCA event, there would be dance party areas set up in Disneyland. We went to New Orleans Square to look around, but we didn't see anything put up yet. We then went over to Tomorrowland, and they had just started to decorate the Tomorrowland Terrace stage.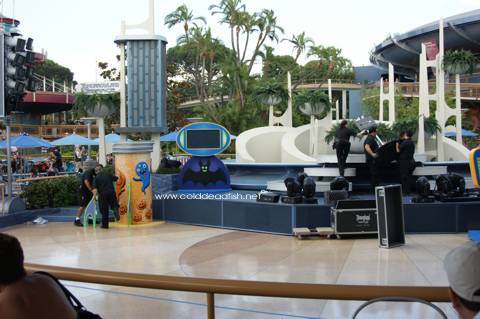 Techs dressing Tomorrowland Terrace for the event.
On the walkway to it's a small world, there was a villains photo op set up on the upstairs portion. One of the things I love about Halloweentime at Disneyland is that there are many more villains out and about than usual. And I know I'm not the only one who's happy about that, because the lines are generally fairly long when the villains are out for a photo op. In this case, it was especially fun to watch because many of the guests having their photos taken were themselves in costume.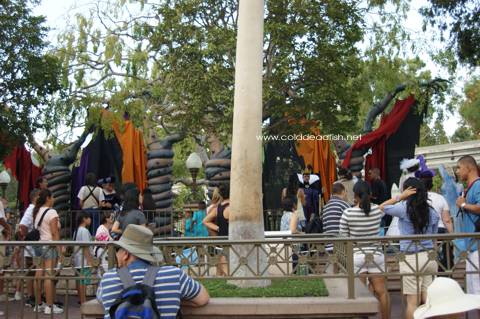 Villains photo op at Small World Mall.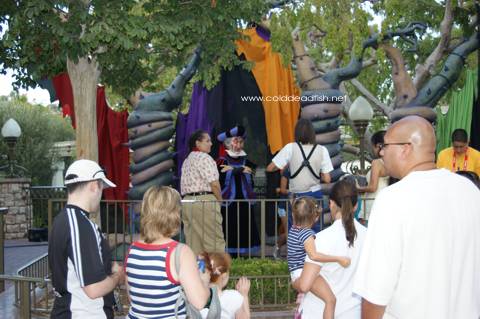 Frollo at the photo op.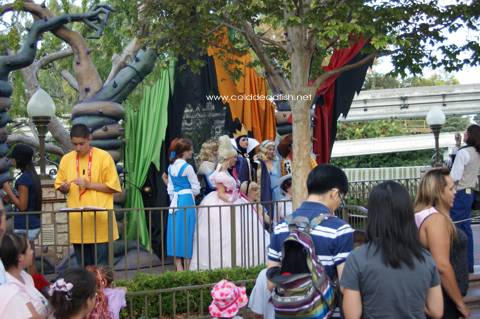 Guests in costume posing for a picture with the Evil Queen.
We went by the Fantasyland Theatre and saw more decorations there.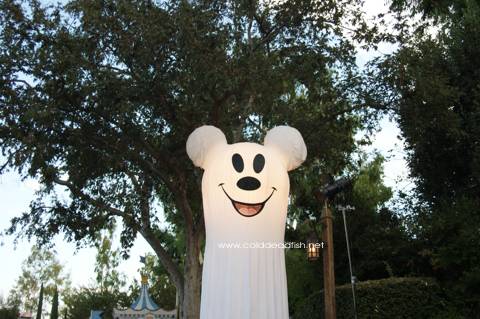 Another ghost Mickey, by the Fantasyland Theatre restrooms.
We then made our way to the Big Thunder trail. We noticed that the Big Thunder BBQ had been re-named for Halloweentime.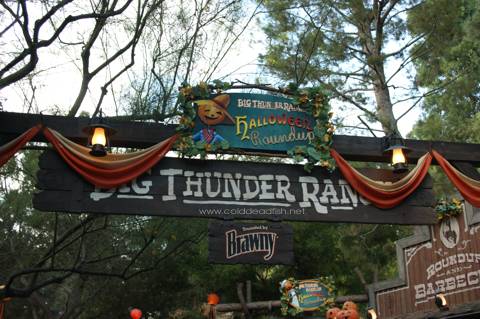 The sign at the very entrance.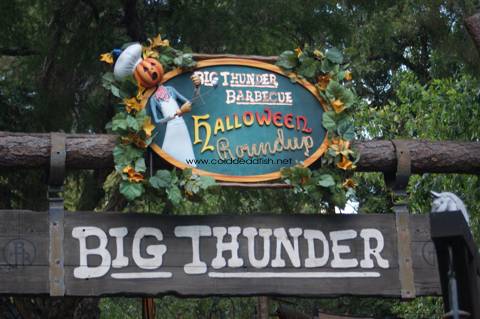 The sign at the entrance to the seating area.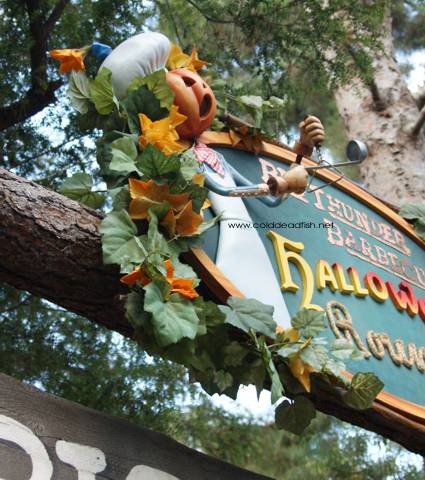 A better view of the cool pumpkin chef.
We then went next door to Big Thunder Ranch because we love to see the new pumpkin carvings every year. They usually change every few days, and they do amazing things with the pumpkins. This year was no different.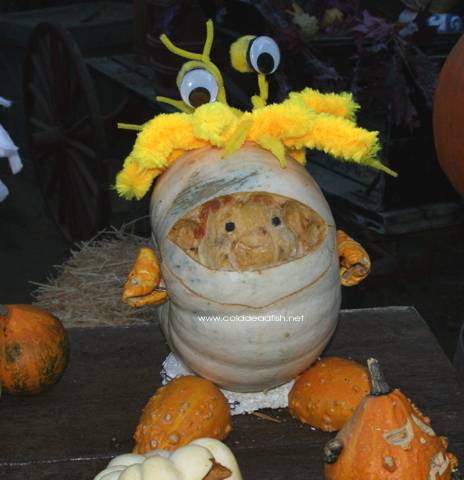 Boo in her monster costume.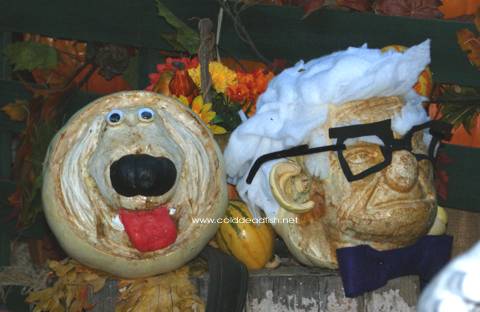 Dug and Carl.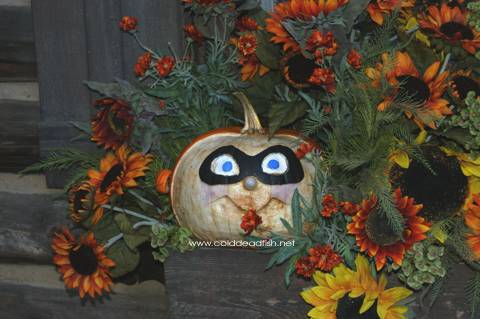 Jack-Jack.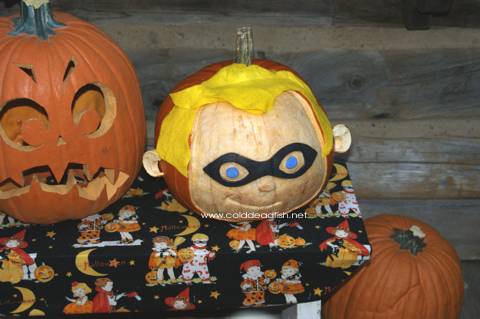 Jack-Jack's brother Dash.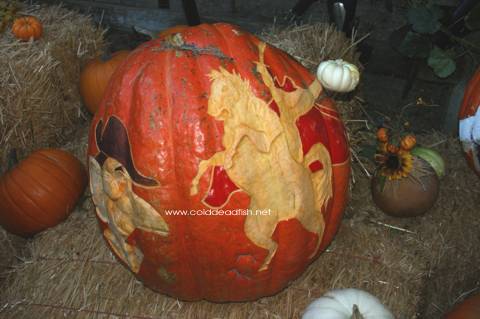 Ichabod Crane and the Headless Horseman.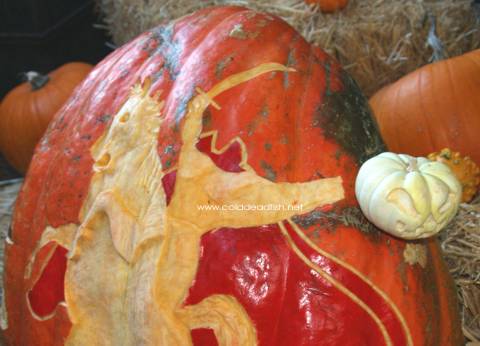 A closer view of the Headless Horseman and his pumpkin.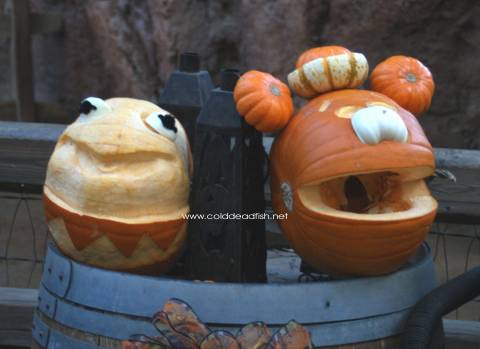 Kermit and Fozzy.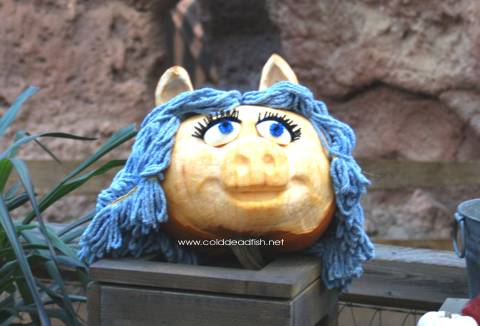 Miss Piggy.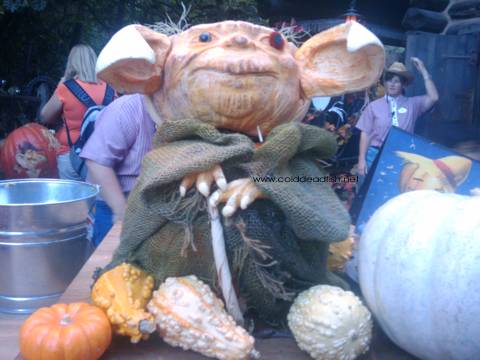 An awesome Yoda.
There was also a meet-and-greet area with Woody and Jessie in Big Thunder Ranch. Santa is normally inside the house during Christmas time.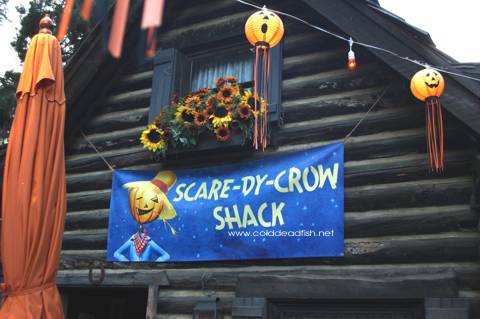 Entrance to meet-and-greet area.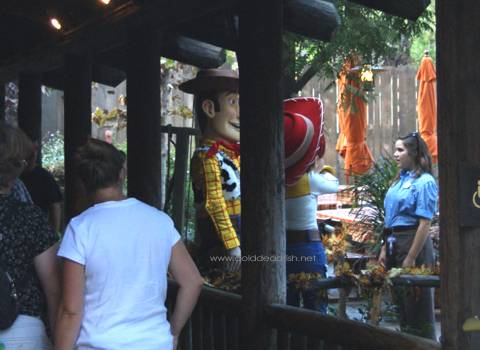 Woody and Jessie.
We had been standing on Big Thunder trail, and one of the families that walked by included a little girl, maybe 6 years old or so, who was dressed to the hilt as Cruella de Ville. She had on the hair, the clothes, the shoes - everything. She looked great. As she walked by, I told her "great costume". Her response back to me was "Thank you, dahhhling." The husband and I cracked up at her dead-on, totally-in-character response.
A friend who was also attending the evening's party had arrived at the park, so we met up with her and back-tracked to a few of the places we'd been. It was about 6:15pm then, so we decided to have dinner so that we wouldn't take up any of the event time having to stop for a meal. We headed to Plaza Inn. As we were waiting in line outside, we heard a couple of the chefs talking to the CM handling the line, telling him that starting at 7:30pm, they wouldn't be allowing anyone into the restaurant who didn't have an event wristband. There had been much speculation and discussion since it had been announced that the park would not be closed and fully swept of day guests before event attendees would be let in. How were they going to ensure that people didn't just stay for the evening's festivities without having to pay for the extra ticket? I thought it was interesting that they had indeed decided to turn away guests without a wristband, but I wondered about the time they chose to do so. The park was officially closed at 7pm, when the event officially began, so I would have thought that 6:30pm or even 7pm would be the latest that a day guest could enter the restaurant. As it is, in the time it took them to enjoy their meal, by the time non-wristbanded people left Plaza Inn, it would already be well into the time of the event, so sweeping the park of non-attendees would be that much more difficult.
We got our food, and by the time we were done with our meal, it was shortly after 7pm - time to check out the party.
We walked out onto Main Street, where Halloween-ish music was playing - not necessarily scary, just sort of in the spirit of the holiday. The talking scarecrows were near the entrance to Tomorrowland and near the entrance of Frontierland.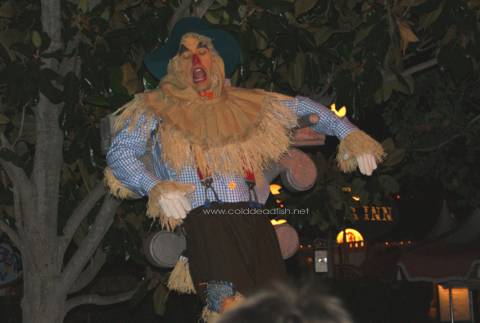 One of the talking scarecrows.
The lighting on Sleeping Beauty Castle was changing and there were also changing and moving projections on the castle. The front area of the castle was roped off, so we're not sure why that was. There wasn't any event listed to be held there, and we never did find out why the area was roped off.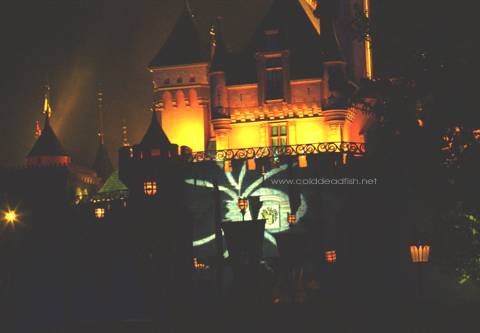 Sleeping Beauty Castle with themed lighting and a projection of a spider.
There was also a projection on the Matterhorn.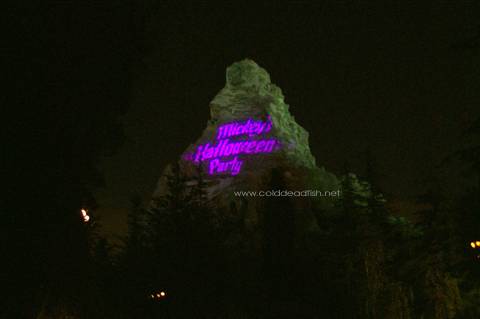 The Matterhorn with the event logo.
We decided to head towards the Matterhorn, but at the entrance of Matterhorn way, a CM was positioned there to check people for wristbands. Anyone without a wristband was not permitted to go through. With such a big walkway and a lot of people going through, I would have thought they'd have the entrance blocked off with ropes and such, so that you could only go through one at a time, giving the CM the opportunity to check each person. At the very least, I would have expected more than one CM covering that entire walkway. I presumed that the entrances to other lands were being similarly monitored, but with the less-than-sufficient CM coverage, it seemed like it would be easy to miss catching someone without a wristband.
We proceeded up Matterhorn way and saw a huge line on the right side. At first, I thought it was a line for a picture with a character, but then we realized that it was a line for one of the treat stations. The line was humongously long, and it didn't even look like it was moving. We walked past the line, which stretched all the way around the right side of the Matterhorn. We noticed that there was one main lighted sign to indicate a treat station, but then there were 5 or 6 separate stations along the way, so the line pretty much just made its way past station after station, which probably accounted for part of the reason for the long line. From our prior experience at the event, we also knew that most people tend to stop at the first station they saw, which made for long lines up front, so we tended to go towards the back. With that in mind, we continued on.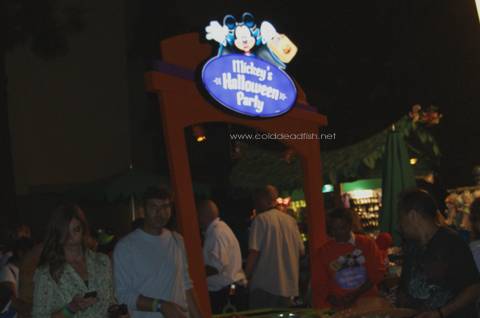 Lighted treat station.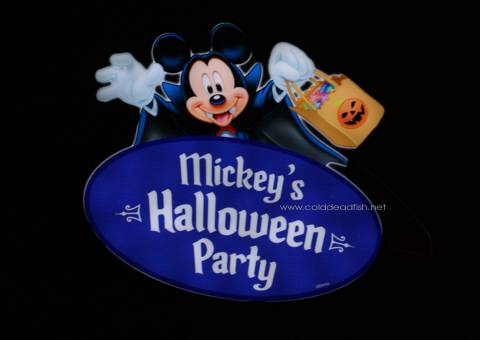 A better view of the sign.
We made our way around the backside of the Matterhorn, and there was another treat trail in the Fantasia Gardens area, near Autopia. We walked past the villains photo op and continued to it's a small world - to discover that the ride wasn't open. We hadn't known what rides would be open for the event, so I was a little surprised that this one was closed. Our friend figured out that the open attractions were listed on the event map, and if the attraction wasn't listed (even though it was still clearly visible on the map), it meant it wasn't open. Going off that theory, which seemed to make sense, here is the list of open (listed in green) and closed (listed in red) attractions and dining locations. Various shopping locations are open as well.
Main Street, U.S.A.
Disneyland Railroad
Blue Ribbon Bakery
Gibson Girl Ice Cream Parlor
Plaza Inn
Refreshment Corner
Main Street Cinemas
Main Street Vehicles
Fire Engine
Horse-Drawn Streetcars
Horseless Carriage
Omnibus
The Disneyland Story featuring Great Moments with Mr. Lincoln
Carnation Cafe
Main Street Cone Shop
New Orleans Square
Disneyland Railroad
Haunted Mansion Holiday
Pirates of the Caribbean
Royal Street Veranda
Blue Bayou Restaurant
French Market Restaurant
Cafe Orleans
Frontierland
Big Thunder Mountain Railroad
Big Thunder Ranch
The Golden Horseshoe Restaurant
Stage Door Cafe
Tom Sawyer Island
Frontierland Shootin' Exposition
Mark Twain Riverboat
Sailing Ship Columbia
The Golden Horseshoe Stage
Rancho del Zocalo Restaurant
River Belle Terrace
Big Thunder Barbeque
Critter Country
Splash Mountain
The Many Adventures of Winnie the Pooh
Davy Crockett's Explorer Canoes
Harbour Galley
Hungry Bear Restaurant
Adventureland
Indiana Jones Adventure
Jungle Cruise
Tarzan's Treehouse (it's not listed on the map, but it was open on the night of October 1, 2010)
Bengal Barbeque
Enchanted Tiki Room
Tiki Juice Bar
Mickey's Toontown
The entire land is closed.
Fantasyland
Alice in Wonderland
Dumbo the Flying Elephant
King Arthur Carrousel
Mad Tea Party
Matterhorn Bobsleds
Mr. Toad's Wild Ride
Peter Pan's Flight
Pinocchio's Daring Journey
Snow White's Scary Adventures
Casey Jr. Circus Train
Disney Princess Fantasy Faire
it's a small world
Sleeping Beauty Castle walkthrough
Storybook Land Canal Boats
Village Haus Restaurant
Enchanted Cottage, Sweets and Treats
Tomorrowland
Astro Orbitor
Autopia
Buzz Lightyear Astro Blasters
Disneyland Railroad
Finding Nemo Submarine Voyage
Captain EO
Space Mountain: Ghost Galaxy
Tomorrowland Terrace
Disneyland Monorail
Innoventions
Starcade
Redd Rockett's Pizza Port
The Spirit of Refreshment
While the attraction wasn't open, the façade for it's a small world had an event projection on it.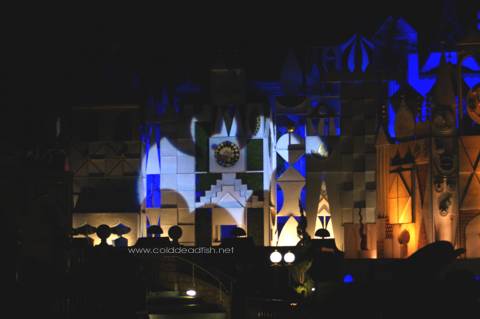 The left side of it's a small world.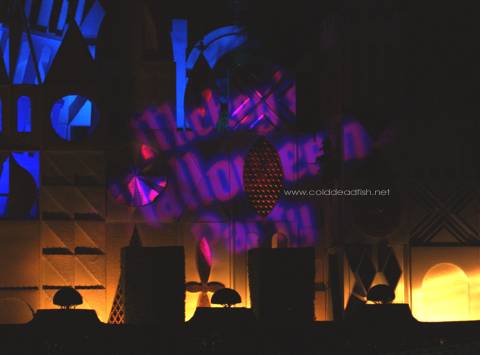 The right side of it's a small world.
We continued on to the Fantasyland Theatre area, and we noticed there was a treat trail there. The other treat trails we had encountered had lines that were longer than we cared to brave, but the line for this one wasn't bad, so we decided to join in the trick-or-treating. Treat bags in hand, we were ready. There were a couple of stations in this location, and we made our way through them all, approaching the CMs with "trick or treat" and our bags held out, and ending with "thank you" when the CMs had given us a treat. It's a fun event and everyone is busy running around having as much fun as they can, but that's no reason adults and children alike can't be polite to the CMs! There were different candy items available at different stations, including Ghirardelli caramel squares, and there were healthy choices as well, like apples, carrots and crisps, that you could request instead. At one station later in the evening, the CM commented that the adults seemed to be more excited than the kids. We told her that the kids were used to trick-or-treating, but for adults, this was pretty much the only time we had a chance to participate as well.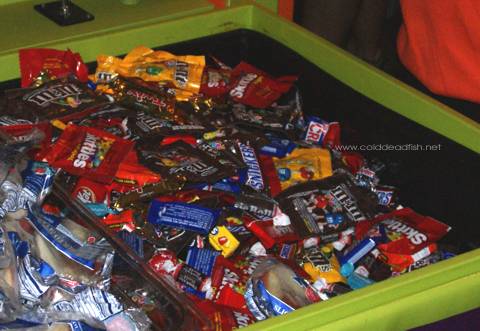 Some of the treats available at the stations.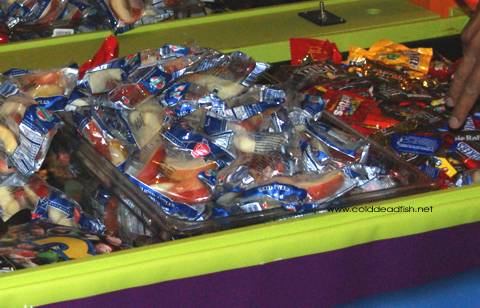 More treats.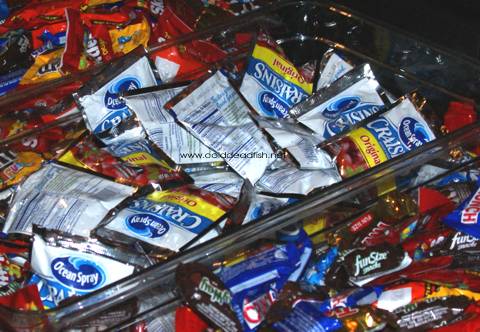 And even more treats.
After collecting some goodies, we headed over to Tomorrowland to check out one of the live entertainment stages. Tomorrowland Terrace hosted Buzz Lightyear's Intergalactic Space Jam, and many event guests were enjoying dancing to the music. Buzz Lightyear and the Green Army Men were on the dance floor as well.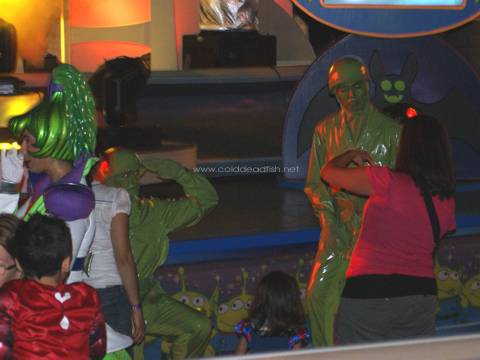 Green Army Men dancing with guests.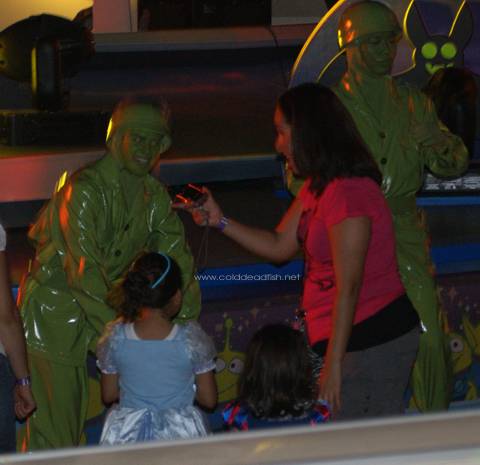 Green Army Men with guests.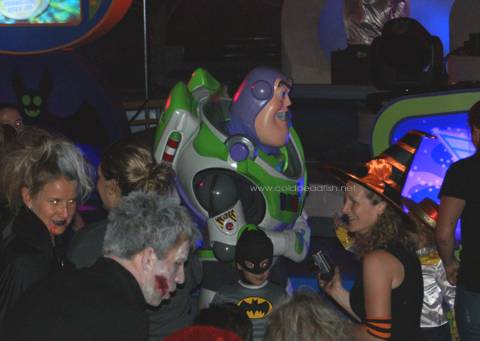 Buzz Lightyear dancing with guests.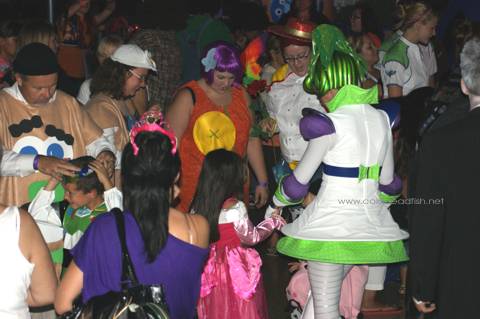 Guests enjoying the party.
We then went into Star Traders, which was listed as one of the locations that had event merchandise. They had t-shirts, pins, hats and picture frames with the Mickey's Halloween Party logo, as well as t-shirts for Halloween Screams and Ghost Galaxy.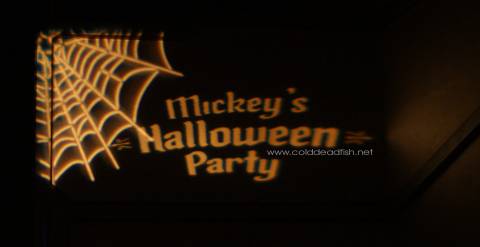 A projection on the side wall of Star Traders.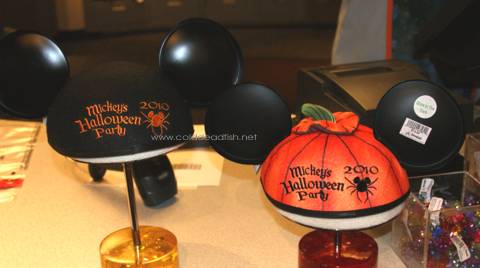 Embroidery designs ($15) for hats (sold separately).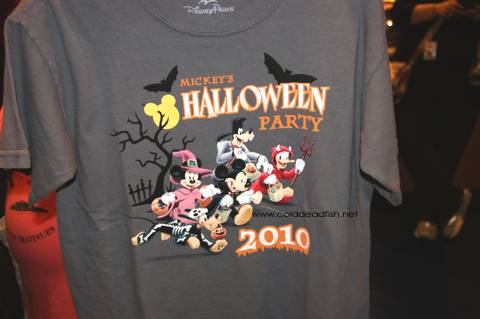 CUTE logo on child's t-shirt.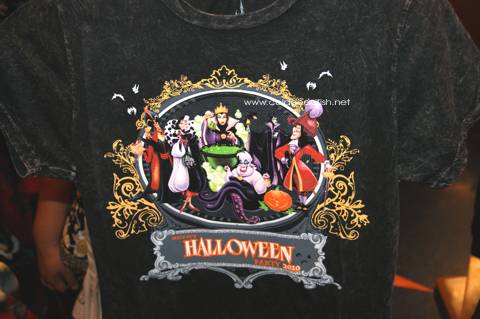 Logo on women's t-shirt.
There did not appear to be any men's t-shirts for the event, at least at this location.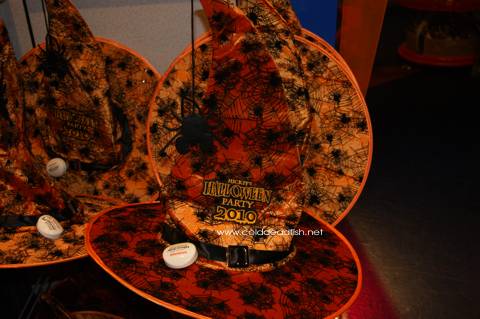 Event hat with Mickey-headed spider dangle.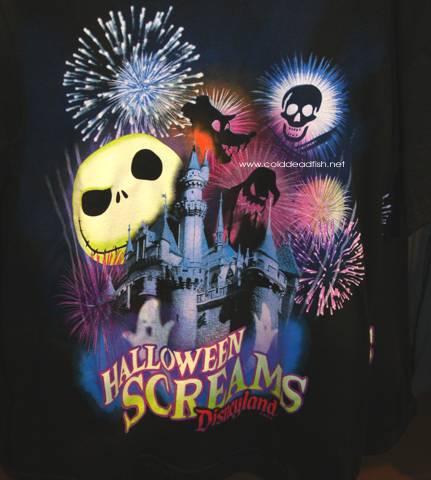 T-shirt for Halloween Screams fireworks show.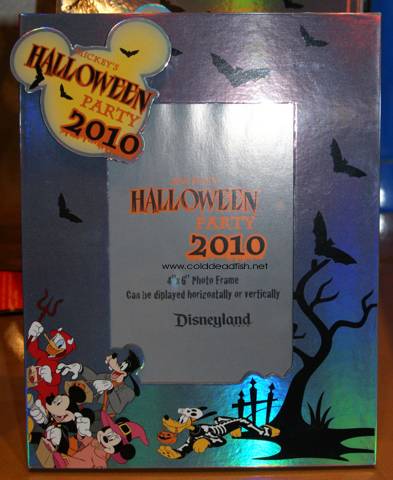 Event logo picture frame.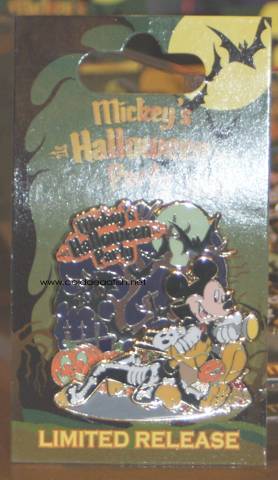 Event pin.
AP exclusive event pin.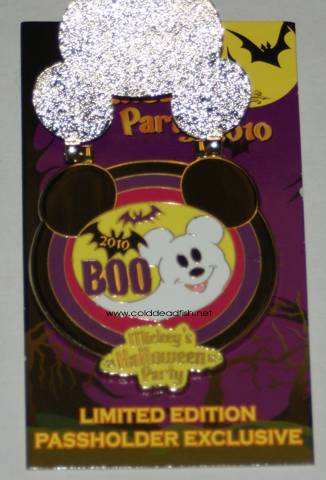 AP exclusive event pin with top lifted to show what's underneath.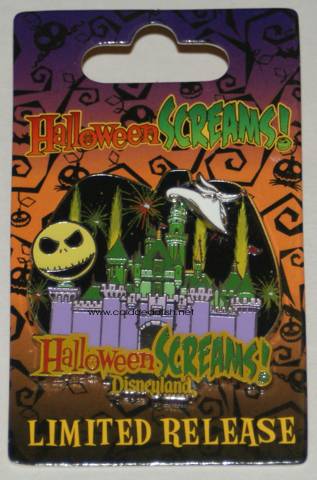 Halloween Screams pin.
We hadn't been to the west side of the park yet during the event, so we headed that way. As we walked by the castle, we noticed that the previously-cordoned-off area was now accessible. As we approached the Rivers of America, we could see that there was fog periodically being let go onto the river, which made for a very nice eerie effect. The Mark Twain was docked by Harbour Galley, and the Columbia was sitting at the loading dock. The loading dock area was a character photo op with various characters, including Peter Pan, Wendy and Captain Hook.
We then went over to French Market Restaurant, which was the location of the second live entertainment stage, titled Club Skellington. The tables and chairs had been removed from the regular seating area, which was now the dance stage. Many event guests were enjoying dancing to the music. To the left of the main entrance to the restaurant, Jack Skellington and Sally were available for a photo op.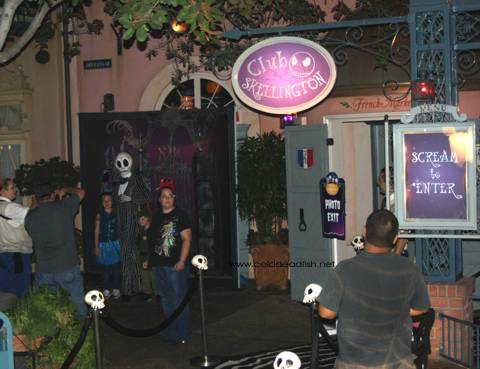 The entrance to Club Skellington, with Jack available for a photo op.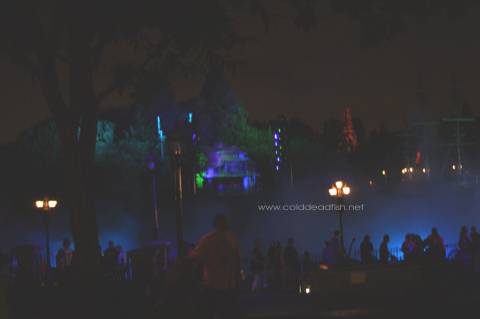 Fog on the Rivers of America.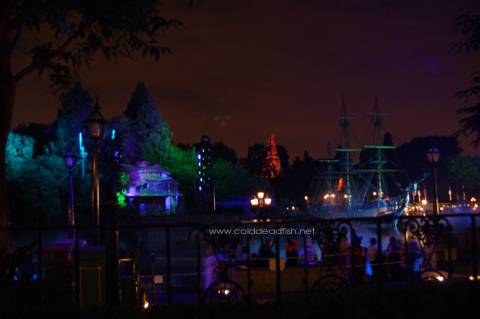 Sometimes the fog subsides for a bit.
We saw that there was a treat trail by the Rivers of America, and the lines didn't seem too bad, so off we went. We ended up with less candy than we had expected though. The first two stations had treats, but several stations in the middle were totally out of treats, and they were waiting to be re-stocked. That seemed like poor planning for so many of the stations in the same trail to be out (on previous occasions, we'd encountered a random station here and there that was out of treats) when it was still relatively early in the event. The last station in the trail still had some treats so we were able to add to our treat bags from there.
By the time we were done with that treat trail, it was about 9pm, so it was time to head back to Main Street to wait for the fireworks. As we were approaching Tarzan's Treehouse, we saw Ernie, who is a security guard who can usually be found at flag retreat. And it turned out that Ernie was walking to greet Maynard, a well-known CM who is usually at the Tiki Room or Haunted Mansion or the Main Street Opera House but was at Tarzan's Treehouse this evening. We said hello to both and had a quick chat with them.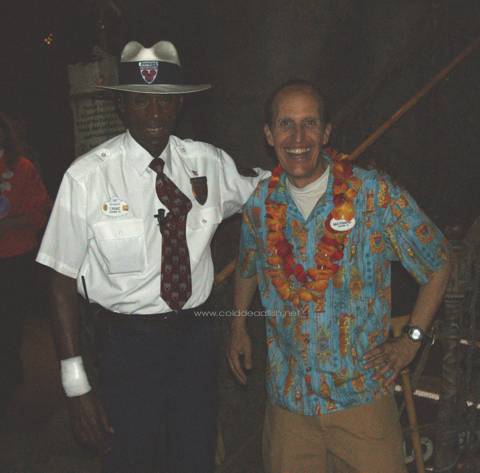 Ernie and Maynard.
The Halloween Screams fireworks show had been introduced last year, but this year, that fireworks show was going to be run only on nights when Mickey's Halloween Party was being held. We got to Main Street at about 9:10pm, and it was crowded but not packed. We found a space on the street but then ended up moving to the sidewalk area, which was less crowded. If you haven't seen this show before, you want to make sure that you have a view of the space right above the left side of the castle, right next to the center spire. Before the fireworks began, we noticed that the pumpkin Mickeys had been lowered and the lighting turned off so as not to obstruct or interfere with the view of the fireworks, so that was nice.
The fireworks started at 9:30pm, and it seemed pretty much like it was last year. I really enjoy this show, with the different songs and different renditions of familiar songs.
After the fireworks, we stayed in the area for a bit as the crowd dispersed. We then took a seat on the nearby benches and then decided to wait for the parade - otherwise known as Mickey's Costume Party Cavalcade. The earlier performance had been at 8:15pm and the second performance was at 10:30pm.
I hadn't known what to expect given that Disney had chosen to call it a cavalcade rather than a parade. I had seen the cavalcade that had run when the event was at DCA, and while I enjoyed it, it did only have a couple of floats, much shorter than a regular parade. This cavalcade turned out to be much longer and more elaborate, and I would have been fine with them calling it a parade. I didn't much care for the song per se - fairly generic and short, so it was repetitive - but I loved the various groupings of characters that came by, including one of my favorite characters of all.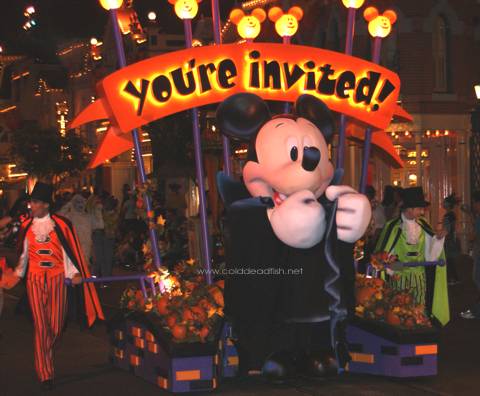 Lead float in the cavalcade.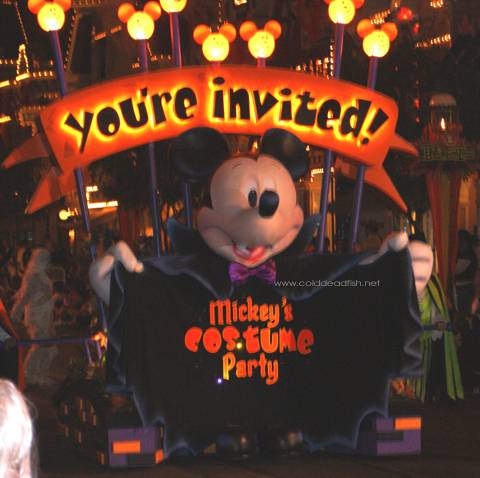 Mickey reveals the name of the parade.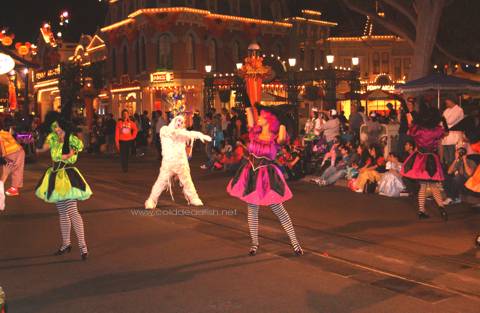 Costumed dancers.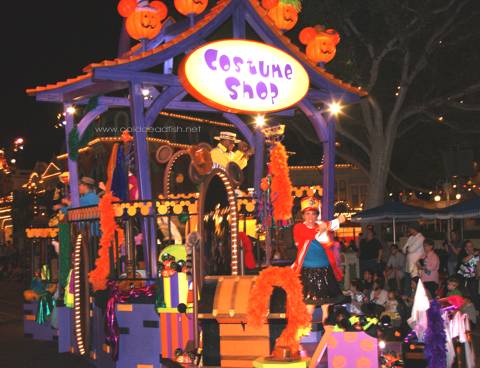 The next float in the parade.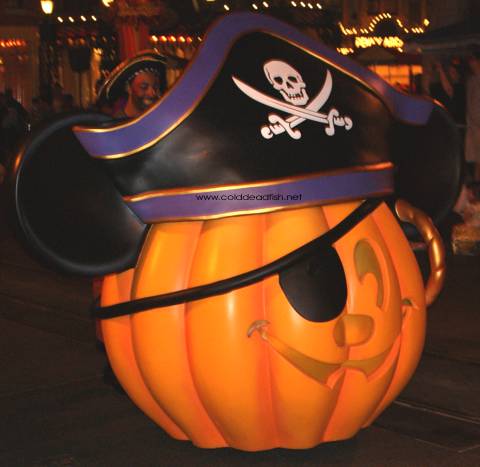 CMs push differently-themed pumpkins for each section of the parade.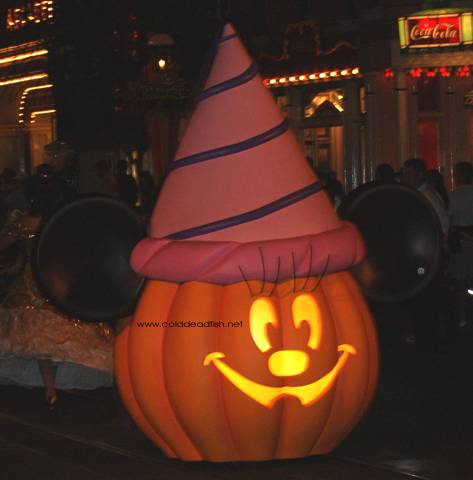 Then there's the princess Minnie pumpkin.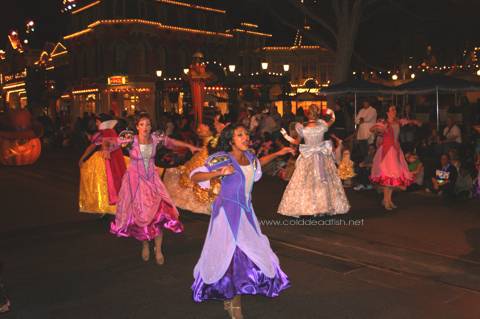 So of course, the princesses must be next.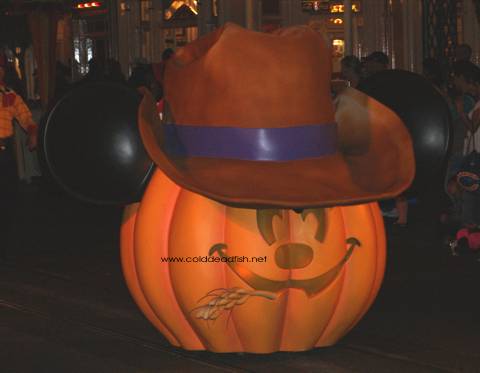 Howdy, partner.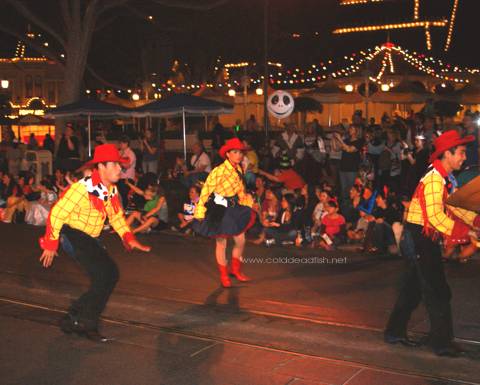 Cowboys galore.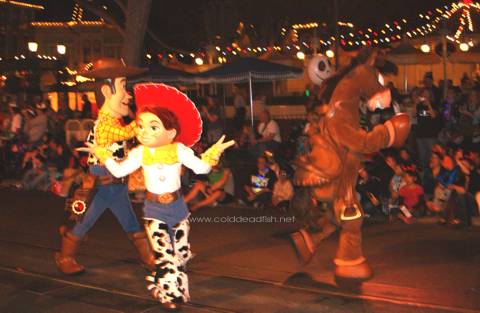 Woody, Jessie and Bullseye.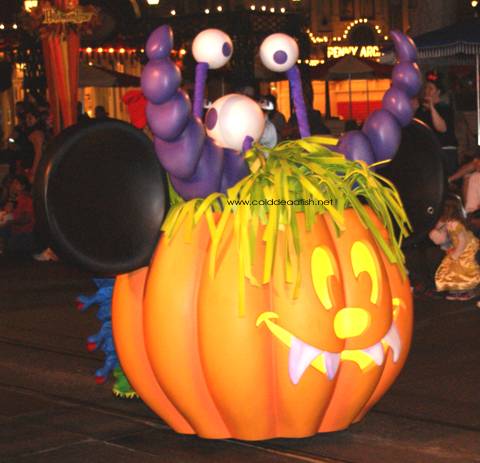 Oh my goodness. Can it be?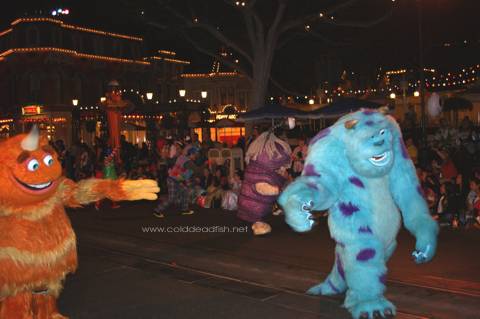 It can! A "Monsters, Inc." section of the parade.
My favorite Disney character, in my favorite depiction of her - Boo!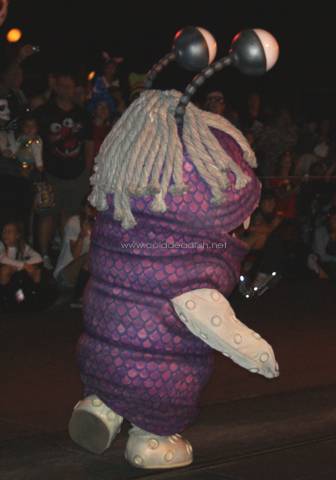 I *love* this costume for her.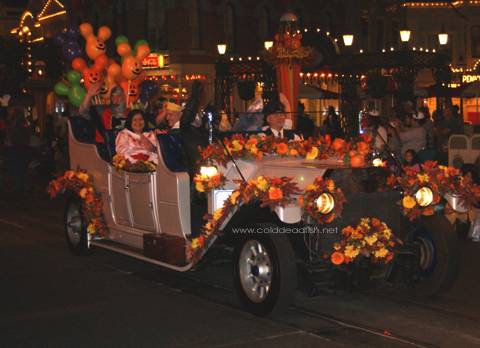 A decorated car with special guests.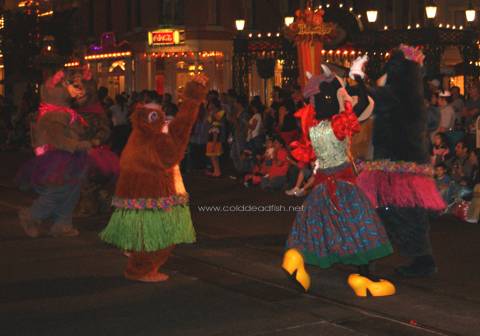 Are those who I think they are?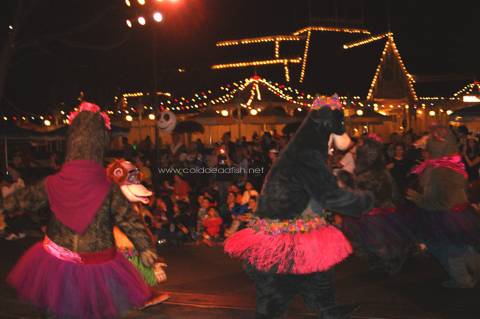 And they're dressed in tu-tus?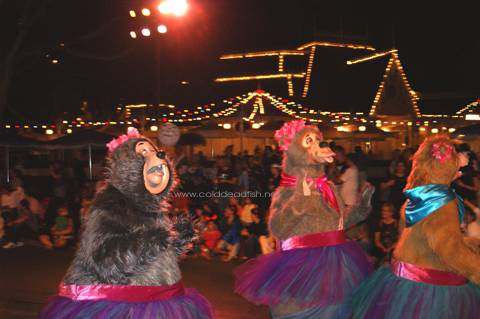 Yes, it IS the Country Bears!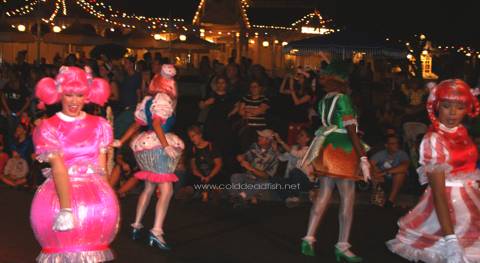 Parade dancers.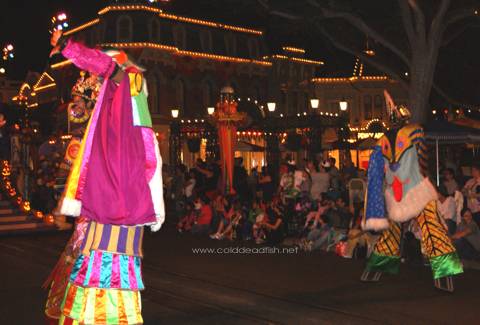 Stilt walkers.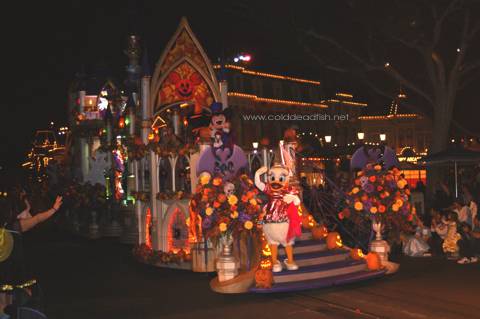 The final float. Yes, it does look a bit familiar.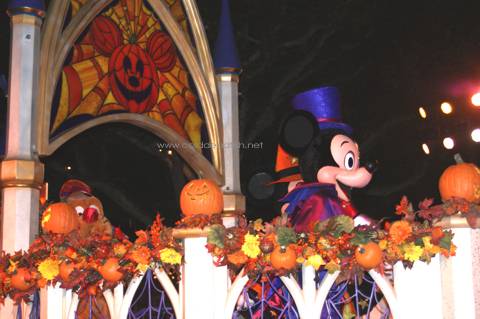 Mickey and Minnie in their normal place at the top of the float.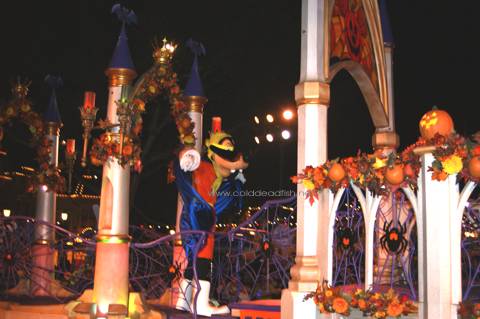 Goofy dressed as a superhero.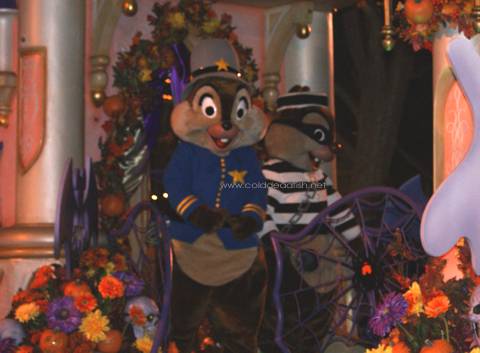 Chip as an English bobby (policeman) and Dale as a convict.
Their costumes are *adorable*.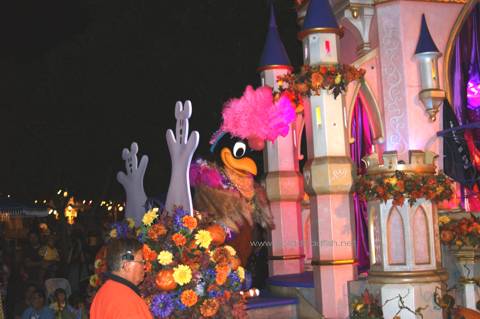 Clara Cluck on the back of the float.
Donald is on the float as well, just to the right of this picture,
but Donald seems to be left out of things a lot. :)
I'm really glad we had a chance to watch the cavalcade. Afterward, we decided that we should actually go on one ride at least. We headed to Fantasyland, and our friend suggested that Snow White's Scary Adventures was an appropriate ride given the occasion, so off we went. After that, we saw that there was a treat trail behind Dumbo, so we made our way through that. We then ended up at the treat trail we'd seen earlier at Fantasia Gardens, which was much less crowded at this point, and then made our way back to the treat trail around the Matterhorn that we'd seen at the very beginning of the night. By this time, it wasn't crowded to get through them at all.
By this time, we were pretty much done so headed down Main Street. We saw that the Opera House, the railroad station and City Hall all had spider web projections on them.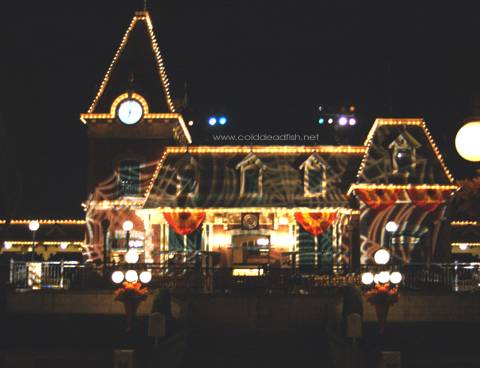 Main Street Train Station.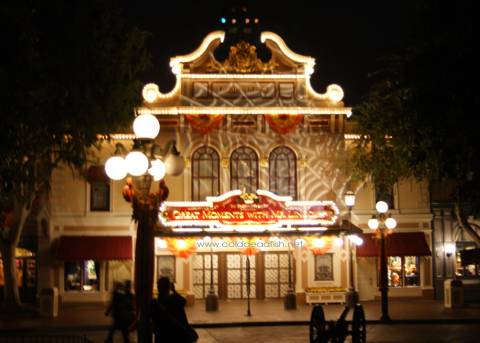 Main Street Opera House.
After admiring the projections for a while, we headed out. Right before the exit gates, there were two more treat stations, in case you hadn't had your fill of candy yet. We hadn't spent that much time in trick-or-treat lines, but each of us ended up with almost a full bag using the treat bags that had been provided to us.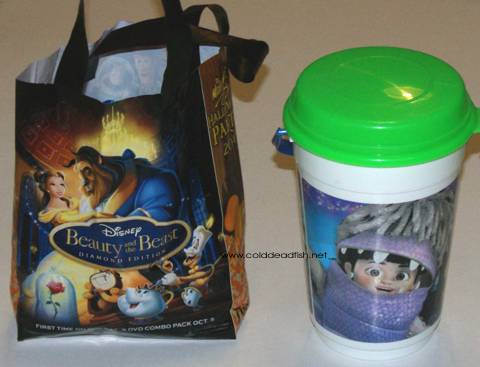 Treat bag next to a Disneyland popcorn bucket to show size of bag.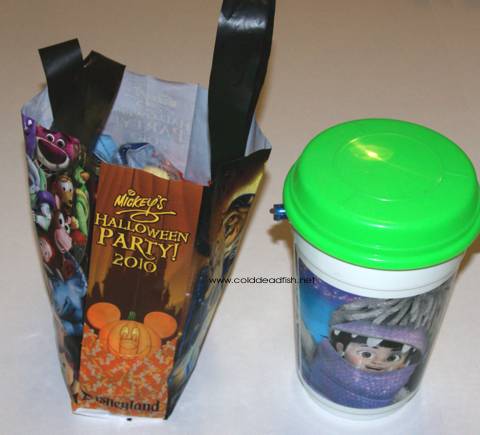 The side of the treat bag has the event logo.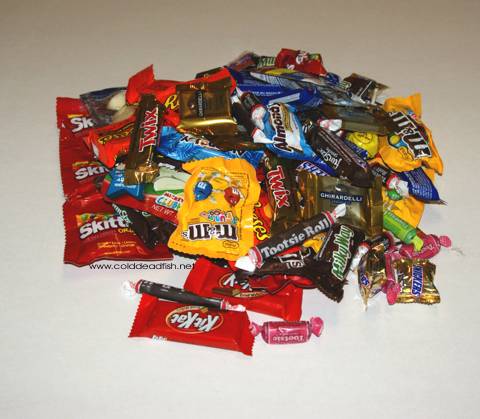 My treats collected during the course of the evening.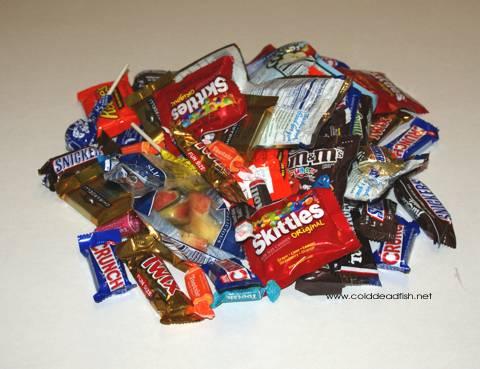 The husband's collected treats.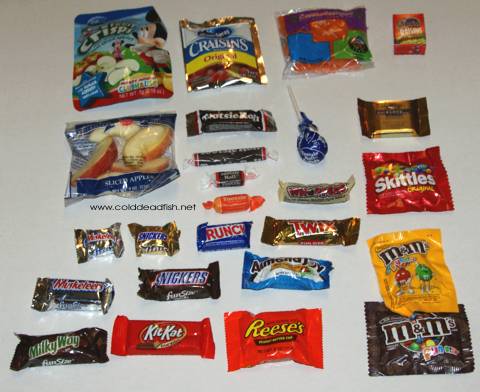 The different kinds of treats available.
We finally left the park and the party at about 11:30pm, half an hour before the party closing time.
All of this information is available from reading the map, but I've consolidated the information below for easy reference and planning purposes.
Halloween Screams fireworks - 9:30pm
Mickey's Costume Party Cavalcade
Tuesdays: 8:15pm and 10:15pm
Fridays and Halloween: 8:15pm and 10:30pm
trick-or-treat locations
walkway by Matterhorn on Tomorrowland side
Fantasia Gardens
area behind Dumbo
Fantasyland Theatre
Big Thunder Ranch
along the Rivers of America between Haunted Mansion Holiday and French Market
back of New Orleans Square by Blue Bayou
Critter Country by Pooh Corner
live entertainment
Buzz Lightyear's Intergalactic Space Jam - Tomorrowland Terrace
Club Skellington - French Market
character greetings
friends from Aladdin - Aladdin's Oasis
Jack and Sally - French Market
Critter Pals - Splash Mountain
Winnie the Pooh and friends - Critter Country
Disney Pirate Pals - Pirate Wharf (Frontierland dock)
Toy Story Pals - Big Thunder Ranch
Mickey and Minnie - Big Thunder Ranch
Disney villains - Small World Mall
Disney Princesses - Disney Princess Fantasy Faire
Disney Fairies - Pixie Hollow
special Halloween-themed food
Blue Ribbon Baker - Main Street
Gibson Girl Ice Cream Parlor - Main Street
Plaza Inn
The Golden Horseshoe
Stage Door Cafe
Tomorrowland Terrace
event merchandise locations
Emporium - Main Street
Disney Showcase - Main Street
Pioneer Mercantile - Frontierland
Star Trader - Tomorrowland
suggestions for making the most of your evening
I'm an adult - should I wear a costume? - As I mentioned previously, these Halloween events are some of the rare times when adults are permitted to wear costumes into the park. Some people wear very elaborate costumes, and some people wear simpler costumes, and some people don't choose to wear costumes at all. There's a good mix of adults in all those categories, so if you want to wear a costume, go for it, and if you don't, that's ok too. No matter what you choose to do, there will be a lot of other people just like you.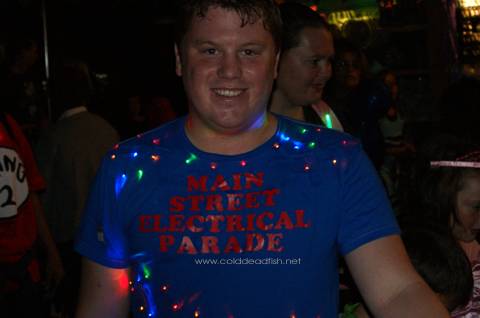 We particularly liked the costume that this guy wore.
bring an extra bag for the treats - While Disney does provide treat bags for guests to use, it's usually a good idea to also bring your own. Without too much effort, you can accumulate quite a bit of candy, and Disney's treat bags are not very big nor necessarily very sturdy. In prior years, I've seen bags break from the weight of the treats, and it's no fun for adult or child to have to pick up all the spilled candy on the ground. Also, the small treat bags can fill up, so if you want more than one bagful, you'll want somewhere else to transfer the candy. Bringing your own extra bag (like a tote bag or a grocery store bag) means that once the treat bag gets about half to two-thirds full, you can dump out the contents into the bag you brought and then there's room in the treat bag for more. Also, if little ones are carrying their own bags, it's easier for them to carry if the bag isn't too heavy. If you have several people who need to keep their own "loot" separate, be sure to bring an extra bag for each person. Some people bring their own trick-or-treating containers, and I even saw one person with a pillowcase, which I thought was funny. If you forget to bring an extra bag, you can also try going into one of the stores and asking a CM for a merchandise bag to transfer the candy to.
take a minute to read the special event map - Once you get your wristband and treat bag and event map, take a minute or two to sit down and look it over to familiarize yourself with where everything is. If there's something you particularly want to do, a specific character you want to try to see, or you want to catch one of the cavalcades or fireworks, you'll want to know where it's happening and when so as not to miss it. Taking a minute to plan out the evening will help you make sure you don't miss something you really want to do.
if getting the most candy is your priority - As I mentioned previously, the treat station lines closest to the entrance tend to get long the fastest. If you want to get candy without waiting in extremely long lines, head towards the farther reaches of the park, either back in Fantasyland at Fantasia Gardens or the Fantasyland Theatre, or the Big Thunder Ranch, or to New Orleans Square or Critter Country, and then work your way back. If you stick around to the end of the night, you'll get more candy without much of a wait that way as well, though you might have a smaller selection of what's available. The healthy choices tend to run out first.
if getting pictures with characters is your priority - Familiarize yourself with where the different groups of characters will be and who is the most important character for you to get. If you have several, you'll have to make a choice of their order of importance. In prior years, the line for Mickey and Minnie tended to be the longest, and they also need to take occasion breaks, adding to the wait time. When the event starts, make sure you're already at the location of where your favorite character will be, but be prepared that your particular character might not be at the photo op at that moment in time. Oftentimes, the characters rotate being at the photo op.
How do they make sure only guests with wristbands stay in the park for the event?
Other than the comment overheard at Plaza Inn and the CM checking wristbands at the entrance to Matterhorn way, I didn't see any other way that they were ensuring that only guests who had paid for the event were able to enjoy the event offerings. I had on a short-sleeved t-shirt, so my wristband was easily visible, but I didn't notice that the CMs at the treat stations were looking at people's wrists to make sure they had wristbands. They were pretty busy passing out candy and keeping the lines moving. When we went on Snow White's Scary Adventures, there was no CM at the entrance checking for wristbands, and I didn't notice the CM operating the ride looking at people's wrists for wristbands. We didn't make any food purchases, so I don't know if the places other than Plaza Inn were checking for wristbands before helping people. There would be no way to check people for wristbands who were waiting for the cavalcade or the fireworks, so I would think it wouldn't be that hard to just hang out for a few hours if you wanted to see those without paying for an event ticket. I don't know why Disney decided to change the event so that it wasn't a hard close. If they wanted to make sure that people had the extra couple hours in the park before the event, they could have a section cordoned off to gather all the event guests while the rest of the park was swept of day guests.
As I mentioned, Toontown was closed for the event. Toontown usually has to close early for fireworks, but as I recall, it usually closes around 8pm. Since the event's official start time and the park's official closing time was 7pm, why not utilize Toontown in the meantime? Close Toontown to the general public at 6pm, and then re-open it at 6:30pm for event guests only. During that time, they would have exclusive use of Toontown, and maybe have one or two treat stations and a few characters out for people to interact with. All event guests would need to be in Toontown by 7pm or would have to wait to enter the main turnstiles at 7pm. In the meantime, the rest of the park would be swept of day guests. At 7:30pm, the park would be cleared, and then event attendees would be allowed access to the rest of the park.
Now, I'll readily admit that I don't know how long it normally takes to sweep the park, and I also don't know how many event tickets were sold, so I don't know that all of the event attendees who arrive at the park before 7pm would fit in Toontown. However, if they started the sweep of the park in order from Toontown, event guests could be let into parts of the park that are swept first, so they'd have access to Fantasyland before they had access to Tomorrowland or New Orleans Square. There is also the area behind Big Thunder Ranch/BBQ, the old Festival of Fools arena which is now used to house corporate events. That could be another holding area for event guests. And some of the other timing issues might need to be adjusted, but I know this isn't the first time where Disney has dealt with having to separate out some guests who are allowed to stay for a different event. Disney is asking people to pay extra for the benefit of staying for Mickey's Halloween Party, so it wouldn't be fair if they didn't do everything they possibly could to ensure that someone who hasn't paid the extra fee doesn't get to participate in activities that others have paid for.
The Inevitable Question - Is it worth it?
The question always comes up - is the event worth the price being charged for it? No one can answer that question for someone else. It really depends on each person's individual circumstances. Some people might have to factor in traveling or local lodging costs. The event would obviously be less expensive for a single person or a couple than it would be for a family of 4 or 6. And the cost would probably be more manageable for a family of 4 working adults than a family with 2 young children who are at least 3 years old. The price of the event ticket isn't worth just the amount of candy you get - there's nothing available that you can't buy in a store yourself. It's not necessarily worth the price of just the character meet and greets since you could come during the day and track them down yourself, as most would probably be generally available. The price of the event ticket probably isn't worth just being able to see the cavalcade and fireworks, which are exclusive to the event. And the price of the event ticket is certainly not worth it if you don't have the spare money in your entertainment budget - paying to attend the event rather than paying bills or other necessary expenditures would be ridiculous. If you look at all that is offered during the event and cannot see the value in paying the asked-for price, then this is definitely not an event for you to attend. But if the combined offerings sound good to you, then by all means buy a ticket and have a great time. Whether or not someone else thinks it's worth it should have no bearing on what you might enjoy. Did I have a good time? Yes. Did I have the best time ever? Well, no, but that's expecting a lot. Do I regret paying the price and attending? No. I had a fun evening, with some very memorable moments. Were there things that didn't quite go right and could have been done better? Yes, definitely, as I've mentioned above. There might be others who had a very different experience at the event and are today telling others that it was a total waste of their time and money. Anyone who is considering going needs to weigh all the opinions and decide what works best for them. The husband and I already had plans to attend another night of the event because friends will be going, so we'll spend the evening having a good time and enjoying the festivities with them.
for more information
As I mentioned, it's good to hear a range of opinions about an event, but sometimes, you don't necessarily know many people who are interested in attending the same events you are. A website like MousePlanet is a good place to hear many varying opinions, as others who have attended the event will use the discussion boards to post about their experiences, good and bad. In addition, the weekly Disneyland Resort Update (usually posted on Monday mornings) often includes information and opinions about events happening at Disneyland and DCA.
To read about Mickey's Halloween Treat in 2005, please click here.
To read about Mickey's Halloween Treat in 2006, please click here.
To read about Mickey's Halloween Treat in 2007, please click here.
Back to Cindy's Disneyland Resort Page.
Back to home