Mickey's Halloween Treat - Disney's California Adventure - October 13, 2006
This year, where for the first time in a long time, Halloween has returned in force to the Disneyland Resort with the arrival of Disney's Halloweentime, they have also brought back Mickey's Halloween Treat, which ran only for 6 nights last year at Disney's California Adventure (DCA). Presumably, it was a trial balloon to test interest, and the response must have been positive enough (the event went on sale to annual passholders first, and the event was almost sold out from those sales alone) for them to bring it back. This year, the event runs on nine nights. Eight nights were originally scheduled, but an additional night was added due to overwhelming demand. Even then, all nights were sold out about a week prior to the first event night on October 13th. Last year, tickets were sold to annual passholders for $15, and this year, the annual passholder price was $19, each reflecting a $10 discount from the regular price of the ticket. Last year, each night ran for 3 hours. This year, each night runs for 4 hours, though starting and ending times vary, depending on the day. On October 19, 26, 30 and 31, the event runs from 6:30pm to 10:30pm. On October 13, 20, 22, 27 and 29, the event runs from 7:30pm to 11:30pm. (Some of the tickets had incorrect times printed on them. For example, some of the tickets for October 13 were printed with an event time of 7:30pm to 10:30pm.) As with last year, adults are permitted to wear costumes (within certain guidelines) to the event, which is a treat in itself to some since adults are not normally allowed to wear costumes to the Disney parks. Remember that if you're an adult in costume, and you plan to visit DCA before the event or you plan to visit Disneyland before or after the event, you will not be permitted to wear your costume, so plan accordingly with either a visit back to your car or by getting a locker.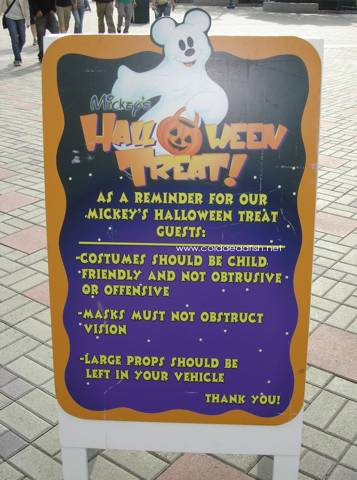 A sign at the parking structure esplanade explains costume guidelines.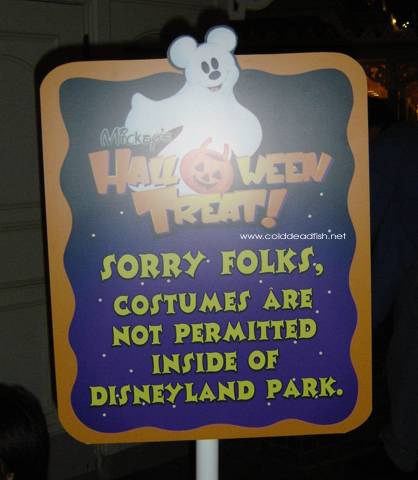 This reminder sign is out again this year,
though it still neglects to mention that the prohibition only applies to adults.
We had such a good time last year that we definitely wanted to attend again this year. We got tickets for the 13th (what better day to attend a Halloween event than Friday the 13th?), and we arranged to meet up with other friends who were also attending that night. Since the event was also being held on Halloween this year (which it was not last year), I knew I wanted to go that night as well, so I got additional tickets for the 31st, and I'll be attending with another friend.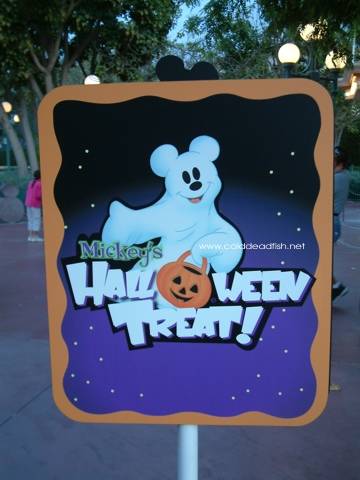 The good news is that Mickey's Halloween Treat is back this year.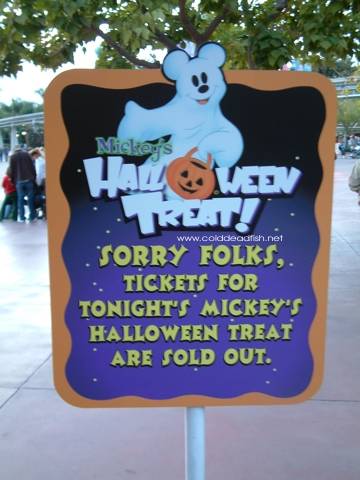 The bad news is that if you don't already have tickets, the event is already sold out.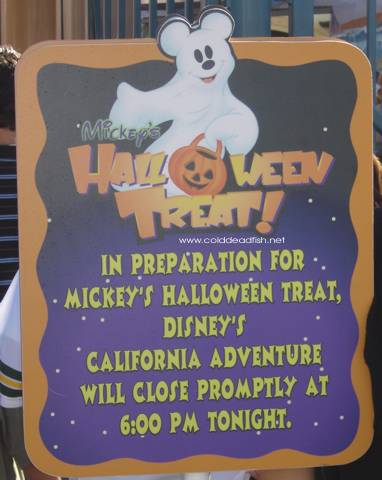 There should be signs in front of DCA to let patrons know the closing time of the park for that day.
Because of various circumstances, we decided to stay locally at the Tropicana, which we love because the rooms are nice and comfortable, and the hotel is just across the main entrance on Harbor, so it's also very convenient. We left the hotel around 6pm, and getting through bag check wasn't too bad. We went into Disneyland around 6:10pm, and the turnstile lines weren't too long but after stopping to browse in some of the shops on Main Street, we noticed a lot of people streaming down Main Street. We realized that DCA had closed at 6pm to accommodate the event, so everyone was apparently just going straight across the esplanade into Disneyland. The lines at the corn dog cart and at Coke Corner were pretty long. Because of our time constraint this year, we didn't have time to have a full dinner like we had done last year, so we got in line at Coke Corner and got chili dog combos, which come with a bag of chips. Everything was in a cardboard box, and the bags of chips were on the bottom, with a plastic tray over them and then the two chili dogs in smaller paper trays on top. We asked for a second cardboard box so that we could cover the top since we were going to be on the go.
Just as we were getting in line, we had noticed friends sitting nearby, so after we got our food, we stopped over to visit for a minute. We had decided that we were going to take our food to eat while we waited in line in the esplanade. We had figured we would meet up with them when the event started, but running into them was fortuitous, and they decided to come with us. We figured that since we were there and had to wait for the event to start anyway, if we waited in line to get into DCA, we'd at least be near the front of the line when the gates opened. By the time we joined the people already waiting in front of the DCA gates, it was about 6:40pm, and we were at the end of a line that went right to the "O" of the CALIFORNIA letters in front of the gates. We sat down to have our dinner and chatted with our friends and were then joined by another friend shortly thereafter.
We were caught a bit off-guard when, at about 7:15pm, the gates were opened and people were immediately being let through the turnstiles. We scrambled a bit to get up and grab our belongings and pull out our tickets. They scan your ticket, and there are brochures at the turnstiles which have a map and show where all the various activities are held, and what attractions, dining locations and shopping locations are open in each land. They don't specifically hand them out (which I think they should because not everyone would necessary know that there's a brochure specifically created for the event), so be sure to take one. (I love that on the map itself, as on the regular map for DCA during Halloweentime, the CALIFORNIA letters in front of the gates are printed just like they are in real life, with the two A's replaced by candy corn and the other letters in candy corn colors.) After you enter the gates, a CM hands you a treat bag that advertises the DVD release of the film "Cars", and the full Halloween Treat logo is also printed on the sides. They apparently learned from last year - these bags are much more sturdy as they have a flat, pleated, reinforced bottom. Last year's bags were basically just two pieces of plastic connected together, so the seam was easier to break as the bag was filled with candy. Inside the bag is a poster advertising the availability on DVD of the Disney Channel original movie entitled "Twitches Bewitched Edition", a sheet of temporary tattoos (Cinderella, Aurora and Prince, Ariel, baby Pluto and two other baby dogs I can't identify [edited to add: apparently, the other two dogs are baby Tramp and baby Copper (from "The Fox and The Hound")]) in connection with the release of two Disney games, Disney Princess Edition: Become the Ultimate Disney Princess and Disney Dogs Edition: Blue Ribbon Challenge. There is also a separate temporary tattoo square with the POTC 2 logo (skull and flaming torches). Hmmm, if they can include these things inside the bag, maybe they could have included the event brochure as well?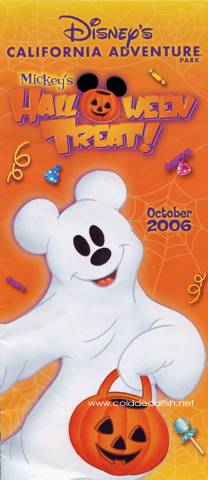 The front of the event brochure.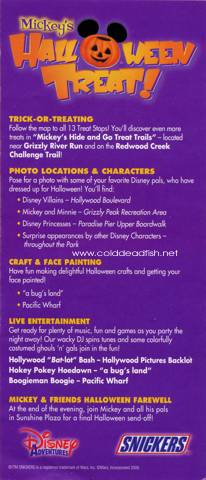 Where to find everything and everyone.

The park map.
This is a full-sized version of the left side of the map so that it can be more easily read, so be warned that the file is rather big and that if your browser automatically scales pictures to your screen size, you will have to manually make it bigger.
This is a full-sized version of the right side of the map so that it can be more easily read, so be warned that the file is rather big and that if your browser automatically scales pictures to your screen size, you will have to manually make it bigger.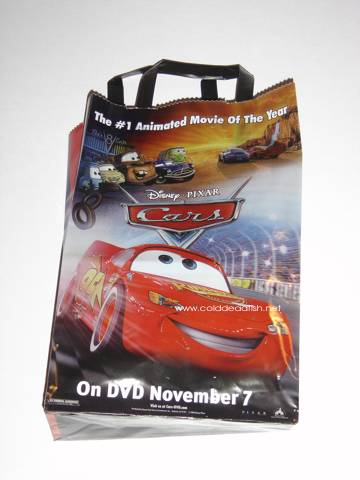 The front of the treat bag.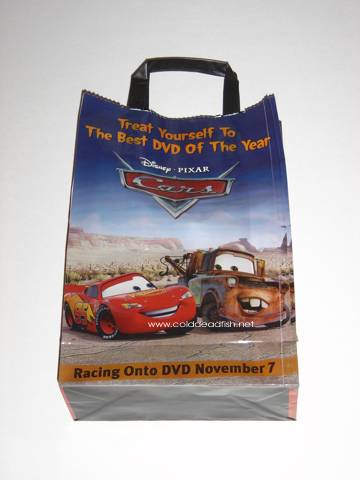 The back of the treat bag.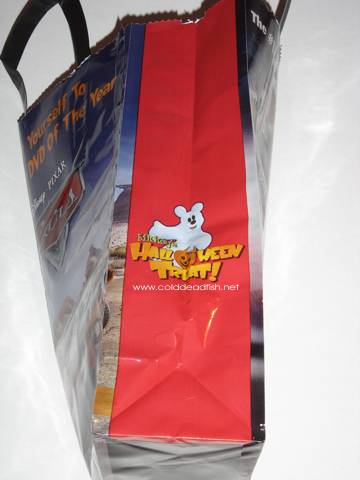 The spine indicates the bag is exclusive to the event.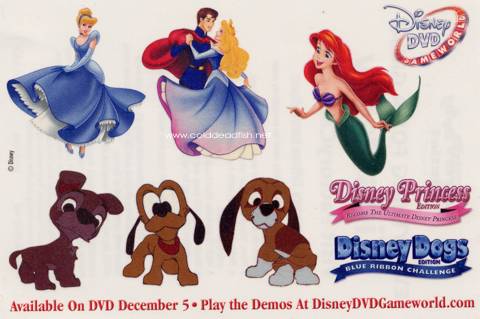 Princesses and puppies.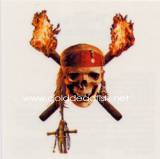 In case you're not one of those already pirated-out.
As we had been waiting in line, we had noticed that rising ghosts were being projected on the mountain range to the right of DCA's entrance, and there was an event banner hanging from the Golden Gate Bridge. In the Sun Plaza, there were giant lit Mickey pumpkins and Mickey ghosts. You were let into the park but everyone was stopped at the Sun Plaza for a sort of "rope drop" at about 7:30pm, when the rest of the park was open.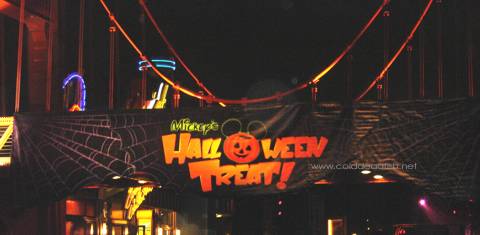 The banner from last year made an encore appearance.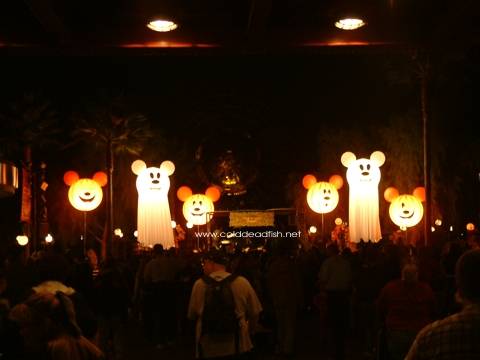 Mickey ghosts and pumpkins rise from Sun Plaza.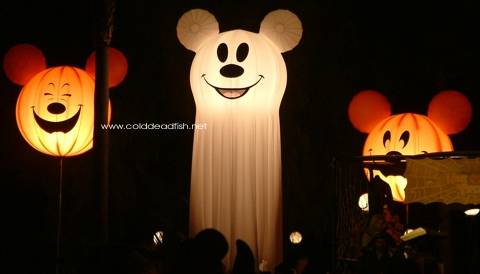 A closer view of the left side.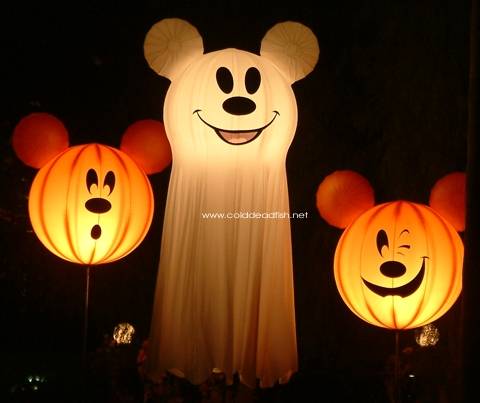 A closer view of the right side.
We headed towards the bug's land area, and as we walked past the iconic bear head of Grizzly River Run, we noticed that a giant spider web had been projected on him. Throughout the evening, we noticed that there were giant spider webs projected on various other structures throughout the park as well. As with last year, there was a jack-o-lantern projected on the loop in Screamin'. There was also music playing throughout the park, which seemed to be the same as what was playing last year, including "This is Halloween" from "The Nightmare Before Christmas", different versions of "Grim Grinning Ghosts" from the Haunted Mansion attraction, "Heffalumps and Woozles" from Winnie the Pooh, "Night on Bald Mountain" from "Fantasia" and "Elephants on Parade" from "Dumbo". The decor in the park was similar to last year, with lots of the cylindrical bases that blow air straight up and made wavy cloth figures. There were also projections on buildings and on the ground of the event logo, scary eyes, rising bats, spinning pumpkins, spiders and "BOO!"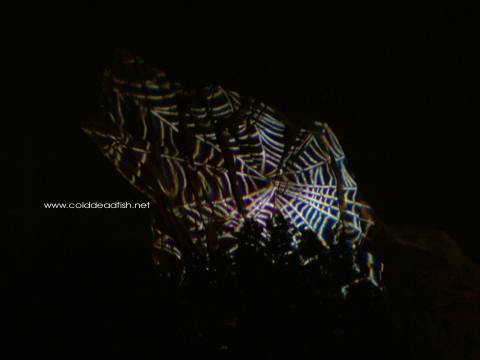 The bear ensnared in a spider web.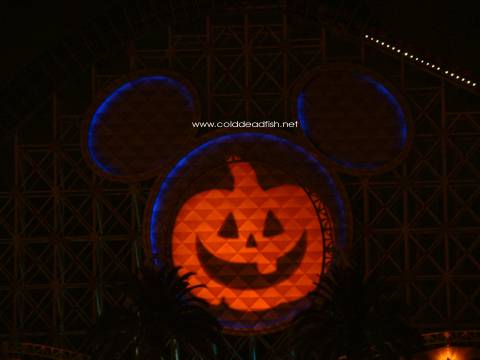 Inside the Screamin' loop.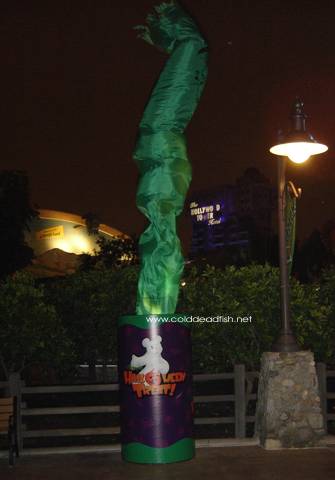 These decorations from last year were in abundance this year as well.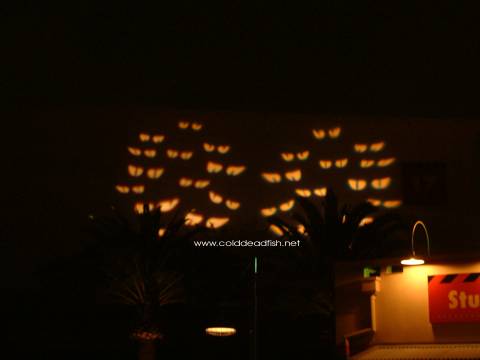 Bats staring out at the Hollywood Pictures Backlot.
We stopped at PT Flea Market to get wristbands for event pins being released that night - a jumbo pin and three regular pins. Each person who got a wristband could buy a maximum of one jumbo pin and two each of the other three pins. The jumbo pin was indicated as an edition size of 300, and there was no edition size information for the other three pins. There were a limited number of wristbands available, and up until an hour before closing, having a wristband was required to purchase the pins. (Once you bought your pins, they cut the plastic wristbands off.) Starting one hour prior to closing, any remaining pins were available for purchase to anyone who had not previously purchased pins that night. I don't know if any of the pins sold out that night, and there has been no information released about whether any of those pins or any other pins will be available for purchase on other event nights. We had originally planned to get the wristbands at opening and then returning later to buy the pins themselves but since the line was pretty short when we joined it, we decided to just make our purchases then and not have to think about it again.
The event jumbo pin.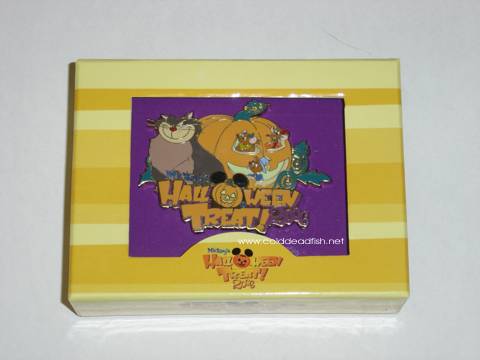 The themed box is a great extra touch.
The event logo is printed on all four sides of the box.
The pin with the event logo.
The event pin with Minnie.
The event pin with Donald's nephews.
(I don't get the springs - they just made the pins more fragile
as the wire and springs could get easily tangled and bent.)
It was then off to trick-or-treating, and yes, we again approached each CM at each treat station with a hearty "trick or treat". The stations were set up the same as last year, with the same doors and designs. They did make one slight change that shortened the lines and made any existing lines move faster. Last year, there was only one line for each station. This year, they had two lines at each station, one on either side of the candy bin. Since there were generally two or three CMs working each station, it made trick-or-treating much faster and smoother. Sometimes, one CM would do crowd control to let people know there were two lines, but some of the lines were set up so that the second line was being blocked by one of the treat station entrance or exit signs, so even though a CM was directing you to the so-called second line, you would have to effectively climb over the sign to get to the supposed second line. Maybe they'll have that worked out for future nights so that the signs themselves aren't an impairment to the lines. Also, last year, they had stickers at each station that corresponded to the picture on each door that you could then put into your map, but they didn't do the stickers this year. We enjoyed the stickers because it was an additional activity to do - you're on a quest to get all the stickers, and that gives you an additional incentive to visit each treat station. They probably discontinued the stickers partly because it held some of the lines up. We always had our map out so stickers could be readily applied, but many people did not have their maps out, so they would have to dig to find them, and the line would stop as they searched. I hope they bring back the stickers next year (with different designs if possible - if they were Disney-related and not just generic Halloween icons, that would be even more fun and would probably elicit more interest from people to participate), and they could solve the previous problem if they printed the icons on the treat bag itself. That way, the stickers could be applied on the bag, which everyone would have out anyway, so no digging around to look for a map, and no holding up the line.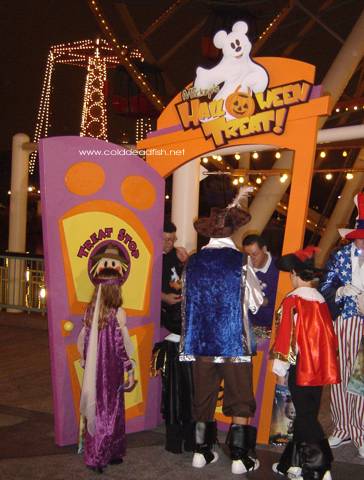 The treat station doors from last year made a return appearance.
We made our way to the Paradise Pier area at the back of the park, stopping at a few treat stations along the way. The princess character photo op was again set up on the upper boardwalk right outside the Cove Bar overlooking the bay. We noticed this year that the backdrops for the photo ops were much nicer, whereas last year's backdrops were much simpler and much more makeshift. Some of the treat stations were a bit more skimpy with their candy than others - it really depended on who you got. Most treat stations had similar candy, with only a few exceptions that I noticed (e.g., I only remember seeing the Clark bars at one or two stations). Some treat stations were sponsored by Snickers because that's all they had, and there was a Snickers sign on the station. One addition we noticed is that almost all of the stations, with the exception of the Snickers-only ones, also had a nutritional treat as well. Sometimes, you had a choice, and sometimes, they just gave you some of each. Different stations had either small bags of carrots, sliced red apples or sliced green apples. They seemed to be fairly popular - we noticed later in the evening that they'd run out of those treats while there was still plenty of candy left.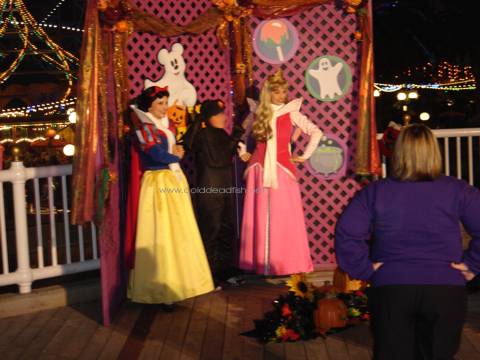 The backdrops for last year's photo ops were basically a trellis adorned with event icons.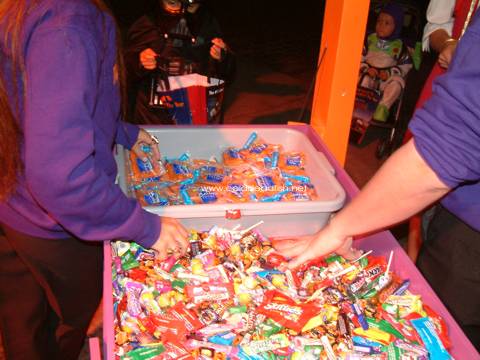 Candy or carrots?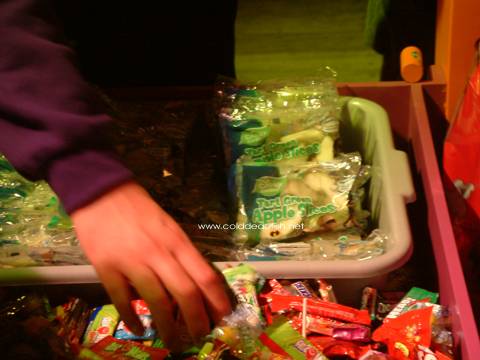 Or maybe green apples are more your preference?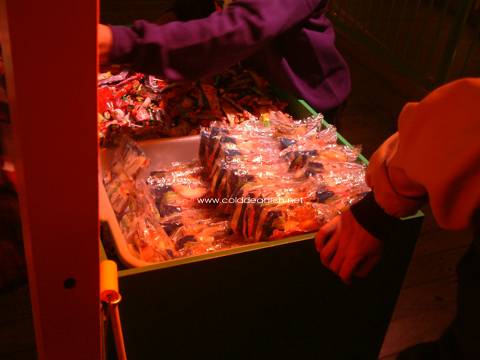 Red apples are good too.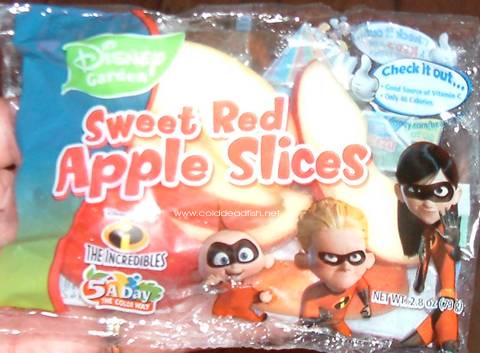 The Incredibles apparently love their red and green apples.
Like last year, they were giving out name-brand candy, which was nice. It was an added part of the game to see what you specifically got at each station. At a few locations, some of us would ask for a specific candy if it was something we saw and hadn't gotten yet. We each managed to get one of the eyeball candies they also had last year, but this year, they also had teeth and fingers. We also traded candies among each other, bringing back memories of also doing that as kids. Because of all the treat locations, you end up with quite a bit of candy by the end of the night. Here's a list of the different candy that we received, with all of the candy in miniature or fun sizes unless otherwise indicated, and some candies were in more plentiful quantities than others: Skittles, Twix, Starburst fruit chews, Butterfinger, Snickers peanut caramel chews, Mr. Goodbar, Milky Way, Milky Way Dark, Milky Way caramels, Nestle Crunch, Clark (chocolatey coated peanut butter crunch), Hershey's milk chocolate, Hershey's special dark, giant individual Lemonheads, Smarties (regular size rolls), Wonka Laffy Taffy (sour apple, strawberry, grape and banana), Airheads (blue raspberry, cherry, watermelon), Airheads Sours (apple and raspberry), Giant Now and Later (banana, apple, tropical punch, grape, cherry), Tootsie roll, Tootsie fruit roll (cherry and lemon), Sixlets (candy coated chocolate flavored candy), dum dums pops (cherry, cotton candy, blue raspberry, grape), fudge and chocolate wrapped in an "eyeball" covering, peanut butter and chocolate wrapped in a "mouth and teeth" covering, taffy candy and orange flavored hard candy in a jack-o-lantern cover.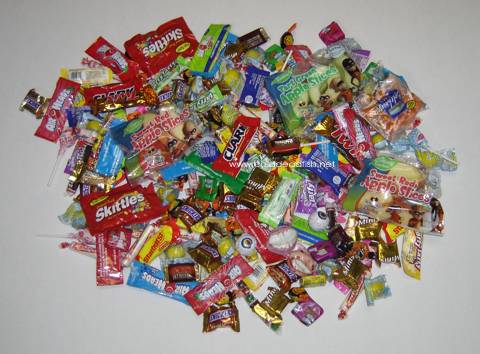 The spoils of the evening from just one adult.
Last year, we hadn't known that the midway games were free (we apparently hadn't carefully read that part of the map...) and that the prizes were candy, so we made a point of playing them this year. I'd never actually played any of them before, and I'm not usually very good at that sort of thing, but I was apparently on a roll this night. First, we started with the skeeball. None of us did all that well, but it was fun to play a few rounds. We then played the basketball toss, which is difficult because the hoop is so much smaller than normal size. We all tried a number of times, and sometimes, we got close, but nothing. I announced that I wasn't leaving until I'd made a basket, but it was suggested that we might then be there all night. After a few more failed attempts, I decided on one more time - and swish, nothing but net! I was rewarded with candy. We then moved on to a game where you get three balls to throw at cloth figures to knock them down. They said you win if you knock two down. Figuring I wasn't going to be able to even hit any of them, I threw the first ball ... and managed to knock two of them down with the one ball! I then knocked down one with each of the subsequent two balls. Much rejoicing and more candy. The next game was that you had to try to throw a ball into a tipped basket. That didn't work very well at all. The next game was a race where you had to roll balls up a slope, trying to get them to drop into the holes, with the holes further away being worth more points then the closer ones, and your dolphin moves in the race as you amass points. I felt I was doing pretty well because I was managing to drop the balls mostly in the further holes, and sure enough, when we were done, I had won! Yep, rejoicing and candy. The last game was that you had to try to throw balls into a milk jug with a very tiny opening. Impossible! But overall, it was a fun time.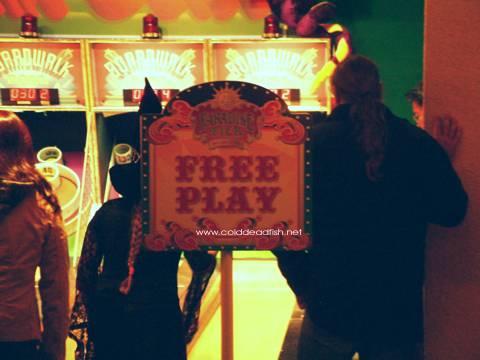 Having the sign out was very helpful.
We then noticed that the store at Paradise Pier was selling merchandise themed to the event. I hadn't read the map to see that mentioned, but another of our party had remembered seeing something. One of the disappointments last year was that there was no event merchandise available at all. After visiting the nearby treat station, we went in for a look. They had adult t-shirts with the small event logo on the front left breast and the large event logo on the back, and the kids' t-shirt had the large event logo on the front. There was also a hooded adult sweatshirt with the large logo on the front. They also had two keychain styles, one that has the small event logo on one side and flips to a jack-o-lantern on the other, and another that was ghost Mickey. The ghost Mickey is designed also as an antenna topper, so you would just have to take off the keychain parts on top. On Mickey's skirt, as it were, the small event logo is on the one side and DCA 2006 is on the other. They also had the event Mickey beanie (the beanie and the keychain/antenna topper are the only dated merchandise available) that I'd seen the previous weekend at World of Disney, and there was a picture frame as well.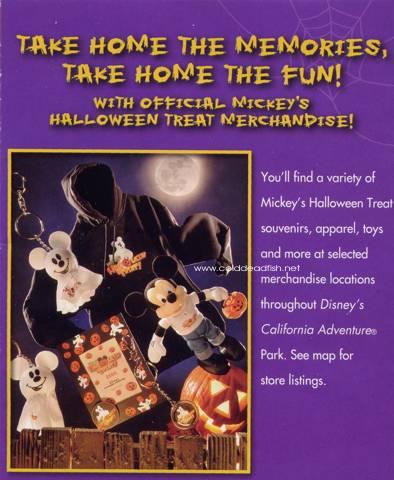 If you make it, they will buy it.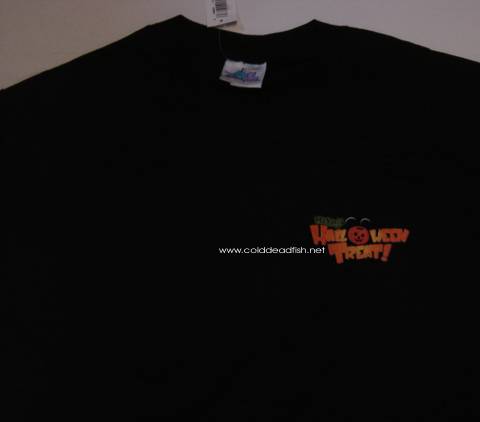 The front of the adult t-shirt.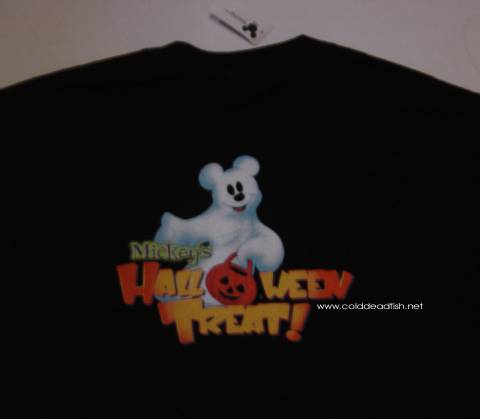 This logo is used for the back of the adult t-shirt,
the front of the adult sweatshirt
and the front of the children's t-shirt.

The two-sided keychain.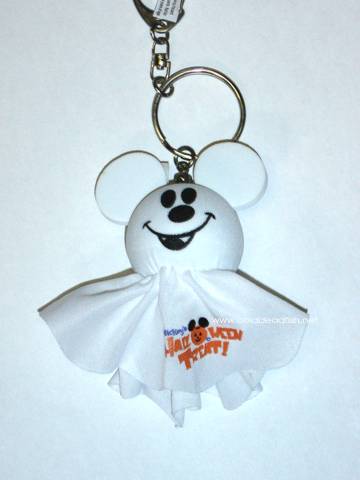 The front of the Mickey keychain/antenna ball.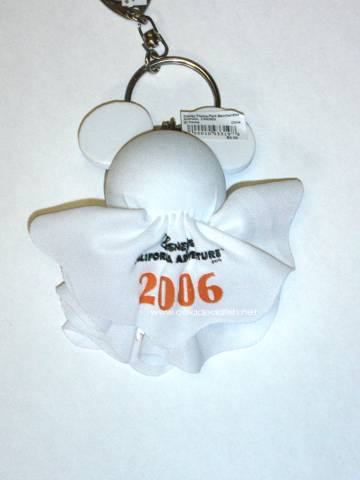 The back of the Mickey keychain/antenna ball.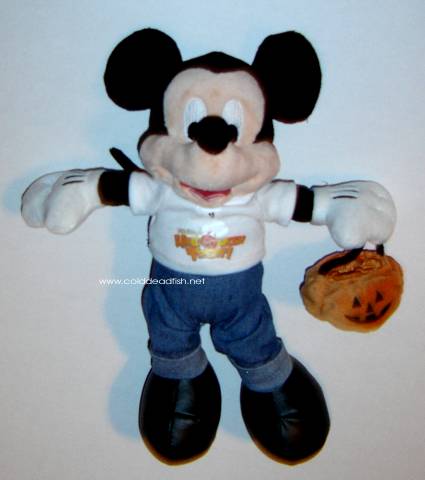 Mickey is apparently a guest at his own event.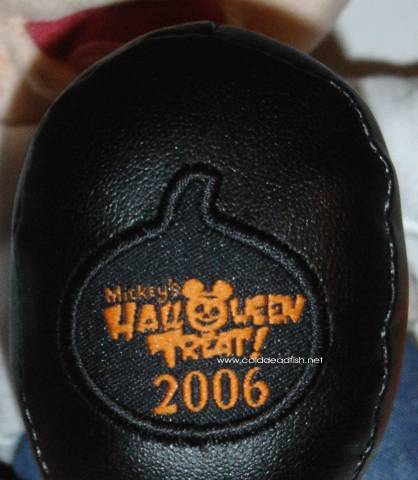 The bottom of Mickey's foot has a dated imprint.
We went further down the pier and were getting in line for another treat station when it started to rain, big drops. As we were opening the umbrella, it started to rain more, and by the time we'd gotten the umbrella open, it was raining even harder. And then the sky opened up, and there was a downpour for about 5 minutes. Many people had not come prepared, so they ran for cover, and the line of people at the treat station in front of us disappeared. We stood waiting for the rain to subside some, and then we proceeded to the treat station and were rewarded with a big handful of candy for braving the rain. Our bags got wet, and for the rest of the evening, we were pretty much getting wet candy, but since all of the candy is wrapped, it wasn't a big deal.
Some of our group decided to stop for some food, so we continued on our way. We had read about two treat trails on the map and found them, one at Redwood Creek Challenge Trail and one around the Grizzly River Run (the attraction itself was closed). You basically make your way through the paths, and there are some decorations and treat stations along the way. I thought there might be additional characters or something else along the way, but nope. I suppose it's a good way to get people into areas of the park that they might not normally venture into. This entire section was closed last year, so it was nice that it was at least open this year. Maybe next year, they'll add something else fun to the treat trails. Outside the Grizzly River Run area was another photo op, with none other than Mickey and Minnie themselves. We noticed that Mickey and Minnie were dressed differently this year than last year. (We saw Goofy and Donald later, and they were in the same costumes as last year.) The line was pretty long to take a picture with them. We continued through to Condor Flats, where there were more treat stations, and then we made our way to the Hollywood Pictures Backlot. Another person stopped to get some food at Award Weiners, so we decided to see if any lockers were available since we were weighted down with quite a bit. Lockers were indeed available, so we put a number of things away and were glad to lighten our load. We then went back to pick up our friend, who had finished eating, and we wandered into the Hollywood Pictures area. There was a treat station by the "Monsters, Inc." attraction, and the stage was host to the Hollywood Bat-lot Hoedown, with a DJ and characters like Mr. and Mrs. Incredible dancing. They were fun to watch.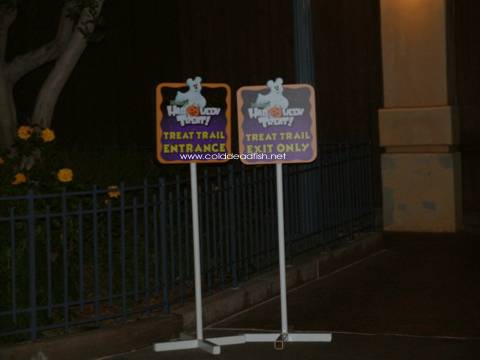 These signs probably made more sense if placed at an actual treat trail
rather than in front of a wooden gate.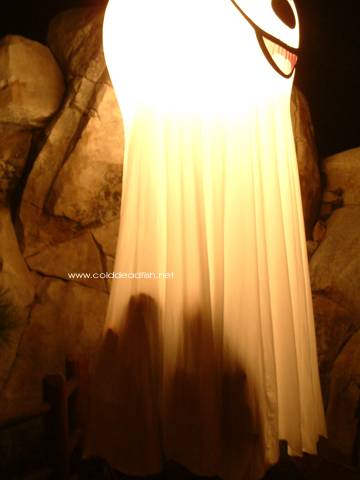 Hiding under Mickey's skirt for a picture.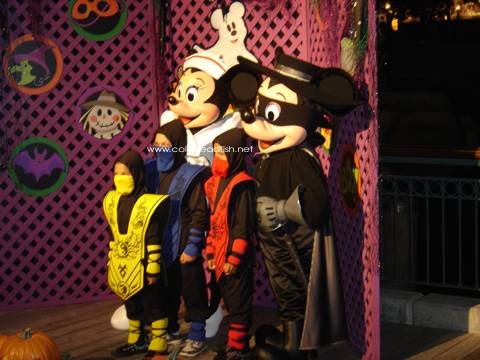 Mickey and Minnie from last year's event.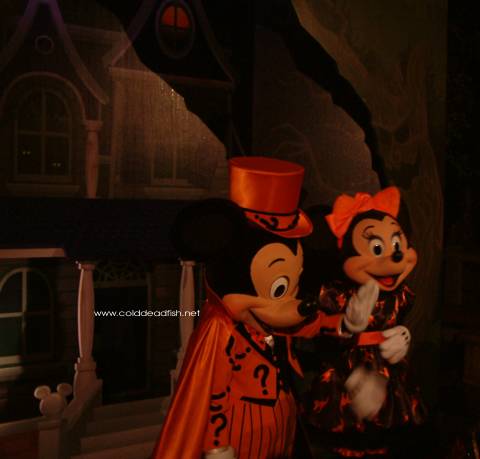 Mickey and Minnie at this year's event.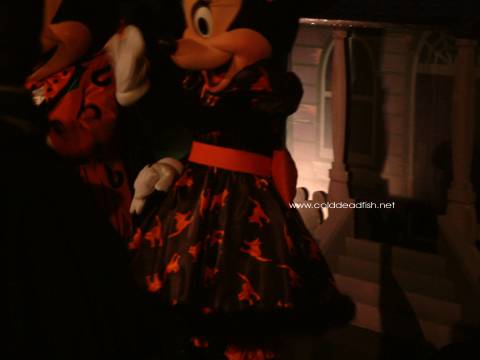 Minnie's dress has lots of cats on it.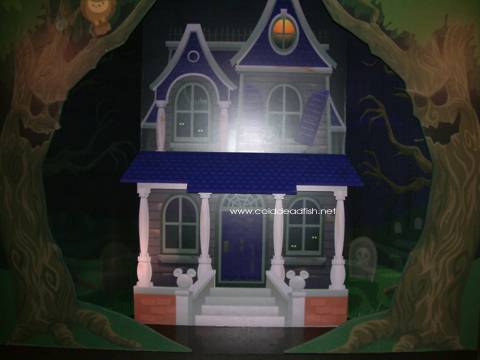 A better view of the photo background.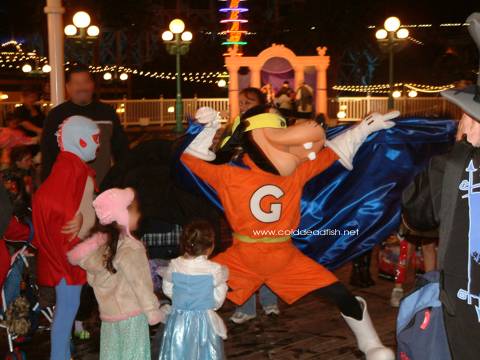 Super Goofy! (He apparently didn't hear about the "no capes!" rule.)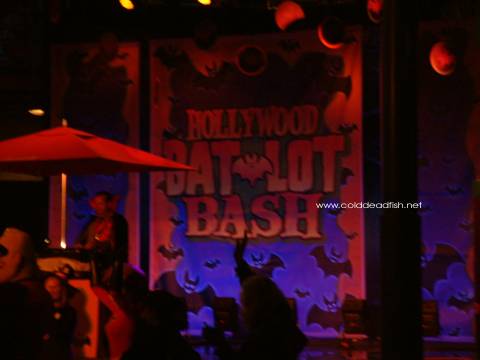 Party in Hollywood.
Continuing on our way, there was another photo op location at the end of Hollywood Boulevard for villains. We then continued on to Tower of Terror and noticed that the new bat arch has bats whose red eyes glow and blink. Our other friends ended up catching up with us there, and we were all there long enough to see a cycle of the new sound and lighting effects emanating from the building. That was pretty cool. I hope they keep those effects after Halloweentime since it fits in with the theme of ToT anyway. Bats are projected climbing the building, there are party noises and people talking (which I didn't really understand), thunder cracks and lighting hits the building twice, with the flashing behind the HTH sign the second time.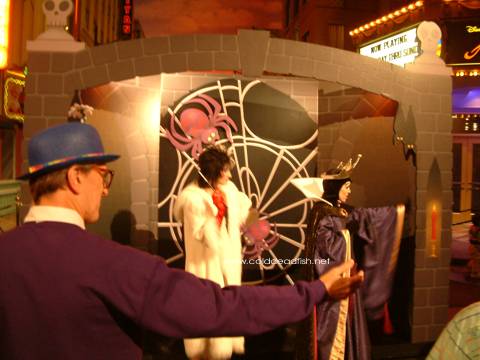 Cruella and the Evil Queen at the Hollywood photo location.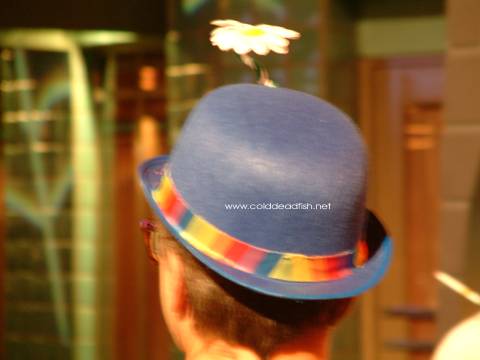 A male CM at the photo location had an interesting hat.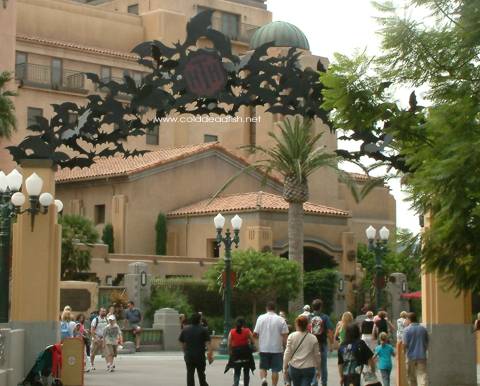 The bat arch as it looks in the daytime.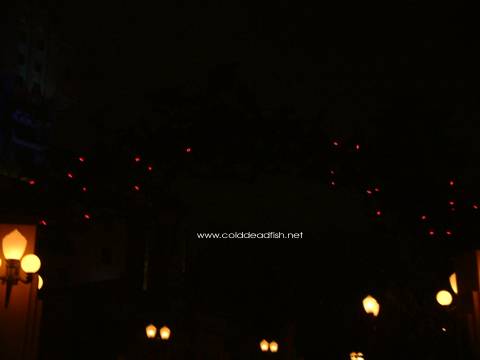 The arch at night when the bats' eyes are lit.
We then made our way back to bug's land and went to the treat station near Heimlich's Chew Chew Train, and on our way out, we walked past the Hokey Pokey Hoedown at the stage. There was a crafts area there where kids could make a ghost antenna topper themselves from provided supplies. We noticed as we went past that the talking scarecrows at the entrance to the bug's land area had also returned. We then went to the wharf, where there were additional treat stations and another crafts area. At that point, some friends decided to head home, so we bid them farewell, and we made our way through the park a second time, stopping for a little more candy and having a second look at the decorations. The princess photo op on the pier had been moved under the Ariel's Grotto sign, presumably because of the rain. After the downpour, it had rained on and off for about the next hour or so, but then the rain had stopped after that.
Two craft locations were also set up this year.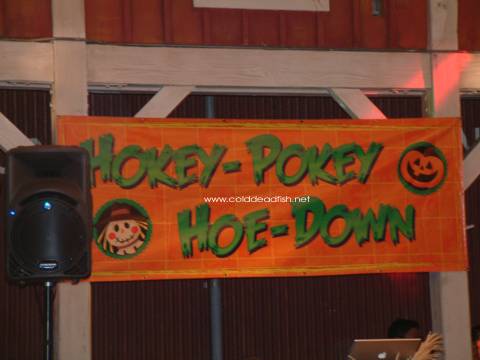 Don't know if they actually do the hokey pokey there.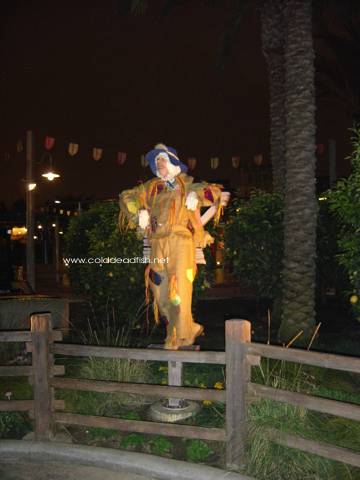 The talking scarecrows from last year returned as well.
We made our way through the Paradise Pier area again and then through the Golden State Park area. We went through the Redwood Creek Challenge Trail again, but there were only two treat stations this time. We thought about going on Soarin' but decided the line, while short, was longer than we were interested in. After making our way back to the Sun Plaza, it was 11pm and another friend decided to leave for the evening, so we went back to the Tower of Terror area and enjoying the ambiance and the new effects for the rest of the night. There was an announcement of the closing ceremony at the front of the park with all the characters, but we decided to skip that. We noticed one more effect from Tower of Terror - a phone ringing several times and then on the last ring, it sounds like it's abruptly cut short. Not sure about that either. (Maybe Elvis was calling? Just kidding.) We considered going on the ride itself, but the wait time at that point was 25 minutes, so we passed. We stayed until 11:30pm and then left. Some of the characters (Mickey and Minnie among them) were still in the Sun Plaza for a photo op, and when we went into Greetings to browse a little, the line for photo pickup was really long. At various places during the evening, including at the official photo op locations, there were photographers there to take your picture. Most people probably wouldn't bring a camera for an event like this, but they'd probably want a picture of themselves and/or their kids with the various characters dressed in costumes, so we weren't surprised there were so many people buying pictures. We retrieved our belongings from our locker and walked back to our hotel.
I don't know how many tickets have been sold for each night, but even with the night sold out, it was definitely not crowded. There were some lines at the treat stations, but none nearly as long as last year, and the lines moved fairly quickly. We noticed some lines at various food locations and rides, but again, nothing terrible, and the ride lines seemed to be longer later in the evening rather than earlier. The longest lines seemed to be at the photo op locations, which would be understandable, but the lines seemed to move pretty well there too.
There were many adults in various costumes and many like us who chose not to wear costumes. Most kids were in costumes as well. It was fun to see the different costumes. Some were very interesting to say the least, and some were spectacular. Not surprisingly, there were quite a few pirates in general and Jack Sparrows in particular. We also saw one group all dressed as dalmatians, one group dressed as the castaways from Gilligan's Island, one girl dressed as Dorothy from The Wizard of Oz who carried a Toto purse, a family of characters dressed from the Star Wars universe (the person in the wheelchair was dressed as Emperor Palpatine), and of course, lots of Disney characters. One particularly good pairing was a father dressed as a prince with his young daughter dressed as Cinderella. The mother appeared to be dressed as an evil goth stepmother. The children's costumes ran the gamut as well, including an adorable child dressed in a Batman costume, mask and all.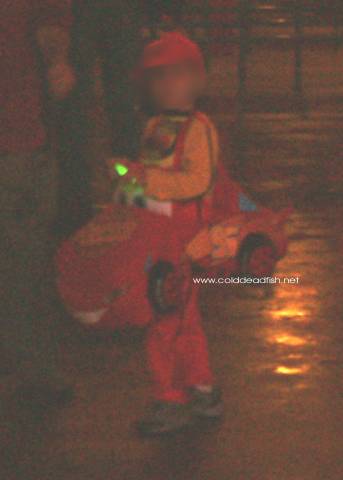 A little "Lightning" at night.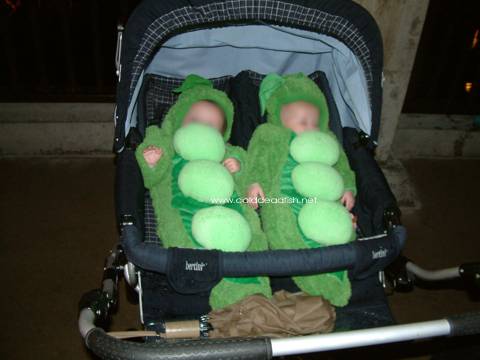 These were two of the cutest kids we saw all night.
If you're going to be attending one of the later days of the event this year, here are some tips you might find helpful.
Being in line early so that you're at the front of the crowd when the gates open helps a lot. If it's something you can and are willing to do, it's definitely worth it. Whenever you join the line, make sure to look at all the lines instead of just joining the first available one. Because our line extended right to the "O", people didn't seem to know we were at the end of a line, as no one got in line behind us as we were waiting, and people didn't jump in line behind us until we got up when the gates opened.
If you want pictures with the characters, be sure to do those in the early part of the evening, even if the lines are a little long. The princess picture location and the villains picture location have different characters that come out, so you can always check back if you're looking for someone in particular. The photo ops closed well before the event was over, but the treat stations were open for the duration, and even if some of the treat stations ran out of candy, other stations still had them.
If you can have dinner beforehand (since the event starts each night around dinnertime), that's probably the best option. If you don't mind eating while you're waiting in line as we did, that's an option as well. If you have to eat in the park, there are some locations open. Since the event only ran for three hours last year, it seemed to me a waste to spend time for a meal, especially since there aren't any locations open that are particularly memorable, but since the event runs four hours this year, you have much more time to do everything. I don't know what time each of the restaurants close, but Award Weiners closed around 11pm when the event was running until 11:30pm, which I thought was pretty good.
Check the forecast for that day/evening. If there's a chance of rain, bring a poncho and/or umbrella. Be prepared. Getting caught in a thunderstorm unprepared is no fun - I saw one younger princess very upset in the ladies room because she'd been drenched in the short downpour. Obviously, rain does cause some problems for the evening, but it wasn't as bad as I had expected it might be. The photo locations have their challenges, but we noticed that Mickey and Minnie had clear umbrellas held over them by helpers. The areas probably most affected by the rain would be the crafts areas, since those are outdoors, and wet tables aren't conducive to doing paper crafts. The crafts section in the bug's land area could easily have been held in the Hollywood section in between the "Monsters, Inc." attraction and the former Hollywood and Dine, which at least has an overhang for the tables and chairs there. The crafts section in the wharf area could easily have been held in the covered seating area next to the former Lucky Fortune Cookery. Maybe next year, they can have the crafts in those areas so that even if it rains, it won't put a damper on crafts-making.
Also check the forecast for temperatures. Even with the rain, it wasn't very cold out, and it wasn't windy, so since we were basically traipsing through the park for most of the night, that helped to keep us fairly warm. Since I can be prone to be cold, I had brought a sweatshirt and a jacket to wear over my t-shirt in case I got cold, but I didn't really need the jacket other than to keep myself a bit more dry from the rain, and I put the jacket away once we got the locker. I only used the sweatshirt at the end of the evening after we'd just been sitting at the Tower of Terror for a while. If you're stopping and waiting in lines for photos or doing crafts or having food, there's a better chance you might be a bit more chilly at those times as well.
If trick or treating or live entertainment aren't your thing, go on the rides. The lines were minimal, especially at the beginning of the evening. Some lines got a little longer as the evening wore on but most of the lines were still much shorter than during the day.
With regard to the regular event merchandise, it was available at the store on Paradise Pier and at Greetings at the front of the park (not sure if it was available anywhere else), but the Paradise Pier location was much less crowded and chaotic.
locations of the 13 treat stations
outside "Monsters, Inc." attraction
outside Tower of Terror
in bug's land near Heimlich's Chew Chew Train
near the entrance to bug's land
near the entrance to the bread making factory
near the former Lucky Fortune Cookery in the wharf
near the carousel
near the Sun Wheel
near the Orange Stinger
near the Golden Zephyr
near the Golden State amphitheatre
near Soarin' close to the Grizzly River Run side
near the entrance to Soarin' from the Sun Plaza
additional treat stations are located in the Mickey's Hide and Go Treat Trails at Redwood Creek Challenge Trail and around Grizzly River Run
photo locations and characters
Disney villains - end of Hollywood Boulevard and at Golden Screams
Mickey and Minnie - Grizzly Peak recreation area by Grizzly River Run
Disney Princesses - Paradise Pier upper boardwalk
characters wandering around throughout the park
live entertainment
Hollywood Bat-lot Bash - Hollywood Pictures Backlot
Hokey Pokey Hoedown - bug's land
Boogieman Boogie - Pacific Wharf
craft and face painting
bug's land area
Pacific Wharf area
Here is a list of attractions, dining locations and shops that are open during the event.
Sunshine Plaza
dining
Baker's Field Bakery
shopping
Greetings
Hollywood Pictures Backlot
attractions
Tower of Terror
Monsters, Inc.
dining
Award Weiners (hot dogs and gourmet sausages, French fries, drinks)
shopping
Studio Store
Tower Hotel Gifts
bug's land
attractions
Flik's Flyers
Heimlich's Chew Chew Train
Tuck and Roll's Drive 'Em Buggies
shopping
PT Flea Market
Paradise Pier
attractions
California Screamin'
Sun Wheel
Mulholland Madness
Orange Stinger
Golden Zephyr
King Triton's Carousel
Jumpin' Jellyfish
Games of the Boardwalk
dining
Burger Invasion (McDonald's hamburgers, fries and shakes)
Pizza Oom Mow Mow (pizza, pasta and salads)
shopping
Boardwalk shops
Souvenir 66
Golden State
attractions
Soarin' Over California
dining
Cocina Cucamonga (tacos, drinks and more)
Taste Pilots Grill (burgers, ribs, chicken sandwiches, fries and drinks)
To read about Mickey's Halloween Treat in 2005, please click here.
For information and pictures from Disney's Halloweentime, please read the trip report from September 23, 2006, the trip report from October 1, 2006, and the trip report from October 8, 2006.
Back to Cindy's Disneyland Resort Page.
Back to home.